One of the most difficult parts of building a website is choosing which platform to use. To help make your decision easier, we reviewed dozens of the top website builders to determine which are the best options for small businesses based on a variety of factors—from pricing and features to capabilities, ease of use, and design quality.
Here are the five best website builders for small businesses in 2022:
Best Overall Website Builders at a Glance
Looking for something more specific? Try one of these…
If you're in the initial stages of building a business website, start by learning everything you need about building a small business website.
How We Evaluated the Best Website Builders
With new website builders cropping up all the time with a laundry list of options, it can be challenging to decipher between the good and the bad—and never mind which is right for your business. To determine the best website builders for small businesses, we compared overall usability, real customer reviews, features and capabilities, and value for the price.
Squarespace came out at number one due, in part, to its breadth of modern templates that are suitable for nearly any business. It also has a wide range of integration capabilities, which can make it an even more powerful lead generation tool. To learn more about the criteria we used to determine that Squarespace is the best overall option, click on the tabs below:
Squarespace: Best Website Builder Overall
Squarespace is a leading website builder—and for a good reason. It takes the number one position on our list as it's the best overall website builder and is a good choice for any industry or business type. It stands out for its modern templates, easy-to-use site editor, and its competitively priced, all-in-one plans that include everything you need to build and launch a professional business website for just $12 per month.
Tiered Pricing & Features
Ease of Use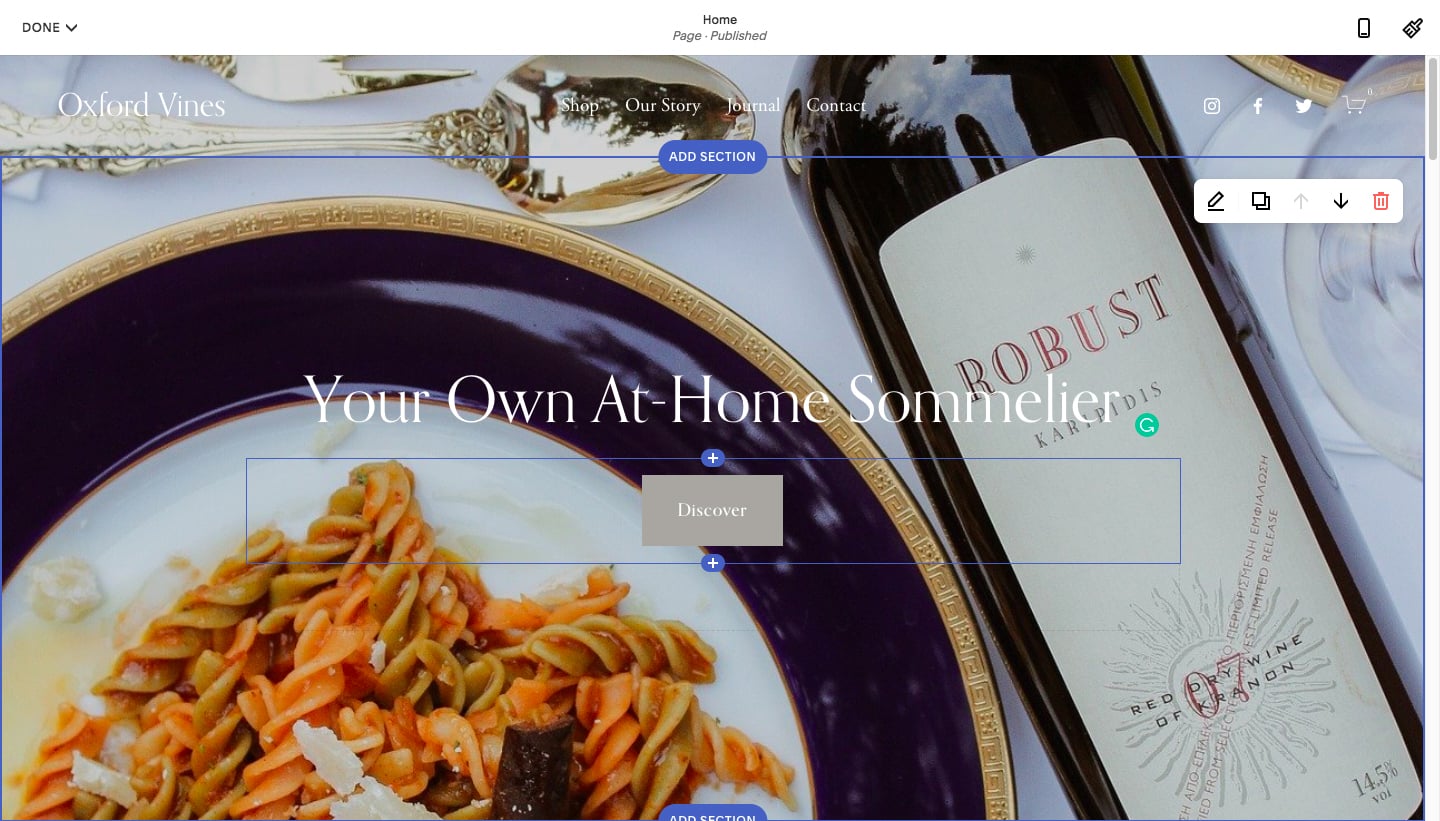 Squarespace has a user-friendly live editor where you can customize site elements and add new ones, such as content blocks, text, images, and contact forms. It's possible to build a Squarespace website in just a few steps. First, go to Squarespace, then browse and select a template. Then, customize your header and footer, add pages, and customize the pages. Lastly, publish your site by selecting a premium plan and choosing a domain name.
Other reasons to try Squarespace:
Offers tons of built-in selling features (e.g., unlimited products, sell on Instagram, abandoned cart recovery, sell gift cards)
Includes a built-in online appointment booking feature (for private and group bookings)
Lets you accept recurring payments and sell subscriptions
Gives you the ability to create a membership site with paywalls and gated content
Works with real estate MLS integration
Features the ability to accept donations for charities and fundraisers
Want more details? Get the step-by-step instructions on how to build a website with Squarespace.
Our Expert Opinion
You really can't lose with Squarespace. Between its affordability, wide variety of features, and award-winning designs, it's a great value. And, unlike other site builders that can look homemade, you'll be hard-pressed to build a poorly designed site with Squarespace thanks to its high-end templates and site editor that ensure sites maintain a consistent look. Get started with Squarespace for free today, or read our Squarespace review for more information.
Weebly: Best Website Builder for Low-cost Online Stores
Weebly is a top website builder known for its robust features geared toward helping online retailers sell their products more effectively. While many ecommerce businesses look to Shopify for these features, Weebly comes packed with similar features, but at a fraction of the cost ($6 per month vs $29 per month), and it's a lot more beginner-friendly. Also, unlike other website builders that require a higher-tier plan to sell online, all Weebly plans are ecommerce-enabled.
Tiered Pricing & Features
Ease of Use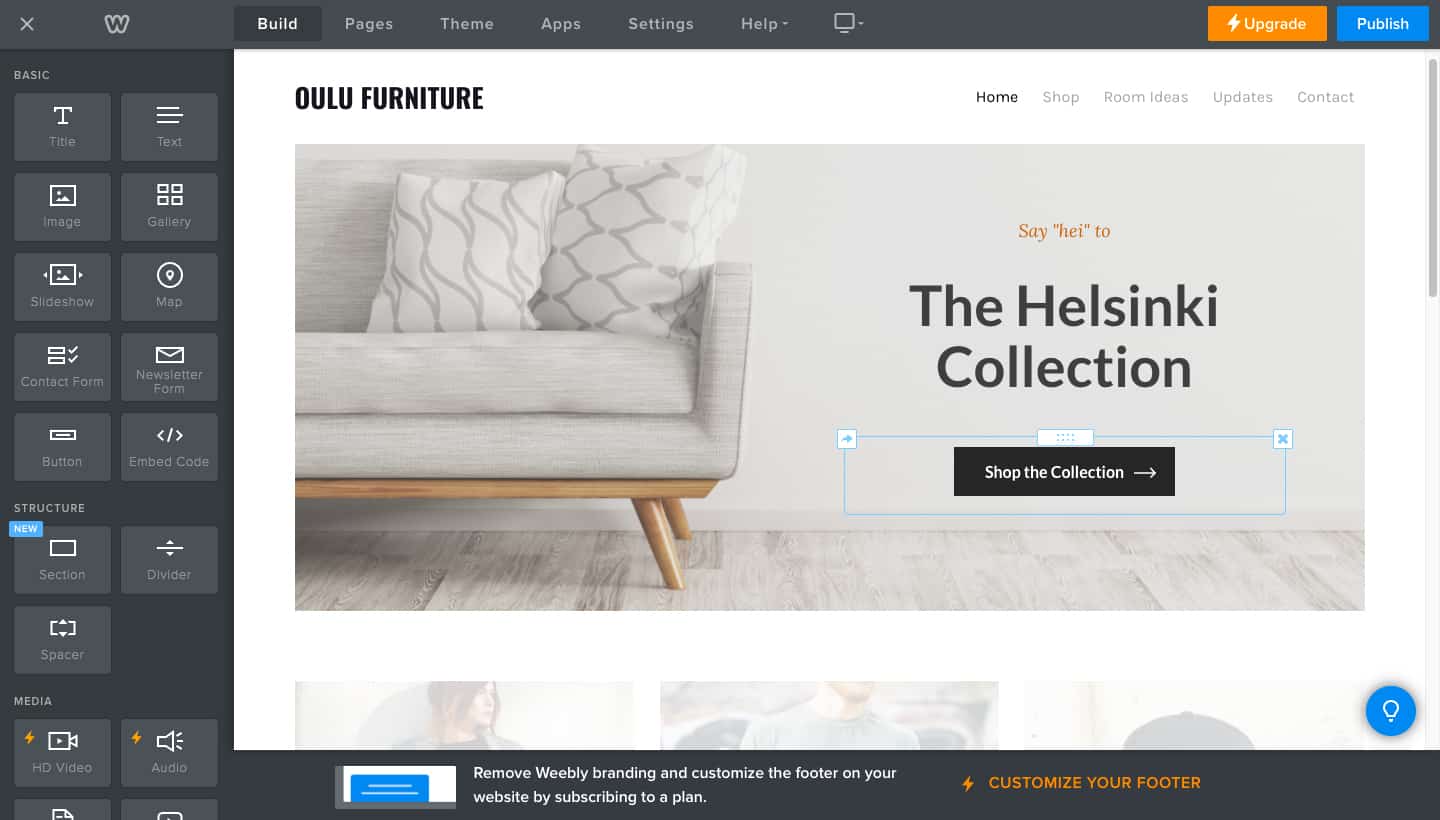 When building a website with Weebly, you'll first be asked whether you want to build a standard business website or an online store. If you choose the online store option, you'll be redirected to the Square site builder, as Weebly is owned by it. Either way, you'll then be prompted to select a theme, which you can then edit and customize to fit your business. To launch your site, update to a premium plan and connect your own domain to go live.
Other reasons to try Weebly:
It's one of the most affordable options for building an online store
Many dropshipping integrations are available (though not as many as Shopify or WordPress)
Unlike Wix, you can change your theme at any time for quick site transformations
Like Squarespace, Weebly sites are built on content blocks, keeping your design consistent
Lets you sell physical and digital goods, but it is worth noting it is not the most affordable option for those who want to accept payments via PayPal
Take a look at our step-by-step guide to see how easy it is to build a Weebly website.
Our Expert Opinion
Weebly is the best website builder for those who want an easy and affordable way to build an online store. While it's not the most sophisticated site builder, it does have all of the main features retailers need to sell online, making it ideal for those who want to sell online in addition to in-store. To see if it's right for you, first take a look at our comprehensive Weebly review.
GoDaddy: Best Website Builder for Service Providers
GoDaddy may be better known for its domain name registration and web hosting services, but it also has a comprehensive website builder where you can easily create a custom business website. It stands out for its sophisticated online appointment booking system, making it a great choice for service-based businesses, such as salons, spas, fitness centers, and consulting companies. Check out our full GoDaddy review to learn more.
Tiered Pricing & Features
Ease of Use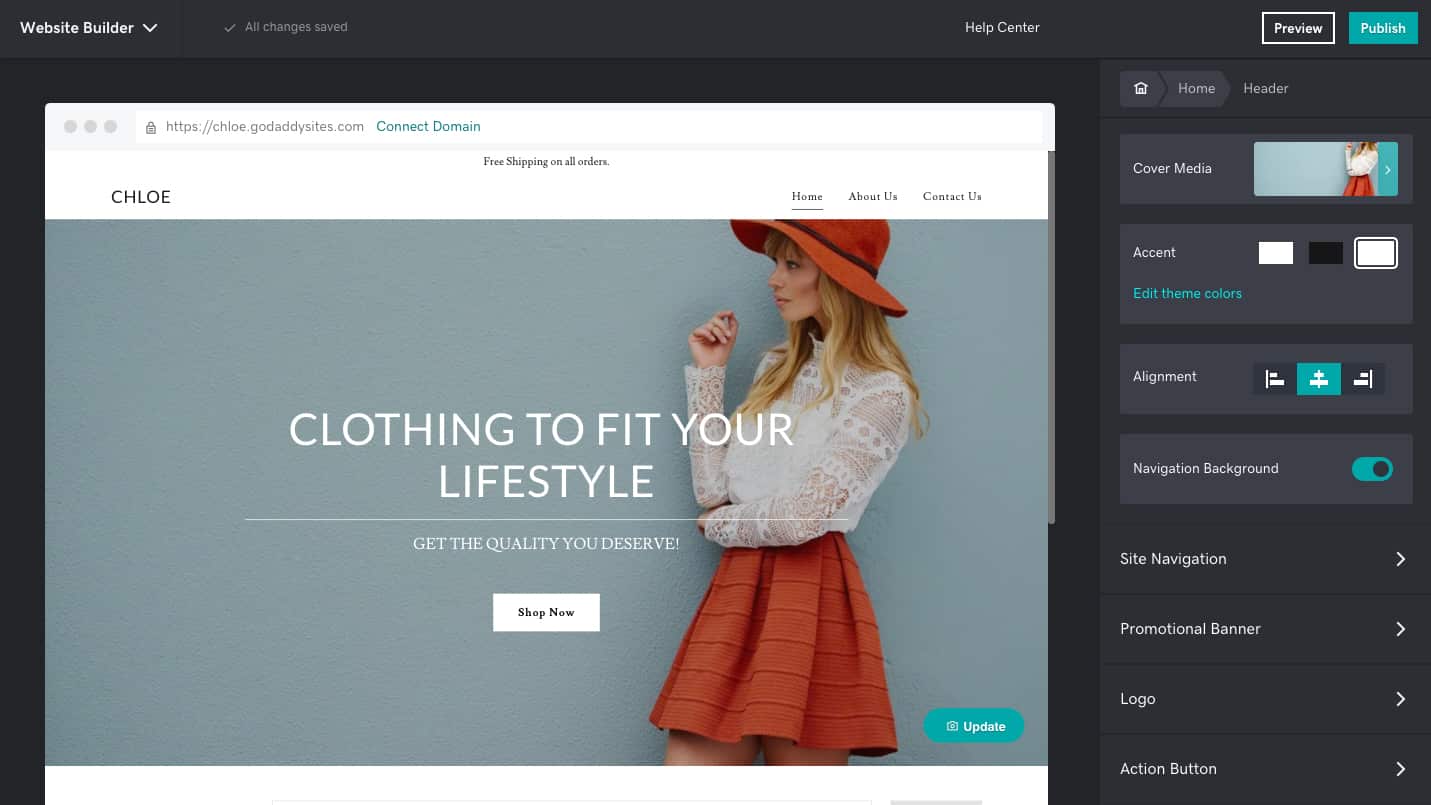 GoDaddy makes it super-easy to build a website, even if you don't have any web design experience. To build a GoDaddy site, you'll first need to visit the GoDaddy website and navigate to the "Websites + Marketing" tab. From there, create an account and choose a template. Next, customize your template by adding and customizing pages. Finally, launch your site by clicking the "Publish" button and then selecting a domain name and a premium plan.
Other reasons to try GoDaddy:
Comprehensive booking tool enables you to select a service, date, time, and service provider (e.g., a cut and color with a specific hairstylist)
Process payments at the time of booking (available with the premium plan)
Lets you accept recurring payments (e.g., gym membership, subscriptions, music lessons, and so on)
Includes a built-in email marketing tool to streamline lead generation and lead nurturing
Supports gated content for building a premium membership site with paid plans
Get the step-by-step instructions on how to build a GoDaddy website.
Our Expert Opinion
GoDaddy is the best website builder for service providers looking for an easy and affordable way to turn their website into a 24/7 marketing machine and a virtual receptionist. While it's not the only site builder that offers online booking tools, it has the most complete booking system. Hence, whether you're running a consultancy, a concert hall, or a hair salon, GoDaddy will provide the tools you need to streamline your business and increase sales.
Wix: Most Customizable Website Builder
Wix is hands-down the best drag-and-drop website builder there is. It has a true drag-and-drop site editor, which doesn't limit you to content blocks. Instead, with Wix, you get a ton of design freedom, so you can create a highly customized website. It also offers a long list of features and capabilities, making it a good choice for many different types of businesses—from hotels and omnichannel retailers to businesses looking to sell online courses.
Keep in mind that if you don't have an eye for design, Wix may not be the best choice. The level of flexibility that it has can quickly lead to sites that aren't cohesive and look homemade. If you want these types of capabilities, but you're not looking to put your creativity to work, try Squarespace.
Tiered Pricing & Features
Ease of Use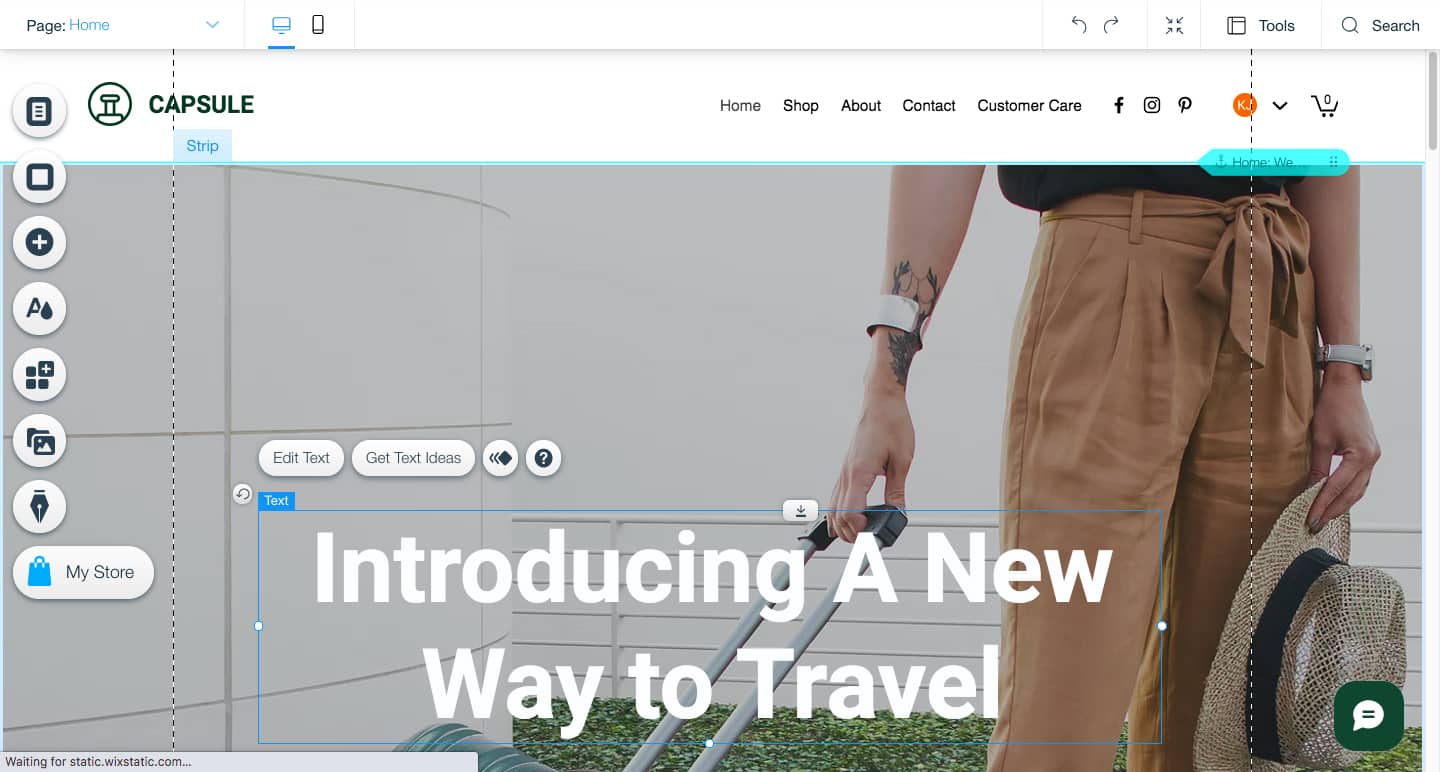 It's easy to build a simple website with Wix. To get started, go to Wix.com and create an account, then answer a few quick questions. Next, browse and select a prebuilt template based on your business type or website needs, and then use the Wix site editor to customize your template. Finally, upgrade to a premium plan to connect your own domain and launch your Wix website.
Other reasons to try Wix:
True drag-and-drop site editor for maximum design customizations
One of the best values for ecommerce, with tons of online selling features
Easily create a membership site with gated content
Built-in online booking tools (though for more advanced features, choose GoDaddy)
Ability to connect your online store and sell on Instagram
Learn more about how to build a website with Wix.
Our Expert Opinion
Wix is the best website builder for businesses that want maximum design freedom within a code-free and beginner-friendly CMS (content management system). It's not the cheapest site builder, but it's one of the most popular providers, and for a good reason. Overall, it's ideal for those who want an easy alternative to WordPress but with similar design flexibility. Start building your Wix website for free, or read more about it with our Wix review.
Shopify: Best Website Builder for Serious Ecommerce
*Note that Shopify offers a Shopify Lite plan that starts at $9 per month, but this doesn't give access to its site builder.
If you've ever browsed through an online store, the chances are it's built on Shopify. There are over one million Shopify users worldwide—no surprise to us, as we ranked it as our top ecommerce platform.
What you may not know, however, is that aside from some of the best ecommerce capabilities we've ever encountered, Shopify also has a very beginner-friendly site builder. Anyone, including complete ecommerce novices, can build their own store on Shopify. Read our Shopify review to find out if it matches your needs.
Tiered Pricing & Features
Ease of Use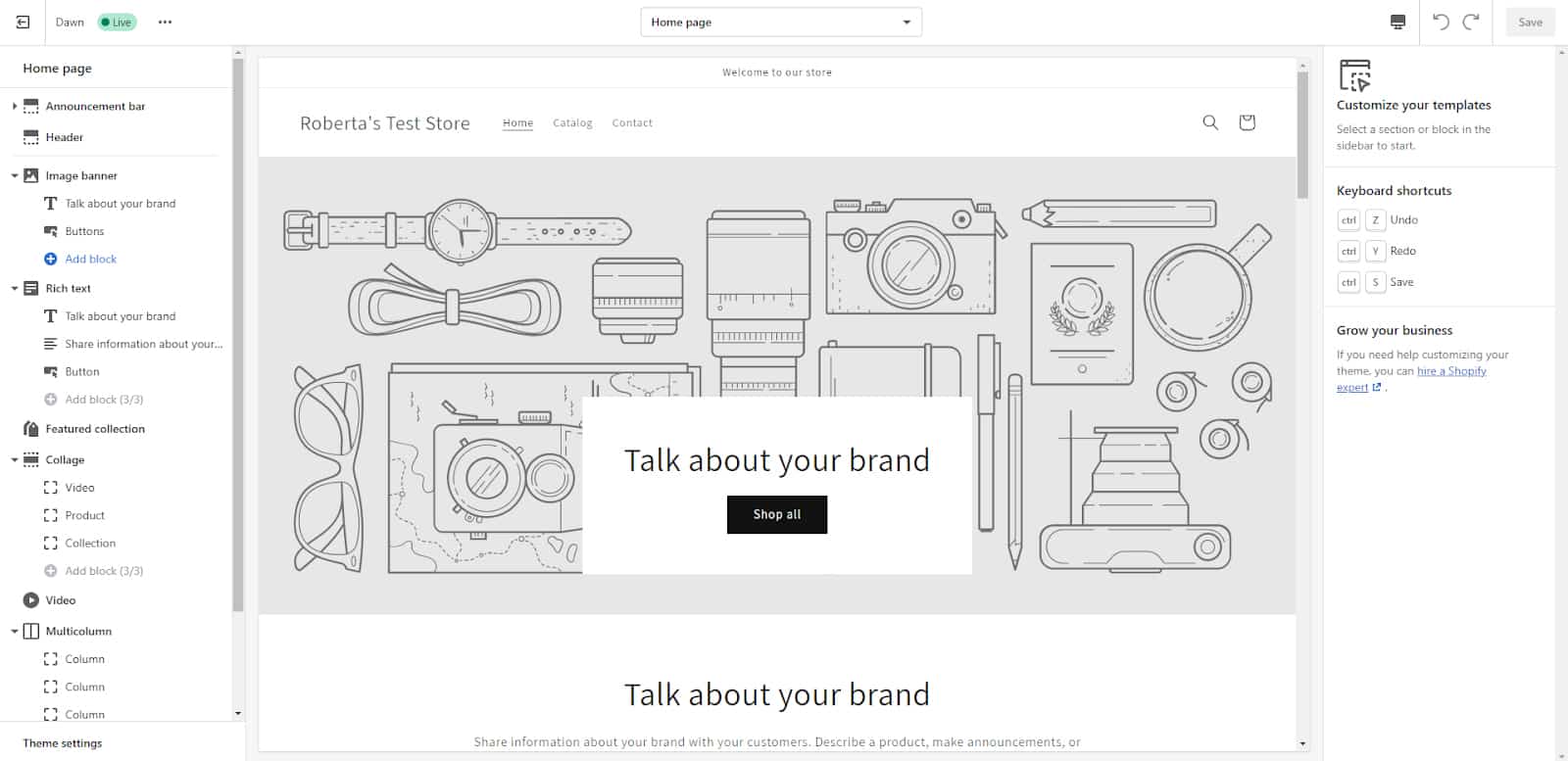 Shopify's website builder is extremely easy to use. To test it out, Shopify offers a 14-day free trial. To start, Shopify will ask you a few questions about the nature of your business and how far along you are on your ecommerce journey. It takes around a minute to answer everything, so you can theoretically set up a website in just under five minutes with Shopify.
From there, you'll be directed to your dashboard, where you can edit your store. Unlike Wix, Shopify's drag-and-drop capabilities are very basic (it's more of a sectional editor, if anything). Hence, you won't have to worry about overthinking your design. Keep in mind that Shopify has extremely basic design capabilities, so if you're looking for something more unique, you'll be better off with either Squarespace or Wix.
Other reasons to try Shopify:
Unlimited storage, bandwidth, and products so you can sell as much as you want
Lots of built-in, and powerful, ecommerce tools like analytics and multiple language selling
Built-in SEO and marketing tools to help advertise your store
Seamless social media and marketplace integrations to sell your products across multiple platforms
One of the best point-of-sale (POS) systems available
Easy to build a simple store
Want to see how easy it is? Check out the step-by-step instructions on how to create a Shopify store.
Our Expert Opinion
Shopify's store and the website builder are both incredibly beginner-friendly. It's one of the most powerful ecommerce platforms we've ever come across. Everything you need to create a great online store is included with Shopify; it has so many extra features that will allow your store to grow and scale. However, it's not the best site builder for physical sellers, casual sellers, or non-commerce businesses as its features are just too focused on ecommerce. If this sounds like you, then we suggest going for Squarespace or Weebly instead.
Runners-up to the Best Website Builders
Surprised to see that we didn't include some of the other big players in the space? Well, that's not an oversight. We analyzed and reviewed major website builders—from long-standing providers to those new to the industry. Check out our shortlist to see which didn't make the cut and why.
Here are a few of the runners-up that didn't quite make our list and why:
If you're on the fence about whether or not to use WordPress, keep in mind that the benefits WordPress once came with are now available with all of the leading website builders. These benefits include advanced ecommerce features, gating content, and baking SEO into your site, with the end goal of getting found online. Learn more about the best alternatives to WordPress.
Frequently Asked Questions (FAQs)
How much does a website cost?
Websites are surprisingly affordable. You can have one professionally built for as little as a few hundred dollars. You can also create your own website—even if you don't have any web design experience—with the help of a site builder, such as Squarespace or Wix, which cost nothing to build and around $12 per month. It's also possible to build your own WordPress site for $3 per month with a low-cost host, such as Bluehost. Get the full breakdown of website costs.
What's the difference between a CRM & a CMS?
Though often confused, a CRM and a CMS are two different things. CRM stands for customer relationship management, whereas a CMS stands for a content management system. In other words, a CRM is used by sales and marketing teams to manage contacts and leads, whereas a CMS is a platform a website is built with, such as WordPress. If you're still unclear on the differences, learn more about a CRM vs CMS.
Bottom Line
The best website builders give you the tools you need to build and maintain a professional website that is capable of serving as an effective marketing tool. While there are many good options, each with varying use cases and serving different needs and business types, the best overall is Squarespace. It's easy to use, versatile, and affordable. Additionally, it comes with a number of marketing tools built in to help you land more sales and grow your business. Start your free trial with Squarespace (no credit card required).
You Might Also Like…