5 Best Free Website Builders for Small Businesses in 2022
Free website builders allow small businesses, startups, and solopreneurs to establish a credible online presence quickly, easily, and at no cost. After comparing several contenders, we identified the five best free website builders for small businesses. They offer beginner-friendly interfaces and built-in tools for marketing, search engine optimization (SEO), and ecommerce, as well as modern, ready-made templates and versatile design tools.
Best Free Website Builders for Small Business at a Glance
Free Site Builder

Key Features in Free Version

Accept Payments?

Marketing Tools?

Starting Monthly Cost of Paid Plans*

Built-in tools for SEO, email marketing, and social media
Most customizable and most templates
Many free apps to further extend site functionality

✕

✔

$16

Meeting and appointment booking
Chatbots for 24/7 site visitor engagement
Sales tracking dashboard

✕

✔

$6.99

Ecommerce-ready for online shopping, inventory management, and tax calculation
Unlimited number of products
Promote sales with coupons and gift cards

✔

✔

$6

Modern, well-developed templates
Invite collaborators
Easy to create multi-level navigation menus

✕

✕

$3.90

User-friendly, intuitive interface
Ecommerce—up to 5 products with the free version
Multilingual websites

✔

✔

$8
*Based on a 12 month contract
Wix: Overall Best Free Website Builder for Small Businesses
What We Like
Largest template library
Built-in marketing, SEO, and artificial intelligence (AI) advertising tools to foster business growth
Most design freedom—create a custom-look website
What's Missing
Like other free site builders, is not ad-free
Storage is limited to 500MB
Must upgrade to accept payments
Premium plans start at $16 per month—the highest on this list
What You Get for Free
Free website with SSL security on a Wix subdomain with Wix branding
Unlimited web pages vs site builders that limit you to a handful
A true drag-and-drop website editor
Host a catalog with unlimited digital and physical products
Extensive apps directory to extend the functionality of your website
Wix wins out as the best free website builder for small businesses for several reasons. First, its drag-and-drop editor offers you the most control over your website's design. While your site will have Wix branding, this is the best option if you want a website that looks custom-designed to stand out and establish credibility for your brand online. Start with one of the hundreds of premade templates or even a blank template.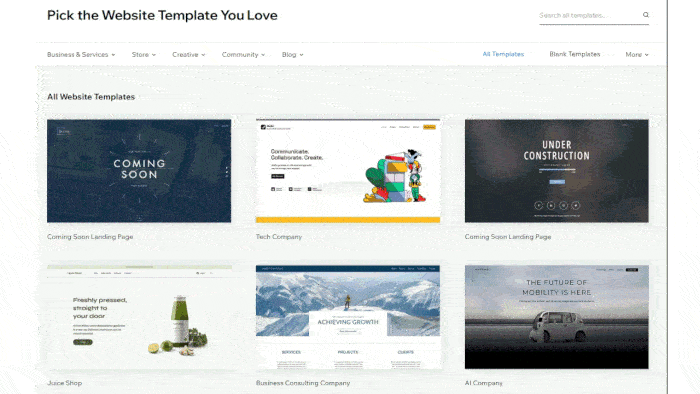 We found that Wix has built several essential search engine optimization (SEO) and marketing tools that are accessible in the absolutely free-forever version. For example, you can set up Facebook and Instagram advertising and Wix' artificial intelligence (AI) will manage and test your ads and optimize your budget. Create coupons, sell gift cards, and set up a loyalty program to incentivize repeat customers.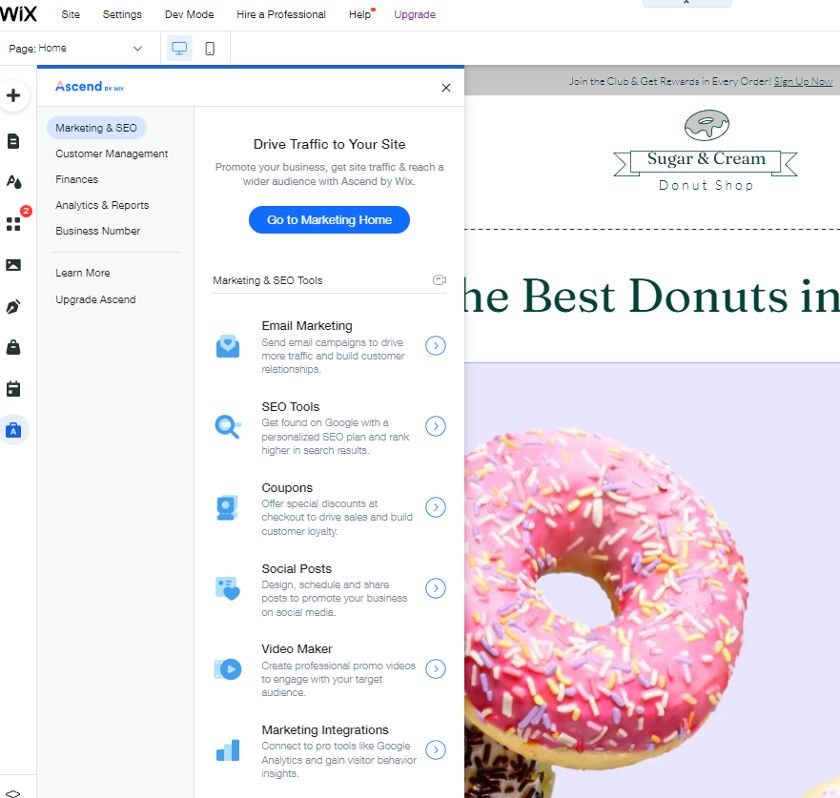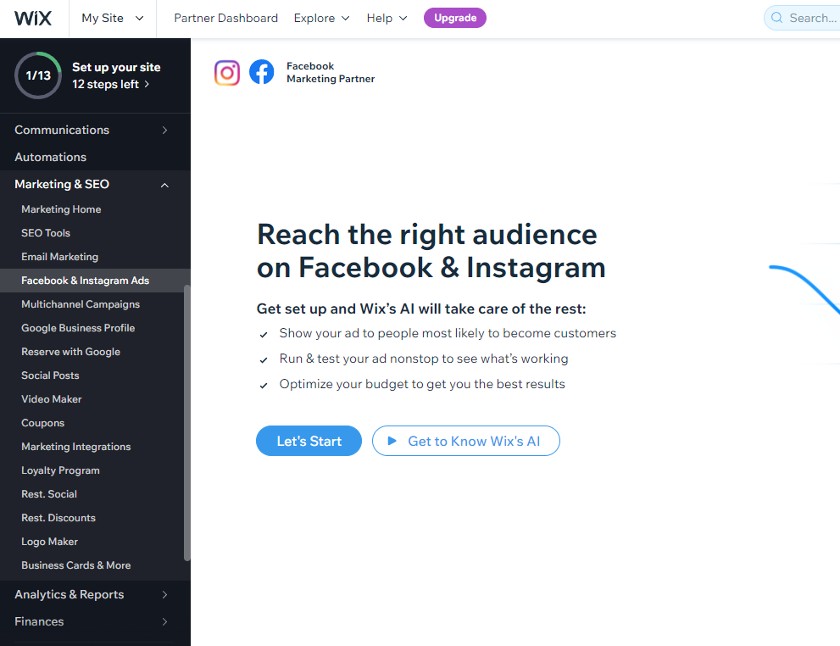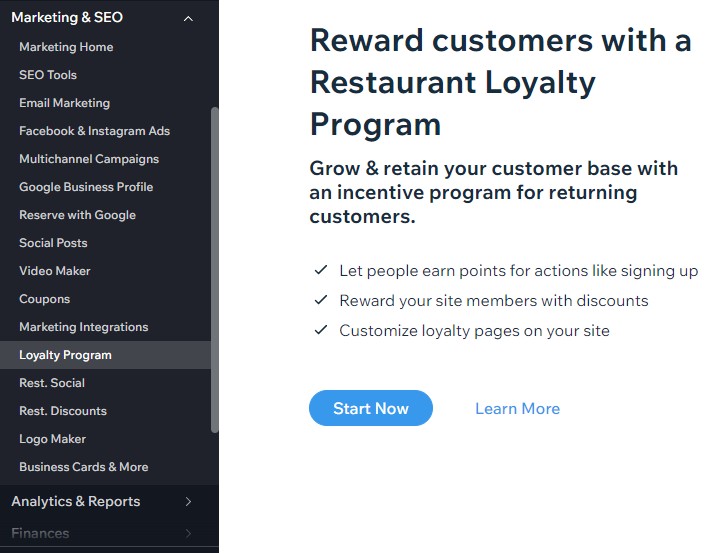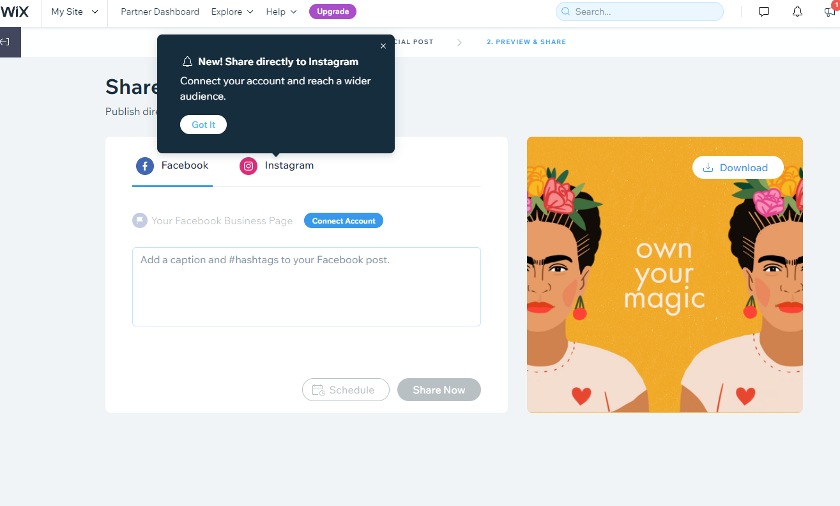 Don't have a logo yet? Wix has you covered there too with a built-in logo maker (although you will have to pay from $49 to $99 to download the files). Still, compared to the cost of hiring a professional graphic designer, this is very reasonable—and fast. You can also create and purchase business cards right from the dashboard.
The SEO tools available to you in Wix' free website builder are also notable. Add your Google Analytics ID to access all your site's data and access your website's site map in order to add it to Google Search Console. Set page-level title and meta descriptions. Answer a few questions and Wix will provide you with a checklist of ways to better optimize your site.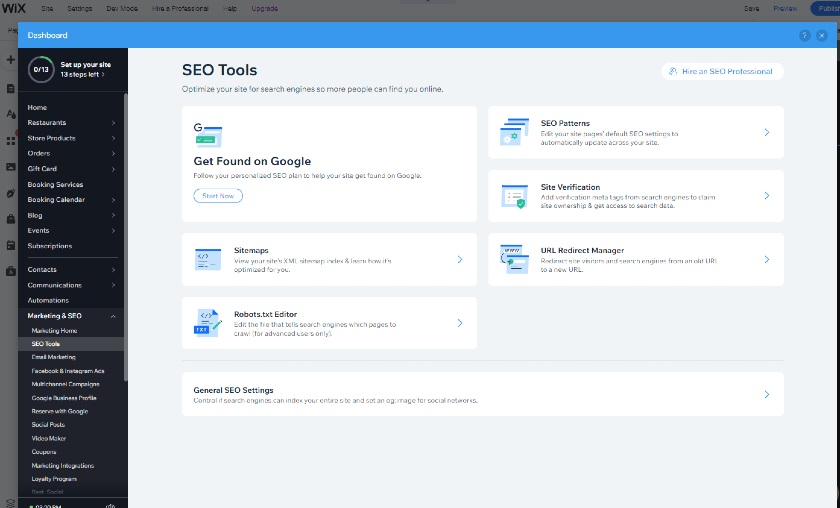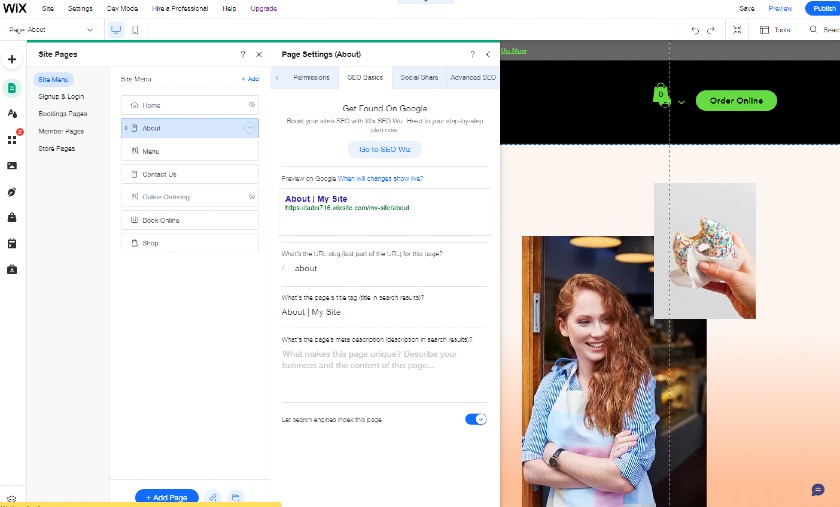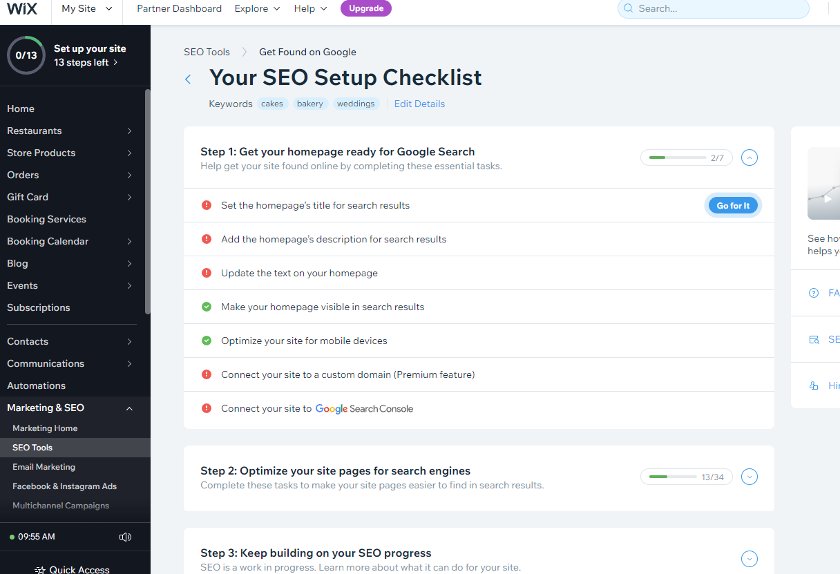 Wix Pricing & Features
Free Version

Combo

(First Paid Plan)

Business Basic

(First Ecommerce Plan)

Price per Month*

$0

$16

$27

Storage Limit

500MB

3GB

50GB

Bandwidth Limit

500MB

2GB

Unlimited

Connect Your Own Domain

✕

✔

✔

Free Domain Name

✕

✔

✔

Free SSL Certificate

✔

✔

✔

Ad-free

✕

✔

✔

Free Trial Length

N/A

14 days

14 days

Ability to Sell Online

✕

✕

✔
*Based on 12-month prepayment. Save more with two- or three-year commitments or pay monthly at a higher rate.
Is the Wix Site Builder Easy to Use?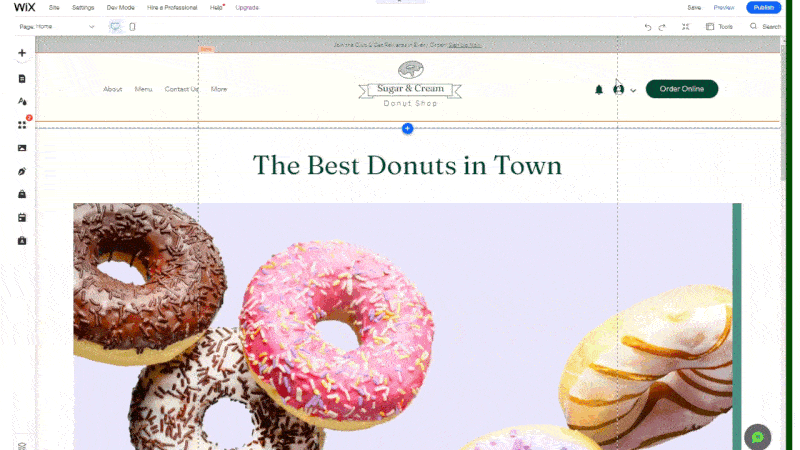 We found the Wix website builder very easy to use, with the caveat that there are so many ways to change the look of your site it could be more design flexibility than is needed for some small businesses. Take a look at the step-by-step instructions to get a better idea of what it takes to build a Wix website.
Webnode is a better option for those who want to get a site up as quickly as possible as its templates are well-developed. Likewise, Mozello's intuitive interface makes it a good choice for those wanting to build and publish a website easily and in a short amount of time.
Wix is well-known for the design freedom you get in its true drag-and-drop site editor. In other words, you can literally drag elements around on the live editor, so you're not limited to the preset content blocks. To edit any area on a page is as easy as selecting it. However, you can't change templates without starting over, so be sure to spend time before selecting from the fast template library.
One downside of Wix' free website builder is that small businesses and startups can't sell online without upgrading to the first ecommerce plan at $27 per month. However, with paid plans starting at just $16, you may be able to gain some ecommerce functionality through apps in the marketplace. Alternatively, the best free website builder for ecommerce is Weebly's Square-powered site builder.
Our Expert Opinion
Wix is the best free website builder for small businesses wanting maximum design freedom and solid SEO and marketing tools needed to grow. While upgrading to paid plans is more expensive than some other site builders, being able to extend your site's functionality through apps and integrations could be more than worth the cost.
GoDaddy: Free Website Website Builder With the Best 24/7 Engagement & Conversion Tools
What We Like
Chatbots come standard, even in the free version
Site visitors can book an appointment for services or sales presentations
What's Missing
Limited access to templates in the free version
Paid plans don't include a free domain
Premium plan ($13.99/month the first year) required to accept payments or send reminders for appointments
What You Get for Free
Chatbots for 24/7 engagement and conversions
Appointment booking
Limited ability to accept payments through PayPal
SSL security provided
GoDaddy Studio access to create branded content for your website and social media
Social media marketing
Yelp and Google listing management tools
GoDaddy's site editor is the best free website builder for small businesses wanting 24/7 site visitor engagement and conversion tools to grow their business. Service-based businesses can use the native appointment booking feature to allow customers to set appointments for services, and sales-oriented businesses can use it to get prospects to set up appointments for sales presentations or demos.
All GoDaddy plans, including the free version, include chatbots that can engage with your site visitors 24/7. A "Hello" chatbot will prompt site visitors to indicate what they want to talk to you about, while the "Order" chatbot detects order-related inquiries. The chatbots then send the intelligence gathered to your inbox so you can help prospects and customers find what they need more efficiently.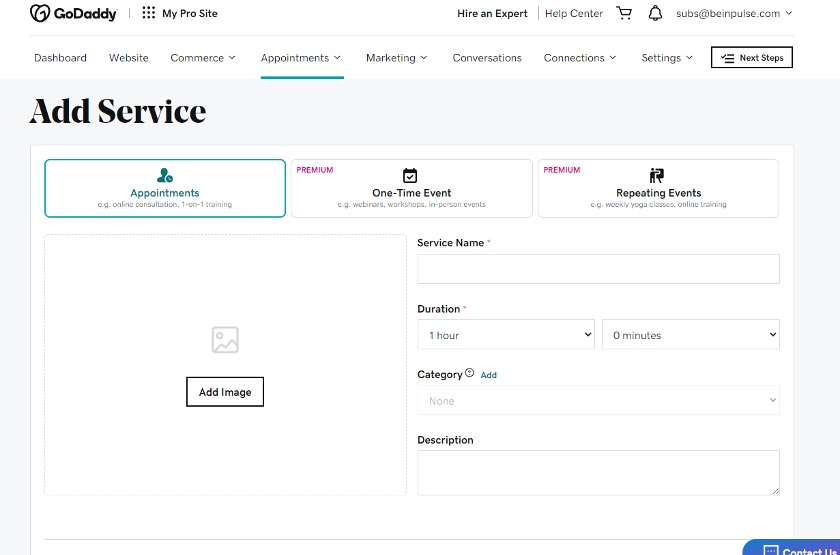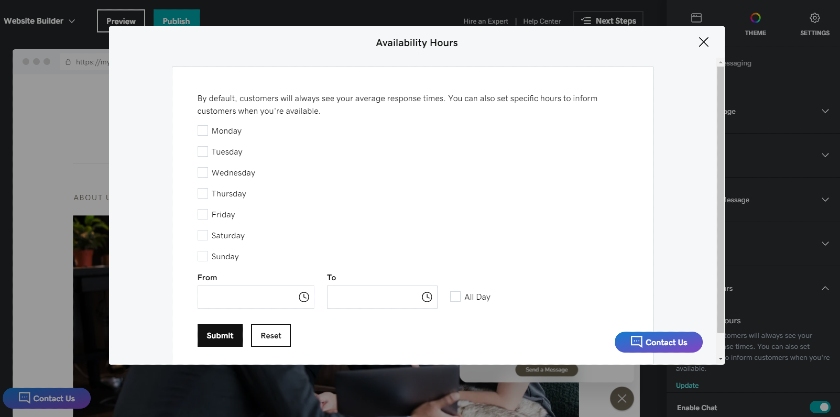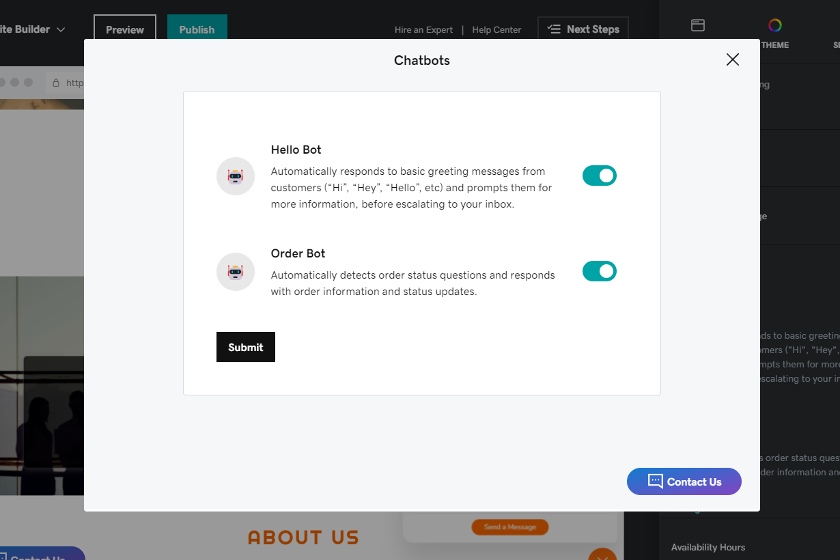 GoDaddy's paid plans enhance your ability to grow with new features added at each tier. However, you will need a pricier upper-tier plan to accept payments with appointment bookings, set up events or classes, or have an online store. At $24.99 per month, for example, the regular cost of GoDaddy's ecommerce plan price is less expensive than Wix' ecommerce plans, which start at $27.
The free plan includes access to the GoDaddy Studio, where you can create branded content such as a logo for your website and images for ads and social media posts. However, some templates are limited to paid users. Even so, for a startup or solopreneur in need of a logo and graphics, the GoDaddy Studio represents added value.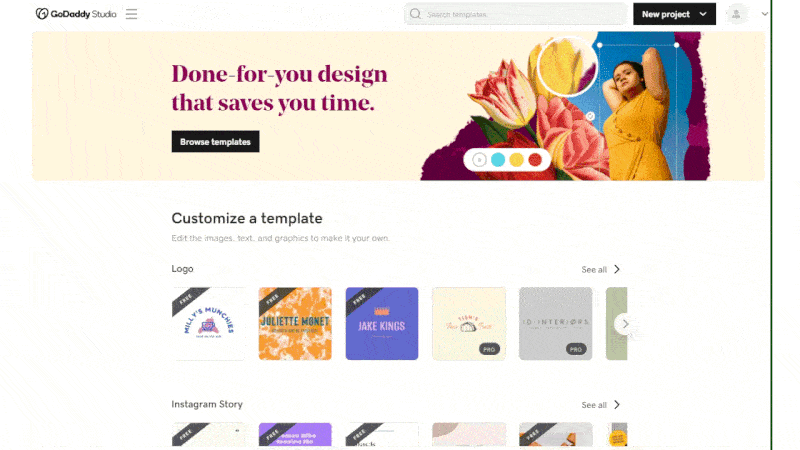 Connect your company's social media (Facebook, Instagram, and Twitter) and business listing accounts (Google Business Profile and Yelp) to create and post content from the GoDaddy site builder. Use the Marketing Planner to be ready with content for upcoming holidays, observances, and other seasonal events. You can even monetize your site by adding Google AdSense to your site.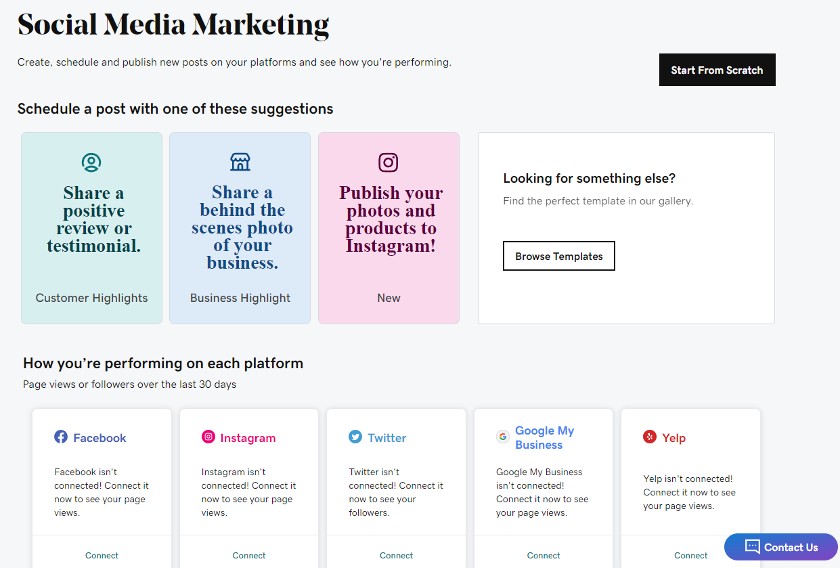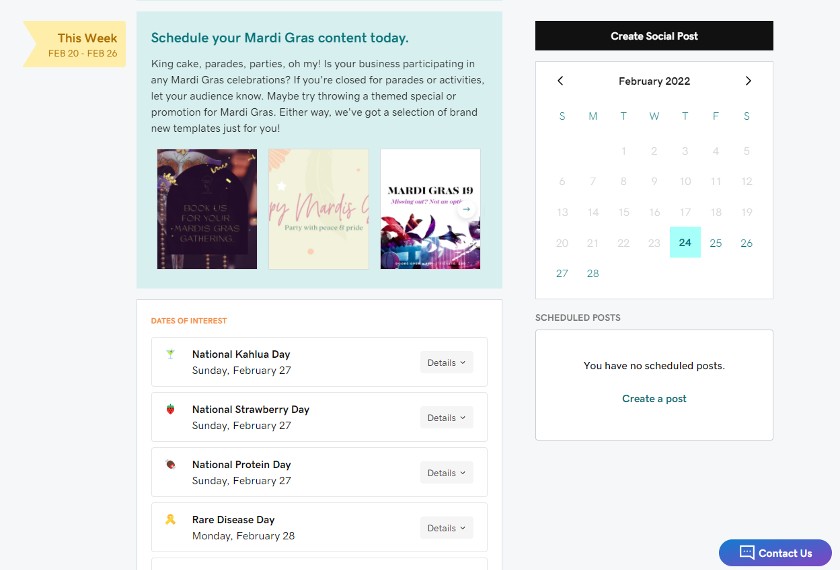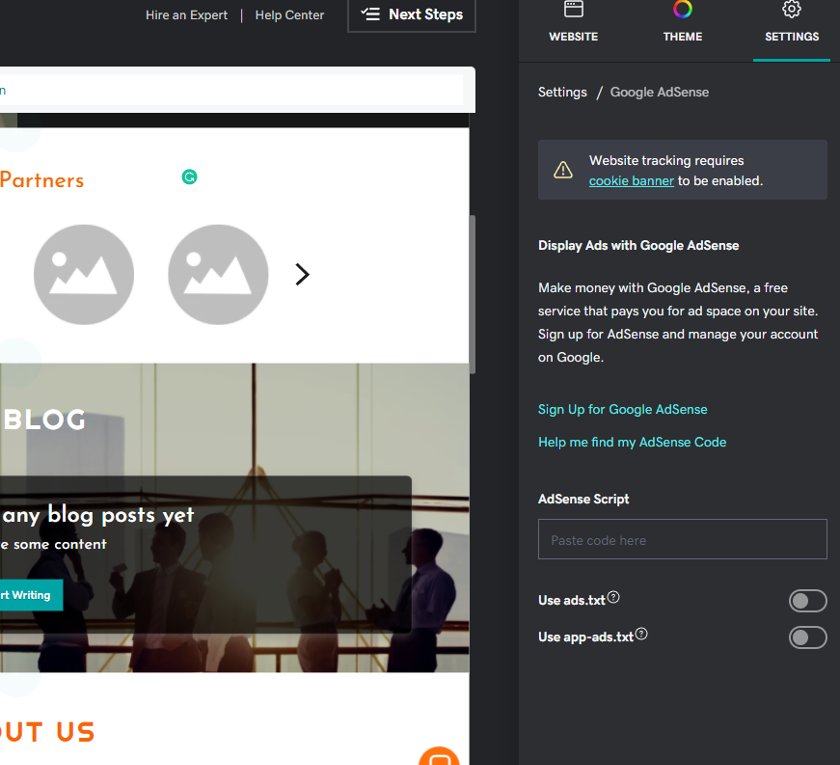 GoDaddy Site Builder Pricing & Features
Free Version

Basic

(First Paid Plan)

Premium

Commerce

(First Ecommerce Plan)

Intro Price per Month*

$0

$6.99

$13.99

$14.99

Renews At*

N/A

$11.99

$21.99

$24.99

Unlimited Storage

✔

✔

✔

✔

Unlimited Bandwidth

✔

✔

✔

✔

Free SSL Certificate

✔

✔

✔

✔

Connect a Domain

✕

✔

✔

✔

Ad-free

✕

✔

✔

✔

Online Selling Features

Pay Links and Virtual Terminal

Pay Links and Virtual Terminal

Online payments and deposits

Full ecommerce / online store
*With 12-month prepayment
Is the GoDaddy Site Builder Easy to Use?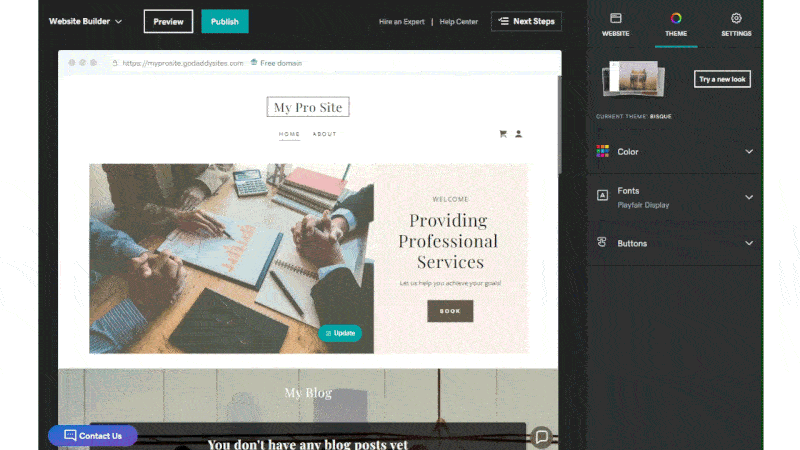 The GoDaddy site creation and editing interface is easy to navigate and use. However, keep in mind that it's not a true drag-and-drop editor, nor does it come with the extensive customizations and templates offered via Wix. To get started, read our article detailing how to build a website with GoDaddy.
Like Wix, which also tops our list of the best drag-and-drop website builders, there are settings for page-level SEO. However, to access GoDaddy's "get found on Google" tools requires you to upgrade to a paid plan. GoDaddy's free and lower-tier plans don't include online store ecommerce functionality, so if you want to sell online from day one, choose Weebly.
Our Expert Opinion
If your operation is service-based or sales-oriented, GoDaddy is the best free website builder for your small business. Clients can book appointments or set up sales demos and chatbots interact with site visitors 24 hours a day to increase engagement and conversions.
Weebly: Best Ecommerce-ready Free Website Builder
What We Like
Robust ecommerce features, including unlimited products, inventory management, and automatic tax calculators—even at the free level
Embed third-party code to track your site's performance
SEO and lead capture tools
What's Missing
Not as intuitive or as design-friendly as other site builders
First paid plan still shows Weebly ads
Storage is limited to 500MB on the free plan
What You Get for Free
Free website and SSL security hosted on a Weebly subdomain with Weebly and Square branding
Online store with unlimited products, quick view and checkout, and inventory management
Extend coupons and sell gift cards
Online ordering for in-store pickup
Payments via Afterpay, Apple Pay, Google Pay, Square Pay, and Cash App, and accept donations
SEO, Instagram integration, Google and Facebook ad management, coupons, and lead-capture forms
Weebly, which is owned by Square, is hands-down the best free website builder for ecommerce. Most free site builders don't include ecommerce capabilities until the highest-tier plans, but with Weebly, you can host an online store for free with unlimited products and multiple payment transaction options.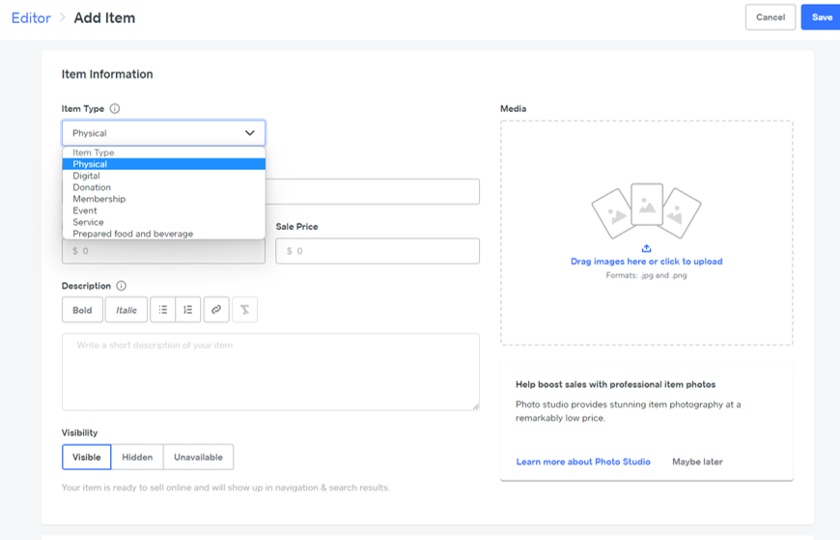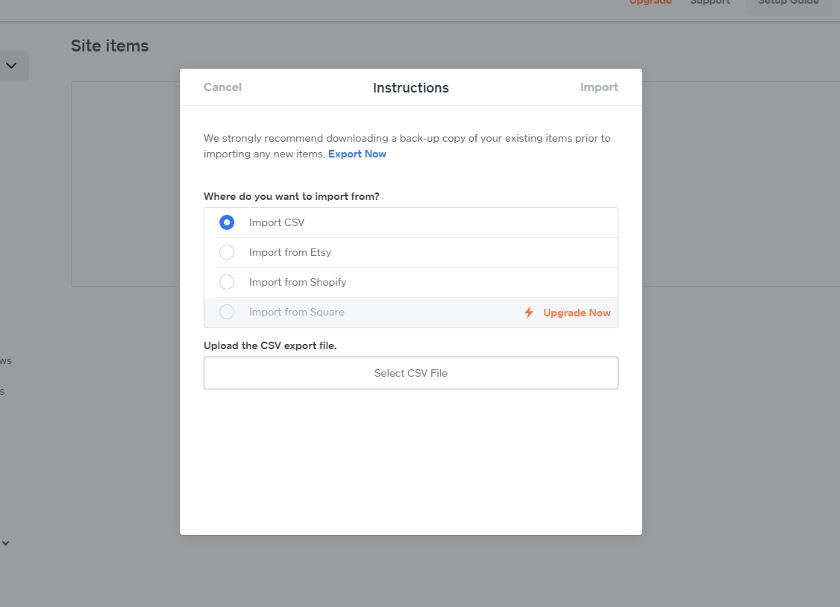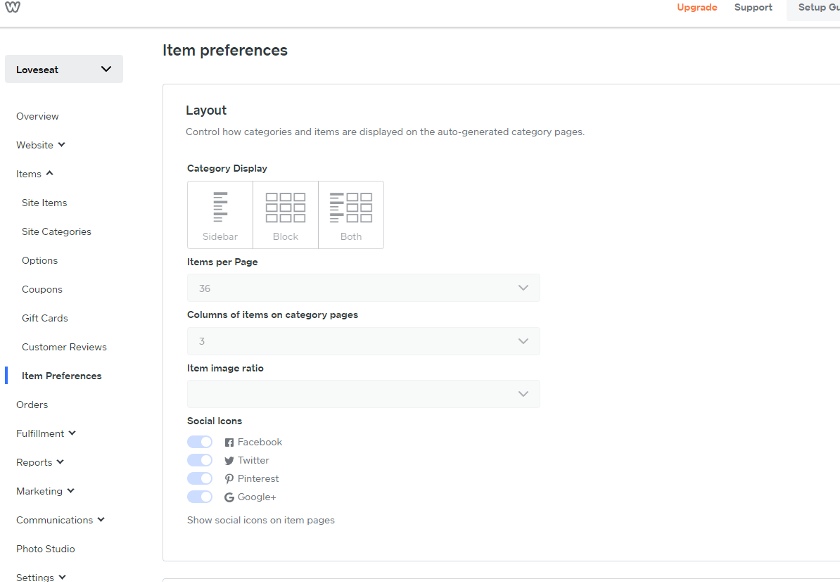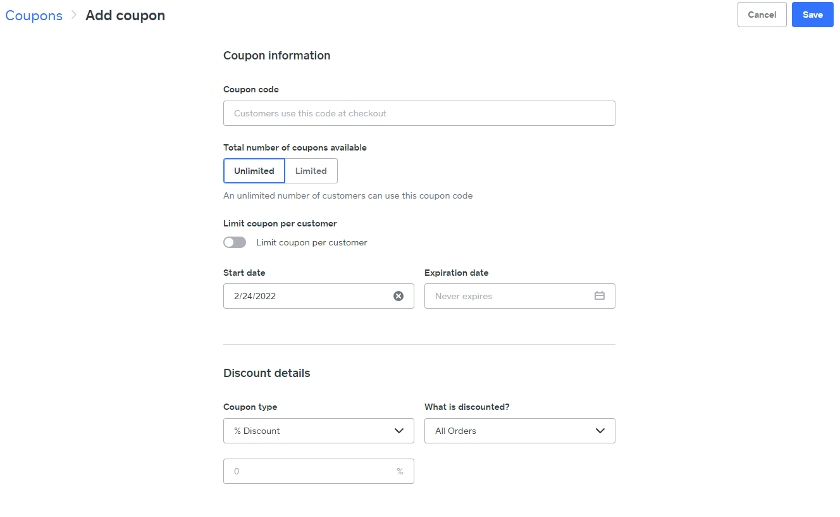 Weebly actually has two different site editors for building small business websites. However, as the Weebly editor is only available to non-commerce sites, we reviewed the Square editor for the purposes of this list.
Like Wix, there are numerous apps you can add to spike sales, boost traffic, engage via social channels, and more, but app access requires a paid plan. However, you do have the ability to add SEO details for your website and its pages, and you can even embed code into headers and footers, such as Google Analytics and Search Console tracking code.
With Weebly, you can also add users and set permissions. Admins have access to everything, whereas authors can view and edit select pages and settings, and users with dashboard permissions can only view and manage stats, forms, and comments.
Weebly Pricing & Features
Free Version

Personal

(With Square Ads)

Professional

(First Ad-free Plan)

Price per Month*

$0

$6

$12

Storage Limit

500MB

500MB

Unlimited

Bandwidth Limit

Unlimited

Unlimited

Unlimited

Free SSL Certificate

✔

✔

✔

Sell Physical Goods

✔

✔

✔

Connect Your Own Domain

✕

✔

✔

Sell Digital Goods

✕

✔

✔

Free Domain Name

✕

✕

✔

Ad-free

✕

✕

✔
*With 12-month prepayment, or pay monthly at a higher rate
Is the Weebly Site Builder Easy to Use?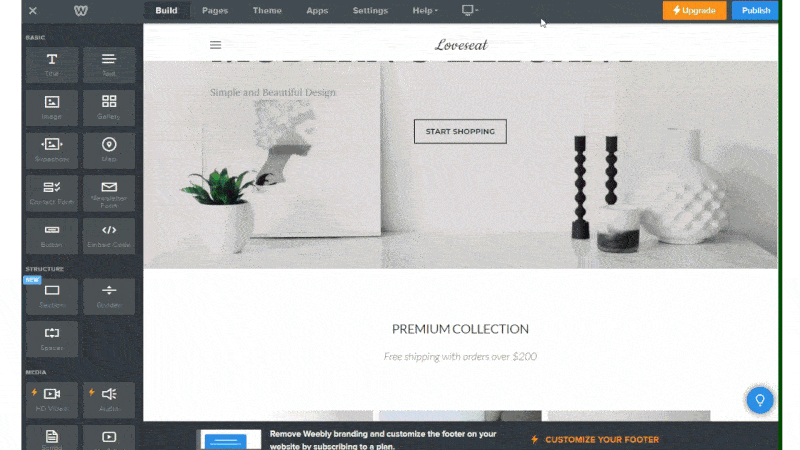 Like GoDaddy, Weebly's site editor is section-based with limited customization. Unlike most of the other free website builders on this list, you can't just add a section by hovering over the site builder. Instead, you have to drag sections from the left-hand menu and then add content into them. To learn more, check out our step-by-step instructions on how to build a Weebly website.
One big plus with Weebly is that you can swap out your theme any time without losing all of your previous work, unlike most other site builders. It doesn't offer as much design freedom as Wix, but for those who want a simple site with the flexibility to easily change templates, it may be a faster way to build your site.
Our Expert Opinion
None of the other top website builders for small businesses come close to matching the ecommerce functionality you get with Weebly. Sell services, products, and even accept donations without upgrading to a free plan, while knowing even more functionality is available when you do.
Webnode: Best Templates for Fast Site Design
What We Like
Modern, sophisticated templates make it easy to customize and publish a small business website quickly
Multilingual websites in upper-tier plans
While not included in the free version, paid plans include from 1-1,000 email accounts
What's Missing
Very limited 100MB storage in free and first-tier paid plans
Bandwidth is also very limited—even for a free website builder
What You Get for Free
Free website with a Webnode subdomain and branding
100MB storage limit
1GB of bandwidth
To be honest, the free version of Webnode is not going to offer enough storage, bandwidth, or essential features for many businesses. Still, if you just need of a basic site but you want it to look professional and modern, this may be a great option for you.
Webnode is also the best drag-and-drop website builder for small businesses that anticipate needing to scale with multilingual sites. While Mozello includes multilingual website capabilities starting with the free version, it only offers about six language options, whereas Webnode listed about 20.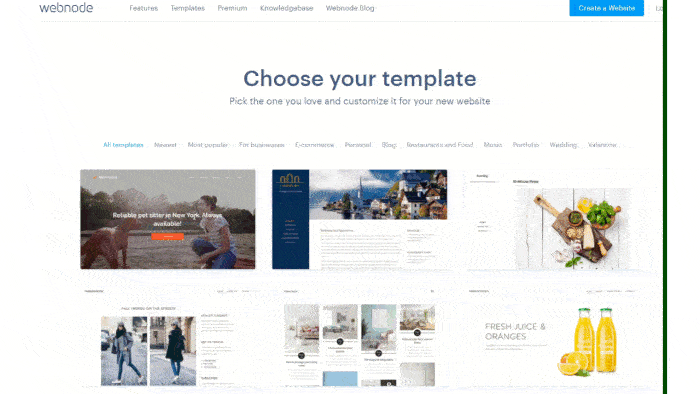 We chose Webnode as the best option for building a website quickly because it has hundreds of modern, premade, multipage templates. This makes it easy to customize a template and publish your small business website in a matter of a few hours, at no cost, and with no need for previous web design or coding experience.
Another standout feature is that like Weebly, you can invite collaborators to help you design, add content, and manage your site. It's also easy to add site and page-level SEO settings ensure your new website can get found online.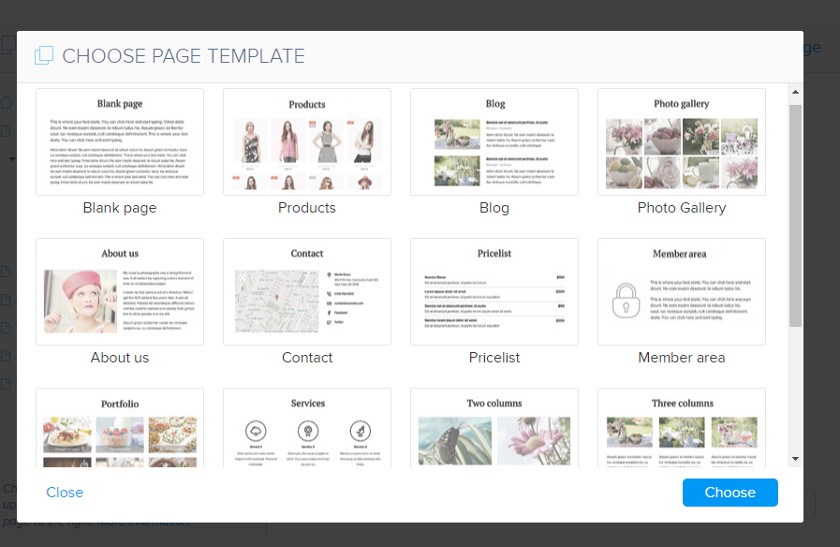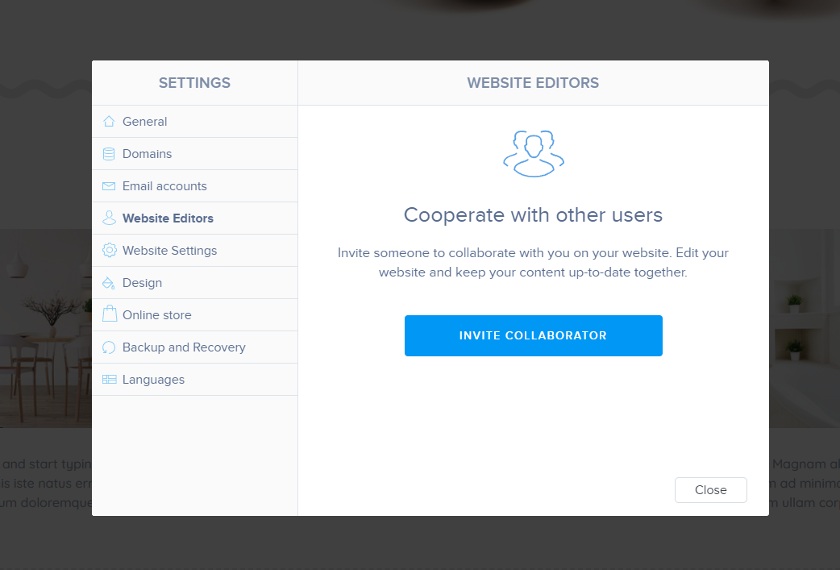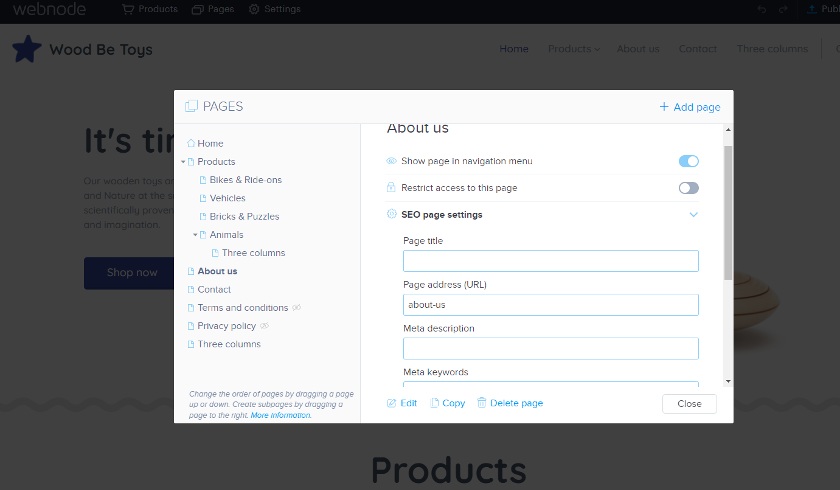 Webnode Pricing & Features
Free Version

Mini

(First Ad-free Plan)

Standard

(Ecommerce Plan)

Price per Month*

$0

$7.50

$12.90

Storage Limit

100MB

500MB

1GB

Bandwidth Limit

1GB

3GB

10GB

Connect a Domain

✕

✔

✔

Free Domain Name

✕

✕

✕

Free SSL Certificate

✔

✔

✔

Ad-free

✕

✔

✔

Online Store

✕

✔

✔
*Based on a 12-month subscription. Save up to 50% with longer-term commitments.
Is the Webnode Site Builder Easy to Use?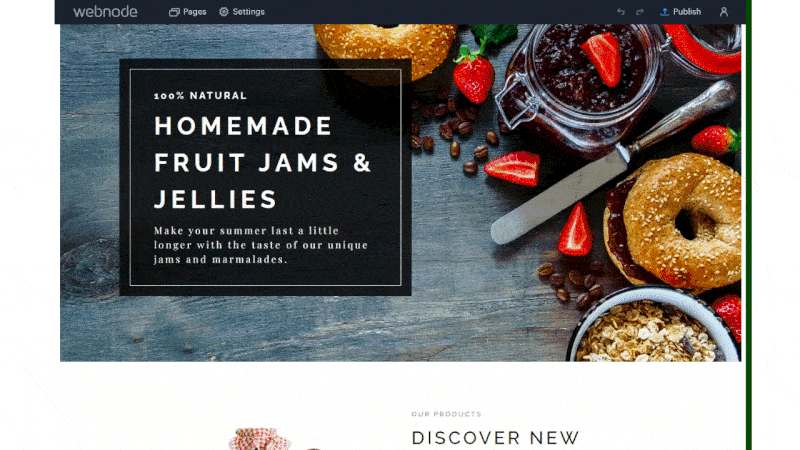 Like Wix, Webnode made our list of the best drag-and-drop site builders in part due to its clean, intuitive interface. It's easy to use and Webnode helpfully also includes access to a stock photo library, so you can quickly build a professional-looking website for your small business even if you don't have your own image library.
In fact, one of the best things about Webnode is that its templates are so well-built and feature-packed that customizing your site is simple and requires very little time. For example, a restaurant template comes with everything from predesigned menus to online ordering and reservations.
Webnode is a standout on this list of the best free website builders for small businesses as the only one including free professional emails in its paid plans. For example, 20 are included with the Standard plan and 1,000 are included for those subscribing to its highest-tier plan.
However, one of Webnode's main drawbacks is the limited storage and bandwidth (even with paid plans). If you need max storage and bandwidth in a free website option, choose GoDaddy. Alternatively, check out the best website builders for photographers, which have features that cater to content-heavy sites.
Our Expert Opinion
We are truly impressed with the stellar templates and prebuilt pages you get with Webnode. They make it easy to create a professional-looking website in a matter of hours. If speed-with-style is of the essence in your website building process, choose Webnode.
Mozello: Most Intuitive Free Website Builder Interface
What We Like
Create multilingual sites, even with the free version
Sell online, even with the free version
Free domain and SSL certificate with all paid plans
What's Missing
Storage space is limited to 500MB on the free version
Free version limits you to 5 products for ecommerce
Have to opt for the highest tier to get payment options besides PayPal
Limited number of templates
What You Get for Free
Free website with SSL security on a Mozello-branded subdomain
500MB of storage
Online store with up to 5 products and payments through PayPal
Bandwidth is unlimited, but Mozello reserves the right to increase rates or suspend sites that consistently exceed 30GB per month
Marketing features including SEO support, social media, Facebook pixel, and access to HTML code
We found that Mozello has the most intuitive and user-friendly interface of all the top free website builders. This allows for fast, frustration-free website design. It doesn't have nearly as many templates to choose from as Wix or Webnode, but those available cover a variety of industries and design styles.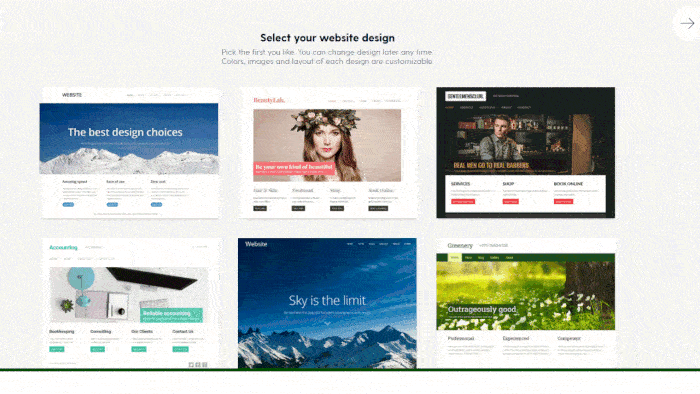 Having an intuitive interface can't be discounted when it comes to ease and speed of site design. For example, when you click on "extras," you can quickly change your cookie notice or add share buttons to your website, either of which could be easily overlooked if you needed to go find these settings with other site builders.
It's also easy to find various settings, such as where to update your SEO settings and attach your Google Analytics ID for tracking. If you want to change the look of your site, that's easy too, although you need to do that before spending a lot of time customizing your site or adding content, since you'll have to start over if you choose a new template.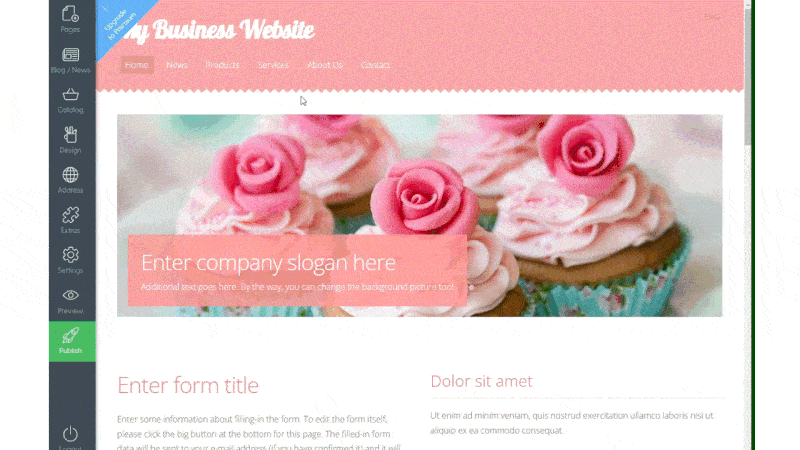 Besides Weebly, Mozello is the only other free website builder on this list to include ecommerce at the free plan level. However, it doesn't come near to offering the same level of features as Weebly in this regard.
At the free level, you're allowed just five products with Mozello vs unlimited products with Weebly. For unlimited products with Mozello, you have to upgrade to the highest plan tier at $18 per month (paid annually).
Mozello Pricing & Features
Free Version

Premium

(first paid plan)

Premium Plus

Price per Month*

$0

$8

$18

Storage Limit

500MB

50GB

Unlimited

Bandwidth Limit

Unlimited

Unlimited

Unlimited

Free SSL Certificate

✔

✔

✔

Connect Your Own Domain

✕

✔

✔

Free Domain Name

✕

✔

✔

Ad-free

✕

✔

✔

Ability to Sell Online

5 products

20 products

Unlimited

Accept Payments

PayPal

PayPal

PayPal, Stripe, Braintree, or via developer API (application programming interface)
*With an annual subscription, or pay quarterly at a higher rate
Is the Mozello Site Builder Easy to Use?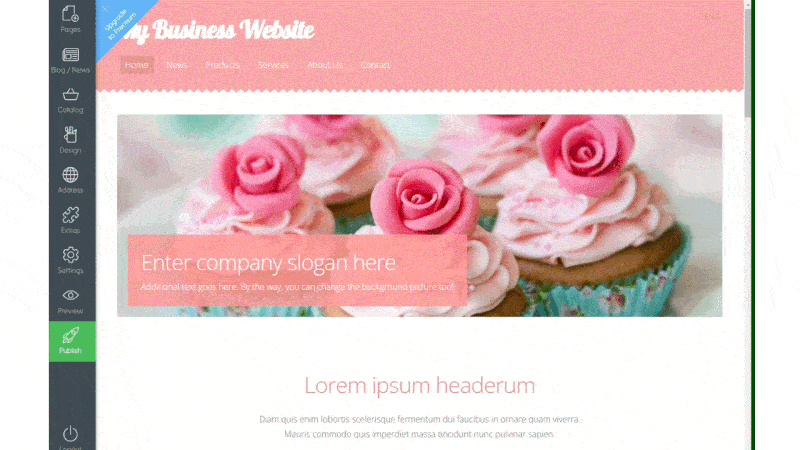 Thanks to its intuitive interface, Mozello is one of the easiest ways to build a free small business website. The menus are simple and well-organized, and your changes are applied quickly, so even if you need to make a lot of changes before you're happy with the final design, it shouldn't take too long.
Where Mozello falls short design-wise in comparison to free website builders like Wix and Webnode, in particular, is the lack of prebuilt content blocks front-loaded with images. This makes it harder to visualize what a section will look like after you add it to the site. It also currently offers far fewer templates than Wix and Webnode.
Our Expert Opinion
After testing many free website builders, we felt that Mozello provided the most intuitive interface. Plus, it's one of few to provide ecommerce in a free version. This makes Mozello a cost-effective and user-friendly option, even though you might find it falls short as to the number of templates and prebuilt content blocks available to you when building a site.
How We Evaluated the Best Free Website Builders for Small Business
To be considered for our list of the top website builders for small businesses, providers have to offer a free-forever plan that provides enough features for a basic small business website. To determine which are the best of the best, we considered what you get within free plans, affordability of entry-level paid plans, as well as ease of use and our own firsthand expertise.
Learn more about each of our evaluation criteria by clicking the tabs:
30%
Customer Support & Ease of Use
20% of Overall Score
We required that providers offer absolutely free-forever plans as well as affordable entry-level plans so that as your business grows and your website needs change, you can move into a premium plan that won't break the bank. For more budget-friendly options, check out our list of the best cheap website builders.
30% of Overall Score
It's one thing to get a free website, but what matters is what you get for free. We compared providers in terms of what you get for free, like storage, bandwidth limits, and inclusions such as a free SSL certificate, site analytics, and built-in tools for SEO.
10% of Overall Score
Website builders make creating websites easy, and part of what makes various providers so compelling is the unique functionality provided in addition to general features. We looked at how providers add value to free site builder plans, such as marketing tools, ecommerce features, customization levels, availability and range of templates and image libraries, and so on.
30% of Overall Score
Free doesn't matter if a site builder is hard to use and navigate. We looked for the site builders with the most user-friendly interfaces and which had support available for free plan users.
10% of Overall Score
While one can look at each provider and see what they claim to be, it's even better to have firsthand experience using each of the providers to build a website. To determine which really offer the best set of features, are the easiest to use, and provide the best value, we weighed in with our own expertise.
*Percentages of overall score
Our top pick for the best free website builder is Wix. Not only is it user-friendly, but it also provides the most design freedom and customizability, including essential SEO and marketing tools small businesses need to create and grow an online brand presence. It's free to use, forever if you want, so there's no risk to check out this site builder today.
Frequently Asked Questions (FAQs)
Is it OK for a business website to use a subdomain?
Ideally, businesses will purchase and use a top-level domain (TLD) name (i.e., businessname.com) vs a subdomain. However, starting with a subdomain via a free site builder is a valid option, especially when budget makes it a necessity. Plus, there are many instances where businesses create subdomains under their TLD (e.g., app.businessname.com). Find out more about what a subdomain is and how best to use them.
How do I get a domain name?
If all you need is a domain name, your best bet is to use a domain name registrar, such as Domain.com or any that made our list of the best domain registrars. Keep in mind that many web hosting companies and site builder plans include a free domain, so it's worth checking if that comes with the provider you plan to use before buying one. For example, Wix and Mozello both include domain names with paid website builder plans.
Is WordPress a free website builder?
WordPress is a free, open-source content management system (CMS). While you can use it to build a blog using a WordPress.com subdomain for free, it's not sufficient for a small business website. At a minimum, your cost to build a WordPress website will include web hosting ($3 to $10-plus per month), and many businesses also purchase premium themes ($29 to $79-plus) and plugins (from free to hundreds of dollars per month).
You Might Also Like…