Bluehost Webmail Setup: How to Use Bluehost Business Email in 4 Steps
Bluehost webmail is simple, user-friendly, and has all the essentials you need. The process for setting up Bluehost business email is straightforward: create an account, go to settings, and add an email address. Once your address is created, you can use the Bluehost webmail client to check your email online or add it to your preferred app.
Bluehost's shared hosting plans include a free domain name and free email addresses. With plans for as low as $2.95, you get excellent value for money and a reliable website and email hosting solution.
1. Choose a Bluehost Hosting Plan
Bluehost is a web hosting service that bundles business email hosting and a free domain name and SSL in WordPress site builder plans for just $2.95 monthly. It's one of the best web hosting services for small businesses, especially those planning to build a website on WordPress.
Here's how to set up your Bluehost business email account:
Sign up for a hosting plan (see below).
Choose a domain name to use for email and enter it in the field provided to check availability, or, if you already have a domain, connect it to your account.
Add your contact and account information, select any extras you want, enter your payment info, and hit "Submit."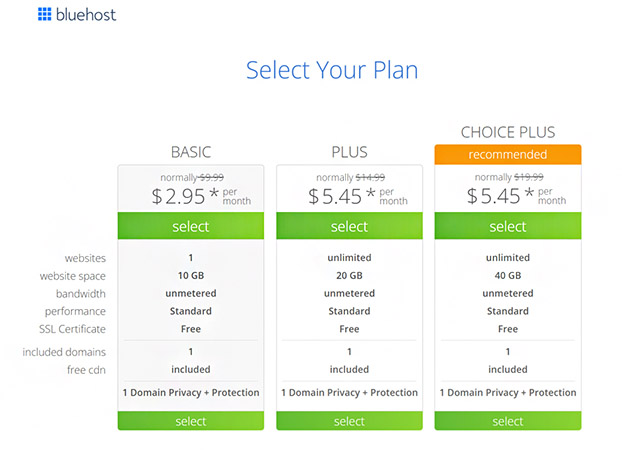 ---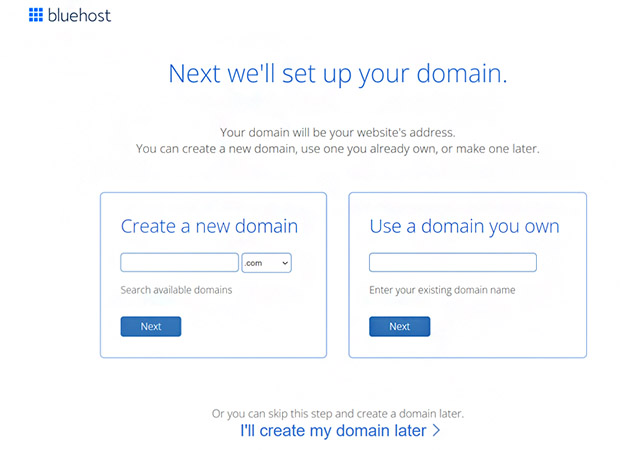 ---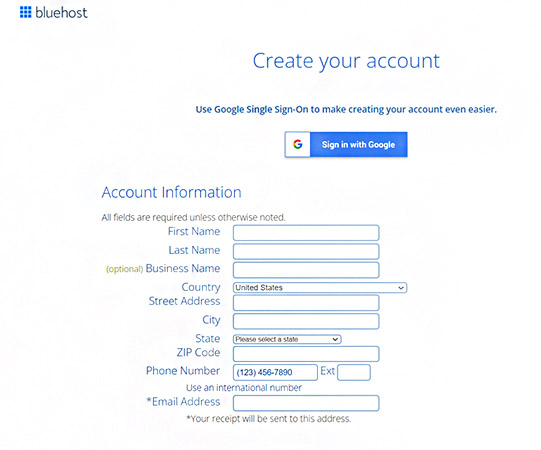 ---
Bluehost Business Email Hosting Plans
Aside from learning how to choose a domain name, the most important consideration in this step is deciding on the hosting plan you'll sign up for. Click the tabs below to see which plan fits your business email needs.
Cost: $2.95/month the first year, billed annually, renews at $9.99/month
What's included:
Email hosting for 1-5 business email addresses with 500MB storage each
Email aliases (forwarding emails)
WordPress website hosting for one website (10GB storage)
Free domain for one year
Free SSL certificate (encrypts data)
Free WordPress installation and no-code page builder
Cost: $5.45/month the first year, billed annually, renews at $14.99/month
What's included:
Hosting for unlimited business email addresses with unlimited email storage
Email aliases (forwarding emails)
WordPress website hosting for unlimited websites
20GB website storage
Free domain for one year
Free SSL certificate (encrypts data)
Free WordPress installation and no-code page builder
2. Create Your Business Email Address
You can set up five business emails for free on the Basic plan, and unlimited addresses on higher-tier Bluehost hosting plans. In addition, you can set up multiple alias email accounts (we explain more about this later).
To create email addresses in Bluehost:
Sign in to your Bluehost account.
On the dashboard, find "Advanced" on the left side menu
Under the Email banner, choose Email Accounts
Click on the blue "Create" button to the right
Select the domain you want to use from the drop-down menu
Type in your username in your preferred format
Add a password or have Bluehost generate a strong password for your email account
Optional: Go to "Edit Settings" to set optional settings, like choosing how much storage space you want to allow for your Bluehost business email
Pro tip: Not sure how to format your business email address? Read our article on professional email address ideas, which weighs the pros and cons of different email address formats to find the best version for your small business.
3. Start Bluehost Webmail Setup
Webmail, or web-based email, allows you to access your Bluehost email account from any web browser. To access your email and proceed with Bluehost webmail login, follow these instructions:
Log into your control panel
Click on "Advanced"
Scroll down to the "Email" section
Click on "Email Accounts"
Find your email account in the list, and click on the link that reads "Check Email"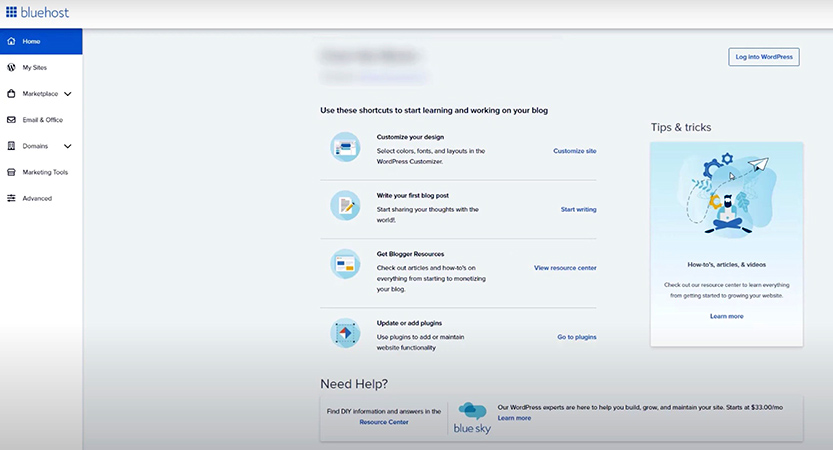 ---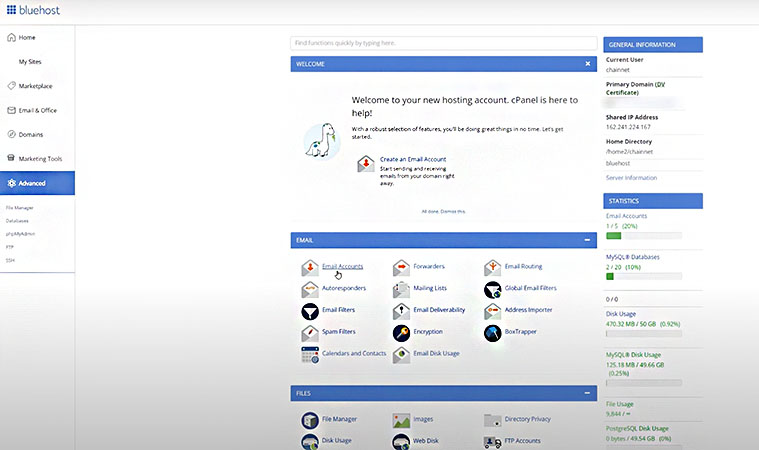 ---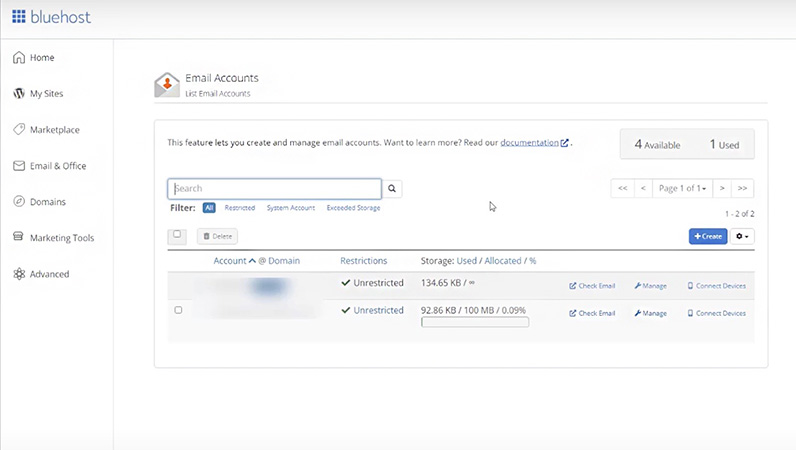 ---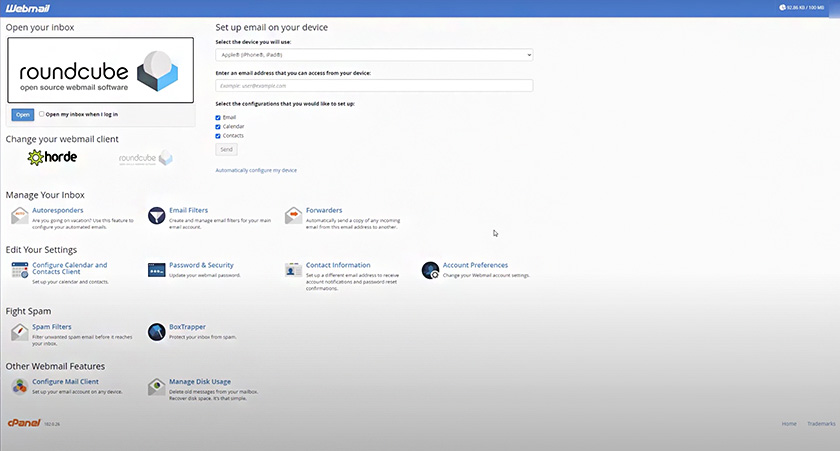 ---
Roundcube is the default webmail client, but you also have Horde as an option, and both are free. You can change the webmail client as soon as you click on the "Check Email" button. The difference between the two is that Roundcube is a basic Bluehost webmail client that is perfect for business email beginners, while Horde includes better productivity features for organizing and managing emails.
4. Add Your Email to Third-party Email Software (Optional)
It's up to you whether you continue to check your email through Bluehost's webmail client or set up your Bluehost business email in another business email app, like Gmail, Outlook, or Apple Mail. If you want to use a different platform, you can add third-party email software to check your Bluehost email easily and at no extra cost.
Part of Bluehost business email setup resources are guides for setting up your email account on different email clients. The instructions vary depending on the software, but are easy to follow, and you can add your email address to any of these apps with just a few clicks. Here's what to do for these top email clients:
Next Steps: 7 Ways to Use Bluehost Business Email
Creating your email address is only the first step in using Bluehost for business email to build brand presence online. Below are some tips with premade templates and additional reading to help you make the most of your Bluehost business email plan.
Brand credibility with a custom signature: Creating a professional email signature is a great way to increase the credibility of your brand with recipients. Most also contain a clear call to action, making it easy for the prospect to take a desired action, like booking a demo or starting a free trial. Get inspiration for yours from dozens of professional email signature examples.
Sales emails: Cold sales emails can generate and nurture leads or follow up after a demo or free trial period. Get started with seven proven sales email templates.
Brand awareness emails: Use business introduction email templates to inform prospects of your company and start a conversation around its products and services.
Customer service emails: Create templates that can be easily cut and pasted into Bluehost webmail apps, or set up reusable customer service response templates on Outlook and Gmail.
Create an address for email marketing: When using email marketing software like Mailchimp, it's common practice to create a dedicated email address such as news@businessname.com as an alias email. This way, recipients can respond to an individual or shared inbox for follow-up, while also protecting the individual email addresses of your employees.
Alias emails: Alias emails are generic email addresses that forward to a department or email addresses you use to protect your anonymity. They're often used on websites to provide a general email contact or for queries that need to be directed to sales, customer service, public relations, and so on. With Bluehost, you can create alias emails and have them automatically forwarded to someone in your organization or to multiple employees.
Shared inboxes: Similar to alias emails, Bluehost business email accounts can be set up for shared access by departments or teams. Learn more about this in our article detailing different types of professional email address ideas.
If you haven't considered some of these ideas before, go back to the basics. Read up on how to create a business email, and why it's crucial for every small business.
Frequently Asked Questions (FAQs)
Does Bluehost give you a business email?
Yes—Bluehost gives you five to unlimited business email addresses in its shared web hosting plans. The Basic plan costs $2.95 monthly for up to five emails with 500MB of storage per inbox the first year, but renews at a higher rate. All other plans include unlimited business email hosting and storage.
How much is business email on Bluehost?
Bluehost business email starts at $2.95 per month the first year for up to five emails and renews at $9.99 monthly. For unlimited emails on Bluehost, you'll need the Choice or above plan, which costs $5.45 a month for the first year and renews at $14.99 a month afterward. Also, keep in mind that all plans are billed annually, so budget accordingly.
Can I use my Bluehost email with Gmail?
Yes, you can access your Bluehost emails through Gmail for free. To set up Bluehost email in Gmail, access your Gmail settings, and add another account under the "Accounts and Import" tab. From there, follow Google's instructions to access your Bluehost email.
Bottom Line
Using branded business email addresses is important for every business. The good news is the process for Bluehost webmail setup is easy. At the same time, their plans are affordable, whether you only need one account or hundreds. Plus, Bluehost webmail makes your emails accessible from anywhere as long as you have an internet connection.