Bluehost Webmail Setup in 3 Easy Steps
Bluehost's shared hosting plans include a free domain name and from five to unlimited free email addresses. Your Bluehost webmail setup can be done in just three steps: create an account, go to settings, and add an email address. Then you can use Bluehost webmail for business email online or in connecting your email address to your favorite email client, such as Gmail, Outlook, or Apple.
Here's how to set up Bluehost webmail for business email in just three steps:
1. Get a Bluehost Hosting Plan and Domain
Bluehost is a WordPress-recommended web hosting service. Its shared hosting plans bundle WordPress hosting along with perks like a free domain, free SSL certificate, free email addresses, and a WordPress website builder from just $2.95 per month. For these reasons and more, it's one of the best web hosting services for small businesses, especially those planning to build WordPress websites.
The first step is to sign up for one of their web hosting plans. During account setup, you can enter your desired email domain name to see if it's available, connect a domain you already own, or opt to select a domain later.
2. Navigate to Email Settings
After you have created your Bluehost account and your domain is registered, you can set up your Bluehost webmail addresses. You can set up five business emails for free on the Basic plan, and unlimited addresses on higher tier Bluehost hosting plans.
First, sign into your Bluehost account. On the dashboard, find "Advanced" in the "Helpful Links" section and click on "cPanel." On the next screen, under the Email banner, choose Email Accounts. This is where you'll manage your Bluehost webmail accounts.
3. Create a Bluehost Webmail Address
Click on the blue "Create" button to the right. On the next screen, select the domain you want to use from the dropdown menu. Then, type in your username in your preferred format, such as firstname.lastname@yourdomain.com or a general username such as info@yourdomain.com, or help@yourdomain.com. Learn more about the best way to format business email addresses by reading professional email address ideas.
Add a password or have Bluehost generate a strong password for your Bluehost webmail account. You can also change the password's settings (e.g., changing the required length) by clicking on the dropdown arrow to the right. Under "Optional Settings," you can also click on "Edit Settings" to set some optional settings for your Bluehost email.
Here you can choose how much storage space you want to allow for storing emails. If your Bluehost account comes with unlimited storage (i.e., any premium plan above Basic), we suggest ticking the "Unlimited" option. Keep the check box marked to have Bluehost send you an email with instructions on how to set up your mail client—you'll need these instructions later.
Use Bluehost Webmail for Business Email
Webmail, or web-based email, allows you to access your Bluehost email account from any web browser. To access your email via Bluehost webmail, log in to your control panel, click on "Advanced," scroll down to the "Email" section, then click on "Email Accounts. Find your email account in the list, and click on the link that reads "Check Email." This opens the webmail client.
Roundcube is the default webmail client, but you also have Horde as an option. Click on Open to go to your inbox. You should see one email in your inbox titled "Client configuration settings for yourname@yourdomain.com." Alternatively, you can add your email address to your preferred email client software, which we discuss below.
Add Your Email to Third-party Email Software
It's up to you whether you continue to check your email through the Bluehost dashboard or webmail client or set up your Bluehost email in another email client. Whether you prefer Gmail, Outlook, or Apple Mail, or something else, you can use any of these email software tools to check your Bluehost email address easily and at no extra cost.
To connect your free Bluehost email to a third-party email host, pick your preferred email host using the dropdown box below and follow the steps:
Gmail

Before you get started, make sure you have the welcome email with configuration settings from Bluehost ready to go. Navigate to your Gmail inbox and click on the settings icon.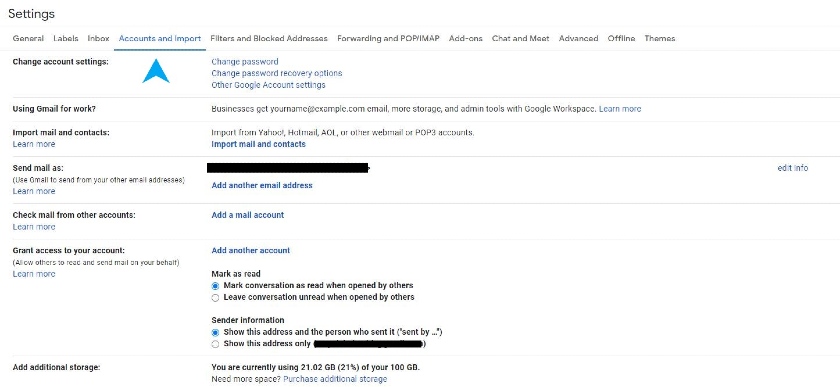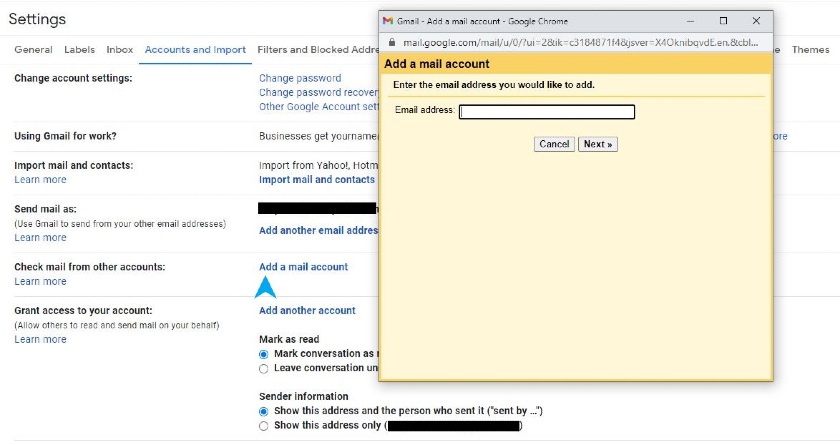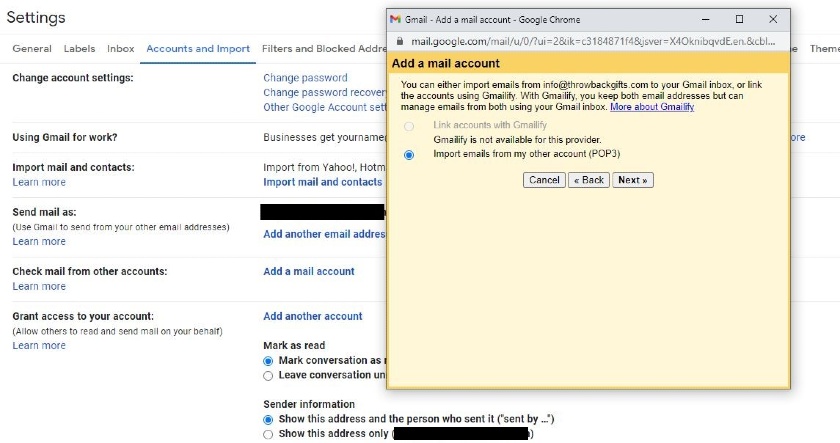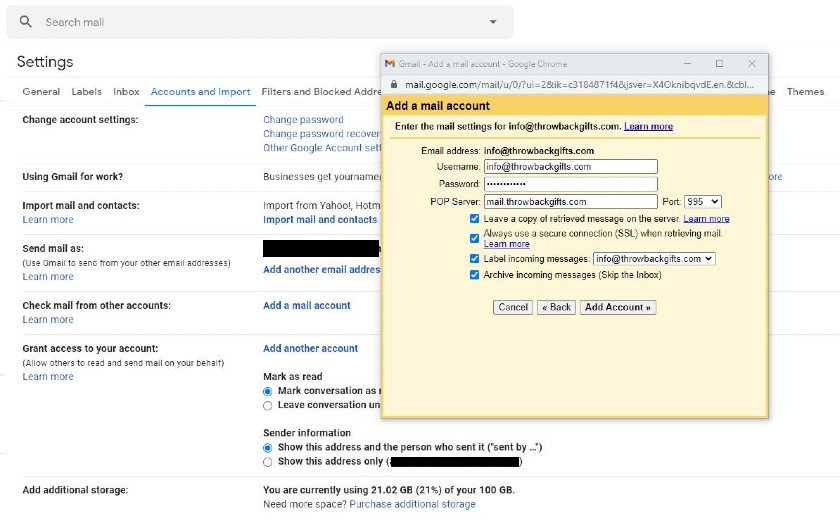 Click on the "Accounts and Import" tab. Scroll down to where it reads "Check mail from other accounts" and click on "Add a mail account." You should see a yellow box pop up. Enter your business email address from Bluehost in the box, and then click "Next."
Keep the radio button where it is because the Gmailify service is not available for Bluehost. Click "Next". Now you need to refer to your welcome email. Enter the username you set up in your Bluehost account, the password you chose or generated, and the POP server name, which is typically mail.yourdomain.com. Be sure you add port 995 for a secure, encrypted connection.
Checking the boxes below your mail settings for Gmail is a matter of personal preference. We suggest checking at least the first two, so you can keep copies of your emails on your Gmail server, and that your connection is secure when checking email. Labeling and archiving messages help keep you from mixing up business and personal emails in one inbox.
Now that you've added your email account, you have a few other things to set up if you want to send an email from your Gmail account using your business email address. Click "Next." Add the name you want to appear as the "sent from" line on your emails. In this case, we chose to have the business name show. If you're a consultant or use your name as your business, you may prefer to use your first and last name.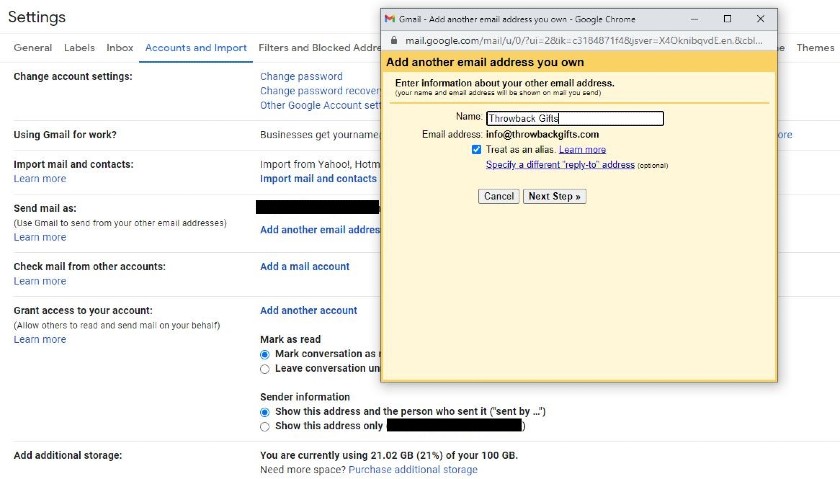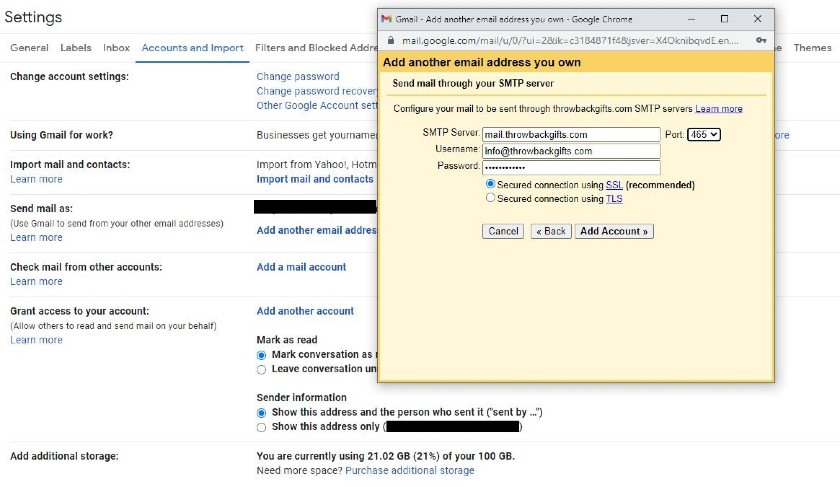 Refer to your configuration email again to get what you need for this next screen. This is an outgoing server, so be sure to use that information. For example, this is an SMTP outgoing server, and using port 465 ensures a secure SSL connection.

To verify your new email address in your Gmail host, check your email from your webmail client. Add the confirmation code in the next screen on your Gmail account, and click verify.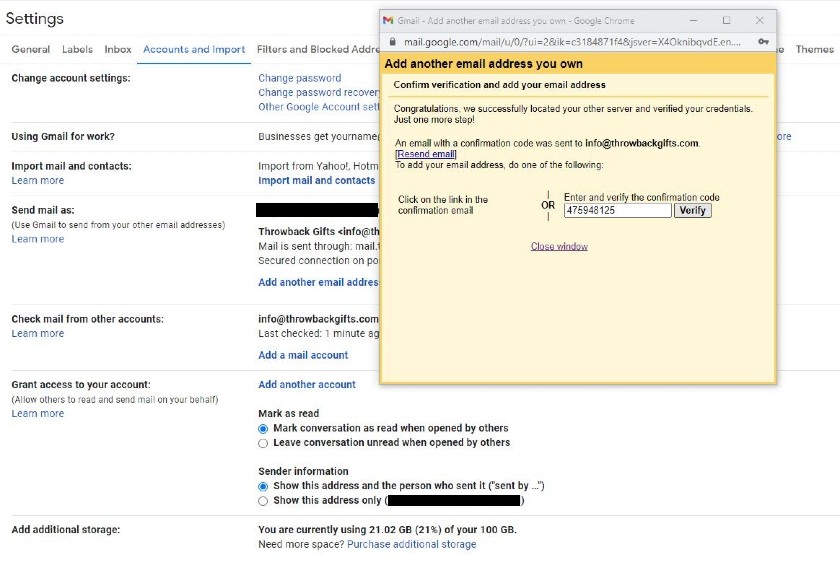 Now you'll be able to check your personal and business email from one email host. Plus, your Bluehost email should appear in a separate labeled folder, which keeps your primary inbox tidy. If you set up Gmail to let you send an outgoing email with your business email, you should see two options when you compose a new message in the "from" field.
---
Outlook
For Outlook business email, start by opening the web-based version of Outlook from a browser window or the software on your desktop or your mobile device's app. Choose the Settings gear icon in the upper right corner. You should only need to enter your email address' username and password, and Outlook will automatically configure the other settings.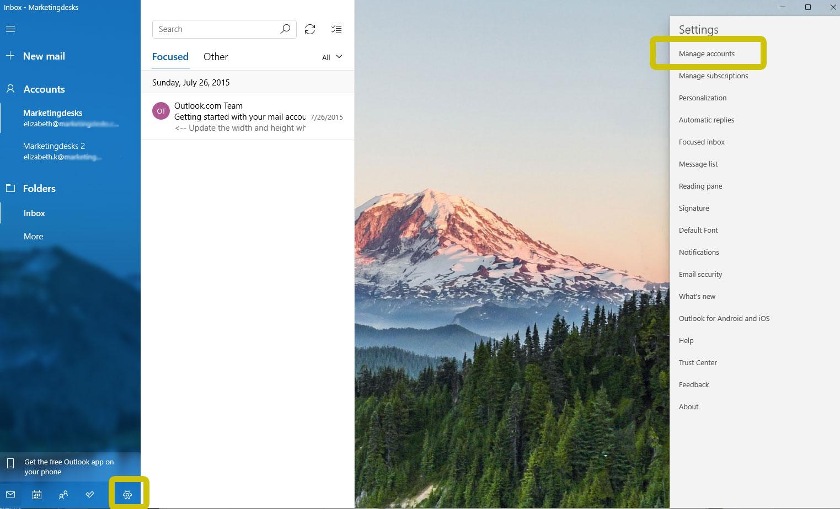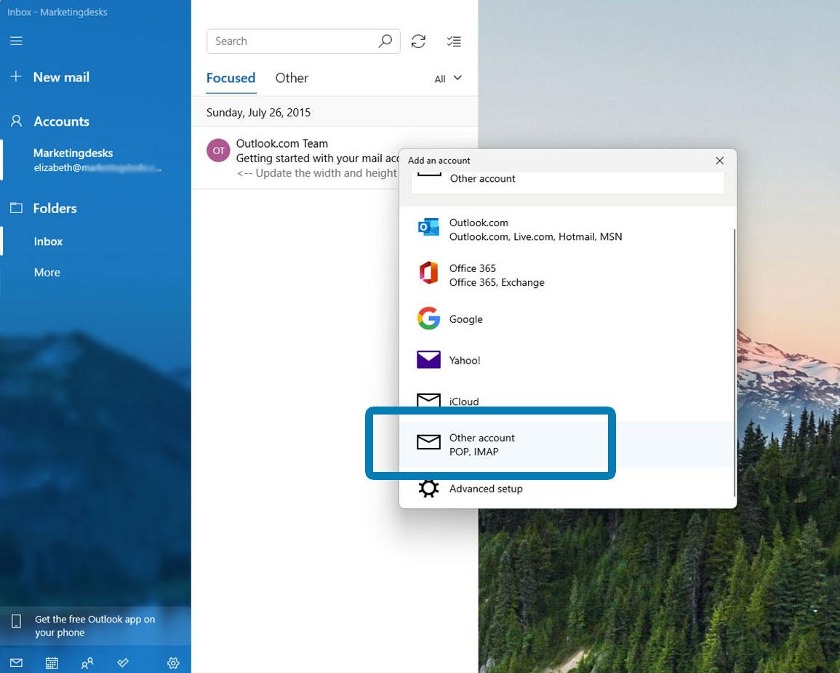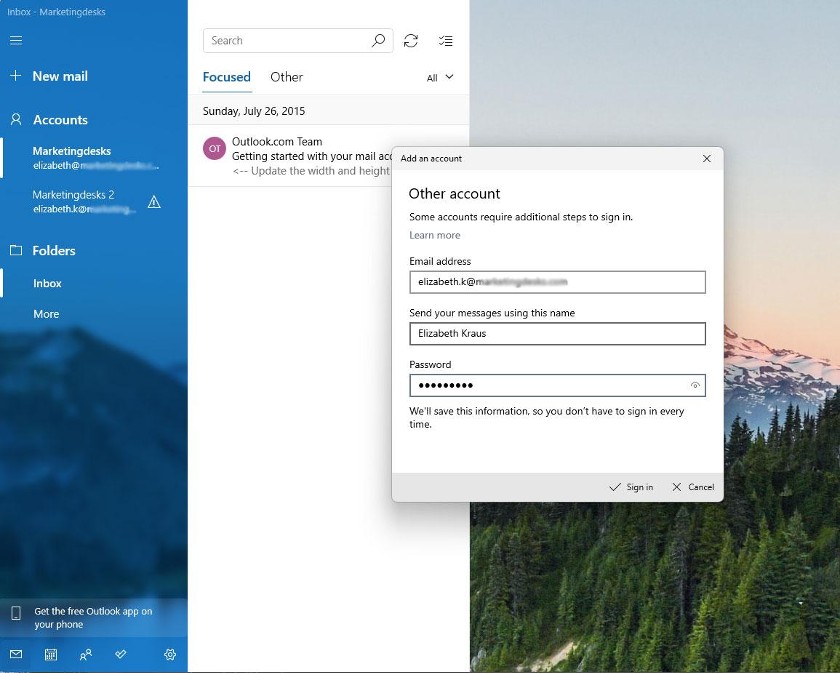 In the web-based Mail version of Outlook, click on the gear icon for settings, then "Manage Accounts" and "+ New Account." Scroll down and choose the option for IMAP/POP, Enter your email address username and password, and you should be all set.
If you do need to manually configure any settings (e.g., POP or IMAP) you can do so with the information in your Bluehost webmail welcome email. Once set up, your emails will sync automatically whether you check them via Bluehost webmail, Outlook's web-based email client, the email software on your desktop computer, or the mobile Outlook app.
---
Apple Mail
To add your Bluehost business email to Apple Mail on your iPhone, download the app from the App store. Click on "Other" on the welcome screen. If you already have Apple Mail, head to your iPhone's settings, scroll down to "Mail," click it, and then click "Accounts." At the bottom of the list, you should see an option to add more accounts. Then, click on "Other" on the next screen, and add a mail account.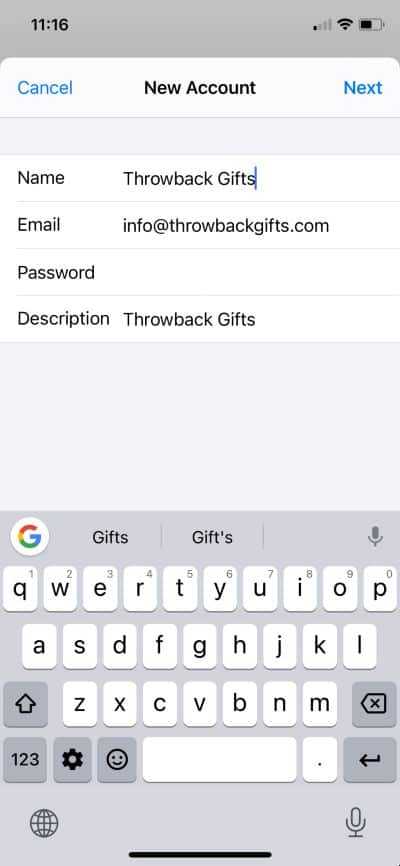 On the next screen, add the information about your email account, including the name you'd prefer to use (your business name or first and last name, for example), your full email address, and your password when you set up your Bluehost email account. Adding a description of your account is optional.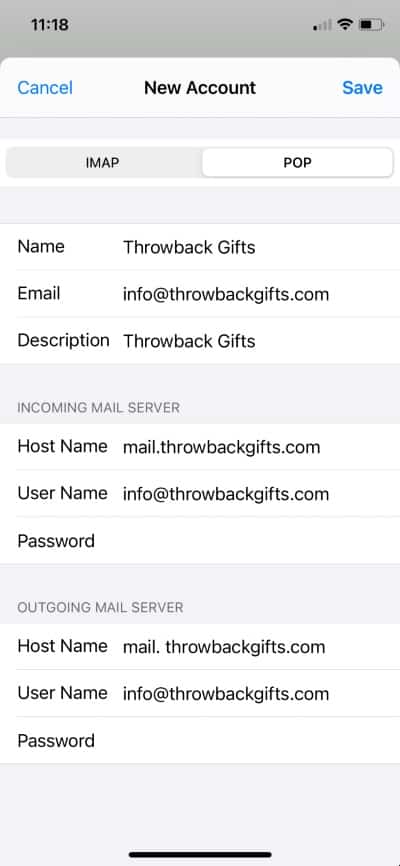 Now you should enter the configuration information from your welcome email. You shouldn't have to enter ports—just make sure you set up your incoming mail server as a POP server.
---
Frequently Asked Questions (FAQs)
What do I need to make sure my email looks professional?
Aside from setting up a business email, we highly recommend creating a professional email signature. It might be a small piece of branding, but it's a cheap and easy marketing tool that can generate leads. You can even create one for free using tools like HubSpot's email signature generator. However, if you want a unique email signature with advanced features like analytics, we suggest paying for a premium generator like Growth Mail.
How do you get a free email domain name?
Get a free email domain by taking advantage of offers from services you'll need for your business. Bluehost, IONOS, and DreamHost all provide free email domain names with web hosting plans, and IONOS also offers dedicated email hosting that includes a free domain. Learn more about how to determine which service and method of getting a free email domain name are right for you.
Can I use my Bluehost email with Gmail?
Yes, you can access your Bluehost emails through Gmail for free. To set up Bluehost email in Gmail, access your Gmail's settings, and add another account under the "Accounts and Import" tab. From there, follow Google's instructions to access your Bluehost email.
Bottom Line
Creating a business email account is important for any company, and it only takes three steps to set up Bluehost webmail. Bluehost webmail is one of the easiest, and cheapest, ways to get branded business email for your company–in fact, it comes completely free when you purchase one of Bluehost's hosting plans. Plus, you can add your email account to Outlook, Gmail, Apple Mail, or your favorite email client and check your email any way you want.
You Might Also Like …