Broadvoice Review: Is It Right for Your Business?
This article is part of a larger series on VoIP.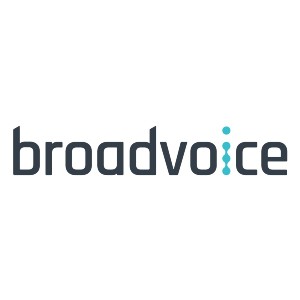 Broadvoice Overview
As a unified communications (UC) platform, Broadvoice puts your business conversations on a single application, working on computers, tablets, mobile phones, and laptops. Broadvoice reviews praise the affordable prices, the initial setup process, and training support. In addition, the unlimited international calling on metered plans benefits those with growing international clients.
However, the Broadvoice b-hive cloud communications system offers fewer integrations and lower video conferencing capacity than leading VoIP systems. It also doesn't have an expansive knowledge base, making it a better option for businesses with experienced information technology (IT) team members.
PROS

CONS

100% uptime service level agreement (SLA)
Video conferences limited to 50 participants
Offers an affordable metered subscription
Doesn't offer a free plan for solopreneurs
Provides 24/7/365 business support via a toll-free number
Lacks advanced tools powered by artificial intelligence (AI)
Pro plans have an unmetered calling to more than 60 countries
Virtual fax and video meetings are only available on the highest-tier plan
Standard and Pro subscriptions support unlimited audio conference attendees
What We Recommend Broadvoice For
Broadvoice offers one interface for hybrid cloud PBX or session initiation protocol (SIP) systems and multiple sites. It works best for small to medium businesses (SMBs) looking for an affordable unified communications as a service (UCaaS) application. It offers team messaging and file sharing, supporting remote and on-site employees. Likewise, if your company makes overseas calls, Standard and Pro plans can save your business money.
When to Use Broadvoice
Businesses expanding worldwide: Broadvoice helps you connect and save on international calling costs if you're catering to a global client base. It provides direct inward dial (DID) numbers in dozens of countries, and unlimited calling plans let you make free calls to 60 countries.
Solopreneurs and teams with low call volumes: Broadvoice has a basic metered plan where you only pay for your usage, which small offices, online businesses, and retail shops that don't make and receive many phone calls can take advantage of. Broadvoice provides fundamental features for 2.9 cents per minute.
Organizations that handle protected health information (PHI): "Two out of three patients prefer text messaging for appointment reminders," according to PatientPop. Finding a UC app that meets the Health Insurance Portability and Accountability Act (HIPAA) is challenging. The Broadvoice Communicator is a HIPAA-compliant desktop and mobile messaging app, allowing you to provide secure telehealth services.
When Broadvoice Might Not Be a Good Fit
Broadvoice Pricing
Broadvoice has several communication solutions, including cloud PBX and SIP trunking. Contact Broadvoice for pricing information and mix and match different service packages according to your needs. The tiered cloud pricing plans include a metered subscription starting at $10 per user, per month.
You can set up teams with their own phone line or choose a certain number of paths and seats for concurrent calls. View the chart below to compare the differences between Broadvoice cloud PBX plans:
Broadvoice Plans

Metered

Standard

Pro

Best For

Companies with low call volumes

Teams who collaborate through chat

Organizations needing video and fax capabilities

Monthly Pricing

($/User/Month)*

$10

$18

$23

Outbound Minutes

2.9 cents per minute

Unlimited

Unlimited

Text Messages

1 cent per message

Unlimited

Unlimited

Phone Numbers

✕

Local DID

Local DID

Auto-attendant

✓

✓

✓

Mobile Apps

✓

✓

✓

Communicator App

✕

✓

✓

Team Messaging

✕

✓

✓

Video Conferencing

✕

✕

✓

Call Recording

✕

✕

✓

Virtual Fax

✕

✕

✓
*Broadview pricing is based on three-year contract terms. Contact Broadview to request a quote.
Broadvoice also offers call paths, letting employees make a certain number of concurrent calls, starting at $7 per seat, per month. You can also request a quote for contact center software or SIP trunking. Alternatively, if you want to add Microsoft Teams and VoIP, Broadvoice has dedicated plans, starting at $12 per seat, per month.
Broadvoice Features
Broadvoice cloud subscriptions include dozens of VoIP business phone features, including a virtual receptionist and call logs. The company also helps set up the service and onboard team members. Before signing up with Broadvoice, review each plan to ensure your subscription includes the needed features.
General Features
Along with calls and texts, access many fundamental tools, like voicemail and call forwarding. Customize the features through your online portal to ensure each caller hears the correct greeting and is forwarded to the right person or department. You can use your desk phone or softphone app to access voicemail and call parking.
The following features come with Broadvoice subscriptions:
Voicemail: Create voicemail boxes for your company, departments, and staff. Each has a custom greeting, and you can listen to them from your mobile app.
Business schedule: Set up business hours and holiday schedules to direct callers to the right extension based on when they call.
Auto-attendant: Configure your virtual receptionist with a personalized greeting. It connects callers to the correct person, department, or call queue.
Call forwarding: If your team works offsite or if you want to set up a cellphone for failover, configure your Broadvoice call forwarding. Each phone number on your account can have its own ring status and failover options.
Forward whisper: If your teams answer on their call forwarding number, enable forward whisper. This feature automatically plays a recorded message telling the employee where the call originated.
Call parking: Easily place a call on hold and pick it up from another phone. You can also enable music on hold and reminders. The notification feature alerts the person who parked the call or employees set up to answer parked calls.
Ring groups: Place your staff into teams that can answer departmental lines. You can ring all phones at once or in sequential order.
Mobile Application
Broadvoice b-hive cloud communications come with mobile apps for Android and iOS devices. The softphone interface has tools for managing your voice, video, and text conversations. You can access your entire company directory, chat with coworkers, and see your interaction histories.
However, fax, video, and chat functionality differ according to your service plan. Choose the Standard or Pro package for group and one-to-one messaging and file sharing. Only the Pro subscriptions have virtual fax and video conferencing with screen sharing.
---
Customer Support
Some small business VoIP providers don't include training and onboarding services. It can be hard for companies to configure their new business phone system without extra support. However, Broadvoice offers a dedicated customer success team for the first 90 days. During this time, your staff receives unlimited training.
Broadvoice has email and phone support, too. Email is available Monday through Friday from 6 a.m. to 5:45 p.m. Pacific Time. Emails received during this time will be acknowledged within an hour of receipt. Broadvoice also has an 800-number for immediate 24/7 support, including holidays.
---
Call Records
View and download your call logs from the Call Record page. It shows details like who placed the call, the date and time, and status (answered or unanswered). You can also listen to call recordings and filter reports.
In addition, the Call Records page includes information about your voicemails, faxes, and messages. Enter an email address to send call logs to yourself or a coworker, and you'll receive a comma-separated values (CSV) file.
---
VoIP Phone Calls
Broadvoice has several functions that work on analog phones with VoIP adapters or internet-enabled desk phones. You may need to configure your devices, but most hardware has standard features enabled. Broadvoice sells hardware from Yealink and Poly, including VoIP phones, headsets, and conference phones.
Broadvoice functionality on VoIP phones includes:
Making a call
Transferring a call
Putting a call on hold
Using the intercom
Forwarding a call
Setting the do not disturb (DND) status
Viewing your company directly
Having a three-way conference call
---
Sound Manager
The Broadvoice Sound Manager page is the spot for you to upload, record, and manage audio files for your greetings and announcements. It's available with all Broadvoice service plans. Use the Sound Manager to create on-hold announcements and greetings for your voicemail and auto-attendant.
There are five ways to work with audio in your account:
Existing: Edit, listen, delete, or download recordings.
Upload: Click to choose an audio file from your computer or drag and drop one.
Text-to-speech: Type a script and select a voice to record an AI-generated greeting.
Record by phone: Use your desk or cell phone to record a message.
Email: Broadvoice recommends emailing them if you can't use the above methods.
---
Broadvoice Alternatives
Select the best business phone system that fits your budget and gives employees the features they need to do their job effectively is essential. Although Broadvoice reviews suggest the system works well for small businesses, you may need additional features or capabilities. Here are three top alternatives to Broadvoice.
| | | |
| --- | --- | --- |
| Best for: Companies looking for advanced integrations, toll-free minutes, and persistent collaboration spaces | Best for: Small businesses wanting unlimited international calling, real-time analytics, and video conferencing | Best for: Solopreneurs and small teams needing VoIP with virtual faxing and overhead paging features |
| Starting price: $19.99 per user, per month | Starting price: $22 per user, per month | Starting price: Free with the purchase of an Ooma Telo |
| or | or | or |
Broadvoice Reviews: What Users Think
Overall, Broadvoice users are satisfied with its service and call quality. Several Broadvoice reviews mention that it's easy to configure call forwarding and add extensions. They also like being able to access voicemail from email. Others compare Broadvoice to other systems they evaluated, like Nextiva, and say that Broadvoice makes device management effortless.
Broadvoice reviews and ratings include:
However, several reviewers say the lack of online training materials is a drawback. Some features, like the management console, use terms that some people may be unfamiliar with, and businesses find it difficult to add new users.
Bottom Line
Broadvoice is an affordable and flexible business phone system, providing basic features, like a virtual receptionist and call forwarding. It also offers unique tools, such as call forwarding and forward whisper. Learn more about the subscriptions and features by scheduling a demo or requesting a quote.