10 Business Brochure Design Ideas to Showcase Your Brand
Print and digital brochures are affordable marketing materials that are easy to design yourself and tell a story about your business and its offerings. To create a business brochure that stands out, consider it from multiple angles. It should represent your brand well, align with the other small business marketing materials you're using, and attract attention with eye-catching images, unusual design elements, and copy that makes the reader want to learn more.
Gain access to dozens of free brochure templates and edit them online easily with Canva's free graphic design tools. Download and print them yourself or convert them into digital e-brochures you can use to generate leads, sales, and grow your business.
The ten brochure design ideas below will inspire you to make a standout business brochure to promote your company.
1. Half-fold or Bi-fold Brochure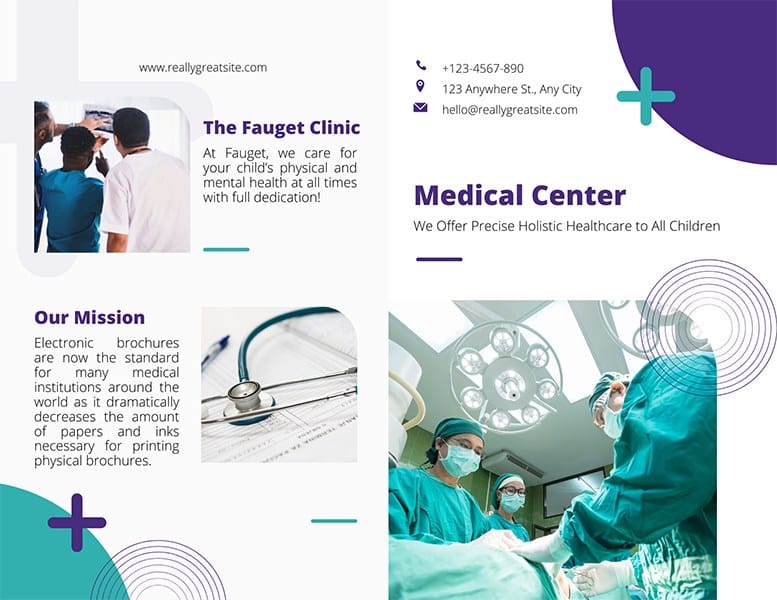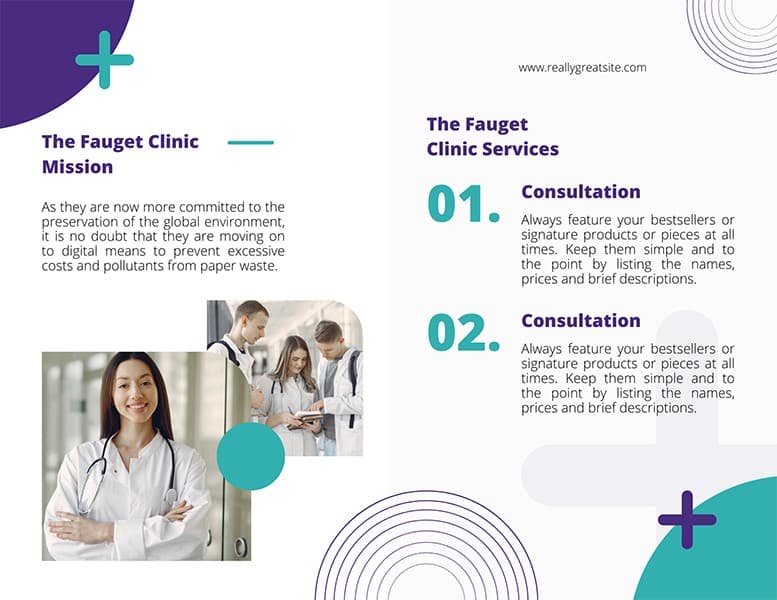 ---
The simplest and often most affordable type of brochure design to create is comprised of one fold down the middle, creating four pages (two at the front and two at the back). This is perfect if you don't have a lot of content to place on your brochure.
It's also the easiest for your audience to read, as the booklet layout is clean and straightforward, often with bigger fonts. Keep this brochure as simple as possible by only including the most pertinent information, like best-selling products, featured services, and mission and vision statements.
The rest of the space should be filled with high-quality images, while the color scheme should be limited to two to three colors. Because this brochure's design is so simple, you can easily make one yourself. Try Canva for bi-fold templates you can edit and truly make your own.
2. Tri-fold Brochures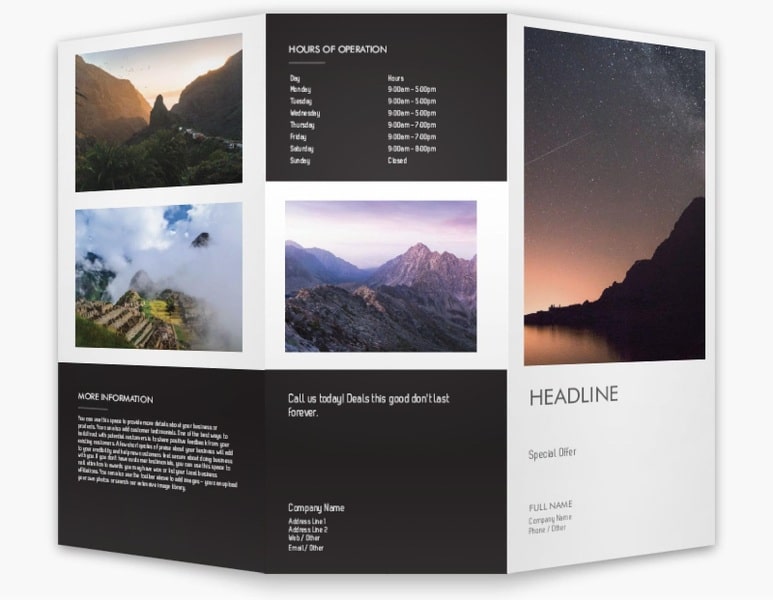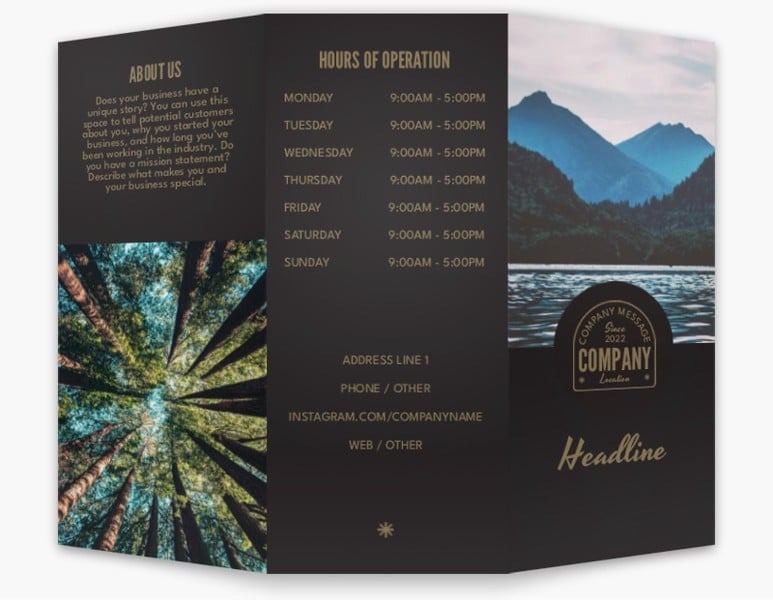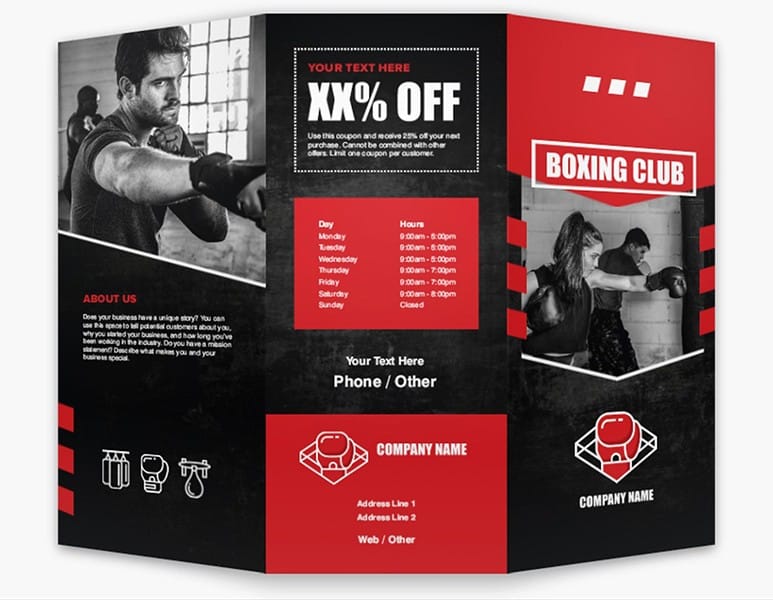 ---
One of the most common types of business brochures is the tri-fold design. Unlike a bi-fold brochure, a tri-fold has three equal sections created by two folds. This makes three panels and six pages, allowing you to place more information in more creative ways.
Although it has more pages, a typical tri-fold will be slimmer in width than a bi-fold brochure. This makes it more convenient for your audience to pick up. Thus, they can easily be placed on the front desks of restaurants, spas, or any business with more products to feature.
3. Z-fold Brochures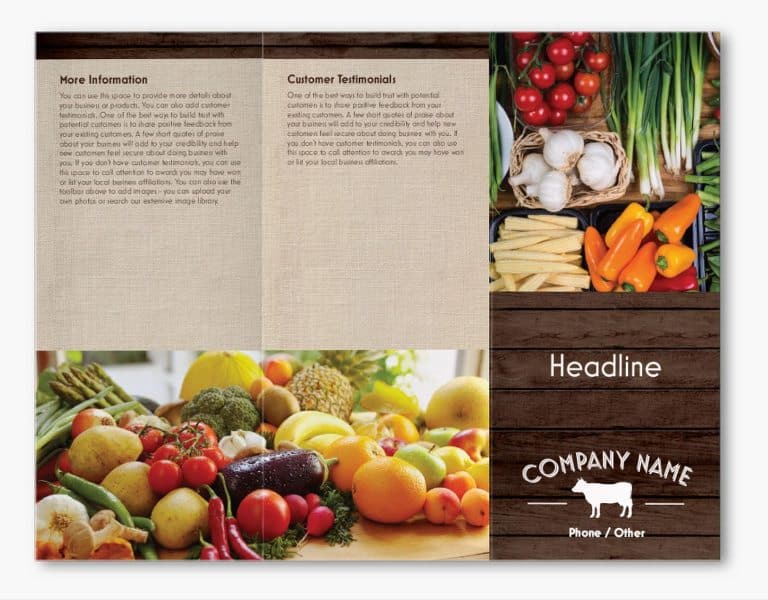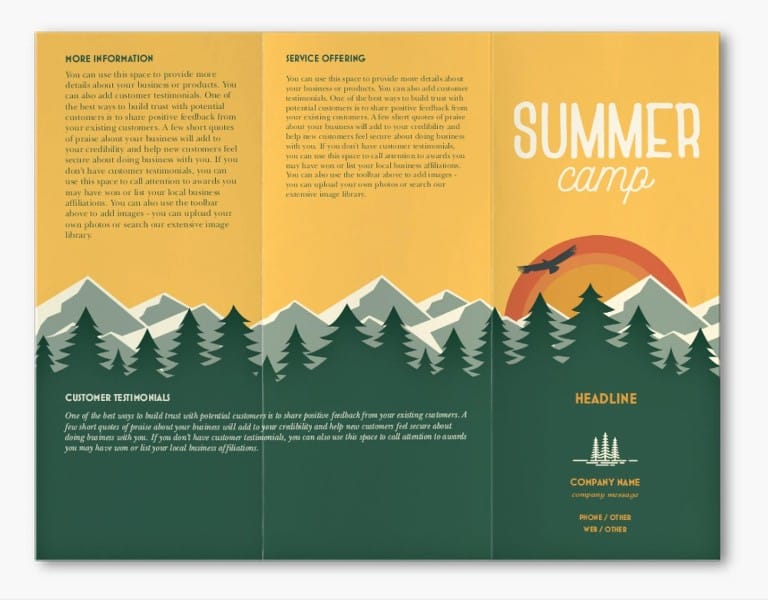 ---
Another common brochure design is a Z-fold. Many people confuse this with a tri-fold brochure, but it's created by making a double bend in a zigzag pattern, creating six panels of equal size. A tri-fold brochure will have the middle panel as the "back" of the brochure. On a Z-fold, however, the middle panel is found on the inside of the brochure.
Because the Z-fold's three panels on either side "connect," this is commonly used with images that spread throughout all three panels or text that relates to each other across the panels. Though it might not look like it, Z-fold brochures are just as easy to design as bi-fold and tri-fold brochures. Sites like VistaPrint have hundreds of Z-fold templates you can choose from to edit and print.
4. Accordion Brochures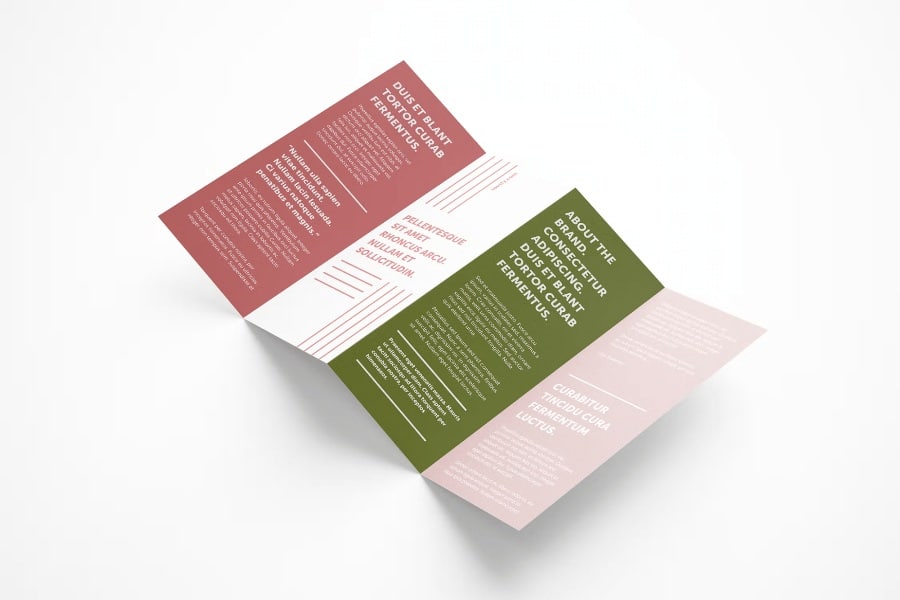 ---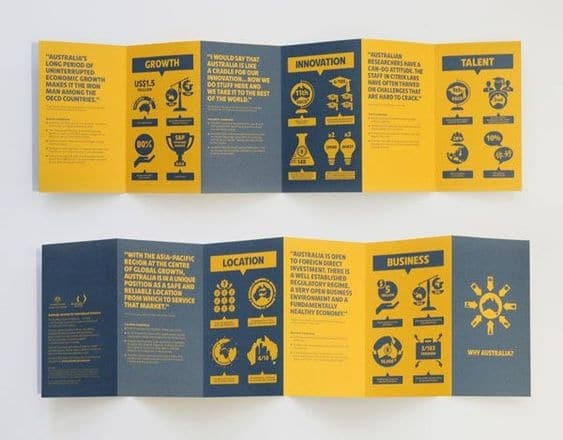 ---
Accordion brochures use the same folding technique as a Z-fold, but instead of creating three panels, you can have an endless number of pages in an accordion. This leads to more space for information, and you can go big and bold with your visuals and fonts.
Because an accordion brochure has the space, it's a great pick for telling your brand's story or for promotional materials with infographics. If you think your business could benefit from an accordion brochure, you can get templates that are easy to edit in apps like Photoshop, Illustrator, PowerPoint, and more on Envato Elements.
5. Die-cut Brochures
A die-cut brochure usually utilizes the same folds as a Z-cut or a tri-cut brochure. However, instead of relying on images, it creates a unique visual brochure through cutouts so you can see a peek of what's inside the brochure.
Brochure design ideas like this are unique and memorable ways to market your brand. It makes for engaging marketing material that ensures your audience remembers who you are in the sea of competitors.
Die-cut brochure designs are custom-made and can follow any design you can dream of, but they're not exactly cost-effective. They cost more, so we recommend keeping this type of brochure for special events like conferences, opening ceremonies, and fairs. To create a brochure like this, you can hire a graphic designer to design one for you on a platform like Fiverr for as low as $5.
6. Geometric Brochures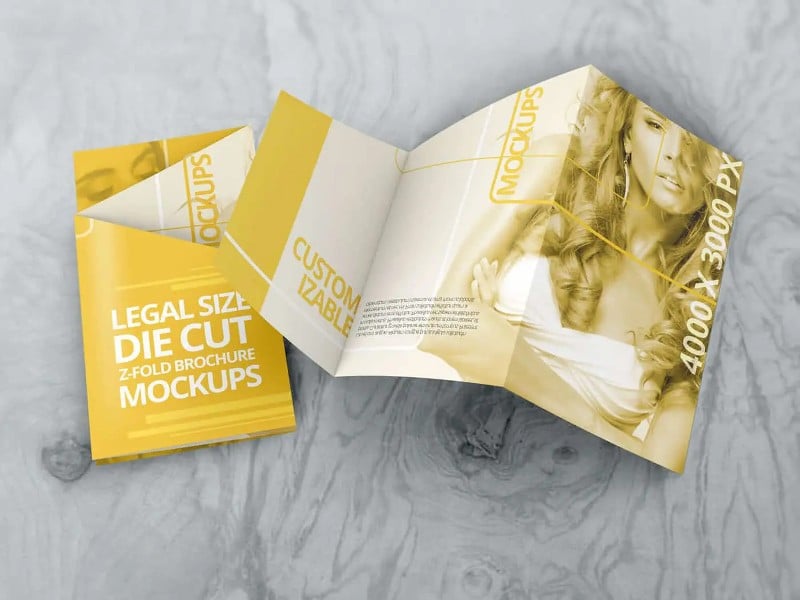 ---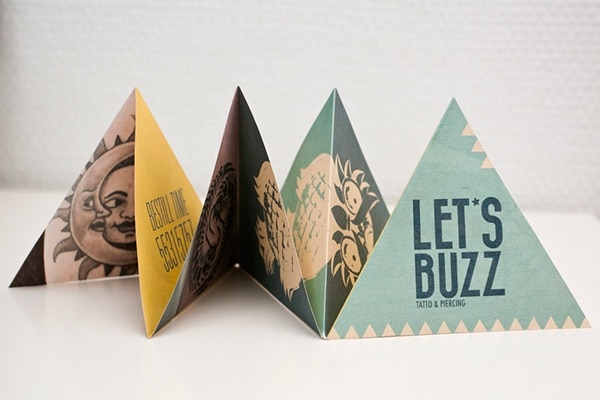 ---
If over-the-top die-cut brochures are outside your budget, another way to make your brochure memorable without spending too much is to play around with its shape like in these examples. The brochure ideas above still use the die-cut process, but with a much simpler design. Stick to a simple fold (like the common Z-fold) to cut costs even further.
Pro tip: Die-cutting requires heavier paper or cardstock. While the heavier paper is less susceptible to wear and tear, it limits the number of folds you can have. It costs more to print and may also be more expensive to mail. Thinner paper can be easily torn, but is cheaper to print and send by direct mail.
7. Vertical Brochure Idea
For unique brochure layout ideas, look no further than this brochure-poster hybrid. It reads lengthwise, though it still uses a basic accordion fold.
Get creative with ways to display your information—"drop-down" brochures are unique in design, and they're affordable to create—but always consider user experience when designing a brochure. For example, avoid making a brochure like this too long as it can be challenging to hold and read.
8. Ideas for Origami Brochures
More than just experimenting with a combination of the standard brochure folds, think outside the box and fold your brochure in interesting ways. This origami-like fold makes sure your brand sticks out while not being too complicated in terms of content layout.
A brochure design idea like this one is a brilliant marketing piece for an architectural brand—the folds reference the nature of the industry and make the company memorable without being too expensive to produce.
9. Digital Brochure Design Ideas (E-brochures)
A departure from traditional print brochures, a digital brochure or e-brochure is interactive, engaging marketing material. It can be disseminated to a wide audience online without breaking the bank as you can place it on your website, share it on social media, send it via email marketing newsletters, and more.
Aside from relative affordability, there are many benefits to having a digital brochure. It can always be up-to-date, it can be shared across a variety of platforms, and its effects on your audience can be tracked easily (e.g., by including a call to action button with a tracker).
There are many websites that have e-brochure design templates, including free templates and online editing tools on Canva or subscription-based downloads from Envato Elements. But to stay completely on-brand and unique or to implement interactive elements, we recommend hiring a freelance brochure designer on Fiverr instead.
10. Video Brochure
The most expensive and unique brochure design idea on this list, a video brochure is an LCD screen embedded in a thick booklet. Unlike other types of brochures, this isn't made for mass production. Each piece will run you between $20 and $40, but the results are highly engaging and could be well worth it—especially for selling high-value products and services and increasing brand awareness.
Are you looking for real-world brochure design inspiration? Check out our collection of more than a dozen effective and creative brochure examples and learn why they work.
What Makes a Good Brochure Design?
Whether print, digital, or video, your brochure is a visual representation of your brand, and thus must be consistent with your branding (e.g., colors, fonts, tone). Similar to what makes a good website in terms of design elements, your brochure should effectively represent your brand and convey a message that matters to your audience.
In addition to your creative ideas, make sure to include these key factors to ensure your brochures are effective for small business marketing:
Clear objectives: Identify what you want to accomplish with your brochure. Selling services, providing additional information, and knowing your target audience will determine your brochure's design.
Intrigue: The most important job the front page of your brochure has is to get the reader to open it up and see what's inside. Accomplish this with visual elements, such as the die-cut and unique folds. Don't forget to include a tagline or slogan that makes the recipient want to open up the brochure to learn or see more.
Effective copy: Use customer personas to develop compelling copy for your brochure that speaks directly to the pain points your prospects and customers want to solve. Don't try to be everything to everyone—choose just the most compelling selling propositions, ideally those that set you apart from competitors.
The right media mix: The length of your copy depends on the industry your small business is in. A travel agency, for example, will want more photographs and less text, while a consulting company may choose to have more text than images. Whichever you choose, be concise and aim to inform your reader in the fewest sentences possible.
High-quality images: A brochure is a very visual medium, so make sure each image you use is of high quality. Only use pictures with high resolution. If you're selling products, take quality product photos, or hire a professional photographer and editor through a site like Fiverr.
A compelling call to action (CTA): An effective call to action must be short, compelling, and actionable. It should tell your audience what to do and how to do it in 10 words or less. Write a CTA that clearly explains what you want the reader to do, including establishing a sense of urgency, and the benefits they'll receive as a result.
An appropriate format: Brochures come in different folds, like half-folds and tri-folds. The fold you decide on depends on the type of content you produce and the chosen layout for your brochure. In general, the more "folds" or pages a brochure has, the more information it can contain.
The right material: For digital brochure design, create high-resolution originals and then scale them for use on different internet platforms. For printed brochure designs, the type of paper you choose impacts not only how your brochure looks but how much it will cost as well.
Pro tip: Staying on-brand matters: Studies show that consistent branding helps build trust and loyalty with your audience. See these other branding statistics you should know about.
Best Brochure Design Tools & Resources for Small Businesses
Creating a brochure doesn't have to be expensive. In fact, most of the brochure design ideas we listed above can be done yourself. There are also online platforms with various brochure templates you can edit to fit your brand's needs—or outsource the job of designing a business brochure.
Here are some of the best resources for bringing your business brochure design ideas to life:
Pro tip: Brochures are very visual marketing tools, and thus need quality images. You don't have to break the budget when sourcing these: there are websites where you can get free images for your promotional materials.
Frequently Asked Questions (FAQs)
How can I design a brochure?
Easily design a brochure yourself by heading to a free graphic design site like VistaCreate or Canva and selecting from the templates available (or go with a paid plan for access to premium templates). Alternatively, you can also head to VistaPrint, choose from the numerous brochure templates to edit, and simply click a button to print and even mail out your brochures.
What is a brochure format?
Brochure format refers to the form the brochure takes, such as a digital e-brochure or a printed version. There are many ways to bring your designs to life, but the most common formats are bi-fold, tri-fold, and Z-fold brochures. They have anywhere from four to six panels, making them easy and affordable to produce, while still having enough space to fit in the information your audience wants to see.
What should my brochure include?
The best brochure design includes eye-catching images, your company's name and logo, and a catchy slogan or tagline. Other things to consider including are a short "About Us" section about your company and your business' mission statement. Don't forget to add the products or services you want to promote, complete with a strong call to action. Finally, add your business' contact information, office address, and office hours.
Bottom Line
To provide an excellent visual representation of your business, brochures should be on-brand, informative, and memorable. To do this, experiment with different ideas. There are endless ways to create a brochure for your brand, from brochure design to layouts and folding techniques, and even digital brochure design options to consider.
Brochures, business cards, and other marketing materials don't have to break your budget. You can easily design your own brochures for free and print them affordably on VistaPrint. Have them shipped to your location or use their Every Door Direct Mail services to send them to everyone in your area.
You May Also Like…