How to Create a Brochure + 8 Business Brochure Design Ideas
Brochures remain one of the simplest and most cost-effective marketing tools at your disposal. They're affordable, easy to produce, informative, and versatile. Nearly any industry—from food service to spas—can benefit from them. To help you create an eye-catching brochure design, we broke down exactly what makes a beautiful and effective brochure. Plus, discover some exciting brochure design examples to give you the inspiration you need to create yours.
If you're still at a loss on how to design your own brochure, you also have the option to hire a professional designer on Fiverr for as low as $5. These professional designers can help you conceptualize and create a unique brochure design, helping your business stand out.
What Makes a Good Brochure Design?
Think of your brochure as an extension of your brand. Just like in digital marketing, your brochure should be branded accordingly. This means taking into account your business' colors, fonts, and language. It's similar to creating a good website—your goal should always be to create a brochure that effectively conveys your message to your audience.
Here are some things to keep in mind while creating your brochure:
Be Clear With Your Objectives
Identify what you want to accomplish with your brochure. Selling services, providing additional information, and knowing your target audience will determine the design your brochure will take.
---
Write Good Copy
The length of your copy is dependent on the industry your small business is in. A travel agency, for example, will want more photographs and less text, while a consulting company may choose to have more text than images. Whichever you choose, be concise and aim to inform your reader in the fewest sentences possible.
---
Use High-quality Images
A brochure is a very visual medium, so make sure each image you use is of high quality. Only use pictures with high resolutions. If you're selling products, take quality product photos, or hire a professional photographer and editor through a site like Fiverr.
---
Include a Compelling Call to Action (CTA)
An effective call to action (CTA) must be short, compelling, and actionable. It should tell your audience what to do and how to do it in 10 words or less. Write a good CTA that clearly explains what your brochure sets out to do and format it so your audience can easily see it.
---
Choose the Right Fold
Brochures come in different folds, like half-folds and tri-folds. The fold you decide on depends on the type of content you produce and the chosen layout for your brochure. In general, the more "folds" or pages a brochure has, the more information it should contain.
---
Consider the Material
The type of paper you choose impacts not only the look but cost as well. Heavier paper is less susceptible to wear and tear, but it limits the number of folds you can have. It will also be more expensive to mail (if you're planning on sending your brochures out by post). Thinner paper can be easily torn, but is cheaper to produce and ship out. Consider also whether you'd like a glossy finish or a matte one.
---
Best Creative Brochure Design Ideas & Examples
Creating a good-looking brochure isn't as complicated or expensive as you may think. You can choose to make one yourself, or you can hire a professional for as low as $5 on sites like Fiverr and Upwork. If you go with the former, graphic design sites, like Canva and Vistaprint, have available layouts and can print your brochures for you affordably.
1. Half-fold or Bi-fold Brochure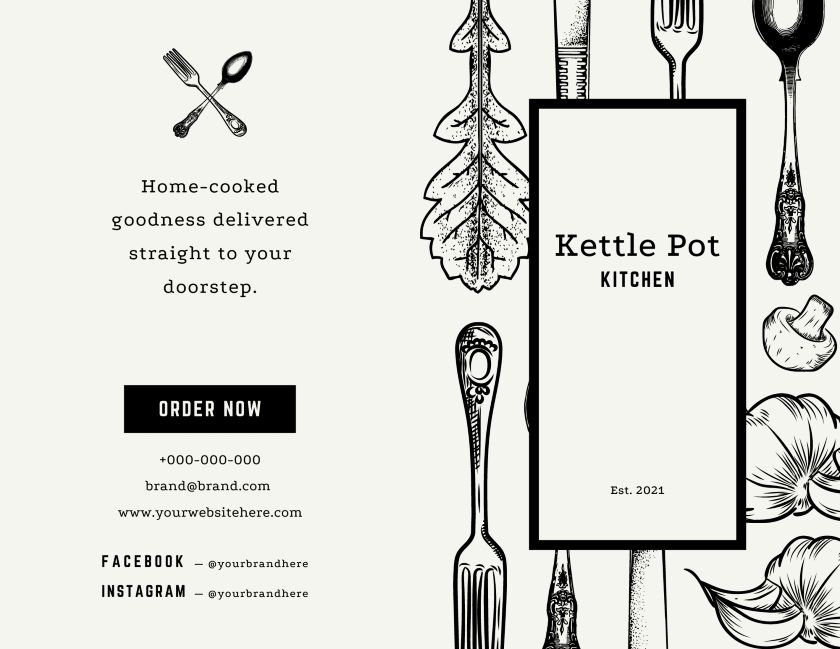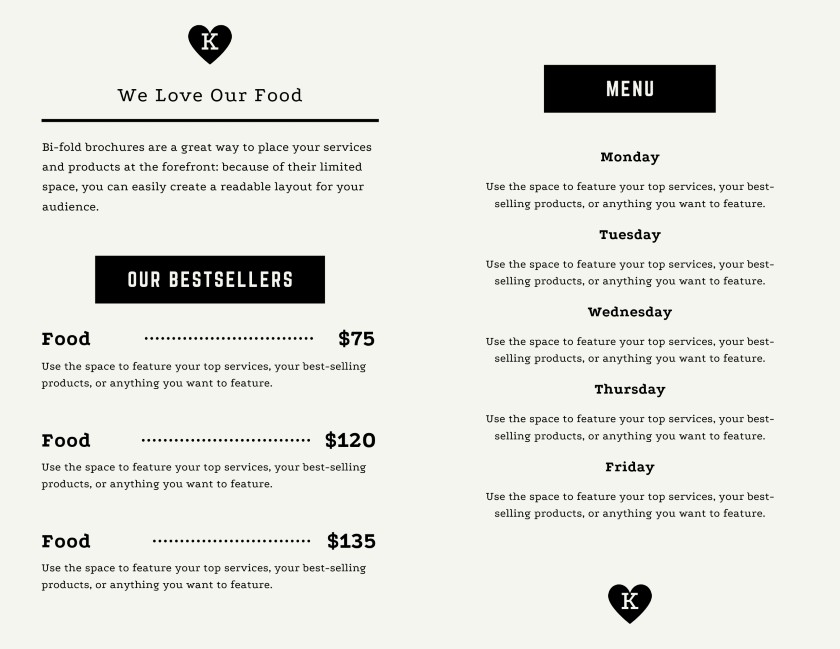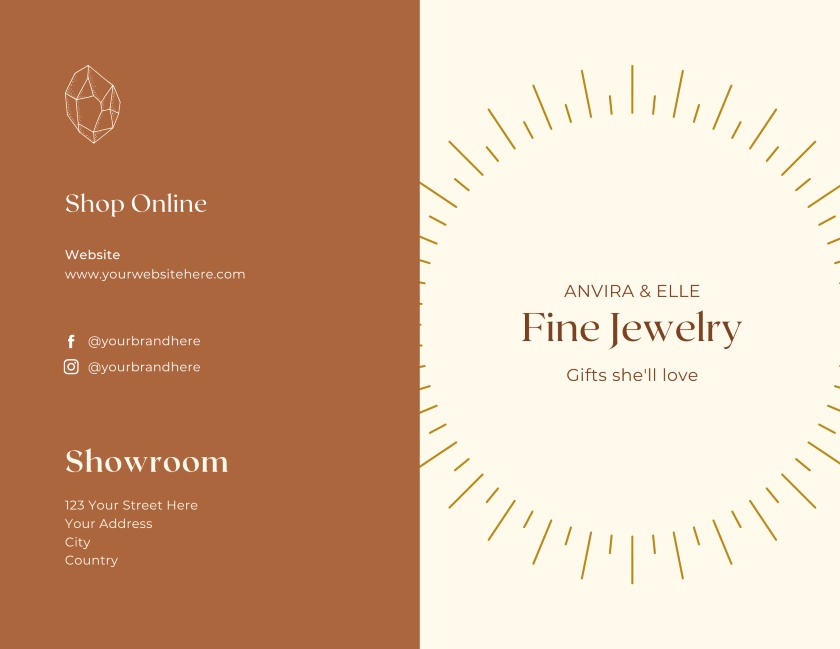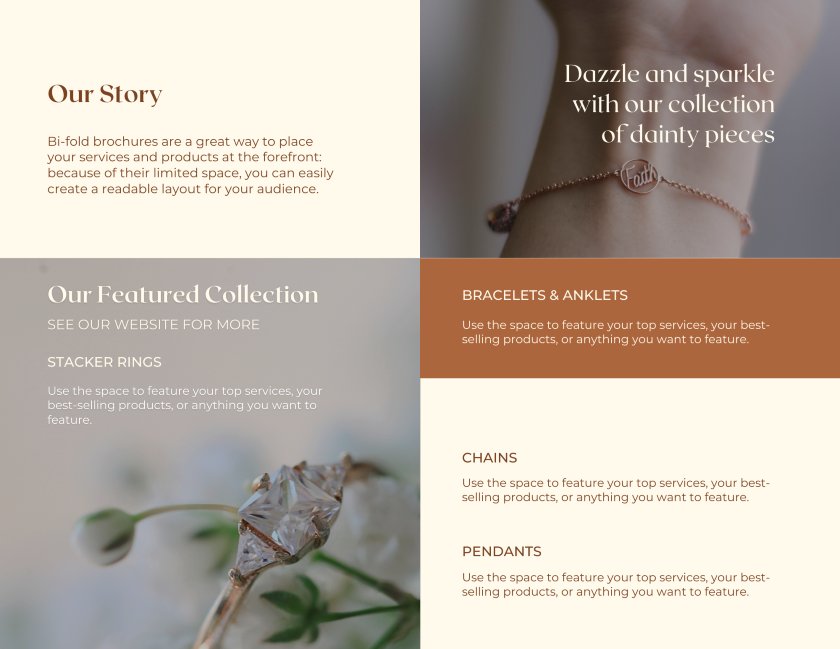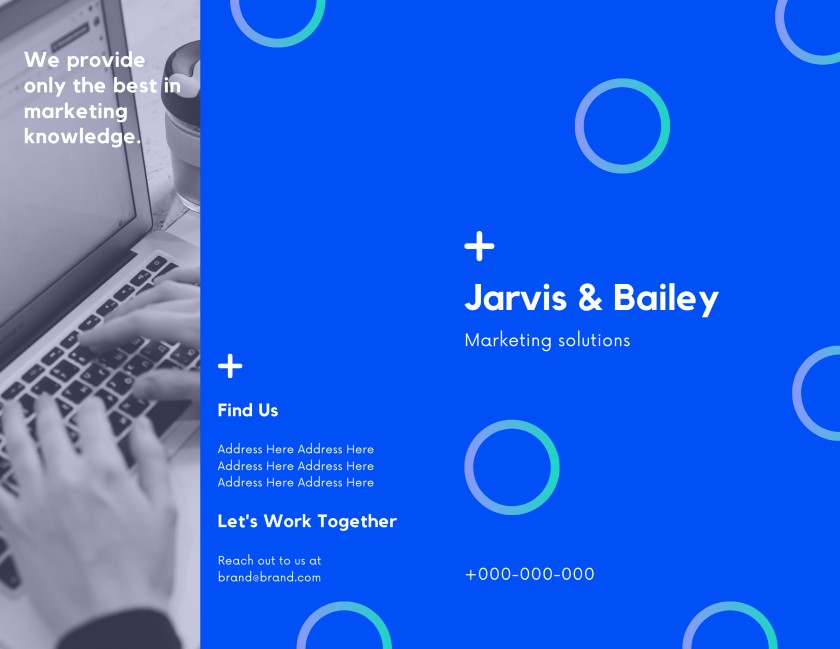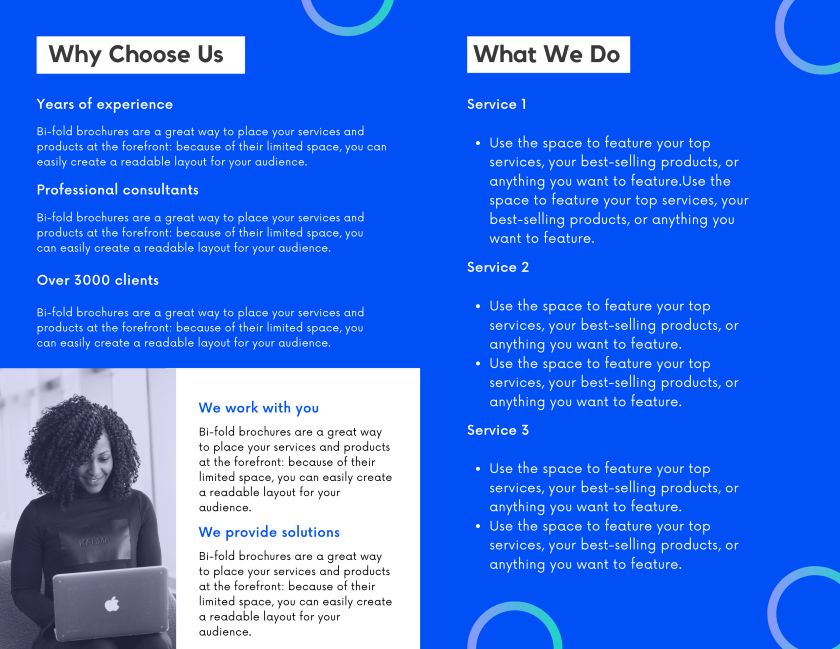 The simplest type of brochure to create is comprised of one fold down the middle, essentially creating four pages (two at the front and two at the back). This is perfect if you don't have a lot of content to place on your brochure. It's also the easiest for your audience to read, as the booklet layout should be very clean and straightforward.
To make this brochure as effective as possible, keep your text minimal and only display the most important information. Best-selling products, featured services, and mission statements are three things you can place in your bi-fold brochure. The rest of the space should be filled with high-quality images, while the color scheme should be limited to two to three colors.
2. Tri-fold Brochure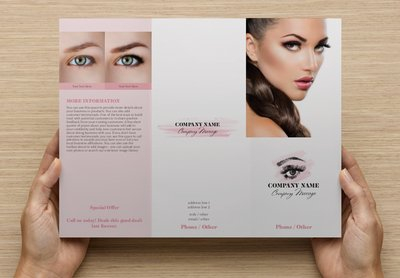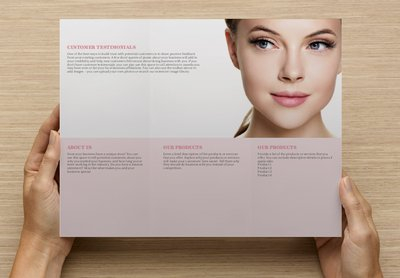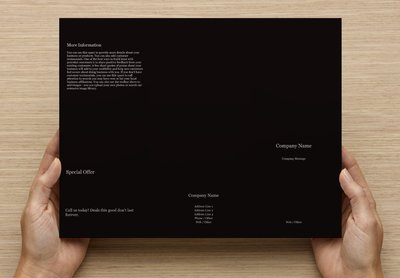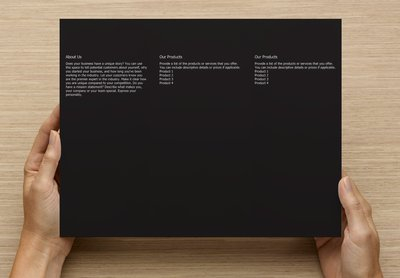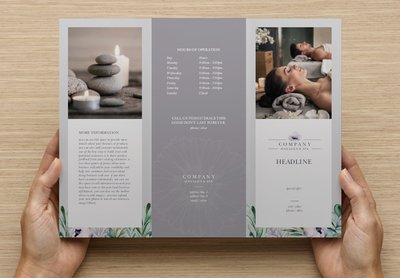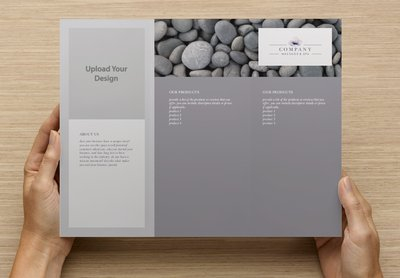 Another common brochure type is the tri-fold brochure. Instead of creating one fold down the middle, a tri-fold is created by folding the paper in three equal sections, producing three panels or six pages. Unlike the bi-fold brochure, the tri-fold allows you to place much more information and in more creative ways.
There are endless layouts you can create with a tri-fold template. Although it has more pages, a typical tri-fold will be slimmer overall than a bi-fold brochure. This makes it more convenient for your audience to pick up and carry around. Tri-fold brochures are great marketing tools for restaurant menus, spa services, or any business with more products to feature.
3. Z-fold Brochure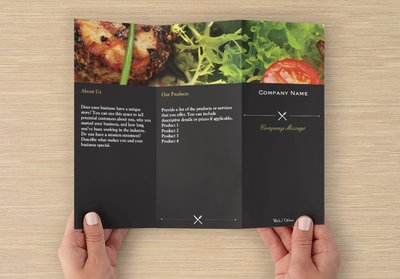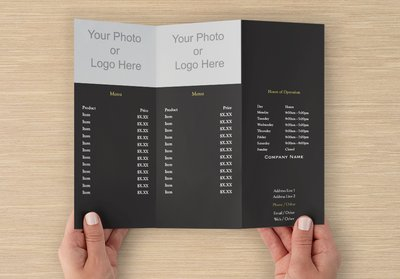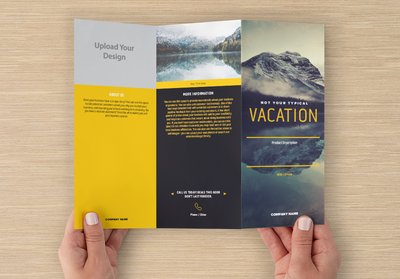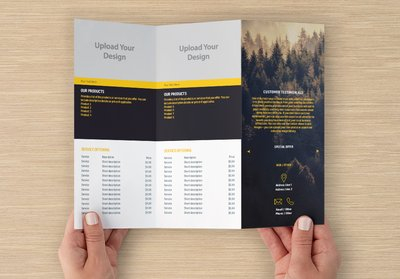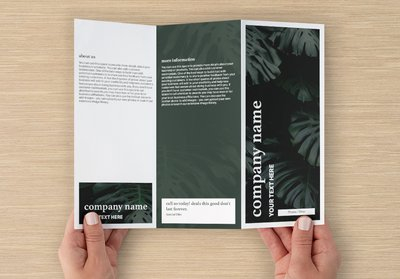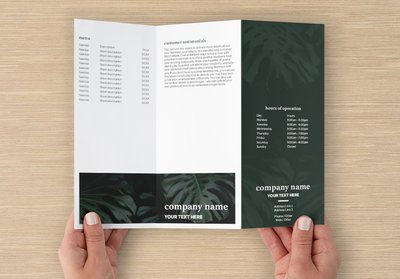 The last common brochure design is a Z-fold. It's created by making a double bend in a zigzag pattern, creating six panels of equal size. It looks similar to a tri-fold brochure. A tri-fold brochure will have the middle panel as the "back" of the brochure. On a Z-fold, however, the middle panel is found on the inside of the brochure.
Because the Z-fold's three panels on either side "connect," this is commonly used with images that spread throughout all three panels or text that relate to each other across the panels. It might look more complicated to format and create than a bi-fold or a tri-fold, but sites like Vistaprint can help you create Z-fold brochures easily. All you need to do is choose a layout, input your content, and pay for the printing.
4. Accordion Brochure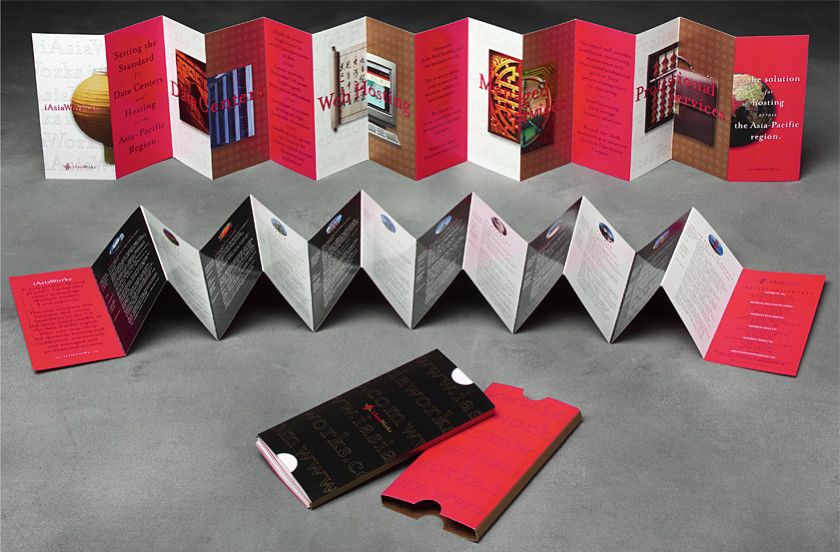 Accordion brochures use the same folding technique as a Z-fold, but instead of creating three panels, you can have an endless number of pages in an accordion. Although this leads to having more space for information, be careful not to overload your audience with too much.
A better use for the accordion is to display images in a continuous manner, like in the examples above. You can also use this type of brochure for maps or other content that need a larger space to be displayed.
5. Die-cut Brochure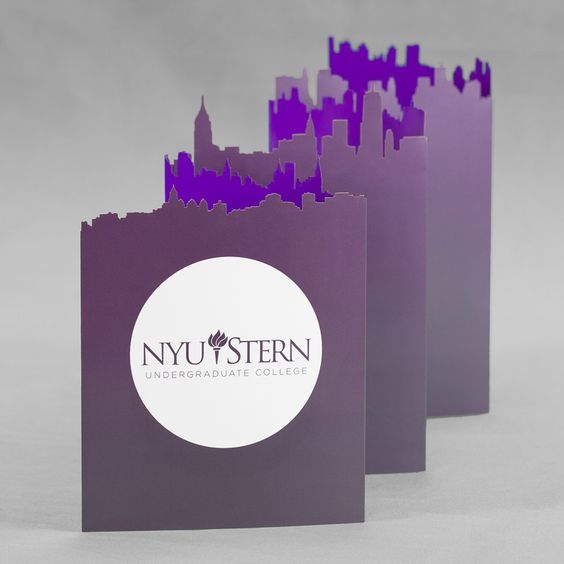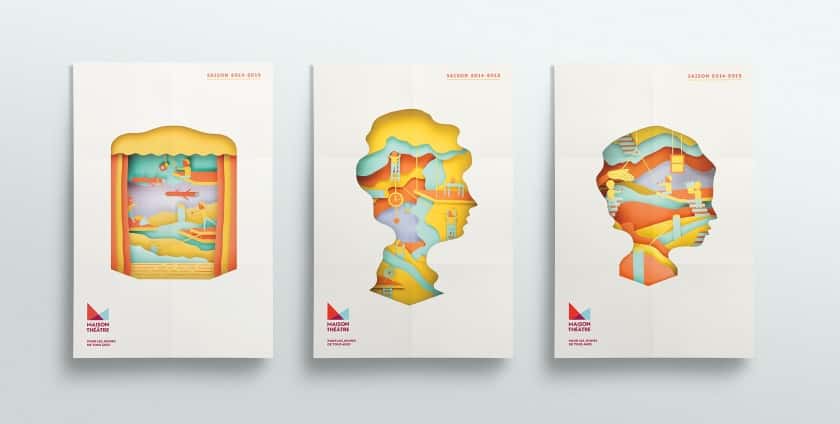 A die-cut brochure usually utilizes the same zigzagging fold as a Z-cut brochure or the fold of a tri-cut brochure. However, instead of keeping the panels blank, it uses cutouts so you can see a little peek of what's inside the brochure or to keep the design fresh. The unique look of a die-cut brochure is a great way to market your brand, ensuring that your audience remembers who you are in the sea of competitors.
There is an endless number of beautiful brochures you can create using the die-cut method, but because of its design, it's not exactly cost-effective. We recommend keeping this type of brochure for special events like conferences and fairs.
6. Experiment With Shapes
If die-cut brochures are out of your budget, another way to make your brochure memorable without spending too much is to play around with its shape. This brochure uses a simple tri-fold layout, but instead of being printed on a regular sheet of paper, it uses a rhomboid shape.
This brochure isn't typical, so sites like Canva and Vistaprint won't have a template for it. However, you can always hire a graphic designer on Upwork or Fiverr and have them design an eye-catching brochure like this for you.
7. Experiment With Layouts
This brochure's design is extremely unique. It reads lengthwise—a departure from most brochures that read from left to right. It also has two Z-folds at the top and bottom that let it close to a beautiful, on-brand cover design. This is a great example to show that you don't have to stick to the basic brochure folds. Experiment with different ways of folding your brochure, and you may come up with something new and interesting aligned with your branding.
8. Experiment With Folds
More than just experimenting with a combination of the standard brochure folds, think outside the box and fold your brochure in interesting ways. This origami-like fold makes sure that your brand sticks out while not being too complicated in terms of content layout. This shows that you can create a brilliant marketing piece for your brand without doing something drastic and spending more in the long run. In fact, a layout like this one is replicable on a site like Canva.
Bottom Line
A good brochure is a physical extension of your business. It should be on-brand, informative, and memorable. To do this, experiment with different ways to create your brochure. There are endless ways to create a brochure for your brand, from brochure design to layouts to even folding techniques.
Not every brochure has to cost an arm and a leg, either. You can always choose to design your own with sites like Canva and Vistaprint. Just choose a template, replace the content with your own, and download your design or use their printing service. If you want a more customized look like a die-cut brochure, hire a professional through Fiverr for prices as low as $5.
You May Also Like…