Brochures are a simple and cost-effective marketing tactic, and their versatility makes them a favorite among marketers in any industry. But no matter how great their potential is, it's important to know how to create a design that attracts attention to maximize the return on your marketing spend.
Here are 25 brochure design ideas that sell and help your business stand out from its competitors.
---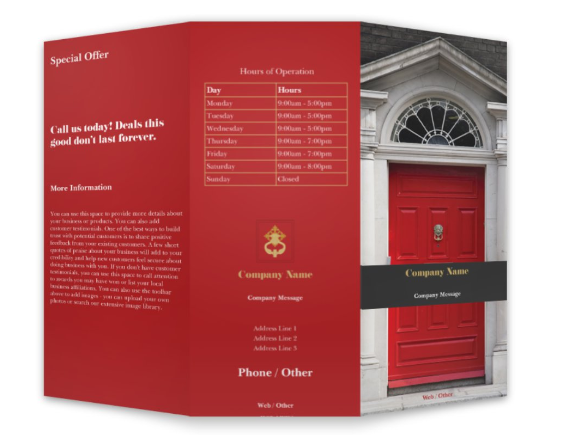 Your design looks great and you have a fantastic copy, but this can quickly go to waste if it's not printed right. Make sure you get the most out of your brochure by having it professionally printed with Vistaprint. Vistaprint is the brochure provider of choice for small businesses, with its affordable price and great turnaround time. And if you're having trouble coming up with the perfect brochure design, you can easily choose from their over 10,000 templates or get help from one of their professional designers.
---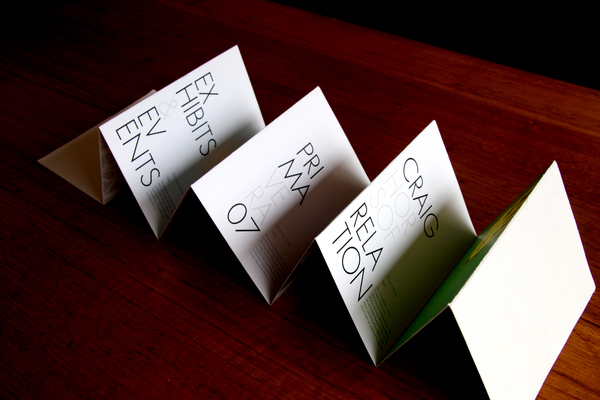 Brochures are often marketing materials given away at events, providing attendees with maps, schedules and additional information on what the event is all about. They also double as souvenirs or keepsakes for the event itself, so they have to embody the spirit of the event in a way that will be memorable.
---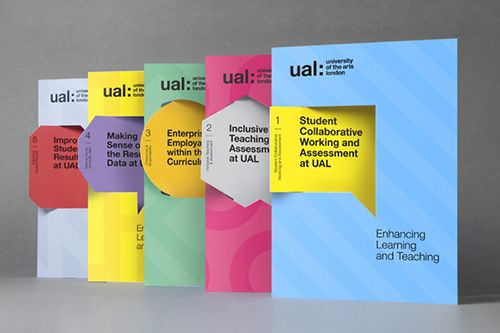 This educational brochure takes die-cut designs into something more than a pretty accent on your brochure. It grabs the opportunity to relay important information in an engaging and fun way to make it more memorable.
---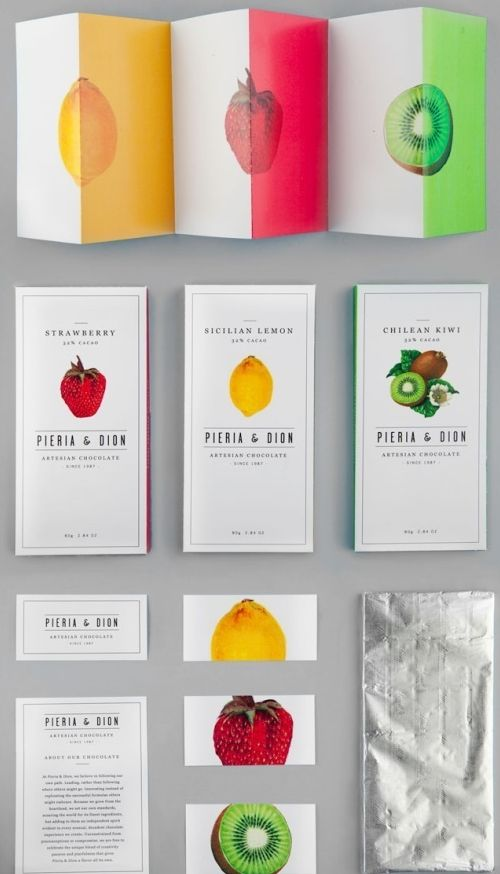 Featuring a product in your brochure? Make sure to utilize white space to improve your brochure design. Notice how colors make white space a memorable feature in this example. It helps the images and important information stand out.
---

If you don't know where to start, companies like DesignBro will help you design your custom boxes and packaging with the help of professional, experienced designers. From box size to specialty fillers such as padding and product wraps, a custom box program is crafted to fit, protect, and present your items perfectly. Visit DesignBro and start your project today.
---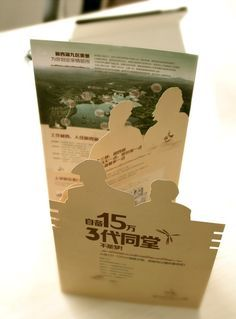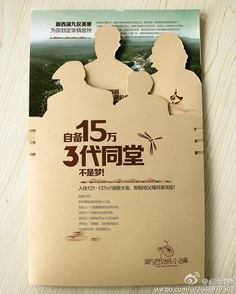 Your die-cut brochure should help send your message across, and not just be an accent to a design. This example is for a travel business, and the die cut quickly tells potential customers for whom or what their featured destination is for.
---
7. Zoo or Park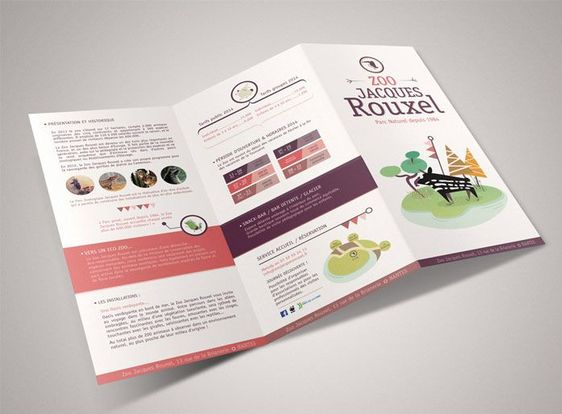 A trifold map is not often used for showcasing maps, but this example shows how to do so effectively. This zoo brochure maintains the high quality of the layout and design while providing a large amount of information for a brochure this size. The images and map markers are also clear and easy to read.
---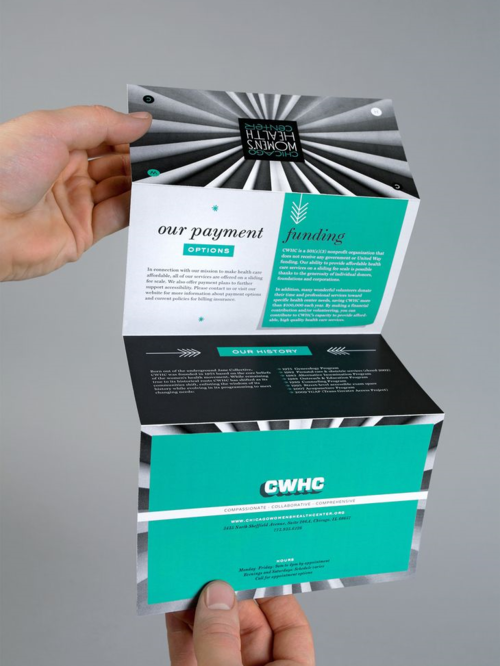 Want to make sure your brochure stands out while staying within a budget? Use a different shape, orientation or fold to accomplish your goal. This will showcase your brand's personality without costing a fortune.
---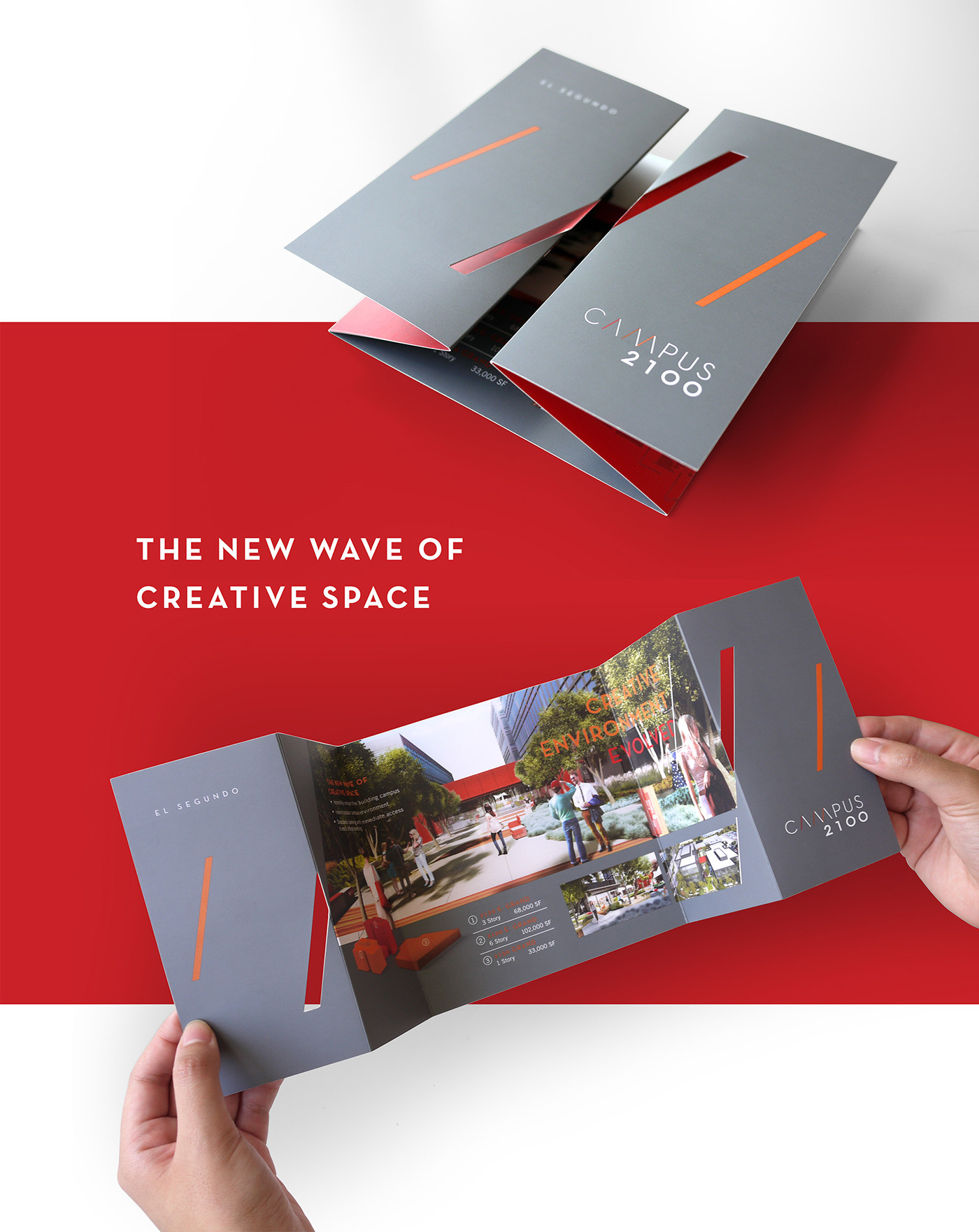 Architects need a brochure that provides the most impact for their audience. This unique style of fold is like opening your doors to invite your potential clients in to take a look at your latest project. Keep the images sharp and the perspective just right to achieve this effect.
---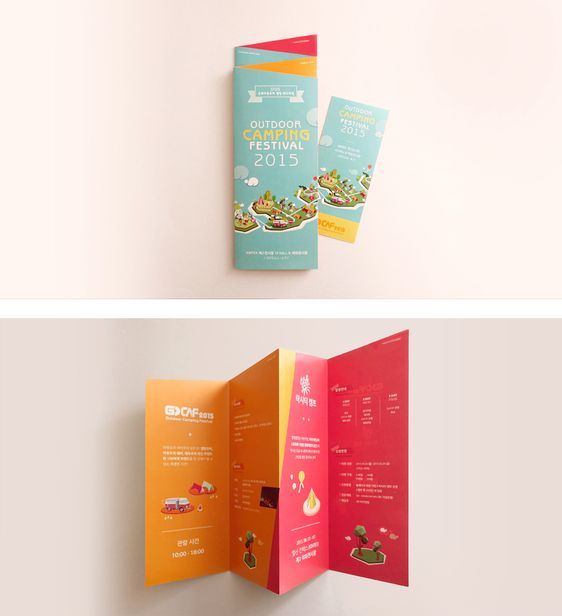 The spilling over of colors from one border to another is not a new style, but the choice of fold makes for a significant difference. Make sure to use rich colors in the same tone and that the fonts are readable and the same all throughout, just like in this example.
---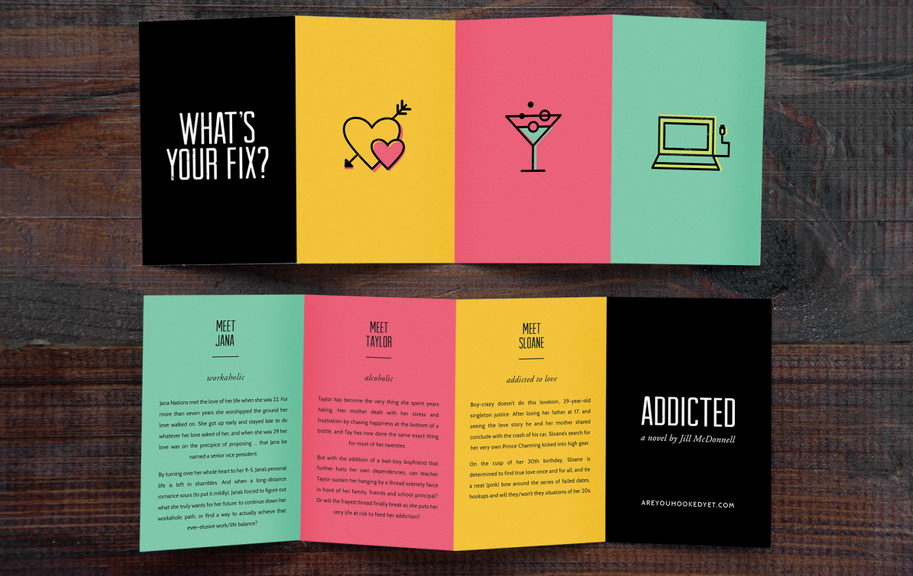 We love this book publishing's creative use of block colors in their brochure. They took advantage of the style and turned it into an interactive play to encourage readers to engage. Great way to impress anyone at a business proposal or marketing campaign.
---
12. Photography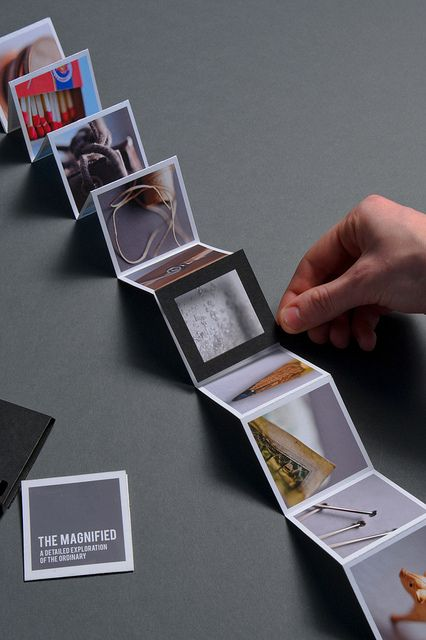 Your brochure doesn't have to be as small as this, but a photographer's brochure can do well with a creative idea, as shown in the example. Your mini portfolio with minimal text should get readers excited about your next art show or book publishing.
---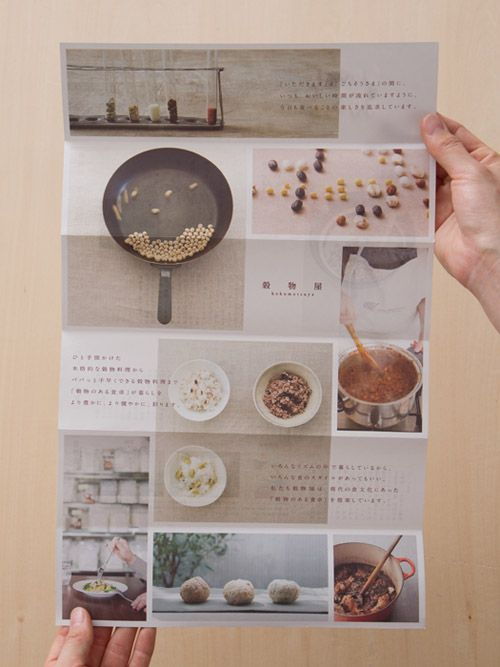 If you're featuring a recipe in your brochure, add a creative style to your images. It doesn't always have to conform to a step-by-step list. Try a photo collage and give your readers a chance to take a food journey through your brochure.
---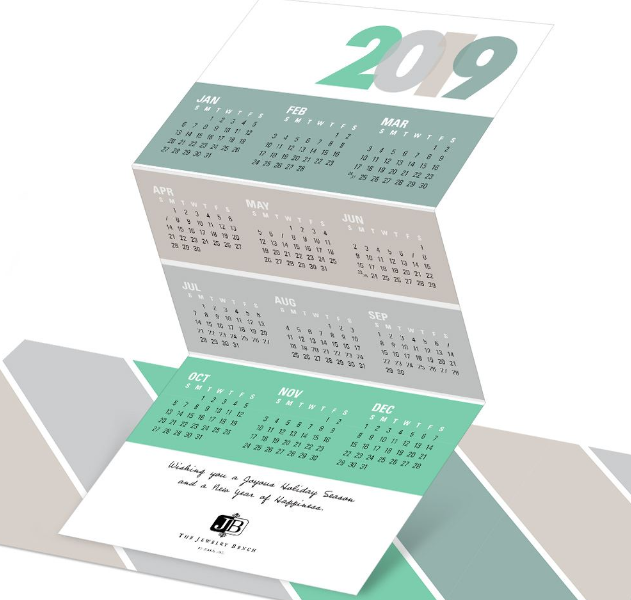 Calendars are a great way to make sure your target customers keep your brochure. Work with a color palette and look into the color-emotion relationship. Avoid too many extra images unless they are used as an overlay on the background and do not overwhelm the calendar.
---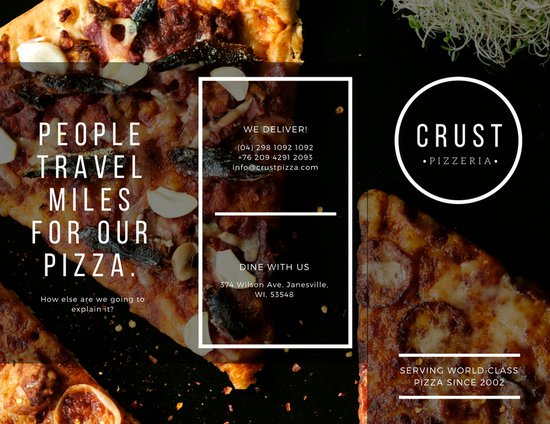 This is a template but it's also a design from Canva worth sharing. A trifold pizza brochure that makes use of a striking anchor image without losing visibility of the text. It's particularly important for key information and a fun caption to stand out if you want readers to open your brochure.
---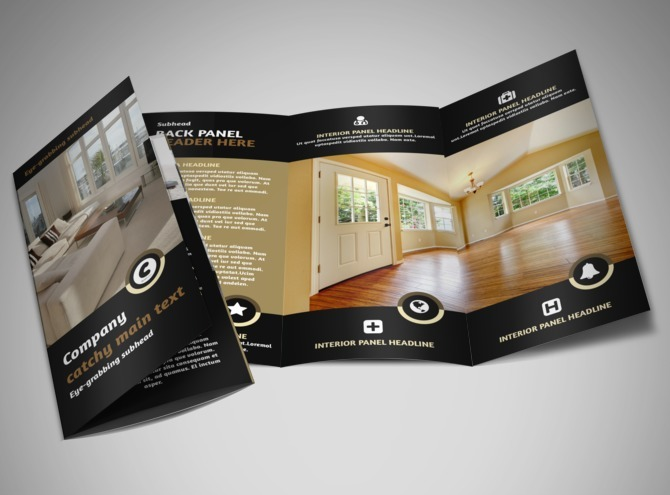 This brochure has a section for testimonials, which is extremely useful for service companies such as those in the cleaning business. Use fonts that are clear and easy to read to keep potential clients engaged and interested.
---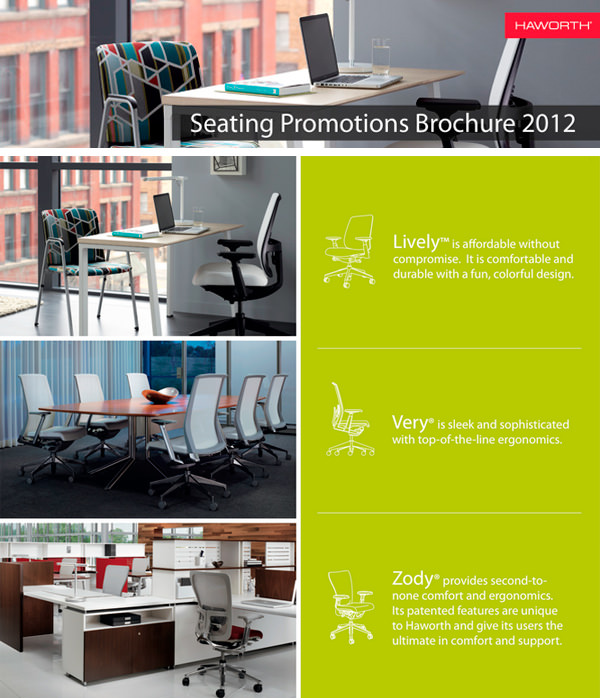 A large furniture brochure that's designed to feature promotions in the business. A great brochure starts with an eye-catching headline, as the one in the example. Additionally, a large-size brochure implies a large event and potential customers will certainly take that opportunity of perhaps getting a great find.
---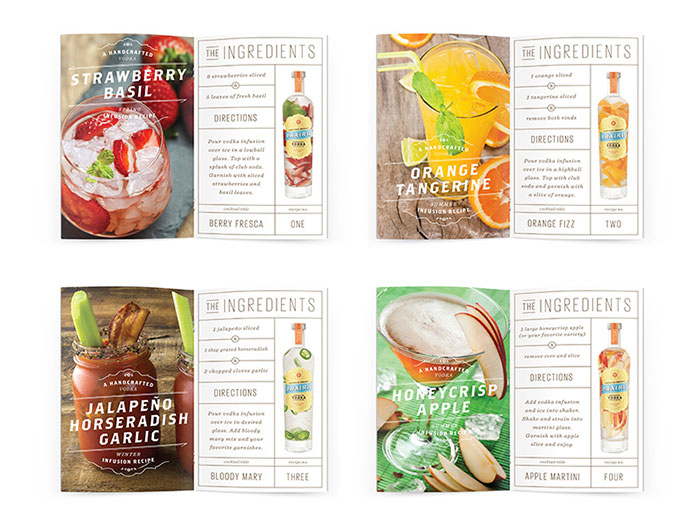 While this can be a brochure for beverage producers, small business professionals like mixologists can do well with this also. Attract potential customers by sharing interesting content (like samples of your most popular concoctions and fun captions) paired with clear, high-quality images of your final product.
---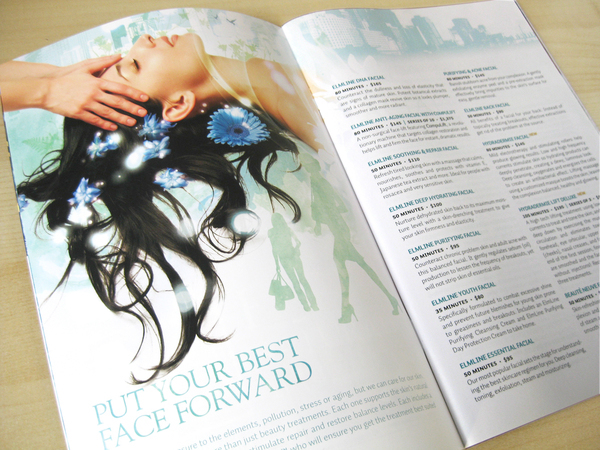 There's nothing better than an image that almost jumps out from the pages. For a brochure, this can easily improve the number of copies that get picked up. But if you're producing a large format with text, make sure to keep paragraphs short so as not to lose the interest of your readers.
---
20. Retro Barbershop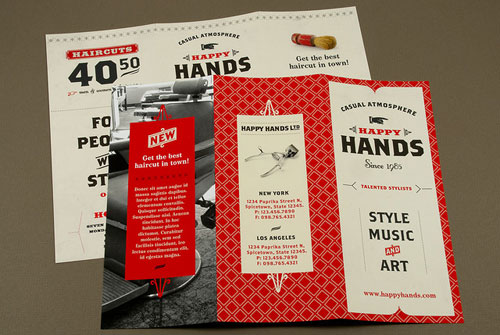 This example shows how effective text can be without being boring by simply using a variety of color, sizes and thicknesses. Use larger, thicker fonts for key information while smaller ones for support.
---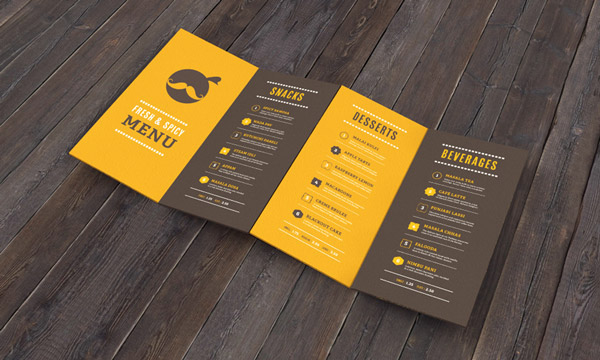 It's important to keep a clean layout when using a brochure format to print your menus. One way to do this is by using one page for each course of your menu. Use a z-fold layout that displays one panel at a time for an organized, step-by-step experience for your customers.
---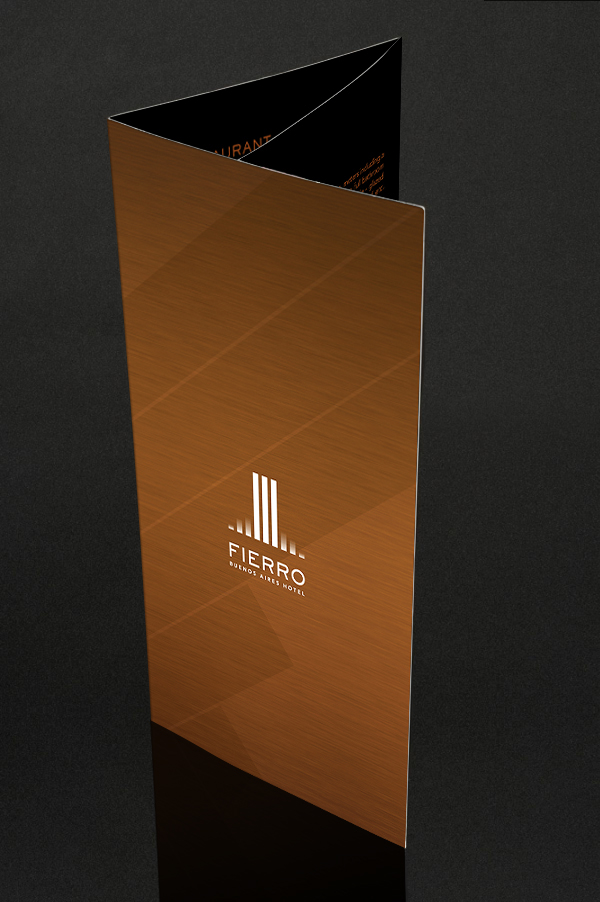 One key aspect of an effective brochure is an eye-catching cover page. This doesn't always mean having large images or brilliant colors, though. You can opt for a textured background with a prominent logo at the front for a more elegant look that will surely stand out.
---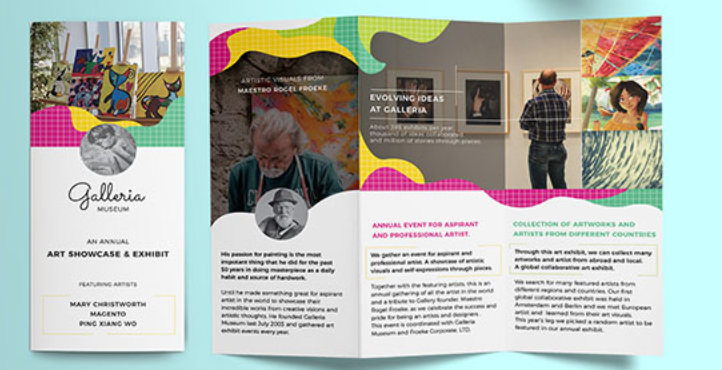 It's important to work on a theme to give your brochure a cohesive look. This can be done even without deciding on one color. Notice how this example uses a colorful frame for its images all throughout the brochure. Key information is also highlighted using the same color group.
---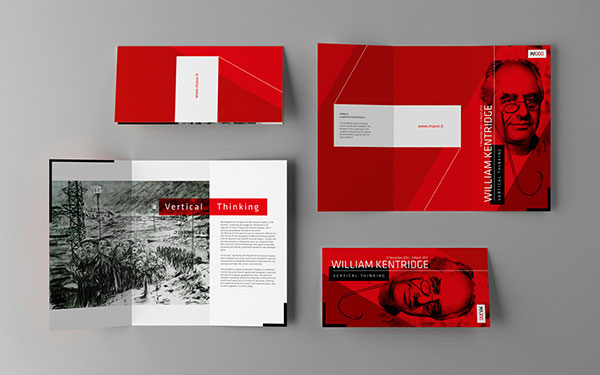 If you ever decide on working with a single color on your brochure, make sure it's sharp and eye-catching from a distance. Take a look at this example that has chosen the color red for its design. We love the almost popup box frames of white giving the right amount of relief to keep readers from being overwhelmed, and a gray and white style to surprise them inside.
---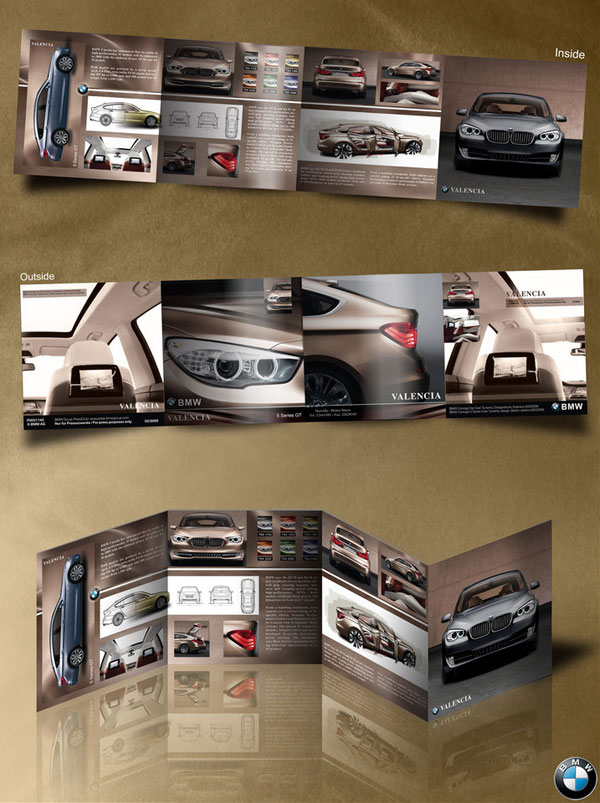 If you're selling a product, the best quality images are great content, but you will also need a call-to-action prominent on your brochure. Otherwise, all your photos will go to waste if potential clients are not guided to the next step. Be specific and provide your preferred contact information at all times.
---
Over to You
There are many key elements that make up a successful brochure, and having the biggest budget can guarantee that you design one that sells. Get inspiration from our list and tips when creating your next brochure.
What's your favorite brochure design from our list? Let us know in the comments.