Conference bridging is very similar to a conference call. The difference between the two lies in who does the work. For example, a conference call requires the meeting host to manually dial participants and add them to the call. A conference bridge, on the other hand, allows participants to dial directly into a group call instead of relying on a host.
How a Conference Bridge Works
A conference bridge allows a group of participants to share a line by essentially answering and connecting multiple incoming calls in a virtual meeting room that were placed through a central telephone number. Participants can be added to calls automatically, but some services require guests to first enter a PIN (a personal identification number that is provided by the host) to ensure that only invited guests have access to the meeting room.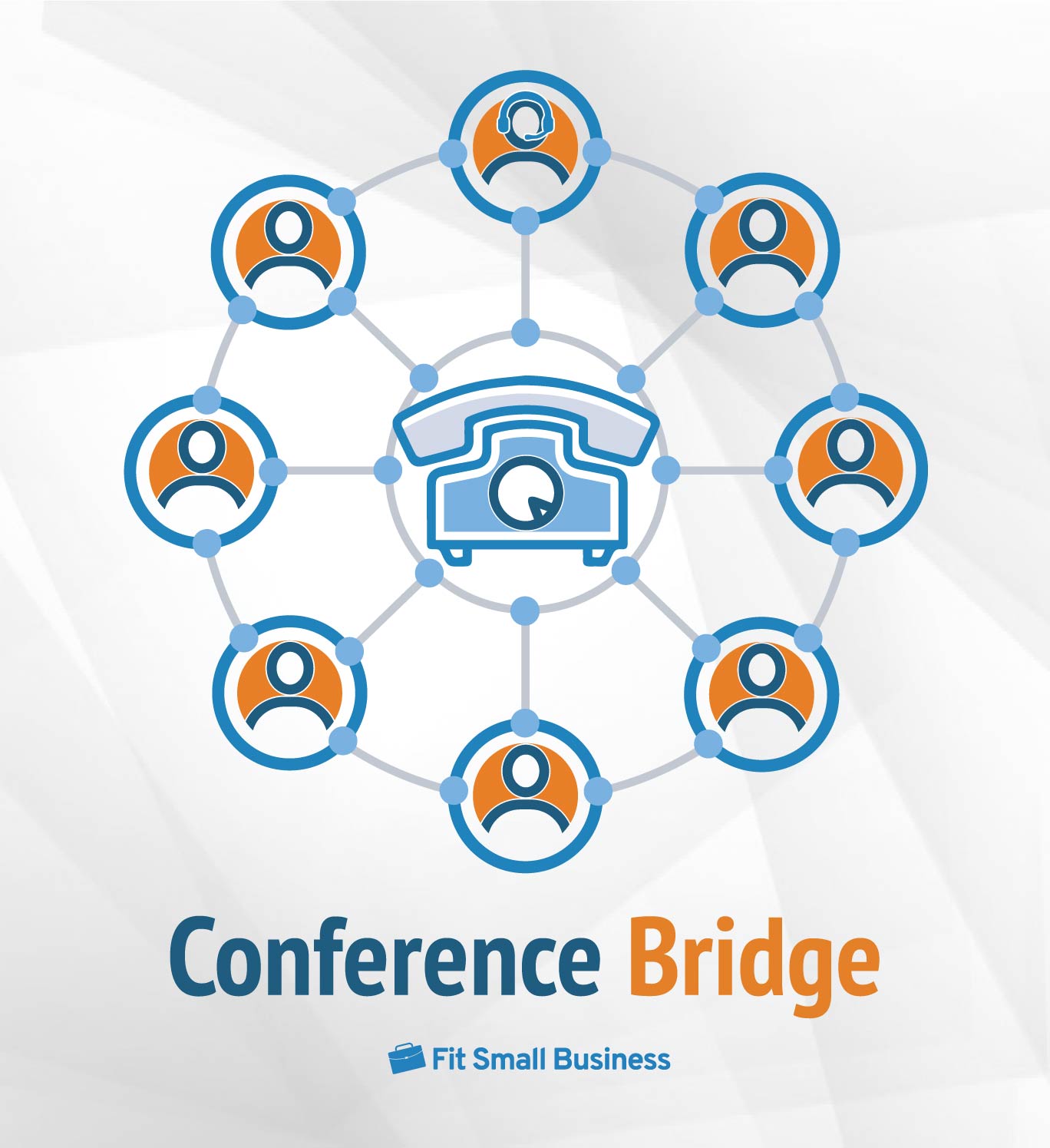 Your provider will dictate what happens next; some have hold music that will play until the meeting starts, others are silent. However, conference bridging technology has other benefits that differentiate it from traditional conference call technology.
For example, you can serve a large group of users, with many services allowing up to 1,000 participants at once, which well exceeds the capability of traditional conference call services. You can also alter the settings to allow participants to stay on hold until you (the host) arrive, or you can allow participants to enter the virtual meeting room before you arrive.
In addition, conference bridging makes it easier to host meetings compared to conference calling. If your phone system supports conference bridging, all you have to do is simply send out an email invite with the details of the meeting listed so that your group can accept or decline your invitation, automatically adding it to their calendar app.
Benefits of Conference Bridging
Staying in contact with colleagues and clients has never been more important than in the world we live in today. Conference bridging is an easy and efficient way to do this, with some of the most notable benefits including:
Time saving: As the host, conference bridging saves you the stress of being responsible for dialing all individual telephone numbers by eliminating this step. By giving the participants one central number to dial, this also reduces the risk of misdials and accidentally disconnecting someone during the actual call.
Budget friendly: There are many different conference bridging tools that you can use for a low price or absolutely free. If you are already subscribed to a voice-over-internet-protocol (VoIP) service, conference bridging is likely included in your service package and requires you to spend no additional money. Another benefit is that you can invite people to a conference bridge as guests, even if they are not VoIP subscribers.
Audio chat: Whether or not you have video chatting available to you, it is still possible to participate in a conference bridge by simply utilizing the audio function on your device. This allows you to listen to the meeting and be involved without actively needing a webcam or other special equipment.
User friendly: No matter what your tech skill level is, it's very easy to join a conference bridge. By having all participants dial one central telephone number, this alleviates confusion for users, especially if you've emailed an invitation ahead of time; all they need to do is click or tap to dial and they're on their way.
Remote: The working world has drastically changed, with many employees now required to work from home. By making use of a conference bridge to hold a virtual meeting, there is no need for anybody to physically gather if it is not a possibility right now.
Convenient: You don't need any special equipment to join a conference bridge; anyone with an internet connection and a telephone, computer, or tablet can join. In recent months, internet usage has surged upwards 70%, and an estimated 5 billion people worldwide own smartphones. This means that no matter where in the world you live, conference bridging provides a convenient way to keep in contact with almost anybody.
Determine If Your Phone System Supports Bridging
Whether or not you have access to a conference bridge is entirely dependent on your phone provider. If you're unsure whether or not you have access to this feature, speak to your provider's point of contact.
Most VoIP systems support conference bridging internally; that is, you do not need to use a third-party service such as Zoom to make use of the feature. RingCentral is one such service that supports conference bridging, and it even ranks as our top choice for the best conference calling software. Because of this, we will use RingCentral as an example when we discuss the process of the conference bridge feature.
Make Calls Using Conference Bridge
Using the conference bridge feature is not exactly the same across all providers, but it is not completely unrecognizable either. The steps will vary in some form, but in general, it is pretty easy to set up a conference bridge. For example, the steps required to host a group call using conference bridging with RingCentral's highly rated business phone service are as follows:
Log in to Your RingCentral Online Account
You must use your RingCentral online account to make conference calls. There are two ways to sign in:
Navigate to RingCentral's direct sign-in page and enter your company phone number.
Enter your password and choose "Sign In."
You can also easily log in using the RingCentral homepage:
Navigate to RingCentral's homepage and click "Login" in the upper-right corner. Choose "Admin Portal" from there.
Enter your company phone number and choose "Next."
Enter your password and choose "Sign in."
Set Up a Conference Bridge Meeting
When you've logged into RingCentral, select the Conference icon:

From there, you will be directed to the Conference screen. You will be given several options, including:
Dial-in number: This is the telephone number that participants will dial to reach the meeting.*
Host code: The code that hosts must enter to initiate the meeting so that they can manage users, settings, and so on.
Participant access code: The password that participants must enter to access the virtual meeting room. You have the option as the host to allow participants to join the meeting before you; all you do is check the "Enable join" option.
*Note that international participants require a special selection. You must choose from a list of applicable countries using the International Dial-In Numbers section.
When you're done, select "Invite with Email." This will auto-generate an email containing the date, time, and participants for the meeting. Simply enter your participants' email addresses on the email invite and click the "Send" button.
Use the Mobile App
If you don't have access to a computer at the moment, RingCentral lets you schedule a meeting directly from the mobile app.
Schedule a Meeting From the App
Open the RingCentral mobile app and navigate to the "Video" option via the bottom bar.
From here, tap the "Schedule" button near the top. You can also select the "Edit" button to make changes to an existing meeting.
Customize options from this screen: Choose a date, a start and end time, and any additional settings that you might want to use.
Tap the arrow icon on the left and select the calendar where you'd like to save the meeting. You can add and edit participants from here as well.
Save the event.
Any scheduled meetings will appear in the "Video" interface homepage within a few days of the meeting to remind you. You can choose to schedule a meeting as its host or schedule a meeting on behalf of someone else, making them the host.
Frequently Asked Questions (FAQs)
What features exist during a conference bridge?
Every provider will have different features regarding a conference call, but some of the most common features include:
Mute
Listen only (if you don't want to use the video feature)
Record conference
Are there restrictions regarding who can use the conference bridge features?
Anybody who receives an invitation to participate in a meeting can join a RingCentral meeting. However, only people who have a RingCentral account can host a RingCentral meeting.
What devices can I use to participate in a conference bridge?
Many devices support conference bridging, including, but not limited to:
Desk phones
Your computer or laptop
Tablets and mobile devices, including Apple and Android phones
Why should I use the conference bridge feature?
There are many benefits to using the conference bridge feature in your phone plan, especially with the current rise of remote workers. Some of the most useful benefits of conference bridging, include:
Easy access for all participants, no matter where they are located or what time zone they live in.
Convenience in choosing which device to join the meeting.
Host and participant access codes to ensure that your meeting is secure and private.
RingCentral meetings allow you to host up to 1,000 participants for a maximum of six hours at a time.
Participants can join whether they are a RingCentral customer or not.
Bottom Line
In the current world we live in, it is a reality that employees and clients could be scattered all over the country, perhaps even the world. Staying in contact and being able to talk in real-time is an essential feature for VoIP phone systems in the business realm. Conference bridging is one highly convenient way to host meetings and discuss business matters with your remote employees.
If you're looking for a VoIP system that is rich in features—a conference bridge is only one of them—we suggest visiting RingCentral. Not only can you choose to pay on a monthly or annual basis, but you have the ability to connect with people worldwide in many different platforms. Visit RingCentral to see how you can make the most of conference bridging and other features.