The cost of credit card processing can vary widely, due in part to the different pricing models used by merchant account providers. To make sure you do not overpay, it's important to have a proper understanding of how credit card processing fees work.
By-and-large, Square is going to provide the best rates to small retailers, since they have no monthly fees, free POS software and low-cost hardware. Click here to try Square for free.
How Credit Card Processing Fees Work
There are 4 primary factors that affect you much you will pay to process a credit card:
The Interchange Rate – This is the rate that makes up the fees charged by the card issuing bank and the credit card company fees (i.e. Visa and Mastercard). The interchange rate varies by the type of credit card (see a full list here). All small businesses pay the same interchange rate, so this component is non negotiable.
The Merchant Account Provider Fee – In order to connect to the credit card networks you need a merchant account. Merchant account providers make their money by charging a fee (or fees) on top of the interchange rate. These fees are negotiable; different businesses may pay completely different rates, even when working with the same merchant account provider.
How the card is processed – The merchant account provider fee will vary based on how the card is processed. In-store transactions (where the customer is swiping their own card) have the lowest risk of fraud, and will therefore generally have the lowest fees. Online transactions and keyed-in transactions (i.e. when you take an order over the phone), have a higher risk of fraud, and will therefore generally have higher fees.
Setup + Monthly fees – Some merchant account providers will charge you a setup fee and ongoing monthly fees to cover things like support and security/PCI compliance.
Since the interchange portion of credit card processing fees can generally not be negotiated, it all comes down to the merchant account provider you choose.
How Merchant Account Providers Charge for Credit Card Processing
As we explained above, your choice of merchant account provider will have the biggest impact on your credit card processing fees. Your merchant account provider acts as a middleman between you and the credit card companies, so you generally do not deal with credit card company fees (known as the interchange rate) directly. Instead, this is passed down by your merchant account provider in one of 3 different ways:
1. Flat rate pricing
You pay a single flat rate regardless of the type of credit card being processed. For example, our recommended flat rate pricing provider Square, charges 2.75% for all in-store transactions, regardless of the type of card used. The advantage of flat rate pricing is it's simplicity: You know exactly how much you are paying each time you process a credit card, regardless of the type of card. Flat rate pricing providers like Square, also give you everything you need to start processing credit cards using your mobile phone or tablet for free ($29 one time fee for a chip reader).
2. Interchange Plus Pricing
You pay a fixed percentage and a fixed dollar amount above the interchange rate. For example, our recommended interchange plus provider Payline charges .2% + $0.10 above the interchange rate. The advantage of interchange pricing is you can generally get a lower rate (i.e. For a retail visa swipe you would currently pay 1.71% + $0.20 with Payline vs. 2.75% with Square). The disadvantage is that it's more complicated to understand and setup than flat rate pricing providers. You also don't get all the bells and whistles that square offers.
3. Tiered pricing
With tiered pricing the amount you are charged by the merchant account provider varies widely depending on the type of card you are processing. Because of this, it is very difficult to understand exactly how much you are being charged, and to compare this against other providers. For this reason we recommend avoiding tiered pricing.
How to Know Which Merchant Account Provider is Right for You?
A flat rate merchant account provider like Square is generally the best option, unless you make over $17,500/month in credit card transactions, and/or sell a lot of high-value items.
Square is perfect for small retailers because of their simplicity and lack of monthly service fees. You get a full-blown point of sale (POS) system for free, which allows you to set-up tips and discounts, record cash and check transactions, process refunds, print receipts (or send via email or SMS) and much more.
For those that want additional features like email marketing, employee time clocks, appointment scheduling and more, Square also offers these capabilities as paid add ons.
The catch is that Square users pay a slightly higher credit card processing fee. Square's fixed 2.75% flat rate is typically around 1% more than what you can get through an interchange plus pricing provider like Payline. For instance, a Visa credit card swipe will currently cost 1.71% + $0.20, from Payline, compared to 2.75% with Square.
However, our calculations show that Square will still cost you less if you're processing less than $17,500/month. This is because the savings you get from their free POS software and lack of monthly service fees actually outweighs the higher transaction fees charged by Square:
Square Flat Rate vs. Payline Interchange Plus Rate
Below we compare flat rate pricing and interchange plus pricing at two different revenue points: $12,500/month and $25,000/month in credit card transactions. The example uses a Visa retail card swipe with an average order value of $35.
Credit Card Processing Fees Comparison Table
Card Revenue per month
Processing Fees per month
Service Fees per month
Cost of POS Software per month
Total Annual Cost
Flat Rate Pricing (Square)
$12,500
$343.75
None
None
$4,125
$25,000
$687.50
None
None
$8,250
Interchange Plus Pricing (Payline)
$12,500
$285.18
$15
$69
(Shopkeep)
$4,430
$25,000
$570.36
$15
$69 (Shopkeep)
$7,852
As you can see from the above table, at $12,500/month in revenue, Square costs you $315 less per year. Even though Payline charges you lower processing fees, the added cost of their service fee, plus the amount you'll have to pay for POS software (we used Shopkeep as an example) makes it more expensive.
At $25,000/month in revenue, however, the opposite is true. Payline is more affordable because the lower processing fees outweigh the added costs. Based on our calculations not included in the table, approximately $17,500/month in credit card revenue is the point where Payline starts to beat Square.
Keep in mind, however, all of these calculations use an average order value of $35. As we'll show you next, changing this order size can have a huge impact on your credit card processing fees.
How Average Order Value Affects Credit Card Fees
Card Revenue per month
Average Order Size
Processing Fees per month
Flat Rate Pricing (Square)
$25,000
$10
$687.50
$25,000
$100
$687.50
Interchange Plus Pricing (Payline)
$25,000
$10
$937.50
$25,000
$100
$477.50
The average amount your customers spend can have a big impact on your credit card processing fees— specifically, if you use interchange plus pricing. Because Payline charges 20 cents per transaction in addition to 1.71% (for Visa in-store swipes), a customer buying a $0.99 pack of gum would cost you 22 cents in fees— nearly 22% of the item's value. By contrast, an $1,800 bicycle would be substantially lower — around 1.72% of the total.
By contrast, Square charges 2.75% of the order value (for in-store swipes), regardless of how much the items cost.
So if your customers tend to make a large amount of big purchases (say, over $25 per visit) then an interchange plus merchant account provider like Payline can save you money in credit card processing fees. If you have a lot of low-value transactions, however, then you could actually save more using a flat rate provider like Square.
How to Choose An Interchange Plus Merchant Account Provider
At this point, you should have a good idea whether flat rate or interchange plus pricing is better for your business. If you want to sign up with a flat rate merchant account provider, we highly recommend Square for their low (i.e. lack of) monthly fees and free POS features. You can find instructions on how to set up a Square account here.
If you've determined that interchange plus is a better choice, there are a few more considerations to keep in mind. We'll discuss those next:
The Lowest Interchange Plus Provider We Have Found is Payline
Payline charges .2% + $0.10 above interchange. We have not seen anyone advertise a lower rate than this, so when price shopping different providers this is the measure you can start with.
Keep an Eye out for Monthly Fees
Unlike Square, interchange plus merchant processors often charge ongoing fees including:
Monthly processing fees – In addition to the per transaction percentage rate and fixed rate fees, some providers charge a monthly or annual fee. Payline charges $15 per month.
PCI compliance fees – This is a fee for compliance with Payment Card Industry (PCI) standards, which require merchants that accept credit cards to meet certain security standards. The cost is often around $20 per month. Payline does not charge a PCI compliance fee.
Customer service fees – There may be a fee for phone-based customer service support. Payline does not charge a fee for their phone, email and live chat support.
Fees can vary significantly based on your provider, so we encourage you to ask as many questions as you can before signing-up.
Keep an Eye Out For Upfront/Setup Fees
Some merchant card processors also charge upfront fees for setup and training. Payline does not charge any of these fees (nor does Square):
Training Fee – for the credit card processor to walk you through how to use the system you purchased.
Customization Fee – for the credit card processor to modify its system to fit your specific needs.
System Integration Fee – there may also be a fee if you need to integrate a credit card processor's software with e.g. accounting software.
To avoid any unexpected costs on your merchant account statement, make sure to ask your provider as much as you can about "upfront fees" before signing up. Payline, our recommended provider, does not charge any upfront fees.
Negotiating Credit Card Processing Fees
If you choose a provider with interchange plus pricing and are doing a large volume of credit card processing, you may be able to negotiate the fees they charge. With interchange plus you know you are going to pay a fixed percentage rate and fixed fee per transaction. So, when negotiating, you can either focus on getting the fixed percentage down, the per transaction fee down, or both.
If you are doing fewer but higher priced sales, then you want to focus on lowering the fixed percentage because that is what is really going to impact your bottom line. The difference between a 2% and 3% rate on for instance a jewelry purchase of $1,000 is comparatively large, whereas a fixed fee of $.10 – $.30 is small by comparison.
On the other hand, if you are doing lots of lower priced sales, it is better to try to lower your fixed fee. For instance, 2.5% on a $5 transaction is only around $0.01, but if you complete a thousand $5 transactions a day at $.20 each, it soon becomes a much more considerable sum.
With Payline, our recommended merchant services provider, you can negotiate rates when you exceed $80K per year in card sales, click here to learn more.
Interpreting an Interchange Plus Merchant Statement
Whether you are a new business or have been around for a while, it can be confusing to understand all the fees you are charged for accepting credit card payments. Let's walk through a typical merchant statement so you better understand what you're paying and if you're paying too much.
There are two key parts of a merchant statement, and all the other sections are just fluff and information that you typically don't need as a business owner.
The two key areas are:
1. The Overview
Page 1 of the statement, with a Processing Fees Summary and a Fee Summary by Major Credit Card Type. This usually looks something like this: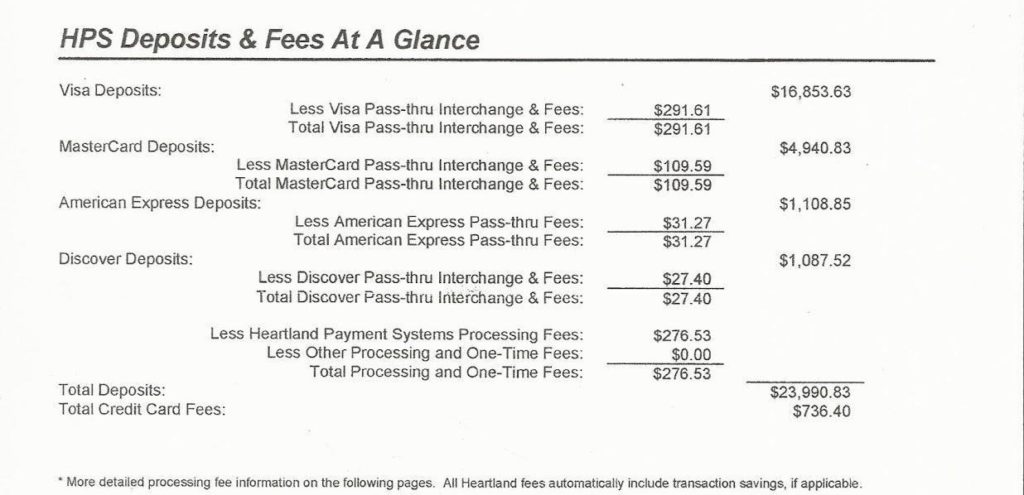 2. Fee Summary
This is usually pages 3-5 of your merchant statement, and it breaks out all of the fees that are summarized in the Page 1 Summary. You will see all the individual breakouts for the respective credit card brands, and you see the merchant account processor fee section. The section looks something like this:
Now we are going to use information from this statement to calculate what's called your Effective Rate. Knowing this percentage is critical to understanding if you are getting a decent processing deal.
How to Ensure you are Paying a Competitive Rate
The effective rate is the total average cost you are paying to process a single credit card. To calculate your effective rate, you divide your total credit card processing fees by your total deposits in the same period.
Total Credit Card Processing Fees / Total Deposits = Effective Rate
The average effective rate for credit card processing varies by provider, but in general, the merchant processor will likely offer you an effective rate somewhere between 2.9% to 3.3%. You can try to negotiate that even lower, especially if you're doing a high volume of transactions.
Here's an example from our page 1 above. Take the total fees charged and divide by total deposits made:
$736.40 (total fees charged) / $23,990.83 = .0306% or 3.06% Effective Rate
That's a good effective rate, but what if it were higher, say 3.6%? Then, you would want to refer to page 3 of your statement and look at the merchant processor account fees charged. It will detail out exactly what the processor is charging you as shown here:

In this case, you can see the business is getting charged for the card types and debit cards, plus a monthly PCI fee from the merchant account processor. You will also notice a fee called Monthly vs. Daily Discounts. I'm not sure what that fee covers, so I'd recommend asking about it. You'll also see any other monthly fees and charges in this section.
The bottom line is you want to compare this section of your merchant statement to the fees charged by other processors. The information you're seeking will stand out when compared side by side. I have personally seen dozens of businesses save $50 to $100 per month. That's $600 to $1,200 in savings per year just by understanding their current rates better.
Next time you meet with your account representative, ask them to calculate your effective rate. At the very least, you'll find why you're paying exactly what you are paying. You may also find a better deal somewhere else or be able to get a re-negotiated deal, at a lower rate, from your current processor. How could you improve your business with an extra $600 to $1,200 dollars a year in your pocket?
The Bottom Line
There are two main rates suitable for small business; flat rate pricing like Square and interchange plus pricing like Payline. There is a third pricing model called tiered pricing, but in our opinion this is totally unsuitable for small business.
While we recommend most retailers use Square, switching to Payline makes sense when the increasing cost of card processing starts to outweigh the ease of working with Square and the value of the free POS software they provide. As a rule of thumb, this is likely to be around $17.5K per month in card sales. If your average card sale is higher than $25, then the threshold will be even lower than this.
Last but not least, if you are considering adopting the interchange plus pricing, there are a number of factors to consider before choosing a merchant account provider: effective rates, upfront and monthly fees, hardware fees, and any other fees. Sign-up with the merchant account processor that you feel is the most honest and fair with their rates.