Credit card processing fees are services charges businesses pay to credit card processors and merchant service providers. Also known as credit card transaction fees, these fees occur when a business charges a customer's credit or debit card. The fees you pay can vary wildly based on the fee structure of your chosen credit card processor.
If you're looking for the simplest, most transparent payment provider, we suggest trying Square. It has low flat-rate processing fees and no startup, monthly, or cancellation fees, so it's completely risk-free. Plus you get free point-of-sale (POS) software to help manage your business and a free mobile credit card reader upon signup. Click below for a free Square account.
How Credit Card Processing Fees Work
From the outside, credit card processing looks straightforward: A customer presents a card, and the business charges it. However, there are so many steps that must happen behind the scenes to make the payment work. Of course, all of these steps also come with fees, which is why accepting credit card payments can be so expensive.
When a customer pays with their card, that payment information is submitted to your payment processor, who then forwards the payment information to the card association that issued the card, such as Visa and MasterCard. The card association then sends the payment request to the customer's issuing bank behind the credit card.
The bank approves or denies the transaction and sends the approval or denial back to the card association, which then forwards the result to your payment processor. Then the payment processor informs the merchant whether the charge was approved or denied. This is when the customer will see whether their charge is approved or denied.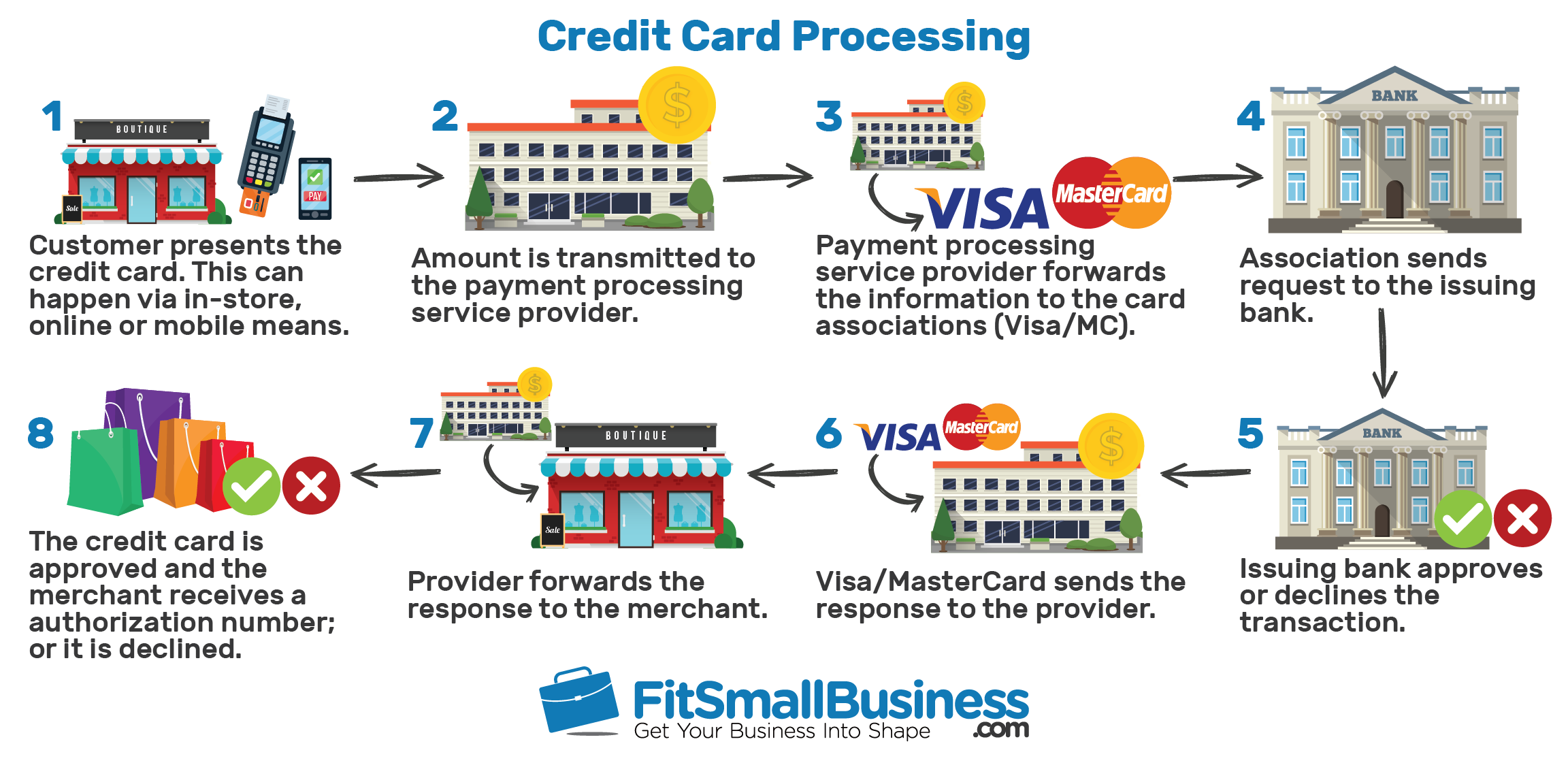 The Interchange Rate
The interchange rate is what credit card issuers―Visa, Mastercard, American Express, and Discover, for example―charge for handling their part of the credit card transaction process. The interchange rate varies depending on the credit card type. For example, a rewards card and a corporate credit card have different interchange rates. Because interchange rates are what merchant account providers pay to card issuers, these rates are nonnegotiable.
The Merchant Account Provider Fee
To connect to the credit card networks to process credit cards, you need a merchant account or credit card processor. Merchant account providers make their money by charging a fee or fees on top of the interchange rate. These fees are negotiable and generally based on your sales volume and type of business. So, different businesses may pay completely different rates, even with the same merchant account provider.
Setup & Monthly Fees
Some merchant account providers will charge you a setup fee and ongoing monthly fees to cover things like support and security or Payment Card Industry (PCI)-compliance. Some even have account cancellation fees that can be costly if you want to change providers. Others have no setup, account, or cancellation fees, which makes for a popular, no-risk option for small businesses.
The interchange rates are not negotiable and are the same across all credit card processing companies. However, different credit card processing companies charge different types and amounts of merchant account provider fees in the form of transaction fees, setup, and monthly fees.
How Payment Type Impacts Fees
The merchant account provider fee will also vary based on how the card is processed. In-store transactions where the customer is swiping their own card have the lowest risk of fraud and, generally, have the lowest fees. Online transactions like website orders and keyed-in transactions―when you take an order over the phone―have a higher risk of fraud and will generally have higher fees.
Types of Merchant Accounts & Credit Card Transaction Fees
Interchange rates are set by the credit card issuers and are nonnegotiable. Merchant account providers are the middlemen between you and the credit card companies, and their fee is what you pay when you process a credit card. Every merchant account provider structures their fees differently. However, there are four general types of fee structures most merchant account providers follow: flat rate, interchange plus, tiered rates, and subscription or membership model.
1. Flat-rate Credit Card Processing Fees
With flat-rate processing fees, you pay a simple, flat-rate fee, regardless of the type of credit card being processed. For example, Square charges 2.75% for all in-store transactions, irrespective of the type of card used. The advantage of flat-rate pricing is simplicity: You know exactly how much you are paying each time you process a credit card, regardless of the type of card. Flat-rate fees can also be cost-effective for very small businesses or businesses with low average transactions like coffee shops.
2. Interchange-plus Credit Card Processing Fees
With interchange-plus pricing, you pay a fixed amount above the interchange rate. Interchange-plus plans can save you money when sales reach a certain volume. However, rates vary based on sales volume, business type, and other factors, so interchange-plus is more complicated to understand and set up than flat-rate solutions like Square. Interchange-plus accounts also sometimes come with monthly fees.
3. Tiered Credit Card Processing Fees
With tiered pricing, the fees your merchant provider adds on to interchange rates aren't fixed, so the amount you pay varies widely depending on the type of card you are processing. Tiered pricing is fraught with unpredictable add-on fees and incomprehensible billing statements. Because of this, it's challenging to understand precisely how much you're being charged and to compare this against other providers to ensure you're getting the best deal.
For this reason, we recommend that small businesses avoid tiered credit card processing fee plans. Very large businesses can usually negotiate very low rates with tiered pricing, but these are typically enterprise-level businesses.
4. Subscription & Membership Model Pricing
Subscription or membership model pricing is very similar to interchange plus. However, these models have higher monthly fees with very low transaction fees. Subscription and membership model merchant accounts typically offer great value for mid- to large-size businesses processing more than $20,000 per month.
How to Choose a Credit Card Processor
Since every credit card processor and merchant account provider operates a little differently, including different fee structures, it is tough to tell which solution offers the best rates and value for your business.
If you're considering using a credit card processor for your business but don't know which provider to choose, answer a few short questions below. This will offer you a customized recommendation based on the responses you give.
See Which Credit Card Processor is Best for You
How Average Order Value Affects Credit Card Fees
The average amount your customers spend can have a significant impact on your credit card processing fees because credit card processing fees have some type of percentage fee. Businesses with large average order or transaction values can typically save money by choosing an interchange-plus or membership model credit card processor because the percentage you pay on each transaction is lower.
On the other hand, if you have small average orders, you are typically better off with a processor that only charges a flat percentage, instead of a membership or interchange plus model that charges 15 or 30 cents for each transaction.
For example, if you are a coffee shop that processes $20,000 per month with a $10 average transaction, this is what you would pay in fees for Square―a popular flat-rate processor―and Payment Depot―a popular membership-model processor.
Payment Depot vs Square for Small Average Order Value
| | Square | Payment Depot |
| --- | --- | --- |
| Monthly Sales Volume | $20,000 | $20,000 |
| Average Transaction Value | $10 | $10 |
| Number of Monthly Transactions | 2,000 | 2,000 |
| Processor's Monthly Fee | $0 | $49 |
| Processor's Transaction Fee | 2.75% | 15 cents + interchange |
| You Pay | $550 | $1,011 |
*We used Visa's standard credit interchange rate, which is 1.81% + 10 cents.
However, if you own a boutique that processes $20,000 per month in sales with an average transaction value of $100, here is what you would pay with Square and Payment Depot.
Payment Depot vs Square for Large Average Order Value
| | Square | Payment Depot |
| --- | --- | --- |
| Monthly sales volume | $40,000 | $40,000 |
| Average transaction value | $100 | $100 |
| Number of monthly transactions | 400 | 400 |
| Processor's monthly fee | $0 | $79 |
| Processor's transaction fee | 2.75% | 15 cents + interchange |
| You pay | $1100 | $923 |
In the case of the coffee shop, Payment Depot's 15-cent charge on top of the direct interchange rate was too expensive. However, it was more affordable for the boutique selling more costly items. A 15-cent charge on a cup of coffee is a lot different than a 15-cent charge on a $100 dress.
How Monthly Processing Volume Impacts Merchant Account Options
The size of your business and the dollar amount that you process each month will also impact the provider that you choose. Many payment processors that offer interchange-plus or membership model prefer to work with established businesses processing at minimum $10,000 per month consistently. Some require a $20,000 per month minimum. Anyone can sign up for a payment processor like Square and start processing payments right away without an application process or monthly minimums.
Credit Card Processing Needs for High-risk Businesses
There are some businesses that credit card processors consider "high risk" and require a specific high-risk merchant account. Businesses can be classified as high risk based on the products that they sell. For example, adult products, cannabidiol (CBD) and cannabis, online gaming, and pharmaceuticals can all be considered high-risk.
The types of transactions that a business processes can also result in a high-risk classification. For example, any business that processes very high dollar amounts online can be considered high risk, especially if there is not a physical product involved. So, consulting, online business coaching, or dating services can all be regarded as high risk.
If you have a business that could potentially be considered high risk, you should apply for a merchant account and see what they say. If the company you apply with is not able to provide you credit card processing services, they should be able to refer you to a provider that specializes in high risk, such as PaymentCloud. The only downside is that high-risk merchant accounts typically come with higher fees.
Tips for Navigating Credit Card Processing Fees
Navigating credit card processing fees is tricky because every credit card processor structures their fees a little differently. It is nearly impossible to make an apples-to-apples comparison between two processors just by looking at one specific fee, which is why you should always do the math for yourself when comparing rates.
There are a few specific fees to look out for, including monthly fees, PCI-compliance fees, customer service fees, setup fees, and cancellation fees.
1. Monthly Fees
In addition to the per-transaction percentage rate and fixed-rate fees, some providers charge a monthly or annual fee. In general, merchants should only pay a monthly fee if they are opting for a membership pricing model, like in the case of Payment Depot.
2. PCI Compliance Fees
This is a fee for compliance with PCI standards, which require merchants that accept credit cards to meet specific security standards. Most transparent credit card processors will charge you a very small annual fee or work this cost into your standard rates. In general, you should not be paying a monthly PCI fee on top of everything else.
3. Customer Service Fees
There may be a fee for phone-based customer service support. This is a huge red flag as most reputable processors should provide helpful phone support free of charge.
4. Setup Fees
Some merchant card processors also charge upfront fees for setup and training. These fees might cover things like walking you through how to use the system, customizing the system to meet your specific needs, or integrating your credit card processor with your accounting or ecommerce software. Many providers do these things for free, so you should try to negotiate to receive these services for free when signing up.
5. Cancellation Fees
Some merchant account providers charge an account cancellation fee if you cancel service before a specific time has elapsed. This is common if you have what are called contracted rates. However, if you have a no-contract monthly plan, you can change your service without penalties.
To avoid any unexpected costs on your merchant account statement, ask potential providers about upfront, setup, and cancellation fees before signing up. Be sure to get any agreements, especially for free services or fee eliminations in writing.
Credit Card Processing Fees Frequently Asked Questions (FAQs)
Navigating credit card processing is a bit like the Wild West: there are few regulations or standardized processes for how credit card processing fees work.
How to interpret a statement?
Whether you're a new business or have been around for a while, it can be confusing to understand all the fees you see on a credit card statement. There are two key parts of a merchant statement that you need to read carefully each month. The other sections contain information that you typically don't need to study too closely.
The two principal sections are:
Deposits & fee overview: Pages 1 to 2 of your credit card processing statement usually contains your processing fees summary and fee summary by major credit card type.
Fee summary: The following pages of your merchant statement typically break out all of the fees that are summarized in your deposits and fees summary. Here, you'll see the fee breakdown for all respective credit card brands, plus you'll see your merchant account processor fees.
The fee summary section is where you can examine the added merchant fees and evaluate your effective rate.
What is my effective rate?
Your effective rate is the total average percentage you pay to process a single credit card. To calculate your effective rate, divide your total credit card processing fees by your total deposits in the same period, like this:
Total credit card processing fees ÷ Total deposits = Effective rate
The average effective rate for credit card processing varies by provider. In general, merchant processors will likely offer you an effective rate somewhere between 2.9% to 3.3%. You can try to negotiate that down, especially if you have high sales volume.
When should I negotiate a lower rate?
If you are a high-volume seller―processing more than $20,000 per month―you will be able to negotiate a competitive rate. You can ask your merchant account provider to calculate and explain your effective rate. If this rate seems high―for example, higher than 3%―it might be time to shop around or renegotiate lower rates with your current processor. You might be surprised at how much you can save by regularly reviewing your rates and shopping around.
Which credit card processor is right for me?
Small businesses typically want more competitive processing rates they can find. For small or occasional sellers, especially those with small average transaction amounts, this is typically a flat-rate processor like Square. Established or growing businesses typically find the lowest rates with membership model pricing, like Payment Depot's. Large businesses with very high processing volumes may be able to negotiate their lowest rates with a big processor like First Data.
Bottom Line
Credit card processing fees or transaction fees are a significant expense for any small business. Because every processor operates slightly differently, it can be hard to tell what kind of rate you are getting. Knowing how a credit card is processed and which fees are non-negotiable, such as the interchange rate, and which fees are set by your provider, such as monthly fees and markups on transaction fees, makes it easier to ensure you are choosing a fair provider.
Partnering with a transparent credit card processor that offers affordable rates can save your business hundreds, if not thousands of dollars every month in transaction fees. Square is one of the largest credit card processors in the country, providing merchant services to many businesses of all sizes. Try it for free below.