Using a sales forecast, business owners can create realistic projections about incoming revenue and business performance based on their current data and how they have performed in the past. Sales forecasts may cover weekly, monthly, annual, and multi-annual projections, and can be done using Google Sheets or Excel templates, as well as through customer relationship management (CRM) software.
Centralize your sales operations and automate your sales process using Pipedrive.

---

AI-powered sales assistant

Sales automation tools

Visual sales pipelines

Robust CRM reporting
Centralize your sales operations and automate your sales process using Pipedrive.
---

All-in-one business banking
Capture & save receipts
Built-in bookkeeping
Automate tax savings
We've compiled nine free sales projection templates you can download. Each downloadable file contains an example forecast you can use as a reference. We also included a blank template you can copy and fill in with your own sales data.
Did you know? Sales forecasts create projections you can use for things like goal setting, performance measurement, budgeting, projecting growth, obtaining financing, and attracting investors. This is why it is important to use software tools or a CRM system that gives you realistic, data-driven forecasts.
1. Simple Sales Forecast Template
Our free simple sales forecast template will help you get started with sales estimates to plan and grow your business. You can modify this multi-year projection sheet in either Google Sheets or Excel. It can also generate future revenue estimates based on units sold, pipeline growth percentages, lead conversion rates, and your product pricing. This gives you an idea of how much your business can grow sales-wise in the next few years.
2. Long-term Sales Projection Forecast
Part of creating a sales plan is forecasting long-term revenue goals and sales projections, then laying out the strategies and tactics you'll use to hit your performance goals. Long-term sales projection templates usually provide three- to five-year projections. These templates are accessible in both Excel and Google Sheets.
Long-term sales prediction templates are best for businesses looking to scale and want insights about how much working capital they can expect to be able to tap into for growth initiatives. This type of sales projection template is also often required when applying for commercial loans or through other channels such as outside investors or crowdfunding.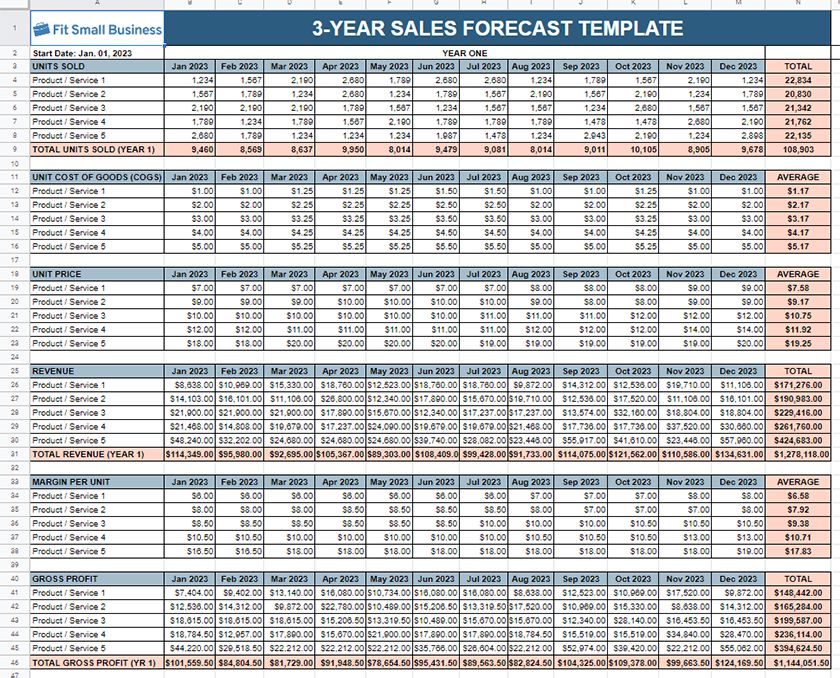 ---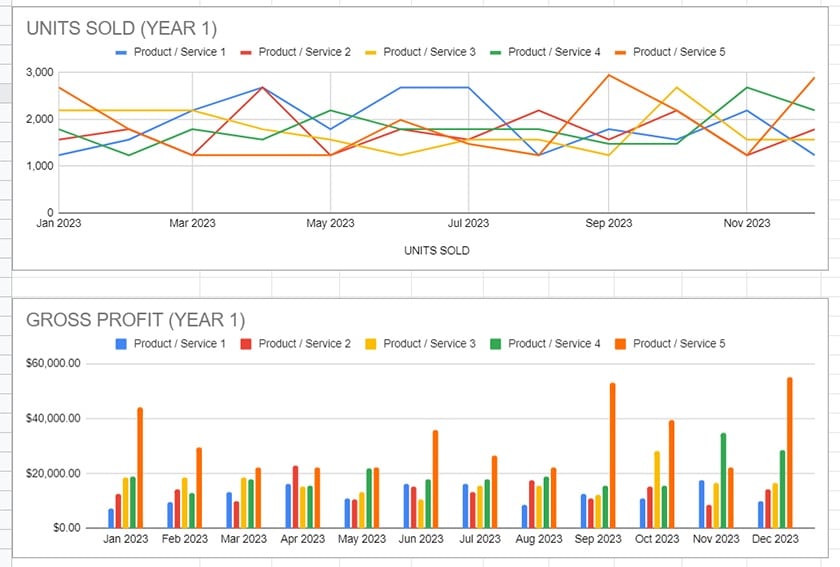 ---

---
3. Budget Sales Projection Template
A budget sales forecast template shows expense estimates in relation to revenue, allowing you to calculate how much you can spend during a specified period. Budget templates will enable you to enter income projections and available cash to indicate your spending capabilities for that time frame.
This type of template is best for new and growing businesses trying to figure out their future available expenditures. Additionally, businesses interested in making a large asset purchase, such as a company vehicle, piece of equipment, or commercial real estate, can use this template to see how much of the asset can be self-financed.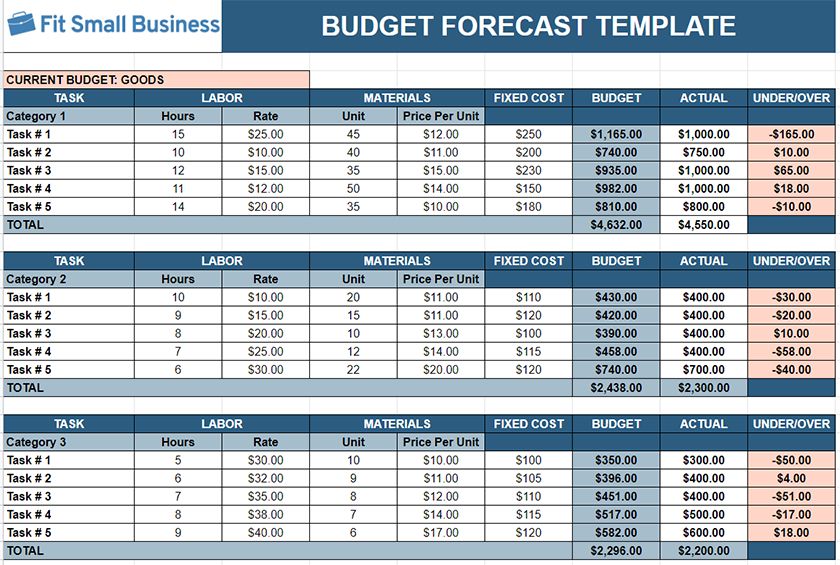 ---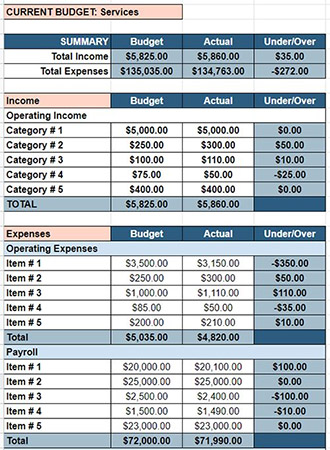 ---
4. Month-to-Month Sales Forecast Template
The month-to-month (or monthly) sales projection template shows sales projections for a year divided into monthly increments. This type of revenue forecast template makes it easier to estimate your incoming revenue. This is because you can break down your pricing model, such as the average number of units sold, on a monthly rather than an annual basis.
This monthly sales projection example is best for seasonal businesses that experience significant revenue fluctuations in some months compared to others. It's also appropriate for businesses that want to view rolling 12-month projections as a key performance indicator (KPI). You can also use it to project one-year sales estimates before implementing major campaigns or initiatives, such as a growth strategy.
5. Individual Product Sales Forecast Template
An individual product sales projection template can be used by businesses that sell one product or service or for projecting sales of a new (or any single) product or service. This forecast indicates how you expect the product to perform based on units sold and the price per unit monthly.
An individual product forecast template benefits businesses that sell products through a storefront or ecommerce medium. It helps businesses that are adding a new product to their arsenal in estimating sales exclusively for that product. It is also recommended for companies that need to track individual performance for the most popular or profitable products.
6. Multi-product Sales Forecast Template
Use this revenue projection template to generate sales projections if your business sells multiple products. Through this type of template, you can compare the estimated performance of specific products by tracking the units sold and the price per unit. In turn, this will yield a total sales revenue estimate.
The multi-product forecasting template is best for retail or wholesale businesses selling various products. You can also use it to project the revenue of multiple product categories. Here, each "item" represents a category rather than an individual product, and the price per unit is calculated in aggregate.
7. Retail Sales Forecast Template
A retail sales projection template forecasts revenue for brick-and-mortar stores since it includes data related to foot traffic. The retail sales template calculates projected revenue by year based on foot traffic, the percentage of foot traffic that enters the store, and the scale of conversions or those who make a purchase. Since it has a field for "other revenue," it can be used by retail stores selling online.
This business forecast template is mostly designed for brick-and-mortar retail businesses. However, a combination of ecommerce and brick-and-mortar businesses, as well as ecommerce operations, can also use this forecast template. The estimated customers passing store data fields can be replaced with website traffic to convert this sales forecast Excel sheet into an ecommerce sales forecasting template.
8. Subscription-based Sales Forecasting Template
Businesses relying on recurring revenue from sign-ups or contract renewals should use the subscription-based sales prediction spreadsheet. Enter data into the visitor and sign-up fields to show the visitor-to-sign-up conversion rate. Then, enter the number of new customers to show the percentage of sign-ups that convert to paying customers.
This business projection template also helps you track customer churn. It calculates your churn and retention rate based on the number of paying customers at the end of the period compared to the number at the beginning, plus the number of new customers added. Knowing your churn rate is essential since a high or increasing rate of customer turnover could indicate problems with your organization or its products or services.
How to Calculate Churn Rate:
To manually calculate churn rate, divide the number of lost customers by the total customers at the start of the time period, then multiply the result by 100. For example, if your business had 200 customers at the beginning of January and lost 12 customers by the end, you would divide 12 by 200. The answer is 0.06. Then, multiply that by 100, giving you a 6% monthly churn rate.
The fields of this template can be altered for use by contract renewal businesses like insurance agencies, information technology (IT) companies, and payroll processors. For example, subscribers can be replaced with "leads," and new subscribers can be replaced with "presentations," "free trials," or "demos." Then, change the churn rate to "non-renewed contracts" to estimate new and recurring business revenue year-to-year.
9. B2B Lead Sales Forecast Template
A business-to-business (B2B) lead forecast template estimates sales revenue from current deal opportunities in the sales pipeline through business leads. Businesses can use estimated deal values and the percent chance of closing those deals to obtain a sales projection.
This revenue projection template is best for B2B organizations, aka businesses selling to other businesses or organizations, rather than business-to-consumer (B2C) organizations. It can also be used for direct sales prospecting activities and for businesses that submit business proposals in response to solicitation requests.
CRMs With Built-in Sales Forecasting Features
Sales forecast sample templates are easy to modify. However, customer relationship management (CRM) systems generally offer more robust tools for managing revenue opportunities that can be converted into sales forecasts. They are valuable tools for providing sales predictions on premade charts through the data collected in the system. Below are examples of CRM platforms that could double as great sales forecasting software: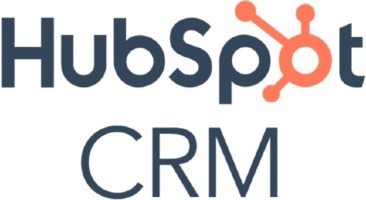 HubSpot CRM can instantly create revenue projections or automatically produce these reports for you monthly or quarterly at no additional cost, saving you time and helping your business stay on track.
Starting price: Free for unlimited users or $45 per month (annual billing) for two users


Pipedrive can take information such as potential deal value and probability of closing for a lead or opportunity to provide sales estimates in highly customizable templates.
Starting price: $14.90 per user, per month (annual billing)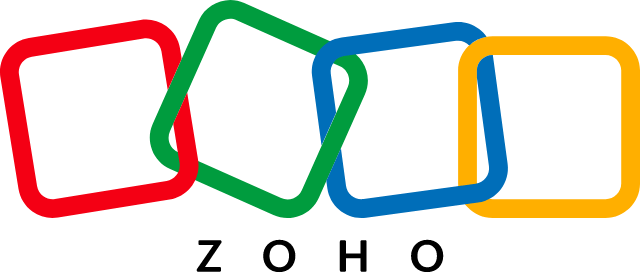 Zoho CRM provides sales forecasting through its native integration with Zoho Analytics, which analyzes and visualizes the data. Users can customize their forecasts by viewing them on different visual channels, including line, bar, and scatter charts.
Starting price: Free for three users or $14 per user, per month (annual billing)
Providing the right tools for your sales team to organize leads, communicate with prospects, and analyze sales data is crucial for streamlining a sales operation, one of many responsibilities of a sales manager. Other insights for managing your sales team can be found in our ultimate guide to sales management.
Frequently Asked Questions (FAQ)
Why is sales forecasting essential?
Sales forecasting provides a clear picture of your anticipated sales performance based on the number of opportunities in your pipeline and the industry that your business operates in. Having visibility will help you plan your business correctly—especially when the forecast is downward, and you need to scout for new opportunities to meet your sales targets.
What is a sales forecast template?
A sales forecast template is a predesigned spreadsheet that allows businesses to project their future sales revenue for a specific period. It is typically based on historical sales data figures and market trends. It also includes various factors that may potentially affect future sales performance, such as new product launches, seasonality, economic conditions, and changes in consumer behavior.
Bottom Line
Business forecast spreadsheets are available in both Excel and Google Sheets templates as well as other premade templates you can download, customize, and use. You may also take advantage of CRM features that organize, estimate, and visualize your company's sales information, including sales predictions.
A CRM can save sales reps time in making projections as well as optimize your sales pipeline to generate leads and close more deals. We highly recommend CRMs such as HubSpot CRM, Pipedrive, and Zoho CRM, which all provide excellent sales forecasting features on top of robust sales management and lead nurturing tools.