9 Ways to Foster Sales & Marketing Alignment & Why It Matters
Achieving sales and marketing alignment through a proper organizational structure, shared goals and strategies, and unified, streamlined processes significantly improves sales, customer retention, and growth. In this article, we explore the best ways for businesses of all sizes to improve collaboration and strategic management between the two functions to foster this alignment and its benefits.
1. Develop a Proper Organizational Structure
When referring to organizational structure in the context of sales and marketing alignment, we are specifically referring to the hierarchy system. Regardless of size, every business should have a dedicated senior management role for all activities related to developing customer relationships and bringing in revenue.
The person filling this role should have experience and knowledge in both marketing and sales management and understand how the two intersect. Common titles for this role are Chief Revenue Officer, Vice President of Business Development, and Chief Customer Officer.
Right below this officer will be two managers: one leading sales activities and one to manage marketing initiatives. Depending on the size of these two departments, as the hierarchy gets lower, roles become more specialized. For example, your business might have a Director of Sales as well as Sales Managers who oversee a team of business development reps performing lead generation activities and account executives nurturing leads and closing deals.
2. Establish Shared Goals
While it may seem obvious that the goal of each department is ultimately to bring in more revenue, it may not be as obvious as to how. Sales and marketing alignment both need to have goals for lead generation and nurturing, but will use different methods to do so.
Sales typically involves outbound methods of finding potential customers, such as social prospecting, purchasing lead lists, cold calling, or outsourcing lead generation to third parties like appointment setters. Once found, sales is responsible to qualify leads, nurture them, and eventually close deals through phone and direct emails, free trials, sales presentations, and service or product demos.
Marketing, on the other hand, generally relies on inbound strategies to attract leads. Examples of methods include website landing pages, search-optimized online content, digital and print ads, mass email marketing campaigns, and social media posts. Once leads are generated, they are either passed off to the sales team for the next steps, continuously nurtured through ongoing campaigns, or a combination of both.
Shared sales goals can easily be established and be applicable to both functions since each plays a key role in attaining those goals. For example, if your goal is to generate 300 new leads over the next year, your strategy should include a sales plan with outbound sales activities as well as specific inbound marketing initiatives to produce the desired number of leads. Be sure to include sharing goals with the marketing team with your sales team in your sales training plan.
To take this a step further, you can also set objectives such as the desired percentage of leads that should come from outbound sales activities as well as the percent that should come from inbound marketing. The point is that the goal―whether revenue growth, leads generated, or customer retention―is shared and understood by both departments. Once it's set, you can begin strategizing how you'll achieve the goal as one.
3. Strategize as One Unit
Parallel sales and marketing strategies should be established and incorporated into a plan in support of each shared goal. Keep in mind that a "strategy" is a theory for how you will achieve your goals. Therefore, in the case of sales and marketing alignment, it is how you will use sales and marketing functions to achieve your performance goals like revenue, leads, and retention.
The chart below provides potential strategies you could implement in your business plan along with tactics and activities for each:
Strategy

Strategy Statement

Tactics

Example Activities

Prioritize Lead Volume

We will achieve our goals by selling/marketing to a high number of leads

Sales→ High-volume prospecting; minimal in-depth research conducted on prospects, just enough to contact them

Marketing→ Low-cost campaigns that target a large, general audience

Sales→ Cold emailing and cold calling a large list of purchased leads

Marketing→ Social media and online advertisements to a general audience; mass emailing campaigns

Prioritize Lead Quality

We will achieve our goals by selling/marketing to only highly qualified leads and/or specific niche markets

Sales→ Low-volume but high-quality prospecting; high emphasis on prospect research and focus on niche markets

Marketing→ High-quality campaigns that narrow in on specific audiences

Sales→ Attending networking events or trade shows for organizations with your niche market

Marketing→ Content marketing (podcasts, videos, blogs) to niche audiences

Prioritize Pipeline Conversions

We will achieve our goals through high-quality selling/marketing techniques within the

sales pipeline

Sales→ High-quality techniques in lead qualification, nurturing, sales presentations, proposals, negotiation, and closing

Marketing→ High-volume nurturing

Sales→ Using consultative or emotional selling during sales presentations and using heavy referral marketing for better conversions

Marketing→ Automated drip email campaigns to nurture qualified leads and a promo campaign that includes a referral rewards program

Prioritize Customer Retention

We will achieve our goals through high-quality and volume selling/marketing to our current customers

Sales→ High-quality account management and high-volume upselling and cross-selling to current customers

Marketing→ High-volume nurturing of current customers

Sales→ Monthly calls to customers seeing if there's any other solutions they need

Marketing→ Automated drip email campaigns to nurture customers for upselling, cross-selling, and periodic customer satisfaction surveys
Once you have an idea on the strategy, tactics, and activities needed to fulfill those tactics, you can find ways to ensure collaboration between both business functions to see your strategy in action. Below are example descriptions of collaborating on each of the strategies above:
Prioritize lead volume: Sales and marketing need to coordinate on overall brand messaging. Cold calling scripts and sales email templates in the sales team should contain similar messaging to the mass emailing and online advertising campaigns by the marketing team.
Prioritize lead quality: The two functions should work to determine the very specific demographic, behavioral, and interest-based attributes of their target market. Sales can then determine which networking events to attend and how to deliver their sales pitches, while marketing can properly develop relevant advertising, website content, email, and social media content to attract and help high-quality leads self-identify through incoming phone calls, web forms, and email inquiries.
Prioritize pipeline conversions: If techniques such as emotional selling are used for better pipeline conversion rates, sales and marketing need to establish together which emotions to key in on and how to do so. Techniques should be implemented for sales teams during pipeline stages like sales presentations while marketing would use the techniques to develop social media, advertising, and email nurturing campaigns.
Prioritize customer retention: Sales and marketing need to determine the scope of promotional deals for their current customers and then communicate it to them for upselling and cross-selling. Sales will use account management activities such as calling their customers frequently while marketing would use automated email campaigns and post-transaction emails for cross-selling, upselling, and satisfaction surveys.
4. Design a System of Unified Processes
Once high-level strategies are developed into a collaborative plan, design unified processes, including cross-team collaboration, to further sales and marketing alignment. Creating a detailed sales process enables you to identify a repeatable set of steps your team can all use to bring in leads and close deals.
Establish a pipeline visual that lays out the tactics, channels, and activities your business uses to move leads through your sales funnel and convert them into paying customers. Below are examples of common pipeline activities that include both sales and marketing:
Generating leads: Sales teams use direct prospecting and introduction phone calls or emails to bring in leads, and they may also purchase lead lists or outsource prospecting to a third-party service. Marketing teams create and publish content, social media posts, email newsletters, or run advertisements to pull a prospective lead to a company contact page or web form.
Lead qualification: Sales teams qualify leads either on a phone call or during a presentation to see if it's a good fit, and they may also purchase lists of qualified leads. Marketing teams qualify leads through online web forms where leads essentially self-identify by submitting an inquiry, or when leads contact the company via a digital landing page web form, phone call, email, or some other means in response to an ad. Leads also self-qualify by signing up for free trials or registering to use demo versions, which may be considered sales or marketing-related.
Nurturing leads: Sales teams use follow-up phone calls or direct emails to ensure they are fresh in the prospect's mind. Marketing teams create lead-nurturing content such as blog articles, case studies, videos, and so on, and deploy them to their leads through email campaigns as a way to continuously nurture them.
While both functions contribute to various activities, there will often be scenarios where cross-collaboration needs to occur between sales and marketing as leads move through the pipeline and sales funnel. Common examples of this include:
Online lead generation to qualification: If a lead submits a web form inquiry with their contact information, the marketing rep needs to pass the information along to a sales rep so they can call or email the lead to see if they are a good fit. This can also be done automatically, such as setting up the form to send the new lead's information to a specific sales rep, directing replies to a marketing email to the sales team, or automatically routing incoming calls to sales produced from an advertisement.
Lead qualification to sales presentations: Once a lead is interested in a presentation, the sales rep in charge of conducting the presentation or demo may need to coordinate with marketing to produce a customized presentation for the lead, or to send specific marketing materials to a lead via direct mail or email.
Lead qualification to nurturing: If a lead indicates to a sales rep they are interested in the product or service but aren't ready or able to purchase, the sales rep needs to send the information to marketing so the lead can be added to nurturing lists for receiving newsletters, special offers, promotions, related content, and so forth.
Closing the deal to cross-selling and retention marketing: If a sales rep closes a deal with a lead, they can coordinate with marketing to consistently send the new customer promotional deals as well as cross-selling marketing materials on products or services that go hand-in-hand with what they purchased, marketing to encourage retention or subscription renewal, customer satisfaction surveys, and so on.
5. Assign Roles & Responsibilities
As part of ensuring sales and marketing alignment, it's essential to clarify the roles and responsibilities of each function. This prevents duplication of effort as well as opportunities missed because it was unclear who was responsible to do something. It also provides the means of holding a team or individual accountable, which is essential when it comes to business goals.
Generally, anything related to direct contact with a lead is considered a sales activity. During any point in the sales process, if an activity that is part of directly managing a lead or deal, such as an introduction call, lead qualification, sales presentation, or business proposal generation, falls through the cracks, the sales team or individual representative responsible should be held accountable.
On the other hand, marketing activities typically involve communicating with potential leads on a mass scale. Therefore, if a campaign is delayed, poorly produced, or ineffective at its intended objective, the marketing team or individual marketing employee should be held accountable.
Established roles also ensure team members from either department know where to go for help. For example, if a sales rep needs a customized presentation deck for a sales meeting, they should be able to know who to go to in marketing and contact them directly. This skips multiple steps, such as the need for a sales rep to go to their manager who then goes to the marketing manager, who finally gets the work into the hands of the right person.
6. Practice Consistent Communication
Communication is one of the most critical aspects of combining sales and marketing systems. Meetings should take place at least monthly between members from each department to go over upcoming campaigns, new content or materials, potential target audiences, and which areas in the sales process need to be improved between the teams.
In addition to regular meetings to promote sales and marketing alignment, tools should be in place enabling members of each department to easily access the other's resources and contact them when needed. Slack is excellent software that lets team members chat with one another instantly and on command. Users can create different channels depending on the message's recipients to make sure the proper parties are involved.
Teams can also take advantage of video conferencing software like Zoom for hosting cross-team meetings. Team members attend from anywhere and meetings can be recorded for those who can't make the live session. There are also features within video meetings like screen sharing, live messaging, polling, and breakout rooms to create an even more collaborative environment between sales and marketing.
Want to learn more about tools that can help improve team efficiency, productivity, and communication? Check out our picks for the top 14 sales enablement software tools for 2022.
7. Utilize Cross-team Collaboration Tools
Since sales and marketing often use the same data and resources to accomplish day-to-day tasks, having shared software tools makes it easier to collaborate. One of the most obvious tools is customer relationship management (CRM) software. CRMs organize customer contact information, automate sales and marketing tasks, and enable communication with leads through various channels.
HubSpot stands out as a robust CRM for aligned sales and marketing operations. In addition to sales-oriented features for managing leads, deals, and proposals, HubSpot also has marketing tools such as landing pages, web forms, email marketing, social media management, video hosting, and ad management. The platform also has a content management system for handling search engine optimization (SEO), content strategy, and website development.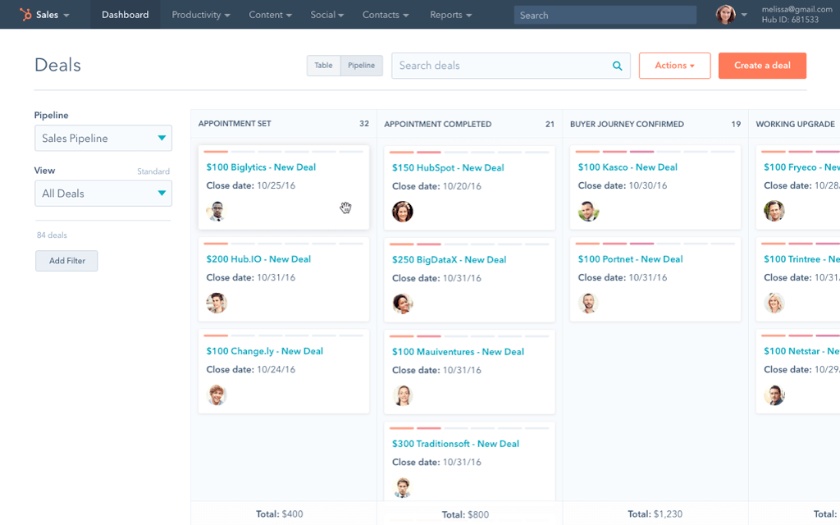 ---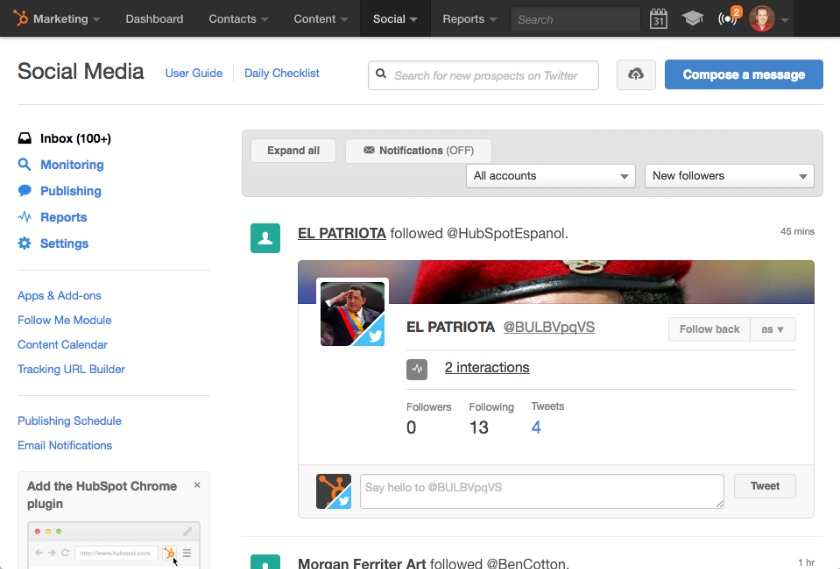 ---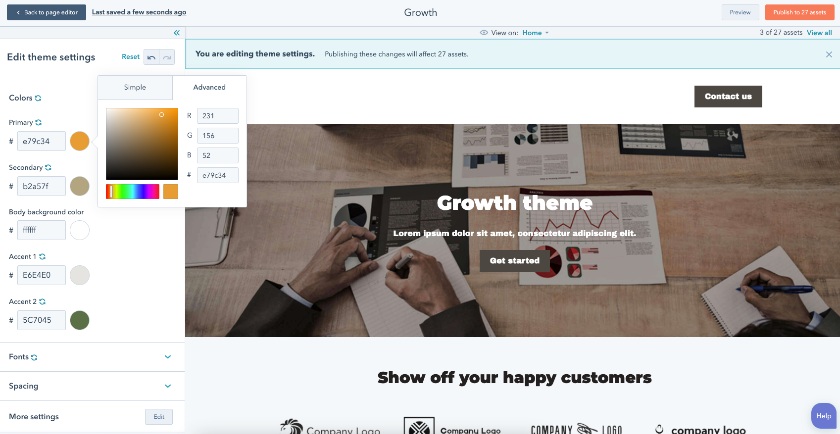 ---
Use shared project management software for projects that require sales and marketing to work together, such as during the development of marketing and sales collateral. Platforms like Trello and Monday.com are highly acclaimed for usability and features that let users monitor tasks, share ideas, and organize project resources. There are also CRMs, such as Bitrix24, which have project management features built into the system.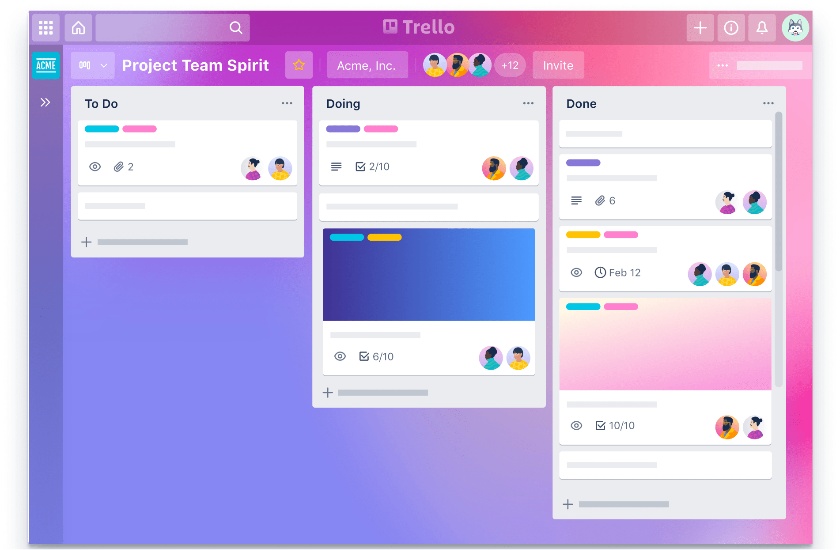 ---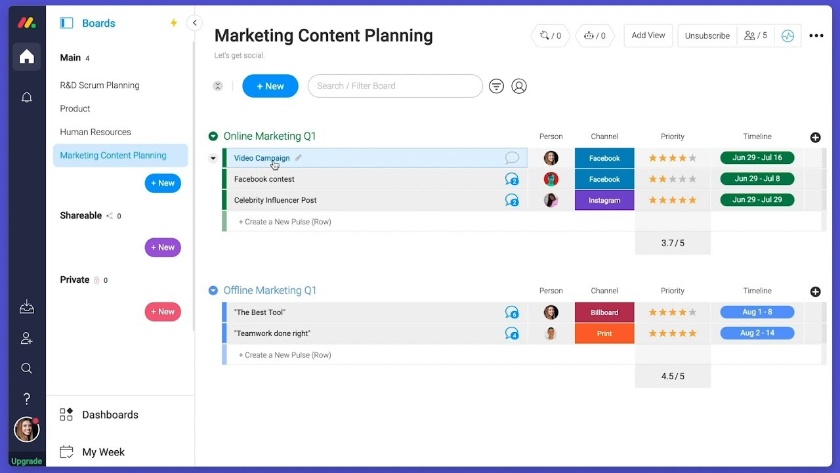 ---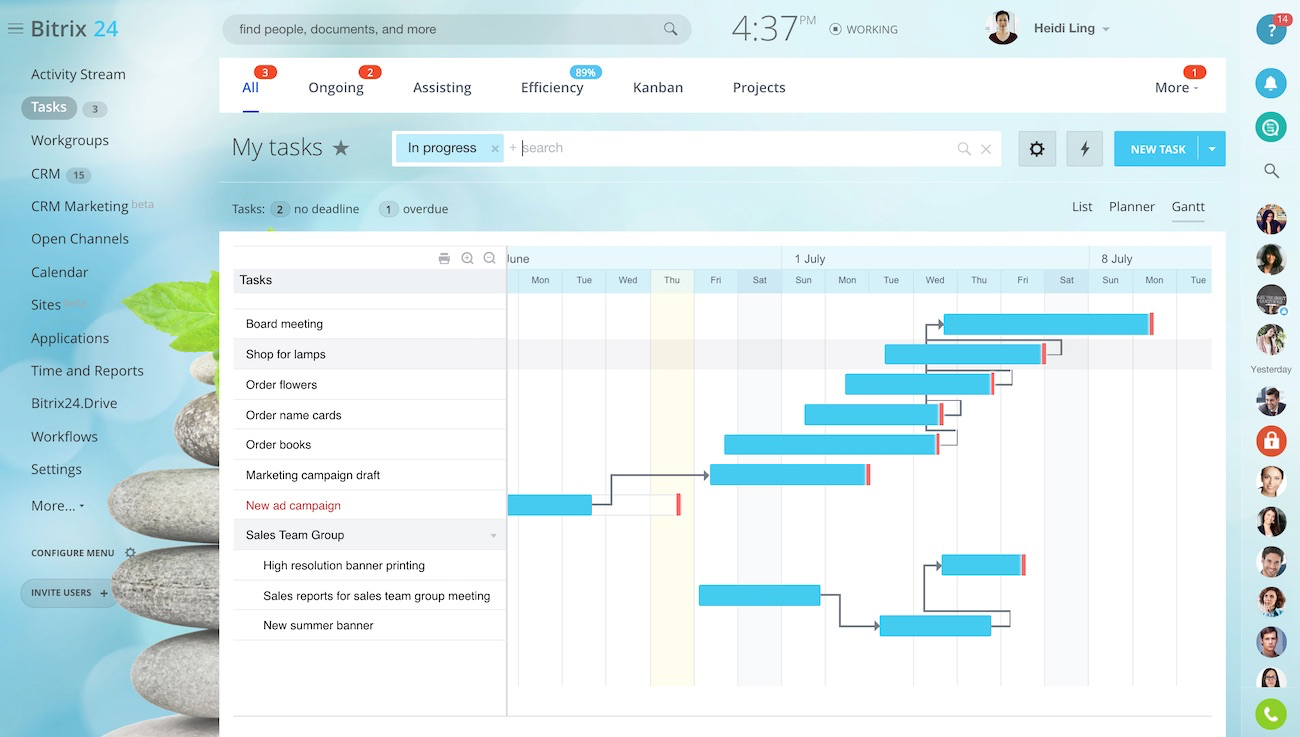 ---
8. Use a Data-driven Approach to Measure Performance
Data is the perfect way to tell a story on how your business is performing, which parts are working, and which areas need improvement. By tracking marketing campaigns and sales activities, you can acquire tons of information about your business, such as:
Return on investment for an advertising campaign
Cost per lead for content marketing projects
Conversion rates of leads from one stage of the sales process to another
Average time to pass a lead to the next stage
Deal winning/closing rate for every lead generated
The purpose of understanding various percentages, averages, and totals is to see where you should focus your resources and where there might be functional gaps in sales and marketing alignment. For example, let's say you are running four sales and marketing campaigns simultaneously:
Cold calling 100 leads purchased for $300 from a lead generation company.
Sending email introductions to 50 leads purchased for $150 from a lead generation company.
A video webinar advertised on LinkedIn with a call to action (CTA) to submit a web form. Webinar and advertising costs totaled $1,700 and produced 5,000 views.
A Google Ads campaign that will generate leads by having them download an industry report created by your business. The industry report and cost of advertising totaled $3,000 and produced 10,000 views.
Now let's say the cold-calling campaign generated nine leads, the email introductions generated four leads, the video webinar generated 50 leads, and the online ad generated 200 leads. Based on this information, the following performance metrics were calculated as:
Cold calling: 9% lead generation rate and $33 cost per lead
Email introduction: 8% lead generation rate with a per-lead cost of $37
Video webinar: 1% lead generation rate and $100 cost per lead
Online ad: 2% lead generation rate with a per-lead cost of $15
Using these performance metrics, you would likely have your sales team focus on cold calling over email as it yielded a better conversion rate and lower cost per lead. Additionally, you would likely scrap video webinars from your strategy and invest in the creation of more industry reports advertised on Google because of the low cost per lead it offers.
Your CRM can be used to track and produce multiple CRM reports and metrics such as revenue breakdowns, lead source success rates, and sales pipeline stage conversions. For instance, Pipedrive lets you visualize these either through a dashboard or by generating filtered reports.
9. Implement Team-based Rewards
In order to establish a culture that fosters sales and marketing alignment between sales and marketing, efforts should be rewarded. A few ways you can reward your sales and marketing combined include extra paid time off (PTO), cash bonuses, gift cards, and office parties. Some companies sometimes even establish a revenue-sharing system where employees are given a share of sales that were accumulated after a certain threshold.
Sales gamification software can be an invaluable tool in this regard. SalesScreen, which we ranked as one of the best sales gamification software, integrates with many popular CRMs and can also help identify bottlenecks in the sales process. Alternatively, CRM.me is CRM software with built-in gamification tools, and enables rewards distribution of gift cards, tickets, vacations, and cash prizes.
Why Aligning Marketing & Sales Matters
Sales and marketing alignment doesn't just sound good on the surface, it's proven to have substantial performance benefits. For example, Forrester research shows that organizations with tightly aligned sales and marketing functions are 15% more profitable and grow 19% faster than others.
LinkedIn's Art of Winning e-book notes that these companies generate 208% more revenue. Marketing and sales professionals believe in the value as well. In fact, 85% of sales and marketing leaders believe aligning marketing and sales is the best way to immediately improve business performance, and 87% say it enables business growth.
Bottom Line
Sales and marketing alignment is a key factor in separating high-growth businesses from less successful counterparts. By using these best practices and software tools, you can create alignment between these two critical business functions to create a smoother sales process, more effective marketing campaigns, and ultimately higher revenue and growth for your business.