Ecommerce Return Rates: Expert Guide for Small Businesses
The ecommerce return rate measures the frequency of an online store's returns. It is gauged as a percentage of the total number of sales returned within a certain timeframe. These rates greatly vary between industries but generally depend on product categories (clothing is the most returned category) and the online store's return policy.
In 2022, ecommerce return rates equaled in-store return rates at 16.5%, according to the National Retail Federation (NRF). This marks a 21% drop from 2021, signifying major improvement in the frequency of online returns. However, ecommerce returns can still hurt your bottom line.
This article will guide you through calculating your store's ecommerce return rate, explore common reasons for customer returns, and provide best practices and strategies to minimize returns. We'll also help you make informed decisions when crafting your store's return policy, supported by ecommerce returns statistics.
Calculate Your Ecommerce Return Rate
To calculate your ecommerce return rate, simply divide the amount of merchandise returned by the total amount of merchandise sold.
Let's say you sold 10,000 items within six months, and 2,500 of those were returned; your return rate would be:
Returned merchandise / Total sold merchandise X 100 = Ecommerce Return Rate
2,500 / 10,000 x 100 = 25%
Note that return rates can be misleading for you as a merchant. You need to factor in the reason for the return and whether the return resulted in an exchange or a refund. This creates the need to calculate for other metrics, such as your refund rate and exchange rate.
Refund rate refers to the total number of refunds given out of the total number of returns. To continue with our sample earlier, if your 2,500 returns resulted in 1,000 refunds, your refund rate would be:
1,000 / 2,500 x 100 = 40%
Meanwhile, your exchange rate (the number of returns that resulted in an exchange) is calculated by dividing the number of exchanges by the total number of returned orders. So, if 1,500 exchanges happened from your 2,500 returns, your exchange rate would be:
1,500 / 2, 500 x 100 = 60%
Converting a return into an exchange (considered an upsell) is always the best option. Ideally, your exchange rate should always be higher than your refund rate.
Most Common Reasons for Ecommerce Returns
According to Narvar's 2022 State of Returns, "sizing, fit, and color" is the top cause for all retail returns—its sixth year as the No. 1 reason. In 2022, size, fit, and color issues accounted for 45% of returns, up from 42% in 2021 and 38% in 2020.
What's notable about the size-fit problem is that it remains rampant even if most shoppers (78%) are not first-time customers. Simply put, even if customers have purchased your goods before, they may still have uncertainty regarding sizing and how products will fit them.
The other reasons, such as damaged (16%) and late items (5%), are heavily dependent on the order fulfillment process. Returns due to unmet customer expectations (14%) can be mitigated with detailed product descriptions, quality photos, and customer reviews.
Bracketing—the practice of buying multiple items to try at home—remains increasingly common, (63% of shoppers). In fact, a study revealed that 50% of consumers have purchased multiples of the same item online with the intention of at least returning some items.
This practice can be heavily attributed to sizing and fit issues too. With traditional fitting rooms unavailable for commerce stores, consumers often resort to bracketing as a way to find the right fit.
Impact & Cost of Ecommerce Returns
According to Narvar's Annual Returns Policy Benchmark Report, the average cost of a return is estimated to be as much as 30% of the original purchase price. And, surprisingly, at least 59% of retailers charge no return shipping or restocking fee.
With this strategy, online merchants risk losing a considerable amount due to returns, even if they are successful in converting it to an exchange.
Reverse logistics not only has a huge impact on your online store's revenue, but can drive customer loyalty as well. Shippo's 2022 Ecommerce Returns & Exchanges Report shows that 91% of consumers say the overall ease of their returns experience impacts their willingness to shop with a retailer again, while 67% have stopped shopping with a retailer after a negative experience.
Reverse logistics: A type of supply chain management that moves goods from customers back to the sellers or manufacturers (returns).
Best Practices & Strategies for Handling Ecommerce Returns
To effectively handle ecommerce returns, we recommend developing best practices to address the reasons why returns happen in the first place and creating strategies to turn returns into recovered revenue opportunities. Follow these tips:
Have clear customer-centric return policies
Your online store's returns experience begins and ends with your returns policy. Shippo's 2022 Returns Survey Report revealed 84% of consumers read a return policy before making a purchase online, and 44% of those will look for an alternate shop if they don't like what they read in the return policy.
To drive customer loyalty, prioritize developing an "easy" or "very easy" return policy. Ecommerce returns statistics show that 96% of consumers are more likely to repurchase from retailers with favorable return policies. Simplify and prominently display your returns policy to enhance the shopping experience and boost customer satisfaction.
Actionable Items:
Have efficient reverse logistics
Improving the post-purchase experience and making the returns process easy for the customer also increases brand loyalty. By offering an easy returns experience, you empower customers to manage their returns independently, saving them time and avoiding the frustration of relying on support representatives..
Actionable Items:
Automate your reverse logistics by outsourcing to a 3PL provider. Most third-party order fulfillment companies will handle returns on your behalf, helping to streamline inventory and logistics across the board.
Include pre-printed return shipping labels to your shipped items. When initiating a return, 30% of consumers prefer using a pre-printed return label included with the original shipment (39% prefer this method when initiating an exchange).This approach not only enhances efficiency in your returns process but also helps you stay competitive. Shippo's 2021 State of Shipping Report showed over half of merchants currently say a customer needs to contact the team to request a return label and send an item back, while only 3.5% include a return label in every box. The study also revealed that 88% are more likely to purchase from an online retailer that includes one of those labels. Because it's not necessary to pay for the return shipping unless the label is actually scanned, this method of managing returns is low-hanging fruit for retailers who want to keep first-time and existing customers coming back for more.
Have accurate product detail pages
As sizing and fit issues are the top reason for ecommerce returns, having accurate product detail pages—with size charts, quality photos, and product descriptions—is key to minimizing your return rate.
Actionable Items:
Include a size chart in your product detail pages
Have accurate product descriptions and high-quality photos.
Consider adding product videos
Consider augmented reality features
Include photos of differently-sized models wearing the same product
Display customer reviews in product pages
Include a product FAQ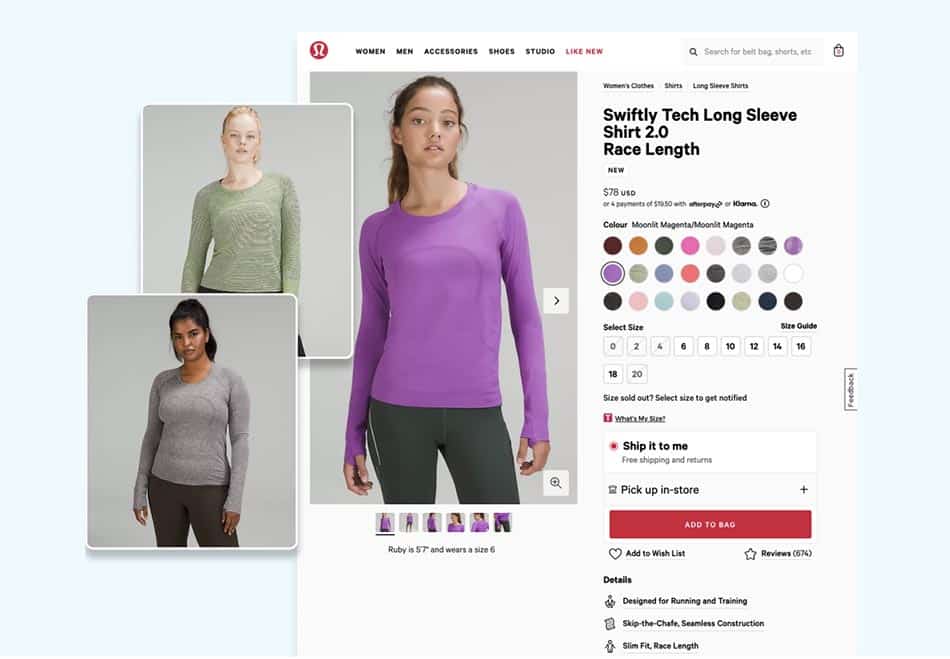 As shown above, Lululemon takes product detail pages a step further to minimize returns. Notice the following:
Lululemon uses models of different heights, sizes, and shapes to help shoppers understand how the product fits.
The product page aggregates overall customer reviews and employs a fit scale to explain if other wearers felt something ran small or large.
It has a virtual shopping educator (chatbot) installed to answer any questions.
Did You Know?
Clothing is the most returned ecommerce category, with 26% of online shoppers having returned an article of clothing. Accessories and shoes are the next most returned categories.
Allow customers to decide on where and how they make returns
The top reasons shoppers return an item in-store are convenience (50%) and the ease of shopping for additional items (42%). Incorporate ease and convenience for online returns by providing easy, convenient return options like labelless and boxless returns, at-home pickup, or BORIS (buy online, return in store).
Shoppers are also becoming increasingly willing to explore a wide variety of return methods, including curbside drop-off, home pickup, and drop-off at a third-party location. The more frequently shoppers use alternative return methods, the more they will come to expect them.
By offering a seamless shopping experience, you cannot only encourage your customers to exchange (rather than return) merchandise, but you can capitalize on additional upsell and cross-sell opportunities. According to Shippo's annual returns survey, most shoppers who returned items in-store ended up shopping more, highlighting the potential for continued engagement and increased revenue through a smooth and convenient return process.
Use a return as an opportunity to upsell (or exchange)
A recent report from Shippo and Loop found that among consumers who have returned online purchases within the past six months, 20% returned just one item, while almost three-fourths returned two to nine items. Moreover, 85% of that same group made at least one exchange, underlining the opportunity of creating a good exchange experience in addition to improving traditional returns.
Actionable Items:
Proactively encourage customers to exchange an item instead of asking for a refund. Loop's data shows that customers who exchange for a new product have a 34% higher repeat purchase rate than those who have never returned an item.
To further drive exchanges, consider implementing incentives. A recent returns report by Shippo reveals that 83% of consumers would be very or somewhat likely to switch their return for an exchange if they were incentivized with an extra $10 to shop with.
Ecommerce Return Rate Frequently Asked Questions (FAQs)
Online returns have averaged 16.5% for 2022, according to the National Retail Federation. While there are still many factors involved in deciding on a good ecommerce return rate, anything below the average return is considered ideal.
---
To calculate your store's return rate, simply divide the amount of merchandise returned by the total amount of merchandise sold.
---
Ecommerce returns is a reverse logistics process wherein products are returned to the seller by the customer.
---
Bottom Line
Although ecommerce return rates can hurt your profit margins, view them as opportunities to create a seamless customer experience to increase brand loyalty and drive revenue.
Reduce your store's online returns by employing accurate product detail pages and having a clearly displayed customer-centric return policy in your website. Going with a credible fulfillment provider that can handle reverse logistics can also help make the post-purchase customer experience more efficient and pleasant.