Your return policy isn't the first thing that comes to mind when starting a retail business, but it's certainly important. Writing a return policy, which sets the terms and conditions under which customers can receive a refund or exchange items they've purchased, is important for any retailer. These policies are meant to protect both the business and customer by keeping the terms of the transaction transparent.
This article will go over four simple steps for creating a retail return policy for your store, including deciding what type of policy you need, drafting your policy, checking state and local guidelines, and publicly posting your policy. We'll also cover the reasons you need a retail return policy.
If you prefer to simply copy one of our sample policies as a foundation for your own, jump down to that section of our article.
Step 1: Choose a Type of Return Policy
While retail return policies are nuanced, you can bucket them into one of four general groups:
Unlimited returns
Returnless refund
Conditional return policy
No returns—all sales final
Unlimited retail return policies are the most flexible type. With this refund policy, customers can pretty much return any item without hassle. The specifics may vary. Some unlimited returns policies are "no questions asked." That means the item can be in any condition and returned for any reason—regardless of whether it was purchased directly or from a reseller. Unlimited return policies may or may not require a receipt or proof of purchase. Likewise, some unlimited return policies will take anything at any time, while others put a time limit on it.
A returnless refund is when a customer can get their money back and also keep the product they intended to return. While it certainly hits profits, some online retailers choose this model to reduce returns processing costs and other logistical challenges. A brick-and-mortar retailer may choose to offer returnless refunds for in-person purchases and returns as well.
This is a good idea if you can't reuse or resell the returned merchandise, such as skincare products, for example. You might encourage the customer to keep the product or share it with a friend they think would enjoy it.
Conditional return policies are probably the most common and also the most diverse. As the name implies, these retail return policies have a set of conditions, or parameters, that the purchase must meet to be eligible for return. Common requirements include:
Unopened, with tags
Receipt included
Unused
Purchased at full price
Time limits
Some conditional return policies will allow for cash or credit refunds while others will issue store credit.
The most straightforward retail return policy is to not allow returns at all. An all-sales-final return policy means customers don't have the option of a refund if they aren't pleased with their purchase. While this is inflexible, it can be required for retailers that sell items like food or perishables.
However, you can make a caveat to these types of retail return policies to ease shoppers' minds. For example, if the product is defective, damaged, or prematurely expired, you'll likely want to take ownership of the mistake and offer a refund or replacement.
Step 2: Draft a Return Policy With All the Right Elements
When writing your retail refund policy, you want to be as brief as possible while still covering all your bases. Use plain language that's approachable and easy to understand—you don't need to sound like a lawyer.
Your retail return policy should include the following:
What is eligible for return, including time frame and type of product; note any restricted products such as undergarments for apparel retailers
Required documentation for returns, including receipt or proof of purchase, order number, date of purchase, payment method, and more
How to make the return, be it in person or via mail—interestingly, in-store returns are restocked 12 to 16 days more quickly than items returned via other methods
Condition of the item being returned and whether it needs to be unopened, unused, with tags, or meet some other requirement
Type of refund available, noting whether it's cash, card, store credit, or exchange; remember to note the estimated time frame of payment posting
For returns via mail, note who pays for shipping—30% of retailers make customers pay while 70% provide some form of free return shipping—how to package the return, how to get the shipping label, where to send it, and estimated time frames
Deductions for things like restocking, shipping, price adjustments, and payment processing fees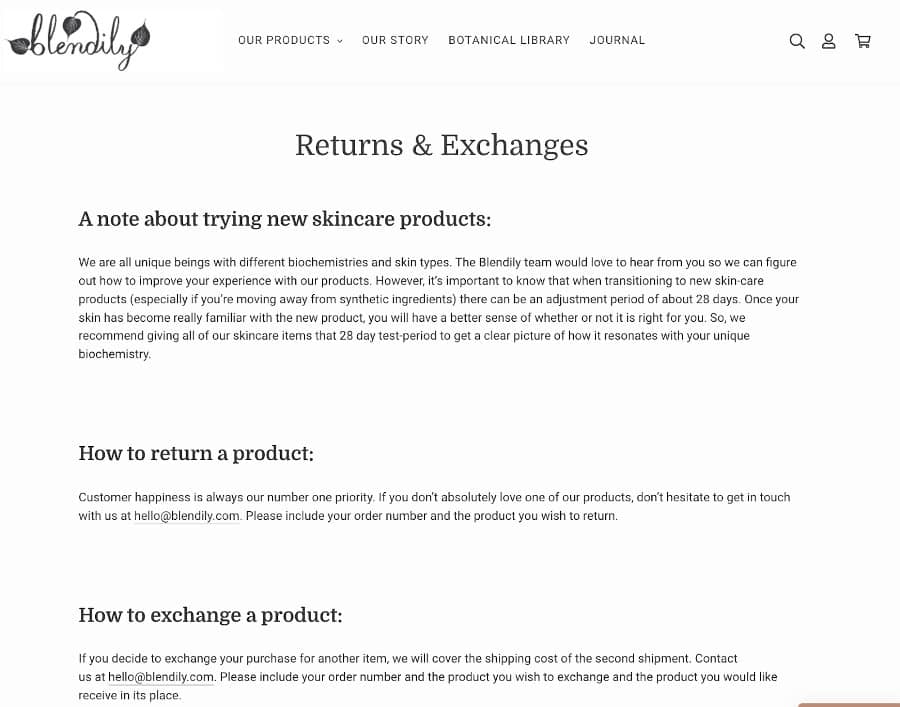 ---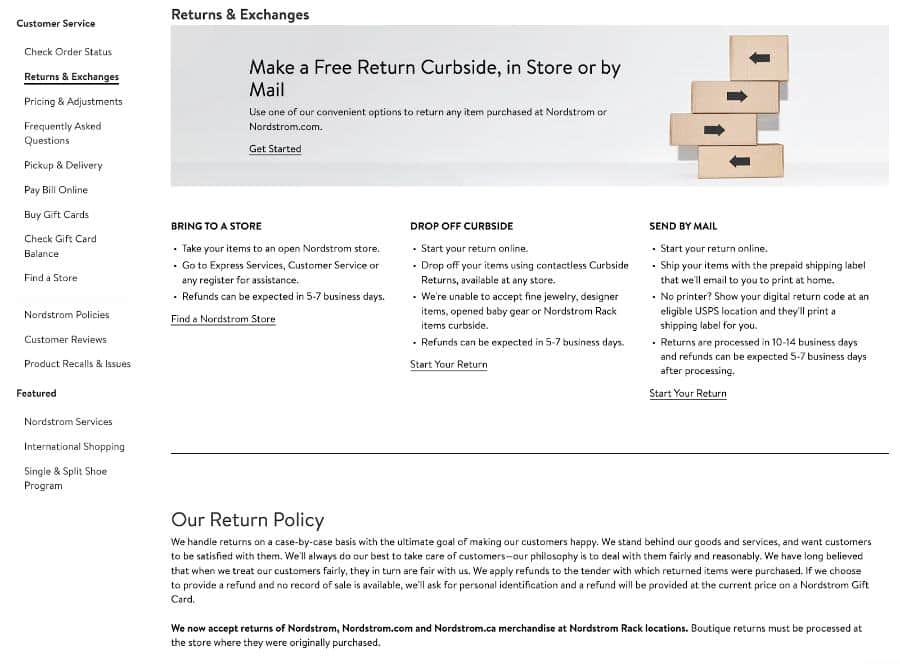 ---
Step 3: Check Your State & Local Guidelines
While most states don't have any special requirements for business return policies, some have parameters you need to keep in mind. While the list below will help, it's always best to check with your local jurisdictions for the most up-to-date and accurate information.
Step 4: Post Your Return Policy Where Customers Can Find it
Creating your retail return policy is only half the battle. You have to make sure customers and employees alike are informed about the policy so everyone is on the same page. It's important to post your retail return policy both in-store and on your website. In some states, as mentioned above, you might even be required to post in certain locations. Here are some places to consider.
Point of purchase: Consider posting your retail return policy around the cash wrap and point-of-sale (POS) area so that customers can see it at the time of purchase. You may want to use a shortened version or bullet points so that it's not overwhelming.
Receipts: It's important to include your retail return policy with printed receipts and email receipts as well. This also makes it easy for shoppers to refer to it when considering making a return.
Staff: Train your associates to inform customers about the return policy at checkout. It's not a bad idea to mention it during every transaction.
In-store signage: Consider other areas of the store where you have signage and visual merchandising. Fitting rooms are a great spot to post the return policy, especially if it's favorable to shoppers.
Quick response (QR) code: Instead of writing your whole retail return policy, consider using a QR code that customers can scan. This also makes it easier to update any changes to your policy, as you won't need to reprint it for your in-store signage.
Product page: Include a small callout and link to your retail refund policy somewhere after or near the product description, pricing information, or add-to-cart button.
Shopping cart: If possible, customize the shopping cart page with a similar callout to your refund policy. This can help prevent shopping cart abandonment.
Checkout page: Similarly, placing information about your return policy on the checkout page can ease any last-minute hesitations.
Website footer: Your website footer is located at the bottom of the page, and it's always there regardless of which page you're on. This is a great spot to have important links to your homepage, terms and conditions, and your retail return policy.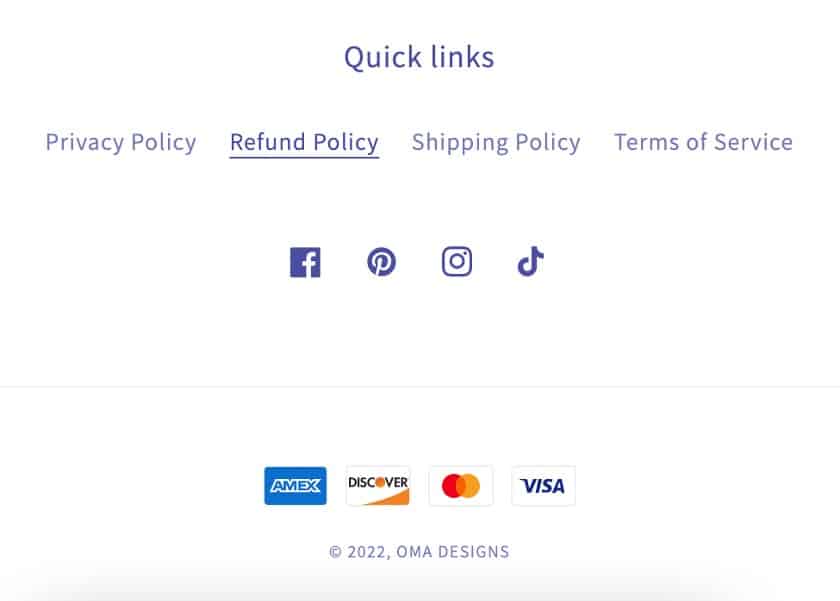 ---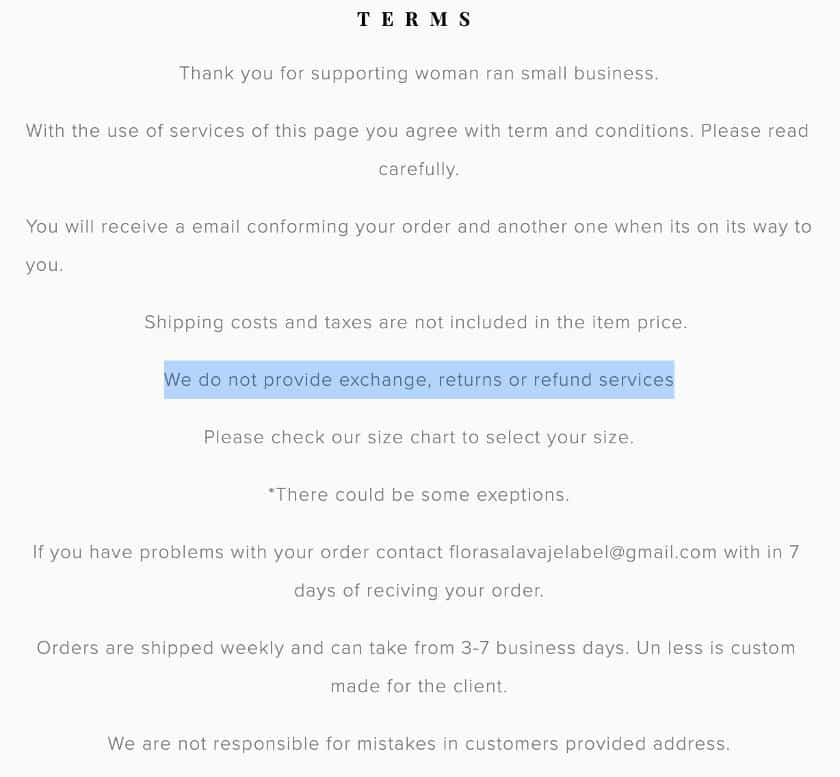 ---
Retail Return Policy Templates
If you need a sample return policy to use as a base as you draft your own, you can use the free templates below. Just copy and paste and update any necessary information.
Unlimited Returns Template
The unlimited returns template should promote the customer-friendly policy as well as offer the steps required to make a return.
We have a 100% satisfaction guarantee. If you're unhappy with your purchase from [BUSINESS] for any reason whatsoever, you can return it for a full refund—no questions asked.
Then let customers know how to go about the return.
If you need to make a return, you can [OFFER RETURN METHODS—e.g., BRING YOUR PURCHASE TO YOUR CLOSEST RETAIL LOCATION; MAIL YOUR PURCHASE BACK IN THE SAME BOX USING THE PREPAID LABEL THAT CAME WITH YOUR ORDER; EMAIL US AT
HELLO@WEBSITE.COM
; ETC.) Please expect your refund to take up to [PERIOD OF TIME] to hit your bank account.
Returnless Refund Template
You can use similar copy to what we've drafted above for the unlimited return policy. Start out by describing your policy and any requirements:
If you're unhappy with your purchase from [BUSINESS], you can request a full refund within [X] days of the purchase date. You can do so by [DESCRIBE HOW TO REQUEST THE REFUND]. 
Don't worry about sending the [PRODUCT] back—it's on us. We hope you'll give us another shot in the future. In the meantime, feel free to gift the [PRODUCT] to a friend or pass it along to someone who might need or love it!
Conditional Return Policy Template
Your conditional return policy should clearly outline all stipulations. You'll want to include a description of your return policy, the various conditions to be eligible for a refund, and how to go about it.
All returns and exchanges must be made within [X] days of purchase. [PRODUCT TYPE/NAME] are ineligible for returns or exchanges. All returns must [DESCRIBE THE PRODUCT CONDITION; DOES IT NEED TO HAVE TAGS, HAVE THE RECEIPT, ETC.]. To process your return, [DESCRIBE HOW TO MAKE A RETURN].
No Returns—All Sales Final Template
At minimum, you'll want to use some version of the following:
At [BUSINESS NAME], no refunds or exchanges are accepted. All sales are final.
You also have the option to expand on your reasoning for the no return policy. You can use something like this:
We stand confidently behind our products. Unfortunately, we cannot accept returns because [REASON]. We hope you'll love your [PRODUCT] as much as we do.
You can also offer an option to get in touch or reach out if there's a defect or issue with an order. For example, you should make an exception to the "no refunds" policy if a customer never received their order.
If you have an issue with your order or there's a defect with your product, you can reach out to us at [CONTACT METHOD(S)].
Why Your Retail Return Policy Is Important
There are many reasons why more than 35% of retailers want to focus on reducing returns to boost profits and customer satisfaction. It's expected that $816 billion in merchandise will be returned in 2022 alone. That's nearly double the approximate $428 billion in 2020.
Industries with the highest returns rate included auto parts, apparel, home improvement, and housewares. Approximately 70% of returns happen because the customer doesn't like the fit or style.
But having a retail return policy doesn't necessarily make you more vulnerable to those risks. Your return policy can protect your retail business from losing money and customers to refunds. Click through the headers below for more information on how you can benefit from a strong retail return policy.
Perhaps the most straightforward reason to prioritize your retail return policy is because it can help you prevent lost profits. As many as 83% of retailers believe returns threaten profitability.
As the McKinsey report states, "In a fashion-based business, any lag time in returns can lead to significant markdowns for merchandise being resold. Brands that sell via wholesale and direct-to-consumer (DTC) channels have an added challenge: Returns from retailers often arrive all at once at the end of a season." This leads to lower prices which eventually dilutes and cheapens your brand, and thus customers have a different perception of your brand and are less willing to pay your full prices.
---
When you suffer from high returns rates, you're not only missing out on the money from those sales, but you're also putting stress on logistics and operations. Reverse logistics creates a disjointed operational workflow, and there's little accountability or ownership over returns. About 58% of retailers have a pain point of "lack of accountability for returns management within any single department or business unit." This makes returns difficult to manage and optimize.
---
Your retail return policy can be an indirect sales tool. As many as 86% of retailers believe a lenient return policy helps increase revenue―and they're not wrong. Many consumers check the return policy before making a purchase, and 54% of consumers say they're not likely to make a purchase if the return policy is "poor" or "unclear." Another 51% prefer to shop with businesses that offer the option to return to a physical store, and 44% of retailers plan to respond to this trend. Keep this in mind if you sell online in addition to your physical store.
---
Creating a positive customer experience is a great way to boost retention and loyalty—and one area to pay close attention to is the returns experience. Returns can make or break a shopper's loyalty. Approximately 95% of consumers are less likely to shop with a brand after a negative returns experience.
Plus, frequent returners are often loyal shoppers. Nearly 45% of retailers find that customers who make lots of returns generally have higher lifetime value (LTV).
A retail return policy sets expectations so that customers know what the experience will be like before they even make a purchase. When the returns process goes smoothly, they'll likely return for future purchases.
---
In addition to reclaiming lost profits to returns, an effective refund policy will help you save money in other ways as well. Some estimates say businesses can save as much as $125 billion collectively each year just by focusing on reducing returns. This is because you improve operational efficiency and reduce returns-related costs such as shipping, restocking, and labor dollars.
---
A documented retail return policy sets clear standards and parameters that ideally facilitate objective decision-making when it comes to refund eligibility. This standardization and transparency allows for effective retail store management.
It empowers employees because they're well-informed about the return policy and can refer to it at any time. Plus, if a customer disagrees or pushes back, your team has something official to support their position. This also creates consistency for both employees and shoppers.
---
Returns are also a threat to the environment. Approximately 10% of all returns end up in a landfill. While that may not sound like much, it amounted to 2.63 billion pounds of waste in 2020 alone while returns shipping created 16 million metric tons of carbon dioxide. Not to mention the 16 million metric tons of carbon dioxide these emissions from transporting returns release into the atmosphere.
Why is this important? Regardless of your environmental concern, consumers are demanding more responsibility and accountability from businesses. As many as three-quarters plan to shop more with brands that attempt to create more sustainable returns processes—and 71% would pay more for environmentally responsible return methods.
---
Returns also make retailers susceptible to fraud. Some figures estimate that retailers lose $10.40 to return fraud for every $100 in returned merchandise.
Return fraud happens under a number of circumstances. Half of retailers have fallen victim to wardrobing, which is when a business processes returns of used, non-defective merchandise, 41.4% have processed returns of shoplifted or stolen merchandise, and 20% have been victimized by organized retail crime.
Someone could make a purchase with the intention to return it, falsify receipts, or steal an item and return it. A well-documented retail refund policy can help mitigate some of those instances.
---
Bottom Line
Your retail return policy is more than just a set of terms and conditions. It's also a conversion and sales tool as well as a customer retention tool. Creating a well-written retail return policy improves the customer experience and protects your business from operational inefficiency and fraud, among other things. Take some time to write your retail refund policy to set your small retail store up for success.