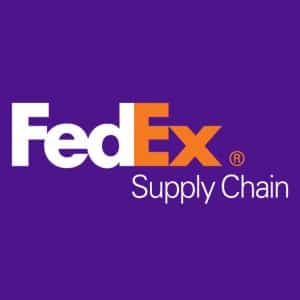 When to Use FedEx Fulfillment
FedEx geared its fulfillment operation in favor of SMBs, making it ideal for growing ecommerce ventures and brick-and-mortar stores expanding online. Its low order minimums and practical pricing structure make partnership highly accessible, and the company's vast fulfillment network supports unlimited growth.
In particular, we recommend FedEx Fulfillment For:
Small, lightweight goods: The company has previously required an order-to-SKU ratio (daily orders shipped vs number of unique SKUs in stock) of 4:1, and has only been able to accommodate products under 50 pounds with dimensions less than 18x14x8 inches. Although we weren't able to confirm whether or not these restrictions currently apply, FedEx has been known to only be a good fit for high-volume businesses selling small, lightweight products.
International sellers: FedEx has a wide, global footprint with numerous centrally-located hubs accessible from its European Global Distribution Center. Clients can opt to store a portion of their inventory overseas to optimize shipping costs and delivery times.
Multichannel sellers: The software provided by FedEx Fulfillment aggregates order data from all major ecommerce channels, making it simple to manage multichannel sales.
Solopreneurs who have outgrown their in-house fulfillment operation: Not only is the order minimum relatively low (400 orders per month), but FedEx Fulfillment offers a ramp-up period for growing ventures—allowing you to gradually scale to meet that requirement over the course of the first quarter.
B2B sales: FedEx can effectively fulfill wholesale orders starting with robust bulk-order compatibility within its software—as well as value-add logistics services such as trade and customs advisory, freight brokerage, and supply chain consulting.
When to Use an Alternative
High-value, heavy, fragile, or oversized products: FedEx Fulfillment can't accommodate products over 50 lbs. or 18x14x8 inches. Even for products weighing 20-50 lbs., the most efficient and cost-effective means of fulfillment is to partner with a specialty provider. We recommend Red Stag Fulfillment for special handling and large item shipping.
Crowdfunding ventures and product launches: FedEx does not offer batch-fulfillment services; ShipBob is one of the only fulfillment providers with flexible batch programs for nontraditional ventures.
Amazon-focused sellers: FedEx cannot fulfill Amazon Prime or Seller-Fulfilled Prime (SFP) orders, which is a big factor for Amazon-centric sellers who place a lot of weight on the coveted Prime badge. The company can fulfill Amazon orders through the Fulfillment by Merchant (FBM) program, but these orders are not Prime-eligible. Unlike similarly-restricted companies such as ShipBob, FedEx Fulfillment does not offer Fulfillment by Amazon (FBA) prep.
FedEx Fulfillment Overview
PROS

CONS

Fast, low-cost nationwide delivery
Inconsistent client support
Large fulfillment network supports high volumes, efficient distribution, and unlimited growth
Cannot fulfill Amazon SFP orders
Sophisticated product and order tracking technology
Undisclosed error rates
International distribution center
No batch-only fulfillment services
Software provides high levels of visibility into billing, fulfillment, shipping, and more
Limited integrations
FedEx Fulfillment is a relatively new branch of the logistics juggernaut; it was launched in 2017 and widely regarded to be a response to Amazon's FBA (Fulfillment By Amazon) program. Although it is young, the company is backed by FedEx's well-developed infrastructure and shipping resources—giving it a highly competitive edge.
The provider stands out from the competition in its vast warehouse network and top-tier logistics systems, but also has a leg up with offerings such as customizable packaging and subscription-box kitting.
In 2020 FedEx Fulfillment temporarily halted its return services, reverse logistics, and international fulfillment amid the pandemic. Though all standard fulfillment services resumed in 2021, it doesn't seem as though the branch is one of FedEx's primary focuses. Little up-to-date information is available online regarding FedEx Fulfillment's current pricing and policies.
All attempts to get in touch with FedEx concerning FedEx Fulfillment have been met with disregard, and anonymous outreach to sales representatives has gone unreturned. At the time of this writing, FedEx Fulfillment has not published any changes to its platform, but it's possible that some of the details reflected in this article have changed.
FedEx offers the following services and features:
Warehousing: Over 130 warehouses in the US plus one international fulfillment center, all providing access to FedEx's well-established transportation network.
Order fulfillment: Through automation and process streamlining, FedEx Fulfillment makes a point to reduce the number of human hands on each order—increasing efficiency and decreasing error rate during the fulfillment process.
Shipping: FedEx Fulfillment only supports FedEx shipping services, but the courier offers global fulfillment in over 200 countries and territories—plus two-day shipping virtually anywhere in the US.
Integrations: It integrates with Shopify, WooCommerce, Magento, eBay, Walmart, Etsy, and a few more—plus has an advanced application programming interface (API).
Reverse logistics: Because FedEx Fulfillment is a small part of FedEx's extensive logistics business, you also have access to all of FedEx's other services, including industry-leading return management services.
Tracking and visibility: FedEx Fulfillment offers real-time order and shipment tracking for you and customers, plus live insights on inventory data.
Climate control: The company's main fulfillment and distribution center in Memphis, Tennessee, is fully temperature-controlled and monitored with a compliant temperature recording system.
Multichannel capabilities: Manage orders from all of your sales channels on FedEx Fulfillment's unified dashboard.
Customer service: FedEx Fulfillment's client support capabilities are said to be lacking, especially within the last two years. It offers phone and email support with a ticket-based resolution system, although I was unable to find hours of availability.
Startup friendliness and easy onboarding: A low minimum order requirement and a ramp-up period make FedEx Fulfillment a great option for startups and young small businesses.
Special services: FedEx Fulfillment offers kitting, bundling, reverse logistics, climate control, international shipping, and more. Specialty programs for subscription boxes are available, and the company can create custom packing elements for your brand. Plus, through its supply chain consulting add-on, FedEx offers its logistics expertise to help you identify opportunities to overcome challenges and improve processes.
How FedEx Fulfillment Compares to Other Fulfillment & 3PL Companies
| | | | | | |
| --- | --- | --- | --- | --- | --- |
| Monthly Minimum Requirement | 400 orders | 1,000 orders | None | ≈200 orders | $250 in pick & pack fees |
| US Fulfillment Locations | 130 | 3 | 13 | 2 | 3 |
| International Fulfillment Locations | 1 | None | 3 | None | None |
| Partner Shipping Companies | FedEx | UPS, USPS, FedEx, DHL | UPS, USPS, FedEx, DHL | UPS, USPS, FedEx, Amazon, OnTrac | USPS, FedEx, DHL, DHL Express, Passport, UPS1 |
| Return Handling | ✔ | ✔ | ✔ | ✔ | ✔ |
| Kitting / Assembly Services | ✔ | ✔ | ✔ | ✔ | ✔ |
| FBA Prep | ✕ | ✔ | ✔ | ✕ | ✔ |
| Amazon SFP Eligibility | ✕ | ✔ | ✕ | ✔ | ✔ |
| Temperature Regulation / Climate Control | ✔ | ✕ | ✔ | ✕ | ✕ |
FedEx Fulfillment Pricing
FedEx doesn't publish fulfillment pricing, and we've had trouble contacting them to verify current rates. We based the information in this article on past information provided by the company as well as credible online reviews. Because of this, we recommend contacting FedEx for a direct quote.
Historically it has charged the below fees as a baseline cost and incorporated additional volume discounts.
Here's a look at the company's standard pricing:
| Service | Cost | What It Covers |
| --- | --- | --- |
| Setup | $0 | Onboarding and account setup is free |
| Inbound Shipping | Discounts available | Discounted rates available with FedEx shipping and freight |
| Receiving | $0 if shipments meet standard requirements; $35-$40/hr otherwise | Inbound stock receipt, unpack, and check-in |
| Inventory Storage | $8-$15 per pallet/month | Storage with climate-controlled option, security, and inventory management |
| Pick & Pack | 40¢/unit, including standard packing materials | Picking items from inventory and packing them for shipment |
| Shipping | Discounted FedEx rates | Shipping costs vary depending on the size, weight, and destination of your goods |
| Returns | $2.50 per order | Return processing, quality check, and restocking |
FedEx Fulfillment Key Features
Here are some of the features that set FedEx apart from its competitors:
Software
The FedEx Fulfillment platform combines inventory management, processing, distribution, transportation, logistics, reverse logistics, and order information—allowing sellers to monitor every mission-critical piece of the fulfillment process.
As a part of logistics giant FedEx, the company can provide detailed shipment tracking insight with advanced capabilities through its dashboard. It also comes with sophisticated reporting features, enabling analytics that go beyond standard stock-level management.
Although its turnkey integration offerings aren't top-tier, FedEx's software integrates with all major ecommerce platforms, plus other selling tools. Multichannel sellers can manage all of their orders on a unified dashboard, or refine by sales channel.
---
Billing
FedEx Fulfillment uses its parent's robust Billing Online platform. By logging in on the FedEx portal, clients can access a comprehensive and highly customizable overview of their account activity.
This includes archived invoices as well as recent bills, which can be exported or sent to other users registered on the platform. The primary account holder can receive, review, pay, and dispute invoices from the secure portal.
Charges can be grouped by time range to get a customized snapshot of your fulfillment expenses. As another option, shipping costs can be itemized to show detailed factors for each shipment—including sender information, recipient information, shipment details, duty/tax costs, charge details, reference information, and proof of delivery.
---
Fulfillment Network
One of FedEx Fulfillment's greatest advantages is its vast fulfillment network. Its 130 US warehouses enable sellers to distribute stock according to their customer base(s)—minimizing delivery time and cutting down shipping costs. To put this in perspective, many competing fulfillment providers, such as (ShipMonk and Red Stag) have only a handful of warehouse locations.
The primary facility is FedEx's Global Distribution Center (GDC) in Memphis. It's the largest and most equipped US warehouse, accessible 24/7 every day. Plus, the center is fully temperature-controlled and monitored with a compliant temperature recording system.
FedEx also has a European Global Distribution Centre that provides efficient access to the company's centrally located worldwide hubs.
This impressive infrastructure dovetails with FedEx's other logistics branches to create a seamless supply chain experience for sellers and customers alike.
---
2-Day Shipping
Through its well-developed parent company, FedEx Fulfillment is able to deliver orders nationwide within two days. Plus, a variety of other shipping options are available, from urgent delivery to economy ground.
FedEx can even deliver seven days a week in many cases, and through FedEx Fulfillment you'll receive deeply discounted rates.
---
Special Services
FedEx Fulfillment can create custom/branded packing elements for its clients, which is a rare find in the fulfillment industry. The company also does subscription box kitting, bundling, and assembly, and can provide climate controlled storage at one US warehouse location.
---
FedEx Fulfillment Integrations
A comprehensive list of FedEx's turnkey integrations isn't available online, but multiple reviews report that the catalog is pretty limited.
An advanced API, called FedEx Web Services, is available to create custom integrations for your ecommerce tools. According to FedEx, this API is geared toward two-way connectivity and touts a low barrier of entry—meaning it can be developed in any coding language by even beginner developers.
Here's a list of FedEx's published direct integrations:
Ecommerce platforms and marketplaces: Shopify, Magento, Walmart, Etsy, eBay, WooCommerce
Accounting, tax, and financing: QuickBooks, Square, Xero
FedEx Fulfillment Ease of Use
Support: It's unclear whether FedEx Fulfillment has its own team of client support representatives. The FedEx Fulfillment website offers almost no information about its client support methods, and online reviews describe the service as inconsistent and lacking. It's likely that multiple branches of the company are serviced by a team of cross-trained representatives, which doesn't leave much room for personal attention.
In past years there have been fulfillment-focused employees who functioned separately from the rest of FedEx's branches, but we were unable to reach those contacts recently.
Error Policies: FedEx Fulfillment's error policies are not published online, and we were unable to receive any clarification from members of the staff.
Accuracy: FedEx Fulfillment's error rate is undisclosed. The parent company's shipping accuracy rate is 98.7%, but this figure mainly considers shipments arriving on time. There is no current insight into how accurate FedEx Fulfillment's picking, packing, storing, and handling processes are.
Transparency: FedEx Fulfillment's software provides industry-leading shipping transparency by making sophisticated tracking visible from the platform. Billing transparency is also provided through detailed, itemized invoices on FedEx's Online Billing platform.
FedEx Fulfillment Alternatives
Best for:

Special handling needs

Best for: Standard small business and crowdfunding fulfillment needs

Best for:

Full-service marketplace management

Monthly minimum:

≈200 orders

Monthly minimum:

1,000 orders
What FedEx Fulfillment Users Think
Online user reviews of FedEx Fulfillment are virtually impossible to find. FedEx Logistics as a whole has a modest number of helpful reviews, but the majority of ratings you'll find are evaluations of what it's like to work for FedEx rather than hire them.
When searching through the 55 verified reviews on Gartner Peer Insights, I found only one that mentioned order fulfillment. That being said, most of the reviews address other FedEx features that pertain to its fulfillment operation. Overall, FedEx Logistics' ratings are very high, and customers express total satisfaction with the partnership.
A handful of other review articles covering FedEx Fulfillment have been published, but helpful info is sparse.
| Users Like | Users Don't Like |
| --- | --- |
| Professional and courteous handling | Impersonal call-center support |
| Good geographical coverage | Operational errors |
| Software functionality and interface | Faulty/lacking integrations |
| Delays are communicated efficiently | Bare-minimum service requirements met |
Bottom Line
FedEx Fulfillment is a robust operation backed by the parent company's well-entrenched transportation services. With a pricing structure that makes partnership accessible to startups and young businesses, this company is likely a solid choice for third-party order fulfillment.
Unfortunately, it seems like FedEx has chosen to dedicate fewer resources to its fulfillment branch since the impact of the 2019 pandemic. Surprisingly little information is available online, and the fulfillment staff has been nearly impossible to reach.
Based on its performance in previous years, we highly recommend considering FedEx for your fulfillment partner—but it's unclear whether or not the company is even accepting new clients. Contact FedEx to learn more about its current offerings, and be sure to have backup options in mind.
Consider using FulfillmentCompanies.net to explore your options—it compares your specific needs to 500+ pre-screened companies to find the best fit for your business. Plus, the service is completely free to use.
Visit FulfillmentCompanies.net
You May Also Like …