Saltbox Review: Warehouse Rentals & 3PL Fulfillment
Saltbox is a 3PL order fulfillment company that provides purpose-built workspace rentals and flexible on-site services for small and midsize ecommerce businesses. It has fulfillment centers in six major metropolitan areas throughout the US.
In our evaluation of the best order fulfillment companies for small businesses, Saltbox came in fourth place with a score of 4.43 out of 5. It offers a unique range of services to support various fulfillment models and stages of growth.
Saltbox

What We Like
Flexible services: Customized solution packages include any combination of in-house and/or third-party services
Easy access to inventory and facilities keeps sellers in full control
Membership includes valuable resources and amenities for your business
What's Missing
Restricted scalability: Limited volume capacities may not work for large or enterprise-level businesses
Business-only customer support hours
No refrigeration or frozen warehousing for cold chain compliance
When to Use Saltbox
Ecommerce retailers: Saltbox is one of the top choices for DTC ecommerce fulfillment
In-house fulfillment operations: Use its purpose-built workspace rentals and on-demand labor
Growing businesses: Saltbox offers hybrid fulfillment with no long-term contracts
Amazon sellers: Saltbox is Seller-Fulfilled Prime (SFP)-eligible
When to Use an Alternative
High-value, heavy, oversized, or hazardous products: Red Stag Fulfillment is more economical for special-handling needs
Hands-off outsourced fulfillment: Whitebox offers full-service fulfillment and marketplace management
Global distribution: We recommend ShipBob for its wide international warehouse network
There's no minimum order requirement to use Saltbox, making it accessible for startups and small businesses. Its private warehouse suites and workspace rentals deliver the resources to power growing in-house fulfillment operations, which can be supplemented by its on-site third-party services for additional labor without hiring a staff.
Our Saltbox review finds the company's fully outsourced fulfillment option provides unmatched levels of control over your inventory, orders, and processes, making it ideal for transitioning between fulfillment models.
Since Saltbox's platform prioritizes control, it's a poor fit for retailers and multipreneurs who want hands-off outsourced fulfillment. Additionally, it's not the most cost-effective option for high-value, oversized, or fragile products, and Saltbox doesn't allow the production or sale of hazardous materials. In these cases, we recommend seeking a specialized alternative.
Saltbox Deciding Factors
Supported Business Types

Small to midsize businesses, startups, ecommerce stores, retail stores, DTC sellers, B2B sellers,

crowdfunding ventures

, resellers, subscription-box services

Standout Features

Affordable, month-to-month warehouse and office suite rentals
Free resources and amenities including Wi-Fi, photography studios, loading docks, and conferences rooms
Flexible on-site labor available as needed
Fully outsourced fulfillment programs
Batch fulfillment for crowdfunding ventures and product launches
Excellent customer support with unmatched response time
Free, cloud-based fulfillment software with inventory management, order management, and billing
Customization and branding options
Pre-built integrations to connect your other platforms and tools
Amazon Seller-Fulfilled Prime (SFP) eligibility
Highly rated in user reviews

Minimum Requirements

None

Setup and Onboarding Fees

None

Pricing

Fulfillment services:

Fulfillment fee (includes receiving, pick and pack, and packaging materials): $3.25 per order
Storage: 33 cents per cubic foot

Warehouse suite and office suite rentals:

All-inclusive monthly price, varies depending on location and suite size

Contract Length

1 month

US Warehouse Locations

6

International Warehouse Locations

None

Shipping Partner Options

FedEx, UPS, USPS, and open-ended regional carriers

Customer Support

Via phone, email, and in-person 8 a.m.–5 p.m. local time Monday through Friday
Saltbox Alternatives
Best for:
DTC and B2B ecommerce fulfillment; FDA-certified storage and handling

Best for:
Oversized, heavy, high-value, or fragile items

Best for:
Multichannel sellers seeking Seller-Fulfilled Prime (SFP) fulfillment

Best for:
Combined fulfillment and full-service marketplace management

Monthly minimum: ≈200 orders

Monthly minimum: $250 in pick and pack fees

Monthly minimum: 1,000 orders
Since many fulfillment companies offer pricing on a custom-quoted basis, we couldn't fairly compare the specific costs of each provider. So, our evaluation of the top fulfillment companies considered pricing transparency, billing transparency, and billing predictability.
Saltbox doesn't publish its costs online, which impacted its score in this category. However, the company readily provides fulfillment pricing information upon request, and fees are charged according to a simple and predictable pricing structure.
Its third-party fulfillment services are charged separately from workspace rentals, and most services are available a la carte with no long-term contract. This allows users to choose whatever combination of services makes the most sense for their business, and effortlessly scale to meet fluctuating demand.
Here's a look at the company's standard ecommerce fulfillment pricing. For the price of warehouse suites, office suites, and other customized options, contact Saltbox to receive a quote.
Service

Cost

What It Covers

Onboarding

$0

Onboarding and account setup is free

Receiving

$0

(Included in fulfillment fee)

Full-service inbound stock receipt, unpack, and check-in

Inventory Storage

33 cents per cubic foot

Secure storage and inventory management

Fulfillment Fee

$3.25 per order

Receiving, pick and pack, and packaging materials

Pick and Pack

$0

(Included in fulfillment fee)

Picking unlimited items from inventory and packing them for shipment

Packaging Materials

$0

(Included in fulfillment fee)

Free standard boxes, mailers, and dunnage

Shipping

Calculated per-package based on weight and shipping distance

Shipping costs vary depending on the size, weight, and destination of your goods

Special Projects

$35/person-hour

Versatile labor to handle open-ended additional needs, such as product labeling and supplier management
Saltbox performed well in this category and ultimately earned a solid score. We awarded points for its efficiency and helpful shipping options as well as its overall quality of services.
Although the company has facilities in key metropolitan areas around the US, its warehouse network is significantly smaller than some of the top-ranking providers on our list. This impacted its final score, along with its catalog of available integrations—which isn't as extensive as those of providers like ShipMonk and ShipBob.
Click below to expand on the features that contribute to Saltbox's Quality and Functionality score.
Fulfillment Services
Saltbox's fulfillment services are highly flexible and can be easily customized to meet your business' needs. This is particularly helpful during periods of rapid growth or fluctuating demand.
A fully outsourced option is available in which your inventory is received, sorted, and stored by Saltbox staff, who then pick, pack, and ship all orders on your behalf. This program works similarly to the other providers on our list of the best fulfillment companies.
But unlike its competitors, Saltbox's third-party services are designed to keep the client in full control of their inventory and orders. This is achieved through high-level communication and operational flexibility.
The company is highly startup-friendly and requires no minimum order volume to use its fulfillment services. Each Saltbox location can accommodate businesses processing up to 20,000 orders per month. For clients with greater sales volume, their inventory and workload can be distributed among multiple fulfillment centers—enabling capless scaling for small and midsize businesses.
While a number of Saltbox's clients take advantage of fully outsourced fulfillment, most customers use its third-party services in conjunction with a rented warehouse suite or office space (explained in detail below).
This hybrid approach serves as a functional alternative to the standard methods used for in-house fulfillment. Rather than occupying a guest bedroom, garage, or rented storage unit, you can use purpose-built spaces for your ecommerce businesses that are already equipped with all the resources you need. And instead of hiring a permanent staff or taking on seasonal employees to help during sales spikes, you can enlist the help of Saltbox's "Elastic Workforce" as needed (billed in 15-minute increments).
Saltbox also provides Flex Storage services to supplement your workspace with additional warehousing for your goods. It features temperature control, precise digital tracking, and advanced security, and clients are only charged for the space they use.
---
Warehouse Network
Saltbox currently has six facilities located in the following metropolitan areas:
Atlanta, GA
Dallas, TX
Denver, CO
Los Angeles, CA
Seattle, WA
Washington DC
The fulfillment centers are strategically positioned to be accessible for dense populations, enabling fast and cheap shipping as well as click-and-collect or BOPAC options. This proximity also allows business owners to stay close to their inventory for quality checks, custom orders, and last-minute changes.
Four additional facilities are slated to launch in the fall and winter of 2022, including locations in Miami, Minneapolis, and Phoenix. The company reports that it plans to further expand its footprint in 2023 with dozens of additional fulfillment centers.
Clients can distribute their inventory throughout Saltbox's warehouse network to optimize their reach and reduce shipping costs.
While Saltbox can facilitate cross-border shipping, it doesn't have any international warehouse locations and hasn't announced plans to expand globally. This may be a hindrance for sellers who frequently ship internationally or wish to target foreign markets (we recommend Shipbob for its wide global warehouse network).
---
Client Support
Support for Saltbox clients is available by phone, email, and in person from 8 a.m. to 5 p.m. local time Monday to Friday. It offers some of the best client support services of all the fulfillment companies on our top-ranking list.
According to Saltbox, its fulfillment centers have intentionally limited volume capacities to ensure that operational demand never compromises staff's ability to interact directly with clients.
Most competing fulfillment companies use a ticket system to receive support queries and promise to respond within a set timeframe (typically one to two business days). Users report that particularly high-volume operations (such as FBA) can take up to weeks to respond. Saltbox's support structure eliminates the wait time by putting clients directly in touch with support team members, which leads to efficient issue resolution.
Furthermore, each Saltbox member has easily accessible, direct contact with the salaried manager of their local fulfillment center. This approach is far more personalized than the majority of 3PLs (including ShipBob and Deliverr), which often rely on outsourced representatives to handle client support.
---
Integrations
Saltbox operates on ShipHero WMS (warehouse management software), which extends a wide array of one-click native integrations to Saltbox clients. The list includes a large number of connections with shipping solutions as well as the leading ecommerce platforms and marketplaces.
For integrations not currently available, the WMS offers developer-friendly open API that can be used to build custom connections.
Here's a complete list the current direct integrations available to Saltbox clients:
Ecommerce platforms and shopping carts: 3dcart, AmeriCommerce, Big Cartel, BigCommerce, Cratejoy, CoreCommerce, CS-Cart, Ecwid, FoxyCart, Magento, MijoShop, Miva, Neto, OpenCart, Oxatis, PayPal, PrestaShop, RevolutionParts, Shopify, Shopify Plus, Soldsie, Squarespace, UltraCart, Volusion, Weebly, WooCommerce, X Cart, Zen Cart, Zoey
Marketplaces: Bonanza, Bandcamp, Cratejoy, eBay, eBay.ca, eBay.co.uk, eBay.com.au, Etsy, Groupon Goods, houzz, Jane, Jet, Newegg Marketplace, OpenSky, Reverb, Sears, Storenvy, Tophatter, Walmart.com, Wish, Yahoo, Best Buy Marketplace, Marshalls, T.J. Maxx, QVC, Target, Walmart
Multichannel management: Brightpearl, ChannelAdvisor, ChannelSale, Commerce Cloud, Linnworks, Sellbrite, SellerActive, Stitch Labs, SureDone, QuickBooks Commerce
Freight and shipping solutions: ShipStation, Rakuten Super Logistics
Operations, inventory, and order management: Acumatica, Cin 7, DEARsystems, Freestyle Solutions, Skubana, Returnly, GeekSeller, Optoro, Spark Shipping
Payments, accounting, tax, and financing: Bluevine, Brex, KickPay, Stripe Relay, PayPal
Marketing and CRM: Fullscreen Direct (StageBloc), Salesforce (Demandware), LaunchBoom
---
We gave Saltbox a high score in this category for its impressive specialty services, which include rare and hard-to-find offerings as well as standard services like international shipping, assembly/kitting, and the use of custom packaging elements.
This company is one of the only providers on our list that boasts climate-controlled storage spaces, making it ideal for temp-sensitive goods. It can also facilitate Amazon Seller-fulfilled Prime (SFP) orders, which is a crucial feature not all 3PLs offer.
Saltbox lost points in this section for its lack of international warehouse locations and its inability to produce custom packaging in-house.
Saltbox's standout specialty services include:
Private Workspace Rentals
As mentioned above, Saltbox's biggest differentiating factor is its ability to provide solutions for a variety of fulfillment models. In addition to third-party fulfillment, the company can facilitate in-house and hybrid fulfillment through workspace rentals.
Clients can rent warehouse and/or office suites that were designed to accommodate ecommerce businesses. Saltbox aims to provide a purpose-built alternative to the ill-fitting spaces commonly used by ecommerce startups and small businesses.
Three sizes of each space are available; warehouse suites range from 100–8,000 sq. ft. and office suites range from 60–170 sq. ft.
Saltbox's workspaces can be rented on a month-to-month basis with no penalty for starting or stopping. Industrial warehouses and office buildings typically require long-term leases and can be very difficult to scale up or down, making Saltbox a much more user-friendly option.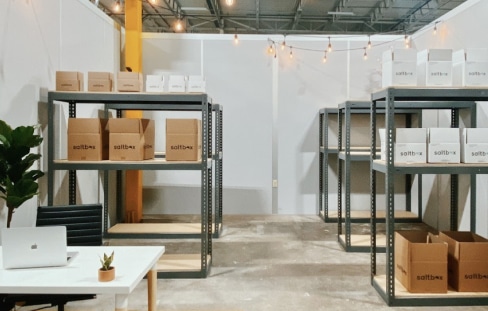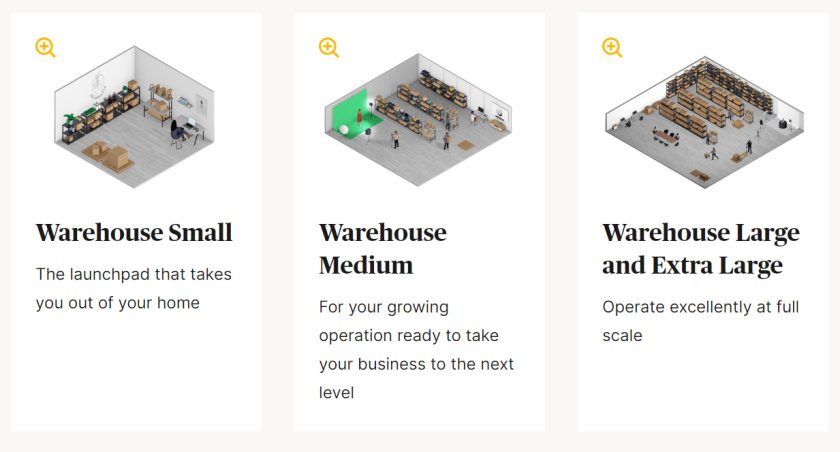 ---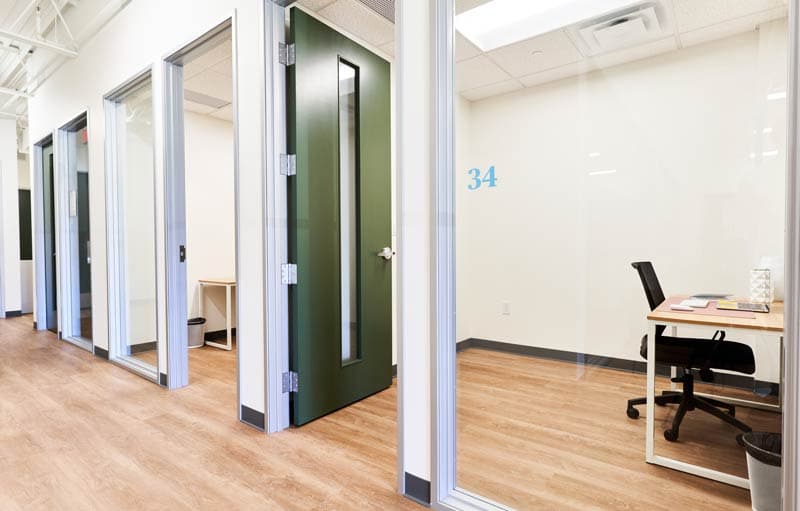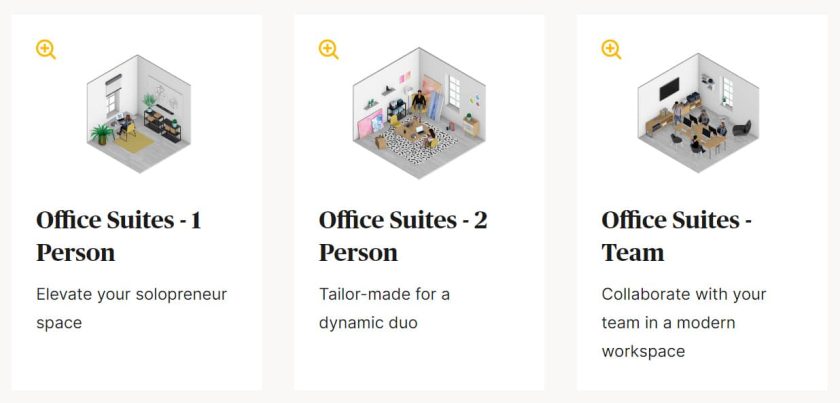 ---
Each rental comes with enterprise-grade equipment as well as reliable Wi-Fi, air conditioning, and other amenities listed below. Security is ensured by video surveillance, an enterprise-grade security system, controlled access, and a nightly security patrol. The spaces are also fully customizable to suit your needs and reflect your brand, and flexible supplementary storage options are available.
Saltbox's turnkey facility rentals are charged at an all-inclusive monthly price that varies depending on location and suite size. Contact Saltbox to receive a quote, schedule a tour, or get more info.
Prices for Saltbox's Denver location start at $315/month for a 100 sq. ft. warehouse suite and $495 for 60 sq. ft. office suite. The average office rental rate in Denver is $33.82 per square foot, so Saltbox's workspace rentals are an incredibly affordable option.
---
Resources & Amenities
Saltbox members renting a warehouse or office suite receive access to all the resources needed to power their business at no extra cost. The company also provides unique perks and opportunities not found elsewhere.
Saltbox offers up its enterprise-level logistics infrastructure for clients to use, including loading docks, pallet jacks, and hand trucks—plus daily carrier pickups from FedEx, USPS, and UPS.
Members get anytime-access to conference rooms, phone booths, kitchens (with free coffee and snacks), coworking areas, and a well-equipped product photography studio. It also provides cleaning, in-house printing services, free parking, fast Wi-Fi, HVAC, and on-site employees ready to assist with logistics expertise.
---
Optimized Locations
While most fulfillment companies occupy sprawling plots in outlying industrial zones, Saltbox's facilities are all centrally located in major metropolitan areas. This gives business owners and their customers easy access to merchandise.
Fulfillment clients can take advantage of Saltbox's proximity to stay in control of their inventory. They can easily visit a fulfillment center to inspect a shipment, make customizations, or train staff members on their ideal packing procedure.
Saltbox's locations also enable merchants to offer curbside pickup and same-day delivery for nearby customers. With the company's Elastic Workforce, offsite fulfillment clients can arrange for Saltbox employees to facilitate these orders on their behalf. For standard ecommerce orders, the facilities' proximity to major city centers can help save on shipping costs.
---
Saltbox earned a solid score for its overall usability. We awarded points for the company's exceptional operational transparency and lack of minimum order requirements as well as its fulfillment software (which uses the powerful ShipHero WMS).
It earned points for scalability, although companies that serve small businesses and enterprise-level clientele (like Rakuten and ShipBob) scored higher. The company was also docked for having business-only customer service hours, although it should be noted that its customer support capabilities are highly accessible in other ways.
Here's an overview of the factors we considered when evaluating Saltbox's ease of use:
Customer Service: Support is available by phone, email, and in person from 8 a.m. to 5 p.m. local time Monday through Friday. The company takes measures to ensure staff is always available to work directly with clients, so you won't need to create a ticket and wait for a response.
Operational Transparency: Saltbox's third-party fulfillment services run on ShipHero WMS, which offers high levels of visibility into inventory and order processing.
Billing Transparency: Invoices are available monthly from an online billing portal, fulfillment charges are visible by line item. Workspace rentals are charged a single, all-inclusive monthly fee.
Scalability: There's no minimum requirement to use Saltbox's services. Each fulfillment center can accommodate businesses selling 20,000 orders per month, and clients with greater volumes can distribute their load across multiple locations.
Policies: Saltbox's error policies aren't disclosed online. Limited liability insurance is required to use its services.
Accuracy: Saltbox doesn't disclose its accuracy rate in fulfilling and shipping orders.
We gave Saltbox perfect marks in our Expert Score category. It delivers high-quality services with unmatched levels of flexibility, which enables the company to support small businesses in ways that competitors simply can't.
The company is also very popular among its users and delivers an outstanding value. This is especially true of its workspace rentals, which provide a wide array of valuable resources at an incredibly affordable price.
While we appreciate Saltbox's unique hybrid offerings for many use cases, it's not the best choice for businesses seeking a hands-off experience. Its services are built to keep the business owner in control of their products, orders, and processes—which revolves around communication, proximity, and the option to participate.
If you're not seeking hands-on control, we recommend ShipBob for turnkey, third-party fulfillment services that come with better fulfillment software, friendlier pricing, and more integrations.
What Users Say in Saltbox Reviews
Saltbox is a young company that was founded in 2019; although it has healthy funding, a steady customer base, and rapid growth, it hasn't yet accrued many online reviews. It's also hard to find any mention of the company on popular forum sites used by small business owners.
That said, the available Saltbox reviews are overwhelmingly positive. Users commend the provider for its effective solutions, responsive support, and high-quality service. Multiple Saltbox reviews mention receiving 24/7 support from branch managers, while others report that the warehouse rentals saved them significant amounts of money and time by providing everything they need.
One reviewer described his experience by saying, "Finding Saltbox has been the answer to so many of my needs as a small business owner working to scale without taking on unnecessary expense and commitment—not to mention risk." Other users mention that they haven't had a single issue working with Saltbox, unlike other 3PLs.
The only Saltbox reviews that give a less-than-perfect rating don't offer any additional comments. The only exception is a one-star Google review that states "Worst place ever to have your company at. DO NOT rent from them ever." Unfortunately, no further context is provided.
Methodology: How We Evaluated Saltbox
To evaluate Saltbox and competing fulfillment services, we consider the factors that matter most to small retail and ecommerce businesses. We research each provider by examining third-party reviews, user ratings, relevant articles, and the company's own content.
For information we can't find online, we reached out to the companies as potential customers rather than reporters. We found that Saltbox is generally transparent with its pricing, features, and operational processes.
We then evaluate each provider on a 23-point scale shaped by industry experience, reader surveys, and competing providers' attributes. Our criteria weighs functionality, scalability, and transparency throughout a range of processes.
30%
Quality/Functionality
30% of Overall Score
We evaluated the quality of service and functionality of each company by weighing critical details like order turnaround time, shipping partner options, size of fulfillment center network, and accuracy rate.
We also considered how each service integrates with ecommerce shopping carts, marketplaces, operational tools, and solution providers that your online store may use.
Points for this category were deducted due to Saltbox's small warehouse network. It received some points for its catalog of integrations, but providers with better connectivity scored higher. Ultimately, Saltbox's efficient services and shipping partner options helped it achieve a score of 4.10 out of 5 points.
20% of Overall Score
Many fulfillment companies offer pricing on a custom-quoted basis. We assert that it's better to openly publish pricing. This eliminates the need for potential clients to contact each company for a quote—potentially wasting both parties' time—and promotes general transparency.
Since we can't fairly compare the specific costs of each provider, this category examines the providers' pricing transparency, billing transparency, and billing predictability.
Saltbox is moderately transparent with its pricing information, so it didn't receive as many points as companies that fully disclose costs online. However, it does offer high levels of billing transparency and predictability, which helped it earn a total score of 4.75 out of 5.
15% of Overall Score
This score considered customer service accessibility—prioritizing companies that provide a dedicated service rep for each client and weighing their support center's hours of availability.
Each service was also evaluated for software usability and operational transparency. Companies were awarded points for having highly functional software that allows users to see where each order is within the fulfillment process and warehouse space.
Lastly, order minimums and service scalability were weighted heavily to provide the best recommendation for small businesses that need a fulfillment partner that can grow with them.
Saltbox received points for its software that provides high levels of operational transparency. It also scored for its lack of order minimums and accommodating scalability. We deducted points for the company's business-only customer service hours, giving it a final score of 4.03 out of 5.
15% of Overall Score
We awarded points for the availability of special services like climate control, international shipping, custom packaging elements, and different types of assembly. Being crucial to ecommerce operations, return handling and reporting/analytics were prioritized.
Lastly, we assessed whether each company was eligible to fulfill Amazon Prime or SFP (Seller-Fulfilled Prime) orders.
Saltbox doesn't have any international fulfillment centers and can't produce custom packaging in-house, which cost the provider points in this category. We gave it high marks for its popularity, ease of use, and impressive specialty services for a final score of 4.30 out of 5.
20% of Overall Score
This score combined our retail and ecommerce experts' final evaluation of value, ease of use, and standout features with scores from real-world users on trusted third-party review sites
Saltbox received perfect marks in this category for its excellent value, painless usability, and unique specialty services.
*Percentages of overall score
Saltbox Frequently Asked Questions (FAQs)
Who Should Use Saltbox Fulfillment?
Saltbox is designed for businesses that manage and/or sell physical goods— particularly ecommerce companies. Its workspace rentals offer all-inclusive solutions for merchants performing their own order fulfillment, and its third-party services can be used by businesses wishing to outsource the fulfillment process.
The company's on-site resources are also useful for light production and other operational tasks.
Saltbox is mainly used for DTC ecommerce sales, but can facilitate B2B sales, crowdfunding ventures, product launches, and subscription box services.
---
When Should I Use a Saltbox Alternative?
Since Saltbox specializes in facilitating in-house and hybrid fulfillment, businesses seeking a fully outsourced, hands-off fulfillment experience may work better with an alternative 3PL. We recommend Whitebox for its full-service fulfillment and marketplace management programs.
Local international fulfillment has a number of advantages over cross-border shipping. Saltbox's warehouse network is limited to the US, so sellers targeting foreign customer bases may find better success with a global 3PL. We recommend ShipBob.
Saltbox requires you to carry your own limited liability insurance, and it doesn't allow hazardous products to be made in or sold from its facilities. For sellers who need special handling, we recommend Red Stag Fulfillment
---
Bottom Line
Saltbox is a highly innovative 3PL that works best for in-house and hybrid fulfillment. Its flexible services and top-notch customer support make it an ideal solution for supporting growth and transitioning between fulfillment models.
The company's fully outsourced fulfillment services are also effective and economical but may not be the best fit for business owners who wish to hand the process off to a partner company without playing an active role.
Looking for something else? Broker sites, such as WarehousingAndFulfillment.com, compare your specific needs to 500+ pre-screened companies to find the best fit for your business. Plus, the service is completely free to use.
Visit WarehousingAndFulfillment.com
You May Also Like…