A SKU (Stock Keeping Unit) is an alphanumeric code, usually 6 to 8 characters long, that identifies a product and helps you track inventory. You can create SKU numbers manually or in your inventory management or point of sale (POS) software. SKU numbers print on your shelf label along with the product's UPC Code and other product information.
This article will give you a general framework on how to create and manage SKU numbers successfully and walk you through how to create SKU numbers for your products. Throughout the article, we'll be using Lightspeed as an example. It's a low cost inventory & POS software that can dramatically simplify your inventory tracking.
Why Are SKU Numbers Important for Store Owners?
Improper SKU setup and management will impact three areas of your business:
1. Store Appearance/Shopping Experience
SKU numbers help you organize your shop so both you and your customers can easily find the needed products. If your SKU numbers are not set up correctly, you won't know when you're out of stock on a certain product and you may end up ordering too much or not enough. Improper SKU management can also cause misspelled and mispriced labels, creating confusion for customers and resulting in lost sales.
2. Customer Checkout Experience
Have you ever gone through a checkout, shopping cart filled to the brim, when a message pops up on the register saying "Item Not Found." Now, you have to wait in line while the retail associate does a price check. This can happen if your SKU information is incorrect and products can't be found in the inventory system. Sometimes, the price might ring up differently than the shelf price. This can lead customers to shop elsewhere, where checkout will be faster and easier.
3. Business Financials
Did you know that administration errors, which are often related to SKU mismanagement, are the third main reason for lost profits, behind shoplifting and employee theft? Let's say you have a convenience store and sell gum. You have 200 packs of that gum for which you paid 50 cents per pack. When you set up your SKU data for the gum, you or your employee accidentally keyed in 25 cents for the cost, understating how much you paid. After you have sold all your gum at the end of the week, your invoicing won't match because you'll be showing a total cost for the gum as $50 dollars, versus the $100 dollars you actually paid for it. Over a period of a year or more, this could cost you thousands of dollars in profits.
A Framework for Creating and Managing SKU Numbers
Now that you understand why SKU numbers are important, let's talk about a basic framework for creating them. You need to understand this framework whether you are using a manual system or POS/inventory management system to create SKU numbers.
Keep Your SKUs Short and Organized by Department
Make the first 2 digits of each SKU number begin with your department number.
Make the last number in your SKU sequential. The last digit of the first item you set up in a department should be #1 and continue numbering in order until you are done creating SKUs for all the items in that department.
I've illustrated an example of what this looks like for a convenience store in the below chart. In this example, 010000 would be the first product in our Dry Grocery department. Remember, you can use as many total digits as you like for your SKU numbers, but 6-8 digits are the typical standard (you can use a combination of letters and numbers, but for simplicity's sake, I've used just numbers in this example).
Creating SKU Numbers – An Example
| Department Name | Department # | Recommended Product SKU # Assignment |
| --- | --- | --- |
| Dry Grocery | 01 | 010000, 010001, 010002 |
| Pet Food | 02 | 020000, 020001, 020002 |
| Deli | 03 | 030000, 030001, 030002 |
| Cold Drinks | 04 | 040000, 040001, 040002 |
| Gasoline | 10 | 100000, 100001, 100002 |
This method will save you and your employees time identifying where items belong in your store when stocking shelves or looking up product information. You'll be able to look at the first two numbers of the SKU and automatically know where in the store products are located.
It will also save your employees time at the checkout lane, should items have to be hand-keyed vs. scanned. It's much easier to key in a 6 digit item number over a 12 digit UPC code any day.
Having a simple, organized SKU system will also help make sure that your customers are able to quickly find the products they need and that they are correctly labeled and priced.
Assigning Other Characteristics to Your Products
If you follow our suggestions above, your SKU number is going to identify the department and the item number. However, there are dozens more characteristics you can assign for products with your SKU numbers, such as product category, subcategory, color, size, etc. These won't show up in the SKU number but will be assigned to the SKU behind the scenes in your inventory management software or POS software. Here's how the item creation screen looks in Lightspeed for example: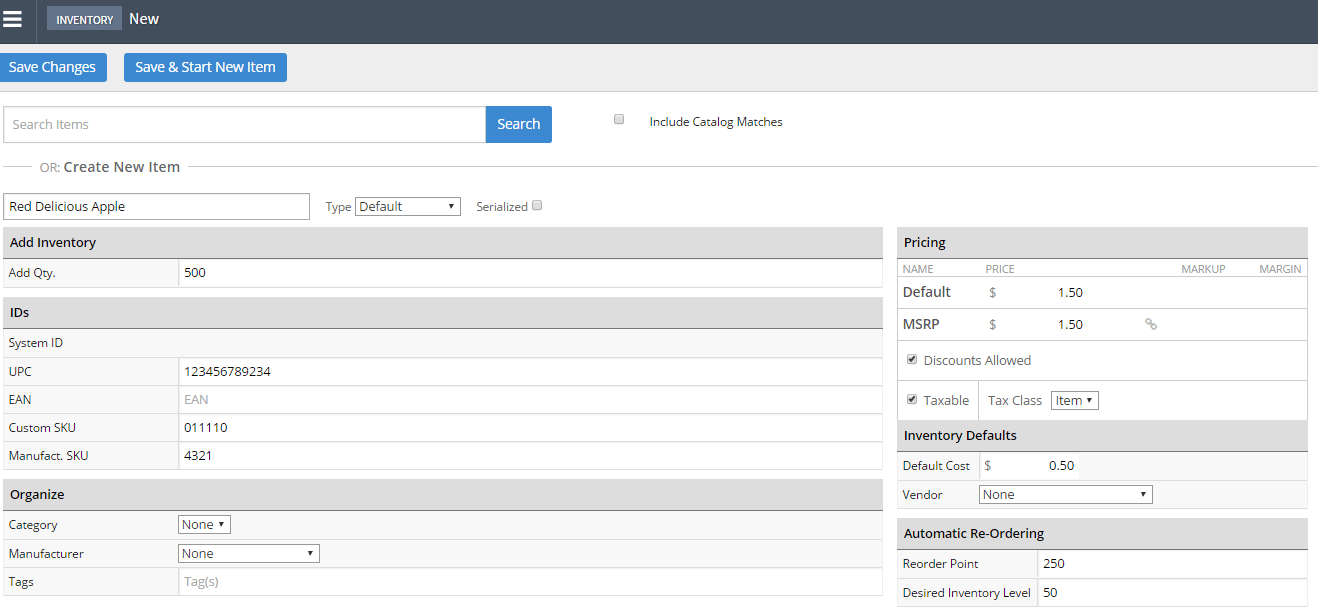 You can add too little detail here but you can also add too much, so you need to have a clearly thought out structure in place from the start. Below is a good way to think about some of the product characteristics you may want to track.
POS or Inventory Management systems like Lightspeed or Square have this same structure built into their software, though their naming conventions differ slightly.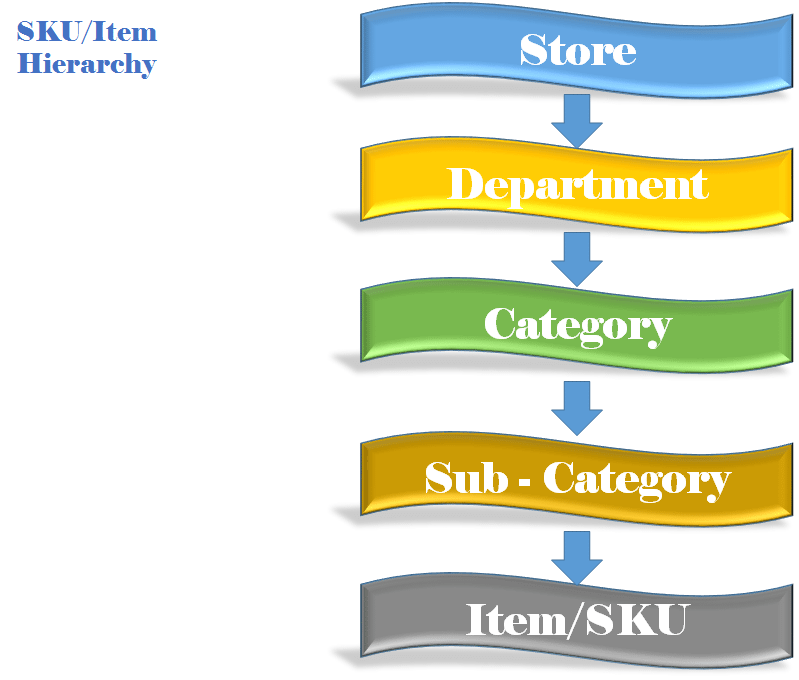 Let's look at each level in a bit more detail.
Store
You won't need to worry about using this level unless you have multiple store locations. If you do have more than one store, you might have items that you don't want to sell in a particular location, so you can also use the Store grouping for this purpose. Making sure you have this crossed off your list from square one will ensure you have this flexibility on the day the doors open on your locations.
Tip: The metric you should be interested in monitoring here is total store sales for your products by both Units and $ amount. It gives you a good idea of how much total inventory you have on a daily basis.
Department
This is the next level after "Store," but you still use very broad descriptions for your groupings. Examples of Department Names are Grocery, General Merchandise, Clothing, and so on.
Tip: Use this grouping to track Departmental Sales. You can see where the top and under performing products are located in your store. You'll be able to decide if you need to switch your store layout around or run a sale to help boost volume this way.
Category
Categories are the next grouping in the process. Categories need more specific names, related to the Department they fall under. As an example, let's use Grocery as our Department. Categories falling under Grocery might be named Candy, Soup, Bread, or Beverages. It's up to you how to name them because all businesses are different.
Tip: For the "Data Junkies," you can really use this level of SKU reporting to weed out underperforming groups of items from your store shelves. You can also see which styles of the same item are selling the best.
Sub-Category
In a small business, you can survive without this grouping. It's just another step down below category. We'll use Candy for our category in this example. Sub-Categories for Candy might be named Candy Bars, Gum, or Suckers. Having this level added in your structure will give you very specific and detailed reports, and will help you make sound business decisions. For example, maybe after seeing that sales were down on all your cooler based soft drinks, you decide to take your Fountain Drinks off special. However, most small businesses don't need this much granularity.
Tip: Only use this category if you are selling over 500 total products. You're not a "Big Box" retailer, and the "Category" level should be enough to give you plenty of product reporting visibility.
Item / SKU
This is the last, lowest, and most important level of your SKU structure. As we've talked about already, the SKU holds all your item details. The easiest way to create your SKUs, as I mentioned above, is to have the first two digits be a department number and the last digit the item number for the department.
A Note on SKU Numbers vs. UPC Codes
I completely understand why SKU # and UPC # would be used interchangeably when discussing products. They both have barcodes that you scan, and they both contain product information. However, this is the only way the two are alike.
UPCs or Universal Product Codes are 12 digit product codes assigned by the Global Standard Organization, better known as GS-1. GS-1 works with large manufacturers and large retailers to set and oversee governance standards for issuing and using UPC Codes globally. They come printed directly on each individual product from the Manufacturer, so you don't have to price each individual product in your store.
SKU numbers or Stock Keeping Units are created by you, the store owner, to identify the products in your store POS/inventory management system. The UPC # for a product is linked to the SKU # in your system, so that when a product is scanned for payment, the correct product information is looked up in your central system and sent back to your cash register.
How to Create SKU Numbers Using a POS/Inventory Management System
The framework above should give you a good general way think about SKU numbers. Now, we're going to walk you through step by step how to create SKU numbers for your business.
There are two main ways to create SKU numbers:
Manually
Through POS software/inventory management system
Below, we'll take a look at each of these methods and walk you through an example of how to create a SKU number using Lightspeed, our recommended POS system. As you read, keep in mind what might be different for your business, and use the framework we provided above to make adjustments.
Manually Creating SKUs
I recommend that you DO NOT create SKU numbers manually! It's too error prone, and technology has come a long way to still be manually recording inventory and sales information. If you use this method, at a minimum, I recommend using a spreadsheet like Microsoft Excel or Google Sheets instead of a paper notebook or ledger.
Otherwise, it won't be long until you start seeing items run out of stock or scanning incorrectly at checkout. You don't want to trust the financial well being of your business to your memory or to a pencil and piece of paper. Get a system!
POS/Inventory Management Software
Most small businesses have a POS or inventory management system to help process sales transactions and track inventory. You can use these same systems to easily create SKU numbers.
We recommend using Lightspeed POS. It's affordable, starting at $99/month for one user. It comes with basic reporting, and for an additional $21 per month, you get extra, customizable reporting features.
Here's a walk through of how SKU creation works on Lightspeed:
To start creating items in Lightspeed, start by clicking on the Inventory heading on the left side of your Home Screen, pictured here: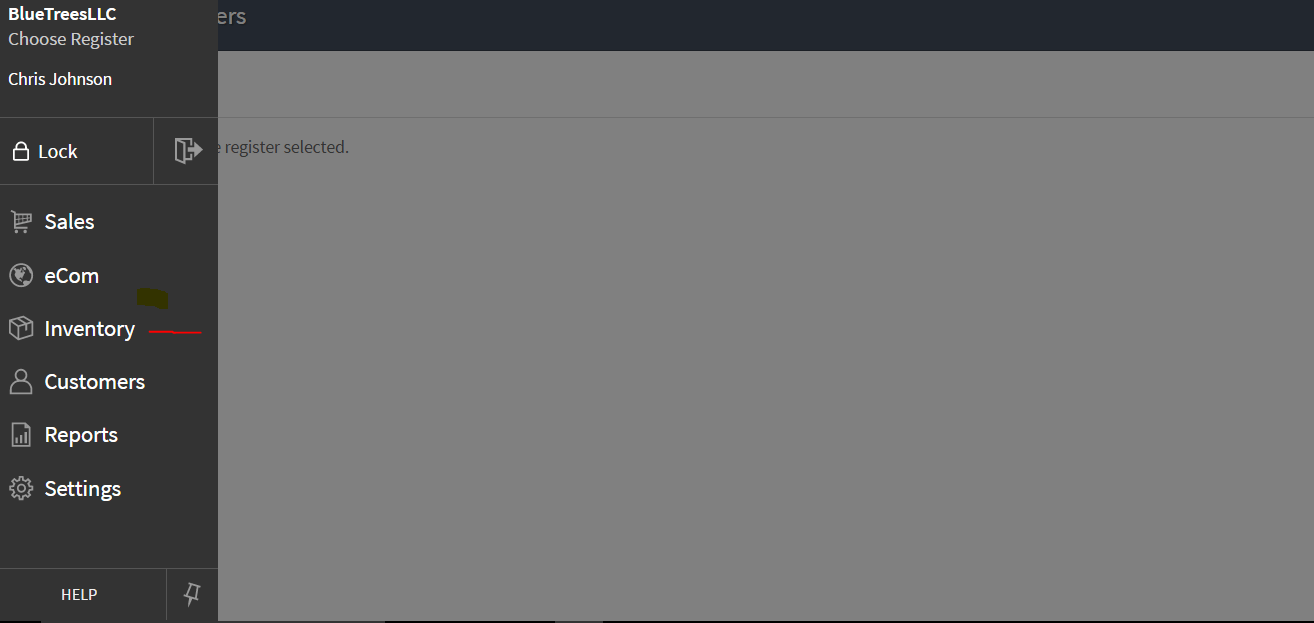 After you click on Inventory you will click on the New Item icon in this screen:

This opens the Item Creation Screen: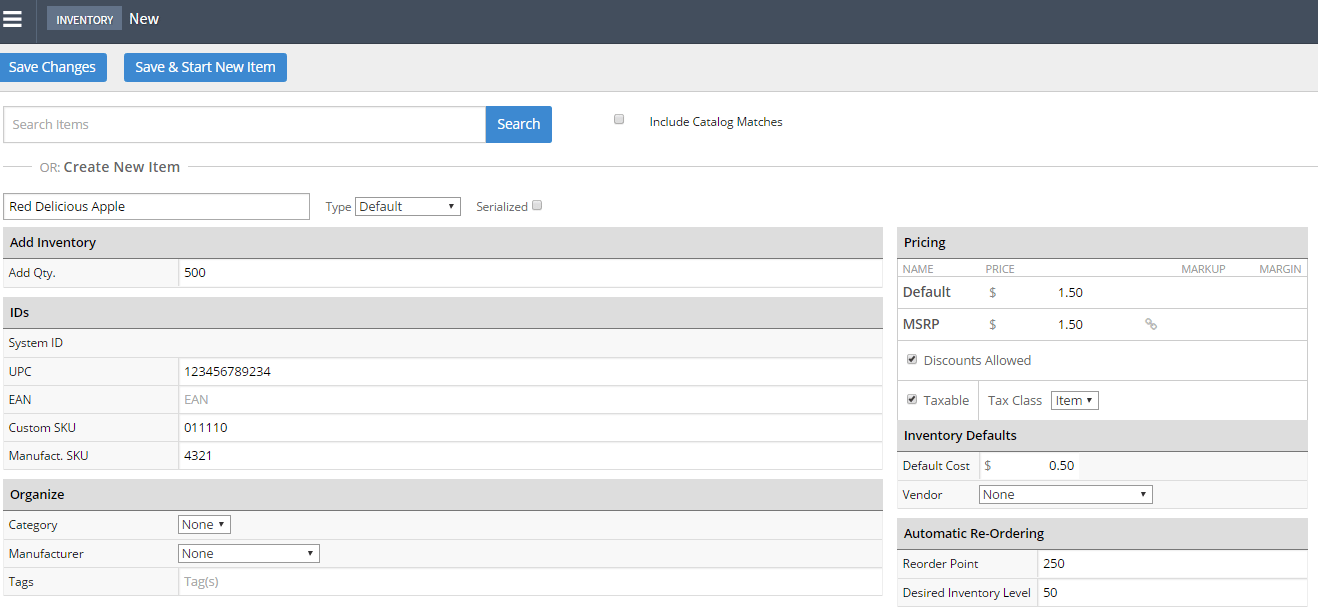 From this screen, you add all the relevant item information you need like:
Custom SKU #
Manufacturer UPC #
Retail Price
Cost
Quantity In Store
Reorder Levels
When you are done be sure to click Save and Create New Item at the top of your screen, and you are ready to move on to your next item.
The Bottom Line
People say 'numbers don't matter,' but SKU numbers do! They help organize your inventory system and make sure that customers can find the products they need at the right price. A POS/Inventory management system like Lightspeed helps you create SKUs easily and efficiently.
So what are you waiting for? Go out and look at some inventory management/POS systems like Lightspeed that offer easy SKU setup features and many more all-in-one business management features! You'll be grateful for the time and cost savings, and your customers will have an awesome shopping experience!