How to Find Employees on LinkedIn in 2023
This article is part of a larger series on Hiring.
LinkedIn is a social media website built around its users' professional networks where individuals can connect with current and former colleagues, join industry groups, and search and apply for jobs with businesses on the platform. As a small business, you can leverage LinkedIn to find employees from its captive pool of candidates.
Your first step in recruiting candidates on LinkedIn is to consider which of the network's talent solutions or premier products best suits your hiring needs. Then you'll want to build and maintain your company profile and business networks and search for candidates.
1. Determine Your Best LinkedIn Plan
Each LinkedIn plan provides a unique set of features and benefits. For instance, while you can make job posts to your individual and business LinkedIn pages to search for candidates, it isn't until you reach the Recruiter level that you have access to candidate skills assessments and applicant tracking features. Below is a features comparison to help you determine which LinkedIn plan may be right for you:
LinkedIn Premium

LinkedIn Talent Solutions

Free Plan

Premium Business

Recruiter Lite

Recruiter

Monthly Pricing*

Free

$59.99

$139.99

Custom-pricing

Best For

Connecting with other professionals

Growing your network or actively searching for candidates

Making a limited number of hires per year

Hiring multiple employees per year

Access to Connections

Up to 3rd Degree

Up to 3rd Degree

Up to 3rd Degree

No limit

InMail

Messaging is only available with connections

15 InMails per month to any LinkedIn member

30 InMails per month to any LinkedIn member

100–150 InMails per month to any LinkedIn member

See Who's Viewed Your Profile

✕

✓

✓

✓

Post and Manage Jobs

✓

✓

✓

✓

Candidate Search with Advanced Filters

Limited to basic search features

10+ search filters

20+ search filters

40+ search filters

Candidate Skills Assessments and Insights

✕

✕

✕

✓

Applicant Tracking Systems Integration

✕

✕

✕

✓
*Disclaimer on LinkedIn website states prices vary by region. You must sign up to see your local pricing.
We'll go more in-depth on the plans later in our article.
2. Build Your Company's Profile Page
Before you reach out to anyone, you should build your company's profile page. There are two main reasons for this:
Presenting a professional face for your business will make it more attractive to potential candidates
Building a keyword-rich profile will make it easier for potential candidates to find you
Also, remember that it's not enough just to build your page—you need to keep it updated too. Be sure that your business' location, contact information, and any current job postings are up-to-date. Consider highlighting any past work that you're proud of.
3. Connect With Former & Current Colleagues
Send an invitation to connect to anyone you've worked with both past and present, especially those with which you've developed a positive relationship. Because LinkedIn relies on connections within your network, growing your network should be your first step in finding new employees. These connections can introduce you to job seekers they know, or you may find that a former colleague is looking for a new opportunity.
4. Personalize Your Connection Invitations
When contacting members not currently part of your network, such as job candidates or freelancers you'd like to employ, you should personalize your invitation to connect. LinkedIn allows you up to 300-characters to use in your connection invitation request to share who you are and why you'd like to connect.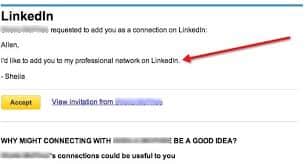 5. Search for Candidates
Find great candidates even if they haven't yet applied to your job. The right candidate may miss seeing your job ad on a job posting site, or they may not be actively looking for a new job at the moment. If they are looking for a job, LinkedIn members can choose yes on the job-seeking option under privacy in their account settings to let recruiters know they're open to a new job.
Once you've identified a potential candidate, check their profile to see if you have any connections in common. If you do, reach out to that connection and ask that they introduce you. Not only will this put you in contact with the candidate, but the connection you share in common can validate your business' reputation.
6. Find Candidates in Groups
LinkedIn Groups are where you'll find thought leaders, available workers, and people who can help you network to find your next employee. If you're looking for a project manager, an HR rep, or a social media guru, the best of them are likely active members within their relevant industry groups. You can join groups, read posts, weigh in on conversations, and contact those you feel might be a good addition to your team.
For example, if you're looking for a marketing expert, join a group like Social Media Today; or if you're looking for a project manager, try joining The Project Manager Network. You can also type an industry, such as engineering, or job type, such as project manager, into the search box and then select Groups as shown below.
7. Use Current Employees
Consider asking your current employees to post positive information about you and your company, as well as job openings, on their profiles. Research from Glassdoor shows that prospective employees are three times more likely to believe people who work in your company over its executive team.
Asking your most passionate employees to promote your company on LinkedIn may prove more successful than simply putting out job ads. LinkedIn is a great place for employees to share their positive feedback about you and your company and could be a difference-maker in your business's ability to attract top talent.
8. Post Job Openings
Once you have set up your profile and made connections with friends and colleagues, you can post your current job openings directly on LinkedIn. This feature is available with the Free and Premium Business options; however, with LinkedIn Recruiter Lite you will have access to a hiring platform where you can find, connect with, and manage candidates. You can also use its marketing tools to post ads and pages and create customized content to make your company stand out from the rest.
9. Support Other Recruiting Efforts
You may already be posting jobs on free job search websites, like Indeed, or paid job advertising sites that typically come with more features, like ZipRecruiter. However, LinkedIn can help you determine which applicants are truly experienced based on their profile versus those who have merely mocked up a great-sounding resume.
Of course, not everyone keeps their profiles up to date, so consider LinkedIn as just one data source. You could also use LinkedIn InMail, a feature of LinkedIn Premium Business and Recruiter Lite, to contact a candidate's former employers, co-workers, or others who have left positive feedback on their profile.
LinkedIn Plans
Now let's explore each plan that LinkedIn offers businesses that help get their company in front of potential top talent—LinkedIn Free, LinkedIn Premium Business, LinkedIn Recruiter Lite, and LinkedIn Recruiter.
While LinkedIn Recruiter is a good option for recruiters and big companies, we recommend Recruiter Lite or Premium Business for most small businesses. Additionally, there are less-expensive HR and applicant tracking options for small business owners to consider.
Small businesses can use LinkedIn's free plan to get their business in front of potential employees. Although functionality is limited, the free plan allows you to contact users who are in your professional network of connections.
With LinkedIn's free plan, you can message anyone you are connected with, join groups, and post jobs from your individual account for free, but you will not have the ability to use any advanced recruiting tools to manage your job openings and hire candidates. We recommend Recruiter Lite if you need to hire multiple candidates.
LinkedIn Free Plan Features
Click the tabs below to learn more about the features available with the free plan.
Connect
As part of its free plan, you can connect with current and former colleagues and others that you may know in your circle. You can also message any individual with whom you are connected.
Search
You can search for and review profiles of any LinkedIn member you wish to connect with, even if they are not someone you personally know. You can then request to connect. Once connected you will be able to message that member.
Groups
You can sign up as a member of various groups within LinkedIn, such as those directly related to your job title or field of work. This is a great place to find potential candidates. However, you must upgrade to Premium Business to contact members that you are not connected with through InMail, and you must upgrade to Recruiter Lite to manage job postings.
Post a Job
LinkedIn's free plan will allow you to have one open job post at a time for free. Your job post will appear in search results and you can easily filter and manage your applicants. You will also have the option to boost your job post by adding a budget. This will allow you to reach a more targeted audience of candidates. You can set a daily or total budget and can close the post when you find the right employee.
---
---
LinkedIn's Recruiter Lite plan is as low as $139.99 per month (when billed annually) and is geared toward small and midsize businesses to help find and contact top talent. This is the first plan in the series for small businesses that allows job posting on the private job board. You can list your open positions and any LinkedIn member can apply, whether they are connected to you or not.
You can opt for a month-to-month or yearly subscription and can cancel at any time. Additionally, you can search the network (up to a third-degree connection) using filters like skills and years of experience to help narrow your search.
LinkedIn Recruiter Lite Features
Recruiter Lite includes all features of the Free and Premium Business plans plus these additional features:
InMail
With Recruiter Lite you will be able to message any member (no matter if they are a connection) up to 30 times per month.
Post and Manage Jobs
You can create a job in minutes that is shared with LinkedIn's entire network. From there you can be matched with qualified candidates and screen for desired skills and experience.
Candidate Recommendations
LinkedIn will offer recommendations of possible candidates based on your search criteria and keywords for your open positions. It offers simple tools like screening questions and candidate ratings to help you find the right candidate.
Search Filters
You will have access to 20+ search filters with smart suggestions. This will allow you to narrow down your searches to qualified candidates for your positions.
---
Its top-ranked recruitment plan, LinkedIn Recruiter, offers additional insights into its more than 740 million users, plus advanced search filters (40+ filters with smart suggestions), talent matching, job posting, and additional connections through its InMail messaging platform.
Within Recruiter, you can reach out to any LinkedIn member using InMail as well as send bulk messages and save templates for future use. Additionally, you can manage your account on the go with its mobile app (iOS and Android) where you will receive alerts and can respond quickly to candidates—then continue your operations directly from your desktop.
LinkedIn Recruiter Features
LinkedIn Recruiter includes all the same features as the Free, Premium Business, and Recruiter Lite plans. However, it goes one step further by adding the below features.
InMail
With LinkedIn Recruiter, you can search and contact candidates using InMail (up to 150 per month). You can also save your searches and templates of the InMails you send most often.
Talent Solutions
Recruiter works alongside other LinkedIn Talent Solutions products such as:
Pipeline Builder – A source to build your database of potential candidates and request applications
Talent Insights – Data-driven insights into finding top talent
LinkedIn Jobs – Post your job on LinkedIn's job board to find your next qualified employee
Recruitment Marketing – Solutions to increase your brand awareness so candidates will apply to your open positions
Recruiter System Connect – Connect your existing applicant tracking system (ATS) to LinkedIn Recruiter for collaboration and real-time data
Strategic Partnering
You can share candidate profiles easily with other team members within your organization to gain feedback. Additionally, you can see communications between candidates and team members as well as track the performance of your InMails.
---
Bottom Line
LinkedIn is a social media platform that's built on your professional contacts. Users can connect with current and former colleagues, and businesses can represent themselves with their own page. Because of this, LinkedIn is an ideal way for job seekers and businesses that are looking to hire to connect. We recommend LinkedIn Premium Business or Recruiter Lite as your best source for finding and hiring your next employee.