If you're wondering how to offer free shipping on your products without losing money, this guide examines ways to manage it wisely. From promotional deals to site-wide free shipping offers, we cover every option and explain how to approach each strategically. Done right, free shipping is a great tool, and we'll show you how to use it.
How to Offer Free Shipping: Options and Tactics
There are two primary ways you can offer free shipping: Conditional or Unconditional, and both are pretty self-explanatory:
Conditional Free Shipping sets conditions to your free shipping offer, such as minimum order value, select items, or economy delivery.
Unconditional Free Shipping applies free shipping to every item and every order across the board.
Which method is best for you depends on factors including your profit margins, shipping costs, and competition. We'll fit these into several scenarios below to show you how to offer free shipping for your unique business.
How to Offer Conditional Free Shipping
Despite the marketing benefits, it's rarely a good idea for small sellers to offer free shipping on all products. For one, not every seller has high profit margins on all goods. You might sell heavy or bulky items that are costly to ship or specialize in low-margin goods. For example, even a high-end eyewear shop sells cart stuffers like lens cleaner and microfiber cloths. Shipping these low-margin items alone for free can put you in the red.
Instead, it's usually good to set some limits. Here are 5 common ways retailers stagger free shipping offers:
1. Set a minimum order amount
Offering free shipping with an order value limit of, say, $50, is a simple way to avoid losing money on smaller transactions. It can also encourage customers to buy more. One survey revealed 48% of shoppers have added items to their shopping carts just to qualify for free shipping.
"To set a minimum order amount for your free shipping offer, take your average order amount and set your minimum about 10% to 15% higher. This encourages shoppers to spend a little more to save on shipping. You'll need to experiment to find the amount that drives more, and higher, sales. Ideally, the amount should be low enough to be perceived as a promotion that attracts new customers, but high enough so you aren't losing money."

— John Lawson, eBay Platinum Powerseller
2. Offer free shipping on select items only
Another approach is to offer free shipping on some items, but not others. Apply free shipping only to items that have a low shipping cost and enough markup to be profitable after shipping fees are factored in. For example, jewelry and small fashion accessories are cheap to ship, so free shipping might work on these goods. Handmade soaps and kitchen accessories are not, so free shipping may not work for these products.
3. Use free shipping as a promotional event
Offer a limited-time free shipping promotion. If you already offer free shipping on orders above a certain amount, lower the threshold or get rid of it altogether. The idea is to excite prospective buyers and turn window shoppers into paying customers.To be effective, you have to get the word out. Send it out on your email marketing list or post it on Facebook and other social media. Do whatever it takes to reach your audience.
4. Offer free economy shipping
Most carriers have a slow, low-cost shipping option, like USPS Parcel Post, which can be cheaper than Priority Mail for some shipments. To lose less money on free shipping, offer a slower delivery option for free. You'll spend less when shipping free orders, plus many customers will happily pay for faster shipping when they have a choice.
5. Use Fulfillment by Amazon (FBA) for products you sell on Amazon
Options 1-4 are tactics that work for products that you sell on your own website. But there's another way you can offer free shipping on products you sell, plus take order fulfillment tasks off your shoulders. That's by selling products on Amazon using Fulfillment by Amazon (FBA) to handle your shipping.
If you already sell on the Amazon marketplace or are moving in that direction, FBA is worth serious consideration. It's the easiest way to offer free shipping on the Amazon marketplace since most FBA products automatically qualify for Prime Free Shipping, which is something Amazon shoppers look for. Plus, being part of the FBA program is a serious boost for Amazon sellers in other ways, including product ranking and buy-box placement.
"If your Amazon products aren't FBA, you simply aren't relevant on Amazon. You get more sales traction, boost your products up the Amazon search algorithm, and have more buy-box potential by using FBA for your Amazon products."

— Chad Rubin, Amazon & Multichannel Seller, Founder, Crucial Vacuum, Think Crucial & Co-founder, Skubana
So, we've covered how to offer free shipping using conditional elements in your program to better manage profits. Now we'll look at why, and when, you might elect the no-holds-barred approach: Unconditional free shipping.
When to Offer Unconditional Free Shipping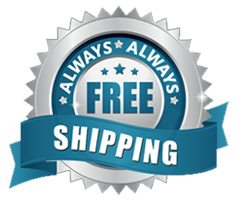 Conditional free shipping has many benefits, but sometimes unconditional free shipping is the best choice. Selling high-margin items with high competition tops the list, but there are other situations where it makes sense, too. Here are 4 top reasons that ecommerce sellers opt for unconditional free shipping:
1. All of your competitors are doing it
If all your competitors are doing it, then you don't have much choice. If you want to claim some market share, you'll probably need to offer site-wide, unlimited free shipping. To make this work, you must have healthy profit margins and closely control your order fulfillment and shipping costs.
2. You want to stand out from the crowd
If none of your competitors are doing it, unconditional free shipping might seem unnecessary or even counter-intuitive. But if none of your competitors offer site-wide, no-minimum free shipping, then doing so can make your site stand out. Zappos and L.L. Bean are two companies that use this strategy successfully. Since you absorb all shipping costs, this tends to work best if you sell goods that you manufacture and sell at a high retail markup, or resell high-margin goods like jewelry.
3. You sell high-margin goods that are easy to ship
If you're lucky enough to combine healthy profit margins across all of your products with low shipping costs, unconditional free shipping can be an easy fit. Small, pricey goods that ship in small, lightweight boxes, such as jewelry, watches, collectibles, fashion accessories, cosmetics, and supplements, tend to fall into this category.
"If your items cost little to ship but have high profit margins, offering free shipping is a no brainer. For example, take a piece of jewelry that sell for $1,500 with a 50% profit margin. Paying a $5 shipping fee yourself is a small price compared to the promotional benefit of free shipping."

— John Lawson, eBay Platinum Powerseller
4. You want to reduce customer service issues and complaints
Want to cut down on customer calls and emails? Offer unconditional free shipping. It's amazing how offering free shipping reduces both pre-sale and return-related questions. It seems customers feel more comfortable committing to a purchase if they know they aren't paying for anything extra. And if they end up returning it, they don't need to contact you regarding shipping fee refunds.
Clearly, there are many ways you can approach free shipping, both conditionally and unconditionally. But is it really right for your business? Will it drive sales your way? Is it worth the hassle of changing your current tactics? If you're asking these questions, here are some reasons that justify the move.
Reasons to Offer Free Shipping
Free shipping is a mainstay of major online stores, and shoppers today expect all ecommerce sellers, large and small, to offer some form of free shipping. Unless you sell very exclusive, hard-to-find items, or have a sought-after brand, you likely face competition in the market. And that competition probably offers some sort of free shipping.
If you're on the fence about offering free shipping, here are 4 things to put in your "pros" column:
1. It makes you competitive
Offering free shipping immediately puts you in the "free shipping club" in shoppers' minds, and that club includes Amazon, Walmart, Wayfair, and other major sellers. If shoppers know upfront that you offer free shipping, they'll give your site a chance rather than moving on to the major players.
2. Shoppers don't have to think
Following on reason #1, free shipping lets shoppers browse and add items to the cart with certainty. They don't have to tally shipping charges in their minds while shopping or wonder if a surprise awaits them at checkout. The KISS rule of thumb applies here: Keep It Simple… Sweetheart!
3. It decreases shopping cart abandonment
Cart abandonment rates prove that online shoppers don't like surprises. At all. Repeated studies show that, on average, 61% of shoppers abandon shopping carts because of high or unexpected delivery charges. In fact, that's far and away the #1 reason shoppers give for backing out of an online sale.
4. It improves your shopping search results
Shopping marketplaces like Amazon, Google Shopping, and Bizrate, favor stores with free shipping. Users can check a box at the top to filter out sellers that charge for shipping. Many marketplaces also prominently display free shipping on your listings. If competitors charge for shipping, then having free shipping on your listings steers shoppers your way.
If you're ready to make the move to free shipping, it's important to keep your shipping costs in-check and your profits up. Next, we'll explore several ways to do this.
Ways to Lower Your Shipping Costs
You always need to keep a sharp eye on shipping costs. However, it's particularly important to save every penny if you offer free shipping, especially on mid- and low-margin products. If you don't ship every order at the lowest possible shipping rate, you're essentially leaking profits.
Here are 3 ways to make sure you pay the lowest possible rates on every order you ship.
1. Use shipping rate comparison software
If you don't use shipping rate comparison software, you're probably paying more than you should on shipping. It's that simple. Even sellers shipping identical packages, like subscription boxes, can save by comparing rates among carriers since some are cheaper than others to specific locations. And if you ship a variety of package sizes and weights daily, shipping comparison software is essential.
ShippingEasy is an all-in-one ecommerce shipping software that lets you find the lowest shipping rates between carriers, select the best shipping option, and print labels with ease. More than just a rate comparison tool, ShippingEasy also helps you track and manage inventory and increase sales through automated email marketing. Try it free for 30 days.
2. Work with a fulfillment company
Using an order fulfillment company to handle your inventory, packing, and shipping is beneficial in many ways, but particularly so when it comes to shipping savings. These companies ship a lot of packages and get deep discounts from UPS, FedEx, and even the US Postal Service. They pass these savings on to their clients. In fact, that's a top reason that many small sellers use fulfillment services to ship their orders.
Many sellers find that their shipping savings covers much of their overall fulfillment costs. So, for not much more than you pay to ship orders yourself, you can free up time otherwise spent shipping orders and focus on building your business. Another plus is that your fulfillment partner is a shipping expert. They can help you define the best conditions for a profitable free shipping program.
If you are interested in working with a fulfillment company, try using ShipBob, an all-in-one fulfillment services company that provides a complete e-commerce fulfillment solution for all types of small businesses. Whether you're a start-up currently fulfilling your own orders or an established small business looking to expand into new markets, they have you covered. Speak with a fulfillment specialist and see if ShipBob is right for your business.
3. Use Fulfillment by Amazon (FBA) for Amazon sales
If you sell on Amazon, letting FBA handle your fulfillment is a no-brainer. First, FBA items qualify for Prime free shipping, so there's your free shipping taken care of. In terms of cost savings, Amazon's FBA fees are quite low for Amazon sellers, especially those selling products up to 3-4 pounds. Plus, using FBA provides other sales-driving perks including Prime-tagged listings and higher rankings in product search. And don't forget that it takes the work of shipping orders off your shoulders.
If, after balancing the pros and cons against the costs, you conclude that free shipping isn't right for your business, you can still present shipping fees in a shopper-friendly way. Here's how.
Competitive Ways to Charge for Shipping
Lack of free shipping isn't a dealbreaker for many shoppers. But one thing is: Checkout surprises. Remember, the top reason for dropped shopping carts is a shipping fee surprise at checkout. If you charge for ecommerce shipping, it's imperative that you're transparent in your fees and methods. Be upfront with your shipping charges and clearly list your fees.
The easiest way around shipping fee sticker shock is, of course, free shipping. But if that's not feasible, here are 3 ways to charge shipping fees in a shopper-friendly manner.
1. Offer a flat-rate shipping fee
Flat-rate shipping fees are the next-best thing to free shipping for the following 2 reasons:
Flat-rate shipping is 100% transparent and easy to understand
Displaying something like: $4.99 shipping on all orders on your site header lets buyers know what they're getting into. It's easy for them to do the math and eliminates sticker shock at checkout. As long as you display the flat-rate shipping fee throughout your site, customers will be satisfied and abandon fewer shopping carts.
Flat-rate shipping can encourage larger orders
If shipping costs the same for a $5 order as it does a $50 order, shoppers often perceive the larger order as a better deal. In fact, the Wall Street Journal reported that supplements retailer GNC changed to flat-rate shipping after research showed consumers would spend more to make the shipping costs "worth it."
However, there are some potential downsides to flat rate shipping. For one, it can discourage smaller orders. Shoppers are unlikely to pay a $5 shipping fee on an order under $5. But, you probably wouldn't mind saying goodbye to those micro orders anyway, so that can be an upside.
Another downside is you'll likely need to cover a portion of the shipping costs since flat-rates must be low to make them attractive. At least they cover some of your shipping costs.
2. Charge actual shipping fees
If you can't absorb free shipping or a flat-rate fee, there's nothing wrong with charging the actual cost to ship an order. But realize it's not a great strategy for products with lots of competition. This tactic is really best for hard-to-find products or sought-after brands for which shoppers are willing to pay. Just make sure that shipping charges are clear every step of the way.
The easiest way to do this is with a shipping calculator, which many ecommerce platforms provide. The upside is you don't lose money on shipping. But, you'll likely see higher dropped cart rates than with free or flat-rate shipping.
3. Combine low product prices with inflated shipping & handling fees
This is the "But Wait!" tactic you see on TV infomercials. The product price is ridiculously low, but you pay an inflated shipping and handling fee. That fee essentially provides the profit for the sale. It's still widely used on TV, but it's not the best tactic for internet sales since it still tacks on a high fee at the checkout stage. Research on shopping cart abandonment shows that not many shoppers follow through when high fees appear at checkout, even when the product price is unusually low.
The Bottom Line: Offering Free Shipping
Clearly, offering free shipping can be a great marketing tool to drive sales and reduce cart abandonment. But before you slash your shipping fees and hope for the best, take a look at the different ways you can offer free shipping in a sustainable, profitable way. Most small sellers combine conditional free shipping with tight shipping cost controls to create a program that works.
If free shipping doesn't fit your profit model, there are other shopper-friendly ways to charge a shipping fee. But however you approach this, being transparent in your shipping prices is as important as the amount you charge. If you charge for shipping, post it prominently on your website so shoppers don't experience sticker shock on the checkout screen. Because if they do, research shows that the chances of their completing the order are slim.
Do you offer some type of free shipping program on your website? If so, how do you approach it? Please share your success stories and advice in the comments below.