Free shipping can increase your ecommerce sales—and it doesn't have to hurt your bottom line. There are two types of free shipping offers: free shipping under certain circumstances (conditional free shipping) and across-the-board free shipping (unconditional free shipping).
We'll take a look at free shipping strategies for each type and show you how to offer free shipping without going broke—no matter your margins or order volume. Plus, we'll look at competitive alternatives to free shipping and ways to lower shipping costs across the board.
Should you offer free shipping for your small business?
The short answer is yes. While ecommerce free shipping used to be a luxury convenience, it has now become an expectation for shoppers. And, with big-name competitors like Amazon selling millions of items with free shipping, you could lose customers if you don't.
Offering Conditional Free Shipping
Conditional free shipping is a strategy where you offer free shipping to customers who meet specific conditions (such as minimum order requirements). It allows you to provide attractive shipping offers while ensuring each order remains profitable.
While offering free shipping on everything sounds great from a marketing perspective, it's rarely a viable idea for small businesses. If your store extends free shipping to all orders across the board, you could end up losing money on small purchases or low-margin items. Conditional free shipping solves that problem.
Some types of conditional free shipping also help your store promote certain money-making metrics—like basket size and average order volume. This makes it a good choice for growing small businesses, especially if you need to balance shipping expenses and staying competitive.
Free shipping can help you acquire and retain customers as well as increase satisfaction and basket size—ultimately leading to more sales and better profits. According to an Invesp study:
93% of online buyers are encouraged to spend more if shipping is free
58% of consumers add more items to their cart to qualify for free shipping
Nine out of 10 consumers say free shipping is the top incentive to shop online more
Here are five ways to equip your store with conditional free shipping offers:
Offering free shipping with a value threshold high enough to protect your profits is a simple way to avoid losing money on small transactions.
It's also an effective way to get customers to spend more, since many shoppers (nearly half according to a 2023 Shippo report) will add items to their cart just to meet a minimum order limit for free shipping.
Free shipping thresholds are usually easy-to-swallow values divisible by 5 or 10—like $25, $50, or $100. Your store's limit needs to be high enough to ensure you're not losing money, but low enough to be seen as an accessible promotion. Use the formula below to find that sweet spot.
How to Calculate your Free Shipping Threshold
To find your zero-loss shipping threshold, you'll need to use some of your store's recent metrics in this calculation:
Free Shipping Threshold =
(Average Shipping Cost / Gross Profit Margin) + Average Order Value
The number you get is the lowest limit you can require for free shipping without those shipping costs eating into your bottom line.
Example: Let's say your store maintains an average order value of $60. It costs an average of $9.50 to ship each order, and your gross profit margin is 40%. The formula for a profitable free shipping threshold would be:
($9.50 / 0.40) + $60 = $83.75
To present shoppers with a simple and digestible number, this value would be rounded up to $85 or $90.
Adjusting your Free Shipping Threshold
If your limit turns out to be too expensive to get traction with your customer base, it can always be lowered at your own expense. Experiment with proposed minimum order thresholds by testing them out in this formula:
Free Shipping Cost =
Average Shipping Cost − ((Proposed Threshold − Average Order Value) × Gross Profit Margin)
Example: If you could only bear to require a $75 minimum order with the same metrics from above, here's what that test-calculation would look like:
$9.50 − (($75 − $60) × 0.40) = $3.50
So you would expect to be paying a maximum of $3.50 out of pocket for each order that ships free.
---
Most stores don't make a high margin on every item they sell, and shipping costs can vary drastically depending on destination, size, and weight.
For example, even a high-end eyewear shop sells cart-stuffers like lens cleaners and microfiber cloths. Providing free shipping on an order of low-margin items like these alone could easily put you in the red.
So, another approach is to offer free shipping only on certain products. This works on items that have a low shipping cost and high enough markup to maintain profitability after shipping fees are factored in.
The ultimate goal of this campaign is to get items into shopping carts—whether they're eligible for free shipping or not. The HSN promotion below advertises free shipping on a host of specific product categories, hoping to attract shoppers looking for a new laptop, kitchen appliance, or beauty product.
While it's unlikely that every laptop in HSN's shop is eligible for free shipping, those that are qualified will be presented to shoppers among other (and potentially better) ineligible devices—increasing the chance of a high-value sale either way.
---
Another option is creating a limited-time free shipping offer. We know from writing product descriptions that creating a sense of urgency is an effective way to drive sales—and the same concept applies to discounts or promotions.
Give customers free shipping during a holiday or to commemorate a current event. If you already offer free shipping on orders above a certain amount, lower the minimum threshold or get rid of it altogether.
The idea is to excite prospective buyers and turn window shoppers into paying customers. Promotional events work through getting the word out—so create an eye-catching post for your social media accounts, send a digital flier to your email marketing list, or invest in some online advertisements.
---
Most carriers have a slow, low-cost shipping option—like USPS Parcel Post, which can be significantly cheaper than Priority Mail. To lose less money on free shipping, offer an economical delivery option for free.
At checkout, allow customers to upgrade to faster delivery by tacking the cost of shipping onto their total.
With this method, you'll spend less on shipping while maintaining the allure of offering it for free—and many customers will happily pay for speedier shipping when they have the choice.
---
A simple way to offer free shipping on orders from Amazon is to partner with Fulfillment By Amazon.
Most FBA products automatically qualify for Prime shipping, which is both free and lightning-fast. Some 200 million users pay for a Prime subscription to get access to that amenity, so you'll already have a hungry customer base.
This benefit comes along with the convenience of outsourced fulfillment. Plus, being part of the FBA program is a serious boost for Amazon sellers in other ways—including optimized search rankings and "buy-box" placement.
It should be noted that, while you won't pay for shipping directly, FBA incurs a host of other fees. Check out our rundown of FBA's costs and features to determine if it's right for your store.
---
Conditional free shipping is often the best way for small businesses to get the promotional benefit without taking a loss. But, since the majority of consumers expect free shipping on all online orders, you might lose a portion of your sales to competing retailers with unconditional free shipping offers.
Offering Unconditional Free Shipping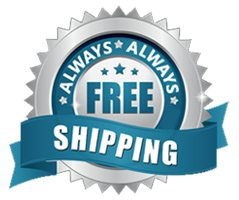 This method leverages the power of the word "free" to drive sales. The cost of shipping is added into each item's price point—increasing product prices so that the customer covers the shipping without having to think about it.
The truth is that customers often prioritize access to free shipping over the standard price of an item. The perceived value of free shipping is often much greater than economical—or even discounted—pricing, thanks to the nature of shoppers to value free things.
Similarly, the perceived value of an item itself is highly influenced by how much it costs. Expensive goods are widely regarded as "better," so simply tweaking the price of a product can increase customer attraction.
Combining both of these perspectives, buyers are more inclined to go for a $50 item with free shipping than the same item for $40 with $10 shipping.
Adjust your pricing storewide based on average order value, average number of items per order, and average shipping cost. Then advertise the enticing convenience of always-free shipping on every order. But keep in mind that customers are likely to shop around, so this strategy only works if your products aren't available at cheaper prices on Amazon, Walmart, or elsewhere.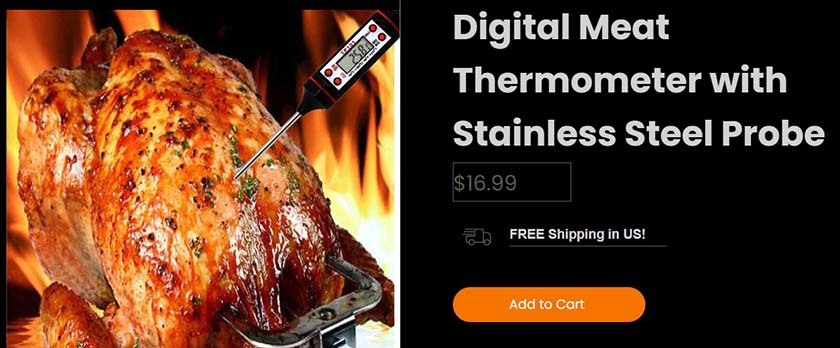 ---
To make this model work, you must have high profit margins and closely control your fulfillment and shipping costs.
But if you're lucky enough to combine healthy margins with low shipping costs, unconditional free shipping can be a painless fit. Small, pricey goods that ship in manageable, lightweight boxes—such as jewelry, watches, collectibles, fashion accessories, cosmetics, and supplements—tend to fall into this category.
The same applies to goods manufactured in-house and sold at a high retail markup, as well as previously owned merchandise.
"If your items cost little to ship but have high profit margins, offering free shipping is a no brainer. For example, take a piece of jewelry that sells for $1,500 with a 50% profit margin. Paying a $5 shipping fee yourself is a small price compared to the promotional benefit of free shipping."
— John Lawson, eBay Platinum Powerseller
The key to this method is to monitor sales closely once free shipping is offered. Chances are, you'll see an increase in order volume that offsets the bite out of your margins. If you don't see a positive trend, consider using a different free shipping model.
---
Competitive Ways to Charge for Shipping
For many small businesses, the resources to offer free shipping simply aren't available. Luckily, there are other ways to remain competitive while still passing on the cost of shipping to the buyer.
Lack of free shipping isn't a dealbreaker for many shoppers, but one thing is: unexpected costs.
The top reason for shopping cart abandonment is a surprise shipping fee at checkout. According to a 2022 study by The Baymard Institute illustrated below, extra costs are the reason behind a whopping 48% of abandoned orders.
The way to combat this is to be transparent with your prices. Be upfront with all shipping charges and clearly list any fees long before shoppers reach the checkout stage.
The easiest way around shipping fee sticker shock is, of course, to offer free shipping. But if that's not feasible, here are three ways to charge shipping fees in a shopper-friendly manner:
Flat-rate shipping refers to a single, standardized fee that customers pay to ship their orders, regardless of variables like destination or size.
When you can't make free shipping work, flat-rate fees are the next-best thing for two main reasons:
They're transparent and easy to understand
Displaying something like "$4.99 shipping on all orders" visibly on your site header lets buyers know what they're getting into. It's easy for them to do the math and eliminates sticker shock at checkout.
As long as you display the flat-rate shipping fee throughout your site, customers will be satisfied and abandon fewer shopping carts.
They encourage larger orders
If shipping costs the same for a $5 order as it does a $50 order, shoppers often perceive the latter as a better deal.
A famous case of this dates back to 2016 when supplement retailer GNC changed to a flat-rate shipping model. Although the company has since transitioned to other shipping models, research showed that consumers would spend more just to make the flat-rate shipping costs "worth it"—and sales rose nicely.
There are some potential downsides to flat-rate shipping. For one, it can discourage small orders: Shoppers are unlikely to pay a $5 shipping fee if their original total comes anywhere close to that same value.
If your store can bear to lose a percentage of low-value orders coming in, flat-rate shipping is an effective model.
Another consideration is that you'll likely still need to cover a portion of the shipping costs. Flat rates must be low to make them attractive, and shipping costs can vary dramatically from order to order. Be sure to pick your flat rate wisely to avoid the difference drawing too much from your bottom line.
---
If you can't absorb the cost of free shipping or the potential difference left over after a flat-rate fee, you can always charge the actual cost of shipping an order.
Keep in mind this isn't a great strategy for products with lots of competition. This tactic is best for hard-to-find products, sought-after brands, or handmade goods. In cases when shoppers are willing to pay for exclusivity, shipping fees aren't a barrier—just make sure that shipping charges are clear every step of the way.
The easiest way to do this is with a shipping calculator, which most ecommerce platforms provide. The upside is you won't lose any profit on shipping, but you'll likely see higher rates of shopping cart abandonment than with other models.
---
This method of charging for shipping is a popular tactic, but it's not the wisest choice for ecommerce stores.
It's the type of pricing manipulation commonly seen on TV infomercials: The product price is irresistibly low—often at or below wholesale cost—but the customer pays an inflated shipping and handling fee to make up for the deficit.
The lofty shipping fee isn't disclosed until the checkout process is well underway, which is what makes this method work in certain sales channels.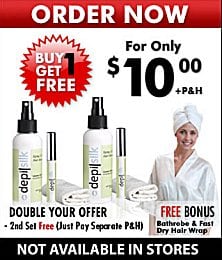 Looking back at the shopping cart abandonment statistics presented above, these surprise checkout fees run the risk of causing online shoppers to ditch their orders altogether. Because of this, we recommend considering other options for managing your shipping costs.
---
How to Reduce Your Shipping Costs
No matter how you model your shipping promotions, it's always crucial to keep a sharp eye on costs.
It's particularly important to save every penny if you offer free shipping—especially on mid- and low-margin products. If you don't ship every order at the lowest possible shipping rate, you're leaking profits.
Here are two ways to make sure you pay the most manageable rates on every order you ship:
Use Shipping Rate Comparison Software
If you don't use shipping rate comparison software, you're spending more than you need to. Most providers, like ShippingEasy, offer a variety of shipping options at discounted rates, thanks to longstanding partnerships with carrier companies.
Even sellers shipping identical packages, like subscription boxes, can save by comparing rates among carriers (since some are cheaper than others when shipping to specific locations). And if you ship a variety of package sizes and weights daily, shipping comparison software is essential.
The cost for shipping software varies based on provider and service package, but it's an incredibly affordable tool. Many providers, like ShippingEasy, have a free plan for low-volume sellers. Even at 3,000+ shipments per month, you'll only be paying 2 cents per order you send. The discounts provided by ShippingEasy go well beyond covering that cost.
Work With a Fulfillment Provider
Using an order fulfillment company to handle your storage, packing, and shipping is beneficial in many ways, but especially when it comes to shipping costs.
These third-party providers ship massive volumes of packages, which earns them deeply discounted shipping rates from the carriers they use. Most fulfillment companies pass these savings on to their clients in order to remain competitive.
This advantage is one of the most popular reasons small sellers use fulfillment services to ship their orders.
I did an in-depth breakdown of the savings from outsourcing fulfillment. The monthly cost of shipping alone was $500 less when partnered with ShipBob (the top provider in our order fulfillment company buyer's guide), and total savings for our case-study example were $14,124 per year.
Plus, outsourcing fulfillment frees up a huge amount of time that can be redirected to more profitable areas like marketing, product sourcing, or business development.
How to Offer Free Shipping Frequently Asked Questions (FAQs)
Yes, free shipping has been shown to attract more customers, decrease cart abandonment, and increase average order volume for ecommerce stores. This results in more sales and better profits.
As mentioned above, it's human nature to love free things. Studies show that the word "free" sparks a strong emotional response and impacts customers' shopping decisions. Buyers are much more likely to spring for a $50 item with free shipping than a $40 item with $10 shipping.
Shoppers are also very likely to add items to their shopping cart in order to meet a minimum threshold for free shipping, helping to increase revenue further.
---
Here are the best ways to reduce shipping costs:
Get discounted shipping rates: If you start using shipping rate comparison software (like ShippingEasy or Ordoro), you can get access to deeply discounted rates from major carriers. The same goes for fulfillment companies—they get volume discounts that are passed along to you.
Shorten shipping distance: If your merchandise is closer to your customers, shipping will be cheaper. Many third-party fulfillment companies have nationwide warehouse networks that let you strategically distribute your stock around the country.
Improve your packaging: Packing your products in smaller boxes leads to lower dimensional weights, which is what carriers use to determine shipping costs. When possible, use polymailers and envelopes instead of boxes.
Use prepaid shipping: If you purchase a certain number of labels upfront through FedEx or UPS, you can save up to 20%.
---
When an order comes with free shipping, someone is still paying the shipping carrier to transport it— which means that the cost of shipping is being covered in alternative ways. Often the retailer will raise the price of the item to incorporate the shipping cost.
Instead, some sellers (like Amazon) charge an annual membership fee that helps cover shipping costs. Others require a minimum spend that increases profits enough to cover shipping, or they offer free shipping on high-margin items only.
---
Free shipping offers usually use ground shipping or first-class shipping because these methods are the most economical. Priority and expedited shipping methods are faster but usually incur an extra cost.
In addition to shipping speed, the amount of time an order takes also depends on processing— otherwise known as pick and pack. Many sellers prioritize paid-shipping orders over those with free shipping, so order processing may take a few days.
Amazon is a good example of this. In 2022, Amazon amended its "free" 2-day Prime shipping guarantee to specify that it only accounts for transit times. In reality, Prime orders often take 4-5 days or longer to arrive due to long processing times.
---
Bottom Line
Free shipping is a great marketing tool to drive sales and reduce cart abandonment—and in the modern ecommerce landscape, it's often a necessity.
Most small sellers combine conditional free shipping with tight shipping cost-controls to create a program that works.
If free shipping doesn't fit your profit model, there are other shopper-friendly ways to charge a shipping fee. However, you approach your ecommerce shipping strategy, being transparent matters just as much as the amount you charge the customer.
To keep operations simple and shipping costs low, we recommend partnering with a third-party fulfillment provider for your online orders.
ShipBob specializes in working with startups and small businesses to provide virtually-free pick and pack, deeply discounted shipping, and 99.95% order accuracy.