Top 37 Premium or Free Real Estate Flyer Templates
Flyers are one of the most effective and simple ways to promote your listings, agency or brand, value proposition, and services to clients. With so many different real estate flyer templates to choose from for sales, open houses, education, events, company information, and more, it's easy to capitalize on creative designs and proven tactics to generate leads and buzz about your business. Check out the top 37 premium and free real estate flyers templates below to get started today.
If you want to incorporate real estate flyers into your marketing campaign but don't want to spend time designing materials or going to the printer, check out ProspectsPLUS! The platform specializes in marketing for real estate agents, with templates you can easily customize and in-house printing services.
Here are 37 of the best real estate flyer templates, ideas on ways to use them, and what makes them such effective real estate marketing tools:
Real Estate Flyer Templates for Listings
The most common use of real estate flyers is to advertise listings. Customizing real estate flyer templates to promote listings lets you quickly convey information about your listing and distribute it through a variety of channels. They can be sent through the mail or via email, posted on physical bulletin boards or digitally on social media accounts, accessed from flyer boxes, and made available at showings and open house events.
1. Company Colors Flyer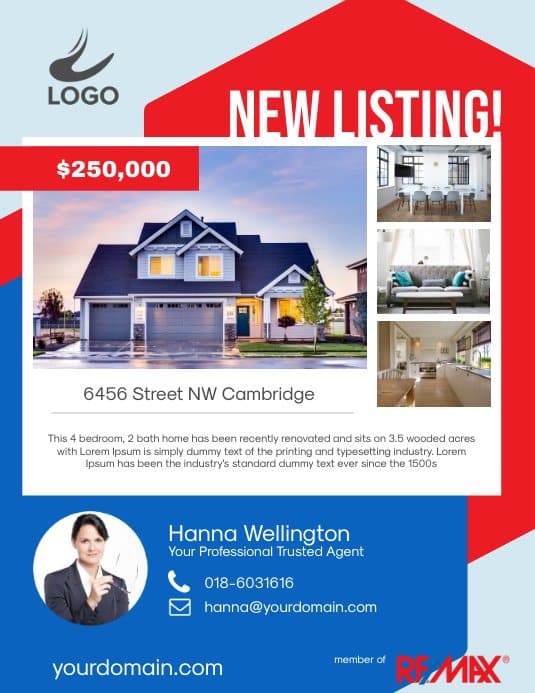 When brand recognition is a top priority, use free real estate flyer templates like this one that can be customized with your brand's colors. It also has a large heading with room for your logo, space for four listing photos and your realtor headshot, and text areas for the property description and your contact information.
2. Modern Apartment or Condo for Sale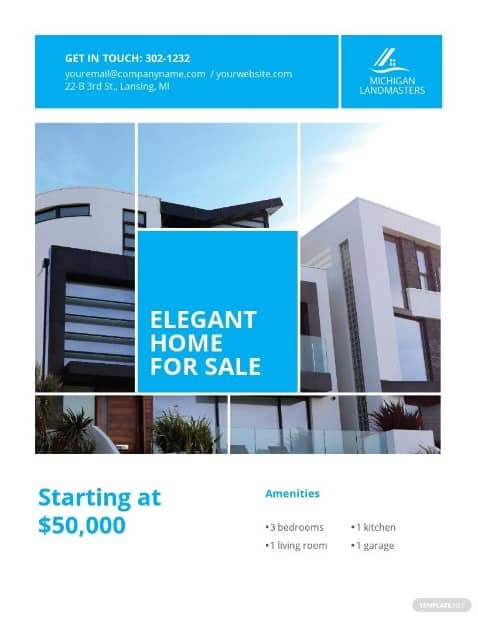 This real estate flyer example uniquely presents one photo of a listing in block photo format, which appeals to modern buyers. The header at the top and square in the middle of the photo can be customized to match your brand colors and stand out when it's found in a pile of mail. This template offers a great way to display the exterior of apartment buildings, condos, or townhomes, but it could also be used by property managers wanting to fill commercial vacancies.
3. Focus on the Call to Action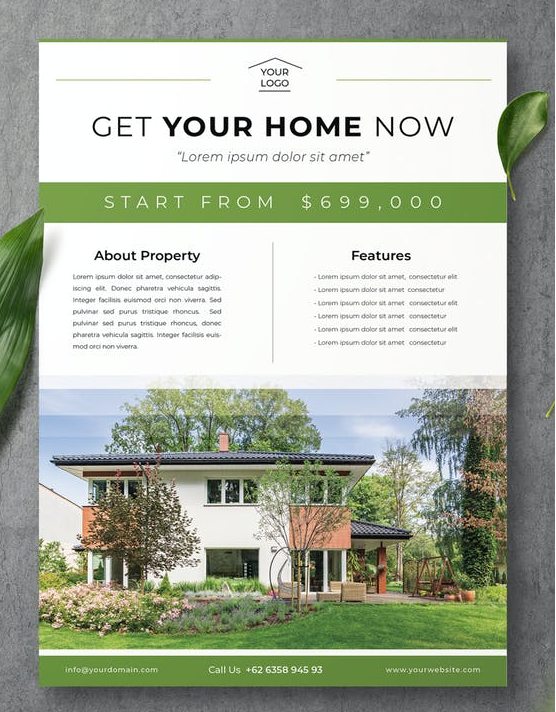 With a simple design, this flyer highlights an exterior photo of the house and leaves plenty of room for contact information and property features. The top of the flyer is dedicated to a headline with a call to action ("Get your home now") as well as a customizable italicized quote. Price is also highlighted in a green band that is repeated at the bottom of the template where you will add your contact information.
This would be especially fitting for any agency, team, or brokerage that has a brand slogan or uses a specific call to action to bring clients in the door. A new construction homebuilder or community listing agent could also customize this real estate flyer template for marketing available homes or lots.
Templates for Open House Flyers
Open house flyers are slightly different from listing flyers even though they usually have similar information. Many open house flyer templates have a larger heading and rely heavily on real estate photography to attract the right kind of buyers. The ultimate goal is to intrigue, motivate, or even incentivize interested buyers to attend your open house.
4. Modern Open House Flyer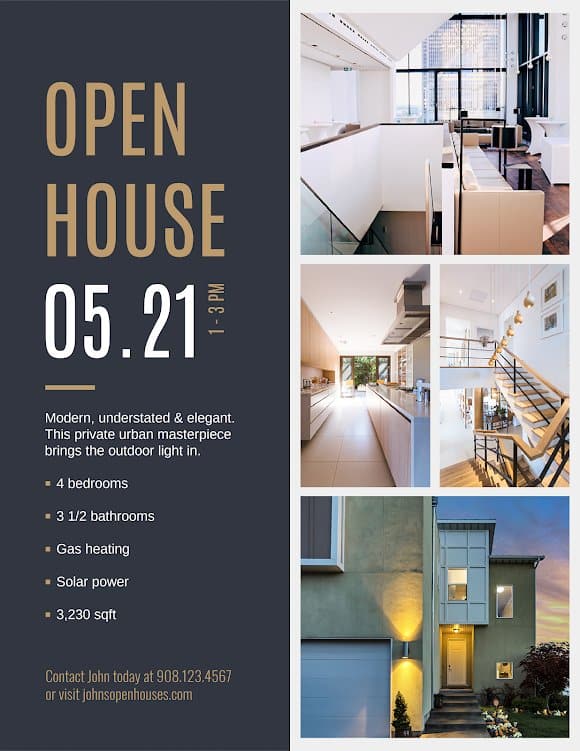 With its simple, modern layout, this real estate flyer uses half of its space to display the open house information and the other half to show photos that will attract buyers. It's a highly customizable open house invitation template—you can adjust the background color, text color, font, and spacing. You can add as much of a listing description as you choose or highlight only the most necessary open house details.
5. Detailed Open House Invitation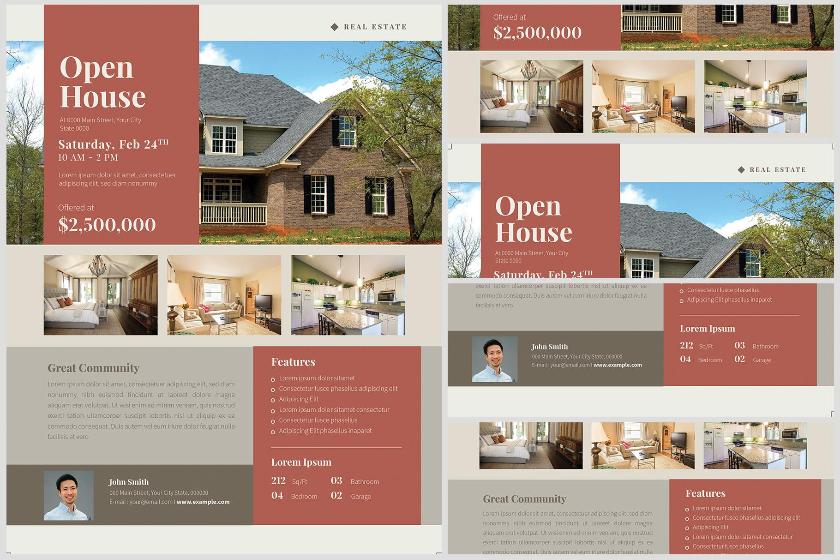 In some cases, you may want your open house flyer to include as many details as possible. For instance, you may not want to entertain a large number of visitors who aren't serious buyers or you may have motivated sellers who want to sell their home quickly. Displaying more information will eliminate buyers or attract buyers depending on what they are looking for in a home.
This real estate flyer template is practically the equivalent of a brochure template for realtors. There are multiple sections dedicated to important information like property features, square footage, number of bedrooms and bathrooms, price, and agent headshot and contact information.
6. Simple Open House Invitation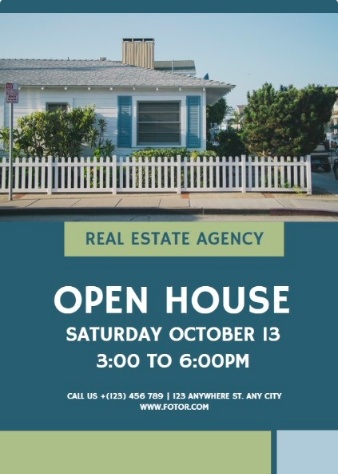 Not every flyer needs to be complex or detailed. This open house flyer example uses just a few simple blocks and a single listing photo to communicate all the necessary information.
Without being visually overwhelming, this free real estate flyer template provides the open house date, time, address, and contact information. It would be a great template to bookmark since it would be especially easy for you to customize it for any open house event. Get tips for open house flyer creation and distribution as well as more free templates in our article 14 Free Open House Flyer Templates (+ Distribution Tips).
Agent Flyer Templates
If direct mail is one of your marketing strategies, then you may want to have one or two different types of real estate agent flyer templates on hand. These are often sent to new contacts, like when you start marketing in a new location or as a series of mailers sent to your real estate farm area. They can also be an effective leave-behind when introducing yourself to potential clients or referral partners at networking events.
Another resource for flyer templates and ideas is Zillow. As a Zillow Premier Agent, you have access to a large library of marketing templates. In combination with a high volume of leads who are ready to convert, using Zillow's templates could contribute to the growth of your business.
7. Brand-building Agent Flyer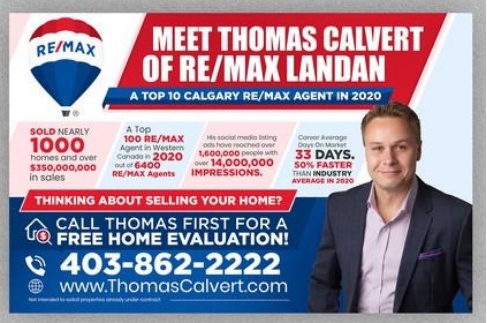 Sending introductory flyers is a classic method of generating real estate leads with a new audience. This example, in particular, displays a large headshot to better help recipients recognize the agent behind the brand. In addition, it leans on the brokerage's brand colors and focuses on the agent's past successes to establish his authority.
If you want to use a similar strategy, get a custom design with your unique branding from 99designs in one of two ways. You can either hire a graphic designer based on their past work and reviews or you can use a 99designs contest. To run a contest, you will describe what you need or are wanting in your flyer and get multiple creative concepts to choose from and purchase. This is a great way to ensure that you get the best possible design.
8. Introduction Letter Flyer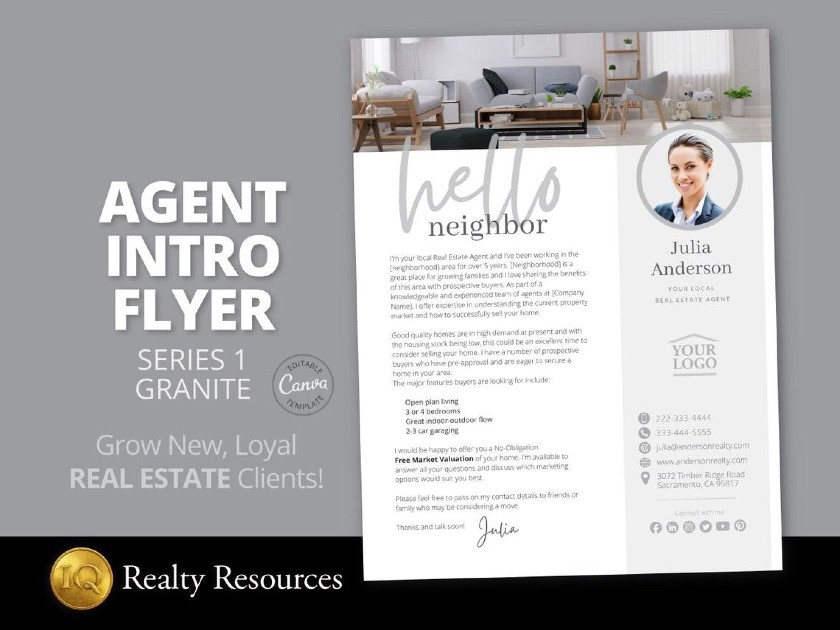 This flyer looks similar to a prospecting letter, but takes advantage of white space, a header image, and an agent headshot to make it even more visually appealing. Prospecting letters are typically written to a specific audience, like renters, potential sellers, expired listings, or first-time homebuyers. However, regardless of your audience, be sure to focus on the desired recipient and not yourself, and include a simple call to action.
9. Colorful Agent Introduction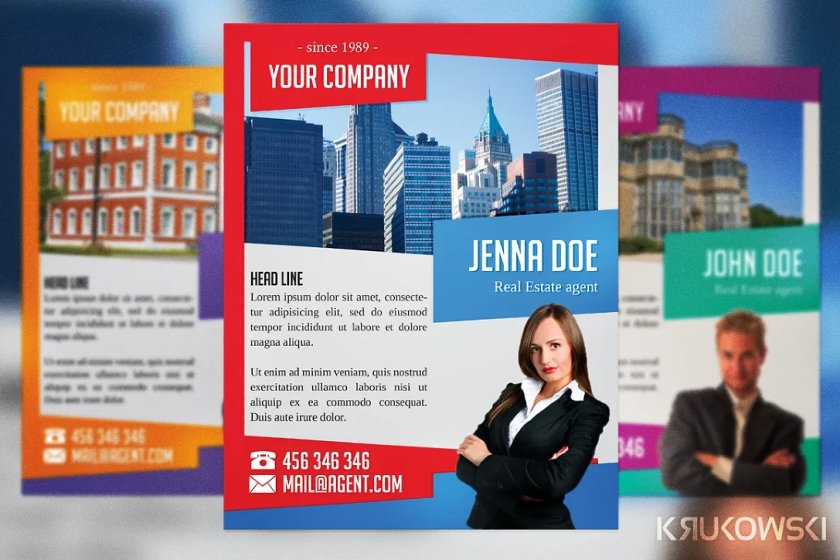 This agent flyer template uses images and bright colors to get attention and increase visual appeal. With this flyer, you can highlight important information, like your contact information, name, and brokerage name in the colorful areas, and write a brief message to introduce yourself to a new mailing list. You can also use a background image that aligns with your customer profiles or ideal client types.
Templates for Educational Flyers
In addition to sending general introduction flyers, some agents find success by sending educational mailers. These can include a variety of information, like home values or real estate market updates, but are ideally highly relevant to the recipient. They empower your client with real estate knowledge while showcasing your value and expertise as an agent.
10. Bold & Modern Flyer Design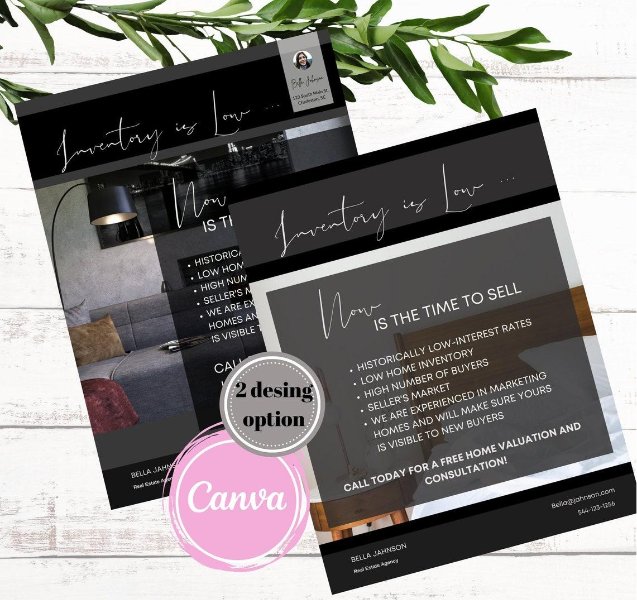 The use of dark colors on this template is what makes it stand out. In addition, the majority of the flyer is dedicated to a bullet point list about the real estate market. The information appeals to homeowners who may be considering selling and communicates the value you bring to real estate transactions. The call to action includes an offer for a free home valuation and consultation, providing an ideal time to deliver your pre-listing package.
After purchasing this template from Etsy, it's customizable through Canva, one of the top online graphic design and editing platforms. Canva is free to use and includes thousands of design elements and templates in an extremely user-friendly, web-based platform. In addition to printable marketing materials, it also has digital marketing templates for everything from logos to social media posts and stories.
11. Real Estate Investing Event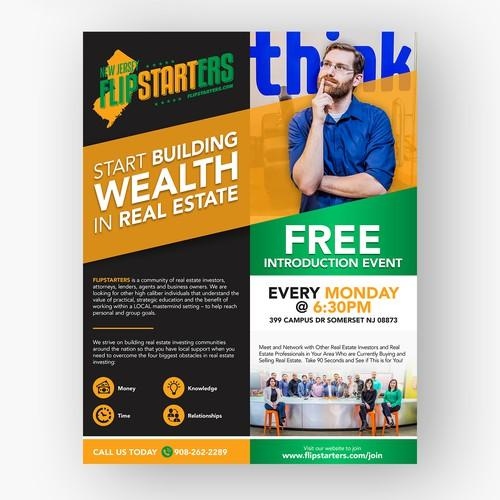 Although this flyer has many more colors, sections, and content than other flyer templates, it has two main headings that grab attention and communicate its message almost instantly. This flyer is meant to promote a class or educational event for aspiring real estate investors. It's formatted in a way that communicates the message with large headings and includes multiple sections with more details and information.
12. First-time Homebuyer Seminar Flyer Template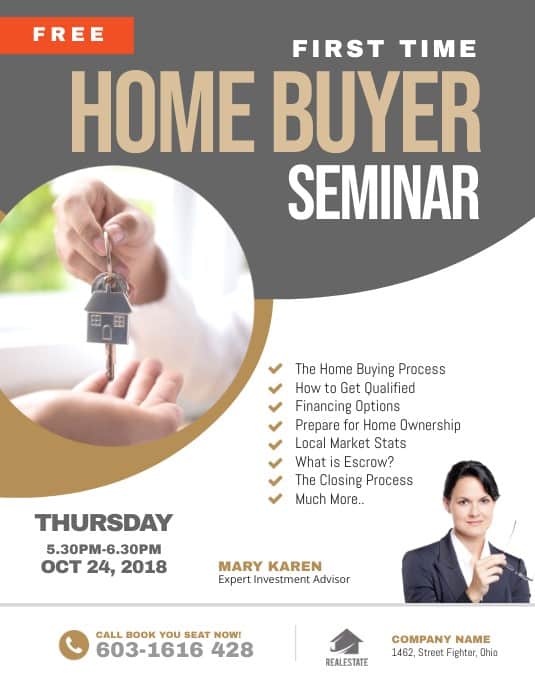 Buying a home for the first time can feel completely overwhelming, which is why many real estate professionals hold events and create resources to market specifically to first-time homebuyers. This flyer promotes a free first-time homebuyer seminar event with extensive resources for those who want to buy a home but aren't sure how or when to start. It uses a color block to draw attention to the word "free," which can also be an incentive to attend.
Lifestyle-focused Real Estate Flyer Templates
When you have a listing with a distinct style or will appeal to prospects based on lifestyle, use that as a primary feature in your flyers. Many buyers or renters search for a cottage home, modern design, or beachfront. Alternatively, buyers may be looking for a property that provides a luxury lifestyle or caters to their love of privacy or the outdoors.
13. Beach or Waterfront House Flyer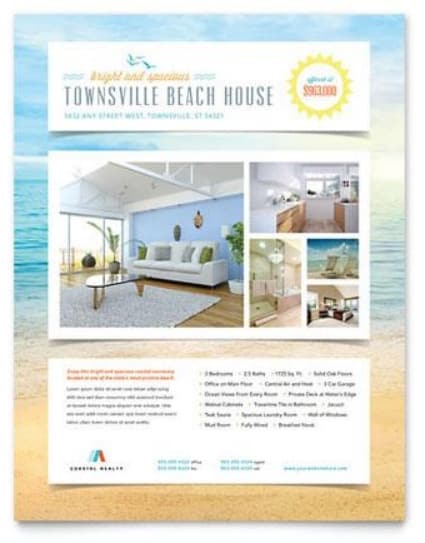 This flyer immediately appeals to those who are looking for a home near the water with a background image of a beach. Although you will want to use your brand colors when applicable, this flyer also uses font colors and images that correspond to the colors of an ocean beach. This type of flyer would also be ideal for owners or property managers to promote a short-term rental, like an Airbnb or VRBO.
14. Luxury Home Flyer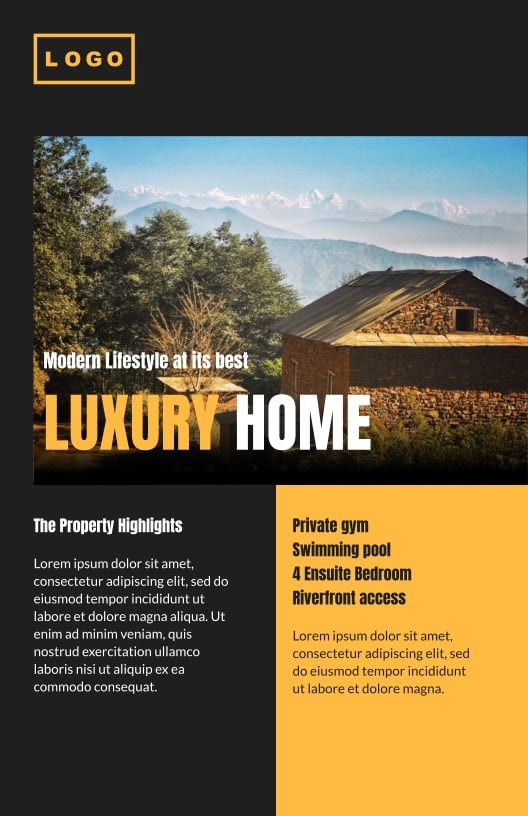 With just one image, this free real estate flyer template showcases the jaw-dropping view of this luxury home. Be strategic when choosing the photograph for this flyer as it determines how much attention the flyer gets. Don't forget to also take the time to write a descriptive paragraph about the highlights of the property in order to attract qualified buyers who are more likely to make an offer.
15. Rustic Villa Flyer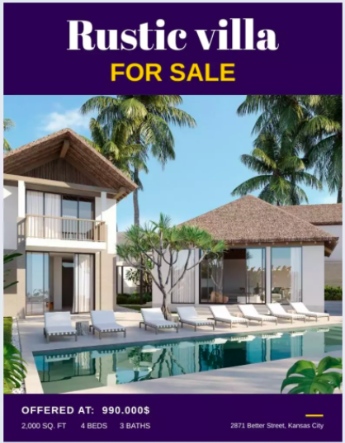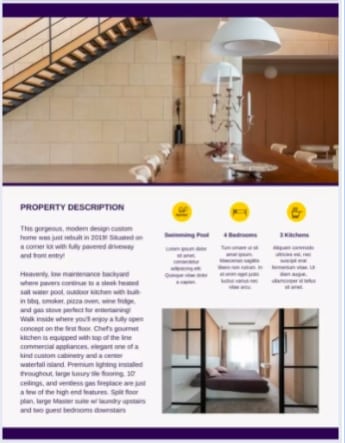 This double-sided property flyer leaves room for a thorough property description, a large property photo, and three property features. Brightly colored icons are used to draw attention to specific features.
For potential buyers who may not take the time to read all the text, these graphics communicate some the most important features without requiring them to read all the rest of the content. It's worth putting some extra time and effort into finding the right photo and heading for this flyer since your description will likely determine what type of buyers respond.
16. Beachfront High-rise Apartments Flyer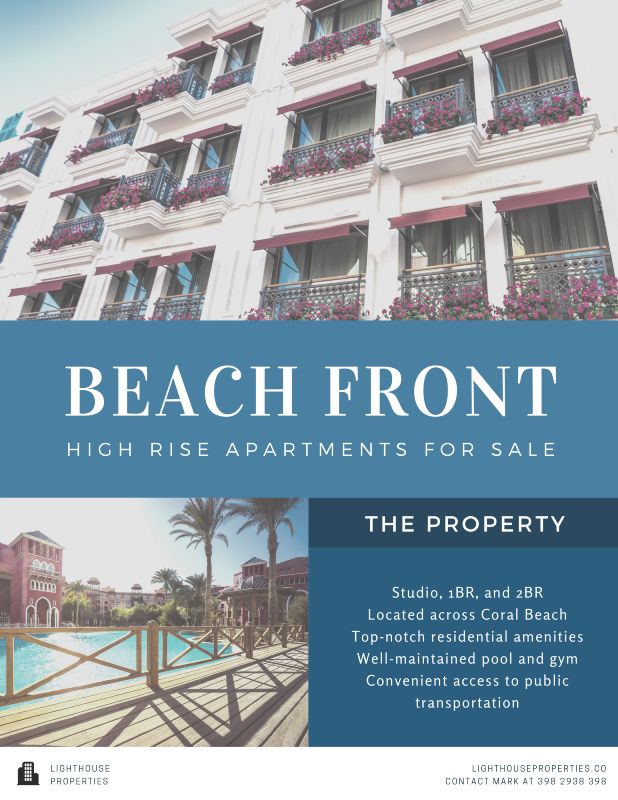 This flyer is best suited for promoting apartment vacancies and other multi-family housing properties. The main image shows the exterior view of the apartment building, and the primary heading calls attention to the most appealing features of the property or company. This would be ideal posted on a physical bulletin board or online since viewers don't have to look far to determine whether or not this flyer applies to their needs.
Templates for Rental Home Flyers
Flyers for rental homes have an almost identical goal as listing flyers: to get potential renters to make an appointment to view the property. They should include some basic property information, like the number of bedrooms or square footage, but can also include many more details if needed. Choose real estate flyer templates that provide enough space for the information you want to communicate to potential renters.
17. Rental Flyer Highlighting Property Images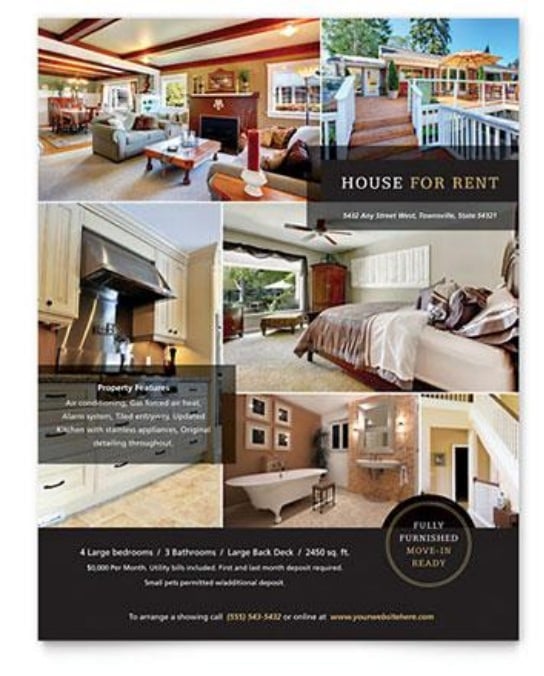 When you have a property with a large number of appealing features and images, this template is a great way to highlight all of them. There are only a few small areas with information about the property and the agent's contact information, although they are made to stand out with the use of color. When you want your images to speak louder than words, use this template.
18. Minimalistic Rental Flyer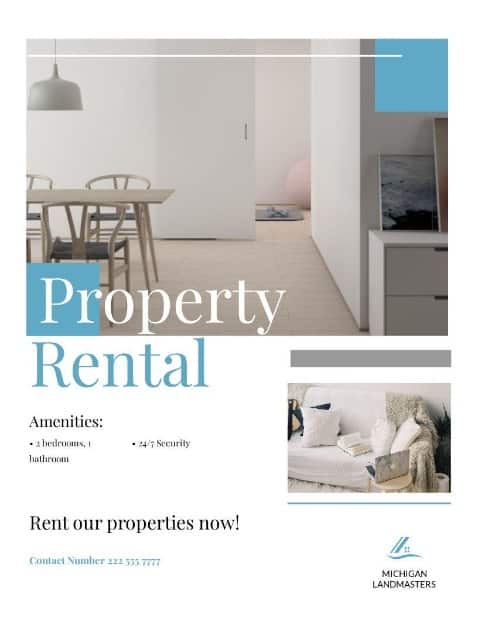 By only using a few images and plenty of blank space, this free real estate flyer template feels minimalistic and appealing to a modern audience. You can highlight the best features and most appealing images of your rental property without distracting interested recipients with too much additional information. Space for your logo and contact information is also included but doesn't take away from this flyer's minimalistic style and focus.
19. Modern Rental Flyer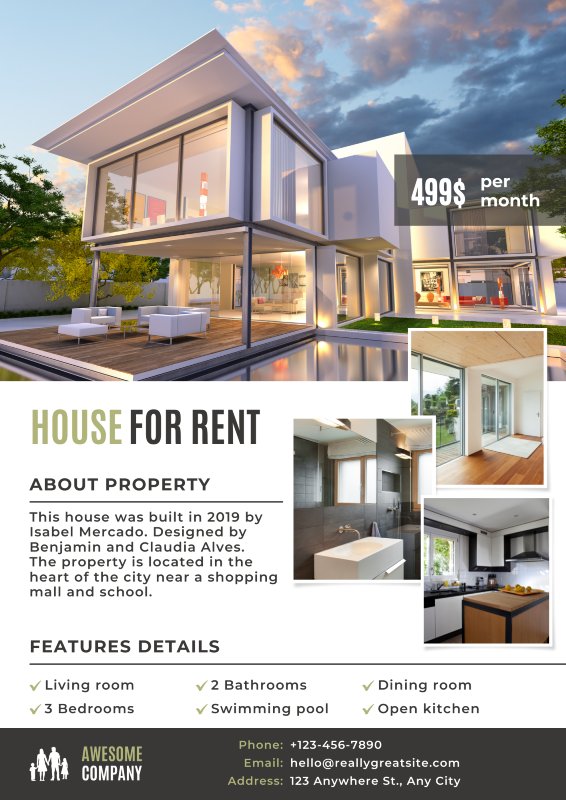 This rental flyer template balances multiple photos with white space and blocks for property details and contact information. Combine eye-catching photography with a brief bullet list of the property's best features, and this flyer will help you attract the right rental audience.
Real Estate Flyer Templates for Email Marketing
Marketing your real estate business through printed marketing materials only represents a small part of your advertising possibilities. As you create and edit flyers to print and distribute, it's just as simple to create and edit flyers to distribute via digital means, including email. These real estate flyer examples can be embedded into the body of your email as an image, via a link, or sent as attachments to make it easy for your contacts to share the information with other connections.
20. Bold Real Estate Email Flyer Template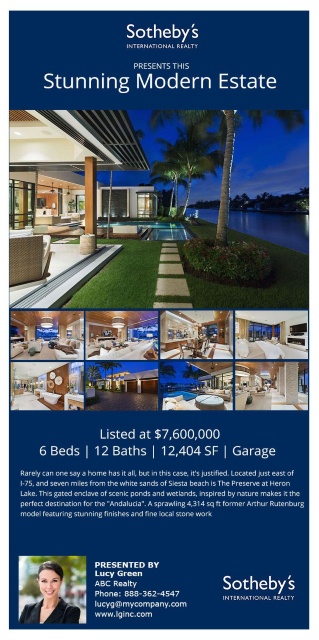 With its dark-colored background, this email flyer will immediately stand out from the other messages that fill your potential clients' inboxes. The photographs of the listing complement the blue background color with similar shades of blue in the sky and the water. If you choose to use this real estate flyer example, choose a background color that fits the color scheme of the photos.
21. Slideshow Email Flyer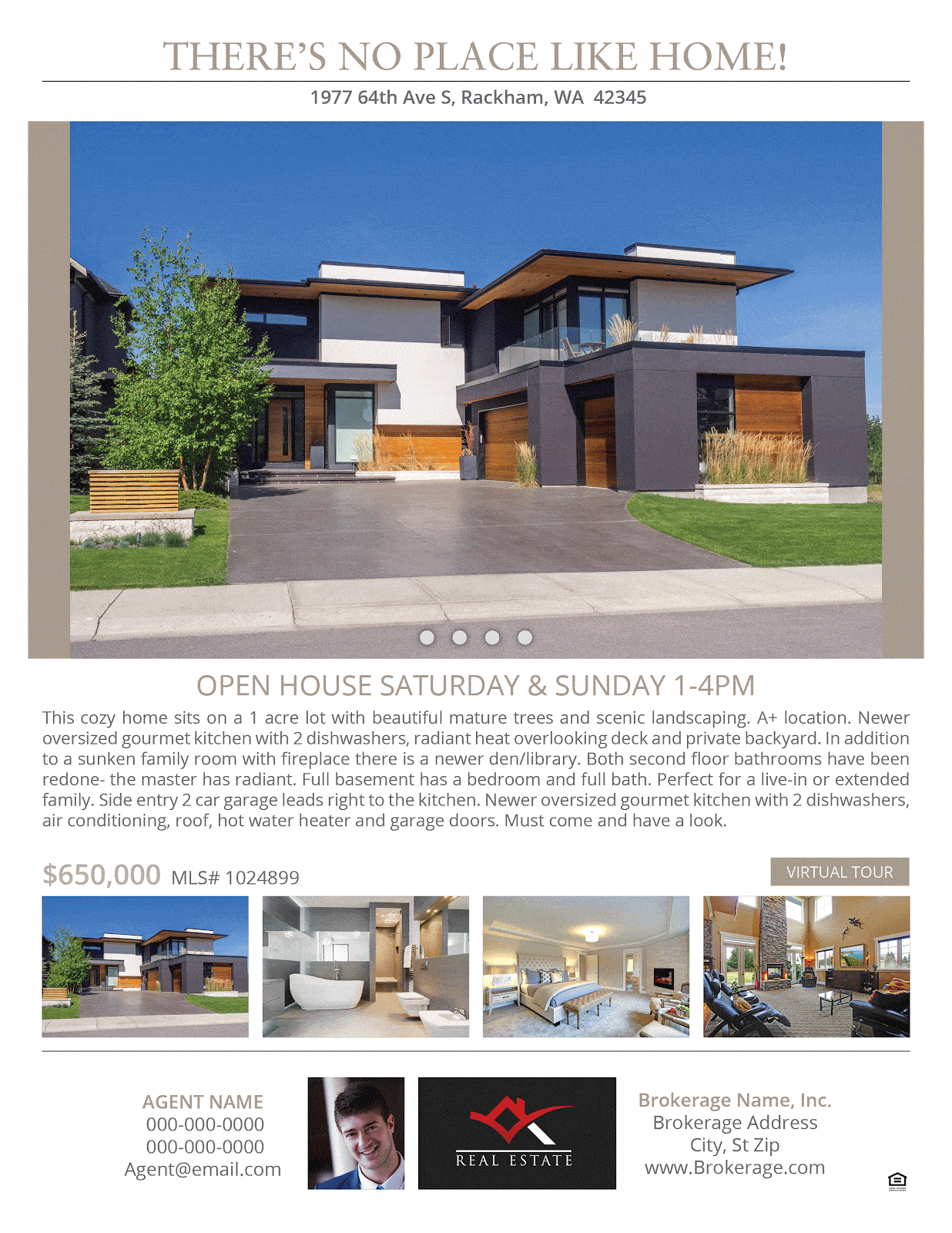 With a slideshow of property photos, this e-flyer feels almost like a single property website. The clean styling and sophisticated color palette of this template would be an especially great choice when appealing to luxury buyers because it feels much higher-end than some other digital flyers. In addition, this template includes a link for a virtual tour of the property.
Single property real estate websites are a powerful listing marketing technique. One of the best platforms for both single property websites as well as templates for ready-to-print flyers and postcards is Market Leader. Not only does Market Leader provide exclusive leads, but its marketing automation tools also provide beautiful templates and designs for both physical and digital marketing.
22. Photo Gallery Listing Email Flyer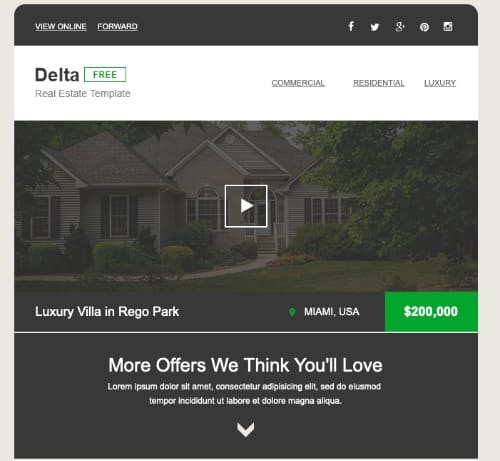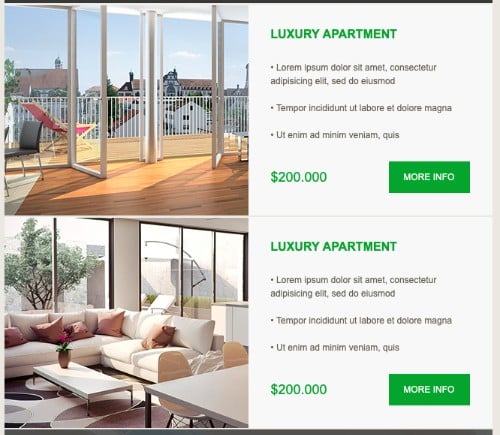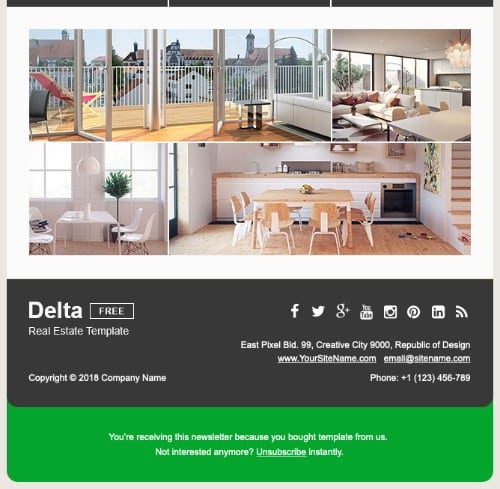 This digital flyer could be used to showcase multiple listings or, as the template shows, luxury apartments. In fact, there's a menu at the top that can help recipients look at commercial, residential, or luxury properties, and then there are multiple photo galleries below the listing descriptions. This would be an ideal real estate flyer idea for agents or companies that want to share the word about multiple properties or multiple categories.
Templates for Commercial Real Estate Flyers
Commercial real estate marketing appeals to different audience types than residential agents and brokers, which changes the marketing needs and messages. Since most templates are highly customizable, it is possible to transform just about any of them to fit your needs. However, it's simpler to find and use premade commercial real estate flyer templates that are already designed for your target audience.
23. Discount or Promotion Commercial Real Estate Flyer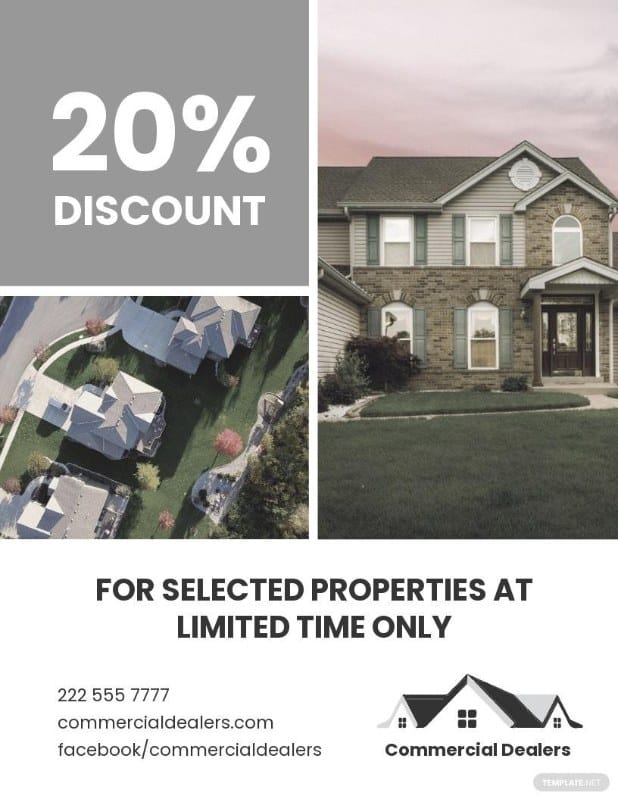 This commercial real estate flyer's primary focus is promoting a limited-time deal. It has a simple design, with three large blocks and some basic information at the bottom. This simple design makes this a perfect flyer to distribute when you have a promotion or opportunity to share, and can be used for rental properties as well as sales.
24. Real Estate Services Flyer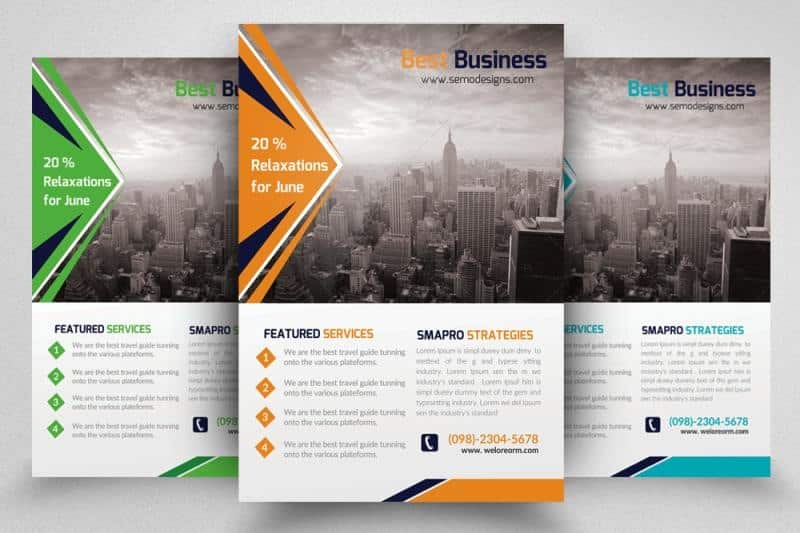 This flyer has an ideal layout to communicate your website, contact information, and the most important details about your services, values, or processes to generate commercial real estate leads. In addition, the brightly colored shape at the top provides a perfect space to include a discount or promotion, and colors can be customized to match your brand. This could be a great go-to flyer to share about your brokerage and services.
25. Commercial Real Estate Listing Flyer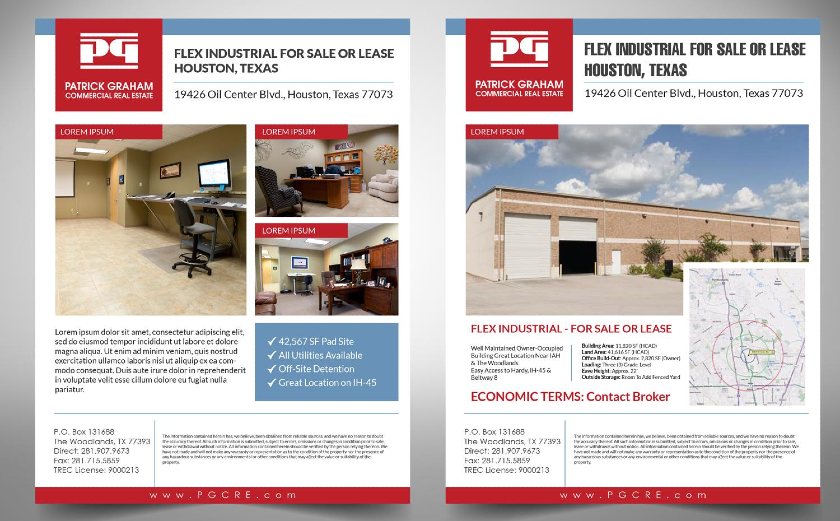 By highlighting your logo at the top, this flyer offers a more industrial, brand-forward style design. It's two-sided, which provides the extra space needed for commercial property details, contact information, photos, and a map. The design will appeal to a commercial audience that wants to rent or buy industrial-friendly space for manufacturing, storage, or distribution.
Flyer Templates for Real Estate Teams
Flyers for real estate teams are similar to agent flyers since their purpose is to introduce the team and establish their authority with an audience. However, team templates differ because they often have multiple images to show and are more accomplishment or expertise-focused. When you search for templates suitable for your team, you should also think about how you can best convey the unique characteristics of your team.
26. General Real Estate Team Flyers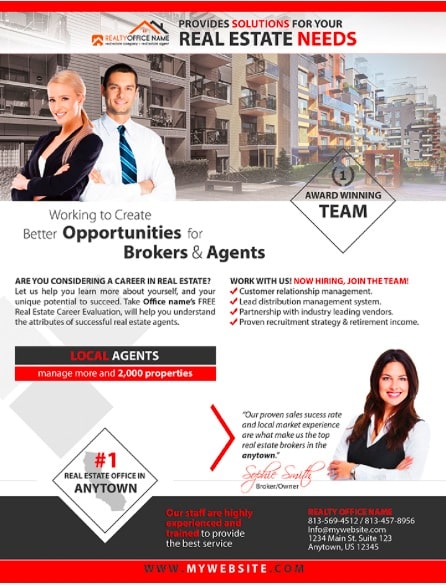 Just like agent flyers, it's important to have a basic go-to flyer template to introduce your team to a new audience or within a new area. This flyer is formatted to leave space for many details about your team, its services, and accomplishments, as well as a quote or customer testimonial.
27. Flyers for Real Estate Specialties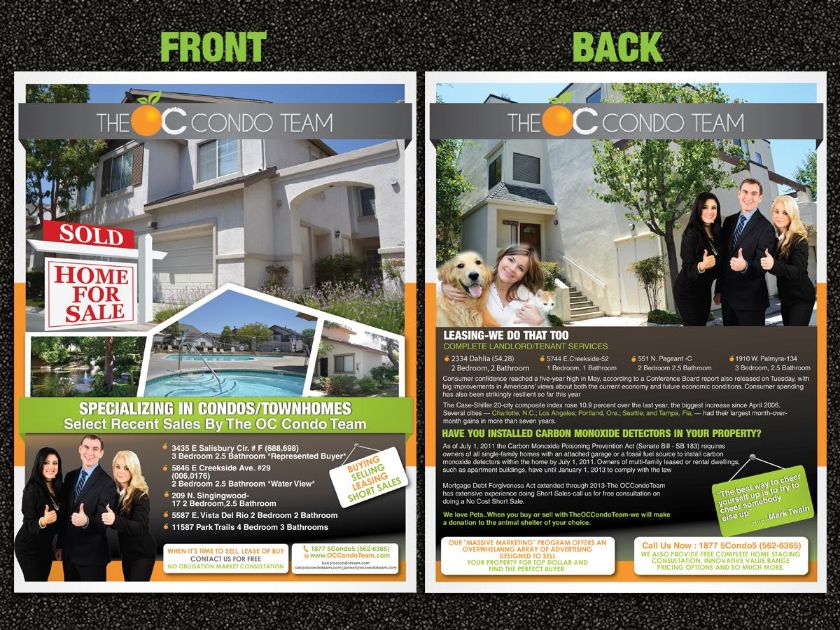 This real estate flyer example is designed for teams that work within a real estate niche or have a specialty—for example, condos and leasing. When you have a clearly defined audience like divorcees, retirees, military families, veterans, or a specific property type, this flyer could be perfect to spread the word about your team.
If you're ready to add flyers to your marketing strategy but aren't confident in your design skills, check out Fiverr. You can hire a freelance graphic designer for as little as $5, making Fiverr a great way to create professional-looking real estate flyers without breaking the bank or spending your valuable time on graphic design.
28. Achievement-focused Flyer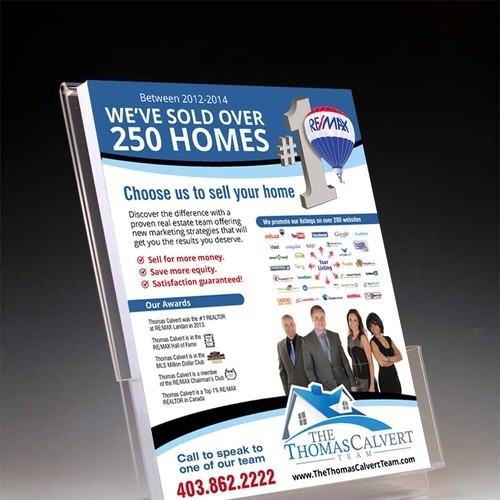 With a large blue section at the top touting its #1 standing, this flyer focuses on the team's experience. When you send mail to a new audience, you may only have a few seconds to grab their attention, and this flyer accomplishes that. It even includes a section that lists awards won, so recipients of this flyer can fully understand the team's expertise. It's also a great choice when you need marketing materials to share at educational or networking events or trade shows.
Templates for Real Estate Agency Flyers
The marketing efforts of most real estate agencies and brokerages are conducted for the purpose of establishing the reputation of the agency as a community of knowledgeable and trustworthy real estate experts. For that reason, you'll notice that the focus of most real estate agency flyer templates speaks to a specific value or takeaway, like excellence or generosity, in addition to general services.
29. Service-based Agency Flyer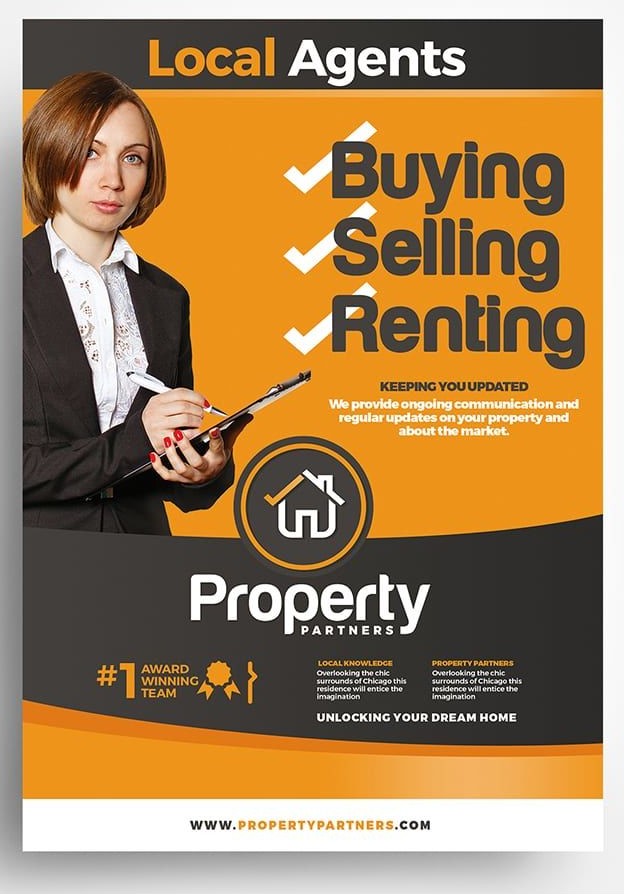 The first thing you most likely notice about this flyer is the large font listing the three types of services provided by most real estate agencies. Although there are other important details given on the flyer, like awards and the agency's website address, it is clear that those are not the primary focus. Instead, this flyer is a perfect way to establish your company as the go-to source for specific or niche services.
30. Representative Photography Agency Flyer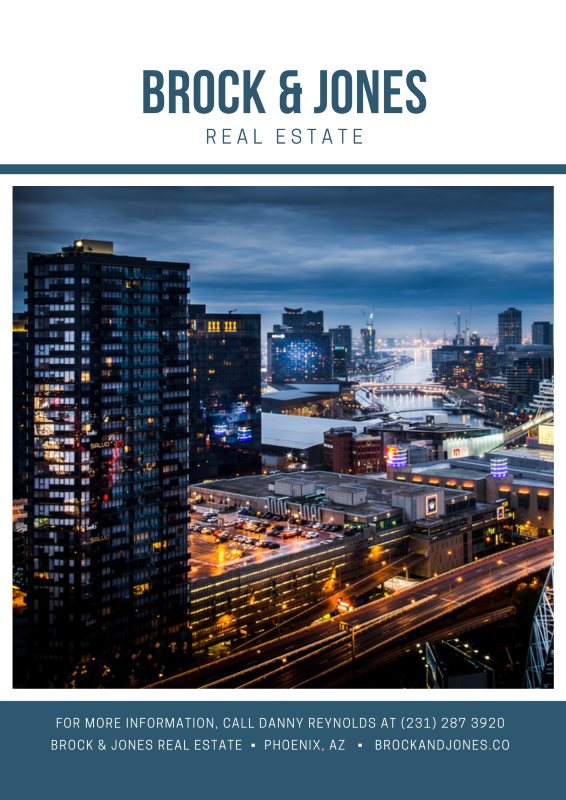 There is not an extensive amount of information given on this flyer since it is almost completely occupied by one photo. This strategy works because you can choose a beautiful, eye-catching photo representative of your locale or ideal client type that makes viewers read the fine print. In addition, sometimes less information is more appealing because it removes the possibility of overwhelming the reader.
31. Bold & Colorful Real Estate Agency Flyer Example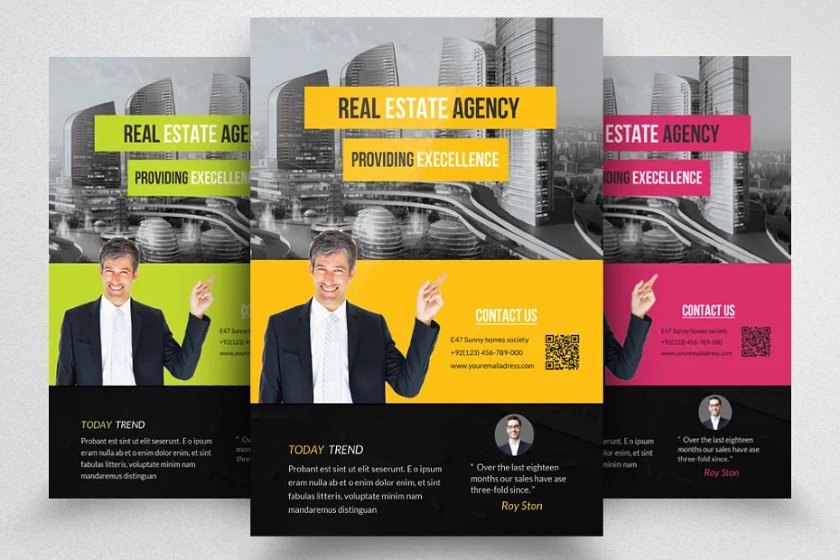 Although this flyer does include an image, it's in the background, shown in black and white, which keeps the focus on the colorful center of this layout. By adding an image of a real estate agent or brokerage and using a bright color, this flyer stays focused on one primary message and call to action. It also uniquely includes a section on the bottom for a brief real estate market report.
Real Estate Flyer Templates for Lead Generation
While you might think that the goal of all real estate flyers is to generate leads, this isn't necessarily the case. Advertising is a complex field, and some flyers are simply meant to establish brand recognition or keep your agency top of mind.
In the cases when you want to focus on generating leads directly from your flyers, it's important to include a simple and relevant call to action. You can also choose to offer an incentive or use time-sensitive market information to promote a sense of urgency.
32. Modern Residential Lead Generation Flyer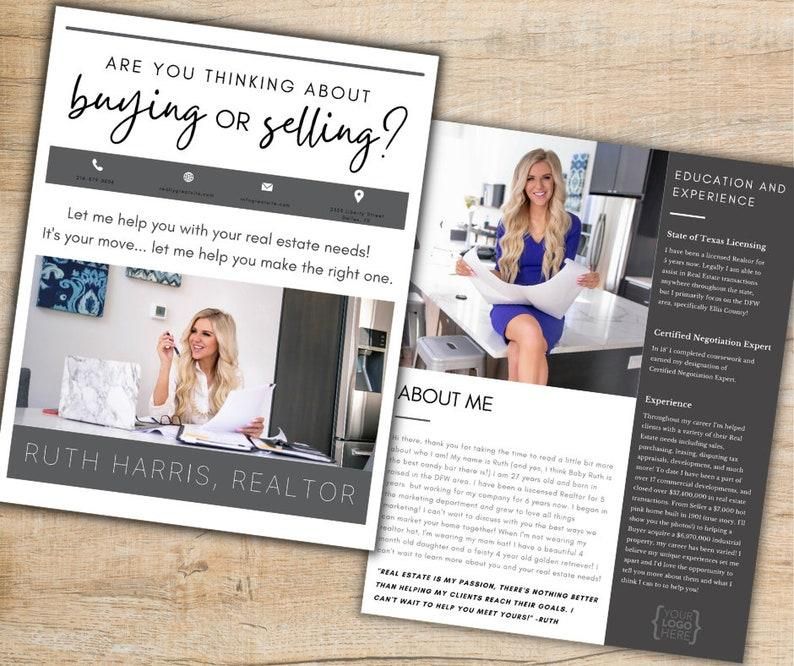 This double-sided flyer mixes and matches large script and plain text, multiple images, and color blocks to introduce a real estate agency or agent. The front of this flyer describes how and who the real estate professional or brokerage can help in order to generate real estate buyer leads or gain sales listings.
Although similar to an agent flyer, the messaging is primarily focused on those who are ready to buy or sell rather than making a general introduction. On the back, there is room for calls to action, a bio, list of awards or certifications, and client testimonial to further appeal to prospects.
Generating leads for your business requires you to start with the right tools. HubSpot is an affordable solution for content and other types of in-bound marketing, acting as a lead magnet to attract the right audience to you. From a user-friendly dashboard, you can easily create landing pages for your direct mail campaigns and listings, send email marketing, manage online ads, and access in-depth reports to continually improve your results.
33. Time-sensitive Agent Flyer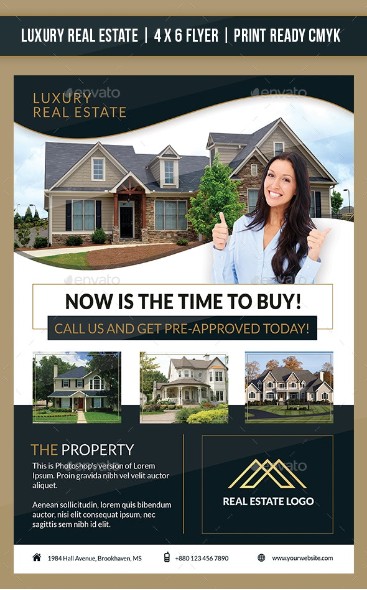 This flyer is meant to generate leads from your audience when the market is leaning in their favor. It could just as easily be customized to generate real estate seller leads as buyer clients. Make sure to customize the call to action and use words that communicate a sense of urgency, like "now" and "today," so that you can most effectively generate leads.
34. Charity Donation Flyer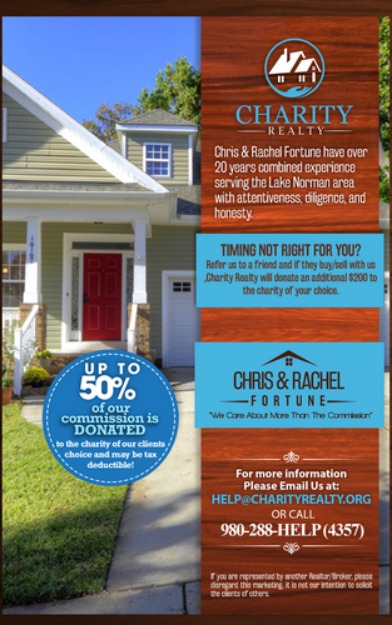 Many real estate professionals have a cause that is especially important to their mission or for personal reasons. By sharing about how your business helps charity, you'll naturally attract clients with similar values. In addition, this flyer uniquely requests referrals from those who aren't ready to buy or sell a home right now. This feature makes this piece doubly useful for generating leads because it provides an incentive for everyone.
Recruiting Flyer Templates for Real Estate Agencies
No real estate agency can be successful without the right team members. When it's time for your team to grow, using flyers is a great way to get your message in front of the right people. Keep in mind that you'll likely get the best results by sharing the best benefits of working with your company. As with other types of flyers, they can be distributed in person at events or trade shows, sent via email, added as a downloadable link from your website, or used to enhance online job postings.
35. Recruiting New & Experienced Agents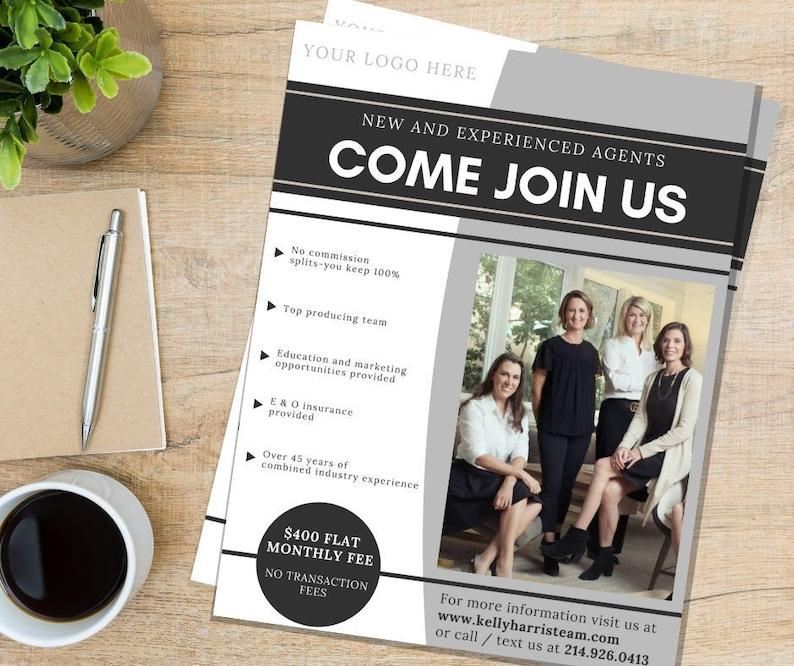 This real estate recruiting flyer has a simple, modern, and aesthetically pleasing layout and design. The main heading presents the call to action, and the most important details are presented primarily in the bullet points. This flyer also uses a large picture of the existing team and brokerage to build familiarity for new agents.
36. Recruiting Promotion

This real estate flyer template is formatted similarly to a letter or email marketing message. However, its standout feature is the large heading at the top with an especially appealing deal or promotion. Generally, writing a letter within a flyer wouldn't get results, but this flyer is an exception because of this curiosity-inducing headline.
37. Hiring Real Estate Agents Flyer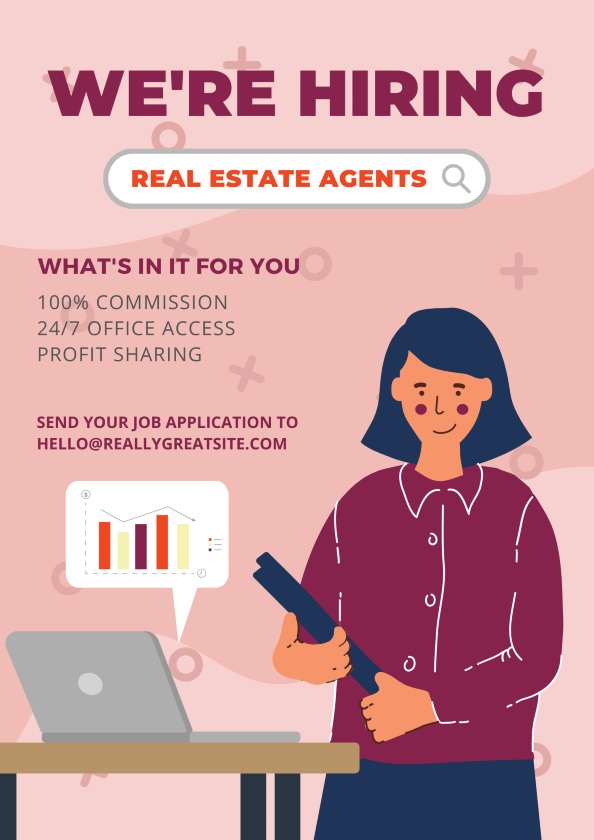 For teams or brokerages that may not want to incorporate pictures into their flyers, this real estate flyer template uniquely uses a cartoon graphic. Along with an overall simple layout, it provides enough information to draw in qualified applicants without overwhelming them.
Pros & Cons of Using Real Estate Flyer Templates
PROS

CONS

Fast and easy to customize premade templates
Design flexibility depends on the editor
Wide variety of low or no-cost options
Templates are not original
High-quality layouts and design options
Some templates require specialized editing programs and design know-how
The cost and time commitment of designing completely custom flyers for all of your real estate direct mail and other marketing campaigns adds up quickly. Using real estate flyer templates can be a simple and affordable solution to simplify the design process. However, templates sometimes require specialized design software or skills in order to perfectly fit your vision. Ultimately, it's up to you to find the best real estate templates to use and customize them to fit your real estate marketing ideas.
How Much Real Estate Flyers Cost
The cost of using real estate flyers depends on whether you need to purchase software, hire a designer, if you are going to print them, and more. When budgeting for marketing, you should expect to incur costs for:
With online printing services from VistaPrint, you can get flyers printed for 24 cents to 42 cents each. VistaPrint also offers an extensive array of marketing tools and services, including design services. There are also hundreds of items that you can customize with printing, like tote bags, coffee mugs, stickers, hats, and clothing, which make great pop-by client gifts. VistaPrint is an ideal solution for all of your printing needs.
How to Customize Real Estate Flyer Templates
One of the reasons you save so much time using real estate flyer templates is that the layout includes preset places for all the necessary information. However, those who are successful in real estate know that it is ultimately up to you to make sure your flyer has all the necessary information to be effective. Before sending your flyer to the printer or distributing it digitally, customize and perfect it, including these elements:
Bottom Line
Flyers are real estate marketing materials that can be posted on your website and social media, provided at open houses, placed in yard arm box signs, sent via email, distributed at trade shows and networking events, or shared with your community via direct mail. Optimize every flyer by choosing a template that is best suited to the type of flyer you need to create and customizing it with your branding, high-quality photos, descriptive details, and contact information.