Real estate newsletters allow you to share information with clients and prospects regularly and brand yourself as their go-to expert. The key to effective newsletters is understanding your audience's interests and developing fresh ideas tailored to them. These can include newsletters about community, seasonal, and educational events, home improvement ideas, or market reports. Look through our top 11 real estate newsletter ideas to draw inspiration for your own.
1. Neighborhood Newsletter
Homeowners love to learn about their community, so neighborhood newsletters are one of the best ways to share information in your farm area. These newsletters focus on specific local information, like current neighborhood home values and local happenings, including who just bought or is selling their home. The creator of this real estate newsletter template added some local trivia to keep readers engaged. You can also share the neighborhood folklore.
Another way to use a neighborhood newsletter is to provide community notices. If you know that the roads will be paved or hydrants flushed on specific dates, providing that information will make your newsletter the source to keep people informed. Consistently sending these prospecting newsletters puts you in front of the homeowners in that community, building trust, which can increase listings and sales.
2. Weekly Commercial Real Estate Newsletter
If you're a commercial real estate agent, sending a weekly newsletter to local businesses is an excellent way to generate commercial leads and build brand awareness. These newsletters can contain business directories, lists of available meeting spaces for rent, tips on office decor, business and industry trends, and business valuation. Also, add sections on available commercial properties, businesses looking to buy, rent, or sell, and investment property opportunities.
Commercial newsletters are also an excellent way to introduce yourself. You can share information on networking and other business events, as well as short articles on improving your golf swing, questions to ask a commercial real estate agent before hiring, and stories from local business owners. The sky is the limit when providing relevant information in a business newsletter.
To track information about the people on your list and of real estate newsletter content you've sent, use a customer relationship manager (CRM) like HubSpot. Its Marketing Hub includes powerful CRM and lead-generation tools like websites, custom landing pages, and social media marketing. Start by trying HubSpot's free CRM.
3. Holiday Newsletter
During the holiday season, most of your leads are already receiving cards from friends, family, and other agents. Sending a holiday newsletter as a real estate mailer packed with seasonal topics will increase the likelihood that it will be read. It's a fun way to help homeowners get ready for the holidays while becoming a familiar face. Also, send them during other holidays like July Fourth, Veterans Day, and Memorial Day when no one is sending cards. This will further increase the likelihood it gets read.
The best real estate marketing is highly personalized. Send a holiday newsletter with relevant tips for decorating and getting their homes ready for guests, recipes, holiday movies to watch, and where to find them. Since the new year comes quickly post-holidays, educate homeowners on preparing their homes for sale and the benefits of listing at the beginning of the year instead of waiting for the spring, when most people list.
4. Seasonal Newsletter
Many successful real estate agents send a quarterly newsletter that shares information on market trends throughout the year and general happenings of each season. This will guarantee you consistently send your target audience regular correspondence. Provide seasonal home maintenance tips and share local seasonal events or things to do each season, such as places to ski in winter or beach activities in the summer.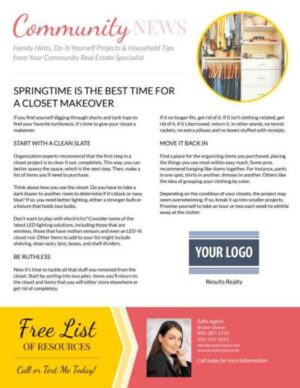 ---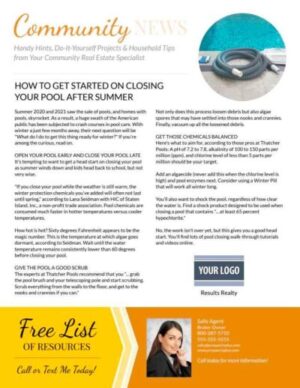 ---
The more personalized you can make your newsletters, the better. For example, sending tips on closing a pool would be perfect for homeowners toward the end of summer or early autumn. However, it would not resonate with renters or homeowners who don't have a pool. Research where your newsletters go or provide diverse content to appeal to various living situations.
If you need help choosing a seasonal template, pop over to ProspectsPLUS! to view samples and gather real estate newsletter ideas for images and content. While you're there, check out the mailing lists with their MapMyMail tool, designed to help you choose a location based on demographic, geographic, and lifestyle criteria.
5. Recipe Newsletter
Recipe newsletters may seem off-topic, but they're a powerful trust-building tool that showcases your brand and generates leads. Also, recipes aren't usually used once and tossed, so your recipients will think of you every time they see your smiling face in the newsletter next to a homey recipe. Include recipes that cater to different diets, such as ketogenic, vegetarian, vegan, and omnivorous.
Recipes can be seasonal, or choose international recipes for people to try. Add a section on measurement conversions and ingredient substitutions as a regular feature in every flyer or newsletter so your readers have what they need. You can also include definitions of cooking terms, types of cookware, and handy utensils.
6. Calendar Newsletter
A calendar newsletter is one of the best real estate newsletter ideas since it doesn't easily get thrown away, keeps you in front of your prospects, and builds trust. The Rule of 7 asserts that someone needs to see your brand seven times for you to gain their trust. A calendar newsletter hangs where it's easily seen or placed on a desk for quick access. The more they see you, the higher likelihood they will call you when it's time to buy or sell.
It's crucial to use relevant events that appeal to a broad audience. This can include community events, important dates, and when to turn clocks forward or back for Daylight Savings Time. As part of your marketing strategy, send this newsletter out quarterly, covering three months at a time. There's also room for seasonal tips.
7. Home Maintenance Newsletter
Sending a home maintenance newsletter twice a year helps homeowners maintain their properties and reminds them you are the go-to expert on all things home-related. Include a reusable home maintenance checklist so homeowners and investors can use the newsletter as a resource.
If you're looking for an easy template for a checklist, you can create one on Canva. It has thousands of options from which to choose, and most are free to low-cost. Many features are drag and drop, and you can choose fonts, images, colors, and backgrounds to match your brand. It's also simple to upload your logo and realtor headshot.
8. Market Report Newsletter
People are curious about interest rates, current housing prices, and market trends nationally and in their area, so other excellent real estate newsletter ideas include market reports and statistics. Sending a regular newsletter about the current market conditions positions you as a real estate expert and leads to getting calls from homeowners wanting to know their home's value. Market report newsletters can be delivered by direct mail and as part of your email marketing strategy.
An effective market report newsletter is visually appealing and not text-heavy. It's easy to pull statistics to include in it from the National Association of Realtors, the U.S. Census, and Zillow. If you want to add more details, add a few on the inside pages of your newsletter and include images and boxes to break up the text.
9. Community Event Newsletter
All real estate businesses are hyper-local, so getting involved in your community is essential. One way to do so is by sponsoring or promoting local events. Start by asking the event organizer if they accept partnerships or need assistance spreading the word about the event. Then, you can easily create a community event newsletter and start promoting the event.
Community events are valuable for networking, meeting new leads, and connecting with other local professionals. Real estate attorneys, lenders, accountants, tax preparers, and financial advisers have a similar audience and may be interested in a mutually beneficial relationship through co-marketing.
10. Simple Check-in Newsletter
As a real estate professional, staying top of mind is essential. Checking-in real estate newsletters are a great solution to touch base with your previous clients while continuing to provide value to them. This newsletter can be similar to the format of other newsletters, with a simple personal note added. In addition to sending your newsletter by direct mail, add it to your email marketing strategy. Don't worry if your recipients receive it twice. Some may respond to an email instead of print mail.
To stay top of mind, periodically send a check-in newsletter to the contacts in your database and customize it to each relationship. Write a different note to previous clients, potential buyers, potential sellers, and even those you haven't yet connected with. Adding a handwritten closure and signature makes it more personal, showing you took the time to sign it and not just send it out.
Use Market Leader to simplify the process with marketing automation. Market Leader provides digital and print marketing and makes it easy to automate newsletters and direct mailers. You can use the resources in its marketing suite to customize and schedule your checking-in letters for delivery.
11. Educational Newsletter
An educational newsletter allows you to share relevant statistics about the local market, real estate investing tips, and homebuying and selling tips. The key to success with education newsletters is customizing your content to your audience's needs and interests and providing solutions to common challenges they face.
An informative, educational newsletter should include a call to action, encouraging the recipients to visit your website or follow you on social media. If you're unsure what educational content to provide, check out a large selection of real estate newsletter examples on ProspectsPLUS!. There are templates for niche campaigns, like expired listings, investors, spheres of influence, buyers, and sellers.
Zillow provides extensive data, research, and charts about the real estate market and current events for free. Use these in your newsletters to boost your authority. Also, take advantage of the Agent Toolkit for free templates and scripts. If you sign up for Zillow Premier Agent, you can leverage Zillow's real estate traffic to get leads who are ready to buy and likely to convert.
Tools to Create Your Real Estate Newsletter
Creating a realtor newsletter can be easy with the right tools. When choosing which tool to use, consider your marketing strategy, goals, and what you already use. Some platforms are best for creating direct mail newsletters; others, like Canva, are versatile enough to create newsletters for digital and print distribution.
Resource

Best For

Real estate print marketing templates and Every Door Direct Mail (EDDM) for agent's direct mail needs

Professionals needing to create and edit photos and marketing materials for both digital and print

Agents and brokers needing email marketing with automation

Key Features

Hundreds of real estate templates
EDDM for automated direct mail
Mailing lists

Free and easy to use
Thousands of templates and elements
Fully customizable

Email marketing tools
Social media advertising
Marketing automation

Starting Price

48 cents per newsletter

Free

$9.99 per month

Read More
Bottom Line
Real estate newsletters are versatile and useful marketing tools for all locations, niches, and audience types. Newsletters can have different formats, content, and goals and can be distributed by direct mail or email. There is much information to share, and the best real estate newsletters can help you organize it to benefit your audience and business.