How to Hire an Engineer in 6 Steps (+ Free JD Template)
This article is part of a larger series on Hiring.
As with many other professions, finding a good engineer for your small business can be difficult in today's job market. But you can improve your chances of finding the perfect fit with a few simple steps. First, you must fully understand your needs and what type of engineer it warrants (full time vs freelance), as well as your budget and timeline. You can use that information to help advertise your position and screen candidates as they apply and interview.
Engineers require technical experience and education! Toptal will match your company with talent that has extensive experience relative to your needs. Try it today for free!
Step 1: Identify Your Needs
One of the first things you need to do in your search for an engineer is to figure out what you need from them. Specifically, you need to know what projects, products, or problems they will be focused on.
For example, if you need someone to develop and make a complex product, you may be in the market for a more advanced mechanical engineer. If you are looking for someone to work in computer-aided design, an entry-level electrical engineer might suffice.
Choosing the Employee Type
When determining the type and level of engineer you need, you also want to decide if you need someone on a full-time, part-time, or contract basis. To decide between an employee vs contractor, consider if you have a one-time or ongoing project and whether the project or product is in constant need of maintenance or upgrading. Learn more in our article about the types of employees to understand in-depth what you're looking for.
The salaries for engineering employees and contract engineers are similar, although full-time employees bring additional costs of benefits, payroll and tax remittance, and other overhead.
If your needs don't require a full-time employee, contractors can be a great option. In addition to saving money, you may be able to find someone with a broader range of skills. Just be sure you don't treat them like an employee, as misclassifying an employee as a contractor can have negative consequences.
Listing Skills & Qualifications of Engineers
Some skills needed will be specific to your company and role—but in general, you should look for engineering candidates who are strong in the following areas:
Problem-solving
Computer science
Statistics/analytics
Teamwork
Communication
Attention to detail
Strategic planning
Leadership/project management
Organization
Scheduling
Quality control
Additionally, they should the following qualifications:
Minimum bachelor's degree in Engineering
Experience in specialty or field
Technical knowledge
Solid background in engineering fundamentals
Setting a Timeline
Part of identifying your needs, particularly if you are hiring a contract engineer for a specific project or product launch, is determining the timeline for that project. This should work in conjunction with your hiring timeline, as one will impact the other.
That deadline should allow you enough time for the following:
To have conversations with the engineer about your company, the goals of the project, regulatory requirements (if any), specific items that must be included in the project, and your vision.
After hiring, you need to allow the engineer to have time to research your problem/idea to see if there are any issues that you and the company were unaware of.
To have check-in meetings to make sure you and the engineer are on the same page and to discuss any updates with the project.
For the engineer to work on the project.
For last-minute revisions, reviews, and changes before the final project is completed.
Keeping this timeline in mind during the hiring process should help you avoid any unexpected problems or issues that can derail the project.
Step 2: Determine Your Budget
To understand how much to budget for the role, you should do your due diligence around engineering salaries. According to ZipRecruiter, engineers make an average annual salary of about $99,000 or $48/hour.
The average annual salary for full-time engineers will vary, however, depending on the type of engineer and geographical location. For example, chemical engineers in New York will bring in a salary much higher than the average (around $160k), while environmental engineers in Tennessee will fall a bit lower than average (around $86k).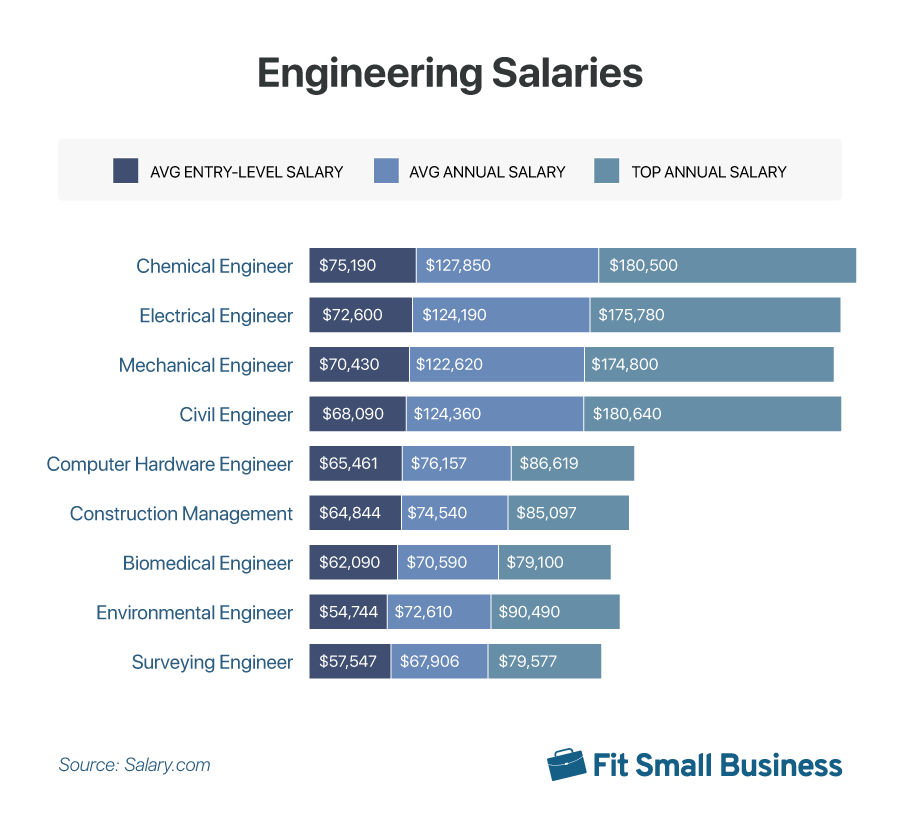 The salaries for contract engineers are within the same range, with Glassdoor estimating the average hourly salary of a freelance engineer at $43/hour. Keep in mind that experienced engineers, both freelance and staff, may charge more for their services but may take less time to complete the project and bring additional skills and expertise to the project.
Step 3: Create an Engineer-specific Job Description & Ad
With your staffing needs and budget in mind, you are ready to write a job description for your specific engineering role. The best way to recruit engineers is to have a good job description—it should be succinct and specific about the skills and qualifications needed for the role, as well as the benefits of working for your company.
Download and customize our engineering job description template below.
Engineering roles generally have educational requirements. A bachelor's degree in engineering is a basic requirement, although many positions require additional licensure or education (such as a master's degree).
Because engineers are in high demand, you also need to make sure that you highlight the strengths of your company, so you can advertise your job with positive results. Give potential employees a sense of your company culture and benefits—basically letting them know why they would like to work there.
Step 4: Post Your Job Ad
Depending on what type and level of engineer you need, there are several ways you can advertise your open position.
Step 5: Interview Candidates
Now that you have applicants, you can begin reviewing their resumes to identify a final list of candidates that you would like to interview. Some things to look for include:
Experience with working with similar companies
Evidence of the skills necessary to complete the project
Commitment to seeing through the end of a project
Once you compile your final list, you can begin scheduling interviews. While interviewing engineering candidates, you should ask questions that give you insight into the engineer's work style, communication skills, technical skills, and personality.
We have listed some questions you should consider asking below.
Step 6: Select a Candidate & Make an Offer
Once you complete your interview process, there are a couple of things to keep in mind when making a final selection.
Uniform criteria for the final evaluation. For any interview process, you should create a universal criterion (and process) to evaluate all applicants fairly. There are multiple rating systems you can use, ranging from "yes or no" and "poor to great" scales to a numerical range (e.g., one to 10). You should use this criterion for individual questions and the final assessment. You may want to adjust the value of certain questions for interviewers to provide more weight to certain aspects than others. For example, because a major component of an engineer's job is technical, more weight may be assigned to technical assessments and/or interviewers who understand the technical aspects of the job.
Final decision maker. There should be multiple people in the interview process to have a diverse set of viewpoints. However, there does need to be one person who ultimately determines which applicant is hired. In most businesses, that person is either a founder, an executive, a member of the HR leadership team, or the employee's direct supervisor. In the case of hiring an engineer, you may consider giving that position to the most technical person on your team since they are most likely to understand the job responsibilities.
Once a hiring decision is made, you can present your chosen candidate with an offer letter that lists the benefits of accepting the position with your company. For help with creating an effective offer, please see our guide to offer letters with a free template for you to use. Typical offer letters generally include job title, start date, salary, and bonus or commission structure, if applicable.
You should also include the full job description in the offer letter. When the candidate signs off on their ability to perform the job duties, you can hold them accountable if they don't meet your expectations. When your offer letter is ready, send it to the candidate and give them at least a few days to review it and send it back. You can speed the process up by sending the offer letter via an electronic signature platform.
Once your applicants accept your employment offer, it is a good policy to inform the other candidates that you have decided to go in another direction.
Bottom Line
When you hire engineers you will often need very specific skills. However, by following the steps we've outlined, including having a strong understanding of your needs, you can find the right person to help set your small business up for current and future success.