How to Make a WordPress Website in 10 Easy Steps: The Beginner's Guide
WordPress is a popular content management system (CMS) used for building nearly any type of site, from blogs to e-commerce sites. While it is not the most user-friendly platform compared to site builders, it still makes it easy for budget-conscious entrepreneurs to launch a site. To build a WordPress site, you'll need to get a hosting and domain, choose a theme, customize the website to your liking, input the necessary information, and finally, publish your website.
If you'd rather focus more on your business than maintaining your website, you can check out our article on the best WordPress alternatives for other options. Otherwise, read on to learn more about how to make a WordPress website in 10 steps.
1. Get Web Hosting
The first thing you need to make a WordPress website is a web hosting service. A web hosting service is responsible for the facilities needed to create, maintain, and make your website accessible to the internet, or World Wide Web. Learn more about web hosting and why your website needs it.
For this article, we'll be using Bluehost, but you can also check out the five best web hosting companies to find the perfect hosting service to cater to your website needs.
If you need a better WordPress for beginners guide that caters to a more specific purpose, check out the following articles to help you build the perfect WordPress website for your industry or business type:
2. Purchase a Domain Name
Like physical property, websites exist on a web address or a domain name to connect your WordPress website to the internet. Keep in mind that most of the leading web hosting providers come with a free domain name, so double-check if your plan includes a free domain before buying one separately. However, if yours does not, then it's best to purchase one through a reliable domain name registrar, such as Domains.com.
Type in your desired domain name and see if it is available below:
After purchasing a domain name, you can then connect it by clicking the Domains tab located on the side menu for Bluerock Accounts or on the top navigation menu for Legacy accounts. Select "Assign" and verify your ownership of the domain. Choose whether to make your domain name an "Addon" or "Parked" domain.
3. Install WordPress
Once you have a web hosting provider and a domain name, it's time to install WordPress to connect your web host and domain to WordPress. Most web hosting providers offer "one-click WordPress installation" with their service. This can usually be seen on your WordPress dashboard.
4. Choose & Install a WordPress Theme
Unless you're hiring a web developer and want a very specific website, you can choose from an array of WordPress themes and customize them to your liking. It's important to pick a theme that represents your small business website in terms of branding and industry. You can choose themes directly from WordPress or from third-party providers.
How to Install a Free Theme From WordPress
---
How to Install a Premium Third-party Theme
---
5. Customize Your Website With Plugins
Instead of programming a design, function, widget, or element for your website, WordPress uses plugins for everything. Plugins do more than just visuals or effects—they can also help with search engine optimization (SEO) capabilities, security, and other functions like selling tickets to events.
Here are five non-negotiable plugins for every small business website:
6. Add & Customize Pages
A website is made up of individual web pages, including your homepage and other pages like the products and service page, about us, and contact us. You can either hire a web designer to fill your website with all the pages or simply do it yourself. These are the steps if you want to customize it on your own:
Go to your WordPress dashboard
Look for Pages located on the left side of your menu
Click on "Add Pages"
Edit your page
Need a bit of inspiration to help you get going with your custom web design? Check out the best startup websites to help you get an idea of what visitors want to see.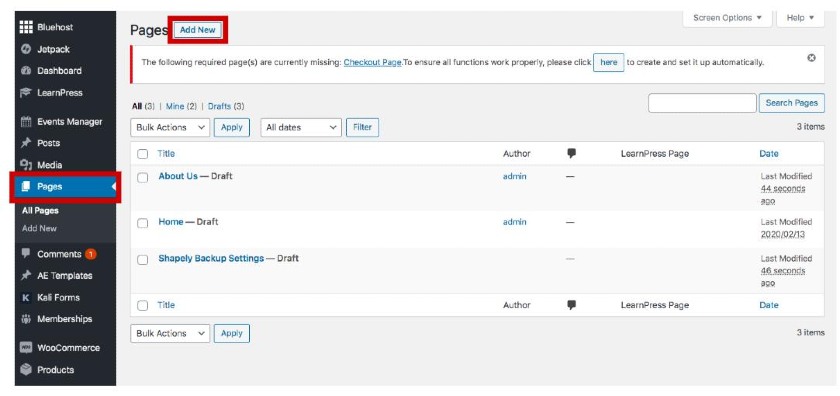 Another simple option is to build your pages with Elementor. To do this, make sure the Elementor plugin is installed. Click on "Edit with Elementor" and start dragging-and-dropping elements and adding content to your website.
Aside from just having a website, designing your website is equally important. Strategically design your small business website to get the best user experience (UX). There are nine important UX web design principles to follow in order to improve your website.
7. Build Navigation & Menus
Now it's time to customize your site's menu, which would serve as navigation for visitors―mostly located at the top of the webpage. Customizing your menu allows visitors to get to specific pages on your website, usually through a drop-down feature. Here are the four steps to accomplish this:
Go to your WordPress dashboard
Hover over "Appearance" and click on "Menus"
Select "Main Menu" from the drop-down
Drag, drop, and reorder your menu
Note that not all templates let users customize and design the site's navigation. If you want to change your theme's navigation but the theme itself won't allow it, choose another theme that allows for customization.
8. Customize the Header & Footer
As per its name, a header is located at the top while a footer is located at the bottom. These parts of the page can be very useful for menus, about us, contact us, promotions, or notes to visitors. To customize them, here are the instructions:
Go to your WordPress dashboard
Hover over "Appearance" on the left side of your menu
Click on "Header"
Proceed to edit settings
An easier way to edit your header and footer while retaining more control over what you want it to look like is by using Elementor. Of course, Elementor is not the only page builder out there. For those who might not be satisfied or want something other than Elementor, check out the other best page builders for WordPress. For those who stick to Elementor, follow these steps:
When using Elementor, go to "Templates"
Click on "Theme Builder"
Select the "Header"
Proceed to "Add New"
Check the drop-down and click on "Header"
Select "Create Template"
9. Prepare to Launch Your Site
It's always exciting to launch your first website, but before you do, make sure that your website is ready to go live. Preview the changes you've made on your website before launching them, and make sure to follow the following steps:
Proofread and check for grammatical errors on every page
Test each link to see if something is missing or broken
Create a 404 redirect page
Make sure your website is well-optimized with Yoast SEO
Have an SSL certificate to secure your website
Set up a lead generation form
10. Launch Your WordPress Website
Once everything—from the design, UX, functions, elements, and content—is ready, it's time to go live. In order to do this, navigate to your pages and click on the "Publish" button for all of the pages.
The next step is to check your website by typing in your URL and checking if your site is online. Once your site has launched, you can perform these extra steps to ensure the progress of your website.
Make sure to submit your site to the Google Search Console to be indexed
Create social pages like Yelp, Google My Business, and a Facebook Business Page
Schedule your website backups to safeguard your website from unforeseeable events
Start marketing your website to get traffic—social media can be a powerful advertising tool
Create a content calendar and plan out your future posts—it's important to keep your website active
Marketing your website is important to help build traffic and get new visitors. You can apply these easy website marketing strategies to boost your website's traffic.
Frequently Asked Questions (FAQs)
Does WordPress require coding?
No. WordPress can be done completely through drag-and-drop without the need for any programming or coding skills. Plugins like Elementor allow you to customize your website without needing a single line of code. Wix is another CMS that offers a more drag-and-drop approach. Learn how to build your own Wix site.
Can I try WordPress for free?
Yes. WordPress.org is completely free to use with website owners only needing a domain name and web hosting. WordPress.com, however, is a hosting platform that, although it allows free hosting, can be very limited in terms of security features, memory, and bandwidth.
How difficult is it to use WordPress?
WordPress for beginners can be very easy to use due to its interface, plugin options, and no-coding-needed approach. The CMS also offers more advanced capabilities to those who grow their website with WordPress and need more technical input (customized functions, apps, and other interactive elements).
Bottom Line
Building your first WordPress website can be tricky, but once you've gone through the creation process, owning and running a website can be quite exciting. In order to build a WordPress website, you'll need to get a hosting and domain, choose a theme, customize your website, insert the necessary information, and finally, publish. There are a few WordPress tips and tricks you can follow to make sure you make the most out of this beginner-friendly CMS.
If you're like most businesses, you really don't have the time to build out your own WordPress website. In fact, a poorly designed site can cost a business a lot more than it costs to have a site professionally designed. The good news is that it's cheaper than ever to hire an expert, thanks to platforms like Fiverr that allow you to hire a web designer within your budget.
You Might Also Like…
After building your site, learn how to rank on Google so that you can get free traffic.
Having a professional business website might not be enough. Check out the best email service providers to get a more professional business email address.
Meta tags are important for your website to be detected by search engines, boosting the chances of your website being found online.