WordPress is the world's most popular content management system (CMS). It's not quite as user-friendly vs site builders like Wix and Squarespace, but it is possible to learn how to make a WordPress website yourself. First, get hosting and a domain, choose a theme, customize your site's branding, pages, and menus, then launch your site. Read the steps below to learn the basics of how to build a website on WordPress.
Get everything you need to build brand presence online with WordPress web hosting, a free domain, SSL, and business email from DreamHost.

---

$2.95 a month the first year
Unlimited websites and emails
Free domain and SSL
Get everything you need to build brand presence online with WordPress web hosting, a free domain, SSL, and business email from DreamHost.
---

$2.95 a month the first year
Unlimited websites and emails
Free domain and SSL
For most small businesses, all-in-one website builders like Wix offer a far more user-friendly and affordable website-building experience. Check out our list of the best WordPress alternatives for options that could help you get online faster.
Follow the step-by-step instructions below to learn how to make a WordPress website:
1. Get Web Hosting
The first thing you need to make a WordPress website is web hosting. A web hosting service provides the server and storage you'll need to install WordPress, build your site, and make your website accessible to people via the internet. Learn more about what web hosting is and how to choose a provider.
If you don't have web hosting yet, we recommend using DreamHost to build a WordPress website. Its WordPress-recommended hosting plans make your job easier as your domain, SSL, and BoldGrid, a WordPress page builder are included for free. Learn more about DreamHost and other top web hosting companies to find the perfect hosting plan for your website and business needs.
WordPress web hosting doesn't have to be particularly expensive. In fact, you can get a feature-rich hosting package for your new website for just a few bucks a month. Learn more in our guide to the best cheap WordPress hosting.
2. Purchase a Domain Name
Domain names (aka URLs or web addresses like "www.mybusinessname.com") provide the means that connect your WordPress website to the internet. In some ways, a domain name is like the physical address of a building. It's the location on the internet where site visitors can access your website's pages.
Many hosting plans include a free domain name, so check to see if yours includes one before buying one separately. Otherwise, to get a domain for your website, purchase one through a top domain name registrar. You can do this with a standalone registry service like like Domain.com for $9.99 per year.
If you purchase your domain through your hosting company (or get it free with your plan), you probably won't need to do anything to connect it to your site. If you purchased it separately, follow the instructions provided by your hosting company for connecting your domain through DNS settings.
3. Install WordPress
Once you have a web hosting provider and a domain name, it's time to install WordPress so you can use it to build your website. Most web hosting services provide one-click WordPress installation, meaning you simply click on "Install WordPress" within your hosting dashboard and it's automatically installed and connected to your domain.
If you chose a WordPress hosting plan through Bluehost, however, WordPress will automatically be installed for you, and core updates will be managed over time. This eliminates the need for you to install WordPress and reduces the chances that you'll make a mistake in the process. Regardless, your hosting company will also likely have a knowledge base and resources, and may even assist with installing WordPress if you need it.
If you run into trouble getting a domain, connecting it to your hosting, or setting up WordPress, help is available to you at an affordable cost. For as little as $5, you can hire a WordPress expert on Fiverr to help you with everything from setting up WordPress to building it, adding plugins, and managing your site.
While all of the steps above have been done outside of WordPress, all the steps that follow will be completed within your site's WordPress dashboard. To do so, you need a username and password for WordPress. In most cases, you'll be asked to set up an admin username and password as part of the WordPress installation process. If this does not occur, reach out to your hosting provider for assistance.
4. Choose & Install a WordPress Theme
WordPress themes are template sites that apply site-wide color palettes and font settings. They usually have one or more premade pages you can customize for your site. All WordPress websites require the use of a theme, and whatever is the latest WordPress theme will be installed on your site by default.
There are tens of thousands of free and premium themes to choose from when building a WordPress website. In addition, there are no-code WordPress website builders that not only have themes, but also make it almost as easy to build a WordPress site as if you were using a site builder like Wix or Weebly, but not quite.
No matter where you get your theme, pick one that's easy to customize for your brand and business goals. Add themes directly through your WordPress dashboard by going to "Appearance" and then "Themes" in the left-side dashboard. Click on "Install" when you have found a theme you want to use, and then on "Activate."
You can also source themes from third-party platforms. ThemeForest, for example, has thousands of ready-made WordPress themes, some of which come with page-building tools. Themes purchased outside of WordPress will have their own instructions for installation, but generally are added by going to "Appearance," then "Themes," and then uploading the theme's ZIP file. Once installed, you'll still need to activate it.
In most cases, you'll want to choose a custom theme for your website before starting to create a WordPress website. Also, keep in mind that while you can change themes in the future, it will impact your site in a major way, so much so that you might have to completely rebuild each page.
With free themes, your ability to customize is often severely limited. In many cases, you can't even change the colors or fonts you want for your website without purchasing a paid license. This could be fine for a personal site, but it's not ideal when making a small business website since you won't be able to edit it to reflect your brand image and identity.
We recommend that you either use DreamHost (since plans come with free themes and a no-code page builder) or purchase and install a WordPress website builder like Elementor. The biggest reason for this is that learning how to make a WordPress website entails a steep learning curve. No-code page builders reduce the learning curve and make it far easier for you to get the design you envision for your site.
5. Customize Your Site's Identity & Branding
The extent to which you can personalize your site in terms of brand identity depends on the level of customization your theme allows. This is why choosing a premium theme or WordPress page builder that allows you to fully customize your site's branding is crucial.
To get to site-wide settings for Site Identity, including placement for your logo and selection of global colors and fonts, hover over "Appearance" in the left-side menu and then click on "Customize." Alternatively, your theme might provide far more ways to personalize and brand your website through its features. To find out how, visit the documentation site for your chosen theme.
6. Add Functionality to Your WordPress Website With Plugins
All-in-one site builders like Squarespace and Wix simplify the process of adding functionality and features (e.g., forms, ecommerce, member-only page protection, and so on) to your site. Apps, widgets, and third-party integrations are available through these platforms' dashboards, often requiring no more than dragging and dropping on your part to add them to your site.
Not so with WordPress—individual plugins are needed for just about everything you'll want to add to your site. For example, having a security plugin is essential for keeping your site safe from malicious software and hackers, as WordPress does not have any inherent security. So you'll need to research security plugins, choose one, and either add it by finding it in WordPress' list of plugins or uploading it directly through the plugins menu.
Depending on the features and functionality you want for your site, you may need to find, install, and manage just a few plugins or even dozens of them. Keep in mind that this entails more than just a set-it-and-forget-it approach, and that WordPress plugins are all created and managed by third parties (not WordPress itself).
Most WordPress plugins are updated frequently by the company or individual that made them. This is a good thing as it means you'll get upgraded features, and issues like security and compatibility glitches will be remedied. However, with this comes a considerable amount of time that you will need to spend maintaining updates to plugins (as well as WordPress and your theme) every month.
Open the drop-down below to see a list of plugins you'll need to build your site, as well as specific recommendations:
Plugins do more than just provide visuals or effects—they can also help with search engine optimization (SEO) capabilities, security, and other functions like selling tickets to events. Here are some essential plugins you'll need to have as you build your WordPress website:
Security plugin: Install a reputable, highly rated security plugin immediately after installing WordPress to protect your site from hackers, malware, ransomware, and so on. Many offer free versions, but we recommend you opt for a paid plan with extra support and security tools, as WordPress sites are highly susceptible to hackers. Elementor has an excellent article to help you learn more and choose a WordPress security plugin.
Anti-spam plugin: Security plugins are great at protecting your site from intrusion, but most aren't great at blocking spam from your online forms, blog comments, and so on. CleanTalk is an excellent and affordable anti-spam plugin to further protect your website and prevent bots from filling out and submitting forms on your website.
Backup plugin: Some hosting companies include free automatic backups of your site, so this is something to consider when choosing a hosting provider. If not, or even just to build redundancy, add a backup plugin to your site and schedule backups regularly. If your site doesn't get new content frequently, backing up weekly could be enough, whereas if you're updating your site often, you might want to back it up daily.
WordPress page builder: Building pages and executing the design of your site on WordPress is not intuitive, even though WordPress comes with a section-based page builder. For most small businesses, installing a WordPress website builder like Elementor is necessary for design purposes. It will save you an incredible amount of time, especially if you're a WordPress beginner.
Caching and image compression plugins: Glitchy, slow-loading websites can send someone away from your site within seconds. Caching stores a version of your website so that when a site visitor returns, their browser doesn't have to reload all the elements. Image compression automatically reduces the file sizes of your images, as large images can significantly slow down page load time. Your theme may come with caching and image compression features, but if not, add a plugin to ensure your site loads quickly to provide a good user experience (UX).
Yoast SEO: The free Yoast SEO plugin is recommended for several reasons. It serves as a guide to optimization as you add pages or publish blog articles on your site, helping you rank higher. It also generates an XML sitemap that you can submit to Google for indexing, allowing you to connect your Google and Bing analytics accounts for more performance data.
Forms: If you need to use forms on your website, such as contact forms, lead generation forms, sign-ups, etc., you'll need a forms plugin, such as Gravity Forms. When researching form builders, take advantage of demo versions to ensure you can easily build forms with the fields you need and that it is reputable and secure for transmitting data.
WooCommerce: There are other ecommerce plugins, but WooCommerce is a highly rated and recommended free ecommerce plugin. You can connect PayPal and other payment processing software (like Square) or your banking institution to sell online. Keep in mind that special functionality (selling digital goods, calculating shipping, memberships, subscriptions, event tickets, etc.) will require purchasing paid WooCommerce add-on plugins.
As you can see, these are basic functions needed for any website. However, you may also want plugins for things like a website chat (bot or live), pricing tables, custom graphics like sliders and image galleries, ecommerce, calculators, and polls and surveys. To get a sense of other plugins you might need, read our list of WordPress tips and tricks.
---
Wondering how much all this will cost? WordPress' open source software is free, but building a WordPress website requires the purchase of hosting and may entail premium plugins, themes, images, and more. Get the full story in our article on the hidden costs of WordPress.
7. Add & Customize Pages
Most small business websites are made up of several individual web pages, like a home page, products or services page, about us, contact us, blog, and so on. Alternatively, some businesses opt for one-page websites broken out into sections for the above categories.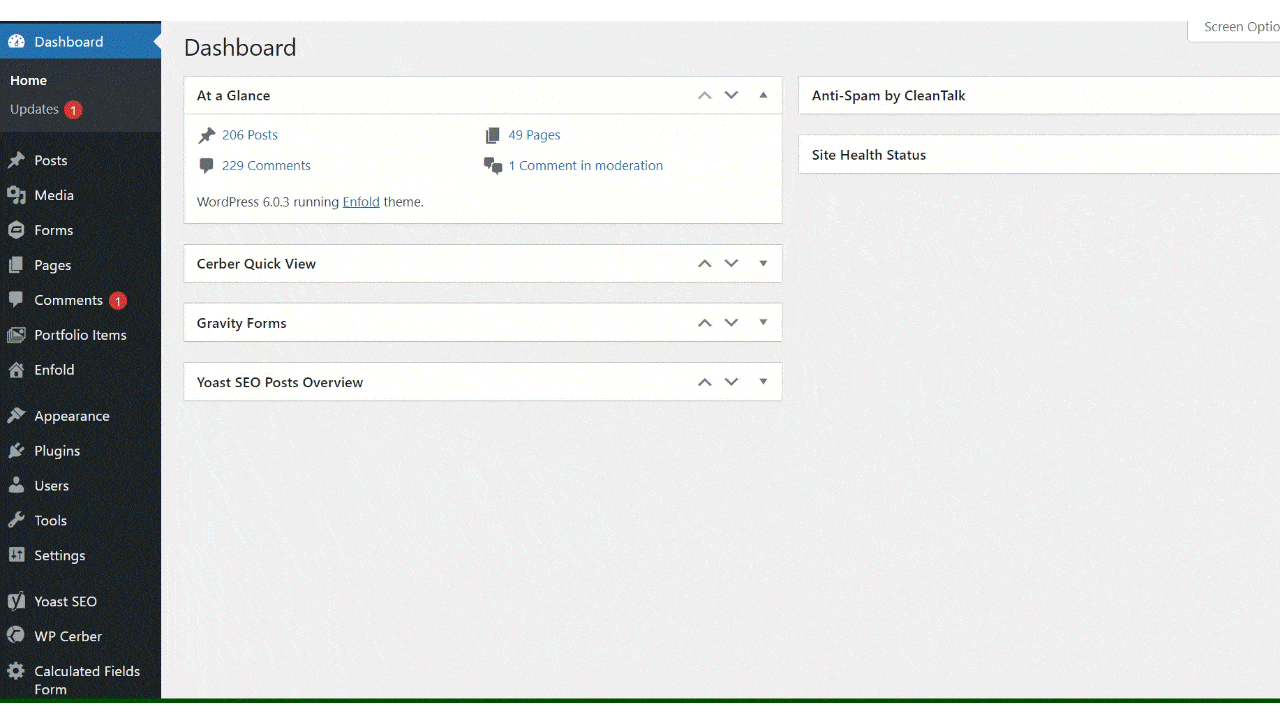 ---

---
To add a new page, from the WordPress dashboard, hover over "Pages" in the left-side menu and click on "Add Pages." Then use your editor to add content to your page. If you went with DreamHost or a page builder like Elementor, you'll be able to quickly build pages in a visual site editor. If not, you'll either be using the Gutenberg editor, the Classic editor, or the editing tools that came with your chosen theme.
By default, WordPress' Gutenberg editor, which is a block, or section-based, editor, is installed with WordPress. It's not very intuitive or easy to use, and unless you spend some time learning its ins and outs, you aren't likely to able to create the design you envision for your site.
For those wanting to know more, check out WordPress' documentation for how to use the Gutenberg editor. But to save yourself a lot of time and the headaches of learning to use the default editor, make building a WordPress website exponentially easier with a page builder.
Aside from just having a website, the design and content of your site are equally important for small businesses looking to grow a solid, online brand presence. Read our guide on what makes a good website for more than a dozen tips on how you can ensure your website stands out. If you're building a specific type of website, you can also learn more in the tutorials below:
Need a bit of inspiration for web design? Check out the best startup websites to help you get an idea of various layouts and design options ideal for your site.
8. Build Navigation & Menus
Navigation refers to how site visitors can explore your site and access all its pages and articles. It includes menus (such as menus commonly seen in website headers and footers) as well as search bar functionality, breadcrumbs, and even internal links within the content of a page or blog post.
With the pages you want to launch your website built, it's time to customize at least two navigational menus. The first one will be displayed in your website's header section, and the second one will be added to the footer. This is good for the site visitor experience as both the header and footer appear on every page of your website, unless you specify otherwise.
The header menu should contain links to high-level pages (e.g., home, about, contact, blog, services, store, and so on), and may also contain secondary links. An example of this would be a "Services" menu with multiple subcategories for different types of services. Your footer menu should contain only links to high-level pages or to the pages you want to push site visitors toward (e.g., apply, contact us, directions, and so on).
From the WordPress dashboard, hover over "Appearance" on the left-side menu and click on "Menus." Select "Main Menu" from the drop-down. This will be the menu you add to the header section. You can also rename this menu to coincide with how you will use it, such as in the example above ("MainNAV").
To add a page from the list of pages to the left of the menu, click the check box and click "Add to menu." Then drag and drop the item to where you want it in the menu's hierarchy. When you're done, click on the blue "Save Menu" button on the bottom right to save your changes. Repeat this process for the menu you want to add to your footer, including giving the menu a name.
Some sites also have top bars above the main header area. If your site has a top bar, you can also create a custom menu for this section. For example, the SERanking.com website has a top bar with links to their help center, sales contact page, and at the right side, an option to choose a language version of the site.
9. Customize the Header & Footer
Header and footer sections are site-wide sections of your website that appear at the top and bottom of every page. Headers are mainly used to provide site visitors with access to navigational tools (e.g., links, menus, search bars, click-to-call phone numbers, and so on) that take them to the content they most want to get. Footers allow for more custom use, such as a custom menu, email subscription form, social media feeds, blog feeds, and more.
To customize your header or footer, from the dashboard, hover over "Appearance" on the left-side menu, then choose "Customize" and click on either "Site Identity" or "Header" or "Footer." Proceed to edit the settings.
Alternatively, the theme you chose for your website may also have the option to customize the header of your website through Appearance → Customize or through menu items found in your theme section of the dashboard. Page builders like Elementor even allow you to edit your header and footer visually, which is far easier than through WordPress' native tools.
Adding elements to your footer also requires that you first build them in what are called "Widgets." It's fairly easy to build widgets, and this is also how you embed custom code from third-party apps, such as a subscription form that links directly to your email marketing software. To get to the Widgets section, hover over "Appearance" in the left-side menu, then click on "Widgets."
10. Review & Launch Your Site
Launching a website is exciting, especially after doing all the work that goes into learning how to make a WordPress website and building it. But you also want to launch knowing your site is ready for the world to see.
Download our free website basics checklist and tick off each item to ensure your site is built for success. Lastly, before you publish your site, preview and proof each page following these steps:
Proofread and check for grammatical errors
Test each link to see if something is missing or broken
Use Yoast SEO to ensure the page is optimized for the target keyword
Make sure images are displaying properly
To preview a page, click on "Preview Changes" in the top right corner. This will open a preview copy that only users logged in with administrative privileges can see. Once everything—from the design, user experience (UX), functions, elements, and content—is ready, it's time to go live. To launch your site, click on "Publish" for each of the pages you want to be live on the internet.
Next, check your website by typing in your domain name (aka website address or URL, such as "www.mybusinessname.com"). Review your site online and make sure everything is displaying and working correctly.
After launching your site, perform these next steps to promote it and ensure the success of your website as a marketing tool:
Websites are not an "if you build it, they will come" proposition. Marketing your website is critical to get web traffic, and specifically to get site visitors from among your target audience. Get more than 20 tactics for website success in our list of website marketing strategies.
Frequently Asked Questions
Can you create a WordPress site for free?
You can create a free site through WordPress.com, but it will be hosted on a subdomain vs a website hosted on a custom domain branded to your business. It's not a good option for small businesses as it doesn't help your domain build authority with Google and hurts your brand's credibility. The WordPress CMS is free open source software, but you'll have to purchase at least a web hosting plan to use it. Learn more in our breakdown of WordPress website costs.
Can I build a WordPress site myself?
As the steps above show, you can learn how to make a WordPress website and build it yourself with some time and effort. In fact, making site building easier is one of the biggest reasons to use WordPress. Its do-it-yourself (DIY) appeal has even led to the development of leading website builders (e.g.,Wix, Squarespace, and Weebly) that make DIY site building even easier. See the pros and cons of outsourcing vs DIY small business web design in our guide.
Which is better: WordPress or Wix?
Aside from the fact that WordPress isn't an all-in-one solution, choosing whether Wix vs WordPress is best depends on if your site needs something only WordPress can provide. For the majority of small (and even not so small) businesses, Wix is better than WordPress. It's more affordable (especially factoring in the cost of themes and plugins), far easier to use, extremely customizable, and it's one of the best site builders for SEO.
Want to compare the process of site building before opting for WordPress over Wix? Read our list of steps showing how to create a website on Wix in a few easy steps.
Bottom Line
If you're willing to put in the time, you can learn how to make a WordPress website for your small business. But to save time and money, check out the advantages of using one of the best WordPress alternatives before committing to WordPress. If you do move forward, make sure you purchase a WordPress page builder to make your process easier.
Ready to get started? We recommend DreamHost (and so does WordPress). Its hosting plans come with a free domain, SSL, and no-code WordPress website builder to lessen the learning curve and help you build a professional website more easily to represent your brand online. Plans start at $2.95 per month for the first year, so there's little risk to trying it out.
You Might Also Like…