WordPress is the world's leading content management system (CMS) platform with more than 75 million websites. Businesses choose WordPress because of its vast customization options making it suitable for nearly any company. It works for small businesses just starting as well as large, internationally recognized companies. Building a site with WordPress no longer requires technical experience or coding knowledge and can easily be built in just a few steps.
Before diving into designing your business website, save time and money by first registering for a web hosting plan. Hosting plans, such as those with Bluehost, come with a range of features that businesses will need to build their site from a free domain, business email, and one-click WordPress installation, and cost as little as just $2.95 per month.
Is WordPress Right for You?
WordPress is a highly versatile CMS, making it a good fit for all types of business. Unlike in the past, making a site with WordPress no longer requires technical expertise or coding knowledge. Thanks to themes and a vast number of plugins, nearly anyone can build a WordPress site for just about any industry imaginable. Even those that do not currently need unique features or customizations should consider WordPress as it's a great platform to scale and grow with.
What You Can Do With a WordPress Website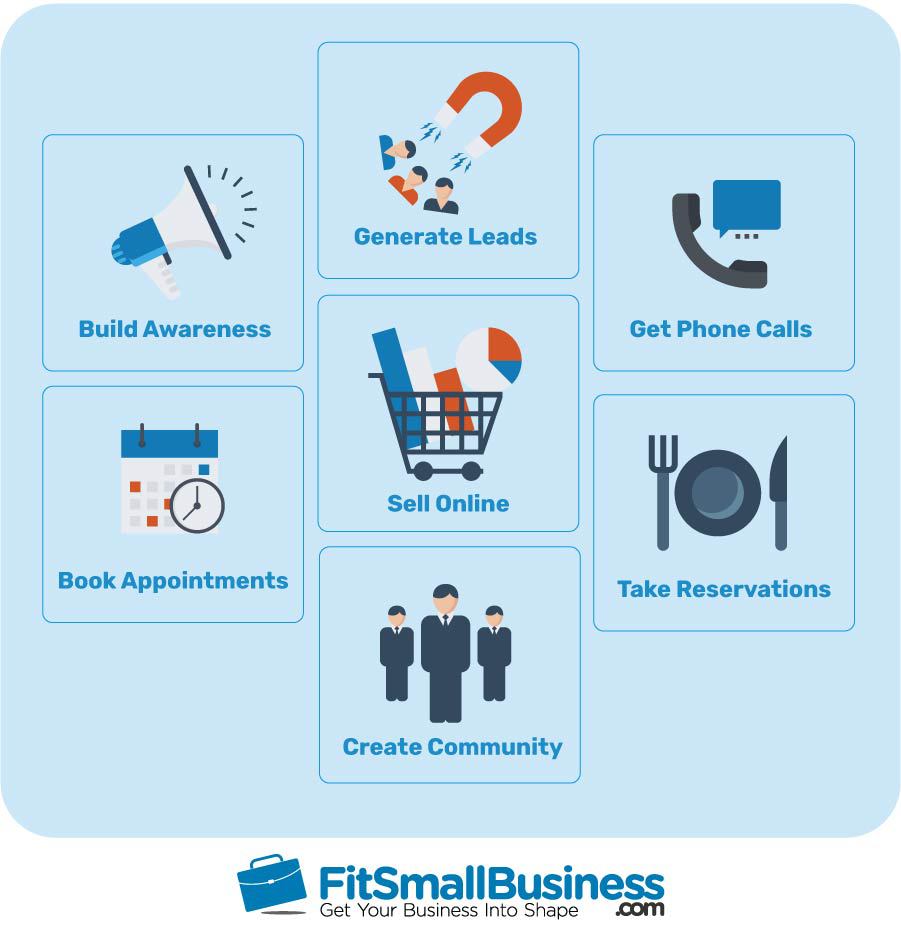 Building One of These Types of Websites?
Get instructions on how to make a WordPress website for your industry or business-type:
How Much Does WordPress Cost?
WordPress is a free CMS to use, though that does not mean there are no costs involved with building and maintaining a WordPress website—even if you make it yourself. Those looking to make a WordPress website for professional use will need to get web hosting ($3 to $10 per month), a custom domain name ($12 to $15 per year), a secure sockets layer (SSL) certificate, and for many, a premium theme, premium plugins, and even development of custom code.
Here are the costs involved with building and managing a WordPress website:
Web hosting (~$3 to $10 per month)
Premium theme (~$20 to $50)
Premium plugins (~$5 to $10 per month)
How much a WordPress website will cost varies greatly from business to business. The largest factor in cost is whether or not the site is built in-house or built by a web designer. A professionally designed site could cost anywhere from a few hundred dollars for a simple website to tens of thousands of dollars for a complex and highly customized site with unique functionality. We've created a breakdown of how much WordPress sites cost.
WordPress Alternatives
WordPress isn't the only option when it comes to building a business website, and it's definitely not the easiest either. Before taking the time to build a site with WordPress, it's worth taking the time to determine if WordPress is the best fit for your business and website needs. For example, those that have not built a WordPress site who are looking for a fast and painless way of getting a site up quickly may want to consider all-in-one site builders like Squarespace or Weebly.
Not sure if WordPress is right for you? Those looking for an easier way to build a website will find a number of great WordPress alternatives, such as Squarespace, GoDaddy, and Weebly.
How to Make a WordPress Website in 10 Steps
Creating a WordPress website is easy and does not require coding or development expertise. To create your WordPress site, you'll need to get hosting, choose a theme, and design your site. When you've created and designed all of your pages, posts, widgets, and site elements, then you can add functionality via plugins.
Here is how to make a WordPress website in 10 steps.
1. Get Web Hosting
Before you begin designing your WordPress website, you need to purchase web hosting. All WordPress.org websites require third-party web hosting to connect a custom domain name and be available online. By starting with web hosting you can save money by getting a free domain name, a free SSL certificate, business email, and save time with one-click WordPress installation that eliminates the need to connect your domain manually to WordPress.
2. Get a Domain Name
Next, get a domain name, or web address, such as www.yourbusiness.com, to connect to your WordPress website. If you purchased a web hosting plan that includes a free domain name you will be prompted to select a domain name through your web hosting provider. If you already have web hosting but need a domain name, purchase one through a domain name registrar like GoDaddy. See if your desired domain name is available using the search bar below.
3. Install WordPress
With web hosting and a domain name, the next step is to install WordPress or, in other words, to connect your web host and domain to WordPress. All of the top web hosting providers offer a simple one-click WordPress installation tool that connects your hosting and domain to WordPress automatically. To use this, navigate to your web hosting dashboard, and find the "one-click WordPress installation" tool. This will bring you to your WordPress dashboard.
Get the step-by-step details on how to install WordPress from your web host:
4. Choose and Install a Theme
WordPress themes serve as website templates, providing users with a fully designed site that can be updated and customized easily. It's important to choose a theme that best matches not only how you want your site to look, but how you want it to function, including unique integrations and tools that serve certain website goals or business types. Themes are available directly from WordPress, as well as from third-party providers.
Installing a Theme From WordPress
➡️ Shortcut: From your WordPress dashboard: Appearance > Themes > Install > Activate
A number of themes are available directly from WordPress. The free themes tend to be fairly basic in terms of design and features, so they are best for businesses building a simple website or those that have experience building a WordPress website. To find and install a theme, navigate to "Appearance" from the left-hand menu on your WordPress admin dashboard and click "Themes." Once you have found a suitable theme, click "Install" and then "Activate."
Installing a Third-party Theme
➡️ Shortcut: Download Theme > WordPress Dashboard > Appearance > Themes > Upload > Upload Theme > Choose File > Install > Activate
Many people find the small upfront cost of a premium theme to be well worth the price as it helps ensure your site looks and functions well, but also helps reduce the amount of time it takes to make a WordPress site if you choose a theme that comes with everything your site needs, whether that's built-in event calendars, an online booking or reservation system, or the ability to list, manage, and sell products online.
To find and install a third-party theme search platforms, such as ThemeForest or Template Monster, which have hundreds of custom-built themes available covering nearly any design and any use case from law firm or education themes to fitness centers and hotels. From a third-party theme provider, purchase and download the theme of your choice.
After downloading your third-party theme, go to your WordPress dashboard. Navigate to "Appearance" from the left-hand menu, click "Themes," and from the themes page, click the "Upload" button at the top of the page. Click the "Upload Theme" button and select your downloaded theme from your files and click "Install Now." When finished installing, click "Activate."
5. Find and Install Plugins
➡️ Shortcut: Plugins > Add New > Install Now > Activate
The next foundational step before designing your site is to install WordPress plugins, which give a website additional functionalities for everything from added security and search engine optimization (SEO) to the ability to sell tickets to events. No matter which type of business website you're building, there are plugins you should use and the good news is that most are available for free.
Here are seven plugins every business website should use:
To find and install plugins, find "Plugins" from the left-hand menu on the WordPress dashboard and select "Add New." Browse or search for your desired plugins. After finding the plugin you want to install, click the corresponding "Install Now" button, then click "Activate."
6. Add Pages
➡️ Shortcut: Pages > Add Pages > Edit with Elementor
Websites are comprised of a number of individual web pages. These include your homepage and pages such as products or services page, about us, and contact us. Each page is created individually. Add a new web page for each of the pages you want your site to consist of. To do this, navigate to "Pages" from the left-hand menu and select "Add Pages."
Optional: Build out pages easily by clicking "Edit with Elementor" for those that installed the drag-and-drop site editor plugin.
7. Build Navigation and Menus
➡️ Shortcut: Appearance > Menus > Select "Main Menu" from dropdown > drag and drop pages to menu > Save Menu
Next, customize your site's menus, which serve as its navigation. Traditionally, menus appear in both the header and footer of a website so that site visitors can navigate around a site whether they are at the top of the bottom of any given webpage. To create your menus, go to "Appearance," then click on "Menus," and select "Main Menu" from the drop-down menu. From there, you can drag, drop, and reorder your menu to suit your business website.
*Note: Not all templates enable users to customize the design of site navigation. If you wish to change your theme's navigation but it does not allow for it, then you will need to install a new theme that matched the navigation style you're looking for or choose one that allows for customizations.
8. Customize Your Header & Footer
➡️ Shortcut: Appearance > Header > edit settings
Using Elementor: Templates > Theme Builder > Header > Add New > from the drop-down select "Header" from the drop-down and select "Create Template"
9. Prepare Your Site to Launch
As tempted as you may be to go ahead and get your new site live, it's important to do your due diligence and ensure your site is ready to go live. To do this, run through the site checking for any grammatical errors, design inconsistencies like color variations outside the color scheme or random fonts, check all links, create a 404 page, test your site on different device types, and double-check that your site is optimized for search.
Here are five things to do to prepare your site to launch:
Proofread every page of the site
Check for missing or broken links
Create a 404 redirect page
Check that the site is responsive
Use Yoast SEO tool to ensure your site is optimized for search
Secure your site with an SSL certificate
10. Go Live
➡️ Shortcut: Pages > Publish
Once you have built your site and prepared it for launch, it's time to go live. To do that, navigate to your pages and click the "Publish" button for each. This will trigger your site to go live. You can confirm this, by typing in your URL to see your site online. Even after your site has successfully been launched, your work isn't over. Now is the time to submit your website to be indexed by Google, create social pages such as a Google My Business page, schedule site backups, market and promote your site, and create a content calendar.
Here are five things to do after publishing your WordPress website:
5 WordPress Website Examples
Need some design ideas and features inspiration? Looking at examples is a good way to get ideas that you can apply to your WordPress site to build not only a beautiful-looking site, but one that serves as a marketing tool to build awareness, generate leads, and drive sales.
Here are five examples of WordPress websites and what they can do to promote a business.
Unique functionalities: Demo call to action (CTA) and live chat
Unique functionalities: Free "Coding Camp" CTA and a quiz
Unique functionalities: Make a Reservation CTA
Unique functionalities: "Start Now" CTA
Unique functionalities: Contact form for lead generation on the homepage
💡 Looking for more design ideas and inspiration? Get the full list of WordPress tips and tricks.
Bottom Line ― How to Make a WordPress Website
While WordPress is a complex and comprehensive CMS, making a WordPress website doesn't need to be complicated. It also no longer requires an expensive web designer or coding. Instead, businesses can build their own professional website with WordPress by following our step-by-step instructions that involve 10 steps from start to finish.
Those that still fear if WordPress might involve more technical expertise than they're comfortable learning should consider using an all-in-one site builder, such as Squarespace. It's not only one of the easiest ways to build a site, but it's also affordable with plans starting at $10 per month, which includes everything you need from web hosting to a domain name.