What Marketing Qualified Leads (MQL) Are & How to Use Them
Marketing qualified leads (MQLs) are prospects who fit within your target audience and have interacted with your website or an element of a marketing campaign. This makes them different from sales qualified leads (SQLs), which are prospects who have taken more direct actions like interacting with a live sales agent, requesting a proposal, or signing up for a free demo version or sales presentation.
Find out how MQLs fit in the sales funnel, how they differ from other lead types, how to score them, and how to market to them more effectively to increase conversions and sales.
How Are Marketing Leads Qualified?
The lead qualification process is significantly easier for MQLs compared to SQLs.
To be considered a marketing qualified lead, all a prospect has to do is to respond to a piece of marketing material in a way that allows you to capture their contact information or shows they might be interested in learning more about your company's products or services.
Typical actions a prospect might take to be considered a marketing qualified lead include:
Downloads a marketing asset such as an e-book or whitepaper from your website
Visits an informational or blog webpage
Opens an email from your email marketing campaign
Clicks on an email marketing campaign link
Engages with a social media post or advertisement
Visits your site after clicking on a search or display ad
Submits a web form for an offer
Signs up to receive your email newsletter
Registers for or attends a webinar
As a full example, let's say you deployed an email marketing campaign consisting of an e-book for a relevant topic in your industry. You compiled an email list of contacts by purchasing leads and collecting business cards. Anyone who opens the email or downloads the e-book is then considered a marketing qualified lead.
Likewise, if you run an online ad through Google, Facebook, or LinkedIn that directs the audience to a webpage to download the e-book, anyone who clicks the link or downloads the e-book is also an MQL. Being marketing qualified is a spectrum that ranges based on interest from just opening a marketing email to actually taking the time to download and read an entire marketing asset.
Pro tip: Companies that segment email saw revenues increase as much as 760%. The best customer relationship management (CRM) systems for email marketing make it easy to segment your contacts based on interests, industry, company size, custom fields, tags, and more to optimize your marketing campaigns and results.
MQLs vs Other Types of Leads
It's important to understand that being marketing qualified is just one stage in the qualification and sales process. Depending on how they are generated and their level of interest, prospects will have different classifications of being "qualified." The chart below outlines the key differences:

Unqualified Lead

Marketing Qualified Lead

Sales Qualified Lead

Product (Service) Qualified Lead

Definition

A contact who is a good fit for your business but has not connected with you or expressed interest yet

A lead is who has expressed a degree of interest by interacting with your marketing campaigns

A lead who has expressed a high degree of interest in your offerings by interacting with a sales rep or sales campaign

A lead who has used a product or service through a free trial or free consultation and has expressed interest in being a paying customer

How They Are Generated

Online research, purchasing lead lists, or collecting business cards from networking events

The lead opens an email, clicks a web link, downloads a marketing asset, submits a webform, or interacts with social media content

The lead requests pricing, signs up for free trial, agrees to a product demo, or calls a sales rep

The lead reaches out to a sales rep after using a free trial or consultation

Pros

Can generate a high volume at once by purchasing contact lists

Has shown a small degree of interest
Can generate robust volume if a campaign is properly designed and deployed

High degree of interest
Close to a purchasing decision

Strong degree of interest by using risk-free product or service
Very close to purchasing decision

Cons

Lead hasn't shown any interest yet
Lead may not end up being a good fit

Hasn't yet shown purchasing interest
Can take ample resources and time to create the marketing campaigns

Can take time and multiple touchpoints to generate

Requires lead to be sales qualified first
Can take time and many touchpoints to generate
Pro tip: Use a marketing-focused customer relationship management (CRM) software like HubSpot to automate your qualification activities. The HubSpot CRM platform lets you create email marketing campaigns, send them, and automate the lead record's life cycle status depending on the depth in which they interact with the campaign and the interest they show.
How to Measure & Improve MQL Marketing Effectiveness
In addition to knowing which leads to prioritize, tracking MQLs also provides insights on how effective your marketing campaigns are and where improvements need to be made. For instance, let's say you run three marketing campaigns to get your audience to download a recently published whitepaper along with two supporting infographics:
Campaign 1: Email marketing campaign sent to 1,000 recipients with a call to action (CTA) to click on the webpage where they can download the whitepaper and infographics.
Campaign 2: Google advertisement with CTA taking the audience to the webpage where they can download the whitepaper and infographics. The advertisement reached 10,000 people.
Campaign 3: Three social media posts on LinkedIn teasing information from the whitepaper with the CTA taking the audience to the webpage where they can download the whitepaper and infographics. The posts were viewed by 15,000 people.
Because each campaign is using the same CTA that directs the user to the whitepaper webpage, we can measure, apples-to-apples, the MQL conversion rates based on clicks of the webpage link and marketing asset downloads. The results of each campaign were as follows:
| | Campaign 1 (Email) | Campaign 2 (Google Ad) | Campaign 3 (LinkedIn) |
| --- | --- | --- | --- |
| Audience Reached | 1,000 | 10,000 | 15,000 |
| Cost of Campaign | $150 | $1,000 | $600 |
| CTA Clicks | 50 | 200 | 1,200 |
| Marketing Asset Downloads | 10 | 20 | 100 |
| Click Rate | 5% (50/1,000) | 2% (200/10,000) | 8% (1,200/15,000) |
| Cost per Click ($) | $3 ($150/50) | $5 ($1,000/200) | $0.50 ($600/1,200) |
| Click to Action Rate | 20% (10/50) | 10% (20/200) | 8.3% (100/1,200) |
| Cost per Action ($) | $15 ($150/10) | $50 ($1,000/20) | $6 ($600/100) |
The results of each campaign tell a few stories. The first is that campaign number three, the social media posts, had the highest MQL conversion rates in terms of click rates at 8% and was the most cost-efficient with a cost-per-click of only 50 cents.
Another key finding is that despite having a lower click rate than campaign three, campaign one was more effective at reaching the right audience, as their click-to-action rate was the highest by as much as 20%. These insights tell the company that the messaging of email campaigns needs to be reworked to get more clicks but should stick with that same audience.
Pro tip: Use a CRM system to manage and monitor your campaign performance. Freshsales, for instance, lets you deploy both sales and marketing initiatives, then compare them among each other with real-time data. This gives you a full overview to see what's working and what needs improvement.
Lead Scoring
For deeper MQL knowledge, use lead scoring to see just how "qualified" a lead is. Lead scoring quantitatively measures the strength of a sales opportunity based on the fit, interest level, and purchase capability of the lead. Once you develop your point-scoring criteria, assign points and compare leads to evaluate where you should focus your resources.
In the context of MQLs, you might assign higher scores for more engaged marketing qualifying events such as downloading an e-book or signing up to receive newsletters. This is in comparison to assigning lower scores for more simplified marketing qualifying events like opening an email or clicking a link.
Pro tip: CRMs offer an easy way to configure and track lead scoring. Zoho CRM, for example, lets you streamline the scoring process by automatically giving points to leads based on their interactions with marketing campaigns and the criteria you designed. Plus, you can view all of your leads in comparison with one another in a list view based on who has the most points.
Lead Conversion Rates
To measure your effectiveness in getting leads through the sales pipeline, there are a few conversion metrics you can use. The first is called the MQL-to-SQL conversion rate. Just as the name suggests, it's the percentage of MQLs who become sales qualified over a set period and is a good indication of how strong your sales team is at driving leads into potential buying situations.
For example, let's say you had 3,000 marketing qualified leads generated over the course of a year. In that same time period, 500 of those became sales qualified by either requesting pricing, agreeing to a sales presentation, or signing up for a free trial. Therefore, your MQL-to-SQL rate ends up being 16.6% (500/3,000).
An even more simplified metric is a deal-closing rate. This takes the total number of deals closed or customers added and divides it by the total number of leads accumulated from lead generation activities. For the most accurate numbers, only include sales qualified and marketing qualified leads, as unqualified leads aren't truly significant until they've expressed interest.
As an example, if during the last quarter you generated 200 MQLs and 30 SQLs through sales and marketing activities, your total leads generated is 230. Of those, we'll say 20 ended up becoming paying customers. Therefore, your total closing rate for that quarter is 8.7%. Not only is this a solid performance metric, but it also tells you how many leads need to be generated to fulfill your sales goals.
For example, let's assume we kept that 8.7% closing rate. Your goal for this quarter is to close 40 deals and you already have 210 leads in the pipeline. To reach 40, you'll need 460 total leads in the pipeline (40/8.7%). Since you already have 210 current leads in the pipeline, you'll need to generate approximately 250 new MQLs or SQLs during the quarter to hit your goal.
Pro tip: CRM software can be used to manage your sales pipeline and report performance in the form of lead conversions. HubSpot and Bitrix24, for instance, take data stored in the system and show the status of each lead in terms of where they are on the organization's uniquely customized pipeline. The totals and conversion percentages can be presented through either reporting tools or the system's dashboard.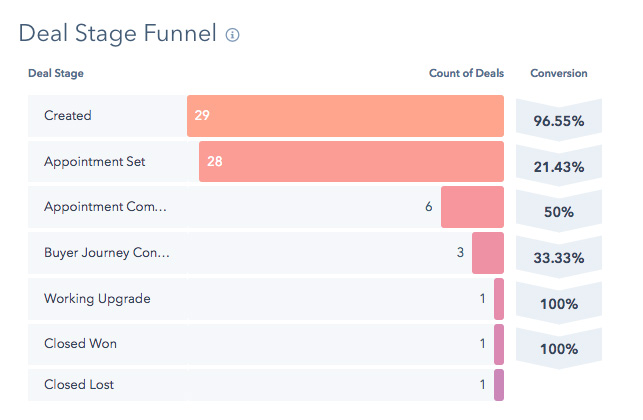 ---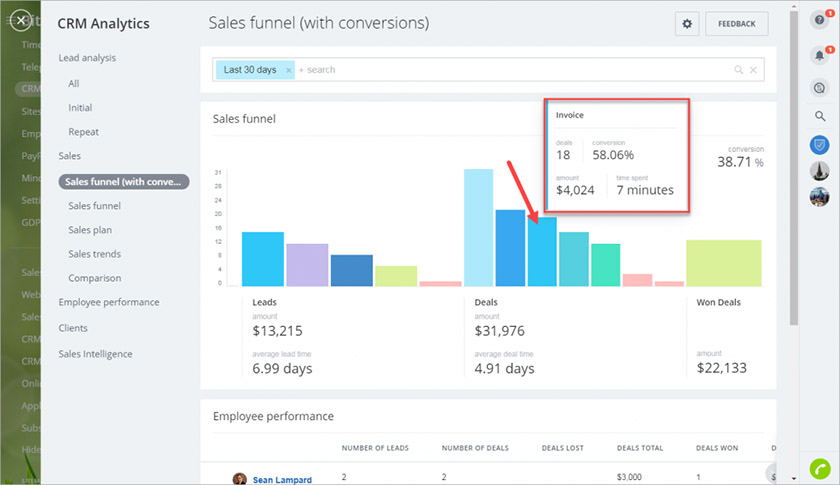 ---
Bottom Line
Generating marketing qualified leads should be a top priority for those in sales management because of the high potential of solid opportunities it offers a sales team. Though MQLs are just one type of qualified lead, they can be an indication for your business on how effective your marketing campaigns are. Additionally, all of the metrics associated with MQL generation show you which specific aspects of your campaigns need improvement.