Lead scoring aims to prioritize your sales activities by focusing only on opportunities with the best chance of converting into customers. By establishing customer fit and interest criteria, setting a point system, and applying it to current deals in the pipeline, you gear effort toward those most interested and qualified to make purchasing decisions. In this article, we explore how to set up a lead scoring system, provide a template and use-case examples, and discover software tools you can use during the process.
Free Lead Scoring Template
Lead scoring can sound intimidating, but you don't have to start from scratch. While many customer relationships management (CRM) systems offer contact and deal scoring tools, you can also do it manually. We've created a free template you can customize to help you ‌filter out the most promising leads from those unlikely to buy.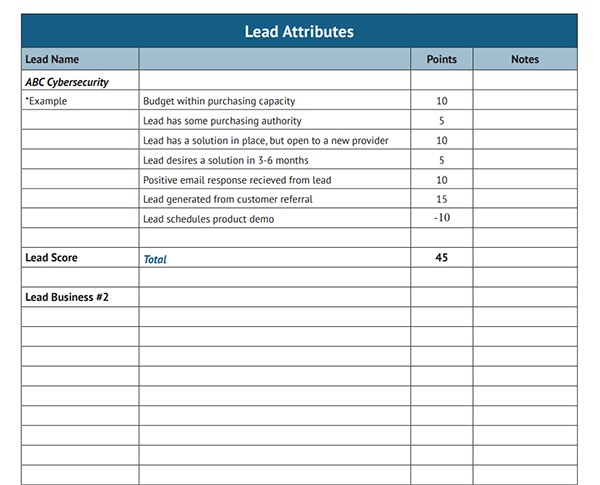 Thank you for downloading!
💡 Quick Tip:
Use customer relationship management (CRM) software like HubSpot to create lead scoring criteria, points, and weights within the platform to automate your lead scoring process.
Visit HubSpot
You can also design and implement your own point-criteria system as part of your lead generation process by following five simple steps:
1. Determine Scoring Criteria for "Fit"
Scoring criteria are the elements you consider essential prospect attributes of someone who will make a purchase decision. In other words, to determine fit, you must first define the activities or customer attributes that will deem the lead qualified and interested in your offerings. We'll start with the customer's "fit" for what you are selling—similar to the qualities of your target market(s).
An excellent way to establish fit is through creating customer profiles or snapshots of what an ideal buyer (or your target audience) type looks like. Each profile will have a unique name and describe shared demographic, behavior, and interest qualities. Additionally, based on the shared traits for each profile, you'll describe the best marketing strategy, both in terms of messaging and channel to target them effectively.
The chart below is an example of different profiles used in business-to-business (B2B) selling for an insurance agency. The name of each profile summarizes that archetype's priorities and needs—impacting how you'll sell to them.
In addition to your ideal customer types, evaluate the person's authority to make a purchase decision, their spending capabilities, and the timeline of urgency for your product or service. The budget, authority, need, and timeline (BANT framework) are great ways to identify prospects and supplement those target customer profiles.
Pro tip: Using customer relationship management (CRM) software is a great tool for tracking customer profiles. Using the tag features, you can indicate on contact or lead records which profile is associated with them—indicating their priorities and how to best sell to them. Popular products such as Zoho CRM let you see tag data within a profile or filter out contact lists based on tags.
2. Establish Scoring Criteria for Interest
Discovering a well-suited potential buyer for your offerings by fitting a customer profile and having the budget, authority, need, and timeline to purchase from you isn't conclusive enough. You now need to create criteria for how interested they are based on their interaction history with your business.
Classify each contact or deal based on how they were generated and where they are in the sales process. For example, marketing qualified leads (MQL) are prospects who have interacted with a marketing asset such as a website, email, or content material, such as an e-book. By downloading assets, subscribing to a newsletter, or clicking on an email link, they have indicated they're curious to learn more about your solution.
Alternatively, a sales qualified lead (SQL) is further along in the process and expresses interest through a sales resource—indicating they are closer to making a decision. A sales resource entails pricing pages that a prospect could submit an inquiry through, a free trial they sign up for, or an actual sales rep in which the prospect requests pricing, a product demo, or a full proposal.
Fit and interest go hand in hand, and both need to be considered as scoring criteria. A prospect who is a good fit but has no interaction history may need just initial outreach on your end. On the other hand, an interested potential customer who is a poor fit could end up not suited for your offerings and fail to get the exact solution they desire—which can result in unsatisfied customers and poor user reviews.
3. Create a Point System
Once you know which attributes you are evaluating, generate a point system. A point system considers weights based on how important a criteria category is. For example, someone who requests pricing is more valuable than a person who reads a post on your blog. Therefore, an event where a potential buyer contacts your sales reps for quotes should carry more weight—awarding more points.
The chart below shows examples of circumstances for awarding negative or positive points based on fit and interest categories. You can use this as a lead scoring template to craft your own point system:
Example Lead Scoring Criteria
Keep in mind, your point system occurs on an ongoing basis in real time. In other words, you keep adding or subtracting points as they occur until the lead converts to a customer. For example, you conduct some prospect research and find a business that meets your exact customer profile. Because of that, you automatically assign them +30—giving them points before engaging them.
You reach out via cold call and ask some qualifying questions. You determine they have the budget, need, and authority to make a purchase, but it's not urgent—assigning them +8 points for 38 total. They then subscribe to your email newsletter for +5 and a few weeks later, agree to a product demo for +20—putting them at 63. After the demo, they ask for a proposal that adds another +25—for a total score of 88, qualifying them a "hot" prospect.
Following that status, they will either reject your proposal, which would be a significantly negative event in the -20 to -30 range, or accept it, putting them as a won deal. For simplicity and a consistent frame of reference, we recommend sales management personnel create an opportunity scoring system that ranges between 1 and 100 to make it easy to compare and evaluate pending deals.
4. Configure Lead Scoring in Your CRM or Manually
After you've designed a point system for every event, activity, and characteristic you can measure, you are ready to apply it. While you can do this manually with our lead scoring template, it's an excellent idea to use a CRM that can automatically calculate deal and contact scores based on how you configure it.
For example, with HubSpot CRM, you can establish criteria, points, and weights in the system which will continuously calculate scores based on prospect activity and traits. You can also create notifications to receive alerts if a significant event were to happen that yielded a significant score bump, such as someone signing up for a free trial.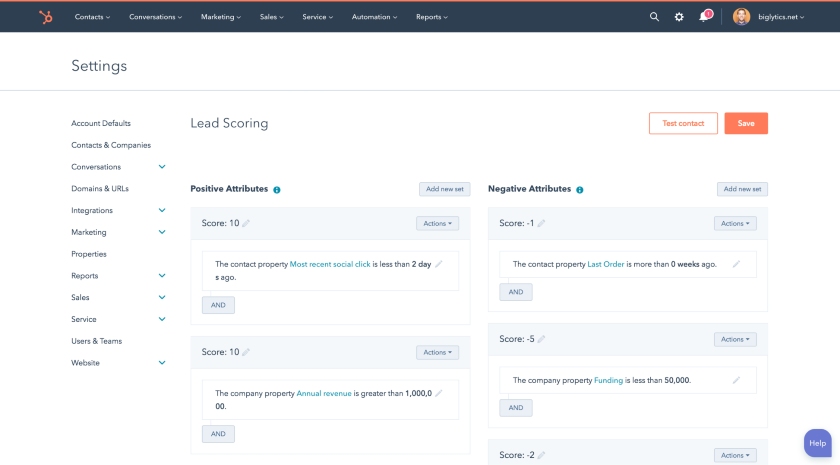 ---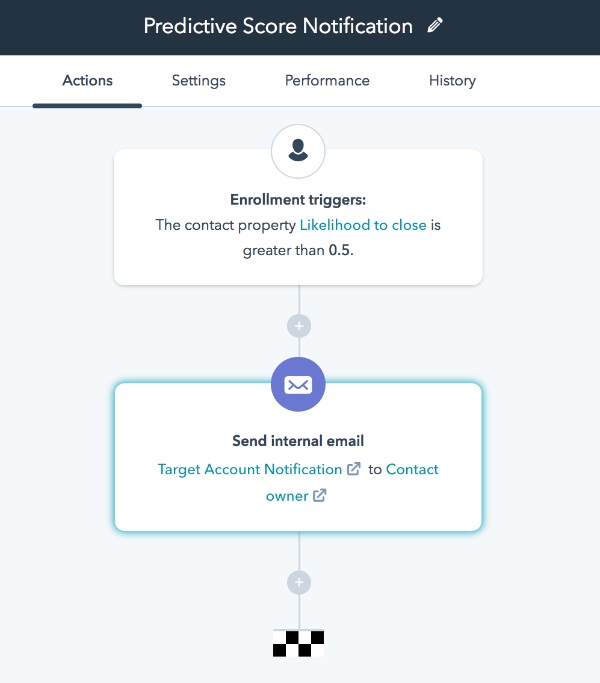 ---
5. Prioritize Leads & Opportunities
Conduct your sales business as usual and score points as events occur. If you're manually doing this, ensure you're accounting for everything taking place as frequently as possible to maintain real-time information for your sales team.
For CRM users, take the calculated scores and use them to identify the hottest opportunities to focus your efforts on. This could be continuously nurturing those prospects by calling or emailing them or making special offers for them to expedite a deal. For example, you have a high-quality lead with a score of 90, and you want to finalize the deal quickly. You can do a limited-time discount if they agree to purchase within the next week.
Once the scoring criteria are set with point values, CRMs like Freshsales let you evaluate scores in two ways. The first is within a lead, contact, or opportunity profile that shows insights regarding their quality and changes over some time. The other is a list where you can filter or sort records based on their score.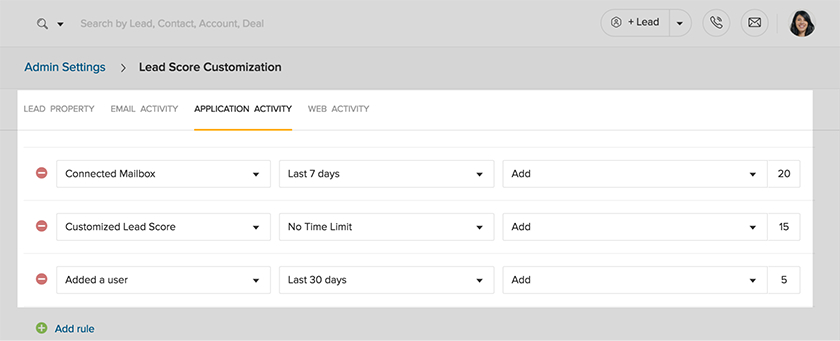 ---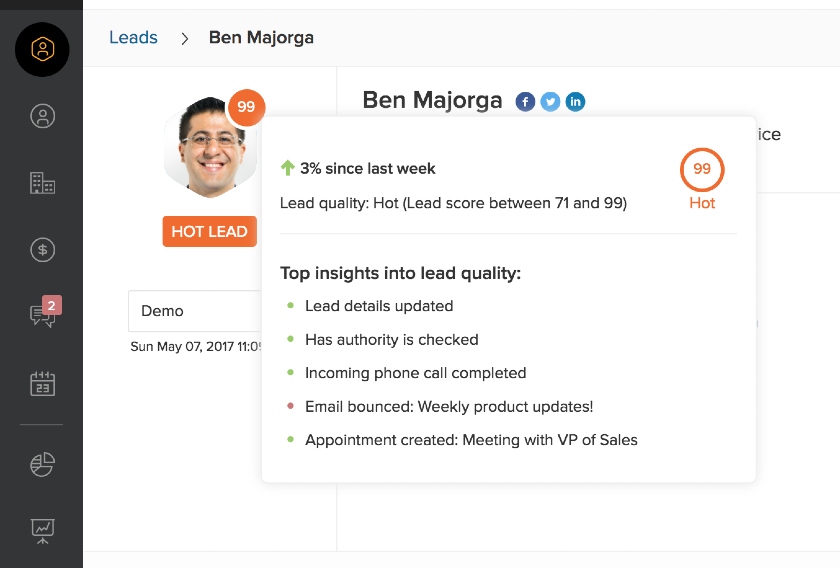 ---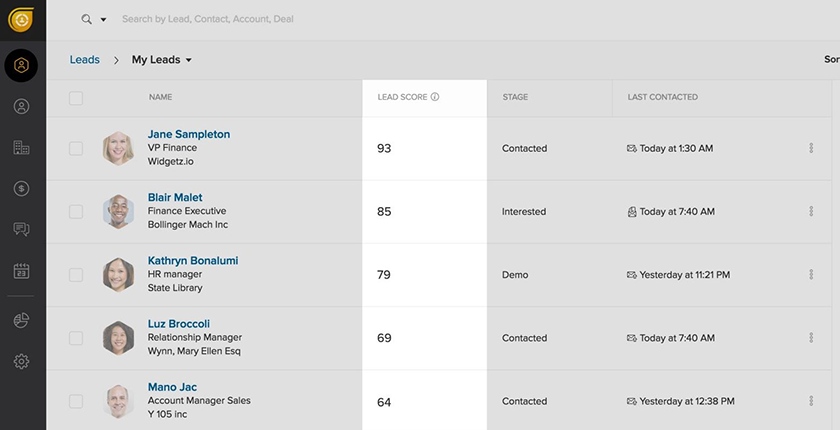 ---
What Is Lead Scoring?
Lead scoring is a lead qualification technique where you assign points to contacts or opportunities based on how likely they are to purchase from your business. It will consider the combination of a prospect's fit for your offerings and interest level based on their interactions with your brand. You can increase conversion rates by narrowing in on the top opportunities—putting you in a position to maximize sales revenue.
Lead Scoring Examples
Now that you know the step-by-step process of how to score leads, let's take a look at a real example and use-case scenario. Imagine you sell content writing services for technology businesses, and the following represents your perfect customer:
Beth the Boutique Cybersecurity Business Owner

Demographics: Middle-aged business owner of a 1-10 person firm.
Behavior: Focuses their time mostly on sales and client-facing activities as well as content development.
Priorities: Would like to use a blog for marketing their thought-leadership. Does not wish to work with a large marketing agency since they only need writing services. Has worked with other writers in the past and is dissatisfied with their lack of cybersecurity knowledge.
As part of your sales and marketing efforts, you primarily use cold calling, email, and referral marketing to generate and nurture leads. Based on how your revenue operation is conducted and what a perfect customer looks like, you set the following point criteria:
With the point criteria set, here are lead scores for three different potential deals based on their fit and activity:
ABC Cybersecurity
1-10 employees (10 points)
Cybersecurity firm (10 points)
Well within budget (10 points)
Contact is a decision-maker (10 points)
Lead currently has writer but wants new one urgently (20 points)
Lead was generated by referral: (10 points)
Opened marketing email and had a positive response (6 points)
Current Total = 76 points (warm lead)
Software Vendor Inc.
1-10 employees (10 points)
SaaS business (5 points)
Well within budget (10 points)
Contact is decision-maker (10 points)
Does not have writer and wants one urgently (30 points)
Submitted web form of interest (5 points)
Rep had a positive interaction with a lead on a call: (4 points)
Lead requested proposal: (25 points)
Current Total = 94 points (hot lead)
Cam's Automation Consulting
50+ employees (3 points)
Lead is an automation consultant (3 points)
Somewhat within budget (5 points)
Contact is not decision-maker (-1 point)
Lead currently has writer but wants new one (10 points)
Lead wants a new writer in a few months (5 points)
Lead opened email marketing message: (1 point)
Lead Opened email marketing message: (1 point)
Current Total = 28 points (cold lead)
Based on this example, despite Software Vendor Inc. not being the perfect customer for this business, they are currently the hottest prospect due to their urgency level and the sales readiness they've expressed. Cam's Automation Consulting, on the other hand, has interacted with the business quite a bit. Still, because email opens aren't significant, they only produce minimal point values—making it a colder lead.
Bottom Line
Lead scoring offers more efficient sales operations, with businesses using a scoring process experiencing a 77% increase in ROI from lead generation activities. Prioritizing only the best opportunities helps you avoid wasting time on deals that won't pan out. To create a scoring model, determine your criteria, design a point methodology, and apply it to your contacts and opportunities as they are generated.