Lead scoring is a way to automatically identify prospects most likely to buy. Using a combination of factors that measure level of interest and quality of fit, a lead scoring system automatically sorts your leads from hottest to coldest.
For example, if you use email marketing, you can score leads based on if and how often they read your emails. In this guide, we show you how to set up your own lead scoring system, including how to automatically track email opens, link clicks, and more using SAP Digital CRM.
In particular, we'll be covering:
Thanks to SAP for sponsoring this article.
What is Lead Scoring?
Definition: Lead scoring is the process of identifying hot leads by tallying points for certain criteria. For example, a set number of points can be rewarded when a lead opens an email or clicks a link to your website. When a certain score is reached, your system can automatically label them a "hot lead" and send an alert.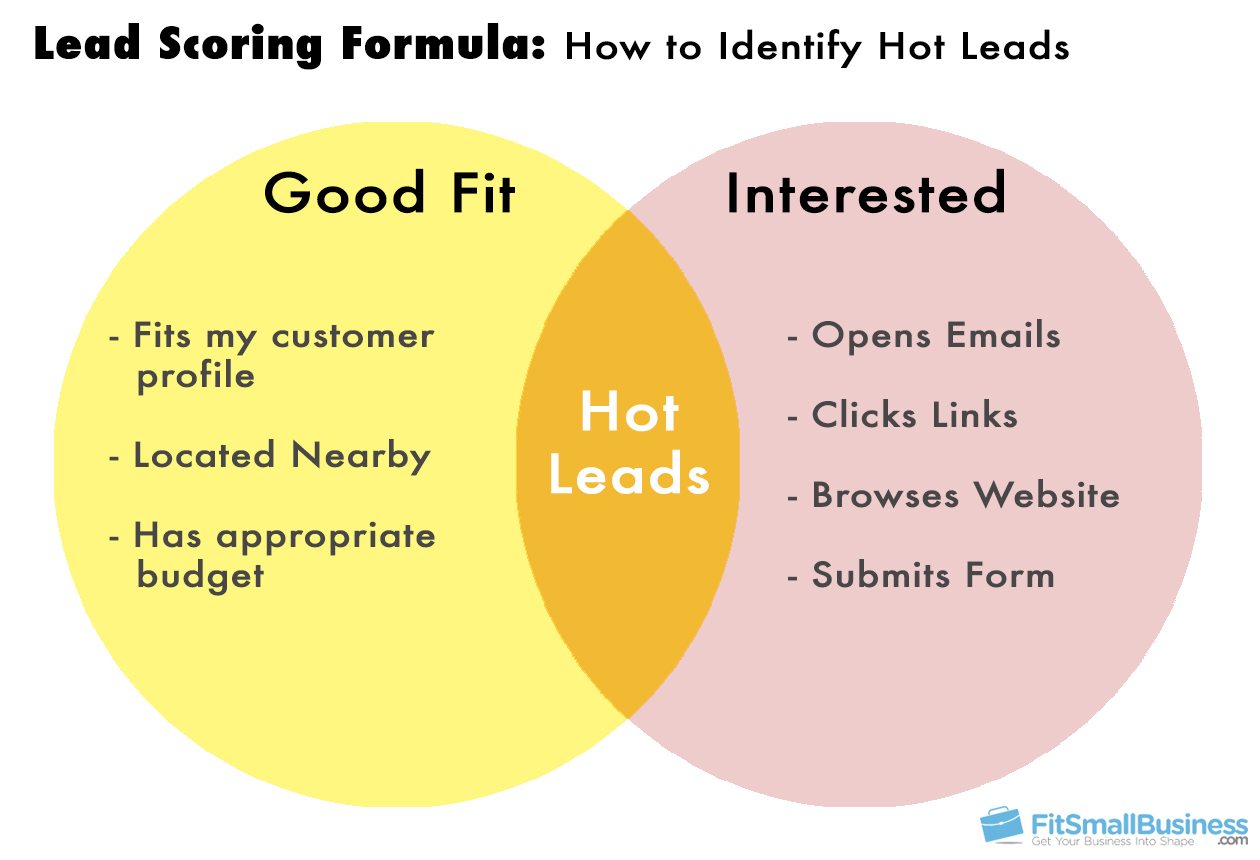 A good lead scoring system will measure for 2 things:
Are they a good fit for your product/service?
Are they interested in your company?
To measure if they're a good fit, you'll score a lead based on how well they match your typical customer profile. For example, a company that installs security systems for retailers might look at their lead's industry, store size and existing security system. Based on these 3 characteristics they can determine how good of a fit they are and score the lead appropriately.
To measure their level of interest, you'll look how much a lead interacts with your business. This can include email opens, phone calls, website visits, etc. Basically, anything that indicates a lead is aware of and interested in your product/service.
Both of these measurements – characteristics and actions – must be used together to determine how likely a lead is to buy. Looking at just one factor can be misleading – i.e. a customer who is a perfect fit, but hasn't heard of your brand.
How to Create a Lead Scoring System
The first step to create a lead scoring system is to list all the characteristics and actions that make a lead promising.
Characteristics will vary whether you're a business-to-business (B2B) or business-to-consumer (B2C) company.
Characteristics that show a customer is a good fit (B2B):
Number of employees
Industry
Store/office size(s)
Location(s)
Do they already have a system/specialist that does what I offer?
Characteristics that show a customer is a good fit (B2C):
Age
Gender
Household
Location
Income
Actions, on the other hand, are generally the same for B2B and B2C businesses. However, you will be limited to what you can track. For example, SAP Digital CRM is focused on email tracking, whereas other tools can track website visitors.
Actions that show a lead is engaged:
Opens email
Clicks link to your website
Submits webform
Visits landing page
Plays video
Downloads
Shares on social media
How to Design a Point System?
Once you have a list of positive characteristics and actions in mind, the next step is to design your point system.
Consider using a simple scale of 100 points as your "top" score. In other words, a perfect customer who fits your profile and has engaged with your emails and/or website should add up to 100 points. This would be the threshold to label them a "Hot" lead. A little bit lower, say at 75 points, can make them a "Warm" lead.
Your point system will likely take some trial and error to perfect. You may not know how much weight to put on each characteristic and action until you try it out. Too much weight on email opens, for example, could lead to "bad fits" ranking highly. Likewise, too much weight on characteristics could result in "hot leads" who've never actually interacted with your business.
Next we'll show you an example to help you start your own point system:
Lead Scoring Example: Security System Installation
Characteristics
Actions



Boutique & Luxury (+25 points)


Other retail (+10 points)


Other non-retail (-10 points)




< 1,000 sq ft (+10 points)


1,000 - 2,000 sq ft (+25 points)


2,000 - 5,000 sq ft (+10 points)


> 5,000 sq ft (-10 points)



Do they already have a security system?




Yes (no change)


No (+10 points)



Newsletter (+3 points)


Promotional Email (+5 points)




Newsletter (+5 points)


Promotional Email (+10 points)



Fills out store security survey




(+20 points)
Let's say I install security systems for small retail shops. My ideal customers are small luxury stores who need protection for their expensive products, although I occasionally work with other retailers and, once in a blue moon, non-retail businesses.
My scoring system is going to reflect these preferences. Luxury shops will get an immediate 25 point bump. Other retailers will get a modest 10 points, and non-retailers will start in the negative. I usually avoid non-retailers unless they show an exceptional level of interest in my emails. Likewise, I serve stores in the 2,000 – 5000 sq ft range best, but can work with those a little smaller or larger.
The other half of my scoring system is based on how engaged potential customers are with my email marketing campaigns. Using a system like SAP Digital CRM, I can set up email campaigns AND track when emails are opened, links are clicked, and forms are submitted by recipients.
I send newsletters that include updates about the retail industry, and promotional emails that showcase my services. Engagement with promotional emails gets extra points, since this indicates a recipient is interested in security systems specifically. Last but not least, I send an occasional security system survey customers can fill out to find their "security score." That gets a lot of points too, since it also shows that the customer is interested in security.
So let's see my point system in action:
If a lead comes through that is a luxury store (+25) with an interior that's 1,800 sq ft (+25) and does not currently have a security system (+10), they're immediately at 60 points. Now, let's say they've opened 2 of my promotional emails (+10), clicked at least 1 link (+10), and filled out my security survey (+20). They now total 100 points and would be classified as a "hot" lead.
I can now keep a close on eye this lead and allot extra resources towards them – whether that's marketing materials, free samples/trial, a sales presentation, etc.
How to Set Up Lead Scoring in SAP Digital CRM
Since a CRM consolidates your leads and helps you manage contact with them, it's the ideal place to set up your lead scoring system. SAP Digital CRM is an especially great option since they have email marketing built-in. When a recipient opens or engages with an email, you can automatically add to their score.
Specifically, there are 3 types of actions you can reward points for automatically in SAP Digital CRM:
Opening an email
Clicking a link inside the email
Submitting a form inside the email (like a questionnaire)
You can also add points manually to account for other actions or characteristics. For example, if you want to reward points for matching your profile — be that the customer's industry, location, budget, etc. — you can do this by clicking the lead or contact and simply adding to their score. Likewise, you can manually add points for phone calls, website visits, or any other action you want to track.
Next we'll show you how to set all this up in SAP Digital CRM. We'll start with automatic email scoring, then show you how to manually add points.
1. Add Points for Email Interaction
First, log into SAP Digital CRM, and click "Marketing" on the top toolbar. Click "Lead Scores," then find the button in the upper right corner that says "new." If you aren't an SAP user already, you can sign up for a free 30-day trial by following this link. You won't be able to send marketing emails with a free trial account, but you can set everything else up.
First, specify the type of action you're going to be scoring.
Then, in the blue window that pops up to the right, choose the category of emails this will apply to, and the time frame within which the action will need to take place. You can set values for different types of emails (such as newsletters, offers, or surveys), and depending on how quickly the action took place. For example, if the email is clicked within 24 hours, it's 2 points. After that, it's 1 point.
Lastly, set the number of points and click "Apply." Though you'll typically be adding points, you also have the option to subtract points if the action occurring is undesired.
2. How to Add Points Manually
You're not just limited to email interactions. Because SAP Digital CRM allows you to add or subtract points manually, you can score for literally any criteria.
To do this, simply head to your leads. Click on the lead in particular you want to score and click "Edit" in the lower right. Find the box that says "Engagement Score" in the left column, and enter the new value. Lastly, click "Save" in the lower right.
This is especially handy for scoring a lead's "good fit" characteristics. For example, when you first enter the lead into the system, you can look at their characteristics (be it number of employees, location, industry, etc.) and give them a score right off-the-bat. Then, they'll gradually earn more points as they open and interact with your emails.
3. Create Actions Tied to Score
It doesn't end there. As your leads begin collecting points, you can use SAP Digital CRM to trigger different actions when they reach a certain number. For example, as soon as a contact has reached 100 points, you can have their classification in the CRM automatically changed to "Hot" and create a task to give them a call.
There are 3 kinds of actions you can trigger once a contact earns a certain number of points:
Create Lead – If you're emailing a contact who isn't in your system as a lead yet, you can automatically create a lead after they've earned a certain number of points.
Change Qualification Level – Set a lead as "Cold," "Warm," or "Hot" depending on their score.
Create Activity – Automatically assign a task for a salesperson to email or call the lead.
To set this up, you'll head to the same menu as before ("Marketing" > "Lead Scores") and create a new lead score.
First, select "Engagement Score" in the left column. In the blue window that pops up, set the number of points that will trigger the new action. Next, head back to the left column and choose which of the 3 actions you want to have happen: Create Lead, Create Activity, or Set Lead Qualification Level.
The Bottom Line
Lead scoring takes the guesswork out of determining your most promising leads. At a quick glance, you can find the leads who best match your criteria. Or, save even more time by "triggering" alerts and tasks when leads reach a certain score. As a sales manager, you can ensure no promising lead has slipped through the cracks.
To set up a lead scoring system yourself using SAP Digital CRM, follow this link to sign up for a free 30-day trial.