MyRental Reviews: Is It Right for Your Real Estate Business?
MyRental is an online tenant screening service that offers a wide variety of background reports and services to help identify quality tenants who are more likely to pay rent and take care of your property. According to MyRental reviews, landlords like the platform's comprehensive, fast, and easy-to-understand tenant screening reports. MyRental is best for independent landlords, property managers, and real estate agents looking for a convenient online tenant screening service without sign-up or monthly fees.

What We Like
Wide variety of tenant screening reports
Individual reports available
Results within minutes of tenant completion
SafeRent Score that summarizes the potential risk of an applicant
What's Missing
Premium subscription requires tenant credit consent
No other property management features, like accounting, marketing, and maintenance tracking
No mobile app
Tenant pay option only available in the premium package
Recommended For:
Independent landlords looking for bundled tenant screening packages or customizable screening reports with no sign-up or monthly fees
Property managers who need free online rental applications
Landlords who want to receive a summary or recommendation that predicts the potential risk of an applicant compared to others
Not Recommended For:
Landlords looking for a comprehensive property management solution with real estate accounting, document management, maintenance tracking, and tenant management
On-the-go landlords who prefer to use a mobile app rather than log in and out on a website
Property managers needing customizable online rental applications
MyRental Pricing
Basic package: $24.99 per applicant; includes criminal and eviction history
Premium package: $34.99 per applicant; includes credit, criminal, and eviction reports plus SafeRent score
Other Articles Featuring MyRental
MyRental Reviews: What Users Think of MyRental
As of this writing, there are no substantial MyRental.com reviews online. A first-time landlord who gave MyRental a review appreciated its tenant screening reports because they were simple, easy to read, and "provided the much-needed clarity in assisting" rental decisions. Another landlord was also satisfied with how the reports were quickly generated.
Trustpilot: 3.2 out of 5 stars based on 1 MyRental review
SourceForge: 1 out of 5 stars based on 2 MyRental reviews
There were MyRental tenant screening reviews that were not so favorable. Customers complained of software issues and dissatisfaction with a tenant screening report that lacked essential information. MyRental's customer support is also not available during weekends, which is inconvenient for some users. Furthermore, MyRental only offers tenant screening and rental application features. If you're looking for an all-in-one property management solution, we recommend Avail, Buildium, or RentRedi.
Would the Expert Use MyRental?
We recommend MyRental for independent landlords who only need comprehensive background and identity checks, minus the monthly fees. Our favorite feature is the ability to choose between bundled packages and individual reports, so you don't need to pay for something you don't actually need. These a la carte options allow landlords to still do a thorough screening process while keeping their finances and budget consistent.
However, a downside of MyRental is its features are limited to tenant screening, which doesn't provide efficiency to property managers who want to perform all property management tasks on one platform. If this is something you're seeking, we recommend Avail as it has more functionalities, like rental listing, rent collection, lease agreements, and property accounting, to automate the rental process, in addition to tenant screening.
MyRental Alternatives
As mentioned, MyRental only offers tenant screening services and online rental applications. The platform doesn't include other property management features, such as rental listing, rent collection, lease agreements, maintenance requests, and real estate accounting. If you're looking for software that allows multiple property management functions in addition to tenant screening services, check out the other alternatives below.
Software

Best For

Property managers with up to 5,000 units looking for a one-stop shop property management software

Independent landlords looking for free property management software

Mobile property management with tenant screening service

Independent landlords who prefer customizable tenant screening reports

Key Features

Set tenant screening criteria
Includes several property management functions like accounting, maintenance and in-app communication
Free marketing website
Mobile app

Option to pass on tenant screening fees to applicants
Customizable tenant screening reports
Applicant communication and message center
Free subscription plan

Auto-tenant screening feature
More affordable tenant screening service than other platforms
Multiple renewal subscription options
Free listings on Realtor.com and Doorsteps

Customizable tenant screening report
Free online rental application form
No monthly subscription fees
Mobile app

Starting Price

$50 per month

Unlimited free plan available

$9 per month

Individual tenant screening report starts at $10

Learn More
MyRental Plans & Pricing
As a tenant screening service, MyRental doesn't offer subscription plans. Instead, independent landlords can choose between two packages paid per applicant: Basic ($24.99) and Premium ($34.99). All packages include criminal reports, eviction history, previous address history, terrorist alerts, and multistate sex offender records. If you want to obtain the applicant's credit score and MyRental's SafeRent Score, you will have to upgrade to the Premium package.
See the table below to compare the Basic and Premium packages:
Tenant Screening Packages

Basic

Premium

Who Package Is Best For

Landlords looking for comprehensive background and identity checks

Landlords needing complete tenant screening reports

Pricing

(per Applicant)

$24.99

$34.99

Financial Reports

✕

✓

Criminal Records

✓

✓

Eviction History

✓

✓

SafeRent Score

✕

✓

Renter Pay Option

✕

✓

Compare Tenant Score by Location

✕

✓

Landlord Acceptance Rate

✕

✓

Customer Support

Phone, chat, and email

Phone, chat, and email
If you don't need all this information, you can order individual reports instead for as low as $7.99. If you decide to have tenants pay for the application and screening fees through the MyRental portal, you will have to choose the Premium package. Otherwise, you can collect the payment from the renter separately from the platform and pay the fees yourself on MyRental.
Add-ons
In addition to tenant screening packages, MyRental also has a rental application feature to help landlords find tenants. If you don't need the full tenant screening service, you can purchase individual tenant screening reports instead. The below reports are available a la carte:
Online rental application: Free
Individual tenant screening reports:

Credit Report: $14.99
Eviction History: $7.99
Multistate Criminal: $19.99
Statewide Criminal: $9.99
County Criminal: $14.99
MyRental Features
MyRental is designed to help landlords, property managers, and investors protect their rental assets through a reliable tenant screening service. Since tenant screening is done online, you can quickly get reports that will help you identify quality tenants who are more likely to pay rent on time, stay longer, and fulfill other lease obligations.
Landlords can get a wide variety of background reports—from financial records to criminal checks and eviction history. They can purchase these as part of a bundled package or as individual reports. MyRental offers a free online rental application, so landlords can streamline their application process in one platform. Moreover, with its unique SafeRent Score system, you can easily assess an applicant's future tenant behavior and avoid costly risks of eviction and property damages.
Read along to learn more about the features on MyRental that can help protect your rental business.
Credit reports and financial performance
Credit report included in Premium Package and can be purchased as a standalone report
Requires applicant's credit consent
Assess an applicant's financial performance through MyRental. The credit report contains the applicant's banking history, including payment performance for credit cards, car loans, and mortgages. The report will also give you an analysis of the applicant's financial situations that involved the courts, such as bankruptcy records and past due accounts. More specifically, the credit report will show the applicant's SSN (Social Security number) validation, known addresses, public record information, trade-line data, previous inquiries, and credit score.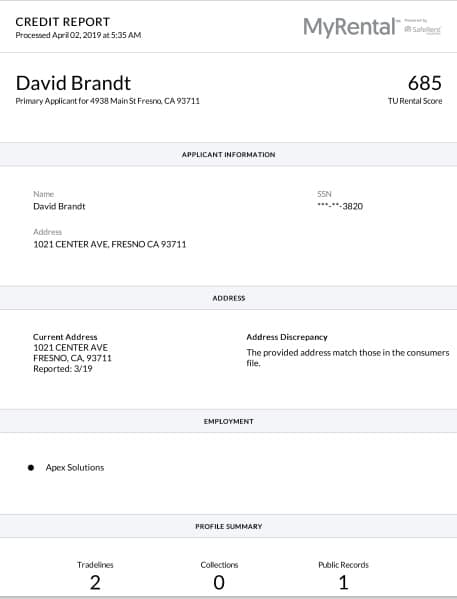 ---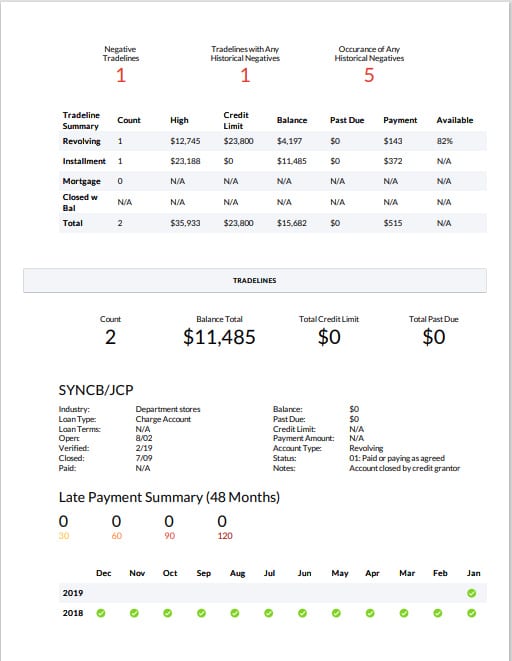 ---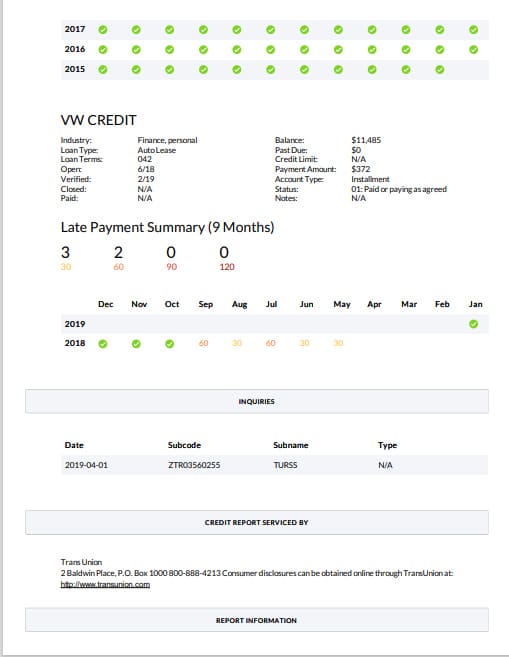 ---
When you order a credit report, the applicant will automatically receive an email requesting permission to share their credit information with you. They can grant permission by filling out a quick online form. Once complete, you can view your applicant's full credit report and score through the Applicant Details tab on your dashboard and finalize your transaction.
---
Multistate criminal history
Sex offender registry search
Terrorist alert
MyRental determines if an applicant has a background of violence, property destruction, sex offense, or financial crime by running criminal background searches. It collects data from multiple sources, such as the Department of Corrections (DOC), which includes records from state prisons and incarcerations. MyRental also generates information from the Administrative Office of the Courts (AOC) for records of criminal events that resulted in court cases.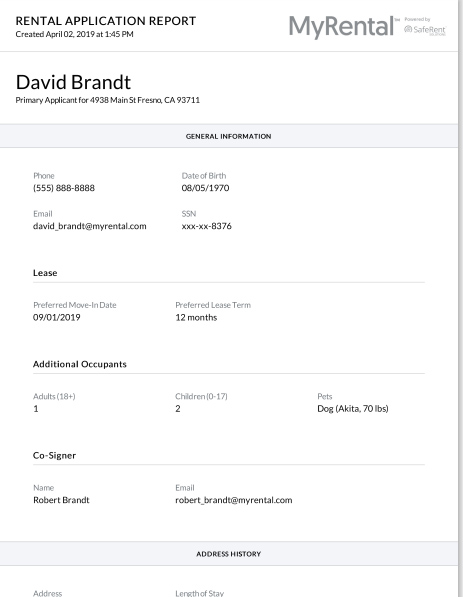 ---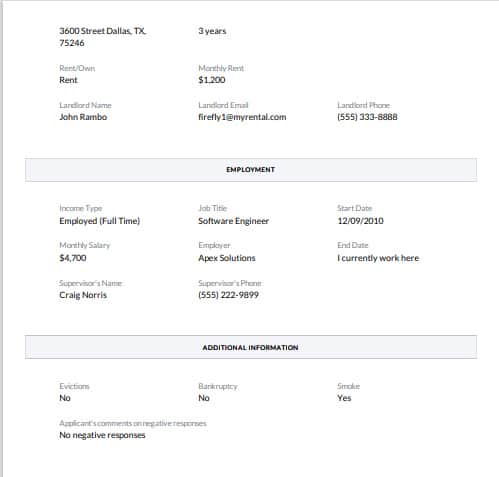 ---
MyRental runs sex offender registry search to review case information and conviction details from sources like the Department of Public Safety, State Police, and Bureaus of Investigation in all 50 states plus Washington D.C., Guam, and Puerto Rico. A terrorist database search is also included to identify applicants who are suspected terrorists. This data is collected from the Office of Foreign Assets Control (OFAC), FBI Most Wanted Terrorists, the U.S. Department of Justice Most Wanted Fugitives, and other state and local enforcement agencies.
These reports provide another layer of protection as you verify the identity and credibility of future tenants.
---
Extensive eviction history information
Uses enhanced identification tools for identity check and search logic
Can be purchased as an individual report or as part of a bundled package
To minimize the likelihood of resident skips and evictions, MyRental compiles eviction history reports from public landlord-tenant court records. These records utilize enhanced identity checks and search logic to automatically compare the applicant to the eviction information in the databases.
The eviction history report includes a tenant SSN alert to notify you of potential issues and tenant inquiries to learn if the applicant has applied for housing. The report will also look into eviction court records, including tenant judgment for possession and money, unlawful detainers, tenant judgments for rent, failure to pay rent, and writs and warrants of eviction.
Landlords can use the eviction history report as an indicator of the tenant's future rent payment behavior. In the long term, this can help landlords decrease the costs associated with collections, lost rent, vacancy, and property damage.
---
Lease default prediction
Three-digit scoring system
Included in the Premium tenant screening package
A unique feature of MyRental that is not commonly found in other tenant screening services is its SafeRent Score. This generates lease default prediction, focusing on the applicant's likelihood to make rent payments, take care of the property, and fulfill other lease obligations.
As a risk assessment tool, the SafeRent Score provides an objective and reliable measure of relative applicant risk. This helps landlords and property managers make more informed decisions, enabling them to protect their real estate investments and leverage their profitability.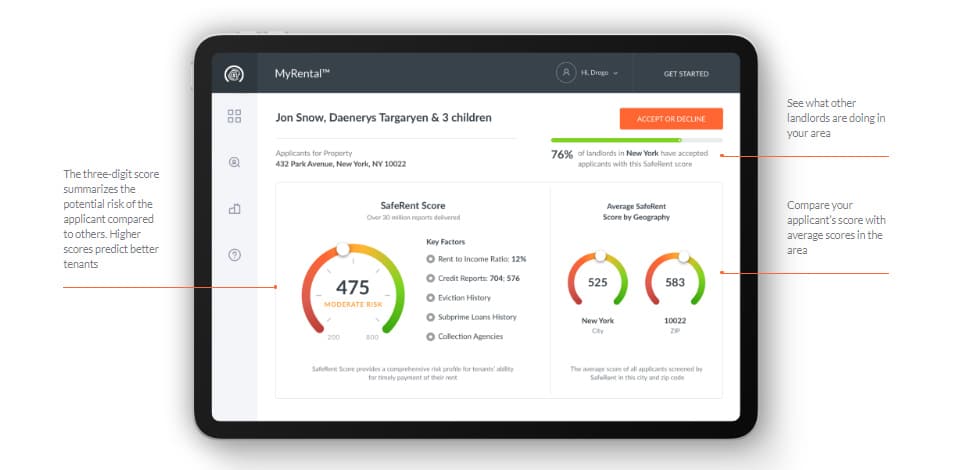 ---

---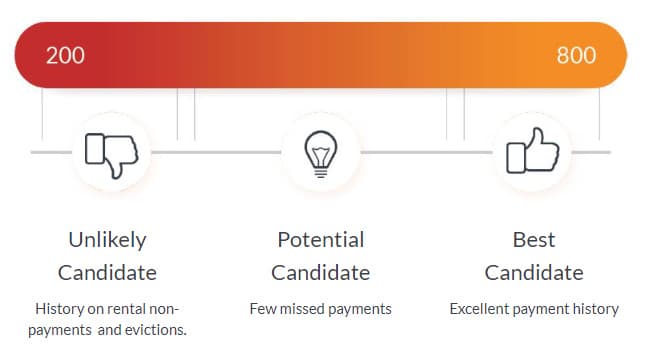 ---
The SafeRent Score uses mathematical analysis based on information found in tenant screening reports, such as application information, eviction history, payment performance, bankruptcy records, credit bureau data, and past due accounts. The rent-to-income ratio and subprime records are also factored in. SafeRent generates a three-digit score (from 200 to 800) that summarizes the applicant's potential risk compared to others. A higher score indicates a better tenant prediction.
---
Mobile-friendly
Free online rental application template
Option to send tenant screening request along with application
To help you fill vacancies faster, MyRental provides landlords with a free, mobile-friendly online rental application. The application form can help you collect tenant information, including personal details, the number of occupants, income and employment history, address history, and preferred move-in date and lease term. Your future tenants can quickly complete the application form on any device.
For a more streamlined application process, you can choose to add a tenant screening request when you send a rental application form to your prospects. This saves you time, as tenant screening can be completed alongside the application or once the tenants submit their applications.
---
Available through phone, live chat, and email
Phone and live chat open during weekdays
Dedicated phone number for customer disputes
If you have questions or need assistance, MyRental's customer support is available via multiple channels. For general concerns, contact its support team on weekdays from 7:30 a.m. to 6:00 p.m. Central Time through phone and live chat. You can also report disputes by calling a dedicated phone number from Monday to Friday, 8:00 a.m. to 6 p.m. Central Time. Customers can email the company for further assistance.
---
Ease of Use
Using MyRental is fairly easy and straightforward. If you want to request tenant screening, all you need to do is gather the applicant's complete name and email address and log in to your MyRental account. You will then need to choose the tenant screening package or individual reports you want to obtain. Next, you'll set up your property information, enter the applicant's information, choose a payment option, and send the request to your applicant.
If you want to send a rental application, you only need to collect applicant information and specify the required documents they should provide along with the application. You can check the application status on your homepage for easy tracking. Once the reports are ready, you can view the results on any device and accept or decline an applicant from anywhere. Since MyRental does not offer subscription plans, you don't have to pay any sign-up or monthly fees.
Navigating through MyRental is also not complicated. The website's simple and user-friendly design makes it easy for visitors to explore its products, pricing, features, and FAQs. It's also convenient to click on the navigation tabs at the top of the page to find necessary information about the platform. Moreover, the website posts articles and resources that help landlords grow their rental business.
Bottom Line
MyRental is software that offers a wide variety of tenant screening services. Its unique SafeRent Score helps landlords predict a tenant's future behavior and assess risks. Based on MyRental reviews, users like the platform because of its simple, easy-to-read, and fast tenant screening reports. MyRental also provides free online rental applications, which you can send along with the tenant screening request.
If you're an independent landlord looking for an extensive tenant screening service, MyRental is a great option. However, if you need an all-in-one property management software, we recommend checking other alternatives.