7 Best Nextiva Alternatives & Competitors
This article is part of a larger series on VoIP.
Nextiva is a user-friendly, voice-over-internet-protocol (VoIP) service known for its extensive call management and Cospace unified communications (UC) solution, which makes collaboration and video simple. However, its range of services may be too expensive for solopreneurs and small businesses needing simple solutions. It also lacks international phone numbers and unmetered international calling, and has limited integrations. In this guide, we discuss the top Nextiva alternatives best for small businesses.
Based on our research on dozens of providers, here are the seven best Nextiva competitors:
Nextiva & Best Alternatives at a Glance
Nextiva Alternatives

Monthly Starting Price

Key VoIP Features

UC Features

FSB Rating

$30.95 per user

99.999% service level agreement (SLA)
Voice-to-email notifications
Unlimited internet fax

Cospace team collaboration software
Internal file sharing
Up to 250 video participants

N/A

$29.99 per user

Document sharing
Toll-free numbers
Voicemail-to-text

Team messaging
Breakout rooms
Up to 200 video participants

4.56 out of 5

$15 per user

Unmetered international calling
Mix-and-match plans
99.999% SLA

High-definition (HD) audio and video
Social media
Up to 500 video participants

4.44 out of 5

$23 per user

Custom voicemail greeting
Voicemail transcription
Custom off-hours routing

Meeting countdown timer
Internal file sharing
Up to 100 video participants

4.36 out of 5

$27 per user

Unlimited extensions
Smart call routing
Local, vanity, and toll-free numbers

Free video conferencing for up to 40 minutes
Team messaging
Up to 250 video participants

4.04 out of 5

$19.99 per user

Customizable plans
Multiple devices on a single extension
Voicemail-to-email

Calendar app integration for meeting scheduling
25 simultaneous video display
Up to 200 video meeting participants

3.59 out of 5

$13 per user

Call recording
Voicemail-to-text transcription
Audit logs

Direct messaging
Presence indicator
Internal threads

3.56 out of 5

$31

(flat rate)

Automatic text messaging
Voicemail transcription
Bilingual assistants via Ruby

Lacks UC features and capabilities

N/A
RingCentral: Best Overall Nextiva Alternative
What We Like
Multilevel auto-attendant
Answering rules
Real-time analytics
Unlimited audio conferencing
What's Missing
Lacks unlimited international calling packages
Advanced features may be overwhelming for a solopreneur or startup
Video conferencing features are not available in the entry-level plan
How It Compares to Nextiva
Both Nextiva and RingCentral offer volume-based and annual pricing discounts
Nextiva and RingCentral offer a 99.999% uptime guarantee
Nextiva offers more toll-free minutes in its higher plan than RingCentral, which is 12,500 to 10,500, respectively
RingCentral accommodates up to 200 video participants, while Nextiva hosts more (250 participants)
RingCentral, a leading VoIP phone system, is our top Nextiva alternative because of its extensive call management and UC features. Small businesses that want to expand their calling system benefit from RingCentral's advanced communication tools, such as call screening, call log, presence, and call flip—features available in all tiers.
Nextiva and RingCentral are all-in-one communication platforms offering contact center features. However, small businesses looking for simple phone systems are better off with Grasshopper. This VoIP service focuses on essential call features like call transfer and forwarding with flat-rate pricing. This allows you to put your entire team under one plan using extensions with up to five phone lines.
RingCentral Monthly Pricing at a Glance*
Essentials: $29.99 for 20 users, business and toll-free numbers, unlimited calls within the U.S. and Canada, and text messaging
Standard: $37.99 for unlimited users, business phone numbers in 100-plus countries, unlimited internet fax, and video meetings for up to 100 participants for up to 24 hours
Premium: $44.99 for automatic call recording, hotdesking, advanced call handling with whisper and barge, real-time analytics, and advanced integrations
Ultimate: $59.99 for device status reports, alerts, and unlimited data storage
*RingCentral plans are paid per user. Discounts are available for users who opt for annual billing.
Customers also have access to add-on features, including:
Additional toll-free or local numbers for $4.99 per user, monthly
Additional vanity numbers for a one-time fee of $30
Additional international numbers for $5.99 per user, every month
Additional international toll-free numbers for $14.99, plus a $25 one-time fee
High-volume short messaging service (SMS) starting at $.0085 per message sent or received
Add a RingCentral Rooms license for a monthly fee of $49 per room, or $468 annually
RingCentral Features
Answering rules: RingCentral allows you to customize call handling rules that route calls based on defined conditions set by the administrator or user. This feature is handy when employees are on leave, or the business is closed for a holiday.
Multilevel IVR (interactive voice response): Maximize automated attendants with a sophisticated call flow phone menu that connects your clients to your employees with self-service access. RingCentral allows users to customize up to 250 voice menus and submenus per account.
Number porting: The number porting feature makes it easy to transfer an existing phone number to RingCentral, including prepaid cell phone numbers. It offers case-by-case project-based porting if you need to transfer more than 100 numbers.
To learn more about these two providers, check out our Nextiva vs RingCentral comparison and our in-depth RingCentral review.
8×8: Best for Companies Needing Unmetered International Calling
What We Like
Visual voicemail
Allows mix-and-match of plans
30-day free trial
What's Missing
Lacks toll-free minutes
Speech and text analytics are premium features not available in base plans
Lacks built-in task management and calendar tools
How It Compares to Nextiva
Both providers offer collaboration features, but Nextiva edges out with its Cospace application designed for remote collaboration
Nextiva only offers 19 third-party integrations compared to 8×8, offering more than 50 applications
Nextiva offers professionally recorded greetings, which is a paid feature in 8×8
8×8's X series is an ideal Nextiva alternative for businesses expanding into global markets thanks to its unlimited international calling to 48 countries. Rather than pay high per-minute rates, businesses that make plenty of international calls cut down communication expenses by subscribing to 8×8's unmetered international calling. Small businesses will be able to boost their international reputation and credibility by adding international toll-free services for clients.
Unfortunately, 8×8 does not offer toll-free minutes. If you want to give clients the option to call toll-free but don't expect much traffic, your best bet would be GoTo Connect. Its standard plan comes with an unmetered international calling to over 50 countries and 1,000 shared toll-free minutes, which are great for teams with seasonal spikes in customer engagement.
8×8 Monthly Pricing at a Glance*
Express Plan: $15 for five users, unlimited domestic calls, unlimited chat, and 100-participant video conferencing capacity
X2 Plan: $28 for unlimited users, unmetered calling to 14 countries, business messaging, team chat, and HD video and audio conferencing for up to 500 participants
X4 Plan: $57 for advanced call handling and supervisor analytics, unlimited voice calling to 48 countries, and 8×8 Frontdesk for receptionists and operators
*8×8 plans are paid per user. Save up to 25% on X2 and X4 plans when you opt for annual billing.
8×8 Features
Integrations: Similar to RingCentral and Nextiva, 8×8 integrates with popular customer relationship management (CRM) and productivity tools. These third-party integrations include Salesforce, Microsoft Teams, HubSpot, and Zoho to make you as productive as possible.
HD audio and video: Meet up to 500 people in a video or audio conference with no time limits or restrictions. HD-quality audio and video ensure that teams communicate without interruptions, making tasks more efficient.
Mix-and-match plans: Mix-and-match plans for better communication and team collaboration to create an ideal plan for your business needs. 8×8 allows for plan flexibility, so you only pay for services you need and use.
Discover more about its services and pricing options through our 8×8 review.
Dialpad: Best Nextiva Alternative for Artificial Intelligence Technology
What We Like
Simple set up and intuitive platform
Offers both local and international phone numbers
All plans come with voice intelligence (VI)
What's Missing
Limited integrations available only in higher tiers
Maximum video conferencing capacity is 100 participants
Business-level video conferencing is a paid add-on service
How It Compares to Nextiva
Dialpad offers unlimited audio recordings in its base plan, which Nextiva only offers under its Enterprise plan
Nextiva's uptime guarantee is 99.999%, while Dialpad offers up to 100% at its top tier
Dialpad provides international phone numbers, whereas Nextiva only offers domestic numbers
Dialpad is the best alternative to Nextiva if you're looking for advanced AI technology to integrate with your phone system. Dialpad Ai, its AI technology, has built-in speech recognition and natural language processing, generating detailed employee performance and customer experience insights. Agents receive AI-suggested answers to customer inquiries for faster resolution and better customer outcomes.
If you use different business tools you want to integrate with your phone system, you're better off with a provider like RingCentral. RingCentral integrates with over 300 third-party providers, allowing you to maximize your business tools. It also accommodates up to 200 video conferencing participants, which is double what Dialpad is able to host.
Dialpad Monthly Pricing at a Glance*
Standard: $23 for unlimited domestic calling and business messaging, AI-powered call and voicemail transcriptions, unlimited video meetings, and productivity integrations (Google Workspace and Microsoft 365 integrations)
Pro: $35 for local number support in over 70 countries, 25 ring groups, 10 office locations, global SMS, CRM integrations (Salesforce, Zendesk, HubSpot, and Zoho), open API (application programming interface), and 24/7 live agent support
Enterprise: Custom quote for 100% uptime guarantee, unlimited office locations, unlimited ring groups, dial-by-extension, and priority live agent support
*Pricing is paid per user. Lower rates are available for annual subscriptions.
Dialpad Features
Collaboration: Dialpad's collaboration capabilities include team chat and contact syncing, analytics, and reporting. Topic-based team messaging is a standard feature available in all Dialpad plans.
Intelligent call routing: Easily set up custom routing rules that will forward incoming calls to your smartphone or specific departments or individuals based on your predetermined criteria. Your programming may be set around your business hours, and after-hours calls are sent to voicemail with transcription.
Speech coaching: Provide your agents instant feedback on their speech quality when interacting with clients. If your agent speaks too fast or unclearly, the speech coaching feature makes them aware. Dialpad's speech coaching feature is available on the provider's base plan.
Our Dialpad review has everything you need to know about Dialpad AI and its other business phone features.
GoTo Connect: Best for Its Robust Video Conferencing Features
What We Like
Prompt one-day deployment
Unlimited calls to select countries available in higher plans
Comes with conference bridge technology
What's Missing
Lacks international phone numbers
Supervisor call management features (listen, whisper, and barge) only in the highest tier
Toll-free minutes cost 3 cents per minute in the introductory plan
How It Compares to Nextiva
Nextiva charges per-minute fees for international calls, whereas GoTo Connect has an unmetered global calling
Unlimited internet fax is included in all Nextiva plans, but GoTo Connect doesn't offer this in its base plan
Both GoTo Connect and Nextiva cap video meeting participants at 250
GoTo Connect is in our list of top video conference software ideal for small teams wanting complete video conferencing solutions with built-in account management features. Companies that conduct brief small group meetings will find GoTo Connect's base plan sufficient as it offers video conferences with up to four participants for 40 minutes. Virtual meeting capabilities include custom backgrounds, drawing tools, and mobile screen sharing, which are only available in higher tiers on other platforms.
While GoTo Connect offers complete video conferencing services at a great price, those who require more robust video conferencing features should check out 8×8. 8×8's higher-tiered plan has HD audio and video conferencing with screen sharing for up to 500 active participants. It is able to livestream meetings via YouTube and comes with advanced moderator controls for both audio and video meetings. 8×8's platform also has interactive features like emojis and polls.
GoTo Connect Monthly Pricing at a Glance
Basic: $27 per user for local, toll-free, and vanity numbers, smart call routing, one auto-attendant recorded greeting, team messaging, and 40-minute meetings for up to four participants
Standard: $32 per user for unlimited calling to 52 countries, unlimited ring groups, call queues, and auto-attendant greetings, unlimited meetings for up to 150 participants, 1,000 shared toll-free minutes, and call recording
Premium: $43 per user for 5,000 shared toll-free minutes, call analytics, supervisor dashboard, and unlimited meeting duration for up to 250 participants with 25 simultaneous cameras
GoTo Connect Features
Number porting: GoTo Connect allows users to port their existing phone numbers on its platform. Porting enables you to continue using your established contact details to retain your customers, eliminate setup and marketing costs, and access new features without losing your number.
Virtual fax: Send low-cost faxes worldwide without needing international rates or a traditional fax machine. GoTo Connect's virtual fax-to-email securely sends digital copies of your document to a fax machine or email inbox.
International calling: If your business frequently calls overseas to countries like India, China, or the U.K., GoTo Connect's unlimited international calling offers substantial savings over metered, per-minute subscriptions.
Read our comprehensive GoTo Connect review and learn more about this Nextiva alternative.
Vonage: Best Nextiva Alternative for Customizable Phone Systems
What We Like
User-friendly and intuitive interface
99.999% uptime guarantee
Offers team messaging
What's Missing
Toll-free numbers are a paid add-on
No professional recorded phone greetings are included in the plans
Lacks annual billing discount
Auto-attendant is included in advanced plans only
How It Compares to Nextiva
Toll-free numbers are included in Nextiva's plans, whereas Vonage charges for this add-on
Vonage's video conferencing accommodates up to 100, and Nextiva is much higher at 250
Both providers offer unlimited calling and texting
Vonage is the top alternative to Nextiva for small businesses looking for a low-cost, customizable phone system. Aside from offering a cheaper entry-level plan, Vonage offers an array of add-on features, such as HD voice, IT support, and automatic meeting recording, allowing you more control over paid services. Budget-conscious teams need to be selective, as pay-per-feature adds up as you increase the size of your team.
While Vonage is a well-established VoIP provider, choosing a provider that offers extensive integrations might be better for growing companies that use multiple types of other business software. RingCentral has over 300 third-party integrations that allow you to maximize your phone system's potential fully. Whether it's CRM, sales, or productivity software, RingCentral's extensive app gallery houses plenty of options for you to choose from.
Vonage Monthly Pricing at a Glance*
Mobile: $19.99 per line, per month for unlimited calling, texting, and team messaging
Premium: $29.99 per line, per month for unlimited meetings for up to 100 participants, multilevel auto-attendant, CRM integrations, and IP desk phone capabilities
Advanced: $39.99 per line, per month for on-demand call recording, call groups, and visual voicemail
*Pricing is based on one user with an account subscribed to annual billing, exclusive of taxes and fees.
Vonage Features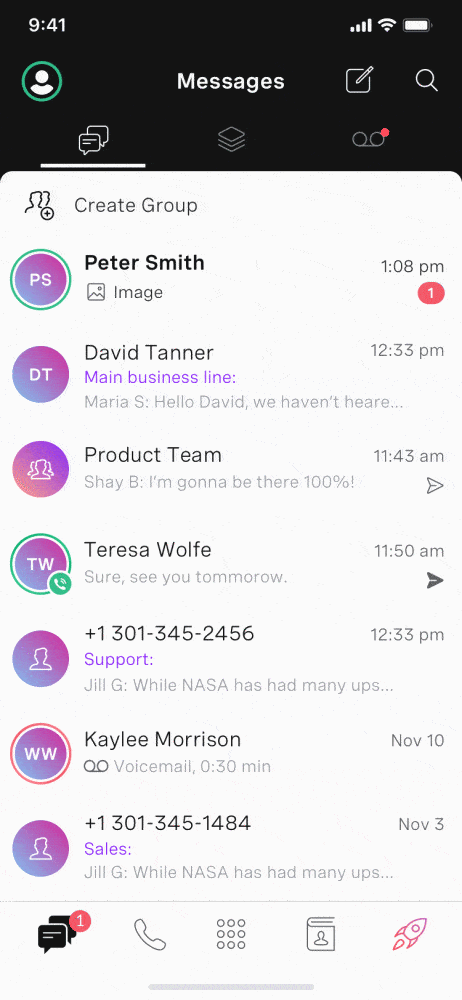 Call flip: Easily switch from one device to another while a call is ongoing using Vonage's call flip feature. Users are able to assign a maximum of five devices to several extensions and switch move devices between calls. This is particularly useful for field staff who are constantly on the move.
Selective call block: Block and unblock unlimited numbers with a swipe of your finger. Once blocked, all incoming calls from those numbers will not ring on any of your linked devices.
Vonage boomerang: This feature efficiently moves all your calls from specific numbers to your Vonage number. Vonage will automatically connect calls from your boomerang contact with all phone charges applied to your Vonage account.
Our Vonage review walks you through the elements and service offerings of this VoIP business communications provider. Here's our Nextiva vs Vonage comparison for more information.
OpenPhone: Best Low-cost, Simple Phone System
What We Like
Comes with one local or toll-free phone number per user
Offers basic
IVR Includes call recording capabilities
What's Missing
Analytics and reporting are not available in the basic plan
Does not have video conferencing capabilities
Limited advanced collaboration features
How It Compares to Nextiva
All OpenPhone and Nextiva plans come with unlimited calling in the U.S. and Canada
OpenPhone offers call recording in its base plan, whereas Nextiva offers this only with its highest package
Both providers have IVR features
With a monthly starting price of $13 per user, OpenPhone is the most affordable of all the Nextiva competitors in this list. It has a core plan that includes unlimited domestic calling and messaging, voicemail, and basic IVR with call recording. The base plan also includes unlimited call groups, and additional phone numbers only cost an extra $5 per number.
While OpenPhone has Slack integration and team messaging, its platform is less advanced. If you want a Nextiva alternative with comprehensive team collaboration features, including team chat, consider RingCentral. RingCentral's UC toolkit includes built-in chat, file sharing, and task management.
OpenPhone Monthly Pricing at a Glance*
Standard: $13 for one local or toll-free number per user, unlimited domestic calls and texting, group messaging, call recording, standard IVR system, auto-replies, and Zapier and Slack integrations
Premium: $25 for call transfers, group calling, advanced IVR, analytics and reporting, and HubSpot integration
Enterprise: Custom pricing for audit logs and a dedicated account manager
*Pricing is paid per user, billed monthly. OpenPhone offers annual billing that saves you up to 20%.
OpenPhone Features
Number porting: OpenPhone ports your existing numbers for free, enabling you to keep using your established business number. This also minimizes service interruptions and costs associated with new installations or setups.
Analytics: OpenPhone has data analytics that gives you visibility on the usage and performance of phone numbers within your account. User analytics details individual performance and generates critical insights on how to replicate best practices.
Business messaging: OpenPhone has messaging features, such as auto-reply, that allow users to respond beyond regular hours or if phone calls are missed. Maximizing snippets (message templates) speed up response time and international messaging that lets you send and receive messages from anywhere with no roaming fees.
Honorable Mention: Grasshopper

What We Like
All plans have incoming call control
Offers monthly flat-rate pricing
Instant response text messages
What's Missing
Only two integrations: Google Voice and Skype
Audio conferencing maxes out at 10 attendees
Lacks support for first-party hardware
How It Compares to Nextiva
Grasshopper does not have any video conferencing features, which Nextiva offers
Both Nextiva and Grasshopper offer IVR
All Grasshopper plans come with custom greetings, which Nextiva does not offer in its base plan
Grasshopper is the only one of all alternatives to Nextiva that offers flat-rate monthly pricing, which is excellent for small companies that keep communication expenses at a minimum. Grasshopper's lowest plan is $31 monthly, a single user's price rate in other providers. Grasshopper is an all-inclusive platform for essential calls, voicemail, and messaging needs.
Suppose you're a growing business handling highly sensitive personal information and need a provider with top-shelf data security features. In that case, Grasshopper lags behind 8×8's advanced, third-party verified security and compliance certifications, including the Health Insurance Portability and Accountability Act (HIPAA) and Federal Information Security Management Act (FISMA).
Grasshopper Monthly Pricing at a Glance*
Solo: $31 and comes with one phone number and three extensions
Partner: $51 and comes with three phone numbers and six extensions
Small Business: $89 featuring five phone numbers and unlimited extensions
*Grasshopper offers a flat-rate pricing model, not per-user billing.
Grasshopper Features
Unlimited extensions: Grasshopper's pricing model is not per user, but rather monthly flat rates per account. This means entire sales teams are able to share a single phone number with each agent assigned a specific extension allowing you to save on account fees.
Instant response: When you cannot answer an incoming call, Grasshopper automatically sends an SMS message advising that you cannot take a call. Instant response reduces the risk of losing potential customers.
Voicemail: Voicemail allows your callers to leave you a message. Set up your voicemail for your business calls and receive your recorded messages via MP3, enabling you to set up a recording platform for calls and receive MP3 recordings of your messages. This is a feature included in all Grasshopper plans.
Read our Grasshopper review to learn more about the virtual phone system provider and what they offer.
How We Evaluated the Best Nextiva Alternatives
We completed a comprehensive review of several small business VoIP services and unified communications service providers to develop this list of top Nextiva alternatives. We focused on service providers offering features that are not available with Nextiva, such as unlimited international calling, a free version, and broad third-party integrations. We ranked them based on pricing, general and advanced features, and ease of use.
Here's a breakdown of how we measured each provider:
25% of Overall Score
When we looked at alternatives to Nextiva, we considered pricing a significant consideration for solopreneurs and small businesses. We gave points to providers offering volume discounts, annual pricing rates, and free trials.
30% of Overall Score
The best Nextiva competitors should offer similar features as Nextiva, including analytics, team chat, calling, and SMS within the U.S. and Canada. We looked at other general features, such as uptime SLA and recording features.
25% of Overall Score
We analyzed which of the top Nextiva alternatives offer the most comprehensive menu of advanced features, such as unlimited international calling, video conferencing, and IP phone connectivity.
20% of Overall Score
Each provider received points according to our personal experience with the platforms and customer feedback on ease of use, service delivery, and standout features.
*Percentages of overall score
Nextiva is one of the leading VoIP service providers offering robust call and video management tools and team collaboration solutions. Our Nextiva review found that it's an excellent fit for small businesses looking for cost-effective, scalable phone systems that would benefit from unlimited voice and video calling. Learn more about the features that put Nextiva on our list of best business phone systems.
Bottom Line
Nextiva is a feature-rich phone system, but if you require more comprehensive integrations and affordable international calling, RingCentral is our top Nextiva alternative. With a score of 4.56 out of 5, RingCentral is a multichannel, user-friendly communication platform with over 300 third-party applications. RingCentral's monthly plans start at $29.99 per user and come with a 14-day free trial for new subscribers.