Nextiva vs Ooma: Which Is Better for Small Business in 2023?
This article is part of a larger series on VoIP.
In this Nextiva vs Ooma battle, we found Nextiva is an excellent choice for growing businesses looking for advanced telephony features for collaboration and customer service. Ooma, being more affordable, is an excellent phone system for companies needing a simple phone system packed with calling features. However, the choice of which provider is best for you largely depends on your business needs, budget, and operations.
Our Ooma vs Nextiva showdown shows how these cloud-based communication solutions differ based on critical areas essential to small businesses. Based on our comparison, the best use cases for Nextiva vs Ooma are as follows:
Nextiva: Best for its feature-rich phone systems with robust productivity tools
Ooma: Best for an affordable solution with unlimited domestic calling to Mexico
Ooma and Nextiva are two powerhouse voice-over-internet-protocol (VoIP) solutions, but they lack extensive third-party integration. Here's a great alternative if you are looking for real-time analytics that streamlines and syncs your communication channels.
RingCentral: Best for scaling companies looking for all-in calling features, third-party compatibility, and powerful analytics
Nextiva vs Ooma at a Glance
Monthly Starting Price

(per User)

$30.95

$19.95

Annual Billing & Volume-based Discounts

✓

✕

Free Trial

7 days

N/A

30-day money-back guarantee

Domestic Calling

U.S. and Canada

U.S., Canada, Puerto Rico, and Mexico

Types of Virtual Phone Numbers

Local
Toll-free
Vanity
International

Virtual Receptionist

✓

✓ (multi-level)

Key Features

Toll-free minutes
Collaboration app
Call recording
Auto-attendant

Analytics
Dynamic caller ID
Call queueing
Call screening

Video Conferencing

Unlimited participants for up to 45 minutes

Up to 100 video participants for 12 hours

Integrations

20-plus integrations
APIs only available with call center packages

Mobile & Desktop Apps

✓

✓

Customer Service

24/7 phone, live chat, and email

24/7 phone and live chat

For More Information
Best Alternatives
If you're unable to choose between Nextiva vs Ooma because their offerings don't match your business needs, explore other business phone system providers. Both platforms deliver solid communication features, but neither has extensive integrations, flat-rate pricing, or robust artificial intelligence (AI). When choosing a solution for your company, double-check to ensure they offer all the tools you need to avoid using multiple platforms.
A few Ooma and Nextiva alternatives include:
RingCentral: As one of the leading VoIP providers, RingCentral has over 200 integrations and application programming interface (API) support for teams with in-house IT staff. It provides advanced call management solutions, real-time analytics, and toll-free minutes. Learn more in our expert RingCentral review.
Grasshopper: Get Grasshopper for its budget-friendly, flat-fee pricing model, allowing larger teams to avoid per-user costs. All its plans come with unlimited users and only differ in the number of toll-free phone numbers and extensions. Check out our Grasshopper review for a more detailed look.
Vonage: Like Ooma, Vonage offers more than 50 features, including call flip and voicemail-to-email. It's a flexible phone system that allows you to choose features to include in your subscription, so you only pay for the tools you need. Vonage has unlimited team messaging and multi-level auto-attendants. Get more details in our Vonage review.
Want to know more about small business VoIP providers? Our detailed guide to the best small business VoIP services details everything you need to know about our top eight recommended solutions.
Best for Pricing: Ooma
Monthly Ooma Pricing (per User)

Essential: $19.95 for one toll-free number, unlimited local calls, virtual receptionist, digital fax, and 50-plus standard call features
Pro: $24.95 for texting and team messaging, video conferencing, call recording, voicemail transcription, and analytics
Pro Plus: $29.95 for call queuing, popular integrations, advanced call management, hot desking, and find me, follow me

Monthly Nextiva Pricing (per User)

Essential: $30.95 for one local/toll-free number with inbound and outbound calling, 250 video participants, unlimited internet fax, and auto-attendant
Professional: $35.95 for multi-level auto-attendant, CRM integrations, and unlimited SMS/MMS (short message service/ multimedia messaging service)
Enterprise: $45.95 for call recording, unlimited video attendees, voicemail transcription, and enterprise integrations

Pricing is based on one to four users, with volume discounts as users increase. Save up to 28% with an annual payment.
Our Nextiva vs Ooma pricing comparison found Ooma to be the more small business-friendly option. Its base plan starts at only $19.95 per user, monthly, which is 35% cheaper than Nextiva's lowest plan. Ooma's Essentials plan already has all the basic tools, including virtual receptionist, call forwarding, virtual fax, and call transfer. It also has a 30-day money-back guarantee, while Nextiva only offers a seven-day free trial.
Ooma's monthly plans range from $19.95 to $29.95 per user, plus taxes and fees. All plans have over 50 standard features, such as IP phone paging and unlimited calling in the U.S., Canada, Mexico, and Puerto Rico. Users get one toll-free or local number with 500 minutes of inbound calls, and number porting is free. Pro Plan users gain access to engagement tools like advanced call management and customer relationship management (CRM) integrations.
Although Nextiva's rates are higher than Ooma, it offers comprehensive features, including multi-level auto-attendant, up to 12,500 toll-free minutes, and powerful video conferencing. It's important to note that Nextiva offers annual and volume-based discounts that help lower monthly prices significantly. For example, if you have a team of at least five and opt for annual billing, the monthly user rates drop from $30.95 to $21.95. Read our Nextiva review to learn more.
Best for Virtual Phone Numbers: Nextiva
| | |
| --- | --- |
| Offers four types of virtual phone numbers: local, toll-free, vanity, and international | Offers three types of virtual phone numbers: local, toll-free, and vanity |
Nextiva wins over Ooma because it offers customers more phone number options—four to be exact. It has local, toll-free, vanity, and international, while Ooma only offers three: local, toll-free, and vanity. Nextiva plans come with a free local and toll-free number and toll-free minutes. Base plan users get 1,500 minutes monthly, and enterprise users get up to 12,500. It offers free number porting, so you can keep using your existing number.
Like Ooma, all plans come with one toll-free number, which includes 500 minutes of inbound calls per month. Once the 500 minutes have been consumed, you are billed per minute. You can choose to add a toll-free service plan. For example, get 1,000 minutes for $15.99 monthly, and using over 1,500 minutes costs 2.9 cents per minute. Add up to 20 numbers to each account for $9.95 monthly, per number. Check out our Ooma review for the latest pricing.
Best for Productivity & Collaboration: Nextiva
| | |
| --- | --- |
| Dedicated collaboration app, Cospace, with team messaging, video conferencing, content sharing, task management, built-in calendar, mobile app, and chat room | Voice and video conferencing, mobile app, instant messaging, paging groups, presence, and whisper/barge/listen |
When it comes to team collaboration, Nextiva outshines Ooma with its Cospace app, simplifying teamwork through task tracking, file sharing, and video and voice calls. Cospace is an easy-to-use communication tool that helps keep everyone connected when working in a hybrid or remote setup. This unified app minimizes distractions, consolidates conversations and files, and makes it easier to schedule meetings and hop onto calls, and chat.
Create collaboration rooms for each team or project and add all colleagues involved so everyone is on the same page. These tools enable you to disseminate information and files efficiently, saving both time and effort. Send a message to teammates either through group chat or private message straight from your phone. Integrate your calendars so you can keep track of all your meetings and appointments in one place.
Ooma offers limited integrated productivity features, but all plans come with the Ooma mobile app and 50 standard features, including paging groups and IP phone paging. Ooma's call analytics also enhance call monitoring, boosting team productivity and overall performance. Alternatively, it integrates with popular third-party applications like Google Workspace. Try Ooma's add-on for Gmail and Google Calendar to schedule, join, and manage Ooma Meetings.
Best for Straightforward Call Management Tools: Ooma
Virtual receptionist
Ring groups and hunt groups
Call queue, flip, recording, forward
Call logs
Find Me, Follow Me
Extension monitoring
Hot desking
Call recording
Caller ID

Auto-attendant and interactive voice response (IVR)
Call queues and forwarding
Call routing options: priority, schedule, or skills-based call groups
Music on hold
Call flow building
Shared lines
Busy lamp field
This Ooma vs Nextiva battle for call management tools goes to Ooma, thanks to its 50-plus call management and calling features. Its entry-level plan's business features include virtual receptionists, conference lines, ring groups, and extension monitoring. Upgrading to the Pro plan gets you call recording, enhanced call blocking, and voicemail transcriptions. Finally, its highest tier includes call screening, call queues, and hot desking.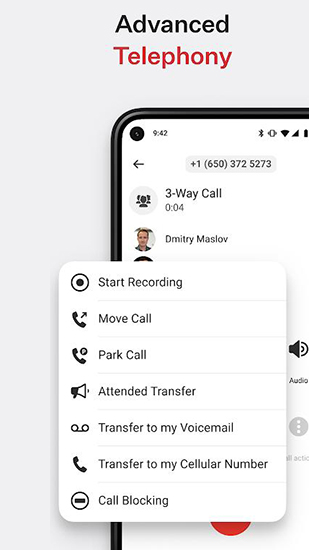 Ooma's extensive features list is designed for call management and mobility, giving small businesses more value for their money. Its intercom calling feature is helpful for companies with teams in brick-and-mortar offices. Intercom calling allows users to dial an Ooma Office extension and have the receiving device pick up the call with its speakerphone automatically. This is great for quick announcements and close coordination between team members.
Nextiva offers a mix of essential and niche features, which businesses with high call volumes find useful. All Nextiva plans have unmetered domestic calls, voicemail-to-email notifications, unlimited internet fax, auto-attendant, and call log reports. Nextiva's features are more advanced than Ooma's and include tools like supervisor dashboards, multi-level auto-attendants, and live call status.
Not what you're looking for? If Nextiva and Ooma's call management solutions don't fit the bill, check out our list of the best Ooma alternatives.
Best for Video Conferencing: Nextiva
Unlimited participants in voice and video conferencing on Enterprise plan
One-click video meeting
Livestreaming and webinars
Unlimited HD video conferencing
Screen sharing and file sharing, team chat, meeting recordings, and scheduling

Up to 100 video participants for 12 hours
Noise suppression to minimize distraction
Simultaneous screen sharing, meeting recording, chat, mute, password options, and joining preview
When it comes to video conferencing, Nextiva is the clear winner thanks to its large participant cap. HD video conferencing is available across all plans and also comes with team collaboration rooms, file sharing, and video meeting recording. These features are great for teams looking to streamline team collaboration or host large virtual sessions for marketing or company-wide training and conferences.
Compared to Nextiva, Ooma's video conferencing features are more basic. It has standard capabilities like screen sharing, in-meeting chat, mute, access control, and recording. Nextiva offers all these features and even takes it to the next level with livestreaming and webinars that are easy to set up and manage. However, Ooma's offering will be enough if you're a small business looking for straightforward virtual meeting capabilities.
Best for Ease of Use: Nextiva
Easy-to-use interface
Powerful settings portal for system customization (upgrades and add-on features)
Modern design

Simple design and very intuitive
About 15 minutes to set up
User interface needs updating
Nextiva trumps Ooma when it comes to usability because its layout and design are cleaner and more aesthetically pleasing than Ooma. Both platforms require little technical know-how to set up and operate. However, Nextiva's user's online dashboard allows you to make all the necessary account changes on your own. Considering its advanced features, configuring and setting up Nextiva is pretty simple.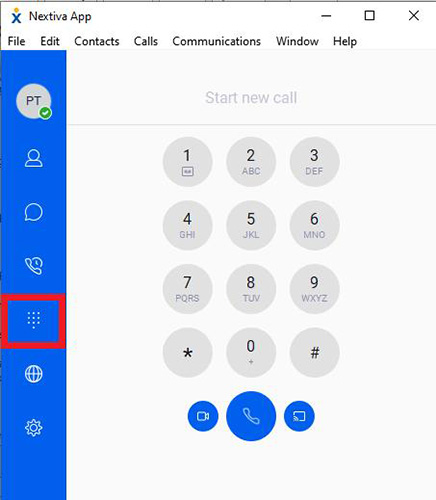 ---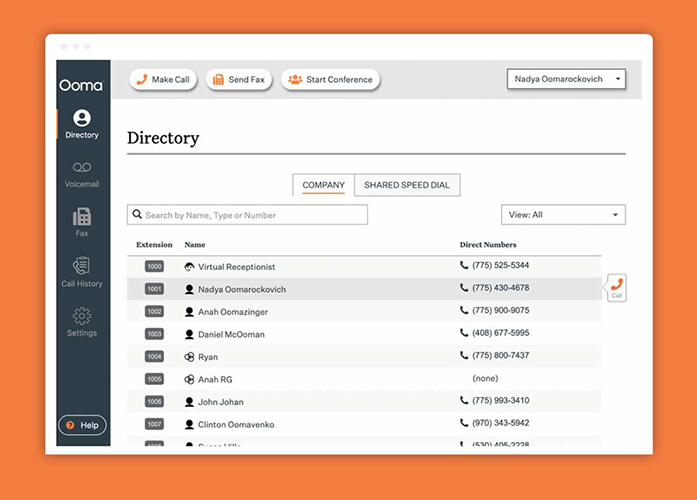 ---
Nextiva delivers in-depth information regarding your account in a user-friendly display. Ooma, on the other hand, has a more dated display. It relies more on simplicity than anything else. What's great about Ooma is that it takes less than 15 minutes to set up. Upon completion of registration, use Ooma's Express Setup Assistant, which will help you configure your account. Ooma has set up videos from configuring your virtual receptionist to using the call park feature.
Frequently Asked Questions (FAQs)
Yes. Ooma is an internet phone service and smart security provider offering free and low-cost home and business solutions. It provides a range of internet services, including Ooma Connect, a plug-and-play long-term evolution (LTE) kit designed to provide a fast internet connection in minutes.
---
The answer is it depends on your budget, communication needs, and how your business operates. Google Voice and Ooma are popular voice-over-internet-protocol (VoIP) services known for being affordable and user-friendly. Upon our review, Google Voice is best for Google users needing domestic calling and collaboration features. At the same time, Ooma is great for businesses looking for robust calling features, unlimited global calling, and toll-free minutes.
---
Nextiva supports a range of cordless, conference, headsets, and desk phones, including Nextiva, Panasonic, VTech, Cisco, Polycom, and Yealink.
---
How We Evaluated Nextiva vs Ooma
To complete this comparison, we looked at Nextiva vs Ooma to determine the strengths and weaknesses of each provider. Our evaluation looked at the factors most important to small business owners, such as per-user pricing, general features, and productivity and collaboration tools. We included our expert opinion on the provider's value for money and popularity in the evaluation.
Here's a complete breakdown of the factors we considered for this Ooma vs Nextiva comparison:
Pricing: We looked at the pricing of both providers' base-level and second-tier plans and compared them to prevailing market prices to determine their affordability. Higher points were given to the provider offering annual and volume discounts and a forever-free plan.
General features: Most VoIP platforms provide a variety of call handling and team communication tools, but packages differ from one provider to another. Our Nextiva vs Ooma comparison focused on unlimited domestic calls, text, and messaging capabilities, and call management tools.
Productivity and collaboration: We looked at advanced collaboration tools during our evaluation. We assessed if providers have video conferencing, presence, and messaging. We also verified if the provider offers a mobile app that supports remote work.
Expert score: We analyzed overall value by looking at each provider's package of features, usability, and quality of customer support. User reviews and feedback were also considered. We also examined user reviews to measure their popularity and determine if their personal experiences match their expectations of the product.
Bottom Line
When it comes to virtual phone systems, our Nextiva vs Ooma review found both platforms handle calls efficiently, but Nextiva is the better option overall for small businesses. Nextiva is a superior phone system with large-capacity video meetings, a user-friendly interface, and rich collaboration capabilities. Ooma will be better if your small business needs a more basic plan. Sign up now for Nextiva's seven-day free trial.