Payment Depot is a merchant services provider that enables merchants to process credit card payments at wholesale rates. Standout features include rate protection, free access to its virtual terminal and payment gateway services, and free equipment reprogramming.
In our review of merchant service providers, Payment Depot earned an overall score of 4.01 out of 5, offering lower fees compared to most other processors on the market. We highly recommend Payment Depot for established or growing retail, restaurant, and professional services, including B2Bs.

Pros
All-in-one membership for online, in-store, and mobile processing
Wholesale interchange-plus transaction fees
90-day money-back guarantee
Cons
Low processing limits on plans
Only for US-based merchants
Not compatible with high-risk merchants
Supported Business Types

Flexible

Retail, restaurant, professional services, and B2Bs

Standout Features

Wholesale interchange-plus pricing
Subscription-based
Rate protection
Chargeback and risk monitoring
Shopping cart integration
Free access to its virtual terminal.
Level 2 processing available to all merchants
Business funding

Monthly Fees

High, but offers good value

$79

Setup and Installation Fees

$0

Contract Length

Month-to-month

Point-of-Sale Options

Integrates with popular POS systems including Clover, ecommerce platforms, and mobile payment processors

Payment Processing Fees

Very competitive

Card-present transaction: Interchange plus 8 cents
Card-not-present transaction: Interchange plus 18 cents

Customer Support

24/7 phone and email support
Lacks knowledge base source on its website
| | | | | |
| --- | --- | --- | --- | --- |
| Best for | High-volume merchants with large transaction amounts | New and small businesses needing a free POS solution | High-volume businesses needing billing or recurring payments | Established businesses wanting interchange-plus pricing with no monthly fee |
| Monthly fee | $79 | Starts at $0 | Starts at $99 | $0 |
| Card-present transaction fee | Interchange plus 8 cents | 2.6% + 10 cents | Interchange + 8 cents | Interchange plus 0.1%–0.3% + 5–8 cents |
| Keyed transaction fee | Interchange plus 18 cents | 3.5% + 15 cents | Interchange + 18 cents | Interchange plus 0.2%–0.5% + 10–25 cents |
| Ecommerce transaction fee | Interchange plus 18 cents | 2.9% + 30 cents | Interchange + 18 cents | Interchange plus 0.2%–0.5% + 10–25 cents |
| | | | | |
When to Use Payment Depot
When to Use an Alternative
For high-volume recurring payments: Stax offers advanced recurring payments services with similar wholesale transaction fees.
If you don't want a monthly fee: Low-volume businesses can see other options in our guide to the best free merchant accounts.
2023 Pricing and Branding Updates:
In 2021, Payment Depot was acquired by the parent company that owns Stax, but major changes to its pricing and branding have only been implemented in April 2023. Its website logo now shows "Payment Depot by Stax," and it now offers the same features as Stax with a lower monthly fee and volume limit. Learn more about Stax in our full review.
Through years of reviewing merchant accounts and payment processors, I don't often come across subscription-based merchant service providers I would readily recommend for smaller businesses. Payment Depot's monthly plans combined with zero percentage markup—certainly two of the most significant improvements since it was acquired by Stax—have changed all that.
While Payment Depot also now offers all Stax features, it also no longer offers free hardware, and its chargeback fee is now $25, up from $15. Despite Payment Depot's low processing rates, startups and businesses with low-volume sales will still find alternatives that provide free merchant accounts more cost-effective.
That said, we consider Payment Depot the best solution for small businesses that have outgrown their startup payment processors. It has made wholesale transaction rates that can potentially provide huge discounts, available to actively growing, established small businesses.
Payment Depot Fees Calculator
Enter your monthly sales volume information to get an estimate of Payment Depot fees.
Payment Depot performed better than Stax in terms of pricing, mainly because it offers lower fees and a processing limit that is more compatible for small businesses. From its previous structure of three subscription plans with starting monthly fee of $59, it now only offers one plan with a higher monthly fee of $79 and an annual processing limit of $250,000, which could still be quite high for smaller businesses and startups.
| | Payment Depot |
| --- | --- |
| Monthly Fees | $79 |
| Card-present transactions | Interchange + 8 cents |
| Card-not-present transactions | Interchange + 18 cents |
| Annual processing limits | $250,000 |
Payment Depot uses an interchange-plus membership pricing model, which means you pay a monthly cost in exchange for wholesale interchange-plus rates from the card networks. The only other fee you pay is the per-transaction processing of 8 or 18 cents.
You can also request custom-priced plans. Payment Depot can quote you a higher monthly fee or advise you to get on one of the Stax plans (if your business processes more than $250,000 annually). Contact its sales team by phone or email to request a quote.
---
Payment Depot doesn't charge PCI compliance, setup, cancelation, or other miscellaneous fees. You only pay monthly fee, which, as with Stax, also includes payment services such as ACH, payment gateways, virtual terminals, mobile payment processing, and B2B processing.
However, it has a $25 chargeback fee, which is on the higher end compared to other merchant account providers. Also, some integrations may cost extra, so keep an eye on the pricing details indicated on your merchant application form before signing.
---
Payment Depot does not provide free equipment nor help you reprogram your existing terminal. If you're a new subscriber and you need hardware, the only option is to purchase new equipment starting at $49. Otherwise, you can use its free key entry virtual terminal that allows you to accept keyed-in card payments from any web browser.
Payment Depot offers a selection of mobile readers, POS terminals, smart terminals, and standard terminals. Brands include Clover, SwipeSimple, and Dejavoo.
Payment Depot Hardware Update:
Payment Depot's list of hardware no longer includes Poynt and First Data payment terminals.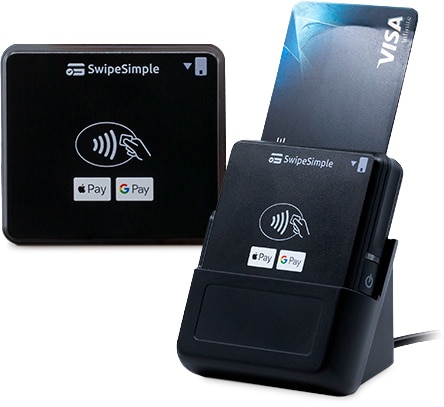 ---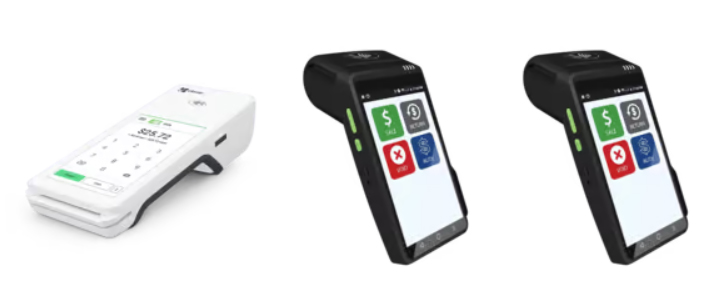 ---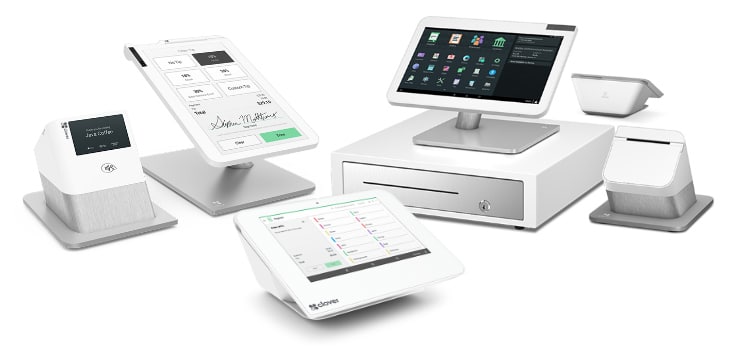 ---
---
As we mentioned, Payment Depot's terms of service had a major update in February, with the main change being its adoption of Stax as its merchant service provider/entity behind payment processing. This also comes with an update on its authorization fees, which now follow Stax Pay's pricing.
As with all providers that offer month-to-month subscriptions, Payment Depot's TOS is pretty straightforward. Once you have thoroughly read and understood your fees as detailed on your merchant application form, you can give the TOS a closer look.
Among the things you need to note are:
Your subscription is billed in advance, and you are to pay your monthly fees at the start of each month.
You are automatically "opted in" to certain services and features, which Payment Depot by Stax can implement on your account at its sole discretion. So, make it a point to ask a representative about all possible incidental charges applicable to your requested service and be clear that you don't want anything you don't need.
You will be notified ahead of time for any upcoming change in subscription fees to give you time to terminate your subscription should you so choose.
You can ask for refunds on your subscription; approval is on a case-by-case basis.
Prior notice is not required for Stax/Payment Depot to terminate your account; reasons include misuse of the merchant account platform and breach of the terms and conditions.
Merchants onboarded through FIS, Priority Payment Systems, and Payment Facilitation may be subjected to additional fees. Links to additional TOS for each are included in the document.
---
Applying for a merchant account with Payment Depot starts with filling out a contact form or just by clicking on any "Get Started" button that you can find on its website. You can expect a Payment Depot representative to contact you within 24 hours, and from there, they assist you with all information and documentation you need for securing a merchant account.
Approval time will depend on your estimated annual sales volume. Payment Depot will ask for more documentation and take more time to approve underwriting if you process more transactions.
Also, it provides users with free equipment along with a subscription. This includes POS terminals, smart terminals, and standard terminals. All Payment Depot plans come with a 90-day money-back guarantee, so if you're unhappy with the service, you can cancel without penalty—and get your money refunded.
---
Access to Payment Depot's range of built-in payment services is covered in the monthly subscription fee. Since its pricing and subscription changes, Payment Depot now offers all features that are offered by Stax, earning it high scores for offering all the payment methods we considered in our evaluation.
Merchants that accept transactions online may set up a free payment gateway with Payment Depot. This will enable customers to enter card transactions straight from the browser. Users have multiple gateway options, including
Authorize.net for a wide range of integration options
PayTrace for B2B payment processing
Network Merchants Inc. (NMI), a payment gateway designed specifically for Payment Depot merchant accounts
Payment Depot accounts also come with a virtual terminal, so businesses can key in payments through their browser. This is helpful for accepting payments over the phone.
---
Mobile payments are powered by SwipeSimple. It provides a card reader and a mobile app, which allows you to manage a product catalog, save payment information, add tips, and even process returns. Aside from credit cards, you can also accept payments from mobile wallets, like Apple Pay and Google Pay. The SwipeSimple B250 mobile card reader is compatible with both Android and iOS devices.
---
Payment Depot integrates seamlessly with a number of ecommerce platforms such as BigCommerce, WooCommerce, and even Shopify, and lets you easily set up Payment Depot as your preferred payment processor on your website. It also works with various shopping cart software like 3D Cart and Opencart. Note that while you still get the same Payment Depot transaction fees, integrating with these platforms may result in separate charges.
---
Unlike other popular payment processors, Payment Depot does not charge additional fees for accepting ACH payments. Access to this type of payment service is already covered in the monthly subscription fees and standard wholesale rates for all other transactions.
---
Payment Depot integrates with PayTrace, a payment gateway that provides level 2 and level 3 payment processing rates for credit card transactions. This potentially provides additional discounts for B2B merchants with the added security for large-volume credit card transactions. PayTrace also automates the process of filling out the information required to qualify for level 2 and level 3 data processing.
---
Following the Stax acquisition, Payment Depot no longer has a same-day or next-day funding option. This is the major factor in its lower score for merchant account features. It also does not offer free reprogramming of existing hardware. On the other hand, Payment Depot offers 24/7 customer support with excellent user reviews.
Payment Depot updates merchants in real time with any chargeback notifications or flagged transactions so they can be resolved quickly. It also provides a data breach protection system for its merchants to prevent unauthorized transactions.
---
With a Payment Depot merchant account, you get powerful data and reporting tools—which let you access all your transaction data and conduct performance analytics—to help you monitor and analyze your business' overall health. Payment Depot works with a number of acquiring banks, and some might require separate access to its reporting features.
---
Users may apply for business funding through Payment Depot. Business owners must have a personal FICO credit score of at least 500 and a minimum of $15,000 in gross monthly revenue for the last three months. Additionally, their business should have been in operation for at least six months prior to the application.
---
The list of software integrations is quite long and includes compatibility with USAePay, Authorize.net, and other payment gateways. These integrations allow you to use Payment Depot on a variety of ecommerce platforms.
It doesn't have proprietary hardware, so it works with a variety of third-party payment processing equipment. Strong integrations include Clover and SwipeSimple, though you can use Payment Depot with other tools. This flexibility makes it easy to use Payment Depot for retail credit card transactions.
---
Payment Depot has a reputation for excellent, responsive support for technical and customer service issues. Its team is available via phone at (877) 877-7668 and through the contact form on its website. However, while it offers 24/7 phone and email support, you are most likely to get a fast response during business hours. Many users said the support reps are friendly, responsive, and helpful.
---
Overall, the question we would like to answer here is: "Is Payment Depot worth its price for merchants?" The answer is "Yes, if your goal is to actively grow your small business." Payment Depot is both cost-effective and reasonably priced for a subscription-based merchant services provider. It also offers a reliable suite of integration options, including mobile payments. It only lost a few points because of recent unfavorable reviews where users complained about unexplainable fees, overcharging, and long customer support wait times.
What Users Say in Payment Depot Reviews
Payment Depot users mostly enjoy using the platform. There are lots of positive reviews about the cost and customer support, though not everyone agrees about its affordability.
However, recent reviews are showing complaints around unexpected fees and poor customer support. In addition to limitations on high-risk and international businesses, it does not offer as many internal tools as other processors. For example, it lacks an extensive online knowledge base.
Below are trends we noticed when reading through Payment Depot reviews:
Users Like

Users Don't Like

Affordable and reasonable payment processing rates
Can be expensive for business with low transaction volumes
Several integration options
Disjointed systems, especially when dealing with chargebacks
Responsive and helpful customer service
Unexpected fees and poor customer support
Methodology—How We Evaluated Payment Depot
We test each merchant account service provider ourselves to ensure an extensive review of the products. We also took a closer look into pricing methods and identified providers that offer zero monthly fees, pay-as-you-go terms, and low transaction rates. Finally, we evaluated the range of payment processing features, scalability, and ease of use to compare the overall cost-effectiveness of each product.
The result is our list of the best overall merchant services. However, we adjust the criteria when looking at specific use cases, such as for different business types and merchant categories. This is why every merchant services provider has multiple scores across our site, depending on the use case you are looking for.
Click through the tabs below for our overall merchant services evaluation criteria:
30% of Overall Score
We awarded points to merchant account providers that don't require contracts and offer month-to-month or pay-as-you-go billing. Additionally, we prioritized providers that don't charge hefty monthly fees, cancellation fees, or chargeback fees and only included providers that offer competitive and predictable flat-rate or interchange-plus pricing. We also awarded points to processors that offer volume discounts, and extra points if those discounts are transparent or automated.
Payment Depot earned an average score for this criteria mainly on account of the monthly subscription fees required to use the service and its relatively high chargeback fee.
30% of Overall Score
The best merchant accounts can accept various payment types—including POS and card-present transactions, mobile payments, contactless payments, ecommerce transactions, and ACH and echeck payments—and offer free virtual terminal and invoicing solutions for phone orders, recurring billing, and card-on-file payments.
Since its pricing changes and plan adjustments to fit Stax's offerings, Payment Depot now also enjoy all the features Stax has to offer. This helped it earn a perfect score for its support of different payment types.
20% of Overall Score
We prioritized merchant accounts with free 24/7 phone and email support. Small businesses also need fast deposits, so payment processors offering free same- or next-day funding earned bonus points. Finally, we considered whether each system has affordable and flexible hardware options and offers any business management tools, like dispute and chargeback management, reporting, or customer management.
Payment Depot's score for this criteria took a significant hit from the lack of same-day and next-day fund transfers and free business management integrations.
20% of Overall Score
We judged each system based on its overall pricing and advertising transparency, ease of use (including account stability), popularity, and reputation among business owners and sites like Better Business Bureau. Finally, we considered how well each system works with other popular small business software, like accounting, point-of-sale, and ecommerce solutions.
Payment Depot earned top marks in this section as an overall value-for-money merchant services provider.
*Percentages of overall score
Payment Depot Frequently Asked Questions (FAQs)
Payment Depot provides small businesses access to bigger savings through wholesale interchange rates in exchange for midrange subscription based pricing. You get free access to Payment Depot's payment processing services for $79 per month.
---
Payment Depot is ideal for small, but actively growing businesses, particularly for small B2B merchants and those with low-ticket, high volume sales. And while it is not considered one of the cheapest payment processing providers around, these types of businesses will benefit most from Payment Depot's wholesale rates and advanced payment processing features.
---
Stax acquired Payment Depot and now shares most of its payment processing features, however, there are main differences between Payment Depot and Stax:
Base subscription pricing: Payment Depot's plan is $79 per month, while Stax ranges from $99–$199.
Processing Limits: Payment Depot's subscription plan is based on processing limits for up to $250,000 per year (roughly $21,000 per month). Meanwhile, all of Stax's subscription plans are available to businesses that process up to $500,000 per month.
---
In general, applying for a merchant account involves an underwriting process by the acquiring banks which can take at least a few days. However, users have been openly praising Payment Depot's customer service, particularly for the ease of the onboarding process right from the point of submitting requirements. Get started with our free step-by-step guide to merchant account application.
---
Bottom Line
If you are actively growing your small business, Payment Depot's easy-to-use features and all-in subscription pricing fits the bill. It bridges the gap between payment processing for startups and larger established businesses. So, while you may need third-party integrations for some payment tools (consider upgrading to Stax once you outgrow Payment Depot's features), access to free payment services and wholesale interchange fees makes Payment Depot a cost-effective solution.
New subscribers get a 90-day risk-free trial. To find out if it is a fit for your business, contact Payment Depot for more information.