Wave and PayPal are both outstanding payment facilitators for solo merchants and freelancers. However, businesses that need recurring billing services will get more value for money with Wave because it's completely free. Small retailers looking for mobility and flexible payment solutions will find PayPal a better solution.
Wave: Best for contractors and solo professionals needing free recurring billing
PayPal: Best for mobile merchants needing a wide range of payment solutions
Wave vs PayPal Quick Comparison
 

 

Monthly Account Fee

$0

$0

Monthly Fee for Add-on Services

From $8–$149

From $5–$30

Card-Not-Present Fee

From 2.9% + 60 cents

From 2.59% + 49 cents

Card-Present Fee

N/A

From 2.29% + 9 cents

Contract

Month-to-month

Month-to-month

Average Payout

2 business days

Instant deposit: Undisclosed fee

Next business day

Instant via PayPal Balance

Instant Deposit: 1.5% fee

Mobile Apps

Invoicing+Receipts

Invoicing

Point of Sale (POS)

Integrations

Limited

Good

Hardware

N/A

Proprietary

Ease of Use

Very good

Very Good

Customer Service

Business hours live support
Guided setup
Email and chat support

Extended business hours for live support
Chat and email
Knowledge base

 

Pros
Built-in accounting software
Free advanced invoicing tools
Free mobile app for invoicing
Cons
Lacks in-person payment processing
Surcharge for AmEx transactions
Limited inventory tools and integrations
Wave Is Best For
Contractors: Wave lets you create multiple business profiles and send out invoices to your customers. The built-in full accounting service automates financial reconciliation and tax reporting.
Free recurring billing: Wave offers advanced recurring billing features with customizable estimates and stored card payments at no extra cost.
Remote payments: Wave comes with free invoicing and a virtual terminal that allows you to accept credit card, ACH, and digital wallet payments.

Pros
Supports payments via mobile card reader, digital wallet, and online
Instant access to funds
Seamless online checkout integration
Cons
Charges monthly fees for some of its payment services
Complex pricing
Frequent issues of frozen funds
PayPal Is Best For
Occasional selling: PayPal does not charge any monthly fee or inactivity fee so merchants only have to pay per transaction.
Peer-to-peer in-person transactions: PayPal's mobile app allows merchants to receive payments from a customer's PayPal wallet and generate QR codes that customers can use for their purchases.
Accepting international payments: PayPal supports 25 currencies that can be accepted in any country where PayPal is supported.
Adding payment options to your website: PayPal provides a number of online payment methods that ecommerce merchants can easily integrate as an additional payment option.
Wave and PayPal's biggest difference is its primary use. Wave's suite of financial products are built around its accounting services. Its invoicing, payment processing, and payroll management automates journal entry updates. The reporting functionality is designed to prepare financial statements for tax compliance.
Additionally, merchants have free access to Wave's full-service accounting software (available in PayPal only via third-party integration). You also get advanced invoicing and recurring billing features completely free, while PayPal will charge you as much as $40. However, Wave offers very limited payment method options and does not support in-person transactions.
In contrast, PayPal is a pioneer in mobile and online payments—focused on creating a convenient platform for individuals and small businesses to send and receive funds. Its additional services like POS software, Buy Now, Pay Later (BNPL) app, and cryptocurrency wallet are an extension of its primary use, which you won't find with Wave.
We only recommend Wave and PayPal for solo businesses for different reasons. Wave does have a payroll management service add-on, but compared to Square, costs more and lacks certain features. On the other hand, PayPal's POS, Zettle, only comes with basic staff management functionality and will require integration with a third-party payroll management service. Both Wave and PayPal are on our list of top online payment processors scoring 3.58 out of 5 and 3.82 out of 5 respectively.
Wave vs PayPal Pricing
 

Monthly Software Fee

$0

$0

In-Person Transaction Rate

N/A

2.29% + 9 cents

Online Transaction Rate & Apple Pay

2.9% + 60 cents

2.59% + 49 cents

Keyed-in Transaction Rate

N/A

3.49% + 49 cents

Amex Surcharge

+0.5%

N/A

Nonprofit Rate

1.99% + 49 cents

ACH Transaction Fee

1% ($1 minimum fee)

(Echecks)

3.49% capped at $300

Add On Services Monthly Fees

Mobile Receipts: $8
Payroll: $20–$40
Wave Advisors: $149

Recurring Billing: $10
Recurring Payments: $30
Payment Gateway: $0–$25
Virtual Terminal: $30

Crossborder Fee

$0

+1.5%

Chargeback Fee

$15 refundable

$20

Instant Payout Fee

Not disclosed

1.5%

Hardware

N/A

From $29
Our Expert Take: At the core, both Wave and PayPal are great options for small businesses because there are no monthly fees to use their payment processing service. But the similarities end there. PayPal offers a much lower rate for accepting credit card payments online; however, it charges monthly fees for key payment services such as recurring billing, which Wave merchants can use for free. On the other hand, Wave's payment processing features are limited to invoicing and simple online credit card processing.
Winner: Tie
It's difficult to declare a winner for this category considering the difference in target user premise. Overall, Wave's transaction rates are higher and the payment options are limited compared to PayPal. However, the simplicity is what makes Wave perfect for contractors and solo professionals. PayPal's versatility and low online transaction fee stand out, but the provider lost significant points in our book for the add-on monthly fees and complex pricing.
With these pros and cons in mind, we will let each merchant decide which provider is best in pricing based on their best match in terms of business priorities and needs.
Wave vs PayPal Business Apps
Both Wave and PayPal come with free payment apps where you can manage invoices and track sales. PayPal also has a POS app primarily for selling on the go but can also be used in a countertop setup. PayPal leads in this category in terms of pricing and functionality.
Winner: PayPal
It comes as no surprise that PayPal is the clear winner for payment apps when compared to Wave. Merchants with a PayPal account get free access to the PayPal Business app for managing invoices and account activity, and the POS app for managing inventory and accepting in-person payments with or without a mobile card reader. Both are very useful in their own right, providing better accessibility in handling front-end and back end business tasks. There are no extra fees to use the features of either app.
PayPal Business App user ratings:
PayPal Zettle POS App user ratings:
When to Use Wave
If you use Wave Accounting and Wave Invoicing to run your business, then Wave's business apps are the natural choice. Initially, Wave offered two separate mobile apps for invoicing and receipts but the July software update finally combined both functions into one platform. However, note that the use of the receipt image capture tool will require you to pay a monthly fee of $8 to use.
Wave Business App user ratings: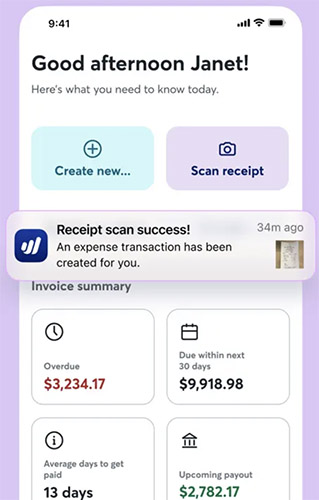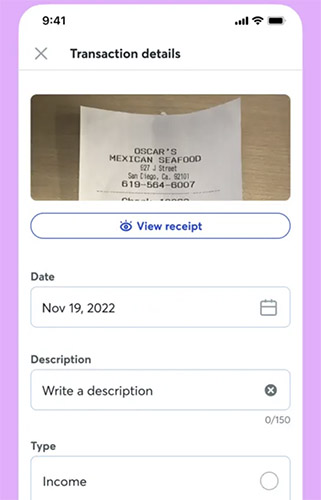 Wave vs PayPal Online Payments Features
Online Payment Options

Payment Links for Invoice

Digital Wallet (Apple Pay)

Website Pay Buttons

Payment Links

PayPal Checkout

BNPL

Cryptocurrency

QR Code

Virtual Terminal

Limited to Invoicing

$30/month

(for manual payments)

Ecommerce

N/A

Multiple integrations

Online Invoicing & Recurring Billing

✓

✓

Additional Fees for Recurring Billing

International Payments

Unlimited*

25 currencies

Social Media Selling

N/A

✓

 

*Wave does not specify which currencies it supports, except that it uses xe.com rates as a basis for accepting international payments and recording loss or gain in currency conversion (in the journal entries). It does not charge any conversion fees for accepting international payments.
Our Expert Take: In terms of online payment features, we favor PayPal because Wave is more of an all-in-one financial services solution for solo professionals. It emphasizes bookkeeping while also providing simple payment processing tools. PayPal is a payment processing platform so it naturally offers more payment methods and supports more transaction types than Wave. The only downside is that PayPal charges an add-on monthly fee for advanced payment processing service like recurring billing and recurring payments.
Winner: PayPal
We often recommend PayPal as an ideal choice for merchants who want to add more payment method options to their online checkout. And as an online payment platform, PayPal is way ahead of Wave. PayPal provides you with ecommerce checkout integrations, sharable payment links for social media selling, and a virtual terminal that can process manual payments. It also offers additional payment options such as QR codes, cryptocurrency, and its very own Buy Now, Pay Later program.
When to Use Wave
This has been already mentioned a few times, but the one aspect of payment processing where Wave really stands out is its free recurring billing and recurring payment features. So for merchants who run a subscription business, you will definitely save more money with Wave compared to PayPal. Note, however, that Wave's product catalog tool is very basic so only service-type subscriptions or professional services that do not carry inventory to sell should choose this option.
Wave vs PayPal Invoicing
Monthly Fee

$0

$0–$30

Unlimited Invoicing

✓

✓

Recurring Billing

✓

+$10 per month

Stored Card Payments

✓

+$30 per month

Transaction Fees

Credit Card: 2.9% + 60 cents
Amex Card: 3.4% + 60 cents
Apple Pay: 2.9% + 60 cents
ACH: 1%

Credit/Debit Card: 2.99% + 49 cents
PayPal Checkout 3.49% + 49 cents
Echecks: 3.49% capped at $300

Payment Methods

Credit Card

ACH

Apple Pay

Stored card payments

Credit/Debit Card

Echecks

PayPal Checkout

Stored card payments

Estimates and Subscriptions

✓

✓

Invoice Customization

✓

✓
Our Expert Take: Wave and PayPal offer similar customizable invoicing and recurring billing functionalities with a stored card payment option for recurring payments. However, PayPal lost significant points because it charges additional monthly fees for its recurring billing and payment processing while Wave merchants can access the same features for free. Wave includes Apple Pay while PayPal has its PayPal Checkout as an additional payment method option.
Winner: Wave
Most merchant processors (including PayPal) impose additional fees for advanced invoicing customization and recurring billing tools, but Wave does not. This is a huge reason why Wave consistently makes our list of outstanding recurring billing and recurring payments software. The added full service accounting software that automates bookkeeping for account receivables makes Wave stand out even more over PayPal in this category.
As an overall payment processor, Wave's payment method options are limited (it does not support in-person and keyed-in transactions). But for invoice collections, Wave's embedded online payment options processing is pretty much standard and Apple Pay for digital wallet payment is a plus.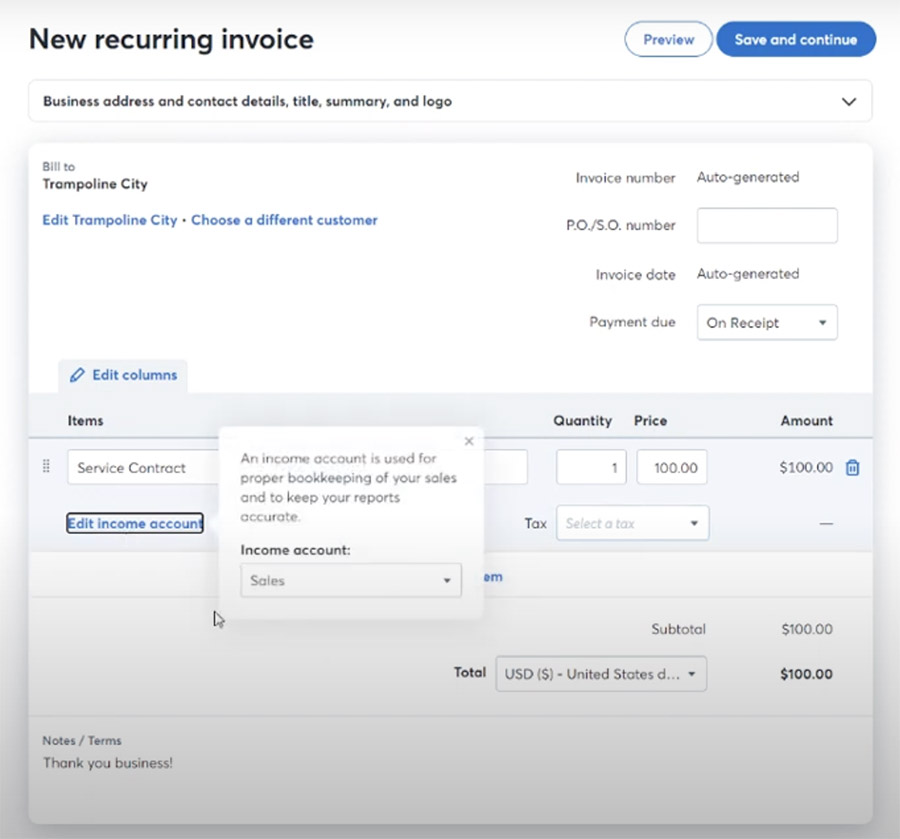 ---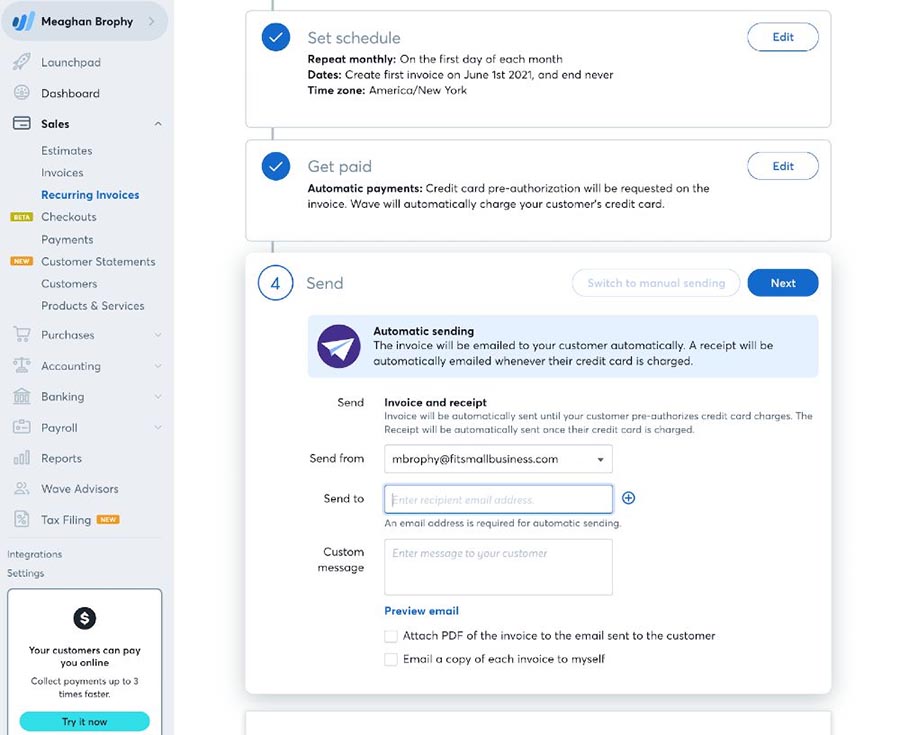 ---
When to Use PayPal
Using PayPal to send out invoices and collect payments makes the most sense for merchants who would like to offer PayPal payment options to its customers. As one of the most trusted names in online payments, millions of individual users use PayPal to complete online purchases which can lead to better conversion rates. And while Wave offers Apple Pay, PayPal Checkout gives your customers the ability to pay via Venmo or Pay in 4 (PayPal's buy now, pay later service).
Wave vs PayPal Integrations
Our Expert Take: Wave and PayPal integrations cannot be any more different and this, again, clearly stems from the primary design of each provider. But beyond that, we wanted to recommend a platform that can seamlessly integrate with your current business software with as little downtime as possible. PayPal is the obvious choice with its variety of online checkout integrations.
Winner: PayPal
PayPal has come a long way from a peer-to-peer/digital wallet app to one of merchants' most sought after add-on online payment methods. With millions of individual users trusting PayPal for their online purchases, it has since developed ready integrations to improve business processes and now works seamlessly with popular online business systems. This includes ecommerce platforms, online marketplaces, accounting systems, donation platforms, and more. It even integrates with POS software such as Clover and Hike.
PayPal Integrations:
PayPal Risk management
PayPal Dispute management
Paypal Reporting tools
PayPal Returns management
PayPal Shipping management
When to Use Wave
Like PayPal, Wave's list of integrations are focused on its primary use—financial management. So recommending Wave is very particular to merchants who need a strong bookkeeping functionality and only simple invoicing to run their business. Wave's integrations are very limited, compared to PayPal, but are all seamlessly connected to help small merchants handle their business finances with ease.
Wave integrations:
Wave Payroll
Wave Invoicing
Wave Payments
Wave Money
Google Sheets
BlueCamroo (for CRM)
Ecommerce platforms (via Zapier)
Wave vs PayPal Ease of Use
Account Approval

Not required

Not required

Account Set Up

Remote

May take time w/ the accounting component

Remote

Easy set up

Contract Length

Month-to-month

Month-to-month

Funding Speed

2 Business days

Instant w/fee

Instant w/ PayPal Balance

Deposit: Next business day or Instant w/fee

Platform

Easy to learn

Clean interface

Easy to learn

Clean interface

Chargeback Management

By email

PayPal Resolution Center
API website integration

Fraud Protection

56-bit TLS encryption
Tokenization
PCI Level 1
Layered third-party security and anti-fraud service providers

PayPal Security Key
TLS connection
Tokenization
PCI Level 1
Customizable fraud protection filters

Customer Support Hours

Business hours live support for paid plan
Guided setup
Email and chat support
Extensive knowledge base

Extended business hours for live & technical support
Chat support
Extensive knowledge base

Average User Reviews

4.5 out of 5 stars

4.5 out of 5
Our Expert Take: Both Wave and PayPal did great in this category, save a few points docked for certain areas. Both provide an aggregate merchant account ideal for small businesses and startups. Customer service is practically the same while platforms for both providers are clean and easy to navigate so there's a very low learning curve in getting used to the system. However, PayPal edged out Wave in terms of set up, funding speed, and chargeback management.
Winner: PayPal
One of PayPal's best features is its options for providing fast access to funds. Because PayPal also functions as a digital wallet, merchants can use their PayPal balance to pay bills and make online purchases. Aside from PayPal's resolution center, I like how PayPal gives you an API that can create a portal on your website where customers can file their dispute.
I also particularly like payment processing platforms that provide access to fraud protection filters. Some broadscale fraud protection tools tend to decline even legitimate customers. Merchants with access to customize these filters can finetune the settings so they don't miss out on legitimate sales.
What users say about PayPal: PayPal has received thousands of online user reviews from merchants garnering an average score of 4.5 out of 5 stars. The system is praised for its ability to provide frictionless payment processing tools and for its huge list of integrations.
When to Use Wave
Wave is designed to be startup and small business-friendly, but its ease of use is underscored by its main functionalities. For example, the guided set up for customer support is primarily to assist in setting up the chart of accounts for bookkeeping. So unless you need a free full service accounting software or operate under a subscription-based payment system, you will likely be better off with a provider like PayPal.
What users say about Wave: Like PayPal, real-life users give Wave an average score of 4.5 out of 5, although there are significantly fewer online reviews. Based on general user feedback, the free invoicing seems to be the Wave's most popular feature. Most find Wave easy to use but will definitely need someone familiar with bookkeeping knowledge to minimize the time needed to learn the system.
How We Evaluated Wave vs PayPal
To provide an unbiased evaluation of PayPal vs Wave, it's important to identify their key differences and focus on the common functionalities that merchants look for in a business system (not just as a payment processor). Our payment experts personally tested both systems (for Wave, we also asked our payroll and accounting experts to weigh in) in order to create a clear picture of what Wave and PayPal can offer.
We then put together the following criteria to evaluate Wave vs PayPal:
Business management tools: Our experts provided us with their insight into Wave and PayPal's distinct functionalities, and evaluated both based on how small-business friendly the systems are. Integration features also fall into this criteria to gauge how each system can improve a merchant's current business workflow.
Payment processing features: Here, I took the standard approach to evaluating online payment processors. Regardless of whether payment processing is a primary or secondary feature, merchants should still be able to have a decent range of payment method options.
Pricing & contract: Both Wave and PayPal are designed for startups and small merchants so we prefer a system that offers zero monthly fees and does not require an approval process or a long-term contract. We also compared transaction fees and docked points for any add-on cost.
Value for money: In this criterion, I compared how much value merchants get from Wave and PayPal's free account. Ideally, it should include advanced features and customization options that merchants would have had to pay with other payment processors. I also took into consideration whether it would be possible to start one's business with either provider without any upfront cost.
Ease of use: Last but not least, our experts also weighed in based on their experience in signing up for a Wave and PayPal account and setting up the platform. I also considered my personal experience in testing the systems tools and how easy it is to get support. Real-life user reviews also fall under this criteria, taking note of what users liked the most and if there had been any improvements to the common problems encountered with each system.
Wave vs PayPal Frequently Asked Questions (FAQs)
These are some of the most common questions we get about PayPal vs Wave.
Wave and PayPal are significantly different business systems. PayPal is primarily focused on providing payment processing solutions, while Wave is a more holistic software solution designed to completely manage a small professional startup business. It comes with a basic payment processing feature, advanced invoicing and recurring billing tools, and a complete payroll and accounting service.
---
No, there are currently no available PayPal integrations with Wave. However, PayPal has direct integrations with other accounting software such as QuickBooks.
---
No, at the moment, there are no complaints against Wave about frozen funds. Wave accepts payments via invoice and automatically transfers the funds to your linked bank account.
---
Bottom Line
Both Wave and PayPal were designed as business solutions for startups, micro businesses, and small merchants—but clearly for different primary use. So when comparing PayPal vs Wave, we have to consider a merchant's specific needs. PayPal provides merchants avenues to expand its customer base with a wide range of payment methods and integrations. On the other hand, if you are a startup professional needing a simple but solid invoicing and recurring billing system to run your business, Wave is your best choice.