5 Best Convenience Store POS Systems
This article is part of a larger series on POS Systems.
Convenience stores have unique needs that cannot always be met by a standard retail point-of-sale (POS) system. Convenience store (c-store) POS software should be able to handle fuel and gas pump monitoring and sales, age verification, and even food orders. We considered over a dozen of the best POS systems that meet the needs of convenience stores and selected the top five.
The best convenience store POS systems are:
Top Convenience Store POS Systems Compared
Monthly Fees*

Hardware Included

Fuel Sales

Lottery Ticket Sales

Free Trial

Phone Support

$99 (or $999 per terminal upfront)

✓

✓

✓

✕

Free for 3 months; $39.99/ month thereafter

$59–$89+

✕

✕

✓

✓

✓

Custom-quoted

✕

✓

✓

✕

✓

$79+

✕

✕

✕

✕

✓

$99

✕

✕

✓

✕

✓
* All prices are per terminal.
Are you looking for something different? Check out our rankings of the best POS systems for small businesses and leading retail POS systems. Also see our lists of the best gas station, grocery store, vape shop, and liquor store POS systems.
POS Nation: Best Overall Convenience Store POS

What We Like
Subscription fee includes the cost of hardware
Offers month-to-month contracts; you can cancel any time
Scan IDs for age verification
Supports fuel, lottery, and fresh food sales
What's Missing
No free trial
Must pay extra for customer support after three months
POS Nation Pricing
Software fees:

Flex Monthly: $99 per month, per terminal
Freedom: $999 one-time fee per terminal
Custom build pricing available

Customer support: $39.99 per month support fee after first 3 months for certain plans
Payment processing: Integrates with First American, Heartland, EVO, Worldpay, and Swipely. Best pricing for the software requires a Worldpay Merchant Account, however.
Contract length: Flex Monthly plans can be canceled at any time.
Free trial: None
POS Nation was one of the few convenience store systems we looked at that included fuel management, lottery sales, and food service functions. Its age verification includes the ability to ID scan, part of why it is one of our top liquor POS systems. It has strong inventory features, including tracking for individual items or cases, plus programmable discounts and deli management tools.
In addition, POS Nation has customer relationship management (CRM) tools to track buying patterns and create targeted promotions. Its price includes hardware, and users give it high marks for ease of use.
POS Nation scored a 4.74 out of 5. It maxed out our evaluation of its back-office features and scored high for all other categories. It lost some points for its ease of use because it charges for customer support after the first three months with certain plans, and also charges extra ($12 per month) for cloud backup. Overall, however, it's an excellent and affordable system.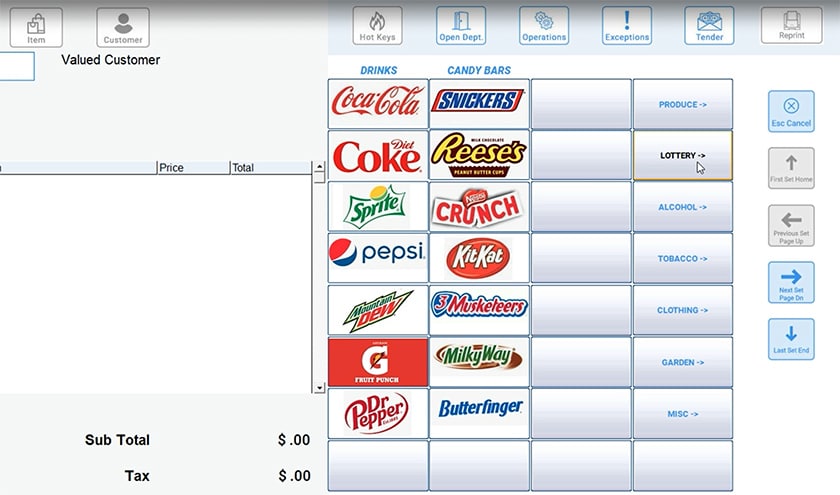 ---

---

---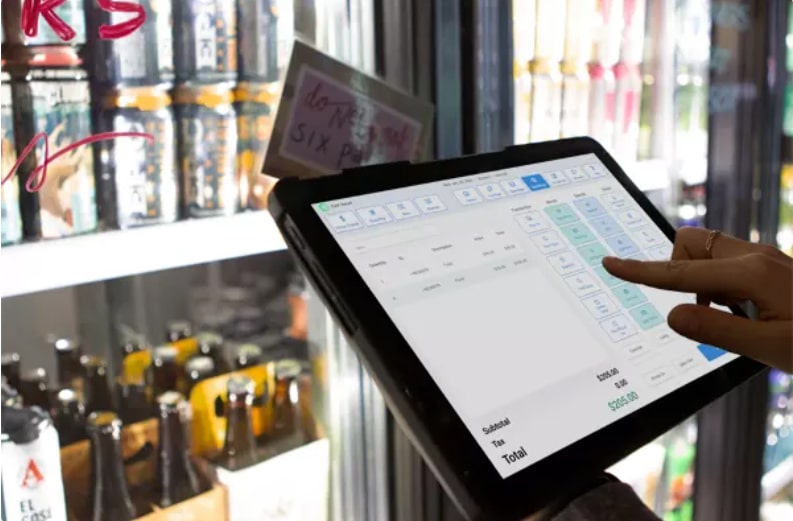 ---
POS Nation Features
POS Nation is a locally installed POS with a cloud backup option, giving this system excellent offline functionality. By comparison, IT Retail and KORONA are both completely cloud-based systems, meaning they need a strong internet connection to operate. POS Nation has a highly customizable interface, with hotkeys and different register layouts for various parts of your c-store. You can create specific screens with shortcuts to lottery sales and payouts or most popular hot foods, depending on your store's needs.
POS Nation's standout features include:
You can integrate the third-party payment processor of your choice. POS Nation partners with payment processors, including Swipely, Worldpay, Heartland, and Sterling Payment Technologies, so you can shop for the lowest available processing rates. You'll get the best price on POS Nation software if you use Worldpay as your processor, although we don't recommend Worldpay for small businesses.
---
Offering discounts for cash can save you money spent on merchant fees for credit card processing. On this list, only POS Nation offers a built-in cash discounting module. Though with other systems, you could build a workaround using their general discounting functions.
---
POS Nation accepts payments at the gas pump and supports lottery and Lotto ticket sales. Only NCR also has both these features; KORONA and Revel both have some lottery sales and payout functions.
---
Along with KORONA and IT Retail, POS Nation offers great features for selling alcohol—ID scan, alcohol-regulation-specific reports, and product variants.
---
KORONA: Best for Corner Stores Without Fuel Pumps

What We Like
Unlimited free trial
No long-term contracts
Includes lottery payout functions
Integrates with all major payment processors
What's Missing
Does not support fuel sales
Food service functions are limited
KORONA Deciding Factors
Subscription plans: 

Core: $59
Advanced: $69
Plus: $89
Enterprise: Custom quote

Hardware costs: Prices vary depending on the device, from $120 for a cash drawer to $3,000+ for a complete terminal kit; you can contact KORONA for a detailed price sheet.
One-time installation fees: $0
Payment processing: Integrates with all major processors.
Contract length: Month to month; cancel anytime
Free trial: Unlimited (you can't integrate a payment processor and there are low daily transaction limits)
KORONA is a strong option for a c-store POS system. Its flat-rate pricing includes service and installation, making it a great choice for small businesses on a tight budget. KORONA offers strong inventory features, including product sales tracking, demand forecasting, and purchase order functions.
The KORONA "accounts" setting allows you to track lottery payouts directly in the POS. KORONA is also the only system on this list that includes gift card functions for no additional charge.
Its cash tracking includes a "blind drop" setting so employees cannot see their tendered cash drop before counting the money in their drawer, which can help prevent employee theft. Customer service is excellent, and users praise the interface and support. Additionally, with its unlimited free trial option, you can set up a demo account and test the software for as long as you need. You can't integrate a payment processor, however, and daily transactions are severely limited. None of the other providers on our list offer a free trial.
In our evaluation, KORONA scored a 4.54 out of 5. It maxed out the scores for customer support and ease of use, but lost points for not having integrated fuel management. However, it has a theft prevention module and robust inventory tracking tools that corner store owners will love.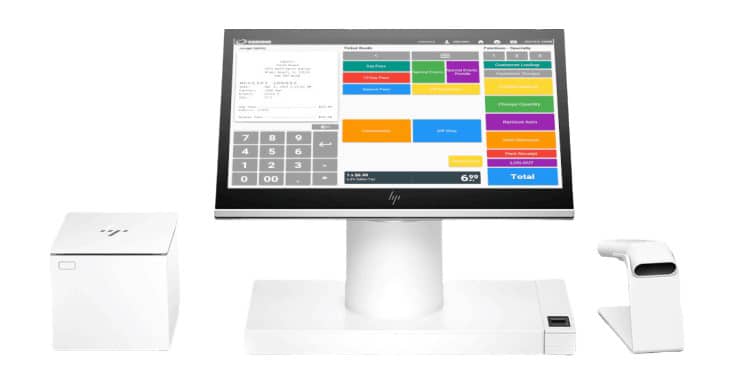 ---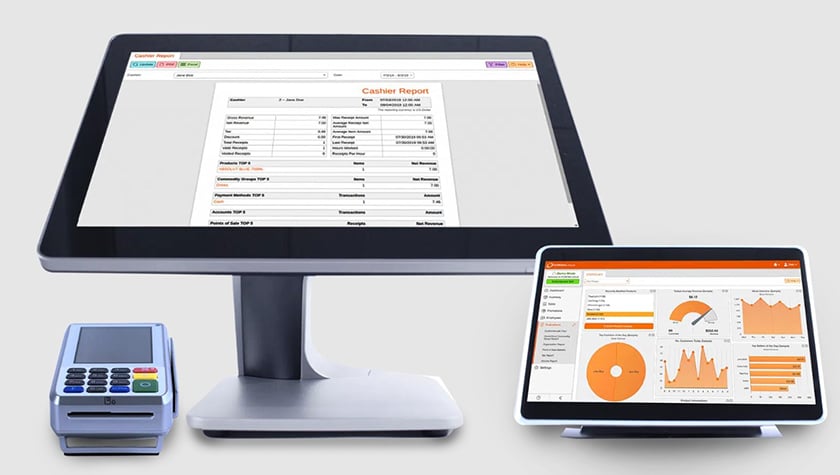 ---
KORONA Features
KORONA starts at $59 per month, per terminal, or $69 per month, per terminal if you want the advanced inventory. The Plus plan is $89/month per terminal and supports multistore management. This is the most affordable option on our list for software.
You can purchase hardware from KORONA; it sells touch-screen terminals from Aures, Partner Tech, and Hisense. You may also be able to reuse hardware you already own; a KORONA representative can tell you if your equipment is compatible.
KORONA's standout features include:
Granular employee permissions and detailed reporting are the cornerstones of KORONA's anti-theft features. Beyond simply setting custom user permissions, which all systems on this list support, KORONA includes the option to require cashiers to blind drop their cash drawers at the end of their shift. You can further set the system to restrict any actions while the cash drawer is open and eliminate the ability to pop the cash drawer using a "no sale" function.
KORONA's cashier reports are some of the most detailed available. You can track every cash transaction, every return, and every void to identify patterns in cashier behavior. Combined with blind cash drops, you'll be able to easily spot any suspicious transactions.
---
Not only does KORONA track sales history, but it automatically takes the sales history and promotional sales into account when determining when a product needs to be reordered. Other apps like IT Retail can do comparisons in reports, but you need to set the parameters manually.
---
Like POS Nation, KORONA has a lot of customizability, from the size of the buttons to the layout of the register. It also lets you customize workflows. You can set up quick keys and group hierarchies. It has 100 customizable reports, which is more than POS Nation.
---
On review sites, users rate Korona highly. The system earns a 4.7 out of 5 on popular review site, Capterra, where users also award it a 4.7 on customer service alone. Users say the staff is friendly and knowledgeable, and that has been our experience as well.
---
Learn more about KORONA's POS features with our full KORONA review.
NCR: Best for Convenience Stores That Sell Gas

What We Like
Operates in iPads or industry-grade Android touch screens
POS package includes installation
Cloud-based
Includes fuel management tools
What's Missing
Contract terms vary based on reseller
All pricing requires a custom quote
Cannot process payments offline
NCR Silver Deciding Factors
Subscription plans: Custom-quoted
Hardware costs: Custom-quoted
One-time installation fees: Custom-quoted
Payment processing: Custom-quoted
Contract length: Varies based on reseller
Free trial: None
NCR is a popular cloud-based POS brand that creates software solutions for industries from specialty retail to franchises and restaurants. Convenience stores that also sell gas should look no further than NCR. Like POS Nation, this flexible system can process payments at the fuel pump or in your store. It also provides a comprehensive retail and fuel management solution. In fact, these tools made NCR our top pick for gas station POS systems.
With NCR's POS solutions, you can apply customer rewards points at the POS terminal or at the pump. NCR further offers an open application programming interface (API) so you can build customized solutions with your preferred third-party apps.
NCR earned a 4.46 out of 5 on our scoring criteria. It earned points for its fuel management tools, self-checkout options, and range of supported payment processors. It lost some ground when it came to price. Like IT Retail, NCR POS requires a custom quote to determine your overall cost. It also uses a reseller system to sell its POS. Price and contract terms can vary by reseller, so it is hard to tell if you're getting the best deal. If transparent pricing is a must for you, check out POS Nation or KORONA instead.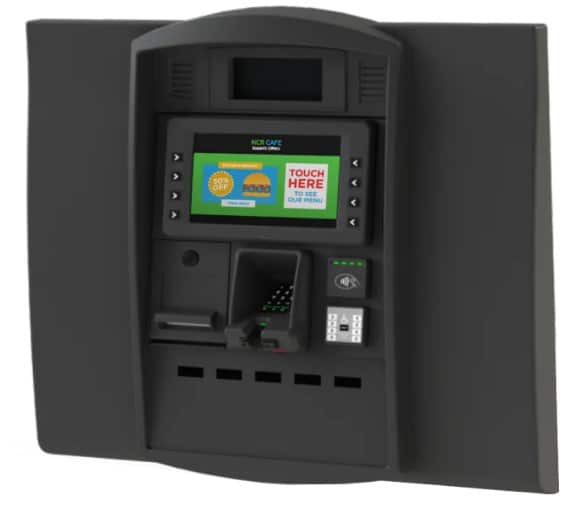 ---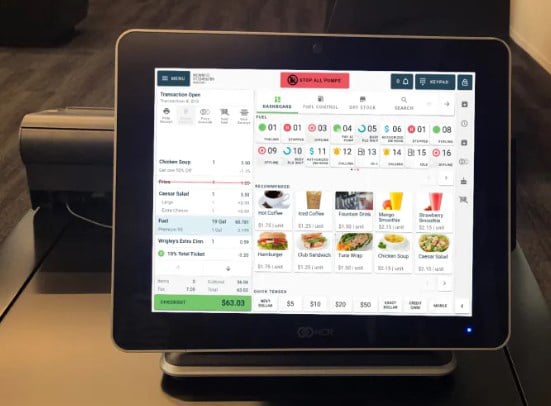 ---
NCR POS Features
NCR's retail POS solutions go by many names, NCR Silver, NCR RPOS, NCR Storepoint; all three of those systems have c-store functions. Whichever terminal you choose, your system will integrate with the rest of the retail tools in the NCR ecosystem, from exterior payment terminals to payment dashboards and artificial intelligence applications.
With NCR you can create a complete end-to-end POS, payment, and technology solution. Though you'll need to contact NCR directly to find out how much your dream POS will cost.
NCR Silver's standout features include:
NCR's OPTIC payment terminal processes payments at the fuel pump. It syncs with your loyalty program and features a dynamic touch screen to display discounts and promotions. The OPTIC terminal is tamper-evident with a real-time remote tamper alert and supports E2EE data encryption to secure customer payment information. The terminals are weatherproof and waterproof to withstand the harshest weather and come in two different sizes—12" and 5"—to fit most major pumps.
---
Like IT Retail, NCR supports multiple self-checkout configurations. You can choose self-checkout stands with small or large footprints to fit any type of convenience store layout.
---
NCR's SmartAssist module combines smart cameras with artificial intelligence to detect intentionally missed scans at self-checkout kiosks and other types of consumer fraud. The SmartAssist program will alert one of your staff members before the customer has completed their transaction and left the store, decreasing shrinkage due to theft at the checkout counter. NCR is currently the only option on this list with such an advanced anti-theft solution.
---
IT Retail: Best for Self-checkout

What We Like
Excellent self-checkout options
Theft monitoring
Multiple ecommerce integrations
Order ahead
What's Missing
No fuel management tools
No free trial
Hardware and higher-tier subscriptions require custom price quotes
IT Retail Deciding Factors
Subscription plans:

For Markets: $79
For Supermarkets: Custom quote
For Enterprises: Custom quote

Hardware costs: Custom-quoted; ~$2,000 per checkout lane
One-time installation fees: Optional, custom-quoted
Payment processing: Custom-quoted interchange-plus rates
Contract length: 1 year
Free trial: None
IT Retail was designed for grocers, but it offers a lot for convenience stores, including a feature-rich inventory system, employee management tools, and age verification. The touch screen is customizable to speed sales transactions, and users praise the program for its ease of use. IT Retail also has the most comprehensive options for self-checkout terminals of any system on this list.
It has solid scores in every category, earning it a 4.38 out of 5 overall. IT Retail scored well for its anti-theft features, strong inventory tools, and extensive checkout options. Lack of fuel monitoring is a downside, though. This system is also pretty pricey; the hardware starts at $2,000 per lane. However, the system operates on a lot of popular third-party hardware—like Epson receipt printers—so you may be able to reuse some of your existing hardware.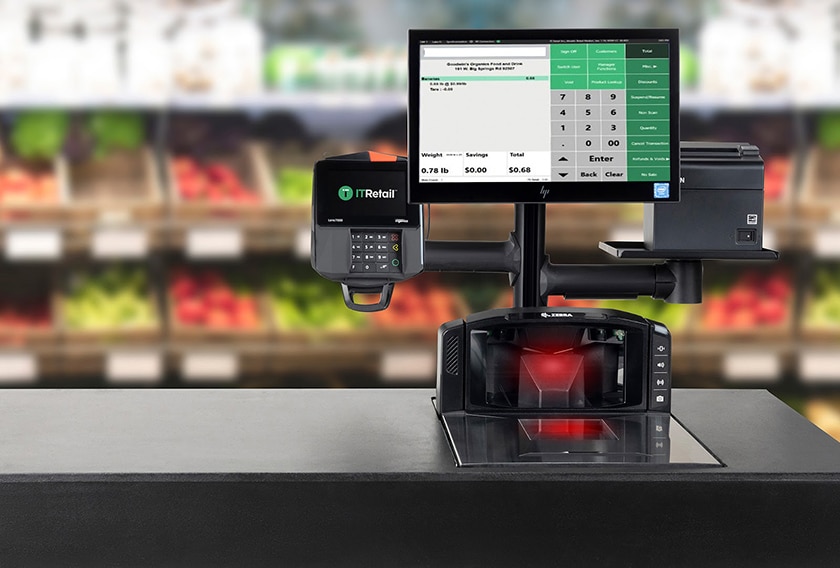 ---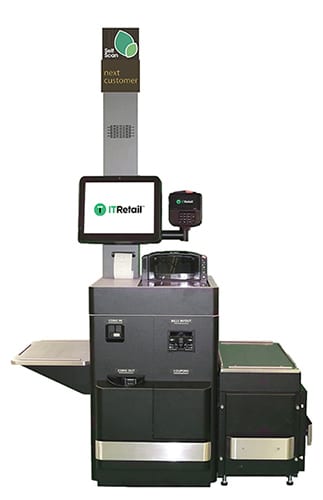 ---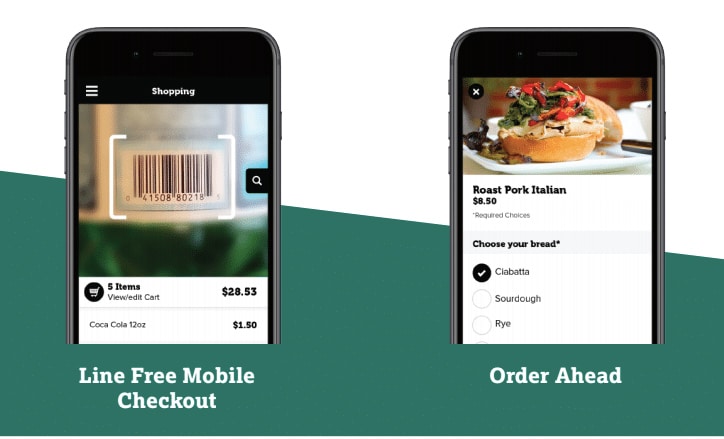 ---
IT Retail Features
IT Retail's hardware makes it the priciest option on this list. But for that price, you get rugged, industry-grade hardware with the best available self-checkout tools. A lot of IT Retail's pricing requires a custom quote, which can feel like an unnecessary hurdle, but a custom quote ensures you won't pay for tools you don't use.
IT Retail's standout features include:
Designed for grocery stores and markets, IT Retail has a lot of special functions for produce and other types of food items. For example, it has shrink inventory for tracking food used in-store or that expires. It is our best grocery POS system (POS Nation and Revel Systems are also on the list).
---
Although IT Retail does not have an online store, it does integrate with several grocery-related ecommerce solutions such as Local Express, Mercato, Freshop, My Cloud Grocer, and Instacart. You can get discounts on some of these. Aside from what you can do with an API, POS Nation has a separate module (KORONA integrates with WooCommerce only).
---
IT Retail has partnered with FutureProof to provide special apps that let customers order ahead and check out through their mobile devices. No other software on our list offers this. Even more, you can get the line-free mobile checkout program free.
---
Learn more about IT Retails POS features with our full review.
Revel Systems: Best iPad POS for Convenience Stores

What We Like
Excellent cash tracking tools
Best available food service tools
Robust inventory tracking with smartphone app
Runs on iPads
What's Missing
No fuel tracking tools
Three-year contract
iPads must be purchased through Revel
Revel Systems Deciding Factors
Subscription fees: $99 per terminal, per month
Hardware costs: Runs on iPads
One-time installation fees: Starts at $674
Payment processing: Choose from Revel Advantage, First Data, Heartland, TSYS, Worldpay, Chase Paymentech, Elavon
Contract length: 3 years
Free trial: None
Revel Systems is a hybrid POS that runs on iPads and offers tools for both retail and food service operations. At $99 per terminal, per month, this robust POS is priced in line with top-ranked POS Nation. Though, unlike POS Nation, Revel operates on iPads, which are easy to train new staff to use.
Revel doesn't have fuel management modules, but you can track lottery payouts using the cash management Paid Out functions. If your c-store offers extensive food options or needs an affordable, iPad based POS, Revel has a lot to love.
Its cash management features are the most comprehensive of the systems on the list. You can set up registers with dual cash drawers, so cashiers all have their own assigned drawer. You can also set high till alerts to prompt cashiers to drop cash in the safe when the cash drawer reaches a certain limit. These settings reduce the likelihood of theft by employees or customers. Revel also includes driver management functions if your c-store offers local delivery.
Revel earned a 4.21 out of 5 on our scoring system. It earned high marks for its excellent cash management and inventory features. It lost some points because it does not support fuel management. If you need those tools, you're better off with POS Nation.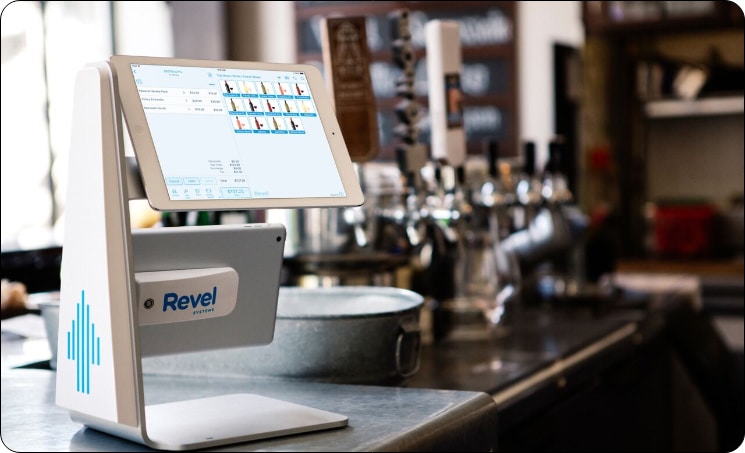 ---
---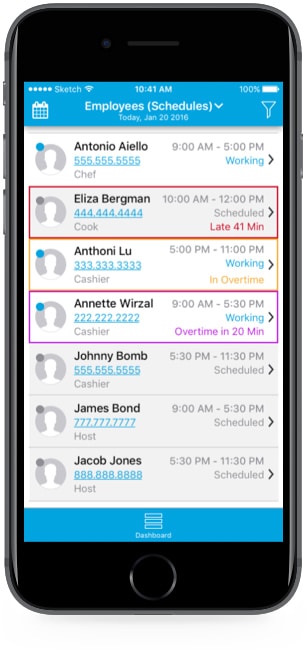 ---

---
Revel Systems Features
Revel Systems includes several features that others on this list either lack or charge more for. With Revel, you get comprehensive inventory tracking along with tools to place restock orders with your vendors directly from the POS. You can also create employee schedules in the back office dashboard and track clock-ins in real time via a management smartphone app. If your convenience store offers local delivery—as some in city centers do—Revel offers end-to-end delivery management with maps-based driver dispatch tools.
Revel Systems' standout features include:
Convenience stores handle a lot of cash. And cash "has legs"—meaning it's easy for it to walk away without a trace. Revel's cash management tools support two cash drawers on each terminal, so all your cashiers have their own assigned drawer. You can use the "Paid Out" function to disperse lottery winnings when needed.
Revel also allows you to set limits on your cash tills and prompt your cashiers to drop cash in the safe when their till reaches a certain dollar amount. Knowing that your tills only have $100 in change at any given time also makes your store less attractive for customer theft.
---
Unlike the other systems on this list, Revel includes built-in delivery management tools. You can receive online orders directly in the POS, assign them to drivers, track drivers on a map in real time, and manage driver sales and tips with the same detail as you manage cashiers. With big names like 7-Eleven offering on-demand delivery, customers in major markets may come to expect this service, and Revel Systems is the only POS on this list with such robust tools.
---
Revel was originally designed to support restaurants, so its food-service functions are massive. If your c-store has a busy deli counter or other food-service offering, you can easily track your food inventory by item or individual ingredient so you always know when to order more supplies and how much you need. The system also helps you track waste and keep your food costs in line through detailed, customizable reporting.
---
Like the other systems on this list, Revel Systems allows you to prompt for age verification on specific items. The inventory module also features case breaking and bottle deposit tools.
---
How We Evaluated Convenience Store POS
We examined a dozen of the leading retail and convenience POS systems in detail. To make the cut, we looked for fuel sales, lottery ticket sales management, age verification (for tobacco and liquor sales) and robust cash management tools. POS systems need at least two of the four to compete in our evaluation. Next, we examined the checkout, inventory, and employee management features.
Overall, POS Nation proved to be the best POS system for convenience stores. With a score of 4.74 out of 5, it excelled in features and pricing. It offers age-verification tools, anti-theft protection, and robust inventory functions such as tracking for perishables, case breaks, and carton packs. Plus, the system has employee management functions designed for high-volume businesses like blind and forced cash drawer counts.
Click through the tabs below for our full evaluation criteria:
20%
Back Office Management
10% of Overall Score
In addition to overall affordability, we looked at features like setting up discounts, integrated payment processing, and the number of allowed transactions for the plan. POS Nation scored highest here.
35% of Overall Score
The ability to take contactless payments was a must. Here, we also looked for fuel and lotto sales, age verification, and online ordering. POS Nation took a strong lead with 4.63 out of 5 in this category.
20% of Overall Score
We looked at how well the system could track cash, inventory, and employee activity, with features from time tracking to automatic reordering. Every product earned 5 out of 5 in this category!
15% of Overall Score
POS systems are bound to break at the oddest times, so we favored 24/7 live support. This is especially important for c-stores, which often operate extended hours if not 24/7. We also looked for offline modes. KORONA, NCR, and Revel Systems earned perfect scores here.
20% of Overall Score
In addition to our expert evaluation of the features, we looked at the experts in the field—people who use the software—by reading reviews from reputable sites like Capterra, G2, and Software Advice, as well as our own readers' reviews. Everyone scored high, but POS Nation earned a perfect score.
*Percentages of overall score
Convenience Store POS Frequently Asked Questions (FAQ)
Our evaluation determined that POS Nation is the best POS System for most convenience stores—though stores that sell gas will be better served by NCR Silver.
---
Convenience store POS systems tend to fall on the pricier side. You won't find one for less than $49 per month (KORONA), plus hardware. Many c-store POS systems require a custom quote from the POS brand for either software, hardware or both, which is usually a sign that you should expect a higher upfront cost.
---
Bottom Line
POS Nation is the best POS for all types of convenience stores. Whether you own a grab-and-go corner store in a city center or a suburban fuel stop, POS Nation has the tools you need. With the ability to purchase the software month to month or with one upfront payment, this system fits any budget. To see if POS Nation is a fit for your c-store, contact them for a demo.