5 Best Convenience Store POS Systems
This article is part of a larger series on POS Systems.
Convenience stores have unique needs that cannot always be fulfilled with a standard retail point-of-sale (POS) system. Convenience store (c-store) POS software should be able to handle food management, fuel and gas pump monitoring and sales, age verification, and even food orders. We considered the best POS systems that meet the needs of convenience stores and selected the top five.
Based on our evaluation, the best convenience store POS systems are:
Best Convenience Store POS Systems Compared
| | | | | | |
| --- | --- | --- | --- | --- | --- |
| Our Rating (out of 5) | 4.69 | 4.49 | 4.38 | 3.94 | 3.94 |
| Pricing | $99/month per terminal | $49–$79/month per terminal | $79+/month per terminal | $59–$89/month | Custom |
| Free trial | N/A | ✔ | ✔ | ✔ | N/A |
| Hardware included | ✔ | N/A | N/A | N/A | N/A |
| Fuel sales | ✔ | N/A | N/A | ✔ | ✔ |
| Lottery ticket sales | ✔ | ✔ | ✔ | ✔ | N/A |
| Age Verification | ✔ | ✔ | ✔ | ✔ | ✔ |
| Deli/kitchen orders | ✔ | ✔ | ✔ | ✔ | ✔ |
| Phone support hours | Free for three months, then $39.99/month | 24/7 | 24/7 | Mon.–Fri., 7 a.m.–6 p.m. Central time | 24/7 |
| | | | | | |
How We Chose the Best Convenience Store POS Systems
We examined 10 of the leading retail and convenience POS systems in detail. To make the cut, we looked for fuel sales, lottery ticket sales management, and age verification (for tobacco and liquor sales). POS systems need at least two of the three to compete in our evaluation. Next, we examined the checkout, inventory, and employee management features.
Overall, POS Nation proved to be the best POS system for convenience stores. With a score of 4.69 out of 5, it excelled in features and pricing. It offers age-verification tools and robust inventory functions such as tracking for perishables, case breaks, and carton-packs. Plus, the system has employee management functions designed for high-volume businesses like blind and forced cash drawer counts.
Click through the tabs below for our full evaluation criteria:
20%
Back Office Management
10% of Overall Score
In addition to overall affordability, we looked at features like setting up discounts, integrated payment processing, and the number of allowed transactions for the plan. POS Nation and CStore scored highest here.
35% of Overall Score
The ability to take contactless payments was a must. Here, we also looked for fuel and lotto sales, age verification, and online ordering. POS Nation took a strong lead with 4.63 out of 5 in this category.
20% of Overall Score
We looked at how well the system could track cash, inventory, and employee activity, with features from time tracking to automatic reordering. Every product earned 5 out of 5 in this category!
15% of Overall Score
POS systems are bound to break at the oddest times, so we favored 24/7 live support. This is especially important for c-stores, which often operate extended hours if not 24/7. We also looked for offline modes. KORONA earned a perfect score here.
20% of Overall Score
In addition to our expert evaluation of the features, we looked at the experts in the field—people who use the software—by reading reviews from reputable sites like Capterra, G2, and Software Advice, as well as our own readers' reviews. Everyone scored high, but POS Nation earned a perfect score.
*Percentages of overall score
POS Nation: Best Overall Convenience Store POS
POS Nation

Overall Score:
4.69

OUT OF

5
i
Our score is based on a weighted evaluation of dozens of similar products and services conducted by our experts.
What We Like
Hardware included
Scan IDs for age verification
Highly customizable
Has both fuel and lottery sales capability
What's Missing
May need to pay for support
Cloud backup and online ordering are add-ons
POS Nation Pricing
$99/month per terminal or $999 one-time fee per terminal
$39.99/month support fee after first three months for certain plans
Custom build pricing available
No free trial
Included or third-party payment processing
POS Nation was one of the few convenience store systems we looked at that included fuel management and lottery sales. Its age verification included the ability to ID scan, one of the reasons it topped our list of liquor store POS systems. It has strong inventory features, including tracking for individual items or cases, plus programmable discounts and deli management tools.
In addition, POS Nation has customer relationship management (CRM) tools to track buying patterns and create targeted promotions. Its price includes hardware, and users give it high marks for ease of use.
POS Nation scored a 4.69 out of 5. It maxed out our evaluation of its back-office features and scored high for all other categories. It lost points because it charges for customer support after the first three months with certain plans, as well as for charging extra for cloud backup. Overall, however, it's an excellent and affordable system.
POS Nation Pricing
Software fees: $99/month per terminal or $999 one-time fee per terminal. If you choose the one-time fee plan, support is free for the first three months, followed by $39.99/month for premium support. You can also add other tools like mobile reporting, ecommerce, and QuickBooks for $12-$20/month per module. For the budget-minded, consider KORONA, which is the least expensive.
Hardware costs: While the per-month price is more expensive, especially when you consider adding the support fee, POS Nation provides free hardware. A touch PC, receipt printer, scanner, cash drawer, and chip card reader are included in the monthly fee. The other providers on our list rent or sell POS hardware instead.
POS Nation Features
Hybrid installation: POS Nation is a locally installed POS with a cloud backup option, which means the system has excellent offline functionality. By comparison, IT Retail and KORONA are both completely cloud-based systems.
Payment processing assistance: While you can integrate the third-party payment processor of your choice, POS Nation partners with payment processors including Mercury Payment Systems, Swipely, Worldpay, Heartland, and Sterling Payment Technologies. Only IT Retail also offers built-in payment processing; the rest require third-party integrations.
Customizable: POS Nation has a highly customizable interface, with hotkeys and different register layouts. You can customize pricing with its mix-and-match pricing tool. KORONA is the other option on our list that is also customizable.
Lottery and fuel support: POS Nation lets you sell gas from the pump and lottery and Lotto tickets. Only CStore also has these features.
Extensive reports: Users praise the reporting functions of this software, and with good reason. It offers 50 pre-built reports from sales to payroll, including specifics for keeping compliant with regulations, such as the Pennsylvania Malt Beverage Report and the Federal Firearms License reports. It also has reports for lottery and Lotto sales. KORONA has over 100 reports, but none so specifically configured for state or federal regulations.
Liquor store features: Along with KORONA and IT Retail, POS Nation offers great features for selling alcohol. POS Nation earned the top rank for liquor store POS systems, however, for its ID scan, alcohol-regulation-specific reports, and product variants.
Cash discounting: Offering discounts for cash can save you money spent on merchant fees for credit card processing. On this list, only CStore Essentials and POS Nation offer cash discounts.
POS Nation's Drawbacks
Customer support: After the first three months, you need to pay for customer service with certain plans. No other service on our list charges for customer support; most offer free 24/7 support.
Steep learning curve: Because there is so much that POS Nation covers, it can take more time and effort to set up and learn. However, it offers support, how-to guides, and demo videos. For an easier system, try KORONA.
Online store costs extra: If you want to allow customers to order online for delivery or pickup, you need an additional module. By contrast, the other POS systems on our list require integrations.
KORONA: Best for Stores on a Budget That Don't Need Gas Sales
KORONA

Overall Score:
4.49

OUT OF

5
i
Our score is based on a weighted evaluation of dozens of similar products and services conducted by our experts.
What We Like
Easy to use
24/7 support
Inventory adjusts by sales history
What's Missing
No fuel sales
No employee scheduling
KORONA Pricing
$49-$79/month per terminal
Custom plan available
Rent or purchase hardware
Third-party payment processor
KORONA is a strong option for a c-store POS system. Its flat-rate pricing includes service and installation making it a great choice for small businesses or those on a tight budget. KORONA offers strong inventory features, including product sales tracking, demand forecasting, and purchase order functions. Its cash tracking includes "blind drop" so employees cannot see their tendered cash drop before counting the money in their drawer, which can help prevent employee theft. Customer service is excellent, and users praise the interface and support.
In our evaluation, KORONA scored a 4.49 out of 5. It lost points for not having integrated fuel management. You also need to purchase your own hardware and payment processor. However, it maxed out in customer support and ease of use.
KORONA Pricing
Software and hardware fees: $49/month per terminal, or $59/month per terminal includes advanced inventory. The Korona Plus plan is $79/month per terminal and allows for multistore management. This is the most affordable option on our list, but you will have to pay for hardware.
Processing fees: Choose your own payment processor; KORONA integrates with almost every popular merchant service account. However, it does not offer payment processing itself like POS Nation and IT Retail do.
Hardware: Registers start at $1,300 to purchase; rentals are available.
KORONA Features
Sales history: Not only does KORONA track sales history, but it automatically takes the sales history and promotional sales into account when determining when a product needs to be reordered. Other apps like IT Retail can do comparisons in reports, but you need to set the parameters manually.
Customizability: Along with POS Nation, KORONA has a lot of customizability, from the size of the buttons to the layout of the register. It also lets you customize workflows. You can set up quick keys and group hierarchies. It has 100 customizable reports, which is more than POS Nation.
Excellent customer service: Users give KORONA 4.6 out of 5 stars on customer service, second only to POS Nation, which has 4.8 stars. Users say the staff is friendly and knowledgeable.
What KORONA Is Missing
Fuel sales: Like IT Retail, KORONA does not have provisions for fuel sales; the other three providers on our list do.
Online store: KORONA does not offer an online store, but if you get the cloud POS version, you can integrate with WooCommerce. POS Nation has a module you can add, while IT Retail provides several integrations.
IT Retail: Best for Convenience Stores With Groceries
IT Retail

Overall Score:
4.38

OUT OF

5
i
Our score is based on a weighted evaluation of dozens of similar products and services conducted by our experts.
What We Like
Multiple ecommerce integrations
Theft monitoring
Mobile checkout
Order ahead
What's Missing
Does not have fuel sales capability
Expensive hardware
Lacks compliance reports
IT Retail Pricing
$79+/month per terminal
Custom quotes for larger stores needing more functions
Hardware: $2,000+ per lane
IT Retail Payments or third-party payment processing
While IT Retail was designed for grocers, it offers a lot for convenience stores, including a feature-rich inventory system, employee management tools, and age verification. The touch screen is customizable to make sales quicker, and users praise the program for ease of use. IT Retail also has features to help you track inventory of all kinds and reduce employee theft.
IT Retail has solid scores in every category, earning it a 4.38 out of 5 overall. Lack of fuel monitoring is a downside, of course. It's also more expensive, as the hardware starts at $2,000 per lane. However, the system may work with your existing hardware. IT Retail also does not send out purchase orders, but organizes inventory reorders into a report you can use when creating orders.
IT Retail Pricing
Software fees: Call for a quote for the convenience store option, as you may need additional modules. However, IT Retail for grocery stores starts at $79 per month.
Hardware costs: IT Retail is one of the most expensive, as it starts at around $2,000 per lane. However, you may be able to use existing hardware.
IT Retail Features
Grocery-specific inventory: Designed for grocery stores and markets, IT Retail has a lot of special functions for produce and other types of food items. For example, it has shrink inventory for tracking food used in-store or that expires. It and POS Nation are on our list of best grocery POS systems.
Theft monitoring: Every solution on our list has some form of theft monitoring, such as blind cash drops, but IT Retail also includes transaction analysis for theft and alerts you to suspicious activity.
Ecommerce: Although IT Retail does not have an online store, it does integrate with several grocery-related ecommerce solutions, such as Local Express, Mercato, Freshop, My Cloud Grocer, and Instacart. You can get discounts on some of these. Aside from what you can do with an API, POS Nation has a separate module, and KORONA integrates with WooCommerce only.
Mobile checkout and order ahead: IT Retail has partnered with FutureProof to provide special apps that let customers order ahead and check out through their mobile devices. No other software on our list offers this. Even more, you can get the line-free mobile checkout program free.
What IT Retail Is Missing
Fuel sales: IT Retail does not include tools for fuel sales at the pump; consider POS Nation, CStore, and LS Retail if you need that.
Compliance reports: While IT Retail has age verification for liquor sales, it does not have specific reports like the Pennsylvania Malt Beverage Report. POS Nation is your best bet if you want these types of reports ready-made.
CStore Essentials: Best for Back Office and Tobacco Sales
CStore Essentials

Overall Score:
3.94

OUT OF

5
i
Our score is based on a weighted evaluation of dozens of similar products and services conducted by our experts.
What We Like
Discounts for tobacco sales
Payroll program included
Strong inventory functions
What's Missing
Live customer support during business hours only
More suited for back-office functionality
CStore Essentials Pricing
$59-$89/month per store
Hardware: Purchase separately, pay $75 for a kit to tie hardware to the program
Third-party payment processing
CStore Essentials is a back-office POS program with strong cash, employee, and inventory features. If tobacco sales are a big part of your profits, then CStore Essentials may be your best choice. Its plans offer tobacco reporting and rebates for multi-packs. It's also the only system that includes employee payroll as part of its program.
CStore Essentials scores a 3.94 out of 5. Because this is a back-office system, it loses some points because you need to purchase POS registers. Users also said it was not as easy as other POS software, and live customer service is only available during business hours (Monday-Friday, 9 a.m. to 5 p.m. Central time).
CStore Essentials Pricing
Software fees: $59/month per store (Store Operations Standard) or $89/month per store (Tobacco Loyalty Plus). Only KORONA is cheaper.
Hardware costs: You need to purchase your own POS equipment, plus a $75 kit to connect your POS system to the program housed on your computer.
CStore Essentials Features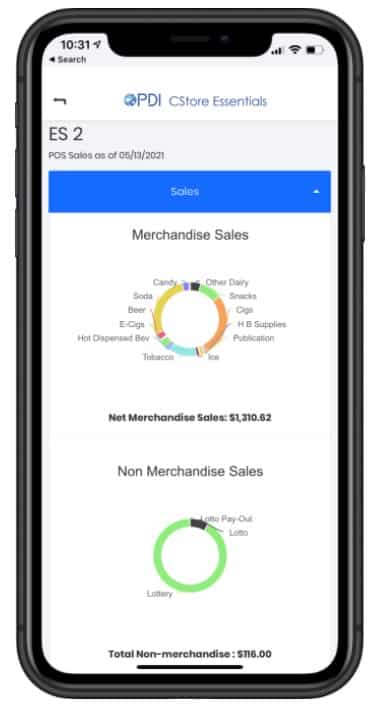 Full employee payroll program: The other software services on our list offer time clocks with payroll reports you can download or integrate into a payroll program. CStore, however, offers the entire payroll program, including check-printing ability. (It cannot do direct deposit.)
Lottery reports: CStore lets you access lottery reports like scratch-off reports, inventory, lottery and Lotto, and balance reports. Other software on our list has similar reports, but CStore has the most specific.
Rebates for tobacco sales: Only CStore offers rebates for the sale of tobacco under these programs:

RJR Scan Data Reporting Program
PM USA Scan Data Incentive Program
USSTC Scan Data Incentive Program
PM USA AOM Scan Data Incentive Program
What CStore Essentials Is Missing
POS register: CStore is a back-office system. It provides enhanced inventory, reporting, fuel management, and more. However, you need to integrate it with a separate POS system to do sales transactions. The other systems on our list include registers.
LS Retail: Best for Gas Stations
LS Retail

Overall Score:
3.94

OUT OF

5
i
Our score is based on a weighted evaluation of dozens of similar products and services conducted by our experts.
What We Like
All-in-one system
Control pumps from the register
Age verification tools
What's Missing
No lottery sales
Must call for a quote
LS Retail Pricing
Custom
Hardware: Custom
Third-party payment processing
LS Retail is made for busy gas stations. As such, we think it's the best convenience store POS system for fuel management. Cashiers can easily manage pumps from approval to shutdowns from their register, and managers can track fuel inventory levels. It includes lottery and age verification features. The backend is powered by Microsoft Dynamics 365 for customer resource management and inventory.
LS Retail scored a 3.94 out of 5—a tie with CStore. It is well-rated for ease of use and features but did not score as highly for sales and checkout functions. You need to purchase its hardware. It does not list pricing, although users say it is a good value for the money.
LS Retail Pricing
Contact LS Retail about pricing. LS Retail offers three systems—LS Central, LS One, and LS First—plus business intelligence, payment processing, and other programs. As a guide, LS Express costs $99 per month. It also has its own hardware but can work on mobile for management functions.
LS Retail Features
Pump control: Cashiers have complete control of the pumps. They can authorize, pause, stop, and lock/unlock pumps. You can log drive-aways and refund money if a customer doesn't use their full prepay. The system can also track fuel level, water level, and temperature. None of the others on our list have these features.
Wet inventory: Wet inventory control includes an automatic reading of tank gauge information and deliveries. You can manually add data that is not automated, such as tank dip readings or delivery notes. The system can automatically replenish wet stock based on sales history and stock levels. CStore and POS Nation have wet stock inventory as well.
What LS Retail Is Missing
Lottery ticket sales: LS Retail does not list any features for handling lottery ticket sales. You may be able to program these in, however. All the others on our list have features specific for lottery tickets.
Microsoft back office: LS Retail uses MS Dynamics, so if you are not a Microsoft fan, you may want to consider other options on our list.
Bottom Line
Convenience store POS systems combine the best of a retail POS in product and customer management with additional features for food and fuel as well as special sales like lottery tickets, tobacco, and alcohol. The five we list above will serve most convenience stores well, but we found POS Nation to be the best for the busy c-store with gas pumps.