A point-of-sale (POS) system gives retail stores the ability to process payments and manage business operations like inventory control and customer relationship management (CRM). Liquor store owners also benefit from key features like age verification and mix-and-match pricing. Liquor store POS systems range in price from $49 to $200 per month, plus payment processing fees.
Top 6 POS Liquor Store POS Systems
| Liquor Store POS Systems | Best For |
| --- | --- |
| | (Best Overall) Liquor stores with limited budgets looking for industry-specific features |
| | Liquor stores looking for an all-in-one solution with loyalty program and vendor management |
| | Small- to mid-sized liquor stores needing robust inventory management and reporting |
| | Liquor stores that want to manage and optimize vendor relations |
| | Small liquor stores looking for an affordable all-in-one platform |
| | Grocery stores that sell wine & spirits needing scale integration |
How We Evaluated Liquor Store POS Systems
Originally, POS systems were created to allow merchants to process in-person payments. They've since expanded into other areas of business management, including inventory control, staff management, CRM, and analytics reporting. Today's best liquor store POS systems also include industry-specific features like mix-and-match pricing, bottle return, and age verification.
We evaluated the best POS systems for liquor stores based on:
Price: We looked at setup, ongoing, and payment processing costs for each POS.
Ease of use: We evaluated how easy it is to learn and use the software, as an admin/manager and employee.
Payment processing: Some POS systems have built-in payment processing and others don't. We considered both the availability of payment processing and the associated fees.
Inventory management: Most of today's POS systems offer inventory management. We specifically looked for things like individual bottle/can tracking and bottle return.
Customer relationship management: We looked at built-in and third-party loyalty program options as well as membership cards, email marketing, and customer databases.
Age verification: Unique to liquor stores, POS systems need some sort of age verification functionality.
Employee management: We reviewed features including user profiles, hours tracking, and performance reports. None of the POS systems on this list offer staff scheduling.
Reporting: We looked at the reporting capabilities, including types of reports and customization options.
Integrations: We evaluated what kinds of third-party integrations are compatible with the POS, as well as any associated fees with using them.
User reviews: It's important to consider the opinions of real business owners, so we looked at what they say about the POS.
Overall, KORONA POS is the best POS system for liquor stores. It was designed specifically for liquor stores, so it has must-have features like age verification and the ability to track inventory when a bottle is removed from the case. It's also an affordable option with no contracts and monthly fees starting at $49.
KORONA POS: Best Liquor Store POS for Small Businesses

In addition to age-verification, KORONA POS has advanced inventory management, deep analytics reporting, and built-in CRM features to drive repeat purchases. Attractively priced at just $49 per month for one terminal, it also has an easy-to-use interface, making it great for liquor stores of all sizes with small budgets.
KORONA POS Pricing
Plans for KORONA POS start at $49 per month, making it a more affordable option than many other liquor store POS systems. Unlike other POS systems, KORONA doesn't require any long-term contracts. It's a great option for smaller businesses with a limited budget.
KORONA POS Payment Processing
KORONA POS supports both EMV and contactless NFC credit card payments. It doesn't have built-in payment processing capability, so you can use the processor of your choice. KORONA has several integrated payment partners including FirstData, TSYS, and Heartland.
KORONA POS Hardware
KORONA has hardware ranging from desktop solutions to small, mobile tablets, as well as cash register, drawer, scanner, and receipt printer. For liquor stores, KORONA POS also has handheld devices for easily scanning inventory. Prices aren't listed on its site, but payment plans are available.
KORONA POS Features
One feature unique to KORONA POS is vendor management—tracking what you've ordered, anticipated delivery date, and current stock on hand. It's all cloud-based, so you can manage inventory remotely and offline. KORONA POS can identify which products to promote as well as the execution of those promotions. It also has some of the top customer loyalty features on the market.
KORONA POS Inventory Management
KORONA POS is packed with inventory management features including multiple product codes, bulk product importing, vendor management, and the ability to generate price labels from stock receipts while receiving products.
In addition to detailed features for receiving and stocking products, KORONA has a lot of settings to track sales in detail including seasonal items and spotting sales trends. KORONA has features to set up alerts on suspicious sales or activities. Plus, liquor stores can consolidate multiple store locations and warehouses and automatically calculate ideal reorder levels based on historical data.
KORONA also has capabilities to track vendor shipments and to set notifications. Like most POS systems, KORONA lets you edit and analyze inventory data remotely from the cloud and set up automated daily stock counts, and notifications for inventory problems like stockouts, reorder points, and aging stock.
KORONA POS Employee Management
KORONA POS has basic employee management features. You're mostly limited to creating user profiles and setting permissions based on their role. If you need scheduling or time tracking, among other staff management features, you'll need to use a third-party integration option. None of the POS systems on this list offer complete scheduling features.
KORONA POS Customer Relationship Management
KORONA's CRM capabilities include a built-in customer loyalty program. It's basic but effective for straightforward loyalty programs at liquor stores. The system lets you create a points-based loyalty program and issue gift cards to reward your most loyal shoppers.
KORONA POS Reporting and Analytics
Everything is stored in the cloud, so you can access the data from any connected device—KORONA POS will also work offline if your connection is disrupted. KORONA POS uses ABC product analysis, which provides a specific grade and report for every product in your liquor store.
Go as granular as sales by the hour or as big picture as year-over-year comparisons. It'll also show which products customers return the most frequently, so you can identify the issue. Unique to KORONA POS is foot traffic analysis, which can help you optimize your visual merchandising displays and store layout.
KORONA POS Add-ons and Integrations
Integrations aren't a major focus for KORONA POS. However, the system does integrate with QuickBooks for accounting and offers ecommerce options through a WooCommerce integration. KORONA also has an open API, so you can create your own integrations as needed.
Additional integration options include but are not limited to:
BOCA
Zebra
Plastic Printers
Twickly
bLoyal
Flamory
Leafly
What KORONA POS is Missing
Integrations are one of the POS system's biggest downfalls, and users report many of them not working correctly. Like many other POS options, KORONA also lacks transparent pricing information on its website, especially in regards to payment processing and hardware.
KORONA POS Reviews
KORONA POS user reviews are mostly positive, citing great customer support and an easy-to-use interface. The most raved-about feature is the reporting capability, as business owners love the data and insights they've gained since using the liquor store POS.
Get Started With KORONA POS
KORONA POS is the best liquor store POS—it's also affordable to get up and running. KORONA has robust inventory management, customer loyalty, and reporting functionality. Start your free trial today.
mPower Beverage: Best All-in-One Liquor Store POS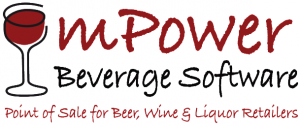 mPower Beverage is a POS system specifically for liquor stores. Features include mix-and-match and case break pricing, as well as age verification for alcohol purchases. Among mPower Beverage's standard POS features are inventory management, multi-location support, and CRM. It's a pricier POS with software licenses starting at $2,200 for one register.
mPower Beverage Pricing
mPower Beverage's pricing structure is broken down by software license, cloud server hosting, professional services (for installation), hardware, and ongoing fees. It's more expensive than other liquor store POS systems.
The software license is $2,200 for the first register, plus $1,750 for each additional register. Cloud server hosting breaks down like this:
One lane: $30/month
Two lanes: $60/month
3–5 lanes: $100/month
6–10 lanes: $150/month
10+ lanes: $200/month
Each liquor store receives a custom quote from mPower Beverage highlighting initial fees, installation and training fees, and recurring annual fees. Annual fees cover license renewal, software upgrades, and customer support for the following year. The annual fee is different for every customer depending on individual setups. You can bring your own hardware or purchase from mPower Beverage directly. Prices are not listed on its site, so you'll need to contact mPower for a custom quote depending on your needs.
mPower Beverage Payment Processing
mPower Beverage does not have built-in payment processing. However, it has partnered with a few merchant account providers to offer integrated payment processing. The specific processors are not disclosed, so you will need to contact mPower directly for more details and a quote on payment processing.
mPower Beverage Features
mPower Beverage is another POS designed specifically for liquor stores. With a built-in customer loyalty program, liquor store-specific features, and automated purchase orders, it's a great all-in-one solution. It doesn't have the sleekest interface, but mPower Beverage does not skimp on functionality.
mPower Beverage Inventory Management
Much like KORONA POS, mPower Beverage's inventory management features are designed specifically for liquor stores. Businesses can enter beverage-specific attributes for each inventory item including name, case pack quantity, bottle size, vintage, and variety. There are bundle and kitting features so liquor stores can sell gift baskets or let customers build their own six packs. mPower also has pretty sophisticated stock-level management features with specific need-to-order reports to prevent stock-outs. The system takes these reports a step further and can generate automated purchase orders broken up by vendor.
mPower Beverage Employee Management
Similar to most liquor store POS systems, mPower Beverage has user roles and permissions, so you can grant employees access to only the information they need, give managers the ability to apply manual discounts, override transactions, and access back-end data. Time tracking is also built in—staff can clock in and out of their shifts, and you can manually adjust if they forget.
mPower Beverage Customer Relationship Management
mPower Beverage's CRM features are also similar to those included with KORONA POS. The built-in CRM tool includes a basic customer information database, data about customers' spending habits, customer groups, and personalized promotions. You don't need to use a third-party integration, and most liquor stores can get by with a basic loyalty program.
mPower Beverage Reporting and Analytics
With more than 70 standard reports, mPower Beverage gives liquor stores a lot of insight into their business. Easily check stock levels, sales numbers, and staff performance, among others. Export or email easy-to-understand, customizable reports and charts for yourself and members of your team.
Need-to-order reports are a big focus for mPower Beverage—these will tell you not only which brand of vodka is selling but also which flavor and size, and at which location. While you can't customize your own reports, you can reach out to mPower Beverage to assist you with creating one.
mPower Beverage Add-ons and Integrations
While the loyalty program is an add-on for Lightspeed Retail, it's built in for mPower Beverage. This liquor store POS does offer several third-party integrations for everything from accounting to ecommerce. Compared to other liquor store POS systems, mPower has a lot of integration options, including for customer-facing apps, in-store advertising, and delivery.
mPower Beverage integrations include options for accounting, advertising, delivery, and more, such as:
Beverage Media Group
Wine Fetch
Sellr
Drync
BottleCapps
City Hive
Drizly
MiniBar
QuickBooks
Fintech
3×3 Insights
Pricer
What mPower Beverage is Missing
This liquor store POS isn't the easiest to get up and running, with an interface that's less user-friendly than ShopKeep's. The initial license fee also adds a steep upfront cost. Customer support is also not as responsive as KORONA POS.
mPower Beverage Reviews
mPower Beverage user reviews are mostly positive, though some complaints indicate a tough time getting used to the system and getting in touch with customer support. Users also report buggy payment processing. However, positive reviewers love the robust reporting and inventory features, especially when it comes to purchase orders.
Get Started With mPower Beverage
mPower Beverage has key features for liquor stores, including age verification, mix-and-match, and a built-in customer loyalty program. It's pricier than liquor store POS alternatives so you can get started with a free demo before making the commitment. Schedule your free demo today.
Lightspeed: Liquor Store POS System with Advanced Reporting

Lightspeed Retail is a powerful POS system for liquor stores, offering a full suite of inventory management features, custom reports, and responsive customer service. It's especially great for large liquor stores and chains with multiple locations. Pricing starts at $99 per month, making it one of the more expensive options on this list.
Lightspeed Retail Pricing
Lightspeed Retail starts at $99 per month, which includes one register, up to five employee profiles, and basic reporting. Add-ons for ecommerce and customer loyalty programs start at $59 per month each, which is something to take into consideration when budgeting for your liquor store POS. While ecommerce may not be a major priority, many liquor stores will want some form of loyalty program. You'll need to request a quote for hardware pricing, offered individually or in bundles.
Lightspeed Retail Payment Processing
In-house payment processing through Lightspeed Payments is 2.6% plus 10 cents for each transaction. Manually keyed-in payments are 2.6% plus 30 cents per transaction. Lightspeed Retail also works when offline. ShopKeep is the only other POS on this list that offers built-in payment processing.
Lightspeed Retail Features
Lightspeed Retail features include robust analytics reporting, comprehensive inventory control, licensee management, and the ability to manage multiple locations. Lightspeed Loyalty rivals the CRM features of other POS options, though it costs an additional $59 per month.
Lightspeed Retail Inventory Management
Categorize wine and liquor to be able to find information customers ask for, account for individual bottle sales vs a whole case, and create purchase orders for vendors all within the system. Bulk import your existing stock when you get started, and then add style, size, serial numbers, flavor variants, and more.
Lightspeed Retail Employee Management
Similar to POS Nation, Lightspeed Retail has employee profiles, which they can use to log in and clock time. Managers can set permission-specific parameters, as well as pull reports on employee hours and sales. Lightspeed Retail doesn't have any scheduling features.
Lightspeed Retail Customer Relationship Management
Standard CRM features includes customer profiles, loyalty tiers, and sales history. The Lightspeed Loyalty add-on, for $59 extra per month, also grants you the ability to create a branded customer loyalty program and set up automated email campaigns.
Unique to Lightspeed Retail is the ability to calculate customer lifetime value (CLV) as well as its Club Membership feature. Paired with VinStream, you can use it to add tasting room visitors to a recurring membership, setting up recurring billing to batch process memberships.
Lightspeed Retail Reporting and Analytics
Another standout feature for Lightspeed Retail, analytics reporting is robust and completely customizable. Generate end-of-day data, sales history, customer reports, and employee performance metrics. Gain insight into what your bestselling products are and why so you can learn how to maximize profits.
Lightspeed Retail Add-ons and Integrations
Lightspeed Retail has more than 90 integration partners, spanning areas like accounting, staff scheduling, and payment processing. Useful integrations for liquor stores include delivery partners like Drizly, BlueCheck Age & ID Verification, and draft beer tracker US BeerSAVER. Lightspeed integrations also include universal tools like 7shifts for employee scheduling and RetailNext analytics.
What Lightspeed Retail is Missing
Overall, Lightspeed Retail's out-of-the-box offering lacks CRM and ecommerce capabilities. While liquor stores may not need ecommerce features, they will have to invest extra to be able to create a customer loyalty program. It also doesn't work with QuickBooks, which is important to consider if you rely on that accounting software.
Lightspeed Retail Reviews
According to Lightspeed Retail user reviews, retailers love the POS. It's user-friendly, provides valuable insights into the business, and purchase orders are seamless. Cons include the cost for add-ons, but liquor stores will likely only need Lightspeed Loyalty.
Get Started With Lightspeed Retail
Lightspeed Retail will give you valuable insight into your liquor store, across sales, employees, and inventory. Advanced inventory control, responsive customer support, and optional loyalty program features set it apart from the rest. Request a free demo from Lightspeed to learn more.
POS Nation: Liquor Store POS for Vendor Relations

POS Nation is a liquor store POS system with employee tracking, reporting, and purchase order creation. Liquor store-specific features include case break inventory tracking, mix-and-match pricing, and age verification. Pricing starts at $119 per month for one POS.
POS Nation Pricing
There are three pricing options for POS Nation. You can pay $119 per month for one terminal (note that this also requires Worldpay payment processing) to "rent" the software and hardware. You can also opt for a one-time $1,249 charge plus $69 per month, granting you ownership of the hardware while you "rent" the software for whatever period of time you make monthly payments. If you purchase upfront, it'll cost $1,999 and you own both the hardware and software forever.
POS Nation has a different pricing structure than most. While it's more expensive to purchase it upfront, it could be more cost-effective in the long term because you won't have ongoing monthly payments.
POS Nation Payment Processing
POS Nation doesn't have built-in payment processing like Lightspeed Retail or ShopKeep, so you'll need to use a third-party partner. Worldpay is its merchant service provider of choice, but POS Nation also has integrations with Heartland, Sterling Payment Technologies, Priority I.S., Upserve, and Swipely, among others. POS Nation is PCI compliant and has full EMV capabilities for chip cards.
POS Nation Features
POS Nation has inventory management features that suit a liquor store's unique needs with age verification, case break pricing, and mix-and-match pricing, as well as navigating vendor relationships in a highly regulated industry. It also comes with standard reporting and employee management features.
POS Nation Inventory Management
Perhaps the most useful inventory management feature is the case break functionality. It automatically links cases of product to individual bottles, which comes in handy with build-you-own six packs or when you've broken a single bottle in a case. Other inventory management features include handheld scanners to maintain up-to-date stock counts, vendor database, and reorder points.
POS Nation Employee Management
Employee management features are basic in POS Nation, similar to Lightspeed Retail. Create user profiles, allow staff to clock in and out, and manually update time logs. Generate employee performance reports and create different user types to grant access to only the information and features they need.
POS Nation Customer Relationship Management
If you want to create a loyalty program for your liquor store, you can use POS Nation to create profiles and collect purchase history data. It's great if you want a customizable loyalty program without an added fee.
POS Nation Reporting and Analytics
POS Nation has customizable reports, including shift summaries, sales overviews, profit margins, low-stock and reorder reports, employee time clock activity, void and discount tracking, cost of goods sold, and payroll reports. Businesses can look at information broken down by the hour or over a larger period of time to identify trends.
POS Nation Add-ons and Integrations
In addition to payment processing companies, POS Nation also integrates with QuickBooks. Unlike Lightspeed Retail, POS Nation's customer loyalty program is included in the base price, so you won't need to pay extra for those features. However, it is more limited than what Lightspeed can offer.
What POS Nation is Missing
POS Nation has a simple customer loyalty program that works for most liquor stores, but if you want to get more creative you should check out Lightspeed Retail or ShopKeep. It also lacks built-in payment processing, also available in Lightspeed and ShopKeep.
POS Nation Reviews
Overall, POS Nation user reviews are positive. Users love the reporting functionality and being able to look at the big picture while also drilling down to the nitty gritty details. On the flip side, the user interface isn't as intuitive as people would like. However, support has been helpful in addressing customer issues.
Get Started With POS Nation
POS Nation is a great tool for liquor stores that want flexible pricing and inventory control, as well as a built-in customer loyalty program included in the base price. Request your custom quote from POS Nation to learn more.
ShopKeep: Best Affordable Liquor Store POS System

ShopKeep is an affordable POS with detailed inventory tracking features, along with built-in payment processing with guaranteed low fees, and templated sales reports. The cloud-based system is ideal for liquor stores that want to keep a close eye on inventory with an all-in-one solution, starting at $69 per month.
ShopKeep Pricing
There are three package options for ShopKeep's POS—the higher the tier, the more features you get. You need to request a custom quote to find information specific to your liquor store, including hardware and payment processing options.
ShopKeep Estimated Pricing Tiers
| | Basic | Essential | Advanced |
| --- | --- | --- | --- |
| Price | $69/month | $99/month | $199/month |
| Unlimited inventory items | ✔ | ✔ | ✔ |
| Unlimited employees | ✔ | ✔ | ✔ |
| Unlimited transaction volume | ✔ | ✔ | ✔ |
| Multi-location | ✔ | ✔ | ✔ |
| Multi-register | ✔ | ✔ | ✔ |
| Advanced reporting | N/A | ✔ | ✔ |
| Ecommerce, accounting, and email integration | N/A | ✔ | ✔ |
| Gift cards | N/A | ✔ | ✔ |
| Customer loyalty program | N/A | N/A | ✔ |
| Premium customer support | N/A | N/A | ✔ |
ShopKeep Payment Processing
ShopKeep Payments is the POS system's built-in payment processing compatible with credit, debit, cash, check, EMV chip cards, and mobile payments. ShopKeep promises low and transparent processing rates, and user reviews indicate this is the case. You can also use a third-party integration.
ShopKeep Features
Automated inventory tracking and templated reports are mainly targeted at optimizing profitability, ideal for liquor stores with minimal data analysis resources. Other important features include CRM and customizable registers.
ShopKeep Inventory Management
ShopKeep has robust automated inventory management, and bulk import makes it easy to get started. Like Lightspeed Retail, ShopKeep has customizable low stock alerts, reorder reporting, stock on hand, sales trends, inventory valuation, and more. ShopKeep wasn't designed with liquor stores in mind, so it doesn't have tailored features like mPower Beverage or KORONA POS which allow for mix-and-match pricing.
ShopKeep Employee Management
Like the other options on this list, staff management features are basic. They include user profiles with permission levels, shift clock-in and clock-out capabilities, and reports on employees hours worked and performance.
ShopKeep Customer Relationship Management
ShopKeep collects customer emails and basic information as well as purchase history. Send email receipts or integrate with Mailchimp for larger email campaigns. ShopKeep also offers gift cards, which is common for liquor store POS systems. For more comprehensive built-in CRM, check out mPower Beverage. If you're willing to spend more, check out Lightspeed Loyalty's comprehensive customer loyalty program.
ShopKeep Reporting and Analytics
ShopKeep doesn't offer custom reporting. While mPower Beverage uses report templates as well, mPower offers to set up custom reports for liquor stores that have specific needs. However, ShopKeep reports are in-depth and focused on optimizing profitability. They're great for liquor store owners that do data analysis themselves.
ShopKeep Add-ons and Integrations
Third-party integration information is sparse when it comes to ShopKeep, with little mention anywhere on its site. Liquor stores may find the QuickBooks and Mailchimp integrations particularly valuable. Not particularly relevant to liquor stores, ShopKeep will also integrate with BigCommerce's ecommerce platform.
What ShopKeep is Missing
ShopKeep doesn't allow liquor store owners to customize its reporting like Lightspeed Retail does. Instead, liquor store owners are limited to the templates ShopKeep makes available. The liquor store POS also has few third-party integration options. You're mostly locked into ShopKeep's ecosystem.
ShopKeep Reviews
ShopKeep user reviews are mostly positive, though some reviewers have complained about the lack of customization options. There have also been reports of glitches in the system. For the most part, users rave about the responsive customer support team and intuitive interface.
Get Started With ShopKeep
With affordable fees and enough built-in features for a liquor store to manage inventory, customers, and sales, ShopKeep is a great option for small shops with small budgets. Payment processing fees are also affordable. Visit ShopKeep for a free quote.
IT Retail: Best POS for Grocers Selling Liquor

Designed for markets and grocery stores, IT Retail offers excellent inventory management, loss prevention, and reporting features. A great solution for smaller liquor stores, it also offers mix-and-match pricing, bottle deposit, and age verification. Pricing starts at $99 per month, making it a bit pricier, but you don't need to pay for add-ons or integrations.
IT Retail Pricing
IT Retail starts at $99 per month. This price includes a grocery-optimized checkout including the ability to accept EMV, NFC, gift cards, and EBT payments, full scanner and scale support, full back-office reporting, and both employee and customer management. Hardware is sold separately, and integrations are available at no added cost.
IT Retail Payment Processing
IT Retail accepts a wide range of payments, including EMV, gift cards, and checks, and it'll even work offline like Lightspeed Retail and KORONA POS. Though IT Retail partners with Worldpay, you can use any compatible third-party payment processor.
IT Retail Hardware
Hardware pricing isn't available on IT Retail's website. User reviews have stated that IT Retail hardware is more costly than other options, and they recommend bringing your own hardware purchased from somewhere else. However, IT Retail's hardware is rugged, which is ideal for high-traffic grocery and liquor stores.
IT Retail Features
IT Retail has standard POS features like inventory management, CRM, and staff management, but it also has attributes tailor-made for liquor stores. These features include age restrictions on certain items, employee theft prevention, and inventory tracking by the individual unit, helpful for case breaks.
IT Retail Inventory Management
Like most POS systems on this list, you can get started with a bulk upload and custom product labels. Another common feature, IT Retail also has customizable low stock alerts. However, the POS system takes it to the next level with low stock alerts by providing information not only about stock levels but also broken down by vendor. IT Retail can also handle bottle returns, and you can apply age restrictions to products.
IT Retail Employee Management
IT Retail's employee management features are similar to other options on this list. This system includes user accounts and permission settings, time tracking and reports, and employee performance data. IT Retail also focuses on preventing employee theft and fraud, so it'll flag suspicious activity to managers and business owners.
IT Retail Customer Relationship Management
Give customers loyalty cards with IT Retail's built-in CRM features—the only POS system on this list with the capability to do that. Shoppers can scan in with their membership card at the register so liquor stores can track purchase history, spending habits, and visits. Integrate it with third-party loyalty programs for a full-blown customer membership program.
IT Retail Reporting and Analytics
Similar to KORONA POS, IT Retail provides real-time analytics via remotely accessible dashboard. Reports are automated and generated through machine-learning algorithms to help you distill the data. These reports include end-of-day analysis, suspicious transaction alerts, and profitability insights, among others.
IT Retail Add-ons and Integrations
IT Retail doesn't have much information on its website about integrations, but user reviews indicated it's adaptable to many third-party tools. IT Retail integrates with several software products, including QuickBooks and SAP CRM, inventory management, and CRM tools.
What IT Retail is Missing
One of the pricier options on this list, IT Retail requires a bit of a bigger budget. If you have a liquor store-grocery store combination, it's especially ideal as it's made primarily for grocers and markets.
IT Retail Reviews
Though IT Retail user reviews indicate glitches and difficulty getting set up, customer support is responsive and helpful in addressing any challenges. Once the system is set up, users report a smooth-operating POS. Reviewers also like that the system has grocery-specific features for a relatively low price, and that the POS offers a lot of insight with reporting.
Get Started With IT Retail
IT Retail is a great solution for small, independent liquor stores or grocery stores that also sell wine and spirits. Durable hardware, liquor store-specific features, and actionable analytics reporting make it a valuable tool. Get your quote from IT Retail today.
Bottom Line
Each liquor store POS system has its own set of advantages. They all need to process payments and manage inventory. However, the best POS systems for liquor stores also include age verification tools, vendor management, and industry-specific stock tracking like seasonal item management and case-breaking features for customers to build their own six packs.
KORONA POS is an all-in-one solution for liquor stores needing advanced inventory management, deep analytics reporting, and built-in CRM features. Pricing starts at just $49 per month, making it an affordable option for all budgets. KORONA POS offers a free trial so you can test it out before you commit.