Best Restaurant Marketing Software for 2023
This article is part of a larger series on POS Systems.
There are multiple types of restaurant marketing software—some built into a point-of-sale (POS) system, and some that operate as freestanding or integrated third-party tools. They appeal to different user types; you'll find just as many restaurant owners as marketing consultants using restaurant marketing software. We've listed the best marketing tools for restaurants in two major categories: POS-built marketing software and third-party marketing apps.
Best POS-built restaurant marketing software:
Square: Best overall POS-built restaurant marketing software
Toast: Best POS-built restaurant marketing software for social media marketing
Lightspeed Restaurant: Best for review site management
Best third-party restaurant marketing software:
Best Restaurant Marketing Software Compared
Provider

Monthly POS Fees

Email & SMS Text Marketing

Social Media Integrations

Marketing Tool Fees*

$0–$60

✓

✓

$0–$55+

$0–$165+

✓

✓

$75

$69–$399+

✓

✓

Custom-quoted
*See individual provider sections below for detailed pricing.
Provider

Monthly Fees

Email Marketing

Social Media Marketing

POS Integrations

Custom-quoted

✓

✓

Square, Toast, Clover

$18–$80

Via Mailchimp integration

✓

None currently

$0–$15

Via Mailchimp integration

✓

Square

$0–$350

✓

✓

Lightspeed
Square: Best Overall POS-built Restaurant Marketing Software

Pros
Free baseline POS
Pay-as-you-go options for marketing tools
No long-term contracts
Email alerts for new Google reviews
Cons
Only integrates with Square tools
Creating custom customer categories requires a lot of steps
What it does:
Square is one of the best POS providers for small businesses, so it makes sense that its marketing tools would be the right size for independent restaurants. The underlying Square for Restaurants POS starts with a free baseline POS subscription, offers pay-as-you-go options for most add-on services, and does not require a long-term contract. Square's restaurant marketing platform includes separate short message service (SMS) text message and email marketing options with customer segmentation and user-friendly message templates that make your restaurant look as polished as a major chain.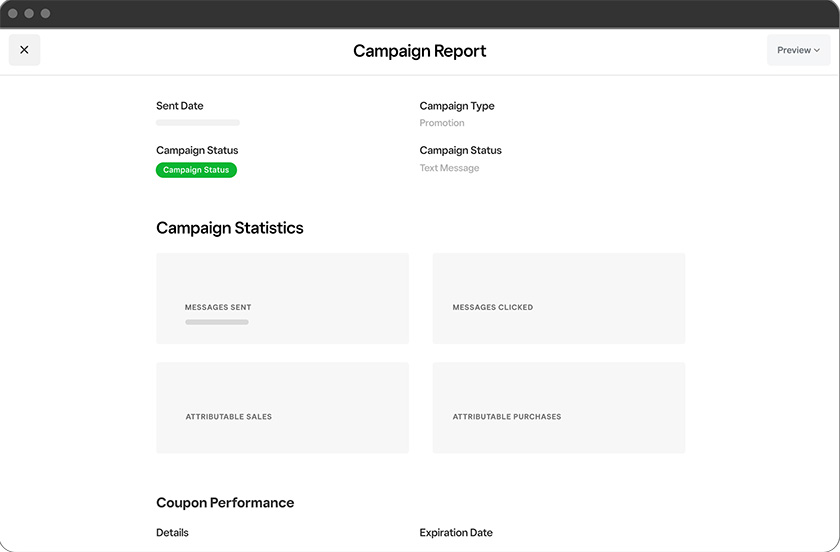 ---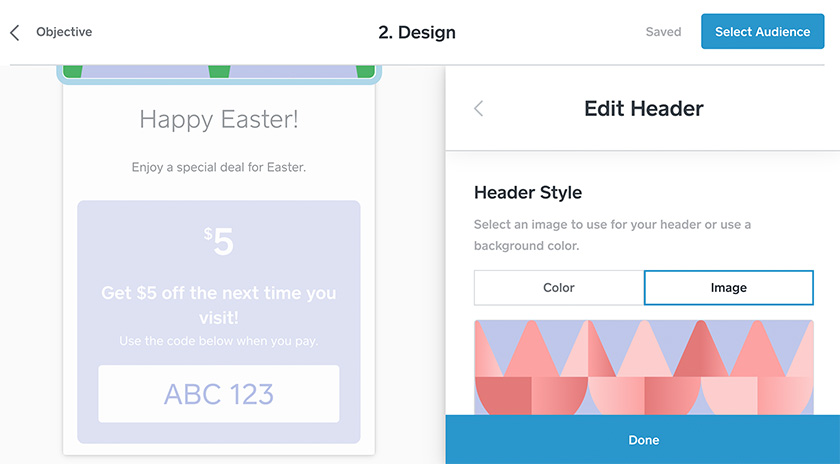 ---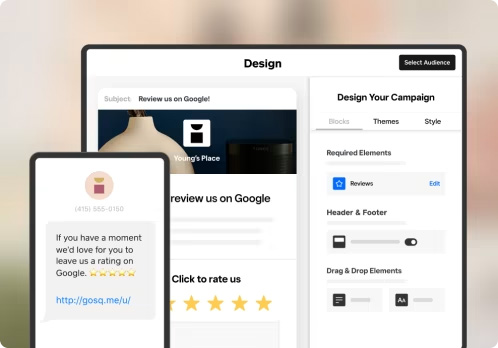 ---
Square supports a comprehensive customer engagement ecosystem, all built into the user-friendly iPad POS. Square's customer profiles, loyalty, and free online store feed the email and SMS text message marketing tools. Square's tools all have free trials, free baseline subscriptions, or pay-as-you-go pricing systems that ensure small restaurants only pay for the tools they use. The email and text message templates make quick work of creating polished marketing campaigns. And pricing is based on the number of messages you send, so you only pay for what you use.
The only downside to Square Marketing is that it is only available with the Square suite of small business tools; it does not integrate with other POS systems. If we're being incredibly nitpicky, adding custom customer categories for filtering requires more steps than other systems.
---
Square Marketing is fed by the customer profiles in the Square POS. So you'll need a POS account as a baseline. The Square for Restaurants POS is available at three pricing tiers, starting with Free, and requires no long-term contracts.
Free: $0 per month
Plus: $60 per month (30-day free trial available)
Premium: Custom-quoted
The email and text message marketing tools are priced by the number of messages you send monthly.
---
Toast: Best POS-built Marketing for Social Media

Pros
Fully integrated marketing tools save time
Excellent social media integrations
Pay-as-you-go options and a $0 baseline POS
Cons
Underlying POS requires 2-year contract
Marketing tools are an additional fee
What it does:
Toast is a high-performing restaurant POS with endless restaurant management tools. Its marketing tools are built into the POS, so you can use the customer emails from your loyalty program, segment guests into custom categories, and generate custom email promotions for specific customer types.
Toast's restaurant marketing tools further integrate with multiple online platforms like TripAdvisor (for ads and enhanced profile services), Order with Google (for direct online ordering from your Google listing), and Instagram and Facebook (for in-post, shoppable online ordering, and gift card links). You also have the option to turn on social media sharing, which prompts customers who order online to share their purchases on social media to encourage friends to order from your restaurant.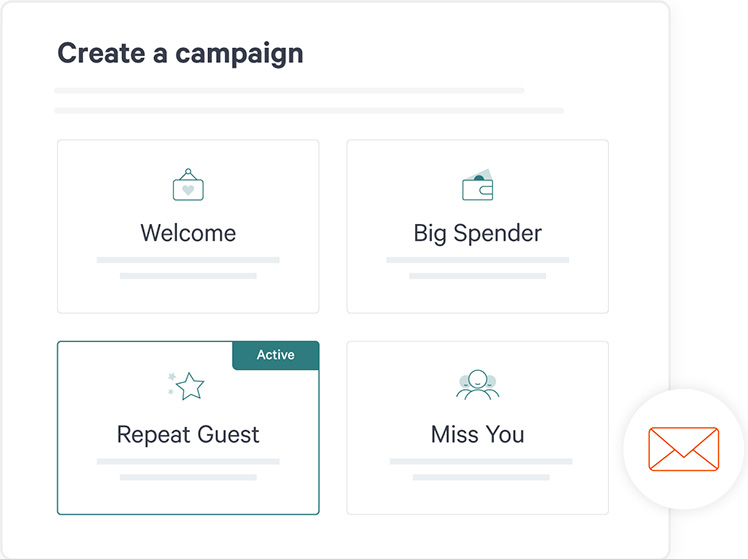 ---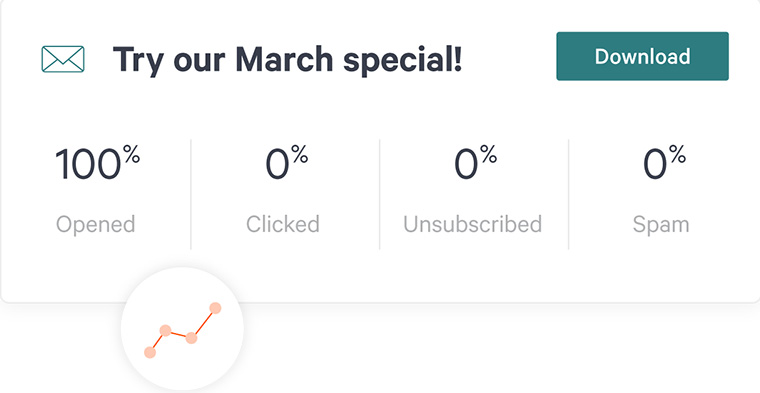 ---
---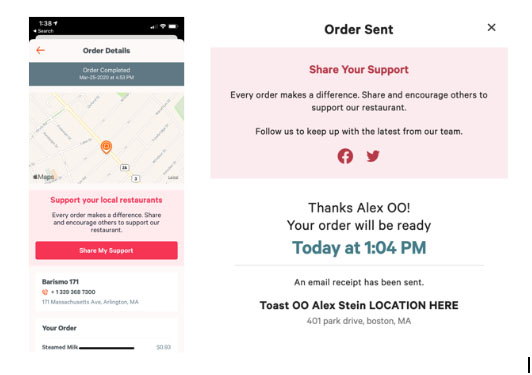 ---
Toast's marketing tools include built-in email marketing with smart social media integrations. Toast users can add shoppable links to social media posts and profiles and receive online orders directly from their Google listing (via an integration with Order by Google). This system syncs seamlessly with your customer profiles so you can create segmented customer lists and create custom email promotions for distinct customer groups. Then, you can send those emails directly from your POS dashboard and track the effectiveness of each campaign in your reporting dashboard.
Toast isn't missing much. The only reason it comes in behind Square is the cost. To get Toast's marketing tools, you'll need to enroll in the Toast POS, which requires a two-year contract. For most users, the marketing module is an additional monthly cost—though Toast offers pay-as-you-go options.
---
To get Toast Marketing, you first need to get the Toast POS, which is available at four different pricing tiers.
Quick Start Bundle: $0 per month
Core: $69
Growth: $165
Build Your Own: Custom-quoted (includes marketing and loyalty modules)
For the marketing tools you can pay monthly or pay-as-you-go by opting into higher credit card processing fees:
Standard plan: $75 per month
Pay as you go: +0.40% per transaction
---
Lightspeed Restaurant: Best for Review Tracking

Pros
Excellent review management tools
Advanced campaign tracking
User-friendly underlying POS
Cons
Can get pricey
Only works with Lightspeed Restaurant POS
What it does:
Lightspeed Restaurant is a powerhouse iPad restaurant POS with some of the most insightful marketing tools built into the POS. In addition to the standard email and text marketing campaigns, Lightspeed users get automatic customer profiles fed by Lightspeed Payments, which update in real time, even when customers use different credit cards. Lightspeed also includes the most advanced campaign management tools available in a cloud POS. The system also includes tools for monitoring your online reviews so you never miss a chance to respond to customer feedback.

---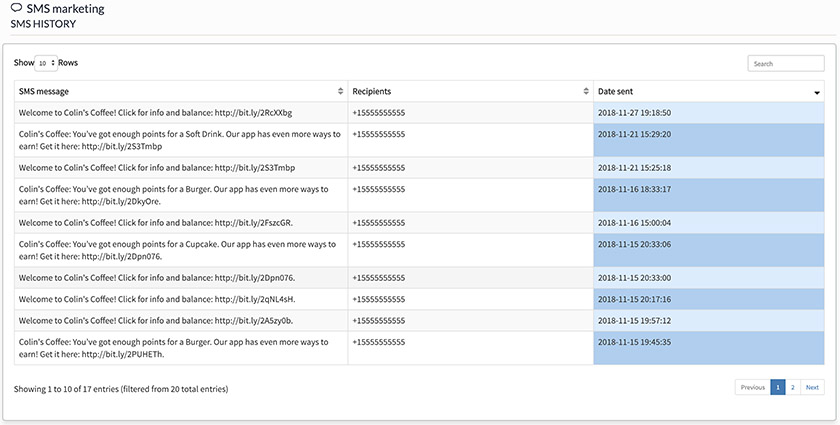 ---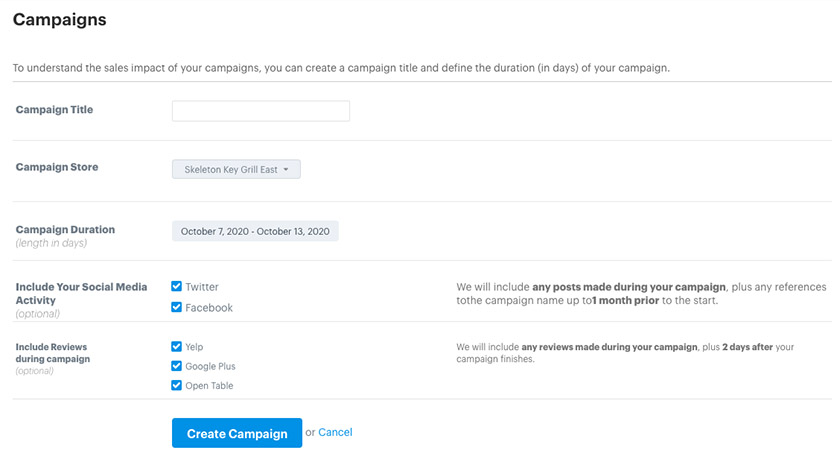 ---

---
Lightspeed Restaurant includes customizable email and text message templates for direct marketing to the customers in your database. The real ace up its sleeve is the reporting, though. You can see a log of every message you have sent a specific customer and track promotions across email and social media. Lightspeed also offers a tool called "Reputation Management," which tracks your customer reviews across various review sites. So you can catch negative customer experiences and address them immediately.
Considering that 60% of customers look at review sites before choosing a dining destination, that one feature could translate instantly into more foot traffic.
---
Lightspeed Restaurant is available at four different pricing tiers, making it accessible to any size restaurant.
Starter: $69 per month
Essential: $189 per month
Premium: $399 per month
Enterprise: Custom-quoted
The marketing tools are included in some subscriptions; you'll need to call Lightspeed for a custom-quote for full pricing.
---
PopMenu: Best Freestanding Restaurant Marketing Platform

Pros
Integrates with Toast, Square, and Clover
Comprehensive tools for website design, catering orders, digital waitlist, food photography, and AI answering services.
Boost option for PopMenu-created social media posts and email sends
Cons
Pricing is custom-quoted
Can get pricey
What it does:
PopMenu is a freestanding tool for restaurant website design and optimization. It includes services for food photography and dynamic online ordering menus. You can feature your regular menu, catering, and automated email marketing messages based on customers' orders and dish reviews. PopMenu also offers agency-style services for creating social media posts, marketing emails, and advice for getting the most out of your Google My Business listing. If you want a set-it-and-forget-it restaurant marketing tool, PopMenu is what you need.
---
---
Later: Best Freestanding Restaurant Marketing Software for Social Media Management

Pros
Affordable price for small businesses
14-day free trial
Social Media integrations include TikTok
Organizes shoppable links in social media profiles
Cons
Does not integrate with POS systems
Some subscriptions limit monthly posts
Email marketing only available via integration
What it does:
Later is a social media management tool designed to help small businesses efficiently manage multiple social media channels from a single dashboard. Later lets you schedule single posts, post multi-image carousels and reels to Instagram, and auto-publish posts on Facebook, TikTok, Twitter, LinkedIn, and Pinterest. You can test drive Later for free for 14 days. All subscriptions include multiple users, so you can share the social media marketing load with managers or other staff.
There are a couple of downsides, though. Later does not include email marketing tools (though it does integrate with Mailchimp for email marketing) and doesn't integrate with any restaurant POS systems. But if you struggle to stay engaged with your social media audience, you won't find a more user-friendly tool.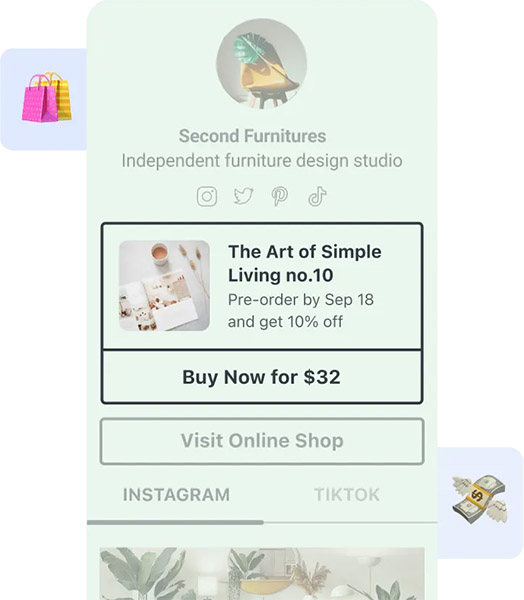 ---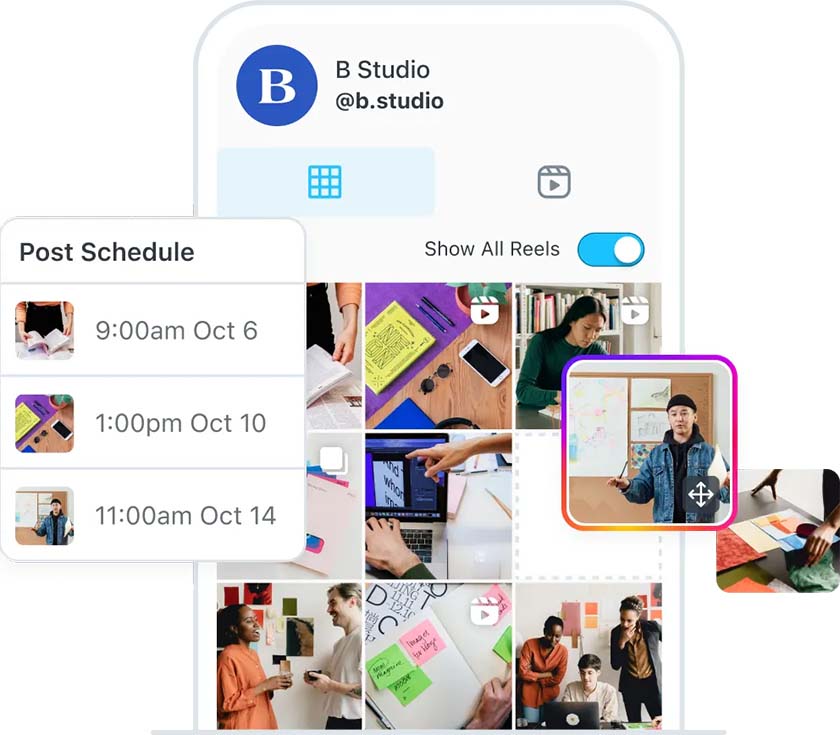 ---
Later users can create social media posts for multiple platforms from a single Later dashboard, optimize each post for the specific platform, and schedule the content to post at the best times. The Later app highlights the best times to post based on your audience, removing any guesswork. The system also seamlessly manages the link-in-bio section of your Instagram and TikTok accounts. With Later, you can customize the look of your Linkin.bio with custom colors and even banners to call out the most important links– like holiday menus, online ordering, or private event bookings.
To further speed up post creation, Later lets you write (and schedule) your first comment to post with your Instagram posts. It also suggests hashtags related to your most frequently used hashtags and even includes AI-fueled caption generation to save you time in the back office. You can try Later free for 14 days and choose from monthly or annual subscriptions.
Multi-location restaurant groups that manage the social feeds of several restaurants from a central office can manage 15 to 30 units with a Scale Plan for $200 to $400 per month.
---
Later offers three subscription levels for individual and small business users. You can choose to pay month to month and cancel anytime or pay annually for a small discount. All accounts come with a 14-day free trial.
Starter: $18 per month billed monthly; $15 per month billed yearly
Growth: $40 per month billed monthly; $33.33 per month billed yearly
Advanced: $80 per month billed monthly; $66.67 per month billed yearly
Later also offers multi-account plans (Scale Plans) for multi-location restaurants or agencies that manage social media for multiple restaurants. Scale subscriptions are named for the number of social "sets" (each set is comprised of the cross-platform social media accounts for one business). Pricing for Scale users is a little pricier, but still comes with a 14-day free trial:
Scale 15: $200 per month
Scale 30: $400 per month
---
Canva: Best Restaurant Marketing Software for Printed Ads & Menus

Pros
Baseline tools are free to use
Tools for menu design and other printed content
Schedules social media posts
Cons
Email marketing requires an additional integration
No POS integrations
What it does:
Canva is a design app that offers free and subscription-based design tools to design everything from logos to menus to social media posts. Paid subscriptions are affordable (less than $20 per month) and allow you to save your brand colors and other brand collateral to ensure that your menus, flyers, and signage represent your restaurant accurately. The comprehensive design and layout features make Canva the best marketing tool for restaurants that need print materials. You can schedule social media posts directly from your Canva dashboard.
Like Later, Canva does not directly include email marketing tools but integrates with Mailchimp. So you can create compelling email images, then send them to your email list via an integrated platform.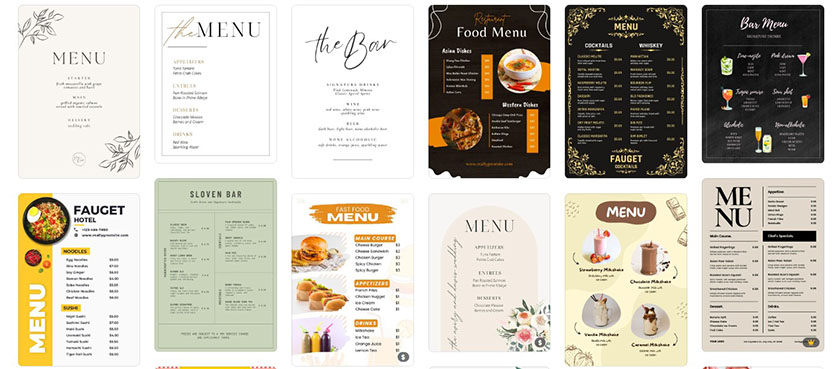 ---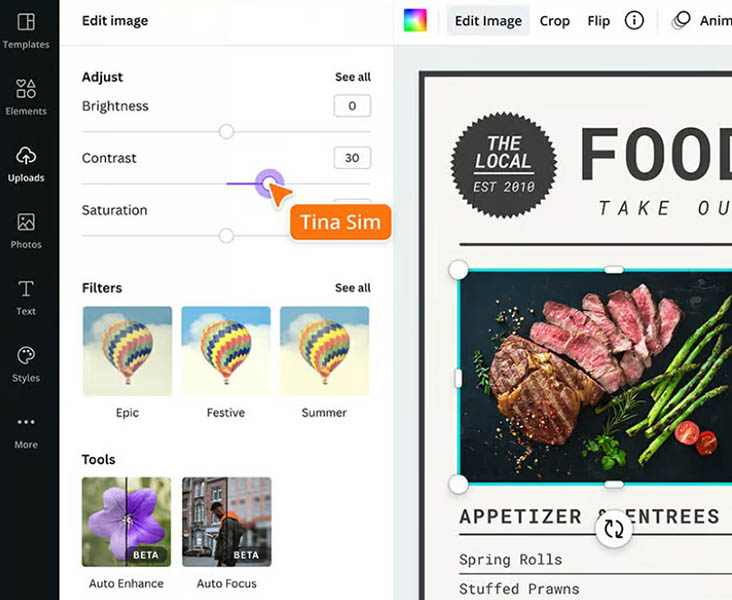 ---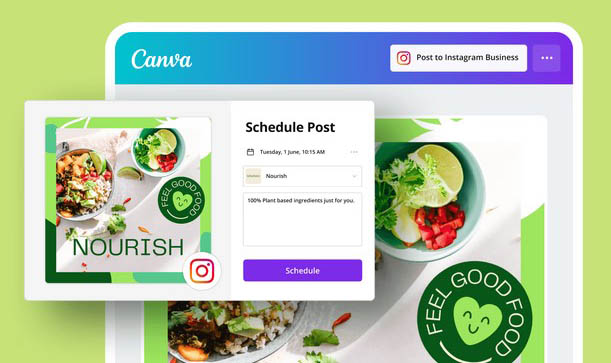 ---
Like Later, Canva can schedule social media posts directly from the Canva platform. Posts from Canva will track impressions, clicks, and comments so you can see what posts have the most interactions. Unlike others on this list, Canva's tools can help you design printable items like posters, flyers, internal signage, and even menus. You can start your designs from scratch or rely on Canva's wide array of free and paid templates.
With Canva, restaurants get a whole design suite. If window signs, flyers, print ads, and to-go menus are part of your marketing plan, Canva is the most useful tool for you. And you don't need to rely on Canva alone—with a free baseline membership; you can easily use Canva alongside any of the other options on this list.
---
Canva has three subscription plans, with the baseline plan being free. All plans (even the free one) include a vast library of templates and other design elements that you can use to create polished posts, flyers, menus, and other signage.
Free plan: $0 per month
Canva Pro: $12.99 per month billed monthly; $9.99 per month billed annually
Canva for Teams: $14.99 per month billed monthly; $12.49 per month billed annually
---
Mailchimp: Best for Email Customization

Pros
User-friendly website builder
Endlessly customizable email builder
Survey tool prompts customer feedback
Cons
Not restaurant-industry specific
May be more machine than small shops need
What it does:
Mailchimp is more than simply email marketing. It is a comprehensive marketing hub that includes a website builder, customizable landing pages for various promotions, and customer relationship management (CRM) tool, plus email and social media marketing software. Mailchimp even has tools for creating direct mail campaigns if that makes sense for your market or business type.
Its primary function is email marketing though. And it integrates with several other options on this list. So if you prefer some of the other tools listed, but want more expansive email marketing tools, Mailchimp is a great, time-saving addition.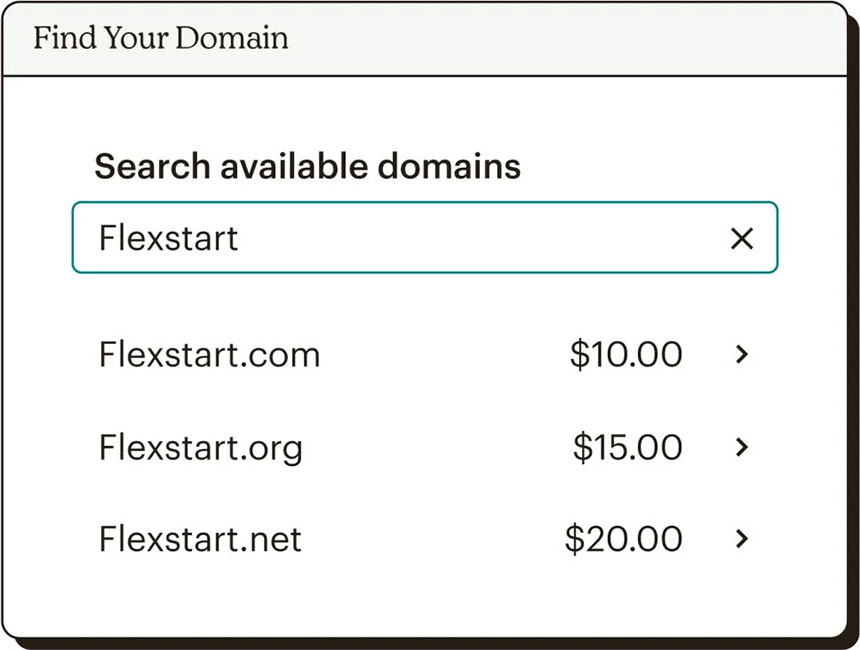 ---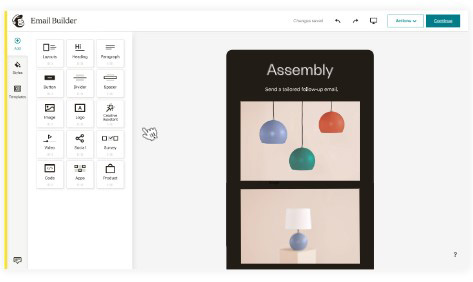 ---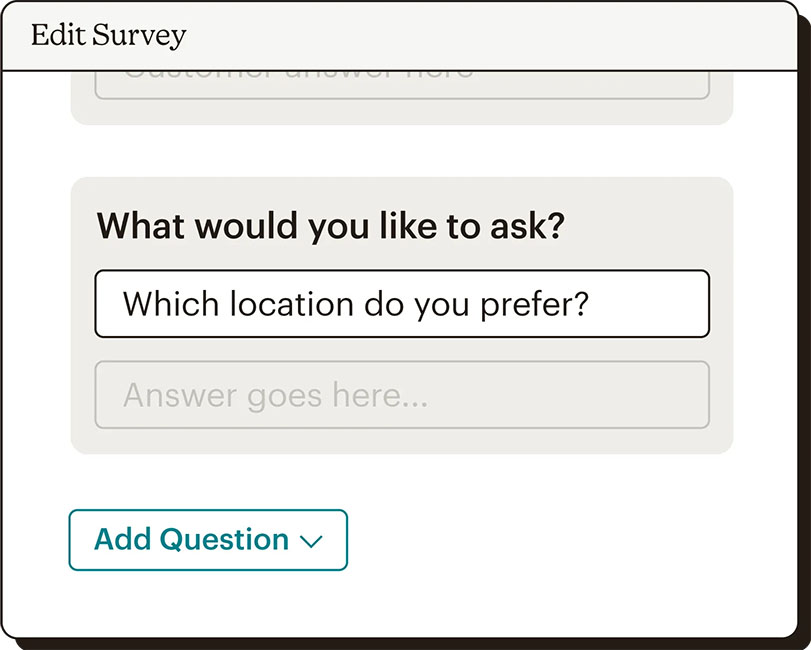 ---
Mailchimp supports small businesses with customizable email marketing templates. But even before you get there, Mailchimp can even get you started with your baseline restaurant website in less than a day—even if you don't yet have a domain name or business email address. With your site up and running, you can create custom landing pages for different menus (like a catering menu) or promotions (like a New Year's Eve dinner).
The email templates are endlessly customizable, even supporting custom HTML code if you need it. You can build surveys for customer feedback to help you catch opportunities for improvement before you hear about them on review sites.
---
MailChimp offers a 30-day free trial. It also includes free and low-cost plans to support even the smallest businesses. The Free, Essentials, and Standard plan pricing below assumes minimal contacts (500), so costs will increase with any plan as your list grows.
Free: $0 per month, includes 1,000 monthly email sends
Essentials: $13 per month; 5,000 email sends
Standard: $20 per month; 6,000 email sends
Premium: $350 per month, 150,000 email sends
Most independent restaurants will find that the Essentials and Standard packages are all they need.
---
Methodology—How We Evaluated
We researched dozens of the best marketing tools for restaurants, looking for systems that solve pain points for small, independent restaurants. We looked for affordable software with free trials or pay-as-you-go options. Next, we looked for useful tools like email and SMS text message marketing and time-saving integration options. Finally, we considered our restaurant and marketing experts' personal experience using each tool and compared user reviews for each platform.
| | |
| --- | --- |
| | Mary King spent 14 years working in management positions at multiple independent restaurants, coffee shops, and food trucks. She knows firsthand the time it takes to respond to customer reviews and craft email marketing campaigns. She has been evaluating restaurant technology for four years. |
| | Elizabeth Kraus has two decades of experience in digital marketing for small businesses in a variety of industries, from restaurants to real estate, salons, business finance, and more. Over the course of her career, she's not only written about but used dozens of marketing software platforms and fully understands the challenges of restaurant owners and managers who have to wear many hats, including the marketing one. |
---
POS-built vs Third-party Restaurant Marketing Software
Whether you choose POS-built or third-party restaurant marketing software will depend on your occupation (are you the restaurant owner or a third-party agency?) and marketing needs.
If you are a restaurant owner or manager, a POS-built tool is likely a better choice because it will centralize your marketing campaigns in your POS dashboard, where you can easily monitor them. You'll also only have one support team to call if you need training or assistance. A POS-built system also keeps your customer data in one place; there is no need to import or export email lists to different platforms.
Though this is, of course, assuming you like your POS provider. If you don't—or you need more comprehensive tools—then a third-party platform that integrates with your POS might be a better fit.
If you are a third-party marketing person or agency, third-party restaurant marketing tools make more sense. You can easily manage accounts for multiple restaurant clients on a single platform. Third-party platforms also tend to have more expansive tools for everything from social media marketing to custom online ordering site builders, so you can offer more extensive services.
Restaurant Marketing Software Frequently Asked Questions (FAQs)
Email marketing and social media posting are the most popular ways to market a restaurant digitally. Most (60%) of customers prefer email communication from restaurants, so email is a major digital marketing strategy for restaurants. Purchasing ads on Facebook and Instagram are also common, since customers tend to check social media before visiting a restaurant. Ensuring you have a high-functioning website with online ordering is also a must.
The lowest-cost digital marketing strategy you can employ for your restaurant is responding directly to customer reviews on social media sites. Customers like to see these interactions, and it could result in higher overall ratings over time.
---
Most restaurant POS systems have marketing software built in. In most cases, the marketing software that is built into your POS will be the most useful for your restaurant because you'll be better able to track the effectiveness of your marketing efforts and directly see the impact on your bottom line. If you don't have a POS, or you don't like your POS's marketing software, freestanding restaurant marketing software like PopMenu, Mailchimp, Later, and Canva are good options.
---
Bottom Line
Restaurant marketing is a key component of restaurant management. The marketing software built into your POS system is an excellent way to keep your customer profiles and marketing campaigns in a single, central location. This can save you time in the long run and also make it more likely that you actually use the marketing tools. We found Square to be the best restaurant marketing software because of the combination of low cost, short-term contracts, and functionality. You can get started with the Square POS for free and only pay for the Square Marketing tools as you use them. Visit Square for more information and to try the system.