16 Cross-Selling Tips & Techniques for Retailers in 2022
Cross-selling is motivating customers to buy additional products related to their current purchase. The right cross-selling strategy can significantly increase sales and build customer loyalty at the same time. Some cross-selling tips work better for specific businesses—such as online shops vs brick-and-mortar retail stores—looking to maximize their selling opportunities.
The most important concern when cross-selling is ensuring that your offer is relevant. You should aim to offer more value to the customer. We outline 16 cross-selling tips and techniques in this article, half for ecommerce stores and half for brick-and-mortar retailers (although many of the tips can work for either type of business).
Ecommerce Stores
In ecommerce, cross-selling techniques are more often used on product pages, during the checkout process, and in customer lifecycle campaigns—cart recovery emails, order confirmation emails, and even regular customer newsletters. Here are some cross-selling tips you can apply to your online store:
1. Identify Related Items for Your Big-ticket Products
Find your flagship products or big-ticket items and pair them with directly related products. These include items that your customers need to enhance the features they are looking for in your main product. Once you have your list, you can decide how to place them.
A general guideline for cross-selling product placement is that it's easier to pitch low-cost products and smaller accessories that cost 10% of the main product at checkout. High-ticket items and larger accessories that cost 15%-50% of the main item will sell better if displayed on the product page.
Tip: Use phrases such as "Customers also bought," "Shop the look," "You may also like," or "Popular related products" to encourage shoppers to buy.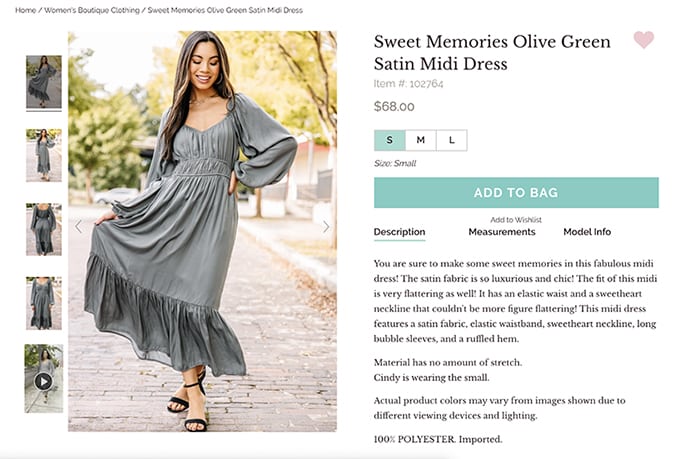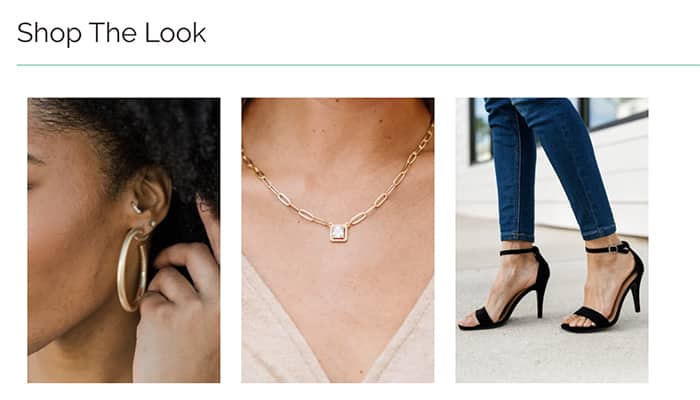 Online clothing store Mint Julep showcases the main item with accessories, making it easy for customers to purchase the entire outfit via this "Shop the Look" personalized product recommendation widget.
2. Use Social Proof to Your Advantage
A study by Barilliance finds that the most engaging recommendation type is "what customers ultimately buy." This further supports how using social proof can be to your store's advantage. Social proof refers to using online feedback from satisfied customers to help your business. The main objective is to build trust with online buyers considering your products. To help with cross-selling, you should reference positive online feedback for your products to encourage sales.
Here are some tips on how you can add social proof to your product pages:
Show how many people have already bought the product or are currently looking.
Showcase customer testimonials, product reviews, and ratings.
Display visual user-generated content (UGC).
Display expert reviews or product awards.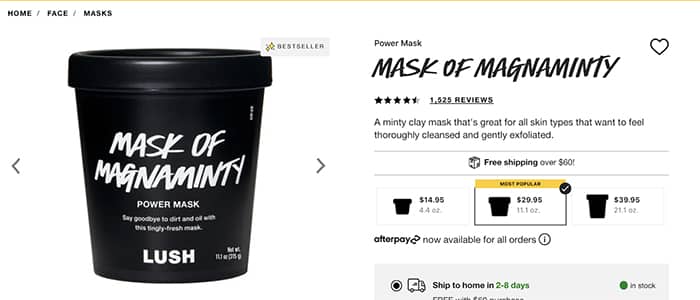 Social proof provides you with the easiest persuasion strategy to deliver a compelling offer in a format that consumers trust the most. The customer reviews and expert feedback show your potential buyers how popular your products are. It also allows you to demonstrate how these products can make their lives easier and enhance the performance of the main product they are purchasing.
3. Limit the Number of Product Recommendations
Limiting the total number of options you try to cross-sell is a sound practice, especially for small businesses. Business owners sometimes forget to exercise restraint and display a long list of additional products customers can purchase. When this happens, buyers can become so overwhelmed with side offers that they abandon their shopping cart altogether. They start looking more closely at product brands and wonder if they can get a much better deal if they browse some more.
The ideal number of cross-selling offers on a page is three. This gives just enough window in the checkout stage to increase the customer's attention span and your conversion ratio. You'll want to hand-pick your offers so they include products that really fit the customer without taking focus away from the products in their cart.
4. Focus on the Total Price at Checkout
Most shoppers have a budget in mind even before they go to an online store. The basis of their buying decision is when they are assured their choice is the best balance between quality and budget. Naturally, it will be difficult to convince buyers to purchase cross-sell products that will push them way beyond what they expect to pay. To get buyers to consider adding the products you recommend, you'll need to base your recommendations on the total price at the checkout stage.
When a shopper is anchored to a price range, you need to show small products so they won't be discouraged from completing the purchase. It's better to make it easy for them to add low-priced items to their cart instead of trying to convince them to pay more than they originally wanted to spend. The reality is that even if customers do complete the purchase, the experience may not motivate them to become loyal customers. As a basis, try to keep your suggestions below 60% of what's already in their cart.
Ecommerce platforms such as BigCommerce and Shopify have built-in apps and third-party integrations for product recommendations, customer reviews, and cross-selling.
5. Use Tools That Determine Customers' Buying History
Maximizing the sales of products you plan to cross-sell requires knowing which merchandise will fit customers best. And when you only have a limited time for gaining the buyer's attention before they complete their purchase, you need your suggestions to be on point. What can help is a reliable customization tool to ensure your online shop provides the best match to your customers every time.
Pipedrive is customer relationship management (CRM) software that provides you with a visual pipeline so you can nurture your customers to the point that they're ready to accept cross-selling pitches. It's easy to set up and customize and intuitive to use, which makes it perfect for businesses focused on moving sales opportunities through their sales pipeline.
6. Create Limited-Time Offers
There's nothing like a little sense of urgency to get customers off their seats and taking action. This is something you can also use to make the most out of cross-selling. You can present limited-time deals with popular items along with a customer's original purchase to really get them thinking. Be sure to stress the fact that the deal does expire eventually.
Other great ideas that can increase the sense of urgency are:
Flash sales/today's deals
"Special Day" discounts
"Last Chance" promos for customers who previously showed interest
Clearance sales
"While stocks last" special offers
You may try giving customers up to six hours to decide if they want the deal or not. Just don't make the timeline too short (it may stress them out) or too long (the offer may lose the sense of urgency).
7. Know Your Market & Personalize
Your ecommerce website might not be able to carry content like a blog can, but it doesn't mean your message can't be as strong. Content personalization will go a long way in presenting your products and gives you a much better chance at making a sale. The key is to find the right time and place for employing personalized content.
Here are some personalization strategies you can try:
Use your customer's name.
Use words like you, your, and yours.
Personalize a widget like a bubble that appears in different pages of your website.
Personalize a web part like banners on your website.
Using your customer's name will easily attract their attention, and using you, your, and yours help make the shopper visualize ownership of the products you're cross-selling. Personalizing a widget or web part is useful when you want to remind customers of the product that's relevant to items that are already in their shopping carts.
8. Cross-Sell Through Retargeting
Retargeting is a great technique for capturing follow-up sales from customers who have previously purchased from you. The trick to implementing this technique successfully is to track customer purchase history and segment your retargeting based on the audience and consumer behavior.
Brick-and-Mortar Retailers
For brick-and-mortar retail stores, effective cross-selling is about creating strategies that will help you get the most out of your store's foot traffic. Your aim is to maximize sales of your high-tier, low-priced older stock and new merchandise before you have to mark it down. At the same time, you also want to make your customers feel that you're giving them more value for their money. This is important if you want to increase sales, widen your customer base, and build customer loyalty.
9. Showcase Items Prominently in the Store
Presentation plays a key role in creating more sales. Simply put, if customers are not able to see your merchandise, they won't know that items they are looking for are actually available for them to buy. In the same way, complementary items and common pairings should be displayed prominently in your store. This helps customers in visualizing how the pairings work together and motivates them to make the purchase.
Items that you frequently cross-sell should always be displayed together, or at least near each other. For example, you could display blazers and include a matching tie, or place your sock section beside your shoe section. Aside from minimizing the risk of losing customers while they try to search for products they need around your store, you will also impress your buyers with this smart and sensible customer service strategy.
10. Train Your Sales Staff on Pairings
A brick-and-mortar retail store's biggest asset is its staff, and the staff's role in boosting cross-selling product sales is key to a better bottom line. One of the best cross-selling tips for brick-and-mortar shops is to continuously train sales staff on products. They should have the ability to recall a broad selection of complementary items in the store. Additionally, they need to have the skills to analyze a customer's needs and come up with a personalized suggestion for each one.
The goal is to provide personalized customer service while cross-selling products. This should be a crucial part of your sales staff's training. Create role play exercises in which your sales team can practice scenarios with different types of customers. This activity should help strengthen their product knowledge and customer service skills, including the ability to customize and promote complementary products. Ensure your employees are able to justify their selection and make them explain their logic. They will also need to have a solid grasp of your store's layout.
11. Ask Probing Questions
Another skill that your sales staff needs to know is how to ask probing questions. This is what will help them truly understand the customer's needs and suggest the most appropriate product to cross-sell. While this might seem like a very simple thing to do, it's important to note that customers can become sensitive and leave the store altogether if a sales person is either too aggressive or too passive.
Teach your reps to ask probing questions throughout the sales process. Their training should include knowing the right time and the right approach for asking probing questions. It should also teach them how to notice behavioral and verbal cues that can lead them to identify the right products and services for the customer.
12. Improve Transparency at the Checkout Counter
Customers are hesitant in purchasing products they didn't intend to buy because they are not equipped with enough information to make last-minute decisions. Those who are more conscious of their budget might not find any interest in getting more products at the checkout counter. However, if you upgrade your point-of-sale (POS) system to include customer-facing displays, buyers can have a better view of their running total and any discounts.
Vend is a retail POS system that's fast and easy to use with any Mac or PC. It offers a customer-facing display, so buyers can quickly visualize the benefit of purchasing the products you're cross-selling. Let customers into your world with Vend display.
13. Show Added Benefit of Complementary Products
Nowadays, customers who walk into your store have already taken time to do research online about the products they are coming in to buy. This can be an advantage to a well-trained salesperson because it becomes easier to help the customer visualize the benefits of a complementary product. We say visualize, because retail store owners shouldn't rely on product specs and features that customers will rarely take time to read.
The human mind is more responsive to stories or images, so you need a more visual strategy when trying to cross-sell. Clothing stores use mannequins to display outfit suggestions, and grocery stores often showcase taste tests for food products. This gives customers an idea of the added value that your products can provide.
14. Reward Customers for the Added Purchase
Giving away a reward or incentive can increase your cross-selling conversion rate. For ecommerce businesses, this usually comes in the form of free shipping or discounts for certain volume or dollar value of purchase. For brick-and-mortar stores, you can go beyond discounts and use your creativity to offer unique incentives in exchange for additional purchase.
Here are some strategies you can try:
Give a free gift instead of a discount.
Start a loyalty program.
Offer your products at a limited time.
Adding a fear-of-missing-out element to your cross-sell items will make customers feel more motivated to buy. For loyalty programs, make sure that it's as personalized as possible. Create structured opportunities where perks are based on buying patterns. Train your sales team well on loyalty offerings so they can use them effectively in their cross-selling efforts.
15. Stay Connected With Customers After Sales
It's not unusual to find cross-selling opportunities after the customer has already made and enjoyed a purchase. This is why after-sales service should be an important part of a retail store's activities. Keep in mind that knowing when and how to suggest your product will determine how effective your strategy is to boost sales.
Customers who call in requiring assistance are usually focused on resolving issues they're having with their purchase, so it's best to help them resolve their concerns before suggesting a new product. Salespeople who engage their customers with follow-up calls should make sure they are already prepared with products that best fit that particular customer. They can do this by using tools to analyze buying behavior before making their call.
16. Use Round Numbers When Appropriate
The psychology of pricing often emphasizes how customers are attracted to products with "just-below" price tag amounts (for example, $29.99); they often buy these instead of items with prices that are rounded (like $30.00). When it comes to cross-selling, show customers that they are getting more value for their money using rounded amounts. This increases the chance that they'll buy the higher-priced alternative even when placed side-by-side with products sporting "just-below" price tags.
This is the advantage of being able to personalize your messaging. In your marketing emails, displays, and through your sales staff, you get to show added value to your customers beyond $19.99 price tags. Instead, you can tell customers things like, "For only $10 more, here are the additional benefits you'd get."' The easy comparison makes it more likely they'll accept the added purchase.
Cross-Selling vs Upselling: Understanding the Difference
Cross-selling and upselling are often mistaken for the same, but they are entirely different sales management strategies. Both are used to increase the overall value of a customer purchase. However, upselling is where you suggest additional products or services directly related to the one being purchased, while cross-selling involves offering additional products or services that complement the existing purchase. An upsell would include a multiyear warranty for a purchased product or even a newer model of that product, whereas a cross-sell would be a separate product that could simply be used with the purchased product.
Interested to learn more about their differences? Read our guides on cross-selling and upselling.
Bottom Line
Cross-selling is an important strategy for improving sales and growing your ecommerce or brick-and-mortar business. In fact, some statistics say it can boost revenue by an average of 10%-30%. Experiment with our cross-sell tips to reap the benefits of recommending complementary products to your existing customers and keep your business thriving.
You May Also Like …