Shopify has released more than 200 new product features and enhancements this year alone, thanks to its Shopify Editions' Winter and Summer rollouts. New Shopify features worth highlighting include AI-enabled productivity tools (Shopify Magic), a flex tool for the Online Store Editor, an enhanced marketing toolkit, more built-in product and sales features, and global selling made easy.
I did all the work, and bring you 15 Shopify new features you should know and be excited about in this article. Read on to learn more about each new feature.
Learn more about Shopify:
1. Shopify Magic
The main highlight of Shopify Editions' Summer 2023 rollout is Shopify Magic. Shopify has been leading the pack of all things AI in ecommerce, and Shopify Magic is at the center of Shopify's AI tools.
Shopify Magic is a suite of free AI-enabled features integrated across Shopify's products and workflows to make it easier for merchants to start, run, and grow their businesses. You get personalized and relevant support from store building, marketing, customer support, to back office management.
At the center stage of this suite of productivity tools is Sidekick, your very own AI-enabled virtual assistant. For anything you need to get done for your online store, just have to prompt Sidekick, and it will get it done for you! You can instruct it to set up a new product (complete with description and pricing), ask for your store's bestsellers, and even show you how to do a specific process in your Shopify admin.
Why You Should Be Excited About It:
Shopify Magic has generative AI, which can help you write product descriptions, blog posts, and email campaigns, to help you save time and money. And if you are a one-person operation, you will definitely find Sidekick very helpful and useful.
I took most of the Shopify Magic features available on a test drive and was amazed at how relevant the generated text was to my brand Read more about how you can use Shopify Magic's features in my article.
2. A Redesigned Shopify Admin
Shopify's dashboard just got an upgraded visual design and an improved navigation user experience. The buttons and color gradients are subtly different, and the redesigned setting system makes it easier to navigate and find the content you need.
Your store data is also now more prominent, clear, and accessible on both desktop and mobile. Shopify also made improvements to its mobile app. You can add new product media more easily with a consolidated media picker, experience a better workflow for adding products, and have a new account drawer where you can add and switch in between stores you manage.
Why You Should Be Excited About It:
I have always found Shopify to be intuitive and easy to use, but with this update, it has become even easier to use. For one thing, typeahead search and search relevance are two features I find to be extremely helpful. I just type in a keyword in my Shopify admin bar and all related products, orders, and customers show up in the results.
Shopify also has an improved search and filter function where you can add custom filter settings and product recommendations. You just need to activate the free Shopify Search & Discover app from the Shopify app store.
3. Improved Checkout Page
Shopify checkout's overall conversion rate is the best in the market. It outpaces its competitors by up to 36% and by an average of 15%, according to a study by a global management consulting company.
Shopify has further streamlined its checkout into a one-page experience, increasing the likelihood of conversion. Furthermore, Shopify Plus merchants have access to 17 new checkout extensions and apps to customize their customers' checkout experience. For example, those under Shopify Plus can push subscriptions or pre-orders, offer unique delivery options, or have their checkout pages suggest address changes to guarantee a successful delivery.
Why You Should Be Excited About It:
Anything that lets you close sales faster and increases your conversion rate should be a winner! I love Shopify's one-page checkout feature, and checkouts happen even faster with Shop Pay (which also has new updates I will discuss in the next section).
4. Shop Pay Updates
Among Shopify's new releases are updates to Shop Pay, Shopify's one-click checkout. I mentioned Shopify's one-page checkout and its impressive conversion rate earlier. Even better? Shop Pay, Shopify's accelerated checkout offering, can increase conversion by as much as 50% compared to a guest checkout when used—faster than other accelerated checkouts by at least 10%. In fact, the mere presence of Shop Pay can increase lower funnel conversion by 5%.
Some updates to Shop Pay include:
Shop Pay Installments on POS: Drive sales in-store with flexible buy now, pay later options in Shopify POS.
Shop Pay Installments premium package: Offer interest-free payments and terms up to 24 months with qualified customers. Available to select businesses in the US.
Take a look at how fast Shop Pay is when used at checkout. When used, Shopify can recognize Shop Pay customers in one click.
Why You Should Be Excited About It:
I am excited about Shop Pay's installment offerings. Statistics show over a third of shoppers use BNPL once a month, and with Shop Pay offering BNPL services, merchants can now include BNPL options without signing up with a partner merchant or third-party payment provider.
5. Online Store Flex Sections
One of the Shopify updates I am also excited about is enhancements to its site builder, Online Store (OS 2.0) editor. This hasn't fully rolled out yet but the website editor will feature new flex sections to help create custom layouts for your online store.
With flex sections, you can now easily drag, drop, re-size, group, and edit content from the OS 2.0 editor. I can imagine all the custom layouts you can achieve once this improvement rolls out.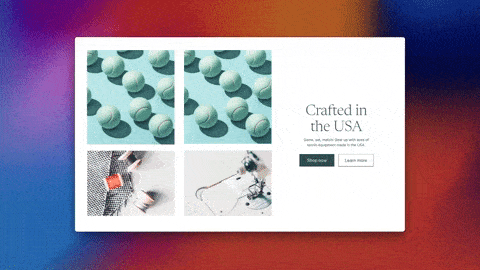 Why You Should Be Excited About It:
Creating custom layouts will get easier with flex sections. This CSS Flexbox update will help you achieve more multi-directional responsive layouts and easy content alignment within sections of your store.
6. Integrated Marketing Tools
Shopify's new updates now let you accomplish lead generation and email marketing with automation and segmentation all within its platform—completely free. It rolled out Shopify Forms, its lead generation tool, in its last Winter edition update, and now, you can fully set up rules and automation to further segment and nurture your email list.
Here's how you can let Shopify's built-in marketing tools work for you:
Grow your marketing list by setting up a lead capture using Shopify Forms
Set up marketing workflows through Automations using Shopify marketing templates or your own
Nurture customer relationships by sending emails (from scratch or using templates) using Shopify Email
Create customer groups to deliver highly personalized communication through segmentation to drive sales
Use chat to convert more customers through Shopify Inbox
Get actionable insights in your Shopify admin with metrics and analytics
Why You Should Be Excited About It:
Shopify is the only ecommerce platform that has a built-in marketing tool this robust and completely free (and I have tested more than 20 ecommerce website builders and counting). If you can maximize this Shopify marketing toolkit, I have no doubt you will be able to create a highly engaged (and ready-to-buy) email list.
7. Shopify Bundles App
With Shopify Bundles, you can now create and sell bundles from your product listings to encourage customers to buy more. With it, you can:
Create fixed bundles and multipacks and customize product bundle pages with images, variants, and product options
Inventory is updated in real time, so you're protected from overselling. Your bundle count is based on the lowest inventory product from the bundle.
If you're on Shopify Plus, you can build a custom bundle offering using Shopify's APIs.
Why You Should Be Excited About It:
Product bundles are a great way to increase your average order value and curate a better buyer experience. With a built-in app, you can easily set up bundles from new and existing products without the need for a workaround you might have been doing if you had been using a third-party app.
8. Shopify Subscriptions App
One of Shopify's new features is the ability to easily set up and manage simple subscription offerings with the free Shopify Subscriptions app. As of this writing, it's still in early access but all the information I have read and watched about it looks promising.
With the Shopify Subscriptions app, you can:
Create auto-billed subscriptions that renew weekly, monthly, or yearly
Change, skip, pause, and cancel subscriptions
Apply discounts to subscription products
Display a subscription widget on your online store
Have backend tools to send subscription email notifications and view and monitor subscription analytics
Why You Should Be Excited About It:
Finally, a built-in subscription app! I have been on the lookout for an easy subscription model for a Shopify store I manage for quite some time. Most of the ones I have tested don't integrate fully with Shopify's platform and I have had to do some manual work in the backend all the time, which can be confusing and messes up subscription orders.
While Shopify has been clear that its subscription app doesn't have all the bells and whistles one might need for a robust subscription model, I am sure that its features will be enough for the small business owner wanting to roll out a subscription plan for their products.
If you haven't thought about adding subscriptions for your online store, now might be a good time to explore it. Read our article below to learn more about how to implement one in your online store:
9. Shopify Flow
Shopify Flow is an ecommerce automation tool that lets you automate tasks and processes within your store and across your apps. Originally rolled out to Shopify subscribers on the higher tiers (Advanced and Shopify Plus), Shopify Flow is now available even on the Basic tier—which is huge, because custom workflows let you manage everything from inventory, to fraud detection, to loyalty programs, automatically. It's like letting your store run on auto-pilot!
Why You Should Be Excited About It:
If an app lets you automate almost everything in your online store, go for it. Easily save time and money by setting up custom workflows for everyday tasks in your online store.
10. Shopify Marketplace Connect
The Shopify Marketplace Connect (formerly Codisto) lets merchants sync their Shopify store products to marketplaces like Amazon, Walmart, and eBay. With the app, you can ensure your inventory stays updated across channels in real time. It is free for your first 50 marketplace-synced orders a month and incurs a 1% fee per additional synced order, capped at $99/month.
Why You Should Be Excited About It:
The Shopify Marketplace Connect app opens up huge opportunities for merchants when it comes to multichannel sales. What I love about it is that you can edit and manage your products and pricing separately from your primary (Shopify) store, and when you make a sale from a marketplace, the order is automatically imported and your inventory is updated in real time.
11. Shopify Collective
Shopify Collective is an innovative way to increase your store sales with almost zero overhead. This new app allows you to sell products from other Shopify brands without having to manage inventory or handle shipping. It's currently available to select businesses in the US.
Why You Should Be Excited About It:
I totally see this Shopify new feature as a good way to let customers know about complementary products they can or should use together with products you sell. Additionally, it won't hurt your brand at all; you can even grow your business without the upfront cost of additional inventory and warehousing. Think of it as Shopify's version of dropshipping within Shopify stores.
12. Shopify Collabs
Shopify Collabs is another one of the new Shopify features you should be on the lookout for; it lets you market products easily with influencers. You can promote products with creators, let verified creators sell your products at a commission rate you set, and automate payments to them through your Shopify bill. It just makes things easier to get verified creators selling your products.
Here's what you can do with it:
With the Collabs Network, you can opt in to let verified creators sell your products at a commission rate you set. You don't have to find and recruit creators anymore.
You can directly invite creators you already know selling with Shopify Collabs. This is a great way to get the word out about your products to your existing audience.
Shopify Collabs works seamlessly with the Subscriptions API, so you can get creators promoting your subscription products too.
Automating your payments to creators through your Shopify bill. You can also set up new automated workflows in Collabs via Shopify Flow.
Why You Should Be Excited About It:
Think of Shopify Collabs as the equivalent of Amazon affiliate links or the TikTok Creator Marketplace. With Shopify Collabs, you no longer need to find influencers and creators to work with manually. Creators can sign up through the Shopify Collab platform, and you can choose which ones to work with. Affiliate marketing is also easily done with this app, with automations set up so you don't have to worry about payments.
13. Shopify Markets
Global selling can now be easier with Shopify Markets. It is a cross-border management tool that helps you identify, set up, launch, optimize, and manage your international markets—all from a single store.
You can create markets by identifying countries or regions you want to localize the experience for. When you create a market and you're using Shopify Payments, you automatically have the ability to sell in local currencies in each of the countries or regions you have enabled. Shopify's research has shown that merchants can experience a 40% increase in conversion when a customer is shown their local currency at checkout. Additionally, you can add local payment methods so your customers can checkout using a payment method they are familiar with.
To get customers to experience the right localized experience, you can:
Set up unique URLs for the markets you sell to and automatically redirect buyers to the localized URL. For example, let's say you want to sell in Canada, your unique URL would be www.store.ca.
Provide prompts on your online storefront using a compatible app like Geolocation
Shopify Markets also allows you to translate your store into multiple languages, adapt your store's content for different markets using Shopify's Translate and Adapt app
Why You Should Be Excited About It:
Shopify Markets simplifies global selling for the small business owner. If you have plans to expand your business reach but are wary about the backend logistics involved in managing multiple stores, this app can help.
14. New Backend Tools: Shopify Tax, Shopify Balance, and Shopify Credit
Shopify's new updates include financial management tools to help merchants update taxes, get a credit line for business, and manage bills more easily. These are all available in your Shopify admin.
Shopify Tax simplifies the process of filing your US sales taxes. It breaks down your data to the state, county, and local levels, giving you access to the details you need with less effort and helping you to file your taxes faster and more accurately.
Shopify Credit is a pay-in-full business card made specifically for entrepreneurs. You can apply for Shopify Credit without worrying about it affecting your credit score. It has no hidden fees or interest charges and you can earn cashback rewards that you can put back into your business. It's available to select businesses in the US.
Shopify Balance provides you with a separate account for your Shopify sales, and with it, you can get money from your Shopify sales up to four days faster. You can separate your cash for tax, payroll, or bills and even better, integrate with accounting software to make things easier during tax season. Shopify Balance is available to US-based businesses.
Why You Should Be Excited About It:
These tools can be a great help to manage your business finances more efficiently, especially if you manage your business yourself and would like to save time and money on hiring tax or payroll specialists.
15. Improved Logistics & Fulfillment
Shopify updates also include logistics and fulfillment. Here are a few highlights:
Smart order routing is now fully released: This feature helps streamline fulfillment operations, reduce shipping costs, and get products to customers faster. Businesses with multiple fulfillment locations can now automatically prioritize where orders get fulfilled, based on a set of rules.
Easily split and merge fulfillments: You now have more flexibility in your fulfillment process. Split and merge items in a single order, fulfill partial orders, fulfill items across multiple locations, and break large orders into multiple shipments.
Improvements in returns management: New APIs allow for greater control, while self-serve returns make returns more convenient for customers. Offer instant exchanges through integration with Loop Returns.
New options in inventory tracking: To help get a more comprehensive view of inventory, there is a new Inventory States API to sync on-hand stock across locations and sync data from external platforms.
Access Shop Promise using Shopify Fulfillment Network: The Shopify Fulfillment Network (SFN) now offers Shop Promise. With it, you can display the Shop Promise badge on your products to increase customer trust and potentially boost sales. Shop Promise is currently available to select merchants using the Shopify Fulfillment Network in the US.
Bottom Line
I test and evaluate ecommerce platforms regularly and Shopify always outperforms every ecommerce platform. It regularly releases new features and rolls out feature enhancements, and what I like best is that it still develops built-in features for functions that one can already find an equivalent for in its App Store. With all its new features, Shopify's price point stays competitive and affordable—proving to be our top-recommended ecommerce platform.
Don't have a Shopify store yet? Sign up for a three-day free trial and extend it for just $1 a month for three months. You can get a full Shopify store up and running and test all of its features in that span of time.