Top Producer Review 2023: Features, Alternatives & Pricing
Top Producer is a provider of real estate software tools that include a client relationship management (CRM) system, a website creator, and lead generation products. Its CRM offers various tools, like multiple listing service property insights, real-time industry information, social insights, and email marketing. Reviewers love its ease of use and real estate-specific marketing tools, making it ideal for individual agents, teams, and brokerages wanting a CRM to manage pipelines and nurture clients with real-time market information. Read our Top Producer review to determine if it matches your business needs.

Pros
Generates valuable intel on leads and contacts through social insights
Integrates with commonly used real estate lead sources like Zilllow, Realtor.com, and the MLS
The Market Snapshot automatically provides valuable market data customized for each contact
Cons
No free plan or free trial
Lacks built-in transaction enabling tools
Online advertising and websites are only available in higher-priced plans
Recommended For
Real estate professionals wanting maximum insights on leads
Agents wanting automatic and custom real estate market reports
Professionals and teams wanting custom sales pipelines
Not Recommended For
Professionals who have recently become a real estate agent and need a free CRM
Business owners outside of the real estate industry
Professionals wanting a CRM with a highly customizable built-in website
Pro: $109 per user, per month
Pro Teams: $299 per user, per month when billed annually
Pro + Smart Targeting: Custom pricing
---
---
Top Producer Reviews: What Users Think
Top Producer has updated its CRM and additional products multiple times in the last few years, so online reviews are mixed. However, recent reviews for the CRM are favorable. Clients love how intuitive and easy to use it is, and say the customer support team is extremely helpful. Many reviewers specifically note they've been using Top Producer for decades and that it has been a vital tool for growing their real estate businesses.
G2: 3.1 out of 5 based on 117 reviews
Capterra: 3.5 out of 5 based on 165 reviews
GetApp: 3.5 out of 5 based on 165 reviews
However, negative reviews come from disappointed clients who want features that Top Producer doesn't offer, like scheduling and managing appointments through the app. Some negative reviews come from clients who used the product successfully until changes were made, and others come from clients who have requested tweaks to the platform and haven't seen them happen yet.
It's important to evaluate Top Producer website reviews and the product demo to determine what functionality it does and does not offer and decide if it's the right fit for your needs. If you need a CRM with other capabilities, consider Zoho CRM or LionDesk.
Would Our Expert Use Top Producer?
We've selected Top Producer because it is a real estate-specific software tool with a robust CRM and marketing tools designed specifically for agents, teams, and brokers. Its CRM allows for unlimited leads, contacts, and transactions, and connects to the MLS to track each contact and each potential property.
Along with its highly customizable sales pipeline and workflows, it automatically generates in-depth real estate market reports that benefit you and your leads. It also provides an extensive number of tools to gain insights into your contacts and nurture them authentically and efficiently.
However, our Top Producer review reveals that many customers struggle with missing features that prevent them from fully using the platform. In addition, tools like website creation, online advertising, lead management, and targeting are only available on the higher-priced plans or for additional monthly fees. If you need a CRM or marketing tool with a broader range of real estate marketing functionality, we recommend LionDesk or Wise Agent].
Top Producer Alternatives
Although Top Producer is an excellent solution for a variety of real estate professionals, there are many alternative options if its features don't suit your needs. Every real estate business operates differently, so if you need a CRM or lead generation tool with more affordable options or marketing features, consider a few of our top real estate CRM recommendations.
Software

Best For

Real estate professionals using multi-channel communications to market and nurture leads

Agencies wanting a CRM with real estate-specific features for marketing and managing transactions

New real estate agents looking for a robust and affordable real estate-specific CRM

Agents and teams wanting a sales-focused CRM to manage contacts and deals

Key Features

Video email and texting
Design digital and print marketing
Email and SMS drip marketing campaigns

Referral tracking and marketing
Real estate-specific website and marketing tools
24/7 customer support and onboarding

Six-month free trial for new agents
Extensive content marketing tools
Integrates with real estate lead sources

Free plan
Customizable sales pipelines and workflows
Sales reporting and analytics

Pricing

$21 per user, per month

$29 per month

$33 per month

Free for up to 3 users

Learn More

or

or

or
Top Producer Plans & Pricing
One of the primary questions real estate agents ask is, "How much does Top Producer cost?" The Top Producer pricing structure is designed to meet the budgets of all real estate professionals, with prices ranging from $109 to $299 per month and custom pricing for the Professional Plus plans. All plans include key features like unlimited contacts and leads, social insights, and customizable pipelines. Additional features like market reports and advertising are added to the Professional and Professional Plus plans for teams and brokerages.
Plans

Pro

Pro Teams

Pro + Smart Marketing

Who Plan Is Best For

Individuals or small agencies looking for a CRM to organize lead contact information and communications

Small agencies that want advanced housing market information and automated follow-up capabilities

Teams and brokerages wanting automation and lead capture features

Annual Price Range

(per User, per Month)

$109

$299

Call for specific pricing

Unlimited Contacts, Leads & Transactions

✓

✓

✓

Social Insight Features

✓

✓

✓

Customizable Sales Pipeline

✓

✓

✓

Built-in Texting & Integrated Email

✓

✓

✓

Branded Market Snapshot Reports

✕

✓

✓

Online Advertising

✕

✕

✓

Instant Home Valuation Landing page

✕

✕

✓
With any Top Producer CRM plan, there are a few additional services you can purchase for an additional cost. These include premium or concierge onboarding, a Top Producer website, or professional FiveStreet lead management.
The current Top Producer cost for a la carte services is:
Standard CRM Setup: $99
Concierge Setup: $299
Team Concierge Setup: $499
Top Producer website: $35 per user, monthly
FiveStreet: $20 per user, monthly
General Top Producer Features
Real estate-specific lead capture and management tools
Integrations with the most popular and real estate lead platforms and the MLS
Customizable sales pipelines
Customizable workflows
Detailed insights on lead behavior
Top Producer standout features are focused on real estate industry-specific needs, like contact management and email marketing with real estate market updates and insights. It also provides extensive reporting features to help you reach your leads and clients more accurately and easily integrates with a wide range of third-party real estate tools. Learn more in each section of our Top Producer review below about how this CRM can help your business grow.
MLS Integration
Automatically updates property statuses
Notes on leads' preferences
Since Top Producer CRM is made specifically for real estate professionals, it offers a Multiple Listing Service (MLS) integration on every plan. This integration allows you to combine property details with your contacts and gather more property insights, tracking each lead with homes they've inquired about, visited, or didn't like in the past. Based on these details, Top Producer will provide the latest property status and information to arm real estate agents with new insights every time they follow up with a potential client.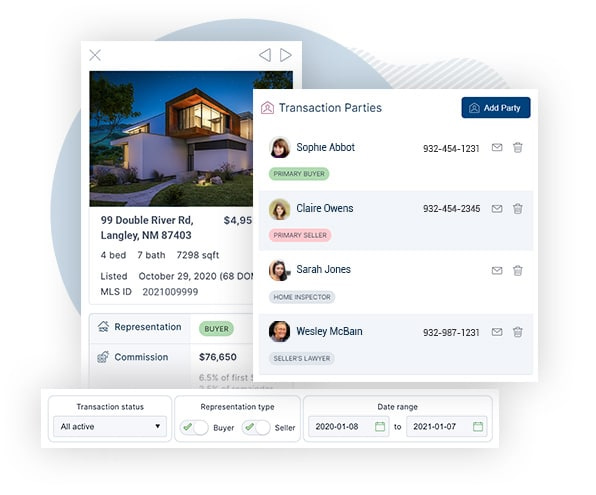 ---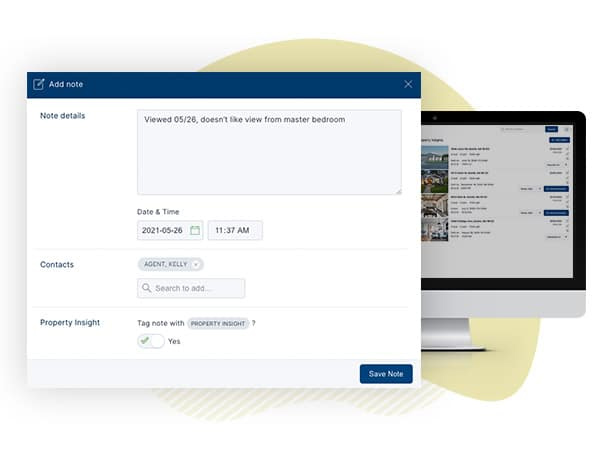 ---
---
Direct integrations with Gmail, Microsoft, Outlook, and AOL Mail
Calendar integration
Email organization tools
Email tracking
Insights and history
Personalization features
Email templates
Email marketing is a feature included in every plan within the Top Producer CRM pricing structure. It provides integrations with the most popular email platforms like Google and Microsoft and provides tools for creating and customizing emails that apply to each specific contact.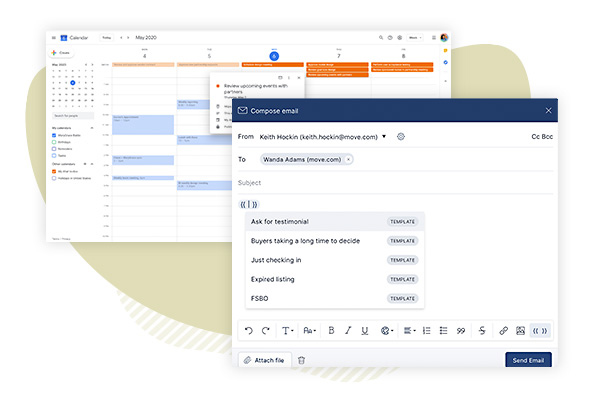 ---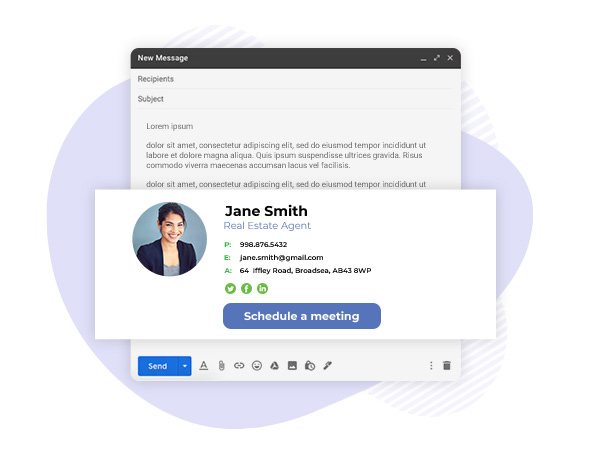 ---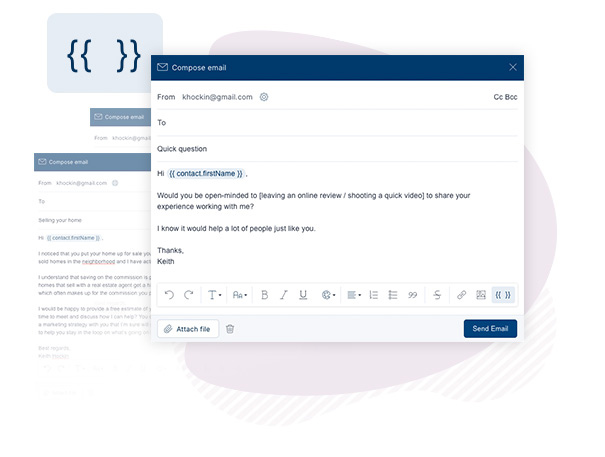 ---
These tools include personalization features and templates for a variety of common real estate needs. For example, you can automatically use each individual lead's first name when creating bulk emails, so every email appears to be written specifically for them. You can also input specific information about properties they've shown interest in, related properties, and local open house dates and info.
---
Customizable reports for buyers and sellers
Hyperlocal market data
Detailed property search criteria
Customizable report frequency
One of Top Producer's most unique features is Market Snapshot reports. This tool automatically generates and compiles real-time local real estate market data into an easy-to-read report and sends it through email. Reports can be customized for each contact, based on whether they are a buyer, seller, or type of properties they are searching for. This feature is what makes Top Producer real estate CRM stand out as an obvious choice for realtors to nurture clients most efficiently.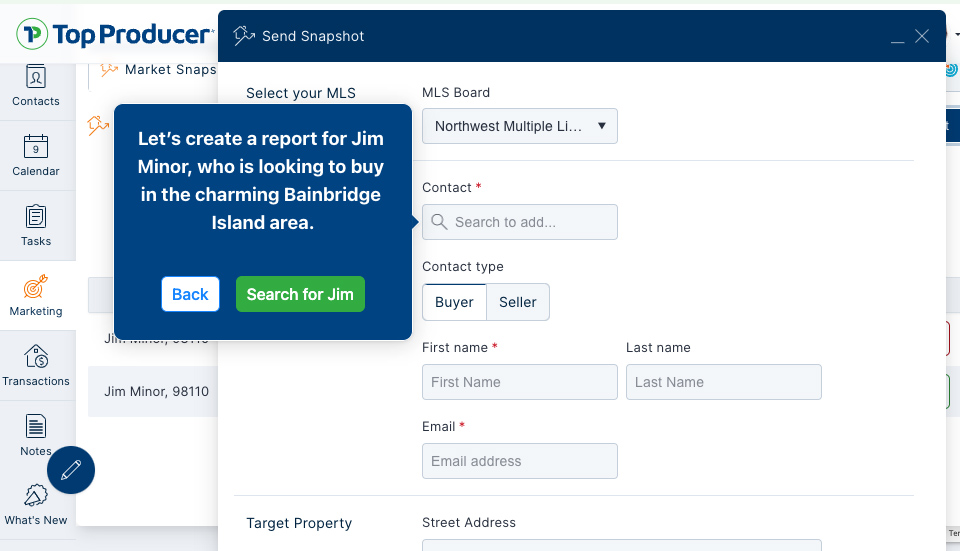 ---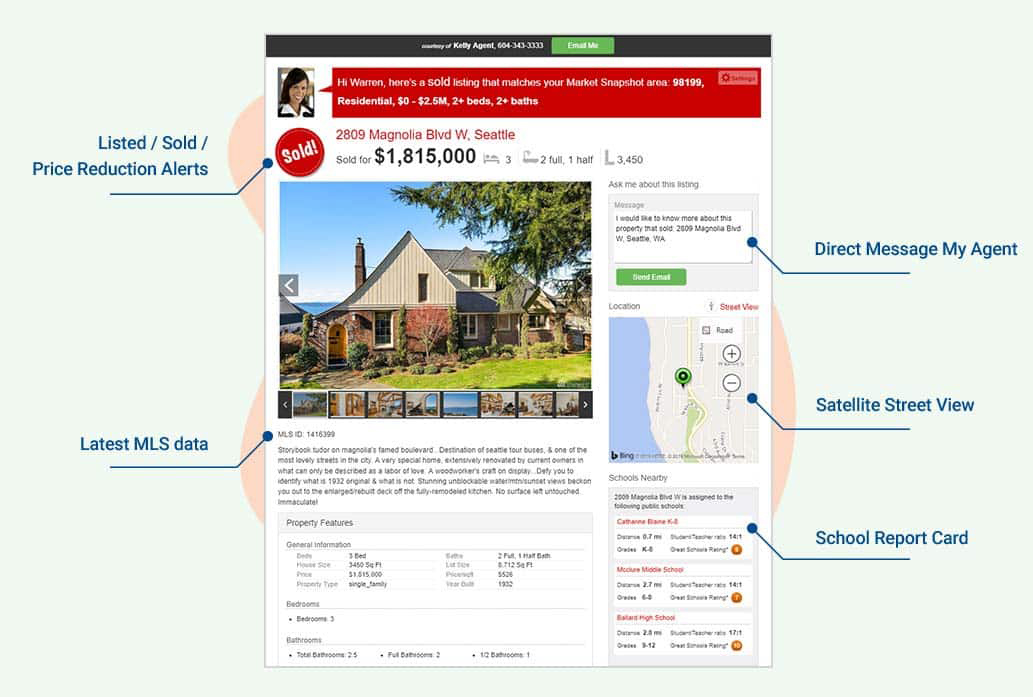 ---
---
Social insights from leads' public profiles
360-degree contact view
Past interactions
Automated follow-up prompts
One of the positive features that many customers mention in Top Producer reviews is the wide range of insights and analytics it provides. Like many other CRMs, Top Producer provides communication tracking so you can see who opens and interacts with your emails and texts.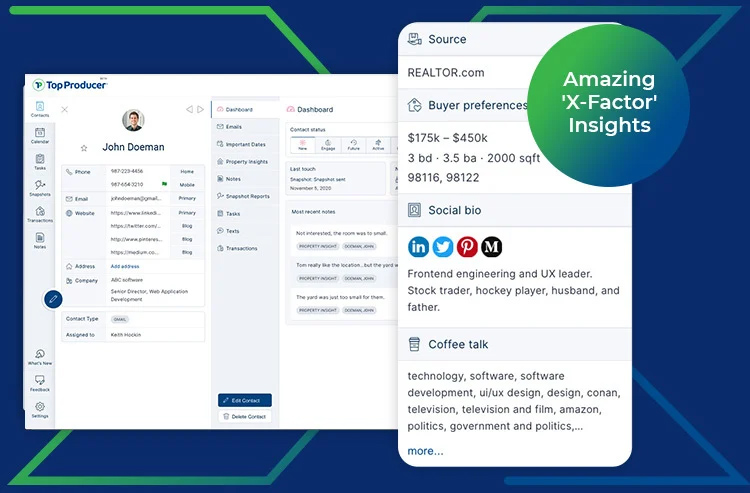 ---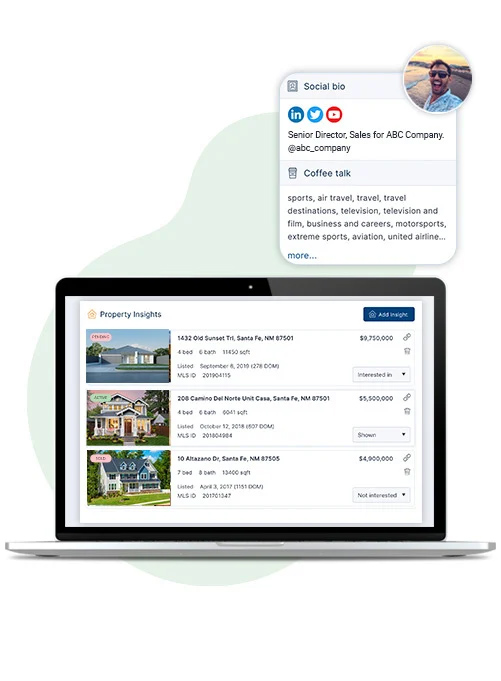 ---
However, they also provide insights and notes from social media, the MLS integration, and automated prompts to follow up with contacts regularly and on important dates. It also uniquely provides a 360-degree view of every contact, which allows you to see someone's photo, social media pages, notes, relationships, properties, and tags on one page.
---
Real estate-specific integrations
Integrations through Zapier
Top Producer has integration capabilities with many third-party applications, both for general productivity and real estate-specific use. These integrations allow users to synchronize data into the platform, manage social media accounts, track insight trends, and enhance productivity levels.
Some of the most popular integrations include the following:
MLS
Zillow
Facebook
Gmail
iCloud
Realtor.com
LinkedIn
Twitter
Trulia
---
Ease of Use for Top Producer
Reviews for Top Producer almost unanimously say that the platform is easy to navigate. However, since it has been upgraded over the last few years, some users are unhappy with features that have been lost or haven't yet been upgraded. This is likely why they've provided multiple options for onboarding; if you want to ensure that you know exactly how to maximize the tool, purchase a professional or concierge setup.
Bottom Line
After our in-depth Top Producer review, we recommend it for real estate pros who want a CRM primarily for managing, tracking, and communicating with leads and contacts. Its robust social enrichment and lead management tools, along with the MLS integration and Market Snapshot feature, make it ideal for real estate agents and teams. Plus, the Top Producer CRM cost is relatively affordable compared to alternative options.