UCaaS vs CCaaS: Which Is Best for Your Business?
Unified communications as a service (UCaaS) and contact center as a service (CCaaS) are cloud-based solutions with voice, video, and messaging capabilities. The difference between UCaaS and CCaaS is who they serve. UCaaS integrates all business communications, allowing a variety of teams to collaborate remotely, while CCaaS provides an all-in-one communications channel for sales and customer support departments. In this article, we explore the difference between UCaaS vs CCaaS to help you determine which is best for your business.
Based on our comparison, the best use cases for UCaaS vs CCaaS are as follows:
UCaaS: Best for businesses needing an all-in-one platform for business communications and collaboration needs
CCaaS: Best for companies requiring robust customer service and sales tools to manage high volumes of inbound and outbound calls
UCaaS vs CCaaS at a Glance
UCaaS

CCaaS

Best For

Businesses needing multichannel communications capabilities in a single platform

Companies with dedicated support and sales teams that need call center capabilities

Estimated Monthly Cost (per User)

$5 to $65

$15 to 150

Communication Channels

Audio calls
SMS
Email
Video conferencing
Team chat

Audio calls
SMS
Email
Live chat
Social media

Key Features

File sharing
Interactive whiteboarding
Task management
Virtual voicemail

Advanced call routing
Automation tools
Call center metrics
Ticketing system

Learn More
Can't decide whether UCaaS or CCaaS suits your business? Take the quiz below to see which cloud-based solution fits your needs.
Is UCaaS or CCaaS right for you?
When to Use UCaaS
A unified communications solution provides various communication and collaboration features in one platform. It is a good fit for companies wanting to replace their on-premise phone system with a cloud-based voice-over-internet-protocol (VoIP) service with video and instant messaging capabilities.
If some or all of your team work remotely, UCaaS doubles as a virtual workspace. Instead of having separate tools for voice calling, video meetings, and team chat, UCaaS combines all these features to streamline various modes of communication. This allows your team to switch from collaborating on a document to joining a video meeting in just a few clicks. With its cloud-based nature, users are able to interact from anywhere they have internet access.
UCaaS is a good solution for businesses with bring-your-own-device (BYOD) policies and those needing basic call routing capabilities. Since UCaaS puts various communication and collaboration methods on one platform, you also reduce the probability of missed messages.
UCaaS plans typically cost less than CCaaS plans, albeit with fewer customer-centric features like contact center analytics. Plus, some UC platforms scale into full-service contact centers at higher plan tiers. For example, 8×8's business phone system monthly plans start at $15 per user, but this cost jumps to $85 per user when combined with contact center features.
Pros & Cons of UCaaS
PROS

CONS

Facilitates real-time interaction
Requires reliable, fast internet
Bundles all communication tools in one platform
Initial learning curve for new UCaaS users
Collaboration features boost team productivity
Outdated office hardware may not be compatible with UCaaS platforms
Eliminates on-premise installations and maintenance costs
Advanced features may be underutilized by smaller teams
Efficient access to company information
Privacy issues due to increased sharing of information
When to Use CCaaS
Companies use a contact center as a service, or CCaaS platform, to create convenient, flexible, and personalized customer experiences. Whether you have a distributed or on-site customer support center or your business completes a high volume of sales calls, a CCaaS system is an excellent option. Many UC features come in CCaaS platforms, including multichannel communication tools and automated call routing.
Cloud-based call center software adds supervisor capabilities, such as monitoring calls and agent status in real time. It supports customer surveys and caller sentiment analytics using artificial intelligence (AI), natural language processing (NLP), and machine learning (ML). Many CCaaS solutions also have tools for workforce management and optimization, which help in analyzing agent performance and improving employee engagement levels.
Between UCaaS vs CCaaS, CCaaS supports unlimited customization to help you configure every customer interaction. Advanced interactive voice response (IVR) systems often include skills-based routing, so that incoming callers connect to the best agent or self-service tool for their needs. CCaaS systems serve as a single source of customer data, giving every employee access to updated information about the caller before they pick up the phone.
Pros & Cons of CCaaS
PROS

CONS

Minimal upfront costs
Requires fast internet connection
Syncs conversations across multiple channels
Embracing new technology may alter current workflows
Analytics tools provide insights into customer and agent behavior
Inter-operability issues for companies using outdated infrastructure
AI tools and self-service options free agents from routine tasks
Requires investment in employee training
Advanced routing solutions connect clients to the most qualified agents
No special hardware required except for headphones
Top Providers With UCaaS & CCaaS Features
The nature of UCaaS and CCaaS solutions vary significantly across providers. You'll find many options to suit the needs of your business, staff, and customers. Many of the best VoIP providers bundle unified communications and contact center features into advanced plans. Here are the top business phone systems that provide a single source for both UCaaS and CCaaS.
UCaaS Monthly Starting Price (per User)

$32.99 to $62.99

$30.95 to $45.95

$15 to $57

UCaaS Features

Unlimited calls within the U.S. and Canada
Video meetings for up to 200 attendees
Task assignment
Calendar sharing

Toll-free minutes
Video meetings for up to 250 attendees
Virtual workspace
Unlimited conference calls

Unlimited calls to 48 countries
Video meetings for up to 500 attendees
Presence detection
File sharing via team chat

CCaaS Monthly Starting Price (per User)

Contact sales for pricing

Contact sales for pricing

$85 to $140

CCaaS Features

Screen recording
30+ digital channels
Quality management
Skills-based routing

Blended inbound/outbound
Workflow automation
Workforce optimization
Geo-redundancy

Skills-based routing
Agent workspace
Supervisor analytics
Compliance and certifications

Integrations

300+ integrations

21 integrations

60 integrations

Learn More

or

or
Click on the tabs below for a more in-depth look at each provider.


RingCentral is one of the market's leading business phone systems thanks to its feature-rich capabilities. The all-in-one platform facilitates communication and collaboration between internal teams while letting external collaborators join as guests. All RingCentral MVP packages include unlimited domestic calls, business SMS, and team messaging.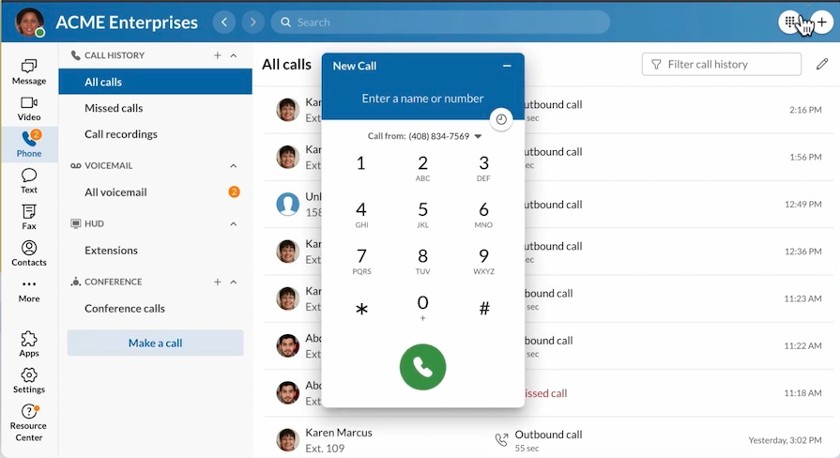 ---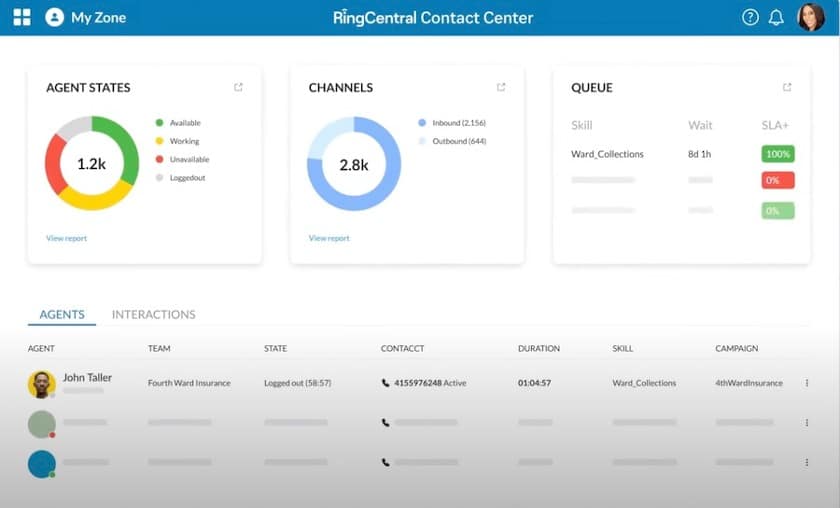 Its contact center solution lets you connect with customers across 30-plus digital channels and provides intelligent routing capabilities to improve the call queue experience. Skills-based routing and IVR are standard features on all plans. The platform includes over 90 real-time and historical reports to help you gain insights about agent performance, call volume, and service level.


Nextiva is a popular UCaaS provider that provides all communication tools, from voice calls to instant messaging and video conferencing. Compared to RingCentral, Nextiva has a high allotment for toll-free minutes and provides free professionally recorded greetings. Its new feature, threaded conversations, brings all conversations with customers and teams into one place, including access to productivity and customer engagement tools.
The Nextiva Contact Center platform provides seamless connectivity with its business phone service. Its lets you handle incoming and outgoing requests via phone, chat, email, and SMS. Workforce management (WFM) and workforce optimization (WFO) capabilities provide tools for agent coaching, scheduling, and quality monitoring. Self-service IVR and virtual agents help handle high call volume and speed up resolution times.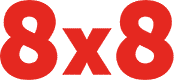 The 8×8 X Series consists of five tier plans that allow companies to start with lower-priced packages for unified communications and then scale up to a full contact center solution. It uses an a la carte approach to enable users to mix and match plans based on their unique requirements.
For example, the X2 plan is designed for agents to access communication and collaboration features through the desktop or mobile app. The X4 plan, on the other hand, is well-suited for supervisors who want to monitor agent calls and optimize service quality. It is also ideal for users who make frequent calls to international countries.
8×8 takes pride in its enterprise-level security as it maintains 15 global data centers, 160 patents, and multiple compliance certifications with industry-leading regulatory bodies. This makes it an excellent solution for companies in the healthcare and banking industries.
Frequently Asked Questions (FAQs)
What is the difference between UCaaS vs CPaaS?
UCaaS provides a ready-made solution that bundles various communication features, such as cloud phone, video conferencing, and team messaging. In contrast, a communications platform as a service (CPaaS) provides development tools like application programming interfaces (APIs) to enable businesses to incorporate communication features into their existing applications. Learn more about their differences in our guide about UCaaS vs CPaaS.
How do VoIP & UCaaS platforms differ?
VoIP is a standalone technology for voice calls, whereas UCaaS supports multiple communication channels, including VoIP calling, video conferencing, and messaging. Both services are cloud-based and require a good quality internet connection, and VoIP vendors often provide plans with unified communications features.
When is it best to combine both UCaaS & CCaaS solutions?
If you can't decide between CCaaS vs UCaaS, combining both solutions is ideal if you want to simultaneously focus on streamlining internal communications and improving customer experience. With these technologies combined, different teams are able to work smoothly together. For example, contact center agents can collaborate directly with a subject matter expert when dealing with a complex customer query.
Bottom Line
Understanding the differences between CCaaS vs UCaaS will help you decide which cloud service meets the needs of your business. While both share similar benefits, like lower upfront costs and omnichannel capabilities, each has unique feature sets that could improve your day-to-day operations. The main goal of UCaaS is to strengthen internal communication, while CCaaS focuses on external communication to enhance customer experience.