Weebly Review: Is It the Best Site Builder for Beginners?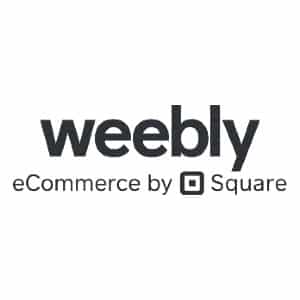 Weebly Overview

What We Like
Free-forever plan with ecommerce
Beginner-friendly
Paid plans start at $6/month
Free SSL certificate with any plan
Mobile-optimized templates
Large selection of third-party apps
Solid search engine optimization (SEO) tools
Integrated booking system
What's Missing
$6 entry-tier paid plan has ads; first ad-free plan costs $12 per month
Outdated templates
Limited design customization
No restore function
Not geared toward international users
Weebly Is Recommended For:
True web design beginners
Ecommerce startups and solopreneurs
Small businesses on a tight budget
Digital portfolios
Event-based businesses
Bloggers
Weebly is a popular all-in-one site builder, and our Weebly review confirms that it's one of the best website builders for small businesses and beginners. Weebly pricing includes three paid plans and one that is absolutely free. Unlike Weebly competitors that lock ecommerce behind higher-tier packages, all Weebly plans come with ecommerce features—not surprising since payment processing giant Square is its parent company.
Who Weebly Is Best For
Our Weebly review shows that it's an easy, affordable, and beginner-friendly way to build a website with an online store. While Weebly is best known for built-in ecommerce, those not selling online will also find essential features in its plans and through third-party app integrations to get just about any type of functionality desired in a small business website.
Based on our expert Weebly review, it's best for:
Web design beginners: Whether using Weebly's drag-and-drop builder or the Square editor (for ecommerce sites), you'll get an intuitive, easy-to-use interface—perfect for beginners looking to build a site quickly. As Weebly's offerings are anything but basic, you're assured of enough features to scale and grow your business. See how to create a small business website using Weebly in five steps.
Budget-conscious businesses: The monthly cost of Weebly's paid plans start at $6, making it one of the cheapest site builders small businesses can use to get online. However, your site won't be ad-free until you upgrade to the $12 per month Professional plan. Still, the features you get could be well worth the cost, including a free domain, robust ecommerce, built-in SEO, and a wide selection of third-party app integrations.
Ecommerce businesses: Weebly's ecommerce capabilities are among the best and most affordable. Ecommerce is supported on all plans, including the free one. To get no transaction fees you must upgrade to the most expensive plan, but even that is affordable at only $26 per month. It only takes eight steps to build a Weebly store—you can even do so on a free plan.
Photographers, graphic designers, and other creatives: Beginning with the Professional plan, you get unlimited storage and bandwidth so you can post as much content as you need. It also comes with search engine optimization (SEO) and online selling capabilities, so you can attract buyers and sell your work online. All of Weebly's features, paired with its low prices, make it a top portfolio website builder.
Events: Weebly has templates specifically for event-based operations. They make event management easy with calendars, RSVPs, forms, registry pages, and maps. You can even include free plugins like DonorBox for charity events, making Weebly one of the most affordable ways to market events online and sell tickets.
Blogs: Weebly's interface and blogging features are easy to use, putting it among the best blogging platforms. With the Professional plan, you get unlimited storage and bandwidth, SEO and marketing tools to grow your audience, and integrations like AdSense to monetize your blog. As all plans include ecommerce, you're also covered if you want to sell merchandise online.
Who Weebly Isn't Best For
Thanks to well-rounded features and affordable pricing, we're hard-pressed to find an industry Weebly won't work for. However, while it really is a universally appealing website builder, the one big drawback is its design capabilities.
The Classic Weebly editor for personal sites is a drag-and-drop editor but with limited customizability compared to competitors like Wix. The Square editor, which is used to build ecommerce sites, is even more limited as it is a point-and-click, section-based editor, and doesn't allow for easy integration with third-party apps.
You only get a few dozen templates (which Weebly calls "Themes") to choose from, and if you are building a business website using the Square editor, you can't choose or change your template. However, the business sites shown for the Square editor include modern-looking, prebuilt templates for online stores, blogs, and portfolios.
Based on our review of Weebly, it isn't recommended for:
Businesses wanting a highly custom site: As mentioned, Weebly's site editors are fairly simple to use. However, customization isn't Weebly's priority, so the site editors don't provide the same freedom you get with Wix. To customize your site, you may have to play around with Weebly's coding feature—which is definitely not a beginner-friendly way to access design customization. Find out more about Wix and other more design-friendly alternatives in our list of the best drag-and-drop site builders.
Ecommerce sellers outside the U.S.: Weebly pricing and plans are drastically different outside the U.S. International users only start getting ecommerce features on its $12 per month plan, and even then are capped at 25 products. If building an online store for free is a top priority, get more options in our list of the best free ecommerce site builders, or for the most robust ecommerce site options, compare the best ecommerce platforms.
Businesses wanting the ability to change templates: A serious shortcoming of building a business website with the Square editor is that you can't choose the template (Weebly calls them themes) you want to start with, nor can you change it. It's selected for you during on-boarding and that's it. Squarespace is a much better option for those who want the ability to quickly and easily change templates at any time without starting over.
Alternatively, check out our list of the best Weebly alternatives to find one better suited for your business.
Weebly Pricing
Weebly pricing reflects some of the most affordable paid plans among the best website builders as well as a generous Free plan with ecommerce features. While the Personal plan is on the cheaper end at only $6 per month, it displays Weebly ads rendering it too unprofessional for a small business. In effect, Weebly only has two ad-free plans at $12 per month and $26 per month, respectively.
| | Free | Personal | Professional | Performance |
| --- | --- | --- | --- | --- |
| Pricing per Month* | $0 | $6 | $12 | $26 |
| Storage | 500MB | 500MB | Unlimited | Unlimited |
| Unlimited Bandwidth | ✔ | ✔ | ✔ | ✔ |
| SSL Certificate | ✔ | ✔ | ✔ | ✔ |
| Connect to Domain | ✕ | ✔ | ✔ | ✔ |
| Free Domain for 1 Year | ✕ | ✕ | ✔ | ✔ |
| Transaction Fees | 3% | 3% | 3% | 3% |
| Ecommerce | ✔ | ✔ | ✔ | ✔ |
| Built-in SEO | ✔ | ✔ | ✔ | ✔ |
| Sell Digital Goods | ✕ | ✔ | ✔ | ✔ |
| Ad-free | ✕ | ✕ | ✔ | ✔ |
| Advanced Ecommerce Analytics | ✕ | ✕ | ✕ | ✔ |
| Abandoned Cart Recovery Emails | ✕ | ✕ | ✕ | ✔ |
| Priority Support | ✕ | ✕ | ✕ | ✔ |
*On an annual billing cycle
For more information about Weebly pricing and plans, select a plan from the drop-down menu below:
Free
Weebly offers a very generous free plan with ecommerce for an unlimited number of products. This is virtually unheard of in the website building space—being able to sell online with a free plan is a pretty big deal. Weebly even goes above and beyond by including features like inventory management, shopping cart, and automatic tax calculations.
Aside from ecommerce, Weebly also has coding, free SSL security, and SEO features and tools built into all of its plans. While these are great features, keep in mind that the Free and Personal plans have some fairly significant limitations, such as a 500MB storage cap and maximum upload size of 10MB for a single file.
These plans also display Weebly ads and the free plan uses a subdomain. Unless you absolutely need a free plan to start with, it's not professional enough for even a small business. However, starting with the Free or Personal plan can be a good way to test the Weebly website builder to see if it's the best one for your small business website.
---
Personal
Though not ad-free, Weebly's Personal plan allows you to connect an existing custom domain to your account. It also somewhat upgrades ecommerce capabilities by adding the sale of digital goods and a shipping calculator. Aside from these few features, the Personal plan doesn't differentiate much from the Free plan.
It is still much more affordable than other starter plans on the market. Paired with Weebly's already ample online store features, it offers good value for the price that you pay. However, the storage limit is still capped at 500MB, there is a hefty transaction fee of 3%, and your website will still feature Weebly ads.
As a small business, going ad-free is important for professionalism and brand credibility. We suggest you skip the Personal plan entirely and either use the Free plan to give Weebly a try or upgrade to the ad-free Professional plan, which also includes a free domain for one year.
---
Professional
The ad-free Professional plan is really where Weebly pricing and plans get competitive as a small business website solution. Aside from no ads, you get unlimited storage, a free domain for one year, and more customer support in the form of phone support. Ecommerce capabilities stay the same, including the 3% transaction fee.
This is a pretty great deal for just $12 per month. For example, Wix and Squarespace paid plans start at $14 per month, and to get ecommerce with Squarespace requires subscribing to at least the $23 per month plan. Likewise, ecommerce only comes in GoDaddy's highest-tier plan, which costs $24.99 per month.
Factoring in that Weebly's diverse app market (Weebly editor only) can download apps like booking integrations, it's one of the cheapest ways to get your business online. It's not intended for heavy ecommerce, but it's a fantastic plan for personal portfolios and resumes, service-based businesses, restaurants, and other small businesses involved in casual or ancillary online selling.
---
Performance
Weebly most expensive plan, at $26 per month, is also the only true business plan. Performance plan subscribers have no transaction fees and get extra ecommerce features like a PayPal option, advanced ecommerce analytics, abandoned cart emails, and shipping labels. While it's the most costly Weebly plan, its pricing is comparable to Squarespace's most basic ecommerce plan.
Due to Weebly pricing for this plan, it's a great option for charities wanting to accept donations through PayPal as well as ecommerce businesses. It can even work for dropshipping, but keep in mind that Weebly doesn't have many dropshipping integrations and currently lacks big names like Spocket and Printify.
---
Weebly Features
Weebly has a well-rounded set of features, like built-in SEO, the ability to embed code, and robust ecommerce tools and features. Moreover, being able to have a fully functioning online store starting from free is an exceptional selling point for this leading website builder. Find out more about what you can do with Weebly by clicking on the drop-downs below.
Templates & Design
Compared to other site builders, design freedom is where Weebly falls short. There are two editors, depending on whether you choose a business or a personal website.
Despite being a combination of point-and-click with some drag-and-drop functionality, Weebly's Square site builder for business websites doesn't compare to Wix's extreme amount of design freedom. Sometimes limitations are a good thing, though, as it makes it tough to mess things up and helps you get online faster.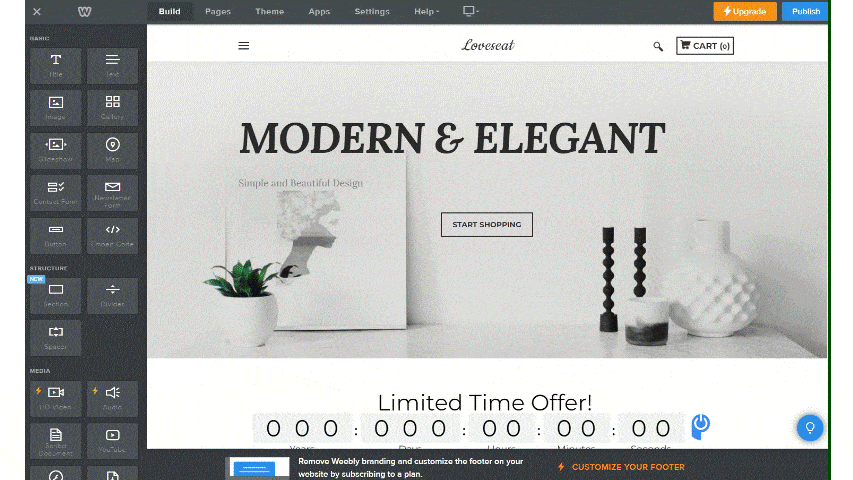 There are only about 50 templates, many of which are repeated among the seven categories of Weebly themes. In comparison, Squarespace provides more than 100 and Wix has 800-plus templates you can choose from.
In particular, the templates available when using the original Weebly editor are outdated. While the Square editor's templates are sleeker and more modern, you can't choose which one you want to start with. If this is a deal-breaker for you, head over to Wix, where you can start with a free-forever version that offers nearly unlimited design freedom, or Squarespace, where you can change templates at any time.
Not only do you not get to select a theme, you also can't change it. It's chosen for you during setup after you sign up for account. Templates for individual page layouts are also limited to the functionality you indicated you wanted for your site; however, you can add more of them by choosing more categories for your site.
---
Ecommerce
Weebly's biggest draw, and the one that it's best known for, is its ample ecommerce for online selling on all plans, including the free one. For example, on the free plan, you get ecommerce capabilities for an unlimited number of products. In comparison, the Strikingly site builder also supports ecommerce on its free plan, but only for one product.
Aside from this already great offering, Weebly's free plan comes with more advanced features, like a shopping cart and inventory management. Most site builders don't even come with free ecommerce plans, let alone one with tools like what Weebly provides.
However, if you're serious about selling online, upgrade to Weebly's highest-tier plan at $26 per month, which is still affordable as far as ecommerce plans go. At this price, you get no ads, an additional payment gateway, no transaction fees, and more advanced ecommerce insights.
---
Online Marketing Tools
Starting in the free plan, you can create time-limited or quantity-limited coupons and special offers and add pop-ups to get the attention of site visitors. In addition, and another rarity in site builders, you can sell Square gift cards beginning with the free version of Weebly. Choose one of the preset gift card amounts ($10, $25, or $50) or set up gift cards in your own chosen amounts.
Want to create urgency for site visitors? Add a countdown widget to your site giving shoppers a window of time to act, such as by a specific date or even a set number of minutes for a flash deal.
---
SEO
For search engine optimization (SEO) newbies, Weebly has published a full guide to SEO. It includes information and suggested resources for everything from developing a strategy to researching keywords and competitors, as well as measuring and tracking results.
SEO settings include page-level titles and descriptions as well as the ability to add alt-tags to images, helping to ensure your site can get found online. You can also add custom header and footer code, such as is needed for Google Analytics or to integrate other third-party apps.
There are nearly 400 premium and free third-party apps you can use to drive traffic and sales, increase site visitor engagement, or add niche functionality to your website, such as appointment booking. For example, you can integrate apps to create more visual interest through animations, manage your Google ads, and market your business on social media.
There is also a Site Booster app you can connect to your site, even in the free version. You can use it free or subscribe to its low-priced $4.99 per month plan to get all the features included. The Site Booster ensures your site is listed and added to search engines, review sites, maps, and mobile app directories.
---
Email Marketing
Weebly has email marketing tools, but you must add a Weebly Promote plan to use them, starting at $8 per month. This will make it easier to promote your online store to new and repeat customers. In addition, email marketing analytics are included so you can measure campaign effectiveness and gain insights to improve special offers and marketing emails.
With a Weebly Promote subscription, you can even segment lists and automate email marketing such as sending a welcome email to new customers or subscribers or an upselling or cross-selling email after a sale. Start with premade templates or create an email from scratch using a point-and-click editor similar to that used for site building.
However, to send more than 2,500 emails per month, you have to subscribe to either the $25 per month Grow plan (50,000 emails per month) or the Accelerate plan at $75 per month (250,000 emails per month). Since you can embed code, even in the free version, a better and more budget-friendly solution would be to create a Mailchimp account. It's free for up to 2,000 contacts and you can embed Mailchimp forms into your site and export your data to use Mailchimp for email marketing.
---
Ease of Use
Weebly is marketed as a beginner-friendly website builder, and our Weebly review found this to be mostly true. Its interface is easy to navigate—both on the Classic drag-and-drop editor you get if you choose a personal site as well as Square's point-and-click editor for business websites.
During onboarding, Weebly asks you if you need a business or personal site. Picking a Personal site will lead you to a template selection process and Weebly's Classic editor.
Picking a business website by clicking on "Try Square Online" is followed by a series of questions about your business. Then Weebly automatically chooses a theme and builds the first pages of your site based on your answers. This brings you to Square's editor, with (unfortunately) no option to choose your own theme or change your site's template.
Even though this step can drastically change the outcome of your website, it isn't explained to you in any way before, during, or after the process—definitely frustrating if you're new to building a website on Weebly. Hopefully future versions will remedy this shortcoming, and we will be happy to update our Weebly review at that time.
Customer Support
Weebly's customer support looks great on paper. On all plans, you get access to live chat and email support, plus a knowledge base and a support forum. By upgrading to at least the Professional plan, you also get added phone support, and on its most expensive plan, you get priority support.
However, customers don't have many good things to say about customer support in Weebly reviews. Its live chat feature is slow to respond, and this, plus phone support, is only available to U.S.-based users. Surprisingly, the email support works well, but since it's via email, don't expect instantaneous answers.
If you have any pressing questions, you can always head over to their knowledge base, where you can find a ton of in-depth articles you can browse. In addition, you can ask questions and source answers from Weebly users in its community forum or by clicking on the magnifying glass icon "🔍" to search for help.
What Users Say in Weebly Reviews
For many reasons, Weebly is one of the best website builders for small businesses, and we recommend it for small ecommerce sites as well as web design beginners. It has enough features to entice even intermediate-level site builders and notably, it includes ecommerce from the start.
Average ratings based on Weebly reviews show that users from around the web agree:
With the exception of Weebly's customer support and its limited design customization, Weebly reviews show that users are generally happy with how easy it is to use, and how much it offers for the price. Its ecommerce capabilities are some of the best and most affordable we've tried for an all-in-one site builder that isn't dedicated to ecommerce (like Shopify).
Bottom Line
Weebly is one of the easiest and most affordable website builders for small businesses. Its ecommerce capabilities exceed what we expect from an all-in-one site builder, especially for U.S. users. The free plan allows you to test Weebly to see if it's the right site builder for your business' website. While templates and design freedom is limited, it's still a site builder we'd recommend for any small business looking to get online quickly and affordably.