Weebly is an intuitive, drag-and-drop website builder small businesses use to launch ecommerce or professional websites. For $4/month, Weebly's website builder offers businesses reliable, fast-loading, and customizable sites with many features like forms, social-share buttons, and analytics. You can set up a Weebly website in under an hour.
If you're a time-strapped small business, an easy-to-use website builder like Weebly allows you to make a quality, professional website fast. It's also one of the most highly ranked site builders on the market. To get started with Weebly for just $4 per month, click below.
Here's how to use Weebly to set up a business website in 10 steps:
1. Sign Up & Choose Your Weebly Website
The first step is to go to Weebly.com. Once there, you need to click on "Sign Up," "Create your online store," or "Or, build a professional website." If you have an ecommerce store you need to design a website for, choose "Create your online store." If you just need a website to represent your business but not sell any products, choose "Or, build a professional website." If you choose "Sign Up," it will take you to a page where you can indicate your website type.
If you selected "Sign Up," you will be routed to a sign-up screen. Input your name, email, and a password. From there, you will be taken to a page that asks whether you want to start an online store or if you just need a website. Don't worry if you're not selling online yet; you can add an online store to your website at any time. If you are going use your Weebly website solely for a blog or portfolio, for example, select "I just need a website."
2. Pick a Theme
Weebly offers six main categories of website themes to choose from: Business, Portfolio, Personal, Event, Blog, and Other. Choose a theme that helps you meet industry-specific business goals and aligns with your brand.
For example, a designer might choose a Portfolio theme with a "View portfolio" button on the homepage that directs people to view their work. Conversely, an ecommerce theme (not noted below) might have menu tabs like "Shop" that direct visitors to product pages.
Here are several important things to keep in mind when picking a theme:
You Can Change Your Theme at Any Time – The Weebly website builder, unlike its competitor Wix, allows you to change themes at any time. When you change a theme, all of the information you have created is automatically imported into the new theme, so you don't lose anything.
Choose an Industry-Specific Theme – Although any theme can be tailored to fit any industry, most are pre-designed for a certain kind of business. If you want to spend less time customizing your theme, pick one that is already set up for your industry. Then, all you have to do is change the pictures, page titles, and text.
Focus on Your Goal – Some themes are designed to achieve certain goals

—

keep this in mind when you select your theme. For example, if your main goal is to get leads using a call to action (CTA) button, then a theme like the one below is ideal. Instead of having a variety of places to click, it just provides one option, "Plan Your Adventure," and makes that the central focus.
If you are looking for more of an informational site, then you probably want a theme like the one below. It has clear tabs at the top where your visitors can navigate to various parts of your Weebly website to learn more about your business. It also has several links to other pages on the site as you scroll down the homepage, which will help visitors click around and see what your business is about.
You can preview any theme you are interested in by simply clicking on the theme image. Once you've decided on a theme, just click "Start Editing" at the top right-hand corner of the Theme Preview page.
3. Get a Domain Name
Weebly allows you to search for and buy your own domain name, commonly known as your website address. They even include a free domain when you buy one of their web hosting plans. Other ways to get a domain include using a free Weebly subdomain, purchasing a domain from a third-party registrar like Bluehost, or connecting a domain you already own to your Weebly website.
If you don't already have a domain, you can purchase one through Weebly. You can do this after selecting your theme, where you will add your domain and complete the purchase of your Weebly hosting package.
The domain setup page looks like this:
If you want a free Weebly website, your only option is to use the subdomain of Weebly.com. Your domain won't be as unique, but you won't have to pay anything.
If you want your own unique domain, you have three options:
Get One Through Weebly – It is free for the first year with a paid plan and then around $20 per year after that. Use the search bar in the image above to find the domain you want, then complete the checkout process.
Buy One Through a Third-party Provider and Connect It – We recommend Bluehost. Check out our domain name guide to registering a domain name through Bluehost. Once you have your domain, click on the link at the bottom of the screen that says "connect or transfer it now." Weebly will walk you through how to connect your new domain and complete the purchase of your Weebly hosting package.
Connect One You Already Own – If you already have a unique domain, you can connect it to your Weebly website. It is a little complicated, but many domain providers can do this for you if you ask. If you want to do it yourself, read Weebly's guide to connecting your own domain.
Keep in mind that if you use your own custom domain, you will have to purchase a Weebly website premium plan. Step 7 has a breakdown of the plan options and features they include. All paid plans include a unique domain.
For additional tips, check out our guide on how to choose a domain name.
4. Familiarize Yourself with the Weebly Editor
Once you have set up your account, familiarize yourself with the Weebly editor. As you will note in the image below, individual page elements—like text, images, sliders, and so on—are available for you to drag and drop onto your theme from the left-hand side of the page. On the top, you can add new pages, change themes, add apps, and update sitewide settings.
Explore the Element Bar
The element bar is on the far left-hand side of the builder, as shown by the sidebar purple box above. "Elements" refer to the components you will use to build your site. To add an element to a page, simply click and hold on an element, and then drag-and-drop it where you want it on the page.
Here are some basic elements you can drag and drop into place from this menu:
Title -You can simply drag and drop a title box into place on your page. Click on it to replace the default text with your preferred title. Once you click on it, choose from the menu that appears on top of the text box to change the text style, size, color, and more.
Text – This is a text box for adding page copy. Like the title box, when you click on the box to replace the default text, a menu appears above the text box for you to edit the text style, including size, color, style, and special formatting (like bullets).
Button – If you want a call to action, drag and drop a button onto a page. You will then be able to edit the copy and the button destination. For example, you can edit your button text to say "Shop Now," then link it to a product page. You can also link a button to a phone number, an email address, a PDF, a blog post, and more.
Image – Drag an image box to your web page, then click on it. From there, you can search for images online to add, add a URL of an image, or upload an image from your computer.
Slideshow – This allows you to add multiple images that users can scroll through. Different formats are available, but the most common is a gallery of thumbnails of each image, as well as a large format display of the image a user selects.
Map – This shows your web page visitors a Google map of a location. Drag the map element onto your page, then click on it and input your brick-and-mortar store's address to show people where they can visit you.
Sections – Sections can be added to divide up your page. This allows you to change background colors and styles for different parts of the same page. Drag and drop a new section anywhere on a given page, select the background you want, and drag additional elements into the section as desired.
These are the basic elements people use to design a web pages. There are also advanced options you can drag into place from this menu, some of which require you to have a paid account (indicated by a lightning bolt in the corner of the option), like HD video and audio.
You can also add options to this menu by scrolling to the bottom of it, clicking on the "+" sign, and searching for an element (a table, for example). Then, you can click on it to add it to your main element menu and drag it onto your web page to edit it, just as you would with any other element listed here.
Explore Sitewide Features with Site Tabs
Like most builders, the Weebly website builder has a navigation tab along the top of the page. The tabs are "Build," "Pages," "Theme," "Apps," and "Settings." To change the larger components of your site, simply click on the corresponding navigation tab to edit settings.
Build – This is the tab we mentioned in the last section. It is the main editor window where you can drag and drop elements to edit your website's pages.
Pages – You can add, delete, and edit the titles of your website pages here. When you add a page, it will appear along the header menu of your website and serve as navigation tabs for visitors. For example, it might include home, blog, and contact tabs.
Theme -Here you can change the theme of your website if you are not satisfied with the one you already chose. You can also change the colors and fonts of your current theme.
Apps – Apps are page elements with special functionality, like forms. Search for apps using this tab, and then select them to add to your elements menu. Once added, you can drag them onto web pages.
Settings -This tab allows you to list who can edit your website, change your website's title, manage website members (if visitors log in to view content), unpublish your site, manage your SEO (by changing the meta tags, for example), and edit your blog layout.
Some themes will have additional tabs. For example, an ecommerce site will include a "Store" tab where you can manage store features like coupons, your contact information, the type of currency you accept, whether or not you accept credit cards, how your buying process works, and the layout of product and category pages.
Check Your Design with Site Preview
Weebly provides a preview of your site in real-time as you edit. However, to see how your design looks on different devices, click on the computer icon at the top of your page. This will allow you to switch between a mobile and a desktop preview.
Keep in mind that the preview only shows what your site will look like, however, and not how your site will work. For example, if you've added a video to your website, you have to publish it to play it.
5. Add & Edit Pages & Navigation
Now that you are familiar with the Weebly editor, you can begin building the pages on your site. Start by clicking on the "Pages" tab at the top of your Weebly website builder screen. You will then be taken to the Pages screen. From here, use the icons to add, hide, and rearrange pages to create subpages (drop-down menu options) and your preferred navigation menu.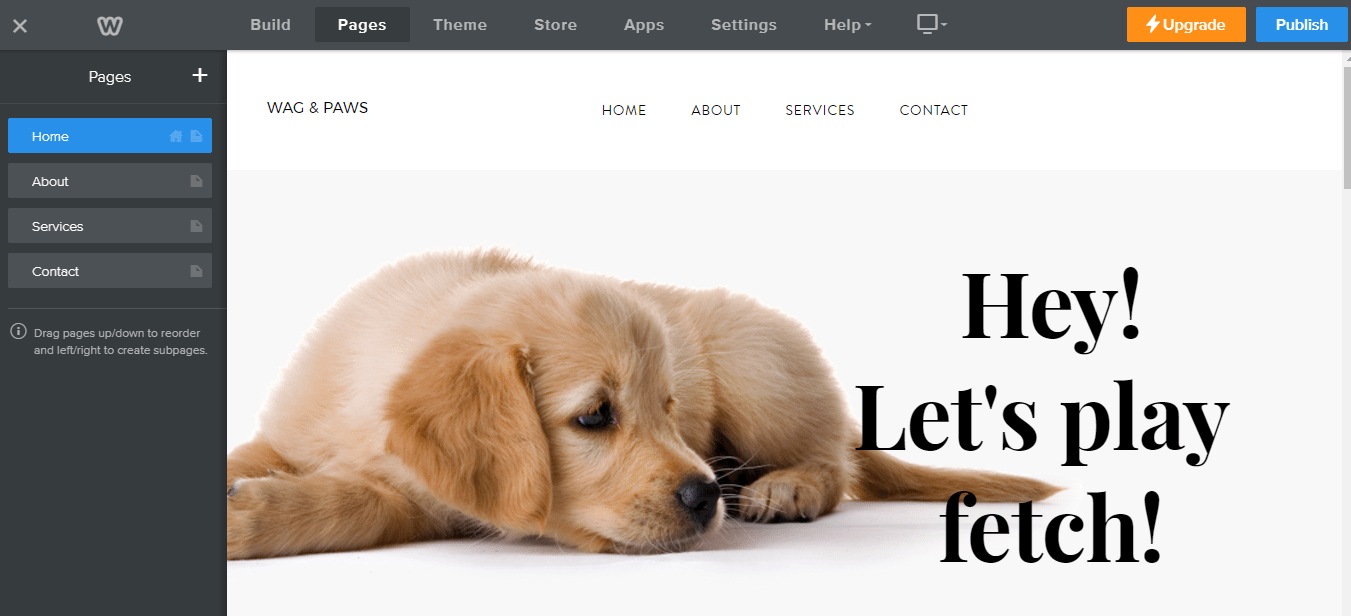 Add a Page
To add a page, simply click on the "Pages" tab, then the white "+" sign near the top left of the page (highlighted by a red box in the image below). If you want to edit or delete an existing page, click on the small folder icon next to the page title (highlighted by a blue box in the image below).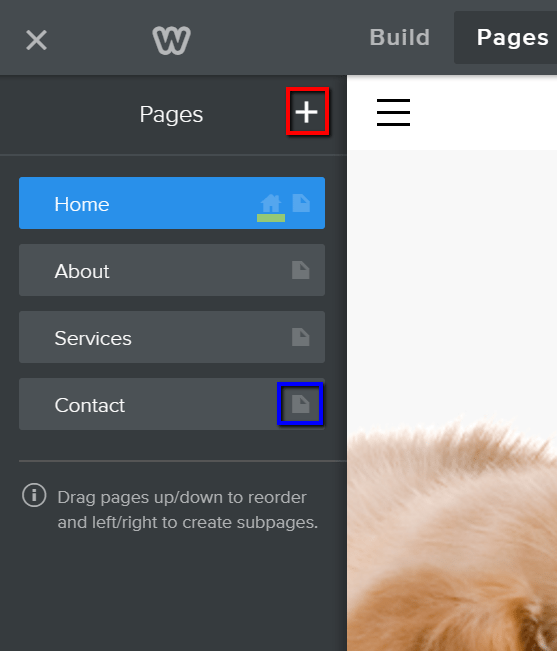 You can change the page order simply by dragging each page title above or below the other titles.
Choose Your Home Page
Whichever page you have on top will automatically be assigned as your homepage. If you look closely, you will see a little house icon (underlined in yellow in the image above) next to the "Home" page folder icon above. That designates which of your pages is the "Homepage," the first page visitors will see on your Weebly website (in most cases). To change your homepage, simply drag your new desired homepage to the top of the page list.
Create Subpages
If you want to create a page that does not show up in your main pages tab but appears in a drop-down menu when you hover over the main page tab, then you will need to create a subpage. To do that, simply create a normal page, then place it under the parent page. Drag it slightly to the right, and you'll notice that Weebly converts it to an indented subpage.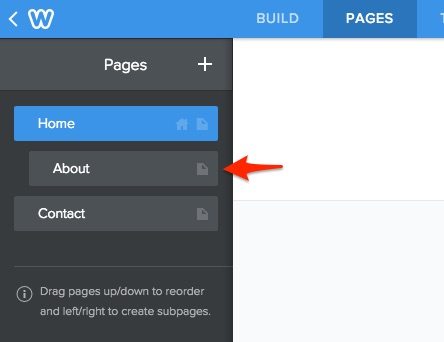 Choose Your Navigation Pages
In the screenshot above, the "Home" and "Contact" pages are main pages and the "About" page is a subpage. This means that only the two main pages will appear on your navigation bar for visitors to see and use. The subpages will appear whenever the related main page is hovered over by a visitor's mouse.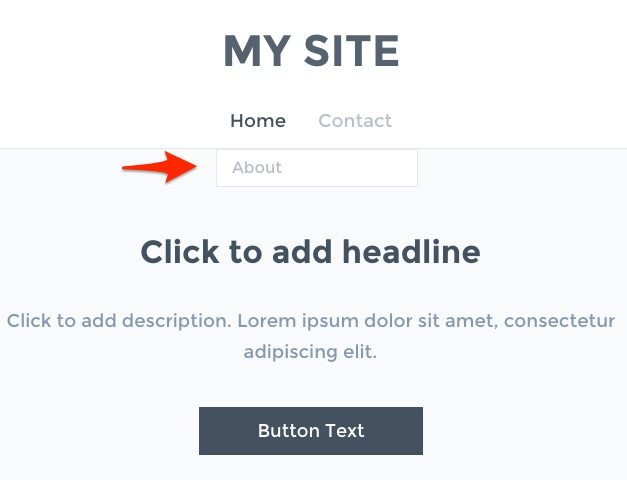 Edit Page Settings
The last thing to mention here is that you can edit the settings on each page by clicking on the little folder icon mentioned earlier. When you do, that will bring up the page below, which allows you to make a variety of changes. You can decide whether to hide the page in navigation, change the style of your overall page layout (landing, splash, title, and more), and edit advanced settings as well (page description, meta keywords, and more).
6. Change or Edit Text
Changing or editing text in the Weebly website builder is as easy as clicking on a text element that you've dragged onto a page (such as a button, form, or generic paragraph text). If you are just starting out and have not entered any text yet, then the area will just go blank when you click on it and a text setting bar will pop up (as seen below). Use this pop-up to edit fonts, sizes, colors, formatting, and even where the copy links out to (in the case of a button).
Edit a Title or Text Box
Click into a text box to begin editing. If you are changing text you have already input, then you will have to delete it before you add new text. Use the standard formatting toolbar that appears to style your text as you would like.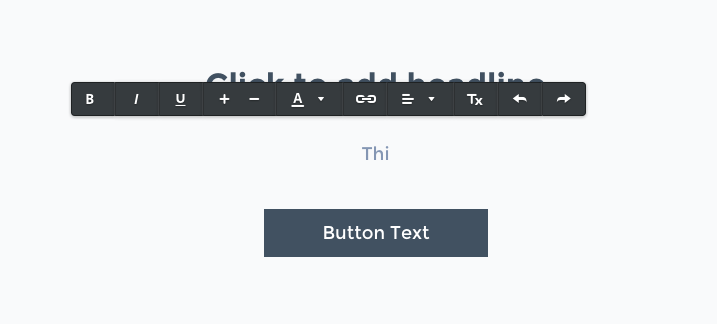 Edit Button Text
To edit the text inside a button, click on the button. You will see a window pop up (as shown below). Click on the "Button text" tab and begin typing your call to action. For example, the button might say "Contact Us" so when visitors click on the button, they are directed to a form they can fill out to send you questions.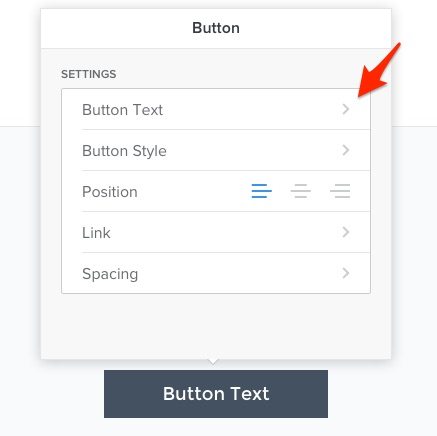 Once you have entered your text, simply click out of the window and the button should reflect your change. Here are the changes after I edited the text: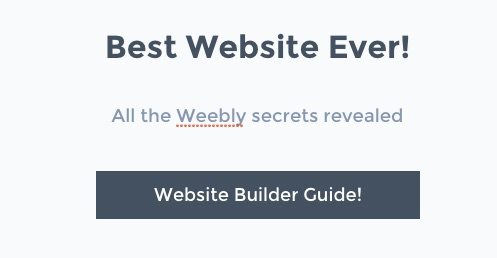 You can link the button to a PDF, a contact form, or a URL by clicking on "Link" from the pop-up menu that appears when you change your button text. Once you've clicked on "Link," select from the available options to indicate what type of content you'd like to link the button to. For example, if you want the button to direct people to a product page when visitors click on it, you can select "URL," then input the URL of the product page.
7. Add or Change an Image
To add or change an image on a web page, you must either click on an existing image and upload a new one, or add an image element to a page. When adding a new image, use the URL of an image available online, upload a computer file, or use a Weebly image. Images can be added in backgrounds, headers, galleries, or on their own.
Change an Existing Image
To update an existing image element on your webpage, simply click it and select the source of your new image (URL, computer upload, or Weebly image). If you just want to change a background image, simply click on the background and you'll be presented with the options to either "Edit Background" or "Replace Header Layout."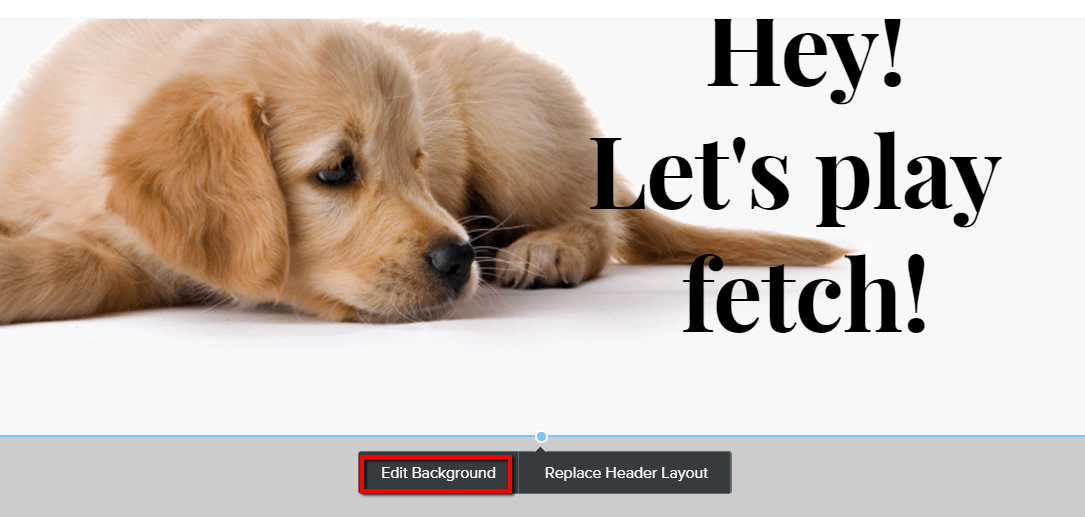 Click on the "Edit Background" button and you will be taken to a window where you'll choose whether to "Replace" or "Edit" the current image. If you wish to replace, you'll be directed to the image editor window, where you can upload an image from your computer, enter a URL, or select from other images available on Weebly.
In most cases, you will just pick the "Upload a photo from your computer" button, find your photo on your computer, and then double-click on it. Then it will show you what the photo will look like on the page. Just click "Save" at the top right to add the new photo.
You will also have to pick whether or not you want the new image saved just to that page or to all pages on your Weebly website.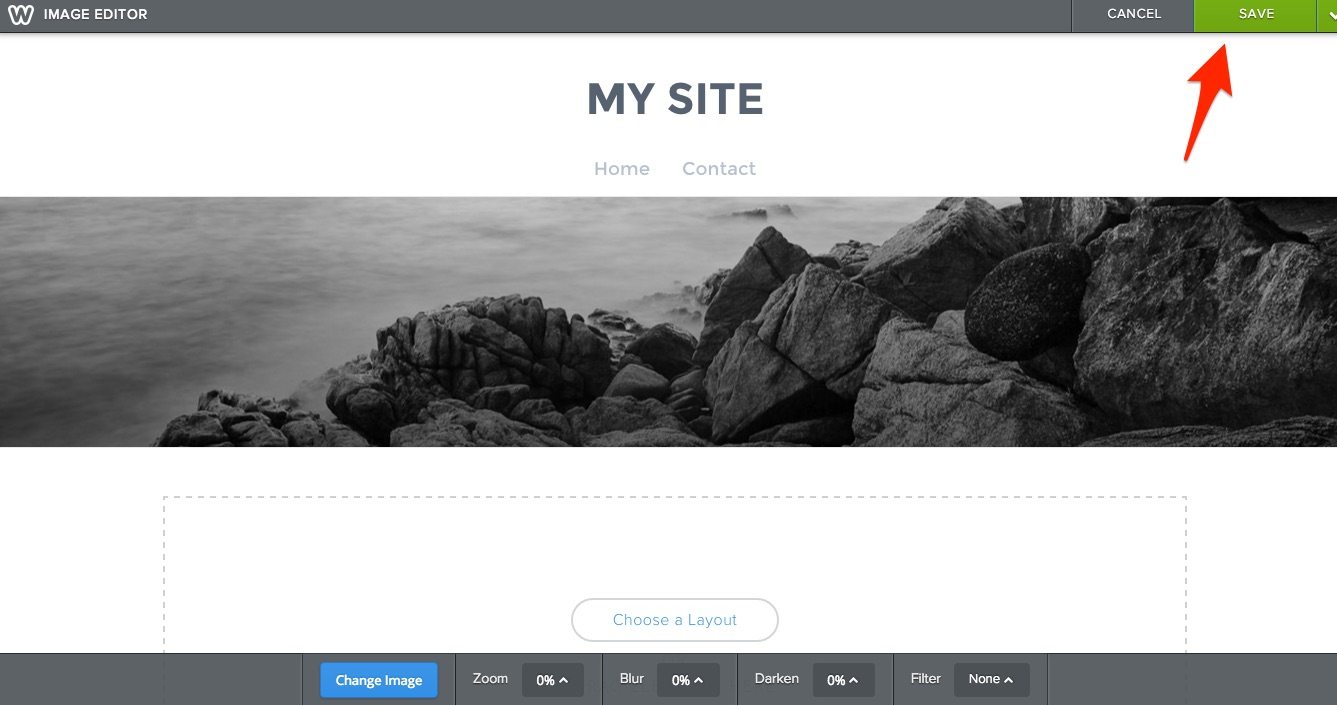 Add an Image Element
If there is no image on a page and you just want to add one, simply drag-and-drop the "Image" element from the Weebly website builder elements tab onto the page, as shown below.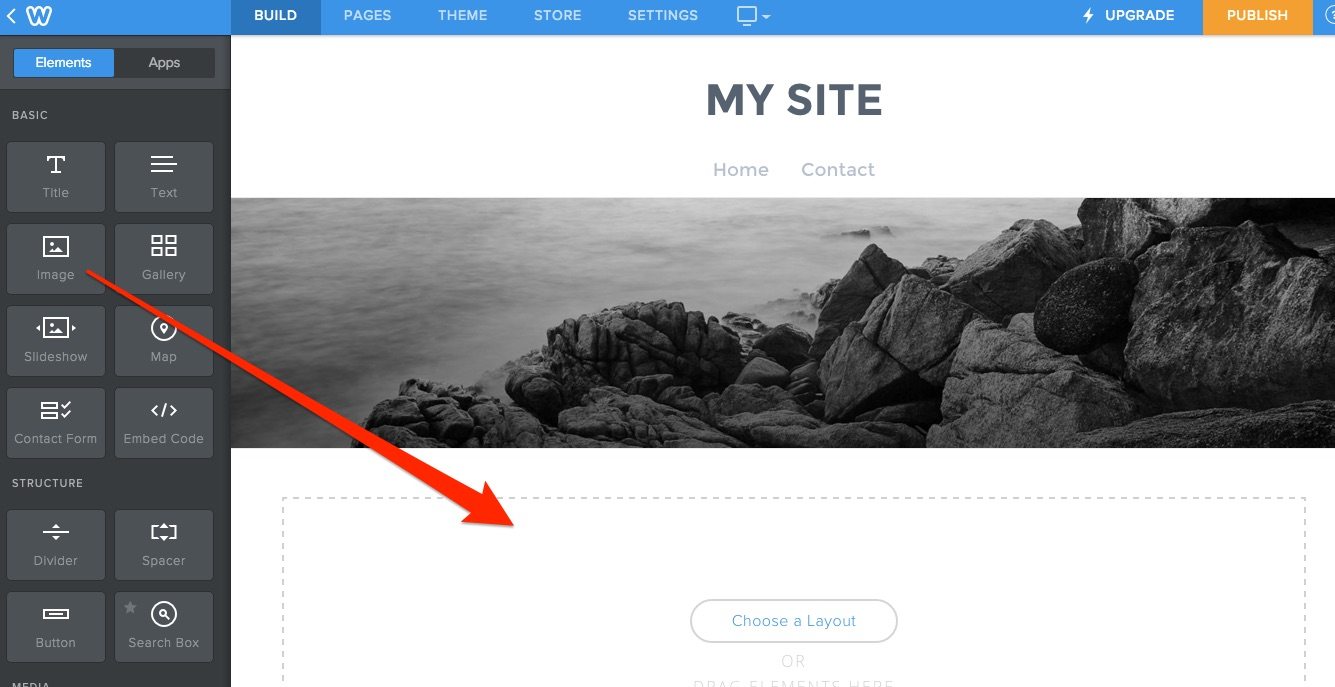 Once you have done that, click on the upload image box that appears.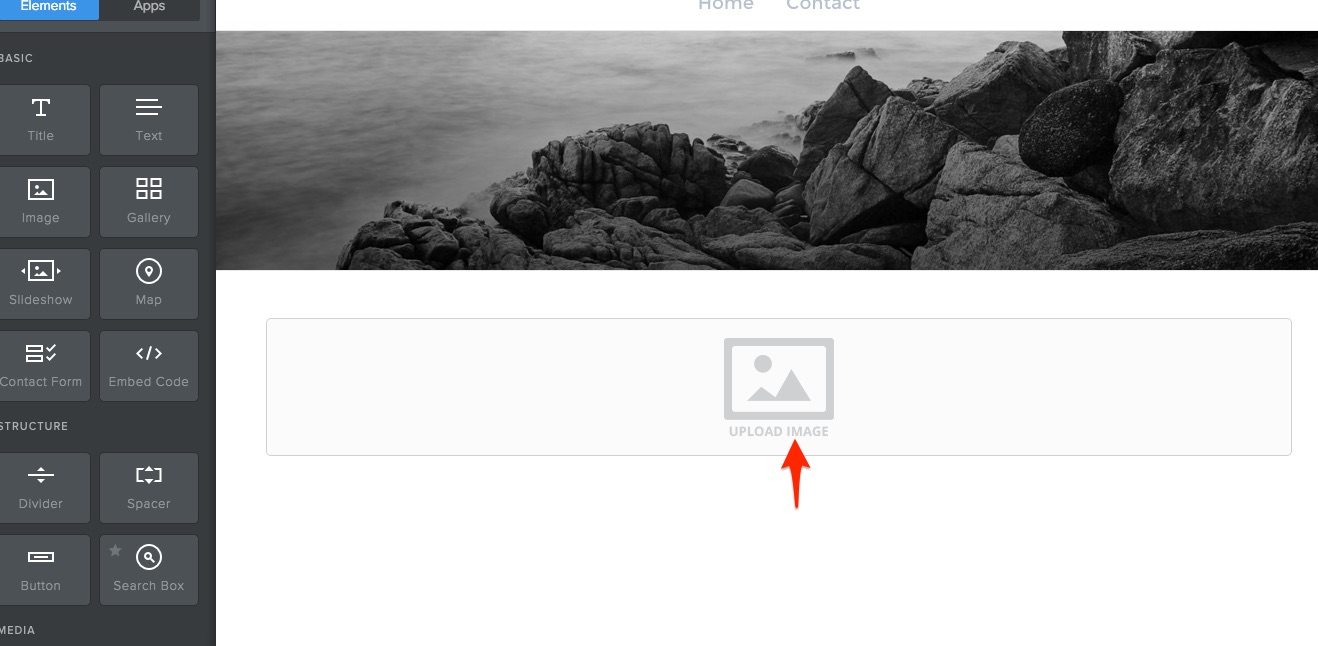 After clicking, you will get the window with the green button that says, "Upload a photo from your computer." Click on that button, find the file on your computer, double click, and it will be automatically updated on your Weebly website. No need to press "Save."
8. Add Apps & Other Elements
Once you have your text and images designed, you may want to add additional page elements—like dividers, sliders, forms, tables, and other elements. While editing each of these is different, the easy-to-use Weebly editor will guide you through the process. Simply drag and drop the element you wish to add onto your web page and edit the fields or parameters to your liking.
If you don't see an app or element and would like to add it, click on the "App" button in the top menu of the editor and select the one you'd like to see in your element menu on the left side of the screen.
9. Publish Your Weebly Website
Once you are finished with all your initial editing, it is time to publish your Weebly website. Remember, you can make changes to it at any time simply by going into the Weebly website builder, so it is not like you have to have it absolutely perfect before you go live.
To publish your Weebly website, simply click on the orange "PUBLISH" button at the top right-hand corner of your editor. Weebly will ask you to verify that you are a human using a CAPTCHA code; enter this information then click, "OK, Publish My Site."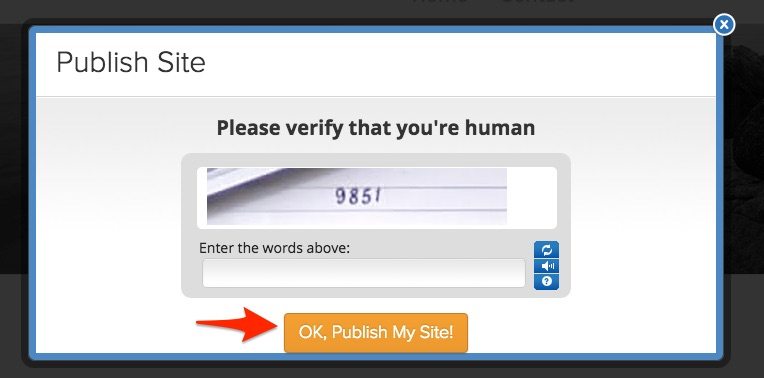 10. Upgrade as You Grow
Each of Weebly's paid plans gives you access to the website builder. The Connect plan is best for connecting a domain name you already own to a Weebly website. The Starter plan is the first tier that excludes the Weebly ad link at the bottom of your website and also offers a custom domain (www.yoursite.com instead of www.yoursite.weebly.com, for example).
Here is a breakdown of Weebly's plans:
Weebly Tiered Features & Pricing
| | Connect | Starter | Pro | Business |
| --- | --- | --- | --- | --- |
| Best for | Businesses connecting a domain | Personal use | Groups and organizations | Small businesses and stores |
| Price | $4/month | $8/month | $12/month | $25/month |
| Free Domain | ✔ | ✔ | ✔ | ✔ |
| Free SSL Security | ✔ | ✔ | ✔ | ✔ |
| Weebly Website Builder | ✔ | ✔ | ✔ | ✔ |
| Search Engine Optimization | ✔ | ✔ | ✔ | ✔ |
| No Weebly Branding | | ✔ | ✔ | ✔ |
| Site Search | | | ✔ | ✔ |
| Video Background | | | ✔ | ✔ |
| Ecommerce | | ✔ | ✔ | ✔ |
| Weebly Transaction Fee | | 0.03 | 0.03 | 0 |
| Products | | 10 | 25 | Unlimited |
| Shopping Cart | | Weebly Internal | Weebly Internal | Unlimited |
"One of the benefits of using a platform like Weebly is their site speed. Site speed is one of the most important metrics a site will have. Many people will abandon a website if it loads for more than two seconds. Luckily, Weebly is surprisingly fast, with some site speeds clocking in at under 1.5 seconds. They tend to follow many of Google's site speed guidelines, helping sites get great speed scores. One of the biggest reasons for this is that Weebly also provides their own hosting, which helps avoid some of the biggest site speed issues. The con, however, is that while their speed is good, you don't have the flexibility to make it much better."

– Rich Staats, Founder, Secret Stache
7 Popular Weebly Apps
Weebly apps allow you to add special features and functionality to your website to improve visitor engagement. These will appear in your elements menu or via the "Apps" tab, and can be used to customize your individual web pages. Apps include contact forms, email marketing integrations, analytics dashboards, testimonials widgets, and more.
Here is an overview of seven popular Weebly apps to help you design your ideal website.
Price: Free
This app has a free version with a highly customizable contact form. Change fields, images, text, and tabs, and embed them on an existing page or add them to a separate contact form page. You can also create a promo bar, add social buttons, and include a Facebook live chat and a mobile messaging bar. The $9.99 per month premium version also offers social coupon and email capture pop-ups, testimonials, and the ability to remove their logo.
Price: Free
This is a free app that adds a countdown timer to your deals to create a sense of urgency for potential buyers. You can further create scarcity with this app via their social proof widgets, which display how many people have viewed, purchased, or added items to their carts.
Price: Free to $15 per month
Ranging from free to $15 per month, this app allows you to track key ecommerce metrics. With the free version, you can track net revenue, orders, revenue per visit, items sold, highest revenue/order date, and more. The premium version allows you to track these metrics plus cart abandonment rates, average order value, conversion rates, average cart sizes, abandoned checkout, and more.
Price: Free to $79 per month
Ranging from free to $79 per month depending on the features you choose, Privy helps you grow your email list and sales via pop-ups triggered by visitor behavior. Triggers can include time on site, cart size, and more. To make the most of user behavior, Privy includes coupon codes, sign-up pages, landing pages, A/B testing, and integrations like Mailchimp, Constant Contact, and Zapier. Customize all designs via an intuitive editor for an on-brand experience.
Price: $5
Add customized call to action (CTA) buttons to your website for newsletter sign-ups, appointment booking, product promotions, and more. Buttons adjust to all devices and can be optimized to align with your website and brand using editable colors, borders, fonts, sizes, margins, text color, font weight, button shape, and more.
Price: $10
For $10, add highly customizable, device-responsive sliders to your website using a drag-and-drop editor. You can customize or add text, forms, arrows, photos, and buttons to sliders and choose from full-width sliders or smaller slideshow sliders.
Price: $29 per month
Starting at $29 per month, Mailbot helps you automate and personalize your email marketing with weekly email campaigns, regular newsletters, and automated follow-ups based on visitor behavior. This functionality reduces cart abandonment, offers reward coupons, and makes product recommendations to boost sales.
4 Alternative Website Builders
There are many website builders on the market, most of which offer more customization capabilities and features than others. Some, like Weebly, come with web hosting and domain registration and others, like Squarespace, are compatible with third-party companies like Adobe Creative Suite. Take a peek at our article on website costs for more options.
Here's a closer look at four alternative web hosting and website builder tools:
Price: $2.95 per month
---
Price: $11 per month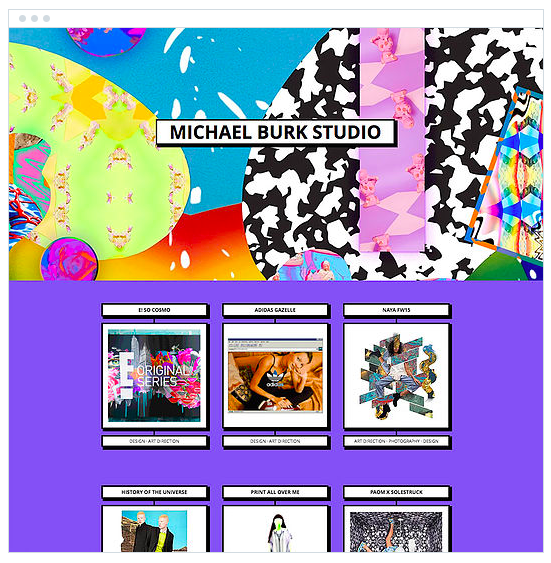 ---
Price: $12 per month
---
Price: $2.95 per month
---
Frequently Asked Questions (FAQ) – How to Use Weebly
Is Weebly a Free Site?
Weebly does offer a free plan, but it includes ads on your site and only a subdomain (yourbusiness.weebly.com). For a better option with no ads and your own domain, consider getting a plan that starts at $4 per month—a very affordable monthly rate.
How do I Create a Responsive Website with Weebly?
All of Weebly's themes are mobile responsive. You can just choose a theme and customize it on your desktop, and it adjusts for a great experience on phones, tablets, and desktops. Their visual editor allows you to see how your website will appear for mobile viewers via their preview feature. In addition to being optimized for mobile browsing, Weebly's templates are also optimized for mobile search engines to help them rank well on Google.
Is Wix Better Than Weebly?
Wix and Weebly both have advantages. While Wix is highly customizable, it offers slower load times than Weebly, with Wix offering a 5.6-second load time compared to Weebly's 1.6-second load time. Weebly is also slightly more reliable, offering more stable uptime. Both load time and uptime are factored into how well Google ranks your website. While Wix has few restrictions for customizing its layout, Weebly is more like designing a PowerPoint presentation.
For a more in-depth comparison of Wix and Weebly, read our buyer's guide on top website builders.
Bottom Line: How to Use Weebly
Weebly offers small businesses all the tools to build an on-brand website in less than an hour, even without having technical or coding knowledge. Their builder offers hundreds of themes that are easily customizable via a drag-and-drop editor. In addition, their four tiered plans offer businesses the tools to grow their online presence as their business grows.
If your business is strapped for time but still needs an affordable option to create a custom business website, Weebly offers a full-feature business website, domain name, and a quick and easy-to-use website builder starting at just $11 per month. Visit Weebly to get started.