How to Quickly Set Up a Weebly Store in 8 Easy Steps (+ Examples)
Weebly is a leading all-in-one website builder, and with its no-code site editor, it's easy to see why there are about 30 million sites built with it. In fact, learning how to set up a Weebly store is simple as it's designed to make selling online easy and affordable with both free and low-cost premium plans. Recently, it partnered with Square eCommerce, making the process of accepting online payments a breeze.
If you're ready to get started, follow along with our step-by-step instructions to get your Weebly store up and running in as little as eight steps. However, if you still aren't sure if Weebly is the site editor for you, you can learn more about other options in our article on the best website builders.
1. Create a Weebly Account
To get started, go to Weebly and click "Sign Up" at the top right of the home page. You'll only need to enter your name and email address, create a password, and agree to the terms and conditions. Then choose "I want a business website" and follow all prompts, such as setting up your Square business profile and store details.
Prompts will look like this: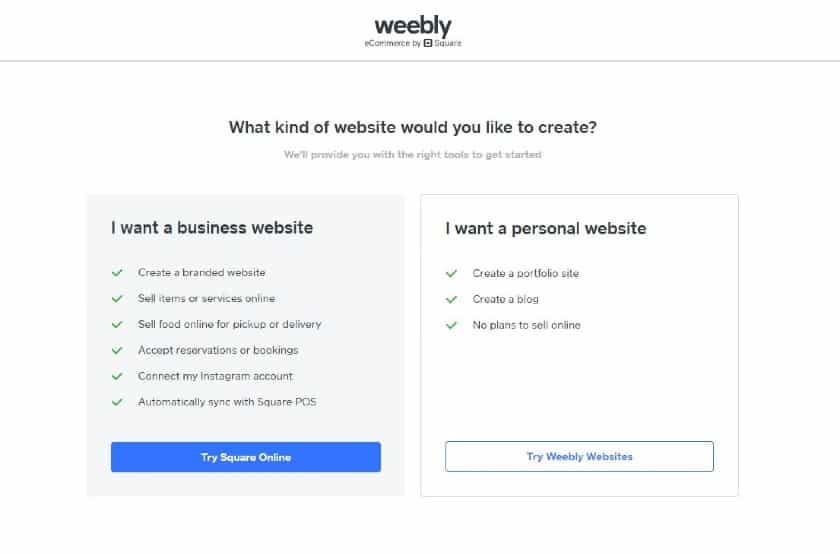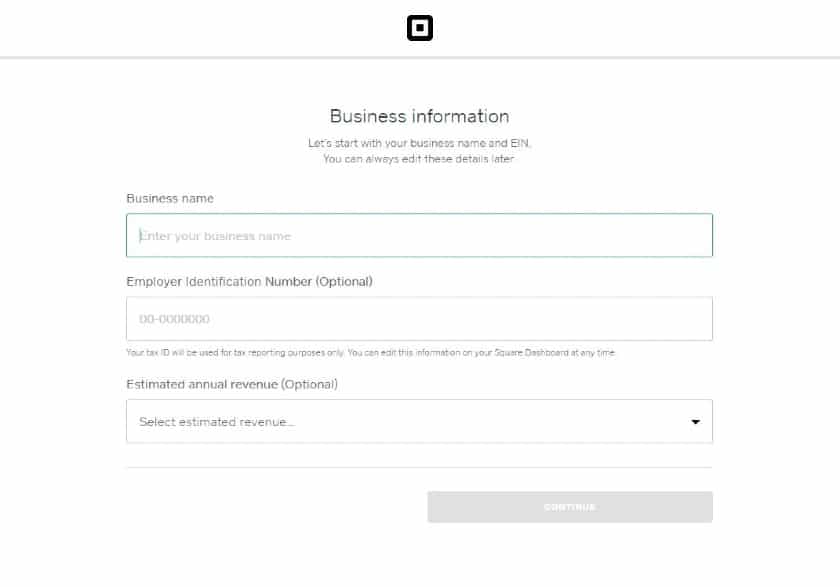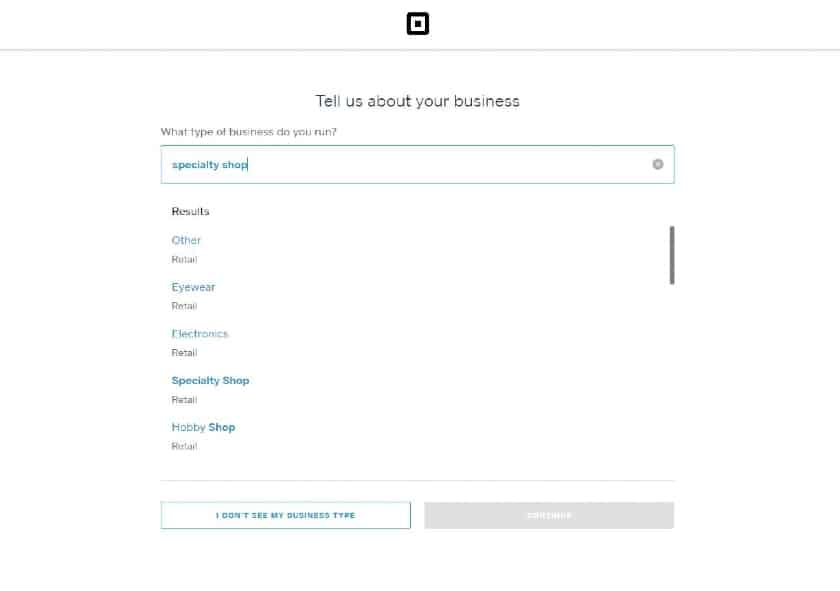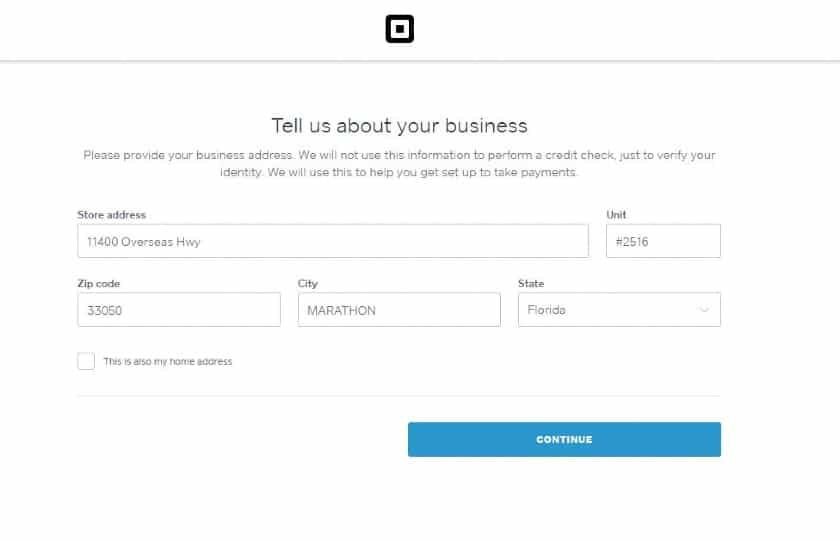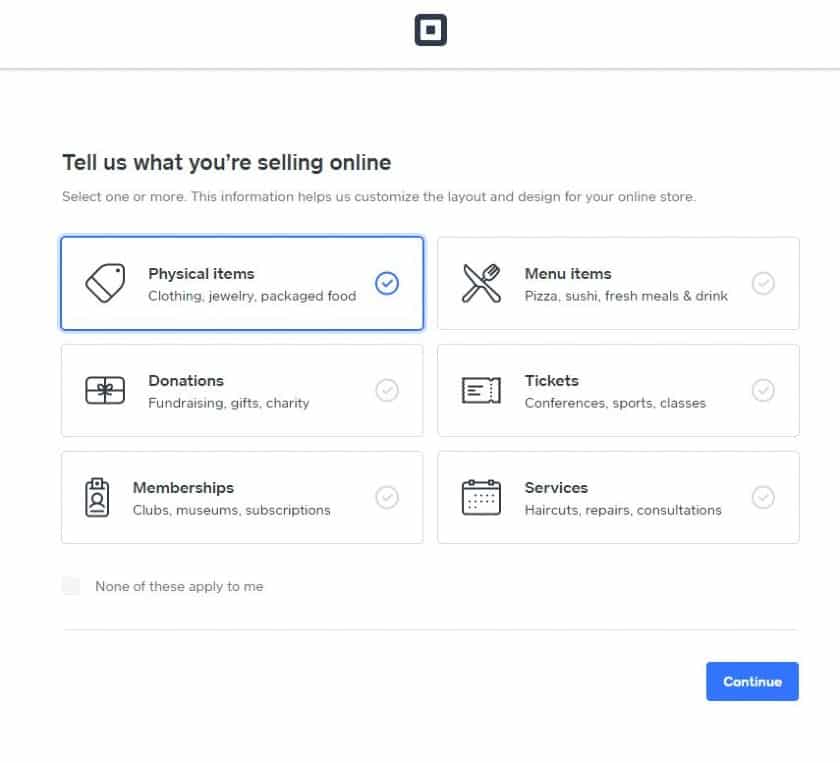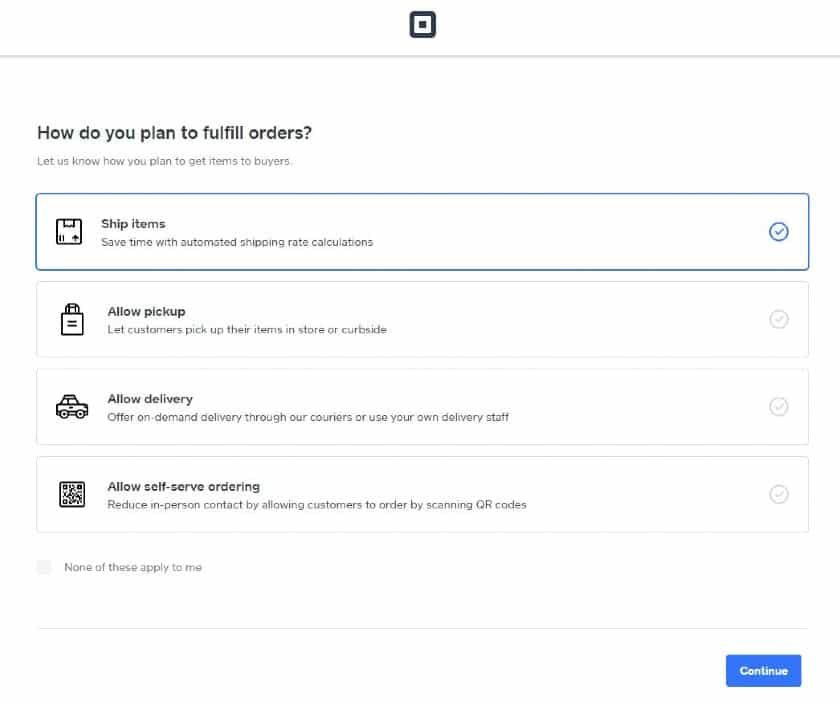 2. Design Your Website
Click on "Design now" and you'll see a basic layout of a website with an online store. This step is where you'll get to pick the features you want on your home page. You can also remove any of the modules you don't want. The fewer modules you choose, the shorter the scroll will be on your homepage.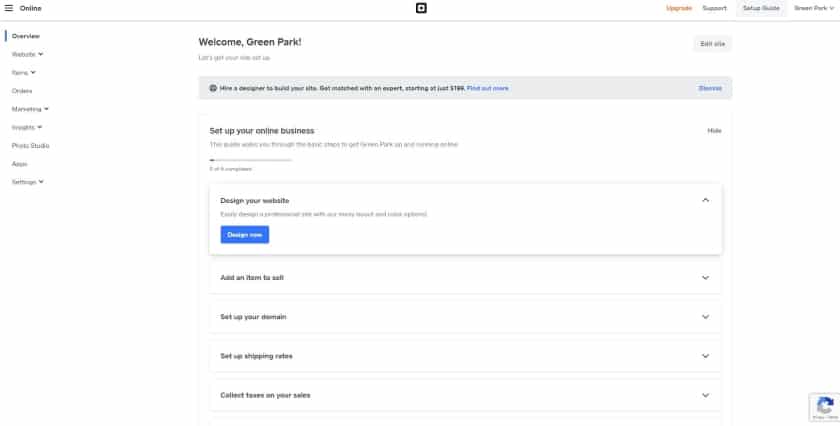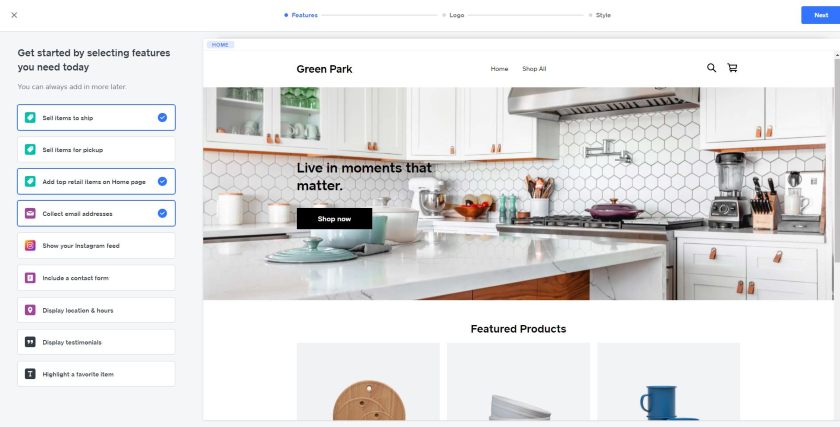 The next screen lets you upload your logo. You can skip the step for now if you don't have a logo ready to go. If you still need a logo, you can hire a designer on Fiverr to create one for you. It's an inexpensive option, and you'll be able to get exactly what you need—a perfect solution for those who aren't designers.
The last step in designing your website layout is to pick a style. The fonts across your whole site will change when you choose the style that suits your business best. The color choice affects your buttons and footer (the bottom banner) on your site.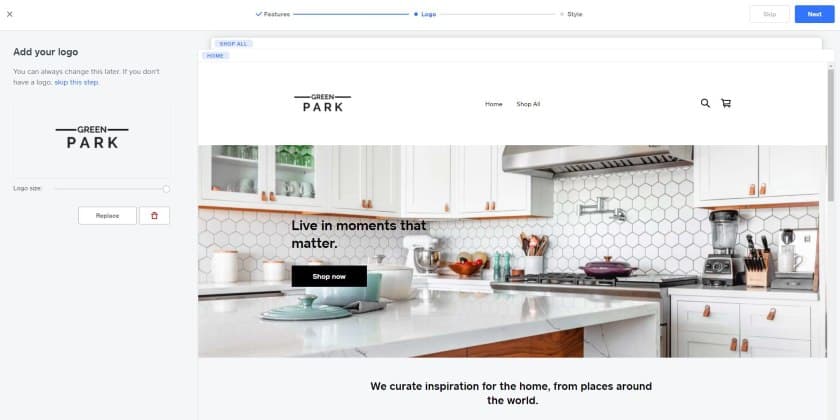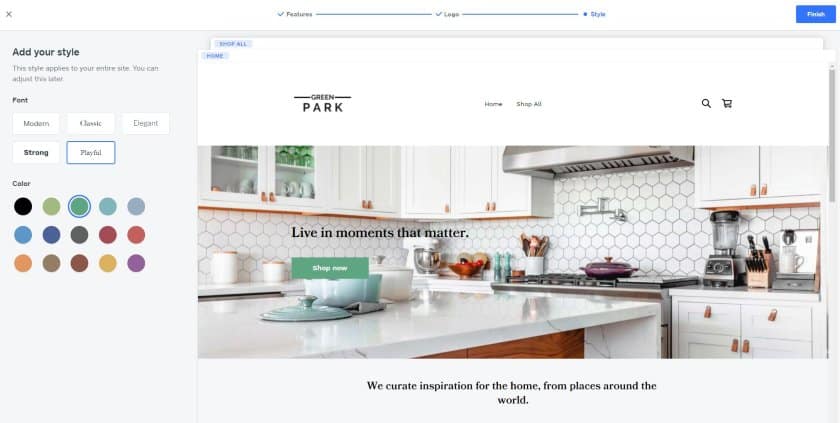 3. Get or Connect Your Domain Name
Everything up until this point has been 100% free—and it still can be, but you'll have to compromise on your website's name and URL. You can find and register a domain using the first field if you don't already have one. If you've already secured a domain name, you'll enter it in the second field.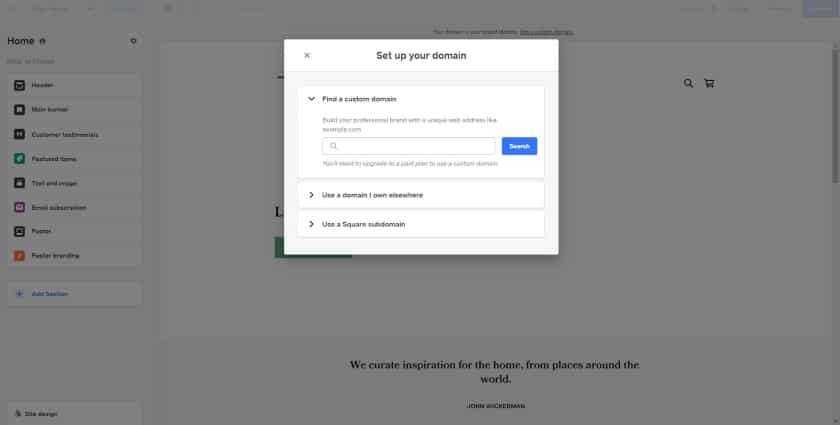 Click the third option if you want to continue setting up a free account. The caveat is that your URL will be a subdomain, and you will have Square branding displayed on your site. A free Weebly with eCommerce by Square online store will look like this: https://your-domain.square.site
4. Customize Your Template
Now you'll have essentially a blank slate to customize and make it uniquely yours. Changing images and text on each page is easy. At the top left of your screen, choose the page you want to customize first. Then you simply click on the page where you want to change text and type what you want.
For example, to change an image on your home page, just click on it, and a pop-up gives you the option to upload your own images, or you can use royalty-free photos from sites like Unsplash or Pixabay.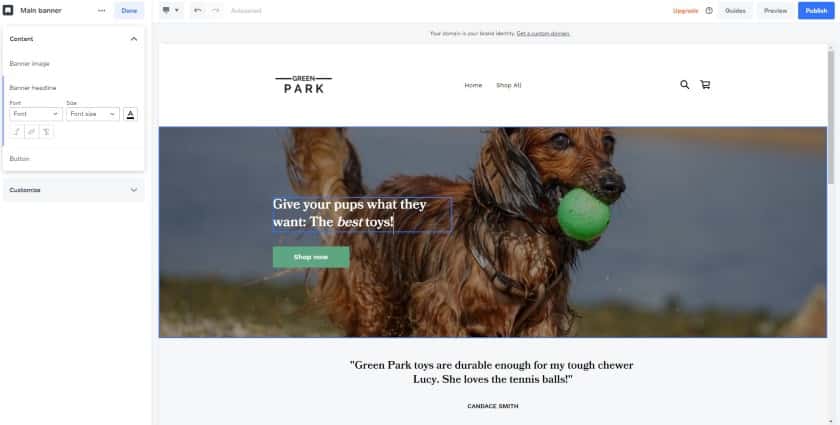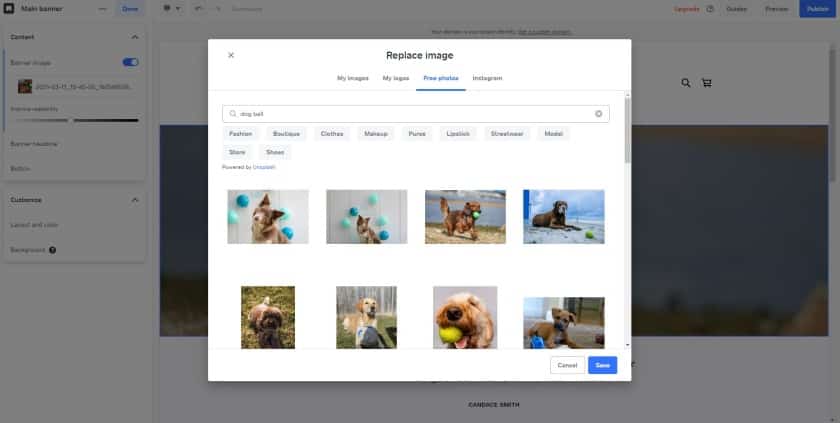 Click the tabs below to learn how to customize each element of your template:
Add Pages
There are two ways you can add a page. Click on the drop-down menu at the top left, and then click "Add page." There are a few standard options to choose from, including "About," "Contact us," and "Gallery." It's a bit quicker to click the button to the right of the drop-down menu that reads "Add." Choose "Page" and you'll get to the same menu.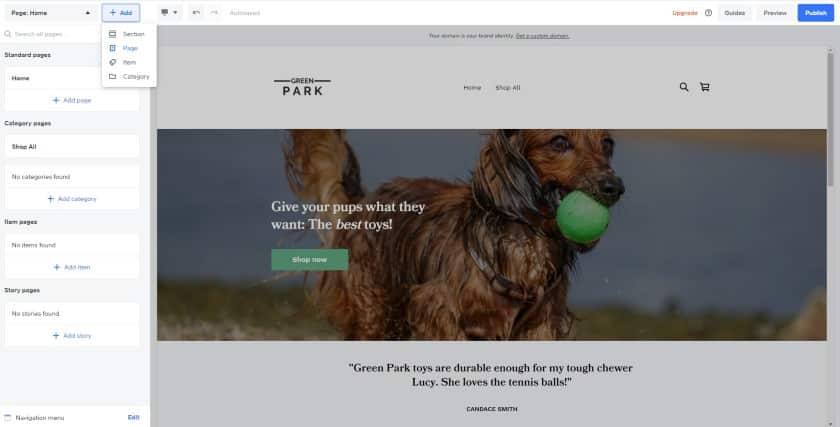 Remove Pages
Deleting a page is just as easy as adding one to a Weebly online store and website. Choose the page you want to remove, and then click on the gear icon just to the right of the page's name. Click on "Delete page" and confirm on the pop-up that you want to delete the page. That's it.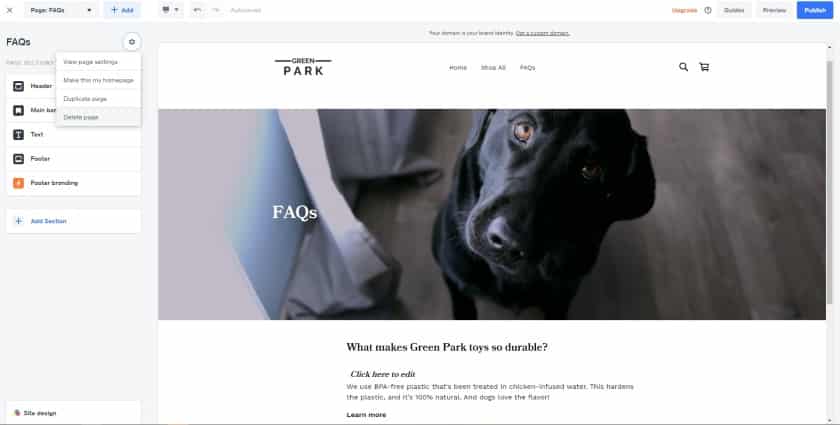 Once you've finished adding images, changing text, and adding or deleting pages you want, your site is pretty much complete. You can press the blue "Publish" button on the top right corner and your site will go live. And now it's time to learn how to set up a Weebly store with products or services to sell.
5. Add & Set Up Your Store
Next, it's time to set up your Weebly store by adding products. Of course, if you've come this far and realize that you're not ready for an online store, you can instead find out about building a small business website using Weebly.
Add Your Products
The Weebly online store editor will push you to add products next. Just click on "Add item" and start filling in the details, including the name of a product, description, price, and sale price, and upload a photo. Below this section, you'll be able to choose the fulfillment options, such as shipping, pickup, or local delivery. Include the shipping weight as well as SKU and product category for easy product management.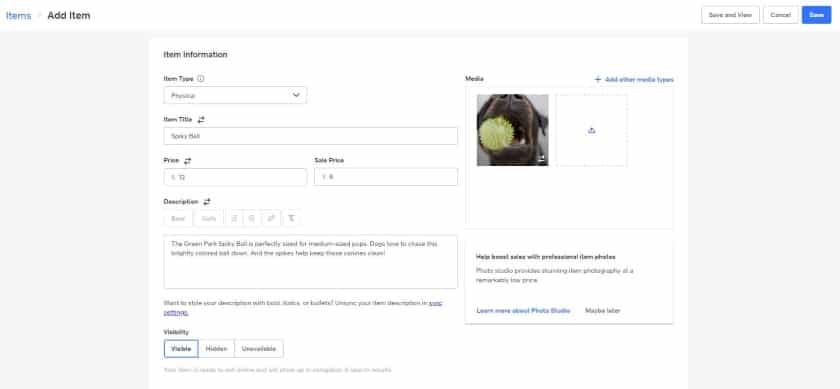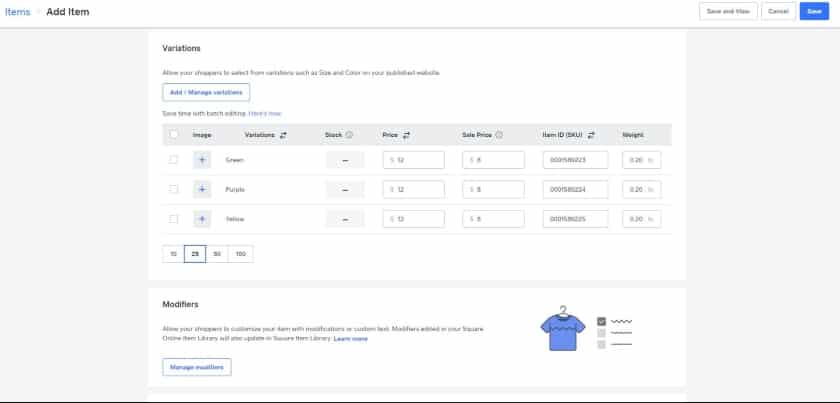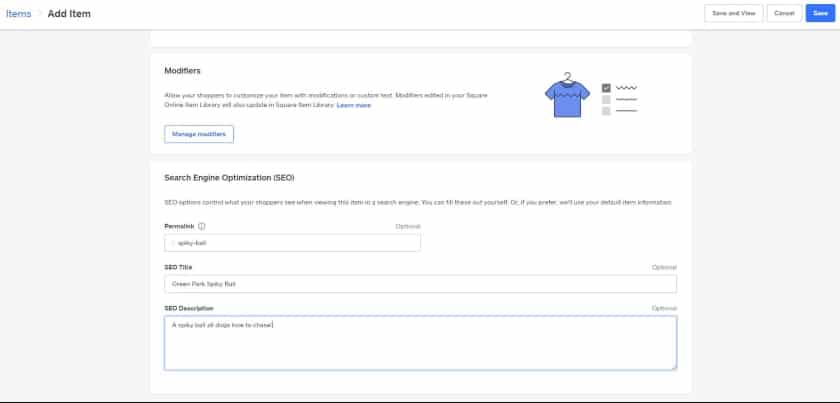 Note that you can also opt to use item reviews, gift cards, and marketing features that will require you to upgrade your plan, but you can do this when you're ready.
Set Up Shipping & Taxes
Follow the setup guide to get your shipping rates ready to go for customers next. You can choose a flat rate per item or per order, and you can create a rule for free shipping, if you'd like, such as free shipping for orders over $50. To get real rate shipping prices based on ZIP codes, you'll have to upgrade from the free plan.
After shipping, you'll be prompted to set up your taxes. Answer a few questions, including how you get orders to customers (shipping, pickup, delivery), add your shipping location, and then Square will calculate the taxes you'll need to charge based on your location. Then you just decide how you want to apply taxes to online orders.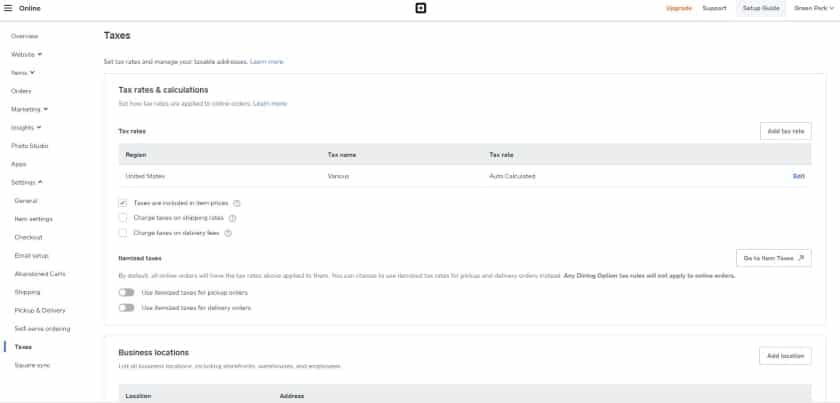 Set Up Online Payments
Now that your online store and website are up and running, there's just one more thing to do: Make sure you're set up to accept online payments. Click on "Checkout" on the left menu. Verify your identity by signing into your Square account, and then choose the other ways you'd like to accept payment, including Apple Pay and Google Pay. PayPal is another option, but you'll need to upgrade your plan from the free option.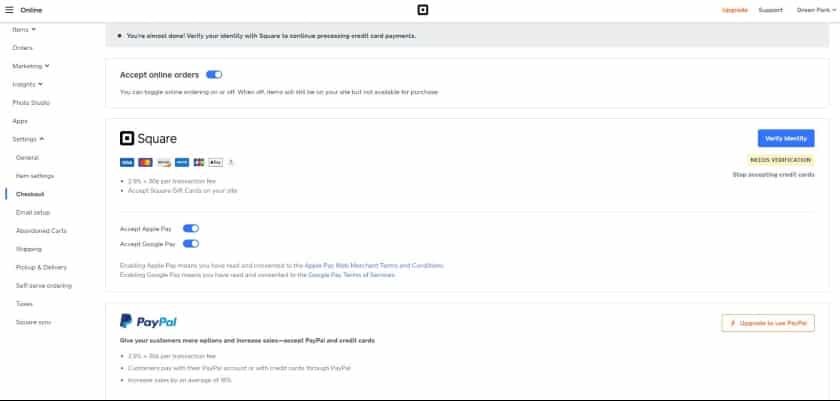 6. Expand Functionality With Weebly Store Apps
As is, your website and online store are ready to start accepting orders now, but you can make it better with apps. In the Square App Marketplace, you can find applications that you add to make your site and store more functional, such as with email marketing, advanced inventory, and label printing tools.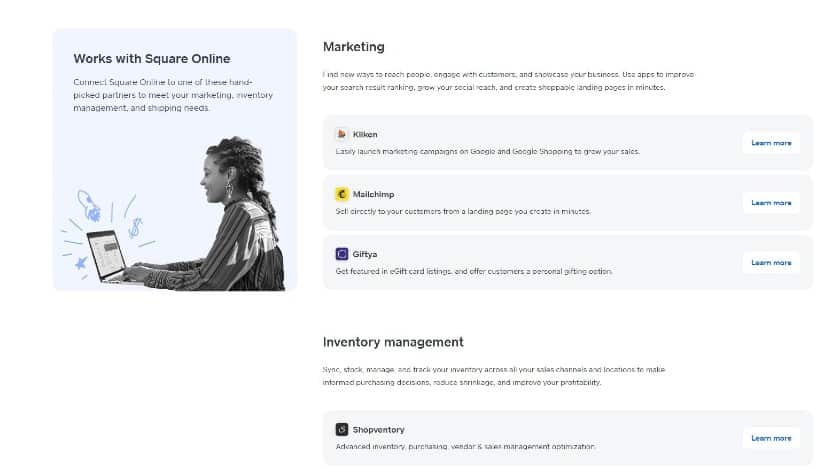 Connecting an app to your online store will require you to create an account with each app you want, and then follow the instructions to log into both your store and the app account. You'll need to allow permissions for the integration to work, and you'll be able to manage your apps from the dashboard.
Here are a few of the most popular (and most useful) apps for online stores:
Mailchimp: This marketing app makes it easy for you to create landing pages to sell a specific product, service, or membership. It allows you to add your Weebly online store products to the page, so visitors can purchase directly from that page.
Shopventory: Selling kits or bundles is a great way to move inventory, and this app lets you do so with your online store. Create gift packages at special rates, and offer them on your Weebly online store to raise your revenue.
CommentSold: Reach your customers where they are online: social media. Buyers can simply comment on a post, such as "Sold green ball," take the payment via Square Payments, and then fulfill the order.
Of course, there are tons of apps to choose from, so it's worth looking through the available apps. Chances are, there are some apps from providers you're already using, as well as apps that you will likely want to use to help sell more effectively through your Weebly store.
7. Select a Plan
There are four pricing plans for a Weebly online store, and each one is affordable compared to competitors. If you pay annually, the highest-priced plan tops out at $26 per month. The higher up you go with a pricing plan, the more functionality you get. All plans are subject to Square's eCommerce transaction fee, which is 2.9% plus 30 cents per order.
For businesses just testing the waters with products or services, the free plan will suffice to get you started. However, to launch a professional website that uses your own custom domain name, doesn't display third-party ads, and enables you to sell online, you will need to upgrade to the Professional plan for $12 per month.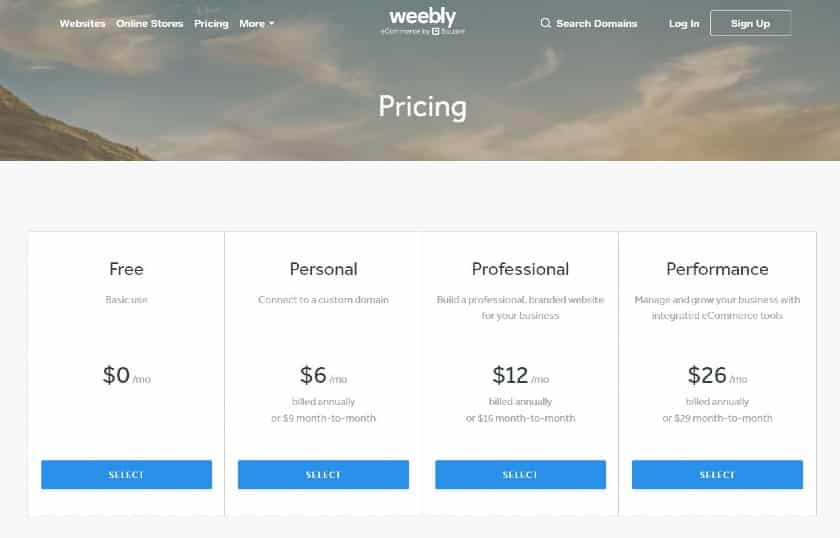 To learn more about the available plans, click the tabs below.
Free: A free Weebly online store includes everything you need to start selling. Your site will be secure with an SSL certificate, so your customers can shop knowing their information is safe. You get a shopping cart, unlimited items, basic inventory management, and a few marketing features. However, you will be on a subdomain and you'll have Square branding. You will also only have access to chat and email support.
Personal: For $6 per month (if paid annually), you can connect your own domain, so you'll be able to get rid of that square.site part of your free plan URL. This is the plan you'll need to upgrade to if you want to sell digital products. Plus, you'll get a shipping calculator and pop-up notifications to help drive sales. Although you'll be able to use your own domain, you'll still have Square branding at this level—and you'll have to purchase a domain.
Professional (Recommended): To present a more professional look on your site, you may want to upgrade to the $12-per-month plan. This plan gives you a free unique domain and removes Square branding. You'll get all the other features from the Personal plan, and you'll now have access to phone support from Square.
Performance: At $26 per month, this plan gives you everything from the other plans, but also includes more SEO, analytics, and marketing tools to help you grow your business. You'll now be able to accept PayPal payments too. An upgrade to this plan lets you show off item reviews from customers, and you can send out abandoned cart emails. Priority support is also available at this level.
8. Launch Your Online Store
At this point, you should have a great-looking website, thanks to the easy-to-use website builder from Weebly and Square. You've learned how to quickly set up a Weebly store, set up payment processing with Square, added your products, and chosen the apps you need most. Now it's time to launch your online store and start selling.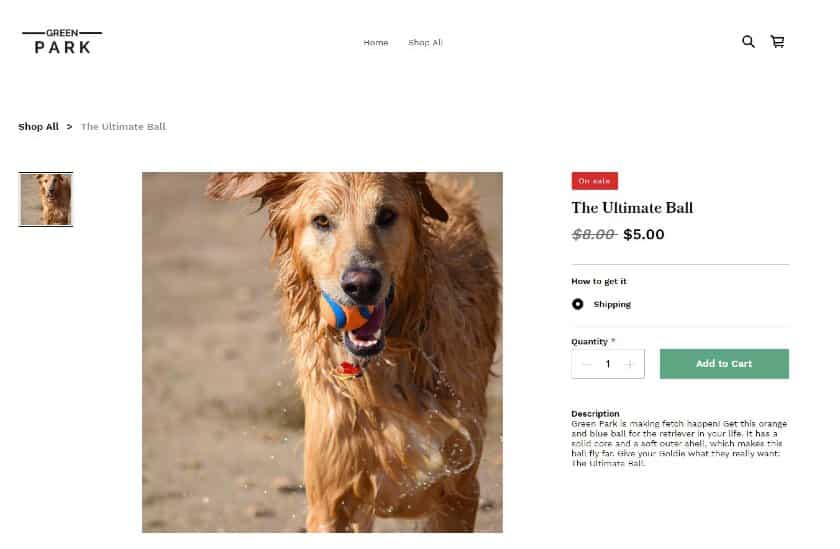 Post-launch: Set Your Weebly Store Up for Success
Just because you built your Weebly online store doesn't mean that customers will come. Now it's time to market your business to drive traffic to your website. There are several marketing tactics you can use to help grow your business, including search engine optimization (SEO), social media marketing, contests, and selling on multiple channels.
SEO: Although you can't add a blog to your Weebly online store since the company partnered with Square, you can use the Stories feature or an RSS feed to display your posts. These posts are a great way to regularly provide content for your audience. Quality content in your business' niche can help build your website's authority for search engines. In turn, your site should show up in search results when you feature the keywords your audience is using in relation to your products or services.
Social media: Not every business uses all the social media platforms available, but it is a good idea to use the ones that make sense for you. Many businesses are making use of Instagram, Pinterest, Facebook, Twitter, and TikTok to market their goods or just raise awareness. You can also create social media ads to get your brand in front of the audience you want.
Multichannel selling: A Weebly online store doesn't directly support multichannel selling, so you can use Square apps to sell through Facebook and Instagram. You may want to consider selling through Amazon or Etsy too, so you can reach a wider audience.
Contests: Many businesses run contests, powered by social media or Google ads to help drive traffic to their online stores. You can use contests and giveaways to attract more visitors and build your email list for email marketing campaigns. Create a contest that challenges customers to share a photo of your products. Or build your social media presence with a "like and share" contest. Use appropriate hashtags and get some paid ads to make sure you reach the most people.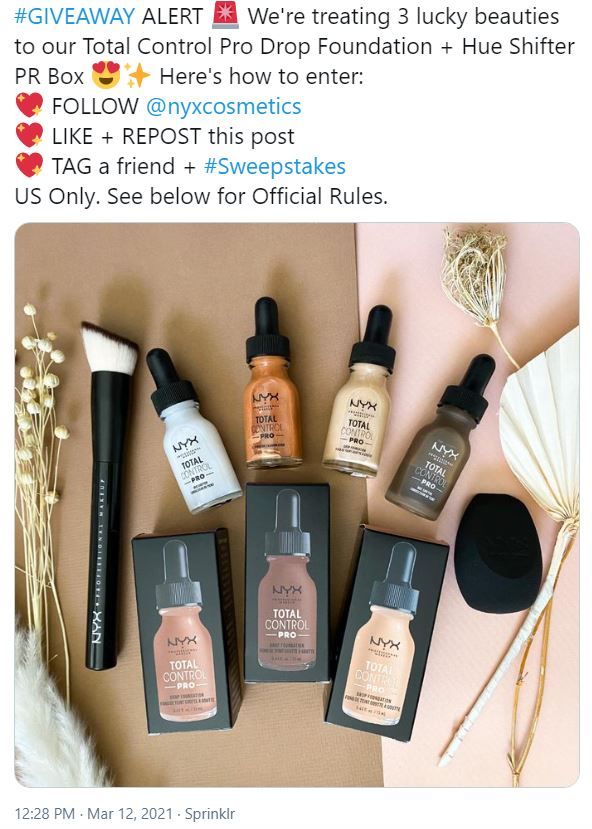 3 Examples of Successful Weebly Stores
How you define success may look different than someone else who's more established as an ecommerce store owner. However, you should celebrate every victory along the way. Your first sale will inspire your next one and, with the right skills, resources, and consistency, you can create even more success with your Weebly store. You might also decide that your ecommerce store is doing so well that you'll offer it to retailers or open your own brick-and-mortar store.
Dharma Yoga Wheel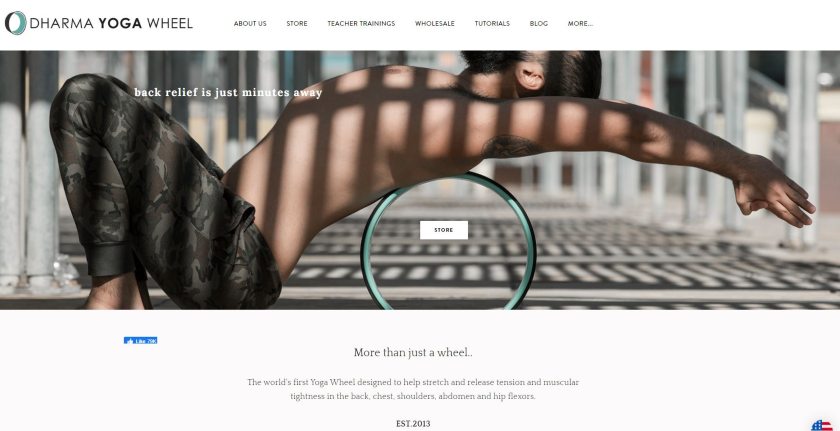 Within nine months of launching its Weebly store, Dharma Yoga Wheel hit $1 million in sales. The couple behind the store, Dov and Raquel, used multiple marketing strategies to spread the word about their yoga prop, including press inquiries, SEO through blogging, and social media marketing. They now ship their wheels to dozens of countries. They also offer teacher training and wholesale products for customers.
Improviso Lab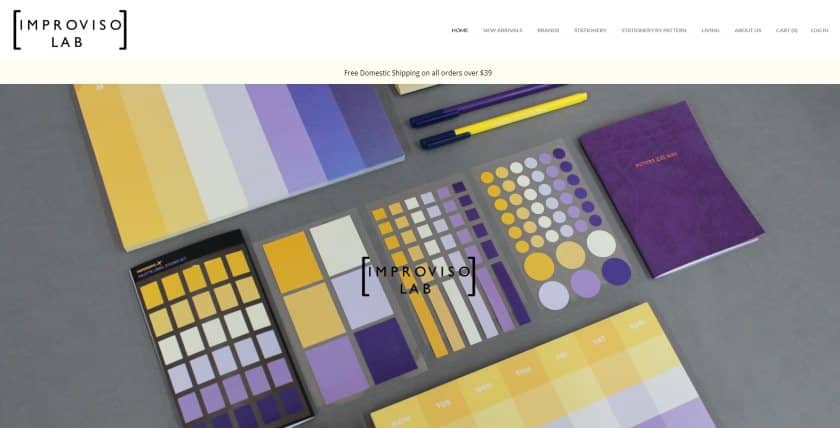 After a 2017 launch, Improviso Lab added more products to its curated list of stationery. In addition to the Twig New York brand of craft paper products, Improviso Lab also sells tableware, home decor, and tote bags. Aside from the company's website, originally built as a Weebly online store, they also post new arrivals on Pinterest to generate interest.
Backwoods Soap & Body Products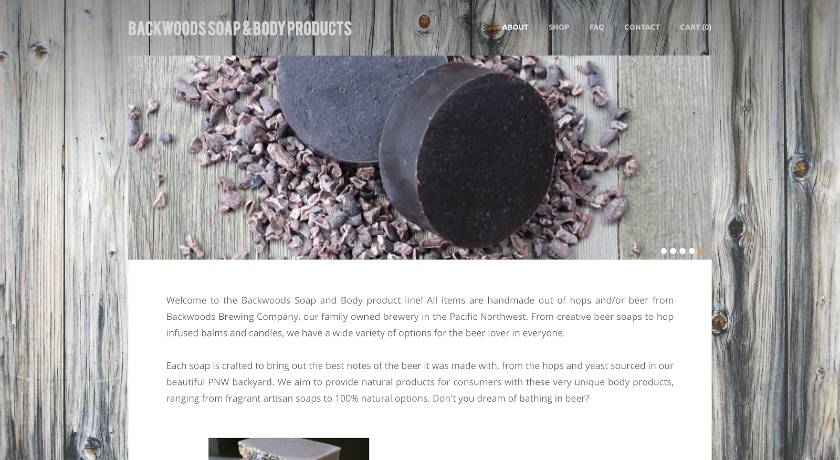 Since 2015, Backwoods Soap & Body Products has been creating soaps containing beer, which started when the co-owner's husband's brewery had leftover beer. The company uses multichannel selling, including on Facebook, the shelves of local breweries, and their Weebly online store.
Frequently Asked Questions (FAQs)
Is Weebly the same as Square?
Square acquired Weebly in 2018 and the two joined forces for Square Online. When you build a website through Weebly, you'll use the Weebly builder, but once you add an online store, you'll be moved to set up a Square Online store.
Which is better: Shopify or Square?
Shopify and Square both offer online and in-person point-of-sale POS solutions. Square's POS and online store is free to use, but Shopify charges a monthly fee for its products. Transaction fees differ between the two, as do many of the features. Decide for yourself which is best for you in our article comparing Shopify vs Square.
What are the best website builders?
Most website builders are easy to use, include multiple themes or templates for you to choose from, and are inexpensive. The top website builders include Squarespace, Wix, and Weebly. Learn more about which one is best for your business in our article on the best website builders.
Bottom Line
A Weebly ecommerce website and store includes all the benefits of Square, including payment processing and apps. You'll be able to create your online store quickly and easily, so you can start selling products and services immediately. You can start with the free plan and upgrade to paid plans as you need more features. Weebly with eCommerce by Square can help you get your online storefront started now with zero technical expertise needed.
You Might Also Like…