The 5 Best Weebly Alternatives for Small Businesses
Weebly is a super-affordable ecommerce website builder thanks to its free plan, but its site editor isn't all that intuitive, and site customization is limited. The best Weebly alternatives offer advantages like better design tools and templates, more features, cheaper paid plans, and better search optimization. Check out the five Weebly competitors below—they're affordable and beginner-friendly, with functionality that might make them a better fit for you.
Here are the five best Weebly alternatives for small business websites based on use case:
Weebly & Best Weebly Alternatives at a Glance
Weebly Alternative

Free Plan

Paid Plans From*

Ecommerce Plans From*

Key Features

✔

$12

$12

✔

$16

start at $27

800+ templates and max customization with a true drag-and-drop builder
300+ integrations for added functionality
Great for SEO

✕

$16

$23

Modern, visual templates for a variety of industries
Easy site building with content blocks
Solid SEO tools

✕

$2.95**

$9.95**

No-code WordPress site builder with hosting plans
Countless plugins for functionality
Hosting, SSL, a free domain, and emails on your domain included

✕

$4.95

$13.95

Premade content blocks to build a store quickly
Advanced ecommerce tools like appointment scheduling and abandoned cart recovery

✕

$1**

$1**

Most affordable plans for a basic web site or ecommerce
Advanced site editor and HTML/CSS editing in plans from $5 per month
Built for fast site load time to boost SEO
*Monthly cost of paid plans with annual billing
**First year pricing, renews at a higher rate
Wix: Best Weebly Competitor for Design & Layout Flexibility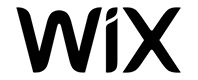 What We Like
Most design freedom of any site builder
Thousands of premade design elements (templates, content blocks, tools) to build a custom site quickly
Advanced search engine optimization (SEO) features, including automations for image compression (faster site loading) and schema markup
Now able to embed code without a plugin
What's Missing
Could be overwhelming for beginners compared to Squarespace
Can't switch templates easily
Ecommerce plan costs from $4-$15 more than other site builders, but is also more robust
How It Compares to Weebly
More expensive starting costs for a basic ad-free website or ecommerce site
Far more site customization is possible with Wix than Weebly
Wix's site editor is more intuitive
Larger third-party app marketplace
Wix's base ecommerce plan has more built-in features than Weebly's
Tips are built into the editor (no need to search the support center)
Weebly offers basic templates and a simple site editor that many users love for its ease of use. However, on the flip side, this comes at the expense of design freedom. Wix, on the other hand, is the best all-in-one website builder for those who want a true drag-and-drop site editor with maximum design flexibility over a very user-friendly and intuitive interface. This is just one of the reasons why it's our top pick as far as the best Weebly alternatives.
Choose Wix for More Design Freedom
One reason why it's better than Weebly is that with Wix, you can move any element anywhere else on the page with drag-and-drop functionality. That flexibility comes with a caveat, though—you need to have an eye for design so you don't end up with a mess of a website. Still, as far as Weebly competitors, no site builder gives you as much control over design when you make a small business website.
Wix does help you avoid this by having templates that are more built-out than Weebly's. It also provides premade content blocks with multiple variations you can drop into your design to keep your website cohesive. Site colors and fonts are set universally, which also keeps your site design on-brand. See how easy it is to use Wix to build a website for your small business.
Choose Wix for More Robust Ecommerce
Though we've focused on site design in terms of what makes Wix one of the best Weebly alternatives, we should also touch on ecommerce. Admittedly, Weebly has an advantage with ecommerce startups and entrepreneurs in that you can build a website in hours, including uploading products and setting up your online store, even in the free version.
An ad-free Weebly ecommerce site will run you $12 per month but cost $27 with Wix. However, with the Wix rollout of new pricing and plans earlier this year, Wix's ecommerce plan is now chock-full of features that aren't available with Weebly or any other of the Weebly competitors on this list.
For example, tools for appointments, events, and memberships are included. With Weebly, you'll need apps for these, and with Squarespace, you'll have to purchase add-ons in addition to your plan. Weebly does offer great tools for restaurants, making it the best website builder for restaurants. Still, it doesn't serve some of the other business needs that Wix does, like recurring payments, memberships, subscriptions, and niche features for artists and fitness businesses.
Choose Wix for New & Improved SEO Features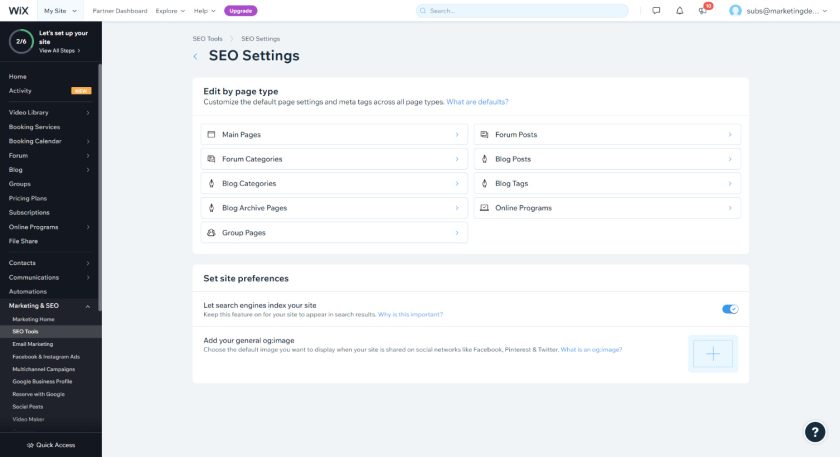 ---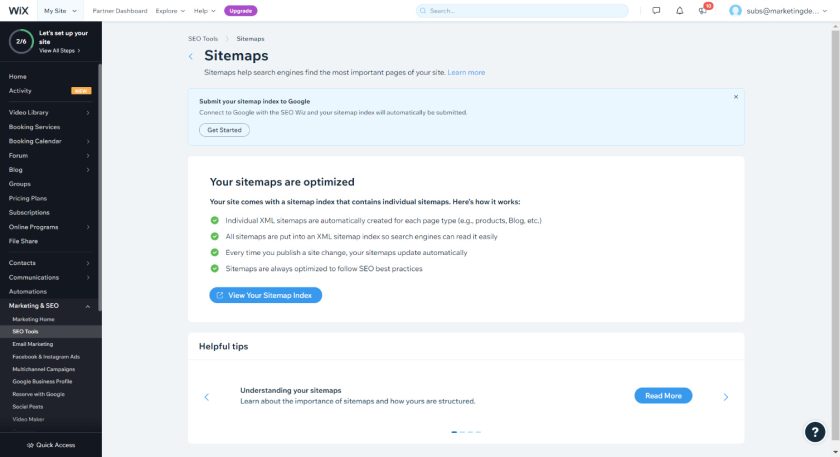 ---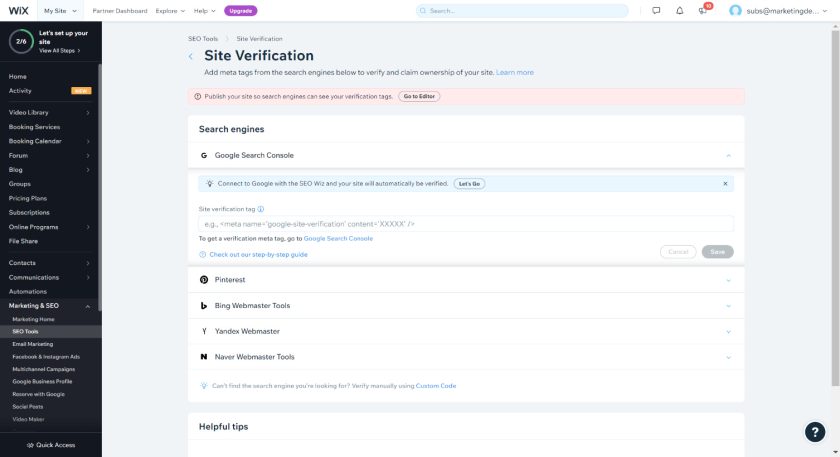 ---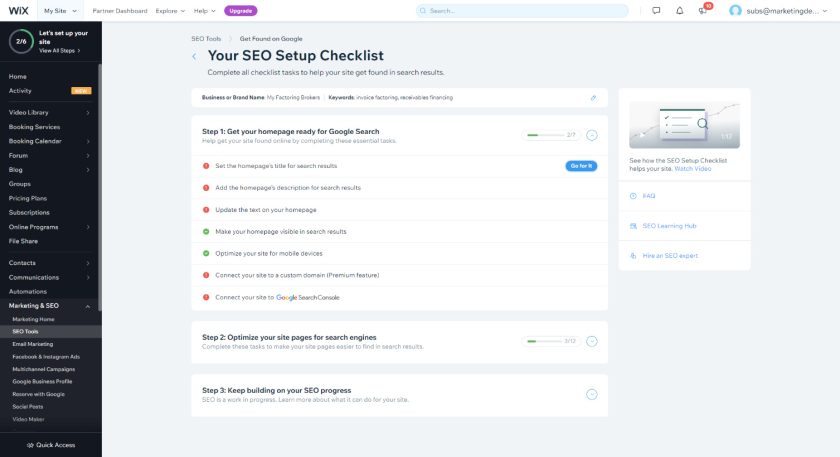 ---
Site builders are always making improvements, and areas where Wix has done so significantly is in search engine optimization (SEO) capabilities. For example, Wix has site- and page-level settings for titles and meta descriptions, and automatically creates an XML sitemap you can submit to Google Search Console for indexing.
Wix also automatically compresses your images. Image compression results in faster site load time, which is a Google ranking factor since faster loading equates to a better site visitor experience, especially on mobile.
In addition, while in years past you had to use a plugin to embed code on your Wix site (e.g., Google Analytics tracking code or third-party apps), you can now do so directly in page settings. Wix also automatically adds schema markup to improve how Google indexes your site, contributing to better rankings in search.
Wix Pricing & Plans
| Wix Plans | Free | Combo | Unlimited | Ecommerce | Business Unlimited |
| --- | --- | --- | --- | --- | --- |
| Cost per Month* | $0 | $16 | $22 | $27 | $32 |
| Storage | 2GB | 2GB | 5GB | 50GB | ✓ |
| Custom Domain & SSL | SSL only | ✓ | ✓ | ✓ | ✓ |
| Ad-free | ✕ | ✓ | ✓ | ✓ | ✓ |
| Apps/Plugins | ✓ | ✓ | ✓ | ✓ | ✓ |
| Google/Bing Ad Vouchers | ✕ | ✕ | ✓ | ✓ | ✓ |
| Sell Online | ✕ | ✕ | ✕ | ✓ | ✓ |
| Appointment Booking & Subscriptions | ✕ | ✕ | ✕ | ✓ | ✓ |
| Events | ✕ | ✕ | ✕ | ✓ | ✓ |
| Online Ordering | ✕ | ✕ | ✕ | ✓ | ✓ |
| Dropshipping | ✕ | ✕ | ✕ | ✕ | ✓ |
*Billed annually, or pay a higher rate month-to-month
For a closer look at Wix, check out our full Wix review.
Squarespace: Best Premade Templates for Visual Site Design

What We Like
Visually impactful templates
14-day free trial
Beginner-friendly interface
Unlimited storage and bandwidth
Solid SEO features, including guidance for improving your site's ability to get found online
What's Missing
No free plan
Not as much design freedom as Wix or even Weebly
No phone support
How It Compares to Weebly
Paid plans are more expensive than Weebly's
Ecommerce starts with Weebly's free plan whereas it costs at least $23 per month with Squarespace
Squarespace's editor is more intuitive and easier to use
Squarespace's templates are more visually appealing and modern
Weebly offers more third-party integrations
Although Weebly offers a good number of themes or templates for a variety of industries, they don't compare to Squarespace's offerings, especially in terms of quality. For this reason, Squarespace is high up on our recommendations for those looking at Weebly alternatives.
Choose from over 100 Squarespace templates, which all have an ultra-modern vibe. The extremely sleek and varied template designs are more than enough to make Squarespace one of the best of the Weebly competitors in terms of design.
Choose Squarespace for Superior Visual Design & SEO
Squarespace's editor isn't quite as intuitive as Wix's, but it's much more so than Weebly's. The content block-based site building structure helps to ensure you aren't going to break your website or screw up the design. Check out our article and video tutorial outlining how to build a website on Squarespace.
Most website builders offer mobile-responsive templates, but Squarespace sweetens the deal by offering accelerated mobile pages (AMP). AMP pages load faster, which improves the site visitor experience and can help your site rank higher on Google.
Squarespace Pricing & Plans
| Squarespace Plans | Personal | Business | Basic Commerce | Advanced Commerce |
| --- | --- | --- | --- | --- |
| Cost per Month* | $16 | $23 | $27 | $49 |
| Unlimited Storage & Bandwidth | ✓ | ✓ | ✓ | ✓ |
| Custom Domain & SSL | ✓ | ✓ | ✓ | ✓ |
| Ad-free | ✓ | ✓ | ✓ | ✓ |
| Apps/Plugins | ✓ | ✓ | ✓ | ✓ |
| Gmail/Google Workspace Free for 1 year | ✕ | ✓ | ✓ | ✓ |
| Sell Online | ✕ | ✓ | ✓ | ✓ |
| Subscriptions | ✕ | ✕ | ✕ | ✓ |
| Transaction Fees | N/A | 3% | 0% | 0% |
| Appointment Booking | Add-on | Add-on | Add-on | Add-on |
| Memberships | Add-on | Add-on | Add-on | Add-on |
| Events | Add-on | Add-on | Add-on | Add-on |
| Dropshipping | With plugin | With plugin | With plugin | With plugin |
*Billed annually, or pay a higher rate for monthly billing
Take a deeper dive into this site builder with our full Squarespace review.
Bluehost Builder: Best for Unique Functionality

What We Like
Hosting plans include a WordPress page builder for no-code site building
Affordable, from $2.95 per month
All-in-one plans with hosting, SSL, a free domain, and email accounts on your domain
Smart AI (artificial intelligence) to build your site faster
What's Missing
No free plan
Templates aren't as sleek as Squarespace's
Page builder doesn't offer as much customization as Wix
No month-to-month plan—must commit to 12 months or more
How It Compares to Weebly
Bluehost's plans are cheaper than Weebly's ad-free paid plan for a basic site or ecommerce
More functionality with over 55,000 WordPress plugins available
Better for SEO thanks to plugins and effortless ability to embed code and add markup
Building a site on Weebly can be done in far less time
Weebly's apps are all vetted; with WordPress, there's no guarantee a plugin will work with your site
Bluehost is a WordPress-recommended web hosting company that offers plans with hosting, free SSL security, a free domain for one year, and email addresses on your domain. These plans also include a dedicated WordPress page builder, enabling you to build a WordPress site code-free, and with much less of a learning curve than WordPress usually entails.
So while it's not an all-in-one site builder like Weebly, there are good reasons Bluehost is on our list of the best Weebly alternatives. It's very affordable, you get access to tens of thousands of WordPress plugins for maximum website functionality, and it's one of the easiest WordPress website builders we've ever come across. If you're a complete beginner looking to build a highly functional website on WordPress, Bluehost Builder is the best way to do it.
Choose Bluehost to Build a WordPress Site Quickly & Easily
By purchasing any hosting plan on Bluehost—the cheapest of which starts at just $2.95 per month—you get access to its drag-and-drop WordPress site builder. Not only does this make for easy site design, but it also includes smart artificial intelligence (AI) to help you quickly build a website that fits the industry your business is in—perfect for a beginner just starting out.
Bluehost Pricing & Plans for WordPress Websites
| Bluehost Plans | Basic | Pro | Online Store |
| --- | --- | --- | --- |
| Cost per Month* | $2.95 | $9.95 | $24.95 |
| Templates | Basic | Premium | Premium |
| Unlimited Storage & Bandwidth | ✓ | ✓ | ✓ |
| Hosting, Domain & SSL | ✓ | ✓ | ✓ |
| Email Addresses | ✓ | ✓ | ✓ |
| WordPress Updates | ✓ | ✓ | ✓ |
| Apps/Plugins | ✓ | ✓ | ✓ |
| Email Marketing | ✓ | ✓ | ✓ |
| Sell Online | ✕ | ✓ | ✓ |
| Appointment Booking | ✕ | ✕ | ✓ |
| Subscriptions | ✕ | ✕ | ✓ |
*First-year pricing billed annually, renews at a higher rate
Web.com: Best Weebly Alternative for Affordable Ecommerce

What We Like
Low-cost ecommerce site builder with advanced features
Solid SEO features
Email, phone, and 24/7 live chat support
What's Missing
No free trial
No app marketplace, unlike Wix and Squarespace
Templates aren't as good as Squarespace
Design isn't as customizable as Wix's
How It Compares to Weebly
Web.com's base plan is cheaper than Weebly's first ad-free plan
More expensive ecommerce, but has more advanced ecommerce features overall
Better SEO features than Weebly
Similar template selection to Weebly in quality and quantity
Though Weebly is known for affordable ecommerce, the features aren't top-notch, especially on the more basic plans. A more feature-rich alternative is Web.com For just $13.95 per month, Web.com will help you create an online store to sell any type of product, including services.
In addition, Web.com has tools to help your store get found online. It conducts monthly SEO site health checks (similar to SEO audit tools) and identifies ways you can improve your site's optimization and online rankings with step-by-step instructions. Paired with its SEO features, it's one of the most affordable Weebly alternatives for building an online store with advanced tools for getting found in an online search.
Choose Web.com for Better Online Selling Features
Web.com also has powerful features to help you effectively sell online. For example, you can set up omnichannel sales (your website, social media, etc.), print shipping labels, and create abandoned cart recovery emails with the base ecommerce plan. If you upgrade to a pricier plan, you can use Amazon's multichannel fulfillment, sell on other marketplaces, and calculate sales tax automatically.
Choose Web.com for a Quick Way to Get Online
Web.com utilizes a block editor where you move blocks of content around to flesh out your pages. Although it's not quite as customizable as Wix's drag-and-drop editor, Web.com allows you to build a professional website in minutes. While this is similar to Weebly, the cost of its plans and its unique features make Web.com a top Weebly competitor.
Web.com Pricing & Plans
| Web.com Plans | Website Essentials | Business Essentials | Ecommerce Essentials | Ecommerce Premium |
| --- | --- | --- | --- | --- |
| Cost per Month* | $4.95 | $7.95 | $13.95 | $19.95 |
| Unlimited Storage & Bandwidth | ✓ | ✓ | ✓ | ✓ |
| Hosting, Domain, SSL & 5 Email Mailboxes | ✓ | ✓ | ✓ | ✓ |
| Free Hour of Design Support | ✓ | ✓ | ✓ | ✓ |
| Google Site Verification | ✓ | ✓ | ✓ | ✓ |
| Directory Listings | ✕ | ✓ | ✓ | ✓ |
| SEO Health Checks & Ranking Reports | ✕ | ✓ | ✓ | ✓ |
| Sell Physical & Digital Goods Online | ✕ | ✕ | ✓ | ✓ |
| Appointment Booking | ✕ | ✕ | ✓ | ✓ |
| Marketplace Selling & Amazon Fulfillment | ✕ | ✕ | ✕ | ✓ |
*With annual billing, monthly billing is also available at a higher cost
IONOS: Best for Businesses on a Budget

What We Like
Extremely affordable plans from just $1 a month (including ecommerce)
Plans are all-inclusive, including a free professional email address
Unlimited storage and bandwidth, unlike Wix
Personal consultant and high level of customer care to help you get more out of your site
What's Missing
No free trial
Have to upgrade to the highest plan for customization similar to Wix or ability to edit HTML and CSS
Base site builder plans don't come with a blog feature
Fewer templates as Wix, especially in the base tier
How It Compares to Weebly
IONOS' plans are more affordable
Fewer templates in the base plan than Weebly
MyWebsiteNow (base plan) site editor isn't as easily customizable as Weebly's
MyWebsite Creator (Pro and Plus plans) is more intuitive and advanced than Weebly's and has more templates and features
Fewer advanced features in base plan than most other site builders
Unlimited storage and bandwidth, unlike lower-tier Weebly plans
Weebly is one of the best cheap website builders, but if you need to stretch your budget even further, try IONOS. At just $1 per month, you get an all-inclusive plan that includes a free domain name, a free professional email address, an ad-free site, and even ecommerce. You also get unlimited storage and bandwidth, which you don't with Wix or Weebly's cheaper plans.
Keep in mind that the base plan's site editor is very basic, making it easy to get online quickly. However, upgrading to the far more sophisticated site editor in the Pro and Plus plans will only cost you $5 a month the first year (or the first six months with an online store). With this upgrade comes editing tools that rival other site builders as well as more templates, business apps, a blog, advanced visual features like animations, and decent ecommerce.
Like Wix and WordPress (via Bluehost), the SEO tools with the IONOS site builder are solid. They include site and page-level settings, Google PageSpeed optimization, and a content delivery network (CDN) to ensure your site loads fast, from anywhere.
Choose IONOS for the Cheapest Site Builder Plans
IONOS is one of the cheapest website builders on the market. Choose the Starter plan if you don't need a lot of design freedom or advanced tools, as it comes with everything you need to quickly build a basic small business website. Opt for the Pro or Plus plan for sophisticated site editing tools, advanced ecommerce, and access to business apps and extra features.
IONOS Site Builder Pricing & Plans
| IONOS Plans | Starter | Plus | Pro | Online Store Plus |
| --- | --- | --- | --- | --- |
| Cost per Month | $1* | $5* | $10* | $5** |
| Unlimited Storage & Bandwidth | ✓ | ✓ | ✓ | ✓ |
| Hosting, Domain & SSL | ✓ | ✓ | ✓ | ✓ |
| Email Address | 1 | 1 | 1 | 1 |
| Site Editor | Basic | Advanced | Advanced | Advanced |
| Individual Success Manager | ✓ | ✓ | ✓ | ✓ |
| Auto-image optimization | ✓ | ✓ | ✓ | ✓ |
| Email Marketing | ✓ | ✓ | ✓ | ✓ |
| Apps/Plugins | ✕ | ✓ | ✓ | ✓ |
| Sell Online | Add-on, up to 500 products | Add-on, up to 5,000 products | Add-on, up to 10,000 products | Up to 5,000 products |
| Dynamic Content | ✕ | ✓ | ✓ | ✓ |
| Appointments | With plugin | With plugin | With plugin | With plugin |
*For the first year, renews at a higher rate ($10, $15, $20, respectively), all plans billed annually
**For the first six months, renews at $20 per month, all plans billed annually
Frequently Asked Questions (FAQs)
Which website builders are the easiest to use?
The easiest website builders are all-in-one options like Squarespace, Wix, and Weebly, but it's also relative. Wix's drag-and-drop editor is the most intuitive to use, but also entails the most design choices. Squarespace's site editor is a bit less intuitive, but makes page building fast with content blocks. Find out which are the overall best website builders on the market, or explore the best cheap site builders for small businesses.
Is Weebly free?
While not ideal for businesses wanting to build an online presence, Weebly offers the ability to build websites for free. Free Weebly sites are hosted on a subdomain with ads and don't allow you to connect a custom domain, which can hurt your site's credibility and that of your brand. Still, it can be a great way to build your site before upgrading to a paid plan. For more details, check out our list of the best free website builders.
Is Weebly or Wix better?
Wix and Weebly are both popular site builders, but which is better depends on your budget and your website needs. For example, Wix has better editing tools and more advanced design features, but Weebly has cheaper, more affordable plans for ecommerce (albeit not as feature-rich). Restaurants will find Weebly provides the best value, but if you need tools for appointment booking, subscriptions, memberships, and other features, choose Wix.
If you can afford the few extra dollars per month, we recommend Wix. Its SEO features are more advanced than Weebly's (so your brand has a better chance of getting found online), and Wix has better site editing tools, templates, more third-party apps, and more native tools overall.
Bottom Line
Weebly remains a popular website builder, but it's not the best solution for every small business website, and there are some great Weebly alternatives to consider. Based on our evaluation, Wix is the best overall Weebly alternative. It offers a wide range of features and capabilities, so whether you want to sell products or services, build a brand, or grow your business, Wix offers what you need.
You Might Also Like…