Payroll is a list of a business' employees and how much they're paid. To process accurately, you must consider taxes and deductions in addition to labor laws, like overtime pay and minimum wage. Studying basic payroll terminology before you get started will prevent you from misinterpreting new terms you may encounter. It can take a few minutes with software to several hours each pay period if you're doing manual calculations for several workers.
Thanks to QuickBooks Payroll for sponsoring this post. With QuickBooks Payroll, you can run payroll in less than five minutes. It automatically calculates your employee paychecks and the full-service plan provides a 100% penalty-free guarantee that your payroll taxes will be calculated and filed accurately. Try it free today.
Payroll Costs & Features
Payroll costs can range from $30 to more than $1,000 a month, depending on the number of employees you must pay and the features you need. Some payroll services charge a flat monthly fee plus a monthly rate per employee, and others charge a flat rate per payroll run. You'll also find that some services offer more a la carte features, like time and attendance and human resource support that cost extra, while other providers offer them for free.
The providers that charge a monthly rate usually offer unlimited payrolls, meaning you can run an off-cycle payroll at no additional cost. You can process an unlimited number of payroll runs with QuickBooks Payroll starting at $39 a month for one employee if you choose the Self-Service plan. The Full-Service option starts at $84 a month for one employee and includes both payroll tax and year-end filing done for you.
QuickBooks Payroll Pricing & Features
| | QuickBooks Self- Service Payroll | QuickBooks Full Service Payroll |
| --- | --- | --- |
| Monthly Pricing | $35 + $4/employee | $80 + $4/employee |
| Unlimited Payroll Runs | ✔ | ✔ |
| Year-End Form Filing | ✔ | ✔ |
| 24-hour Direct Deposit | ✔ | ✔ |
| Calculate & File Payroll Taxes | ✔ | ✔ |
| Accounting Software Integration | ✔ | ✔ |
| Payroll Taxes Done for You | | ✔ |
| No Tax-penalty Guarantee | | ✔ |
| W-2s Filed & Sent | | ✔ |
| Assisted Payroll Setup | | ✔ |
Payroll Service Features
There are certain features you should expect to find in most payroll software. Payroll services are designed to help you manage payroll and usually have automated paycheck processing, direct deposit, electronic tax filing and payment, and sometimes benefit options.
Automated Payroll Processing
You should have the option to set your payroll to run on auto pay. This means your direct deposits will be processed automatically on the schedule you designated in the initial software setup. You'll still have to approve time for hourly employees who don't work the same number of hours each week, but this feature saves time. With QuickBooks Payroll, you can choose to run payroll yourself (Self-Service), or have a payroll specialist do it for you (Full-Service).
Electronic Payroll Tax Payments & Filing
Good payroll software has updated IRS tax tables it uses to accurately calculate the payroll taxes you need to withhold and pay. With some services, you can pay taxes electronically within the software. Usually, there are reminders that prompt you to pay, so all you need to do is review, approve, and click to pay.
QuickBooks Payroll will automatically calculate your federal and state payroll taxes. With the Full-Service plan, you get the added benefit of having your taxes filed and paid for you. This feature is backed by a 100% Penalty-Free Guarantee, which means you won't have to pay any penalties the IRS charges for errors or untimely payments. With the full-service plan, QuickBooks Payroll specialists will handle any dealings with the IRS for you from start to finish.
Direct Deposit Payment Option
The option to pay employees via direct deposit is almost a "must-have" when it comes to payroll software. The majority of providers offer it with their service at no additional charge, but you may find some providers who offer it as an add-on. Processing time for direct deposit is usually between two and four business days, but some payroll services allow you to process emergency payroll runs quicker.
QuickBooks Payroll surpasses the average when it comes to direct deposit processing times, allowing same-day direct deposit payments if you process by 7 a.m. PT on the day you want the funds to transfer. This feature is available with the Full-Service plan and doesn't require any setup or emergency situations to implement. You simply enter hours worked and any extra details like sick or vacation time taken.
Paid Time Off Tracking
Payroll software services recognize the need for paid time off (PTO) tracking and usually offer a way to help you manage it. Some have a built-in time and attendance system you can use to track employee hours worked in addition to time-off requests and approvals. As employees use their PTO throughout the year, their balances automatically update. If they submit a request but don't have enough PTO to fund it, the system will usually notify you.
Software Integrations
The best payroll software provides software integrations that give you access to other tools that help you manage payroll. An example would be an employee time clock that allows your employees to clock in and out. It calculates hours worked and transmits the information to your payroll system so it reflects as dollars to be paid. Other important software integrations include accounting, expense management, and human resources applications.
QuickBooks Payroll seamlessly integrates with QuickBooks Online for accounting; in fact, you can bundle the two together for more cost savings, starting at $59 and $99 per month for one employee, based on the plan you choose. In addition, if you bundle the two, you can take advantage of other integrations, such as TSheets (time and attendance) and When I Work (scheduling).
Employee Benefits
You'll find that not all payroll software offers benefits options, but some do. You'll be able to sign up for the plans you want to offer through the software, such as 401(k) and health insurance. Your employees can usually manage their elections through an employee portal or app. You may also be able to purchase workers' compensation insurance for your company.
With QuickBooks Payroll, you can enter deductions for any outside benefits you have, so they are withheld from your employees' paychecks. And workers' compensation is included as an add-on for an additional flat rate of $5 per month.
How Payroll Works
Although payroll is essentially paying your workers, doing payroll consists of much more. You have to hire new employees, determine how much you will pay, track hours worked, and pay accordingly. You'll also need to withhold payroll taxes, like FICA and income taxes, to remit to the IRS and other federal and state agencies. And if you're working on a federal contract, you may be responsible for submitting certified payroll documents with details of all hours worked and amounts paid out.
At year-end, you're responsible for reporting earnings to employees and/or contractors by submitting W-2 and 1099 forms. You must send by Jan. 31 each year and provide copies to the IRS so you can avoid penalties. This is just one compliance deadline you must adhere to. We created a downloadable payroll compliance calendar to help keep you on track. We suggest printing the PDF version and referring to the spreadsheet for additional notes.
In addition to establishing a solid payroll process, there are other regulations you must consider to ensure compliance with labor laws. For instance, before paying an employee, you should know the minimum amount you're legally required to pay; federal law currently requires at least $7.25 an hour. Also, employees who work over 40 hours in a week must be paid at 1.5 times their regular pay rate; double-time for working over 12 hours a day in California.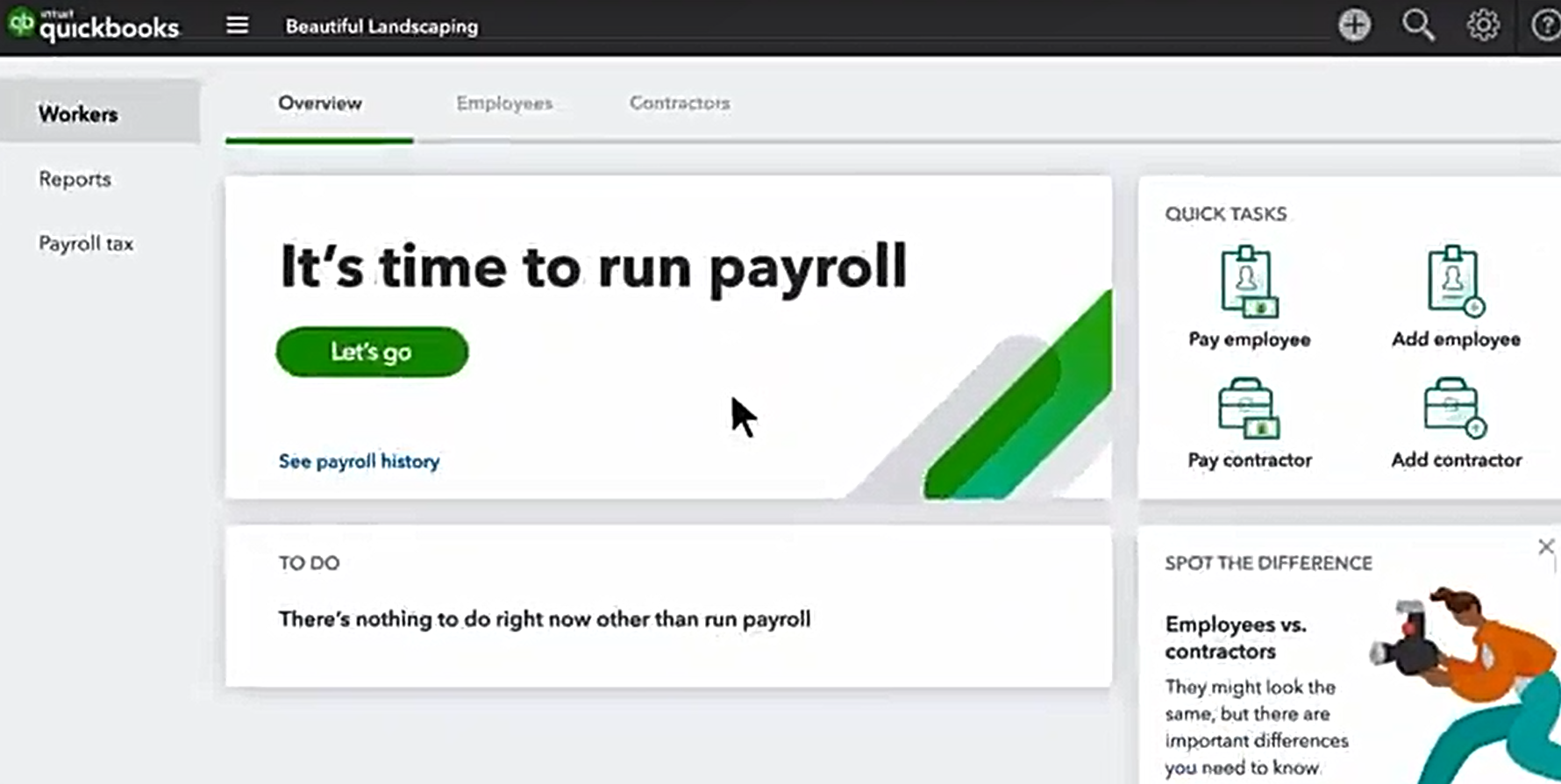 QuickBooks Payroll's full-service option will help you manage payroll from the time you make your first hire. You can set up multiple pay rates, process unlimited pay runs, calculate taxes you owe, and file tax forms electronically. Sign up for a 30-day trial today.
How to Manage Payroll For Contractors and Employees
When thinking about what payroll is, many people only associate it with employees. However, it can also include paying contract workers. Calculating pay for both is similar except you're only responsible for withholding payroll taxes for employees, not contractors. Most of the best payroll software allow you to pay both independent contractors and employees.
What is Payroll For Contractors?
Contractors are people you hire to perform work for you, usually on a case-by-case or project basis. They're not employees, which means you can't control how or what they do to deliver the finished product or service. You pay them at an agreed-upon rate and shouldn't withhold money for taxes or insurance. Contractors are responsible for paying their own payroll taxes, such as FICA, and you're only required to offer insurance benefits to employees.
What is Payroll For Employees?
Learning how to manage payroll for employees requires more work than contractor payroll. You control their finished products and/or services in addition to how and what they need to do to complete. You are also responsible for withholding and paying their payroll taxes. Instead of paying them the total money they earned, you must deduct Social Security, Medicare, income taxes, garnishments, and so on.
If you offer benefits, like insurance or 401(k), you must also withhold funds to pay for them. This requires a lot of tracking and calculating to ensure you are paying the correct amounts to your employees and tax agencies. Your payroll expenses are usually higher when it comes to employees vs. contractors, because you have to pay a percentage of the money your employees earn out of your own funds — as employer payroll taxes.
Make Employee Pay Decisions
Before paying your employees, you have to classify their positions into a couple of categories. For instance, will they be paid an annual salary or an hourly rate? Salaried employees are usually full-time, but full-time employees aren't always salaried. Generally, hourly employees can earn overtime, while it's not as common with salaried. These rules are general guidelines, but you may need to improvise for your business.
Salary vs Hourly
Salaried employees are paid an annual amount, such as $50,000 a year, so their paychecks are usually the same each pay period, regardless of the number of hours worked during the pay period. Hourly employees are paid per hour worked, like $15 an hour. Generally, as long as hourly employees work 40 hours or less in a seven-day period, you will pay at the hourly rate.
Part-time vs Full-time Employees
Depending on your business, you may have a mix of part-time and full-time employees. Usually, full-time is defined by a minimum of 40 guaranteed work hours per week. If you have employees who only work 15 hours a week, they are part-time. Aside from the number of hours they work each week, part-time and full-time employees usually differ in the benefits they receive. Some employers only offer PTO and health insurance to full-time employees.
Straight-line Pay
Straight-line pay is the amount you pay your employees at their regular hourly pay rate for hours worked. To calculate gross pay (pay before taxes and deductions), you simply multiply the hours worked by the pay rate.
Example:
Ben is paid $17 an hour for working as a cook at a local restaurant. Last week, he worked 36 hours. What's his gross pay?
$17 per hour x 36 hours worked in a week = $612
In this example, Ben's gross pay is $612. This means he earned $612 for the week. If he were a contractor, this would probably be the amount you would pay him; however, since he's an employee, it will be less — taxes and other deductions must be subtracted first.
Overtime Pay
Per federal law, overtime pay is defined as pay for any hours worked over 40 in a seven-day workweek. In California, it's pay for any hours worked over eight hours in a single day, regardless of how many total hours you work throughout the week. Both require you pay employees extra money for the overtime hours. Unless you're in a state with its own overtime laws, you should pay those hours at the time and a half rate.
Example:
Sally lives in Arkansas and worked 45 hours last week. Her pay rate is $12 an hour.
Overtime hours: 45 hours – 40 (regular) hours = 5 overtime hours
Overtime rate: $12 an hour (regular rate) x 1.5 (time and a half) = $18 an hour (overtime rate)
Overtime pay: 5 overtime hours x $18 an hour (overtime rate) = $90 overtime pay
Sally's overtime pay is $90 and should be added to her regular straight-time pay to calculate the $560 she earned in total for the week.
Regular pay: 40 straight-time hours x $12 an hour regular pay = $480 regular pay
Total pay: $80 overtime + $480 regular pay = $560
Paid Time Off (PTO)
Paid-time-off is exactly as it sounds: time an employee does not spend working that is paid. This includes vacation, sick, holiday, and even voting leave. Federal law doesn't require that you offer paid leave, but some states, such as California, and municipalities do.
If you decide to implement a PTO policy, you must set up a way to track employee leave balances. If you don't, employees can use more PTO than they earn. With a good tracking system in place, you'll know how much PTO employees use each period, so you can add it to their paychecks. You should monitor more closely once their PTO hours start running low so you can flag any paid leave requests that exceed their balances.
QuickBooks Payroll offers a seamless integration with TSheets that allows you to track and monitor overtime and PTO. You can customize accruals to align with your time-off policy so you can easily calculate employee time off. There's a $20 monthly base fee plus $5 monthly charge per employee for two to 99 employees, but it's cheaper if you opt for an annual plan.
Example of PTO Tracking:
Ginger wants to take off three eight-hour work days to go on a cruise with her husband. She started the year with 40 vacation hours and has used 20 of them.
In the above scenario, you should deny Ginger's request for PTO. She only has 20 hours of vacation leave remaining (40-20), and she is requesting to take 24 (eight hours X three days). Tracking this information protects you from overspending and ensures employees have full access to their PTO time.
When you pay for PTO, you should pay at the employee's straight-line pay rate. Some companies opt to pay time and a half (1.5 times the employee's regular pay rate) for work on holidays.
Kurt Rathmann, CEO of ScaleFactor, discusses the importance of tracking PTO, even if you offer unlimited PTO:
"Many companies today, including ScaleFactor, offer unlimited PTO, which means that tracking time off is not necessary for running payroll. However, even companies that offer unlimited time off should still use a tracking system to ensure every team has proper coverage, especially around major holidays. If an entire team is out of the office at once, that could cause major headaches."

— Kurt Rathmann, CEO, ScaleFactor
Payroll Taxes & Other Required Payroll Expenses
When most people ponder what payroll is, they immediately think of payroll taxes, primarily because you can be charged penalties if you don't calculate, file, and pay them accurately. All businesses are responsible for withholding taxes, such as the 7.45% of wages for FICA taxes, from their employees' earnings. You're also responsible for paying employer taxes on their earnings out of your own money — for example, 7.45% for your share of FICA taxes.
To withhold taxes from employees' paychecks, you must reduce the amount of money you pay them. This presents no additional expense to you. However, employer taxes are deducted from your funds.
In addition to FICA taxes, which include Social Security and Medicare, there are other taxes or expenses you need to withhold and/or pay. You must withhold and remit income taxes from employee paychecks, but these aren't an expense to you. Unemployment taxes and workers' compensation, however, are employer expenses, so you should pay out of your own bank account (not employee earnings).
Employee Deductions
Federal income taxes: Federal income tax is money the federal government charges those who earn money in the country. It goes to fund federal projects and programs. Use Form W4 to determine what percentage you should withhold from each employee's paycheck.
State income taxes: State income tax is similar to federal income taxes except they're charged by the state the worker earns wages in, and the taxes are used to fund state projects, like roads, programs, and so forth. Some states, like Florida, don't have an income tax, so you would disregard.
Employer Expenses
Federal unemployment taxes (FUTA): Federal unemployment taxes are paid into a fund to help support state workforce agencies. It's usually 6% of the first $7,000 in earnings for each employee, but can be as low as 0.6% if you pay state unemployment taxes on time.
State unemployment taxes (SUTA): SUTA taxes, sometimes called "reemployment" taxes or state unemployment insurance (SUI), are required by every state. When workers lose their jobs, they can usually apply for financial support through the SUTA program. Rates vary by state and usually depend on your industry, experience, and claims made by former employees.
Workers' compensation: Workers' compensation is insurance most businesses must purchase to fund future claims from employees who get injured or die on the job. Every state, except Texas, requires you to purchase. Cost depends on the type of work your workers perform and their claim history. Rates drop the longer you operate without claims.
Payroll Benefits & Deductions
Aside from payroll taxes, benefits are another huge deduction. These are the options you offer your employees that can increase morale and loyalty. Health, dental, vision, and life insurance, 401(k), flexible spending accounts for child care, and even free gym memberships are all benefits you can provide.
Insurance
After you set up the insurance plans you want to offer, employees have to decide whether or not they want to participate. If so, you can deduct the premiums from their checks, similar to how you deduct taxes. Premiums are a set dollar amount, so no matter how much their gross pay changes, it should remain the same (unless they change plans). You can also contribute toward their premium and pay some or all from your business' money.
One thing to note is that you're required to offer health insurance benefits if you have the equivalent of 50 or more full-time employees. If you opt not to provide these benefits, you can incur penalties, per the Affordable Care Act.
Retirement
Employees don't stay in jobs as long as they used to, but many still appreciate a retirement package. You will need to work with a retirement plan administrator if you choose to offer and deduct from employee paychecks each period. Employees determine how much they want to contribute; some contribute a percentage of their earnings, and others contribute a flat dollar amount.
Similar to how you can pay toward employee insurance premiums, you can contribute, or "match" up to a certain percentage of 401(k) dollars to add more incentive for employees to stay with your company.
Most employers with retirement packages have policies that require employees to remain with the company for a certain length of time (usually five years) before the "match" fully vests. "Vest" means the employee owns it outright. If they leave before then, some or all is deposited back into your bank account.
Flexible Spending Accounts
Flexible spending accounts (FSA) let employees deposit pretax money to pay for eligible expenses, like healthcare and child care. When this money is withheld from employee checks, it reduces their taxable income. This means they pay less in taxes but still get to use the money. This also saves you money, because you don't have to pay the 7.65% FICA payroll tax on the money they contribute to the FSA.
Garnishments
Garnishments are court orders that direct you to withhold money from employee paychecks to pay a debt they owe. For example, student loan garnishments are becoming more common as people start to default. When you receive a garnishment notice, act quickly, or you can be held liable. It's a good idea to start withholding the money demanded during the next pay period; don't stop until you're directed to. Sometimes the notice will have an end date.
If you opt to offer benefits and/or have to track other deductions, QuickBooks Payroll will allow you to manually set up deduction codes to help you manage them.
Ways To Pay Your Employees
There are several ways to pay your employees: by paycheck, direct deposit, pay card, or cash, and the federal law doesn't dictate which one you must use. We don't recommend using cash, because it makes it difficult to leave a paper trail and can make you a target for an IRS audit. Some employers pay in cash to avoid reporting and paying taxes on their workers' income, so tax agencies are leery of this method.
Paychecks
Paying by check is a tried and true method of paying employees and leaves a great paper trail. All you need is a printer, check stock, and magnetic ink to get started. The most challenging part for most employers who print their own checks is finding the right check stock to match the program they use to print. Using a popular payroll software, like QuickBooks Payroll, simplifies this because many check stock providers cater to its software requirements.
You can also buy checks from your bank and write them out by hand. This doesn't require a printer or magnetic ink. We recommend using it only if you have a few employees. Otherwise, it can be time-consuming.
Direct Deposits
Direct deposits are a convenient way to pay employees electronically. You can work with your bank or payroll software to set up automatic deposits for each employee who consents to using this method. Legally, you have to request consent before making any direct deposits, so it's best to document via a direct deposit authorization form at the time of hire.
Pay Cards
Pay cards are an easy way to pay employees who don't have a bank account. Instead of sending direct deposits to a bank account, you will send to prepaid debit cards employees can use to withdraw their funds or charge purchases. Before implementing a pay card system, you should check your state laws. Some states, like Oregon and New York, will only allow you to pay employees with these cards if you also offer a paper check option.
Payroll Forms
To manage your payroll process effectively, you must become familiar with the payroll forms and documentation that are required. You will have new hire paperwork, such as the I-9 form, payroll detail records, like pay stubs, and monthly, quarterly, and year-end forms. Federal law requires you to store most payroll documents for at least three years, but per the IRS, tax documents should be saved at least four.
New Hire Documents
When you hire a new employee, there are a couple of forms you must collect to ensure compliance with federal and state laws. They're usually required to be submitted within one to three days of the employee's hire date, so it's important to make these priority on your new hire checklist.
I-9 Forms for New Hires
The I-9 Form is a federal document that verifies your new hires are eligible to work in the United States. It asks questions about citizenship and work authorization. Your employees must give you copies of their identification, such as U.S. passport or driver's license. If you don't collect and verify all of this information within the first three days of the employee's start date, you could face $110 to $16,000 in penalties per violation.
W-4 Forms for New Employees
Employees should complete the W-4 Form on their first day on the job to ensure their check is correct on payday. The form asks questions about their allowances and marital status to help you calculate the percentage of income taxes you need to withhold from their checks. There's a federal form and a state form for states with income tax, like California and New York.
W-9 Forms for New Contractors
The W-9 should also be collected at the time of hire — but only for independent contractors. You're required to report their earnings on the 1099 year-end form, and this document will help you do that by gathering the personal information you need, like the contractor's tax identification number (TIN).
Year-End Forms
At the end of each year, you have to gather information on how much you paid out to your employees and contractors and provide them with documentation by Jan. 31 of the following year. You also have to send the IRS copies to help determine how much, if any, taxes your workers still owe for the year.
W-2 Forms For Employee Earnings
The W-2 Form lists your employees' earnings, taxes paid, broken down by Social Security, Medicare, federal income, and so forth, and taxable income. Employees will use the form when they file their taxes for the year. You can mail or email these to employees or make them available through an online portal.
Depending on how much you withheld from their checks, employees may or may not be entitled to a tax refund. Due to upcoming changes in the W-4 Form, there should be far fewer employees receiving tax refunds and tax bills, starting in 2020.
W-3 Forms, Summary of W-2 Forms
In addition to sending W-2 Forms to employees, you must report a summary of the information to the Social Security Administration on the W-3 Form along with copies of the W-2 Forms. The W-3 Form shows total earnings, Social Security wages, Medicare wages, and other tax withholdings of all employees for the year.
1099 Forms For Contractors
To report earnings for independent contractors you paid over $600 in the year, you must submit the 1099 Form. Contractors use this form to file their taxes. Since you don't withhold taxes for them, they usually owe at the end of the year. Some choose to estimate their tax bills ahead of time, based on pay stubs and other payroll data, and opt to pay quarterly. The 1099 Form is similar to the W-2 Form but is for contractors instead of employees.
1096 Form, Summary of 1099s
The 1096 Form is similar to the W-3 Form in that it's a summary of the totals you reported on your 1099s. You must send it to the IRS by Jan. 31 along with a copy of each 1099. This gives the IRS insight into the amount of taxes they should expect to collect. If contractors fail to file and pay said taxes, the IRS will figure it out based on the documentation you submit and send a notice (and penalty) to violators.
QuickBooks Payroll's Full-Service plan will file and send W-2 forms to your employees and the IRS at year-end for you. You can also add on the 1099 e-filing service for an extra $14.99 per month for up to three forms if you work with independent contractors.
Other Payroll Forms: Quarterly, Annually
Since you withhold and pay taxes on employee earnings, you have to file and send the money to the IRS. How often you file this information depends on the size of your business. Small companies with few employees can sometimes get away with only filing once a year, while other companies must file quarterly.
Form 941, Quarterly Payroll Taxes
If you opt to file quarterly, you will need to report all wages and tips reported to you on Form 941. It tracks FICA tax payments you make throughout the year, including those you withhold for employees and the employer taxes you owe.
You're required to file for each quarter, January through March, April through June, July through September, and October through December. You usually have until the last day of the month following the quarter-end to file. For example, if you're submitting Form 941 for the end of the second quarter (June 30), you will need to do so by July 31. If you only hire contractors, you won't need to complete the form at all.
Form 944, Annual Payroll Taxes
If you have a small number of employees, you may be able to file Form 944 instead of Form 941. Form 944 is an annual form you would use to report payroll taxes each year. The catch is that you can only use it if you have a tax liability of $1,000 or less for the year. It's usually due on Jan. 31 of the following year and can save you time from having to report each quarter.
A rule of thumb for figuring out if your tax liability will be under the threshold is to estimate how much you'll pay in wages. If you think it'll be over $4,000, you should file Form 941 quarterly. You can always change your filing method in the following year so you have historical information to refer to.
Note: Before hiring your first employee, you should submit an application for your Employer Identification Number (EIN). You should indicate you'll be filing Form 944 when you filled out the form. If you don't, you will need to request that the IRS change your filing requirements before proceeding.
Form 940, FUTA Tax Return
Form 940 is the FUTA Tax Return employers who pay at least $1,500 in wages must file each year to report their annual FUTA tax liability. It's usually due on Jan. 31 of the following year, but if you pay quarterly when the taxes are due, you can wait as late as Feb. 10 to file.
Form 1095 (B, & C) For Health Coverage
If you have the equivalent of at least 50 full-time employees, you must complete and send Form 1095-C for each employee. It shows the health insurance coverage you offered and whether or not employees took advantage of it. You must report health insurance information for all 12 months of the year on each form.
If you offer a self-insured health plan, meaning it's funded within your company and not by an outside insurance company, you should file Form 1095-B for each full-time employee. You will need to send a copy to each employee and a copy of each to the IRS. This is usually only offered by large employers.
Form 1094-B for Summary of Health Coverage
Form 1094-B is a summary of the information you report on your 1095-B forms. You should send it to the IRS along with copies of each individual 1095-B Form to verify you provided the minimum required insurance coverage to your employees during the year. Generally, you have until Feb. 28 of the following year to file, if submitting by paper. You can file up to April 1 if you submit electronically.
Labor Laws Governing Payroll
To avoid penalties and other negative consequences, you must comply with all labor laws. The Department of Labor (DOL) administers numerous laws we have yet to discuss. In addition to minimum wage and overtime laws, you have to comply with FMLA leave requirements, child labor laws, workplace posters, and so on.
Family and Medical Leave Act (FMLA)
If you have 50 or more employees, you must allow your employees to have 12 weeks of unpaid, job-protected leave if they experience eligible circumstances. For example, childbirth and spousal illness (serious or critical) both apply. Some states, like California, have a related law, Paid Family Leave (PFL) that require you provide up to six weeks of paid benefits when employees experience eligible circumstances.
Workplace Posters
State and federal laws require you post labor law posters in plain sight within your workplace. The posters you need to retrieve for your business depend on the line of work your business is in and the type of employees you have. There are posters that explain child labor law, rights under the Occupational Safety and Health Act (OSHA), and minimum wage requirements. Visit the DOL's website to find out what you need to post in your workplace.
QuickBooks Payroll offers a Labor Law Poster Subscription Service that will send you a full, laminated set of all federal and state posters you're required to display. You'll also have the option of downloading an electronic set until your hard copies arrive. The subscription auto-renews every 12 months and sends you a new one anytime there are any changes. If you're an active subscriber and are ever penalized for related compliance issues, QuickBooks Payroll will cover up to $33,000 in penalties.
Child Labor Law
Federal law establishes certain restrictions for employers who hire workers under the age of 18. For instance, no minor can work in a hazardous job, and you can't hire any minors under the age of 14 to perform non-agricultural work. Many states have their own child labor laws that are stricter than federal; follow those that give minors the most protection.
Industry-Specific Labor Laws
There are numerous other labor laws, and some are industry-specific, which means they may or may not apply to your business. For instance, construction companies working on federally funded projects have additional guidelines beyond the minimum wage laws on how much they must pay their workers. Restaurants with tipped employees have additional reporting requirements and can pay their workers below the minimum wage if they receive sufficient tips.
Payroll Accounting
Payroll impacts areas of your business beyond human resources; your accounting or bookkeeping resource will also have payroll-related responsibilities. When you pay your employees, your general ledger should reflect payroll expenses, like wage expense and 401(k) contribution expense. You'll also need to create a liability for money you've collected but haven't yet paid, such as FICA taxes payable.
Properly handling your company's payroll accounting is essential; you can over or underpay in taxes if you're not careful. Many payroll expenses are deductible from your company's taxable income, for instance, wage expenses; if you're tracking your wage expenses on your general ledger, you'll know how much to deduct from your taxable income at year-end. This will lower the income on which you have to pay taxes, thus saving your business money.
Since payroll is run in a separate system from accounting, payroll software with accounting integrations can save your business time and money. QuickBooks Payroll can be used with online accounting software, QuickBooks Online, and can transfer your payroll expense information seamlessly. You can automate payroll tax filing and payment and run an unlimited number of pay runs at no additional cost. Sign up for a discount or try it free for 30 days today.
Pros & Cons of Doing Payroll Manually
Now that you understand what payroll is, you may be wondering if you can handle it yourself. Some employers opt to do so while others utilize payroll services. It's usually cheaper to do it yourself but is more prone to errors, depending on your payroll complexity, if you don't at least use software to help.
Pros of Doing Payroll Manually
The pros of doing payroll manually are:
Cheaper: Doing payroll manually costs less money. You don't have to pay fees for software or service.
In-house knowledge base: If you opt to process on your own, you will be more inclined to research the laws and regulations more thoroughly than you would if you were outsourcing payroll. This means your business will have a knowledge-base in-house, so you don't have to blindly rely on outside help.
More control: You can process payroll however you like, whenever you prefer, with no limitations, except the legal ones. Some payroll services only pay on Fridays or won't allow you to pay contractors.
Cons of Doing Payroll Manually
The cons of doing payroll manually are:
Time-consuming: You'll have to spend time on the front-end getting past the learning curve so you can process payroll accurately. You're also likely to operate more slowly, because you won't have access to as much automation — like automated pay runs and tax payments — as a payroll software can provide.
Error-prone: Calculating gross pay, deductions, and taxes can be cumbersome if you there are a lot of components. It's easier to make errors when you don't have a software or service to back up your calculations. Also, by the time you're done performing the calculations, you may not have time to do a thorough review.
Higher potential for penalties: You'll be held to strict deadlines for filing payroll forms to the IRS and other agencies throughout the year, regardless of how you process and run payroll. It can be easy to forget an important form or date, and your business could be subject to pay a penalty.
Frequently Asked Questions (FAQs) About Payroll
In this section, you will find answers to the most frequently asked questions about what payroll is.
Can I legally hire an unpaid intern?
Yes, you can legally hire an unpaid intern as long as you can verify the worker is an unpaid intern or student. Factors tested include presence of a non-compensation agreement, legitimate training, relevance to individual's formal education, employer accommodation, temporary duration, and job entitlement. If it's determined the individual is an employee, you must pay minimum wage and overtime.
How do you calculate payroll?
To fully calculate payroll, you should multiply an employee's hourly rate by hours worked or use salary per pay period to find gross pay. Then, deduct taxes, benefit contributions, garnishments, and any other deductions. Taxes are a percentage of employee earnings, and deductions for benefits are usually a flat premium. Employers pay taxes on employee pay as well.
Who is exempt from overtime pay?
Workers who earn at least $455 a week in salary are exempt from overtime if they perform office (non-manual) work. Typically, their work will fall under the DOL's executive, administrative, or professional exemption categories. Other jobs that are exempt from overtime are news editors, live-in domestic service workers, taxi drivers, and railroad employees.
How often do I have to pay my employees?
Payday frequency is generally regulated by the states in which businesses operate. Federal law mentions establishing a consistent schedule but doesn't have strict guidelines to govern how often you have to pay. If you're in Arkansas, you have to pay at least semimonthly, and if you're in California, it depends on the job — some are weekly while others are biweekly. Check the DOL's website for more detail about your state.
What are employers required to withhold from employee paychecks?
Employers are required to withhold money for Social Security and Medicare taxes, federal and state income taxes, and court-ordered payments, like garnishments and child support. Deductions for insurance, charity, and retirement plan contributions are voluntary.
What Is Payroll?
Payroll includes the workers you pay, both contractors and employees, and how much you pay them. In addition, payroll taxes (income taxes and FICA taxes), benefits like insurance and 401(k), and paid-time-off (sick and vacation time), can be huge components of managing payroll.
Bottom Line
Payroll can be a complex topic, depending on what rules and regulations apply to your business. The more employees you have, the more oversight you're subjected to. It also affects many different aspects of a business, from human resource management and labor laws to payroll accounting and taxes.
If you want to run your payroll within minutes and receive a guarantee that your payroll taxes will be filed accurately, QuickBooks Payroll is a good option for you to consider. It stays up-to-date on federal and state tax rates, allows you to run payroll as many times and as often as you need, and integrates with popular accounting software, like QuickBooks Online. Try the demo today.