High definition voice (HD voice) is a technology found in modern telephones that provides clearer, more natural sounding audio when compared to traditional phone systems. This benefits virtually any user that wants to better understand their phone conversations and the feature is found in most modern voice-over-internet-protocol (VoIP) systems for no additional cost.
What Is HD Voice Calling & How Does It Work?
For many years, phone calls were transmitted over a network of copper wires. The audio quality of these calls was passable but did not sound natural or clear at all. Since the dawn of both mobile internet and VoIP technology, vendors have taken advantage of the increased bandwidth and offered HD voice technology, which sounds clearer than what was previously possible.
However, It is worth noting that HD voice is a two-way process. In order for it to work, both parties on a call need to have HD voice equipped on their handset. This means if someone with HD voice calls someone without the feature, the call will simply be in "standard" definition.
This is because HD voice technology requires both software to process the calls in high definition and handset hardware to send and receive the signals. As such, you'll need both a VoIP service that offers HD voice features and a phone that can support it. Mobile users, too, will need a compatible smartphone and a wireless plan that offers HD voice.
HD Voice for Mobile
HD Voice technology is a common feature on smartphones. Over a cellphone network, "standard definition" (i.e., calls not equipped with HD voice) calls are usually transmitted on a frequency of 300 Hz to 3.4 kHz. An HD Call transmitted over an LTE network, in comparison, transmits calls from 500 Hz to 7 kHz and up. The fact that the frequency is larger allows for more sound data.
The vast majority of mobile devices now support HD voice. Additionally, all four of the major U.S. carriers (AT&T, Verizon, T-Mobile, and Sprint) all support HD voice over their networks. If you have a reasonably modern smartphone and a business cellphone plan, you probably have access to HD voice right now. Check your phone's settings for more information.
HD Voice for Desk Phones
You can get even better HD voice call quality over a wired VoIP phone due to the fact that your office's internet connection is probably far more stable and much faster than your cell carrier's network. If both parties on a call are using wired VoIP phones and a service like RingCentral, the call could sound as clear as if the two people are talking in the same room. Like HD voice on a mobile network, VoIP HD transmissions can pick up and cancel out background noise.
While most VoIP services support HD voice calling, not all VoIP phones support it. In fact, most entry-level handsets do not accommodate HD voice calling. Read our VoIP phones buyer's guide on the subject for more information.

HD Voice Benefits
HD voice is good for any business user who has a reliable internet connection, either through their mobile network or with a VoIP service. As more people abandon traditional landlines, more users are becoming eligible to make use of HD voice technology. There will likely be a point in the future where their standard definition calls will cease to exist.
Here are a few use cases where HD voice is especially useful:
Conference Calls: When a large number of people are on the same call, HD voice can block out background noise and make meetings less chaotic.
Mobile Users: Traveling workers who take calls from airports, coffee shops, and other noisy environments can better understand the person they are speaking with
Transcription Users: Clearer audio quality is easier to transcribe for both human and automated transcription services.
Unless you don't have an internet connection that supports it, it's hard to imagine a scenario where HD voice isn't helpful. Much like how HD Video is an objective improvement over older resolutions, HD voice improves upon an old technology in virtually every single way.
HD Voice Costs
HD voice comes standard with most modern VoIP phones, and the technology also comes with most leading VoIP services. Additionally, the technology is available with the bulk of smartphones and data plans in the U.S. No matter your type of business or budget, you can probably deploy HD voice in your organization.
Here are some costs to consider when looking at HD voice functionality:
VoIP Handsets: HD voice-compatible handsets range from $73.00 for the Polycom VVX 301 to $499 for the high-end Yealink T49G
VoIP Phone Service: RingCentral starts at $29.99, but more basic VoIP systems like OnSIP can be used for free
Smartphones: If you want to enjoy HD voice while on the go, nearly every modern smartphone supports the technology. This even includes midrange and budget phones that come free with your wireless plan
Cellphone Plans: If your business' cellphone plan has LTE data, then you probably already have HD voice enabled. Get in touch with your carrier for more details
Internet Service Costs: Your VoIP service depends on an internet connection to work. Rates for internet service vary by region.
Not only is HD voice a useful feature, but it's also free with most telephony products. As more people switch from landline-based business phone systems to VoIP, the technology will get even more ubiquitous.
HD Voice Phone & Service Providers
In order for HD voice to function properly in an office, users need both a compatible handset and a business phone service provider offering HD voice. Remote workers and frequent travelers need a similar wireless setup for HD voice. Here is a list of supported hardware and service providers for all of your HD voice calling needs.
HD voice providers include:
VoIP Business Phone Hardware With HD Voice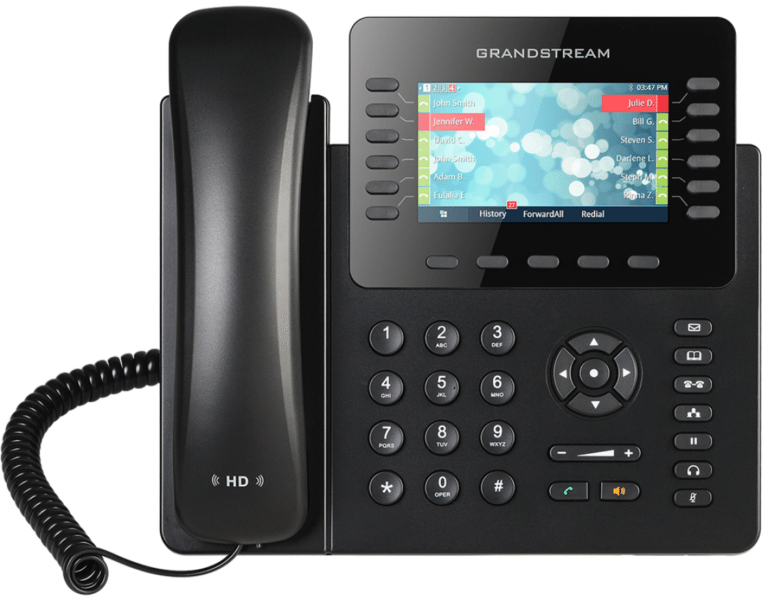 Our recommended overall pick for VoIP phones is the Grandstream GXP2170. For $98.59, the handset provides HD voice along with other features such as Bluetooth connectivity and a large color display, all for an affordable price.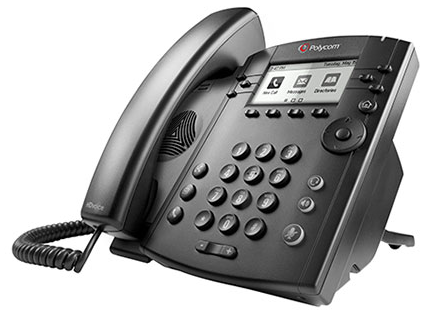 The Polycom VVX 301 offers a basic handset at an affordable price. For just $73, it offers HD Voice and support for up to six lines per extension. It works in a similar fashion to the desk phones that businesses have had for many decades, but it's made a bit more modern thanks to HD Voice calling.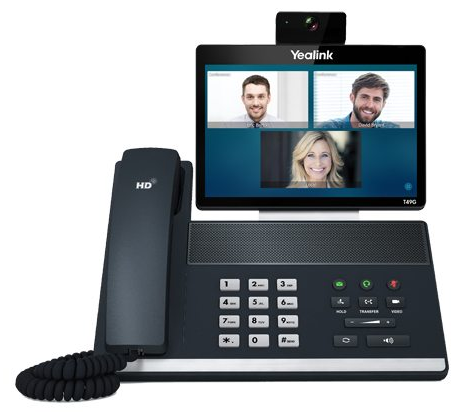 The Yealink T49G is a no-compromise desk phone that includes not only HD voice calling, but HD video conferencing. This $499 phone boasts a large HD display as well as the ability to sync your smartphone's contacts with the device via Bluetooth.
VoIP Business Phone Service Providers With HD Voice

RingCentral is one of the most popular VoIP business systems on the market, and for good reason. Starting at $29.99/user per month, the system offers features like HD voice calling, a mobile app, and integrations with other business software. The company even offers a seven-day free trial.

Nextiva starts at $34.95 and ranks as one of the best business phone systems on the market thanks to features such as an auto-attendant, conference calling, and voicemail-to-email transcription. It also provides a mobile app so you can take your business phone on the go.

8×8, which starts at $25/user per month, is a VoIP service that specializes in providing users with unlimited international calling to up to 47 countries. This means that, in addition to core features like call conferencing and text messaging, you can stay in touch with your overseas associates at no additional cost to you.
Business Cellphone Plans With HD Voice
Most business cellphone plans include both hardware and software. If you desire a traditional wireless plan for your employees, then any of the four major U.S. carriers will have an option that suits your needs.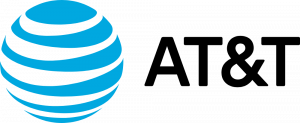 We find that AT&T has one of the best traditional business cellphone packages in the U.S. that features HD voice. It has a flexible pricing structure and it is generous with the amount of data that you and your team can share every month. It also comes with unlimited calling in Mexico and Canada.
While there is no shortage of business cellphone plans available, we find that having a VoIP service and having your employees download the provider's mobile app on their smartphones can be a massive savings over giving all employees their own cellphone. Services like RingCentral, for instance, offer a mobile app at all tiers of service.
Pros & Cons of HD Voice
HD voice allows you to make and receive calls with unprecedented call quality. If you have ever had a conversation on a plain old telephone system (POTS) and had missed important information due to unclear audio, you'll find a lot to like in HD voice. With that in mind, the technology requires internet bandwidth, so it may not be ideal for rural customers or those with unreliable internet connections.
Pros of HD Voice Calling
Benefits of HD voice technology include:
Better Comprehension: The high call quality makes it easier than ever to hear a speaker's voice. This is especially true for better discerning acronyms, complex discussions, and thick dialects.
Less Chaotic Conferences: The noise canceling features provided by HD voice calling means that less background noise is picked up by the phone's receiver.
More Accurate Transcriptions: Whether it's a human or a machine doing the transcription, the enhanced audio clarity helps make call transcriptions far more accurate.
Cons of HD Voice Calling
Despite the benefits, there are some downsides to HD voice calling:
Network Requirements: HD voice requires a fast, stable internet connection. For rural workers and those in areas with frequent power outages, it's not feasible.
Two-Party Requirements: In order to work, HD voice requires that both users have compatible hardware and software. If a user with HD voice calls someone on a traditional landline phone, for example, the call will be in standard audio quality.
Expense: HD Calling requires data usage on mobile networks. If all of your employees are calling each other with HD voice over LTE, it can quickly use up your data.
Frequently Asked Questions (FAQs)
Can HD voice users call non-HD voice phones?
Yes. The call will not be in HD, but there is full compatibility between HD lines and non-HD lines.
Can I make HD voice calls over Wi-Fi with my smartphone?
Yes. If your device is getting data via Wi-Fi instead of a mobile network, you will be able to make HD voice calls to other compatible headsets.
Can I make international HD Voice calls?
Some services support international HD voice. Contact your service provider for more details.
Bottom Line
HD voice is revolutionizing phone calls the same way that HD displays changed the way we look at our computer screens. The technology is more pleasant on the ears, easier to understand, and makes for more effective business conversations.
If you are looking for a VoIP service that includes HD calling, we'd recommend RingCentral. This complete phone system even offers a seven-day free trial so that you can try out all of its features for yourself. Click the link below for more information.