What Is Last Mile Delivery? An Ultimate Guide
Your last mile delivery strategy could make or break the customer experience—and your budget.
Last mile delivery refers to the last leg of a package's journey when a customer purchases an item from a business. It is the final step, bringing the delivery from the fulfillment center to the final destination—typically a residential address.
Last mile delivery strategy is important as consumers' expectations get higher and logistical challenges grow in complexity. And, the last mile is both the most expensive and the most time-consuming part of the order fulfillment process.
Let's take a closer look at the last mile process, why it is important, and how you can optimize your last mile logistics.
Last Mile Delivery Process
The last mile delivery process involves four key steps of the larger order fulfillment process. It typically includes order processing, packaging, dispatching, transportation, and ultimately reaching the customer.
The last mile delivery market alone is forecast to be worth more than $200 billion by 2027—up from $108.1 billion in 2020.
1. Order Processing
To kick off last mile delivery, you first need a customer to place an order. This typically happens online, in which many orders are shipped to the customer. However, you can also offer delivery from your retail store or pop-up events and markets.
When a customer places an order, your order management system then processes that order and kicks off the respective workflow. This step also includes payment processing and order routing.
You can give customers shipping options when they make their purchase as well. Each option would determine a different last mile delivery process. The order is then routed to the respective warehouse, store, or fulfillment center for the next step.
2. Picking & Packing
After receiving the orders, the next step is to prepare them for dispatch. This includes picking the items from the warehouse, packaging them securely, and creating shipping labels.
3. Routing & Scheduling
Once the orders are prepared, you'll pick the best routes and schedules for delivery vehicles. The best shipping options depend on typical factors like origin/destination, delivery location, and package size, as well as more granular considerations, like traffic conditions and delivery time windows.
This is where route optimization software comes in handy, helping you optimize delivery routes and reduce fuel costs while making sure deliveries are on time. It also involves allocating resources, like delivery personnel and vehicles (depending on driver availability), vehicle capacity, and the number of packages you need delivered in each area.
4. Delivery
The actual delivery execution is the most customer-facing part of the last mile delivery process. It's important to choose a delivery option on more than just the cost. Here's a breakdown of how businesses outsource their last mile delivery (many businesses use more than one method):
3PL partners: 54.9%
Store fleet: 32%
Crowdsourced deliveries: 8.2%
Store staff: 6.1%
Drones: 0%
It's important your delivery service of choice follows the optimized routes, handles packages carefully, makes timely deliveries, and interacts professionally with customers. This part gets especially tricky as you consider factors like urban vs rural environments, remote destinations, delivery service availability, and customer availability.
After the delivery is made, the recipient provides proof of delivery (POD), often through electronic signatures or photo evidence. This step ensures transparency and helps get ahead of any disputes regarding the delivery.
5. Data Analysis & Continuous Improvement
One step that's easy to forget is to analyze your last mile process. This includes looking at data like delivery times, costs, and route performance. And you'll also want to look at qualitative data like customer feedback and reviews—as well as internal feedback or notes from delivery personnel.
By looking at all this information, you can identify bottlenecks, optimize routes, boost efficiency, and improve the customer experience.
Benefits of an Optimized Last Mile Delivery
Some of the advantages of a well-executed last mile delivery include:
Improved customer experience: Optimized last mile delivery ensures customers receive their orders promptly, boosting satisfaction levels and customer loyalty. You can also provide real-time, granular order tracking.
Competitive advantage: Providing exceptional last mile service can set your business apart from competitors.
Reduced operational costs: Optimizing last mile logistics can lead to cost savings by minimizing delivery route inefficiencies, fuel consumption, and vehicle maintenance expenses.
Order fulfillment is a core part of your retail business, especially if online sales are an important channel for you. More than 25 billion packages are shipped worldwide each year, and that number is only expected to grow. At the same time, consumers expect businesses big and small to provide conveniences like free shipping, same-day delivery, and free returns.
Challenges With Last Mile Delivery
There are also some drawbacks and potential challenges to overcome as a business implementing last mile delivery. In fact, 61% of businesses claim last mile delivery is the most inefficient process in their supply chain.
Cost
Last mile delivery can be costly. Shipping and delivery expenses are already among the top concerns for businesses—and more than half say that rising shipping costs are the biggest challenge they face when it comes to implementing last mile services. According to Insider Intelligence, last mile delivery accounts for 53% of an order's total shipping costs. The actual cost depends on origin-destination, delivery location, package size and weight, and delivery service availability.
Route Optimization
Factors outside of your control, such as traffic congestion, delivery location and preferences, and delivery availability, can make it difficult to optimize routes. Without dedicated software, it's nearly impossible.
Delivering products in urban areas often involves navigating through heavy traffic, for example. On the other hand, rural areas are typically more susceptible to weather delays or lack of delivery availability. Both can lead to delays and customer dissatisfaction.
Delivery Challenges & Constraints
Customers increasingly expect precise delivery time slots, which can be challenging for businesses to fulfill, especially during peak seasons. Plus, incorrect or incomplete addresses can lead to failed deliveries, resulting in additional costs and negative customer experiences.
Role of Technology in Optimizing Last Mile Delivery
Technology is critical to businesses of all sizes, and it's no different when it comes to last mile delivery. Consider, for example, the fact that 37% of businesses with outdated technology were unable to upscale during the start of the COVID-19 pandemic in 2020—and another 50% of executives say outdated tech will be the cause for lost customers.
Route Optimization Software
Advanced routing algorithms help delivery drivers find the most efficient routes, reducing travel time and fuel consumption. Some platforms include:
Real-time Tracking
Customers want to track their orders, and they're demanding more visibility into their deliveries. According to one survey, 91% of consumers actively track packages, 39% track them once a day, and 19% track them multiple times a day.
Using efficient last mile delivery technology allows you to not only automate order tracking updates but provide a more detailed look into where the package is. This puts customers' minds at ease and can help reduce customer support inquiries regarding order tracking and delivery status.
Local Delivery Apps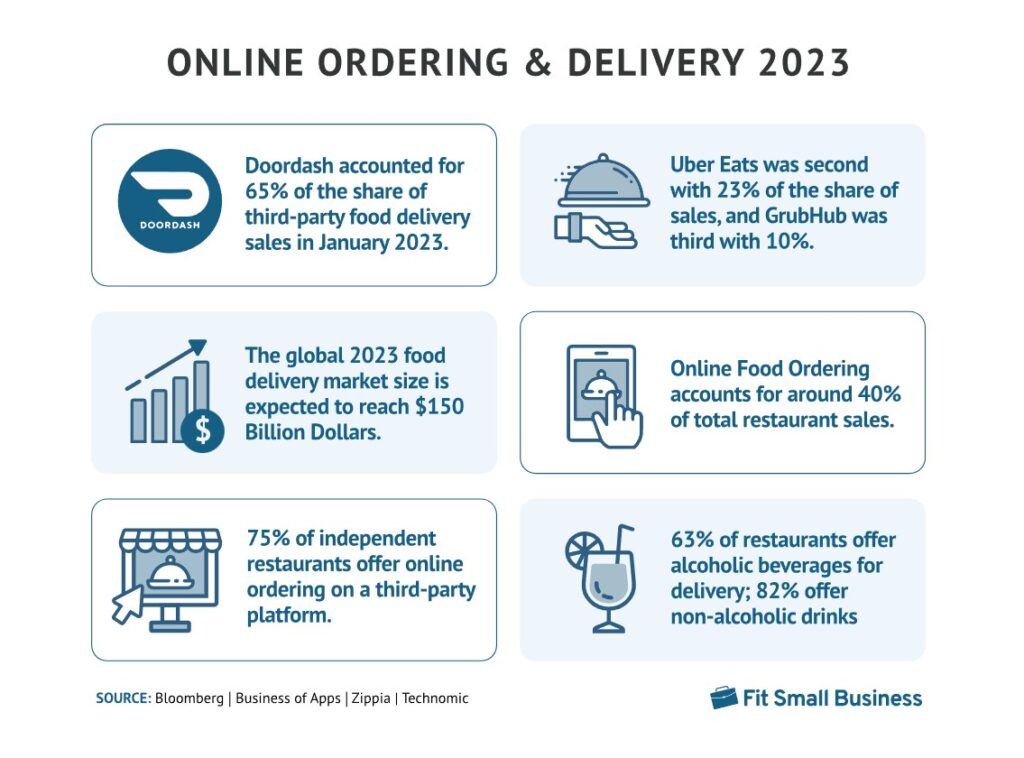 Local delivery apps can be a helpful tool in executing your last mile delivery process. These options are common among food-based businesses—as many as 75% of independent restaurants used third-party delivery in 2022—and increasingly among retailers as well.
Platforms include third-party delivery services like Postmates, Uber Eats, GrubHub, and DoorDash. You might also have some local options, depending on where you're located.
Autonomous Delivery Vehicles & Tools
Self-operating cars, drones, and robots are proving their value in the last mile delivery process. In fact, the autonomous last mile delivery market is forecast to exceed $51 billion by 2028—up from $8.78 billion in 2020. Drones alone are expected to be worth $9.8 billion by 2030.
This technology allows businesses to find more reliable, cost-effective, and environmentally friendly ways to execute deliveries. Robots and drones, for example, can navigate congested urban areas or to hard-to-reach remote locations.
Last Mile Delivery FAQs
Last mile delivery is however many miles it takes an item to travel from its fulfillment center to its final destination. This distance varies, but is often the shortest leg of the journey.
---
There are three different types:
Direct delivery to the customer's home
Locker delivery
Click and collect or buy online, pick up in store (BOPIS)
---
The last mile delivery process involves five steps:
Order processing
Picking and packing
Routing and scheduling
Delivery
Data analysis and optimization
---
Bottom Line
Optimizing last mile delivery is essential for small retail businesses. It's paramount to the customer experience, and there are tons of platforms and technology to make this accessible to businesses of all sizes. Consider how you can optimize your last mile delivery process to create a positive customer experience that will drive repeat sales and word-of-mouth referrals.