Third Party Logistics (3PL) companies handle outsourced procurement, transportation, and distribution functions for client companies. Some focus on specific segments, like product sourcing or freight shipping. Others fill multiple needs, like warehousing and distribution. We'll explore how different 3rd party logistics companies work and how to choose the right 3PL solutions for your ecommerce business.
3PL Services & the Supply-to-Sale Cycle: Connecting the Logistics Pieces
The availability of 3PL services in every sector: Procurement, Transportation, Distribution, and Growth, makes it possible for small businesses and startups to tap expertise along every step of the cycle. This opens up myriad business development possibilities and is a key ingredient in the innovation that's building the next generation of nimble, data-driven business.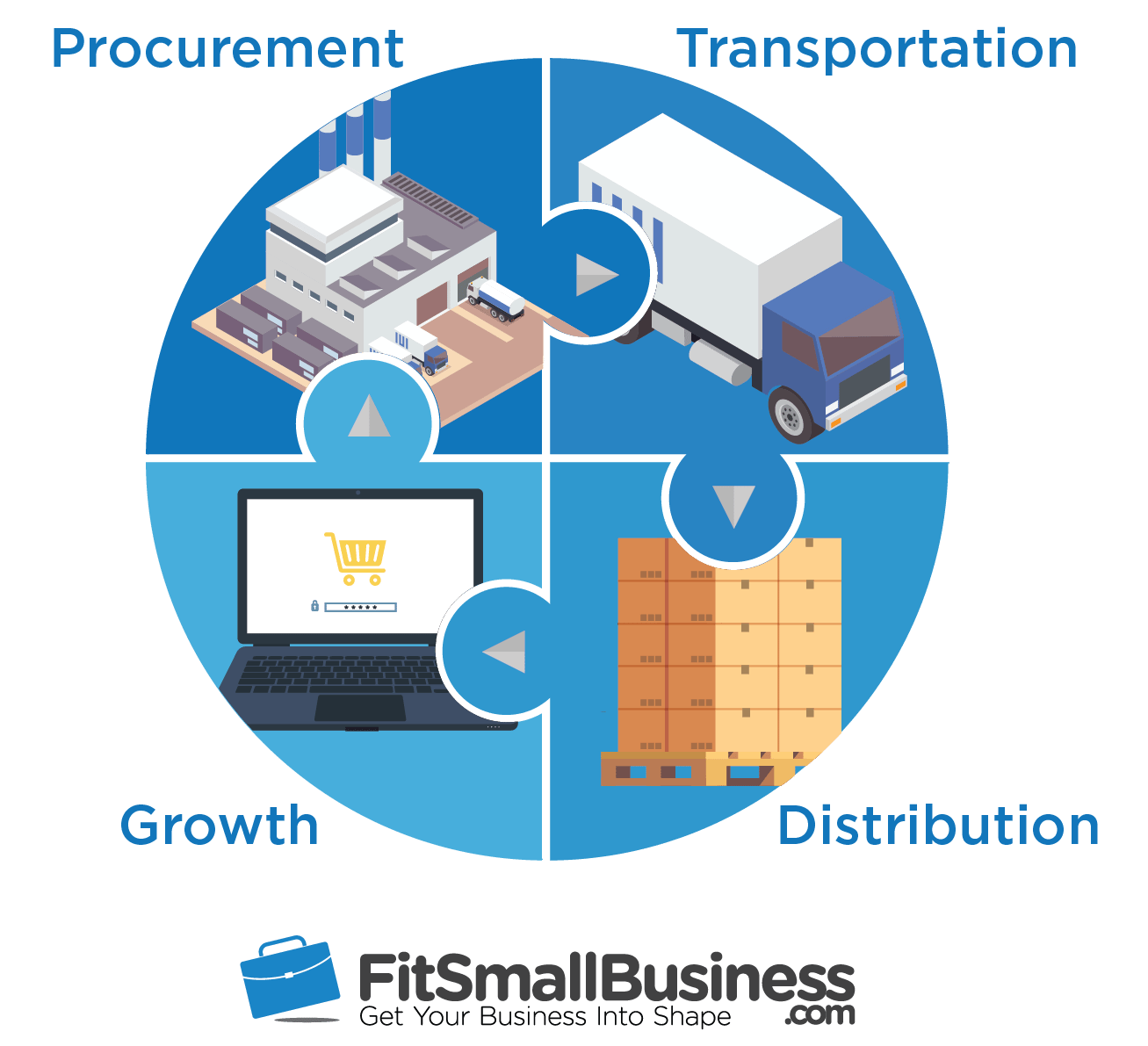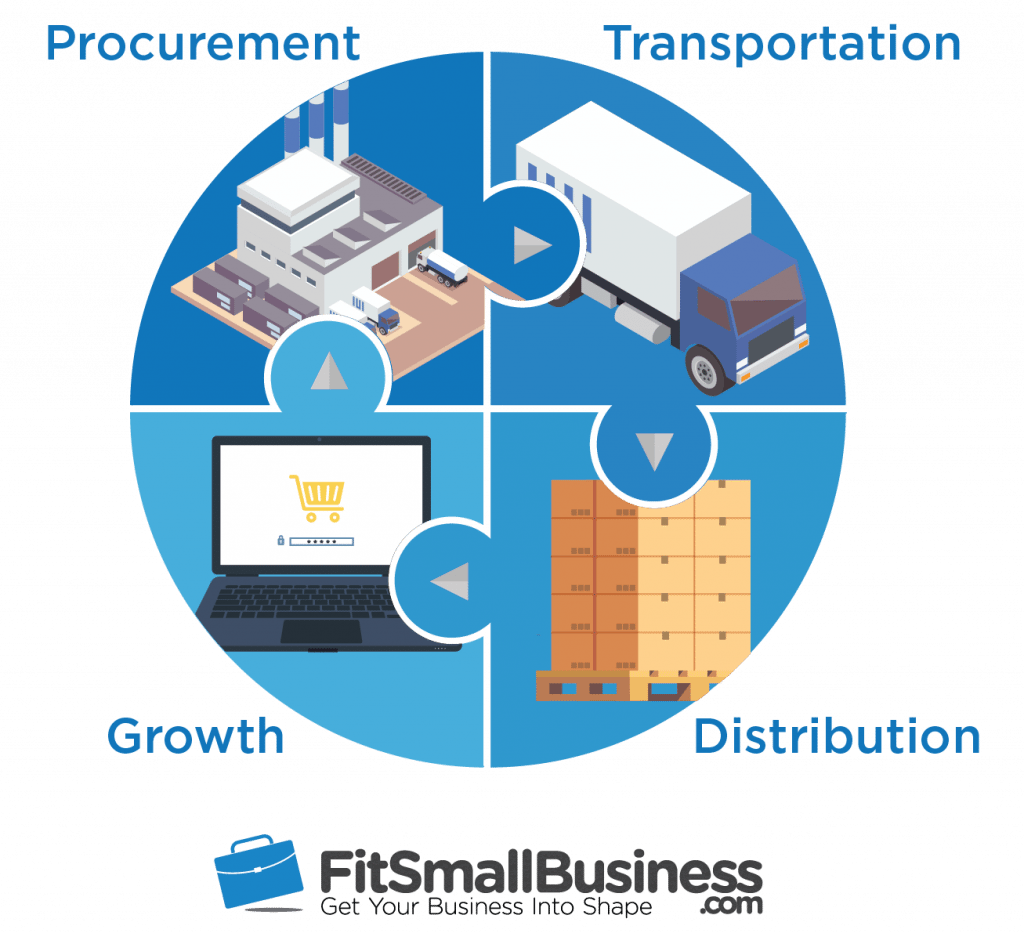 The real challenge for the small business owner considering outsourcing is spotting which functions are best handled in-house, and which can be better-managed by 3PL experts. To make this decision, you first need to understand all that 3PL companies have to offer, then identify your operating strengths and weaknesses. After considering these factors, you can pinpoint where 3PL services can help you cut costs and increase efficiencies.
Determining which functional areas are best suited for outsourcing starts with closely evaluating the small business's core competencies. Even then, some activities or functional areas outside the core competencies may be worth keeping in-house if these activities provide a competitive advantage. It's especially important to look at what possible economies of scale may be available by using a 3PL, rather than keeping those functions in-house. For example, a small manufacturer may not have the resources to build a distribution network themselves, but by using the resources of a 3PL, they could take advantage of the 3PL's larger distribution footprint, at a reasonable cost while also limiting risk.

— Jon Sorensen, Associate Professor, Logistics, Lonestar College-CyFair
3PL Services — What They Do for Businesses
As shown above, there are 4 basic parts of the supply-to-sale cycle. Any business that sells something tangible to someone else touches every part of this cycle. Of course, there are plenty of businesses that oversee every facet in-house. But when you figure in staff costs, overhead, and expertise needed in each area, a full in-house solution isn't necessarily the most profitable.
To judge whether an in-house or outsourced solution is best for your business, you need to understand the array of services that 3PLs offer and how they charge for their services. Once you know that, you're equipped to make informed outsourcing choices in each of these 4 key areas.
1. Procurement — How 3PL Services Streamline Sourcing & Manufacturing
Procurement is how you get the products that you sell. Goods can be made from scratch in your own or a contracted manufacturing facility, or ready-made wholesale goods can be sourced from domestic and overseas manufacturers. Whichever method you use and steps you take to acquire products to sell falls under Procurement.
Small businesses are looking to get their products made affordably and, hopefully, with very few headaches. But doing this requires visibility into the supply base, experience with specific manufacturing processes and types of material relevant to their product, and a way to make sense of all that information to be able to make good decisions. Your average small business may or may not have the expertise, and more importantly, the time, to be able to do all this on their own. So a good outsourcing partner will bring all this to the table – a strong yet flexible process, subject matter expertise in commodities and manufacturing processes, and solid market intelligence and benchmark information.

— Ken Gaul, Associate Director of Business Development, Source One Management Services
Many 3PL companies focus on procurement processes and can help you develop, manufacture, and source ready-made goods to sell. These services include:
Product development — a 3PL can help you design and engineer an item and even secure patents
Raw materials sourcing — 3PLs can help you identify the best materials and configure a sustainable, cost-effective sourcing plan
Production facilities scouting — 3PLs work with an array of production facilities and can match the right factory to your product
Manufacturing scheduling — 3PLs can develop cost-effective production plans and schedule manufacturing runs based on forecasted demand
Finished goods sourcing — 3PLs keep up with who is making what and can source or help customize ready-made good to meet your needs
What 3PL Procurement Services Cost
Depending on your sourcing and reorder needs, 3PL procurement companies charge either per-project fees or account retainer fees. If you're looking for a one-time manufacturing run for a product, procurement 3PLs might charge a service or consultancy fee. Or, they might simply mark up the manufacturer's cost plus any inbound transportation fees into one final charge to you. For ongoing manufacturing needs, procurement 3PLs typically work on retainer. This allows them to constantly monitor materials and capacity markets to buy raw materials and schedule production runs at the lowest possible costs.
Retainer fees, contingency-based billing, and markups are available in the market, but your options will vary depending on the provider and your scope of work. Generally, a retainer fee is similar to, if not less than, the cost of a full-time employee. A major advantage of outsourcing over direct hiring is it offers flex-support that fills procurement needs during peak demand and prevents layoffs when demand slows.

— Ken Gaul, Associate Director of Business Development, Source One Management Services
Ultimately, procurement 3PL service fees are tied to the types and quantities of products being made, the materials that go into them, where they're produced, and how often.
How to Find 3PL Procurement Partners
A good place to start your search for procurement 3PL providers is ThomasNet.com. This is a large supplier discovery and product selection network that also lists procurement 3PL and consultant services. You can search by industry, materials, and other factors to find services to fit your unique production needs. Manufacturing, retail, and ecommerce industry trade shows often have procurement 3PL services in attendance, too.
You can also search online for the term "find manufacturing consultant." You can further target your search by narrowing the term to a country, such as: "find manufacturing consultant China" or "find manufacturing consultant import." You can also narrow the field with a product category, such as "find manufacturing consultant apparel." From there, you can check out provider websites and contact them to see if their services fit your needs and budget.
After the procurement process, you need to get goods into your facility via transportation services like truck, rail, overseas, and air freight. In many cases, your procurement 3PL can cover this step. But if not, there are plenty of transportation 3PL services to choose from.
2. Transportation — How 3PL Services Handle Inbound Shipping
Whether you're bringing goods in from a domestic facility or overseas supplier, a transportation 3PL service can find the carriers, streamline the paperwork, meet your schedule, and do it all cost-effectively. There are 3 primary types of transportation 3PL services, and many 3PL companies that offer procurement and distribution services also cover these transportation needs.
Domestic freight — Freight brokers help you get the best deals on US rail and truck freight and manage pickup and delivery schedules and all paperwork
Import/Export needs — If you're bringing goods into the country, or exporting goods made here, 3PLs ensure there are no surprises with paperwork, duties, and transportation costs
Overseas shipping services — 3PLs can help you get the best freight rates and fastest air and transocean ship times when manufacturing goods overseas
A good freight broker also offers a support team that gets to know your business and shipping needs, from finding a great quote and generating proper documents, to ensuring your shipment is safely delivered. In addition to letting you choose from a database of recommended carriers with low rates, FreightPros also gives you access to a dedicated team of professionals who will help you every step of the way. Click here for a free quote.
What 3PL Transportation Services Cost
Most transportation 3PL partners build their fees into your final transportation charge. The thing to understand when it comes to transportation costs is volume matters. Freight brokers, consolidators, and importers service many customers and therefore deal in great volume. Because of their overall volume, they receive extremely low rates from trucking, shipping, and rail lines. So, even with their markup, 3PL services' fees are lower than what you'd pay working directly with a freight carrier.
For a closer look at how 3PL freight rates work, our LTL freight guide details how to ship via truck freight and the various costs. Plus, you can compare sample freight fees among various 3PL companies in our guide to freight brokers.
Along with passing along lower rates, transportation 3PL services also save you money by minimizing errors and finding the most appropriate carriers and methods for your specific freight. This knowledge can take a career to acquire, but by partnering with a 3PL, even occasional shippers can tap the expertise needed to save on every load.
How to Find 3PL Transportation Partners
Transportation 3PL partners are plentiful. A quick online search delivers many options to your computer screen. Depending on your needs, you can try out these terms:
3PL freight US
3PL freight import
3PL overseas freight
3PL shipping from/to (country)
Or, start your search with our list of 3PL freight brokers to find reviews of top-rated transportation 3PL services that cover a full range of small business needs. Transportation providers generally attend all types of industry trade shows, too.
Steps 1 & 2 in the cycle, Procurement & Transportation, are generally termed supply chain logistics, and cover the process of getting products sourced and to your facility. The next step is Distribution, which covers warehousing your goods and getting them into the hands of your customers. This is where fulfillment logistics takes over.
3. Distribution — How 3PL Services Manage Fulfillment
Distribution is a fast-growing sector of the 3PL industry, largely due to the fulfillment needs of ecommerce companies. Fulfillment 3PL services specialize in efficiently storing goods and shipping them to customers. As many startups and small businesses to have discovered, 3PL fulfillment scales quickly in response to growth and can be less costly than an operating a warehouse.
Outsourcing fulfillment to a 3PL provider can be the most cost-effective way for e-commerce businesses to manage their fulfillment spend. 3PL providers spread warehousing and staffing costs over many clients and allocate the exact storage space and staff time needed to hold inventory and fulfill orders. Unlike managing everything in-house, using a 3PL allows companies to save money on renting space and paying staff, especially when orders slow down. And when an increase in sales occurs, a 3PL can quickly fulfill orders and scale by reallocating assets.

— Anthony Watson, ShipBob
3PL fulfillment providers like ShipBob deliver a full range of services that deliver goods to both B2B and B2C end users, including:
Warehousing & inventory — 3PLs efficiently receive, store, and track inventory and even offer special handling services such as climate controlled and high-value good storage
Product packaging & kitting — 3PLs can handle specialty packaging, product assembly and order kitting, and branded boxes and packaging
Order processing — a 3PL partner will receive and process your customer orders from online, spreadsheet, and other inputs
Order packing — most 3PLs guarantee order accuracy and ensure that packaging is appropriate for safe shipping
Freight shipping for B2B sales — 3PLs work closely with truck freight companies to ship palletized LTL freight, and partial and full load truck shipments
Parcel shipping for B2C sales — 3PL fulfillment companies are pros at shipping parcels to residential customers via UPS, FedEx, and USPS
Returns management — you can choose to have returns sent to your facility or to your 3PL for handling and restocking. Some, like ShipBob, even do this for free
Stock level forecasting — 3PLs add great value in helping companies forecast stock levels to meet order demand
What 3PL Distribution Services Cost
Distribution and fulfillment companies charge for their services in different ways. Some detail each function (warehousing, packing, and shipping) in line-item charges, others roll several functions up under a combined fee. However the charges ultimately appear on your bill, this is generally what you pay for:
Receiving inbound stock — unloading, unpacking, sorting, and storing goods
Warehousing — fees charged based on the space your goods take up in the warehouse
Picking & packing — per-item or per-order fees charged to pull items and pack orders
Shipping — the cost of shipping the item to the end user
Other fees — boxes, packing materials, customer service, returns, special handling can add costs
Our guide to 3PL costs gives you an in-depth look at what several top-rated 3PL fulfillment services offer and their fees.
How to Find 3PL Distribution Partners
Like 3PL transportation providers, distribution and fulfillment providers are plentiful. Any industry trade show you attend is sure to have an assortment of B2B freight distribution and B2C fulfillment services on the exhibitor list. Of course, you can also search online using terms like:
Fulfillment companies
Distribution warehouse
B2B and/or B2C fulfillment
Warehouse 3PL
Distribution 3PL
Freight 3PL
An online search for any of these terms delivers a huge number of results and sorting through them can be quite a task. If you're looking for a fulfillment partner to handle ecommerce warehousing, order management, and shipping, in particular, we recommend starting your search with ShipBob. It's a top-rated fulfillment company that caters to all types of clients, from micro startups to million-dollar sellers.
If you're looking for a fulfillment partner to handle warehousing, order management, and shipping, check out ShipBob. It's one of a few small business-friendly fulfillment companies that operate warehouses nationwide so you can offer fast, low-cost shipping to your customers. Get a free quote today.
4. Growth — How 3PL Services Expand Your Sales Reach
In steps 1-3, we covered how one or more 3PL services can help you efficiently source goods, handle transportation and warehousing, and finally deliver products to end users. But many 3PL providers now help clients with front-end sales and marketing efforts as well. Here are some ways that 3PLs can help you grow by extending your sales reach into online markets.
Small businesses that run their own manufacturing facilities or oversee contracted factories have their hands full with new product development, production schedules, and wholesale orders. Selling directly to consumers via websites and seller marketplaces like Amazon and eBay can be very profitable for these businesses, but requires an entirely different set of logistics. For these sellers, 3PL fulfillment companies that also manage online product listings, sales, and customer service provide an efficient and cost-effective route into the B2C market.

— Harriet Carson, Whitebox
These 3PL companies also collect and analyze sales data to help you make informed product development, category expansion, and reorder decisions based on forecasted demand. It's this 4th step, using sales-side data to drive intelligent procurement, that turns supply chain logistics into a complete supply-to-sale logistics cycle.
What 3PL Sales Services Cost
These services can be included in an overall fulfillment fee or billed as add-ons. Some 3PLs charge per-product fees for adding listings to websites or marketplaces. Others charge per-project for a complete site launch or expansion into a new marketplace. One fulfillment 3PL that offers turnkey listing management on Amazon, eBay, and your own online store is Whitebox. It rolls all of its sales-side services under a simple rate plan, for example:
$3000 onboarding fee — covers account setup and creating listings on your website, Amazon, and eBay for up to 10 items, plus all product prep and warehousing setup tasks
10% of your monthly sales (min. $250/mo) — Product listings, channel management, sales analytics, and customer service all roll up under a revenue-based fee
The takeaway here is this is a relatively new category in the 3PL services lineup and not all providers offer it yet. But if managing online product listings is not your business's forte, a 3PL service with this capability can be the perfect partner.
How to Find 3PL Sales Partners
Many ecommerce fulfillment providers are moving into sales support services. Whitebox is on the leading edge of this fulfillment + growth services movement, but others are quickly sales-side services to their lineup.
To find 3PL services with sales-side capabilities, look for ecommerce fulfillment companies that handle website and marketplace product listings. FulfillmentCompanies.net is a free service that matches your stock storage, order packing, and shipping requirements to over 600 pre-screened fulfillment companies to find the right fit for your needs and budget. Get a free quote today.
Visit FulfillmentCompanies.net
When to Add 4PL Services to Your Outsourcing Mix
A 4PL, also known as a Lead Logistics Provider (LLP), adds another layer to your 3PL outsourcing strategy. To recap, when you work with 3PLs to fill a business need, you work directly with the companies providing the actual service. For example:
Freight brokers are scheduling and overseeing your freight shipments
Fulfillment companies are warehousing and shipping your products
Sourcing partners are finding manufacturing facilities and scheduling production runs
Each of these 3PL services is handling a segment of your business. But, you have to find these 3PL services, contract and onboard with them, then oversee their activities directly. A 4PL does all of that for you by managing multiple 3PL providers on your behalf, rather than being the actual provider of the function or service.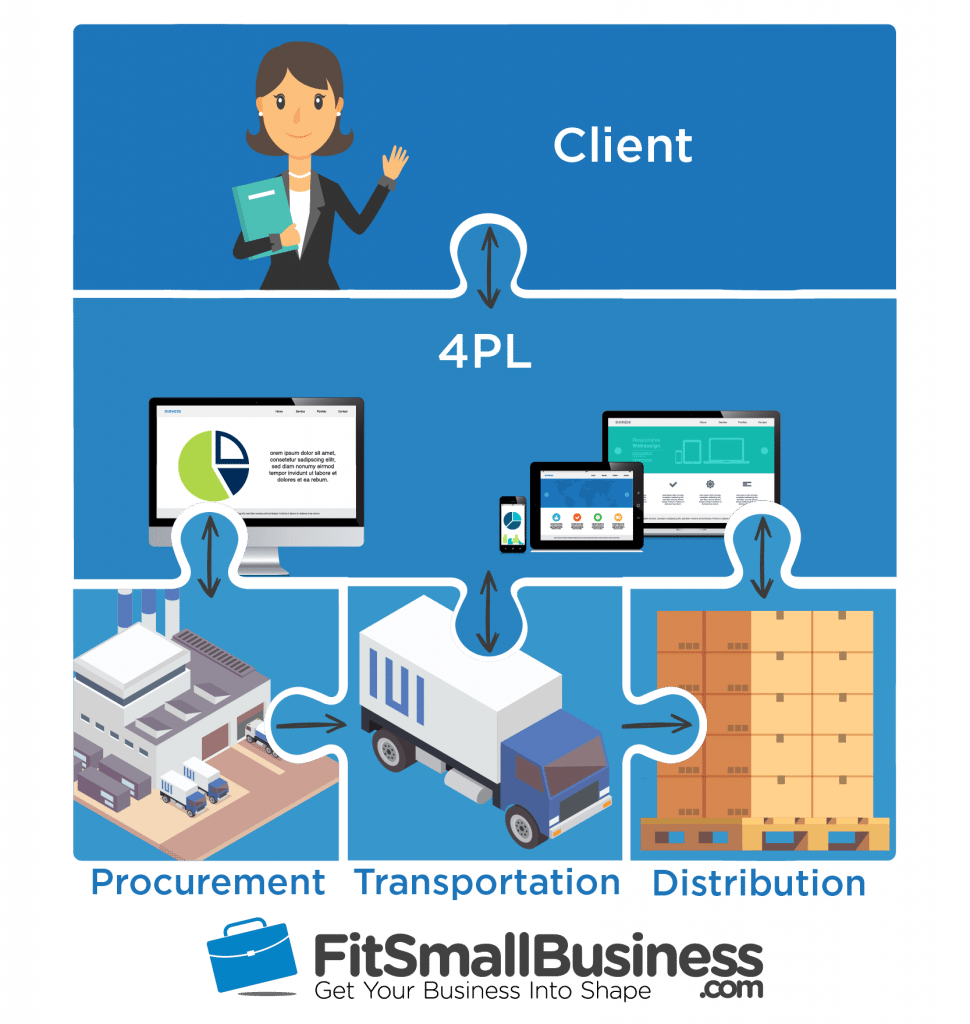 3PLs do act as business partners, but remember, they must consider their operating costs and bottom line when pricing their services. 4PLs are removed from the cost of providing the actual service or function. This frees them to act solely in your interest when it comparing costs and rewarding jobs. Plus, they constantly audit 3PL provider markets to ensure you're getting the best price.
As a 4PL service, our goal is to find the best overall transportation solution for our customer. I am still a Penske employee, but I am cut off from financial information at Penske because I am working in the customer's best interest. Penske submits bids, but I am comparing them to bids from their competitors with my customer's interest first.

— Andy Moses, Senior Vice President of Global Products, Penske Logistics
Being removed from the functional role also makes 4PLs impartial players when determining which business functions are best to outsource to 3PL providers. Once you and your 4PL have identified the most cost-effective functions to outsource, it will find, onboard, and manage 3PL providers under one umbrella. Then your 4PL will closely monitor the day-to-day workflow and performance of your team of 3PL providers and reports results to you.
4PLs employ specialized logistics pros that are adept at pinpointing trouble spots before they become costly issues. Plus, they constantly review and send bids to different 3PL providers to ensure that you're getting the best possible services for the lowest price.
For a growing business that's juggling many operational details, a 4PL can take the place of adding dedicated staff to oversee 3PL activities. With this off of your plate, you can focus your energy on what you do best, be it product development, marketing, or whatever helps you grow your business.
What 4PL Partner Services Cost
In most cases, 4PLs charge monthly account or retainer fees for their services. Unlike 3PLs which charge fees based on an operational function, service, or product, 4PLs don't tie fees directly to operating costs. This frees their logistics staff to work in your best interest, rather than push one service or provider over another because of a larger commission or markup.
Of course, there are many 4PL providers out there and not all of them structure fees the same way. However, most provide services on a consultancy basis, and the account fees and retainers are wholly separate from the actual 3PL services costs.
How to Find 4PL Partners
There are two types of 4PL partners that you can contract with, including:
Independent 4PL consultants and standalone businesses
4PL divisions within large 3PL companies
Which is best for you largely depends on the services you need. Typically, you'll look to an independent 4PL to help identify and manage 3PL procurement services and oversee related logistics such as 3PL transportation and distribution.
For outsourcing needs centered on transportation, warehousing, and distribution, there are 4PL divisions housed within large transportation 3PL providers. It might sound like a conflict of interest, but these 4PL divisions work quite independently and treat the parent operation as just one of many 3PL providers when requesting bids on your behalf.
In most cases, 4PL services are geared to larger companies with ample budgets. But small businesses doing a lot of one thing, say a business shipping freight in high volume, can find savings using a 4PL to manage the entire functional area. If you compare outsourcing 4PL services against hiring and overseeing dedicated staff, a 4PL can be a cost-effective solution that easily scales to meet your needs.
The Bottom Line
3PL services have has broken out of the traditional supply chain logistics model. Nowadays, it's possible to cover your entire sales and supply cycle, from procurement all the way to front-facing sales, with one or more 3PL services.
But 3PLs do much more than handle order fulfillment. Sourcing and manufacturing, importing and exporting, and even managing online product listings are functions that can be outsourced to 3PLs. The takeaway is that 3PL services let small business owners focus on their operational strengths and hand the weak spots over to outside experts.