What Is Stripe & How Does It Work?
This article is part of a larger series on Payments.
Stripe is a payment processor that specializes in online sales. It offers easily integrated payment tools, from a merchant account to invoicing and virtual terminals, financial services, and business tools for online companies of all sizes. It works with millions of companies in over 120 countries around the world.
You'll find details on Stripe's specific use cases below, but in general, Stripe is an excellent choice for online businesses because of its flat-rate pricing, easy integration with hundreds of other applications, and flexible customizations that make it easy to install on any website. Get started today.
Why Online Businesses Love Stripe
Stripe's sophisticated software makes it highly flexible for creating custom checkouts. It offers open-source online checkout tools, programmable in-person payments, smart invoicing and subscription management, and multiparty payments. In addition, it has fast payouts, global support, and dispute management. While it requires some coding skill, it provides an excellent product—and at 2.9% + 30 cents per transaction, it's competitively priced.
It also provides payment processing services to 46 countries, accepts payments in over 135 currencies, integrates with over 650 applications, and has financial services for growing businesses.
Getting started with Stripe is easy—you just have to sign up and don't have to sign contracts or provide banking details (unless you want the money deposited into your account). Next, you'll integrate Stripe into your website or application with Stripe's developer-friendly APIs or use one of its prebuilt solutions. If you are a larger company or have broader business needs, Stripe can design a custom package.
Your funds are deposited into your bank account on a two-day rolling basis unless you opt for regular weekly or monthly deposits instead.
Stripe Pricing
Stripe offers flat-rate pricing, with some add-ons for specific features. It also offers other tools, each with its own price. Nonetheless, for payment processing, it's competitive with other credit card processors, especially when looking at online rates. Here are the main prices you may encounter (for US merchants).
Cards and wallets: 2.9% + 30 cents
In-person payments (through Stripe Terminal): 2.7% + 5 cents
International cards: + 1%
Currency conversion: +1% if needed
Bank debits and transfers (ACH): 0.8%, $5 cap
Instant payouts: 1%, minimum 50 cents
Billing: + 0.5%
Invoicing: + 0.4% per invoice, with first 25 invoices per month free
Multiparty payments: Starting at 0.25%
Using Stripe for Online Payment Processing
Stripe made our list for best merchant services specifically for online sales and integrations. It accepts over 135 currencies and dozens of different payment methods, making it perfect for internet sales. You can sell products and subscriptions, run recurring payments (like for dues or utilities), or add it to other marketplaces.
You can create hosted payments pages, design your own payments form on your website with Stripe Elements, accept payments via app with Stripe's SDKs, and produce payment links for sharing on social media.
Stripe Fraud Protection
Fraud protection is vital for online sales. Stripe is PCI DCS Level 1 compliant, has SSAE18/SOC 1 type 1 and type 2 and SSAE18/SOC 2 type 1 and type 2 reports, is PSD2 and Strong Customer Authentication (SCA) compliant, and has e-money licenses in the EU and UK. But it does not stop there.
In addition to Stripe's fraud-prevention tools, it offers Stripe Radar, which uses machine learning to detect and block fraud for any type of business while not blocking legitimate customers from paying. With millions of customers using Stripe every day, Stripe says there's an 89% chance your customer's card has been seen in the Stripe network, even if not on your system. Radar is included in the standard 2.9% + 30 cents plans; otherwise, it costs 5 cents per transaction.
Stripe provides global identification to confirm identities. Designed as a fraud prevention tactic (as opposed to ID verification for age-restricted items), it lets you verify Social Security numbers and addresses, match IDs with selfies of the document holder, and more. Your first 50 verifications are free; after that, it costs $1.50 per verification and selfie (globally) or 50 cents per lookup (US Social Security-registered people only).
In the News:
In September 2021, Stripe agreed to acquire Recko, a provider of payment reconciliation software for internet businesses. The acquisition furthers Stripe's goal of going beyond payment acceptance and will be offered alongside Stripe Revenue Recognition, Stripe Billing, and Stripe Invoicing.
Using Stripe for International Sales
Stripe is available in 46 countries, and it took the top slot for our best international merchant account for small businesses. Its fees are excellent compared to other international processors and are country-specific. By accepting over 135 currencies, your customers can pay in their own currency and credit cards, while you get paid in your own currency. It also lets you display prices in the native currency, so there's no confusion. Even more, it will detect your customer's version and translate the checkout page into their native language.
In the News:
In November 2021, Stripe increased the reach of its Stripe Terminal credit card processor to Ireland, France, Germany, the UK, and the Netherlands.
One thing that stands out is Stripe Tax, which will automatically calculate tax, VAT, and GST on sales. In addition to collecting the correct tax from whatever country is needed, it will access the proper reports, so you can file your returns. It's an excellent tool to help you keep compliant in every country where you sell products. Stripe Tax costs 0.5% per transaction where you're registered to collect taxes, 0.4% if you process more than $100,000 in a month.
Integrating Stripe Into Other Applications
Stripe is included in our guide on the best payment gateways, specifically for its integration capability. It integrates with hundreds of applications (we lost count at 660!). In addition, it offers custom API and SDKs so that you can integrate it easily into your own custom websites and applications. If you have a need but not the skill, Stripe has a list of verified developers, agencies, and consultants to help.
In the News:
In December 2021, Stripe acquired OpenChannel, which provides app marketplace software. This should increase the number of ecosystem integrations for Stripe.
Using Stripe to Create your own Point-of-Sale (POS) System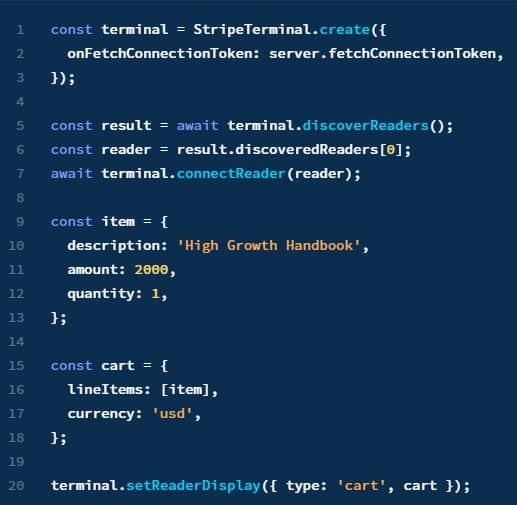 ---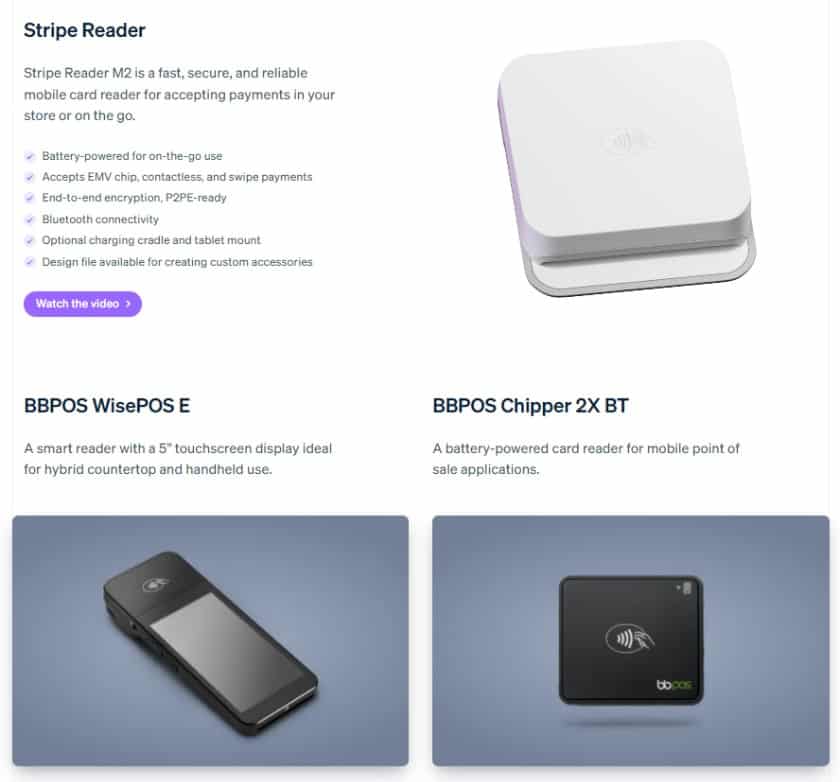 ---
Need in-person payment processing to complement your online sales? While Stripe integrates with popular POS systems like Lightspeed and WooCommerce, it also provides you the coding to integrate into your own POS system.
In addition to a choice of readers that accept swipe, chip, or tap payments, it has SDKs and tools for ordering and managing readers from the Stripe Dashboard. Your POS needs to be web-based or mobile. Stripe Terminal is currently available in the US, Canada, the UK, Ireland, France, Germany, and the Netherlands and is in beta in Australia, New Zealand, and Singapore.
Using Stripe for Business Transactions
Stripe is our No. 1 overall B2B payment solution. Its integrability makes it easy to process payments on CRM software like Salesforce, and its invoicing tool makes it work well for B2B sales, even when not handled via a website. You can manage invoices on your Dashboard, and Stripe lets you see at a glance which are open, paid, or drafted. You can also automate invoices for billing.
In addition, Stripe offers these other tools to help keep tabs on your business:
Sigma: Stripe Sigma lets you analyze your Stripe data to identify the best customers, predict churn, and do other sales analyses. You can create your own custom reports inside Dashboard. Data is not siloed, so any department can get the information it needs. With ready-made queries for the most useful reports for different business types, it's fast and easy to get the information you need.
Revenue Recognition: Meant for high-growth businesses, Revenue Recognition tracks upgrades, downgrades, prorations, refunds, and disputes, so you can prepare audit-ready financial statements and gain a comprehensive view of your business.
Climate: If part of your company mission is to help the environment, then this tool can help. It allows you to direct a fraction of your revenue to help scale emerging carbon-removal technologies. Check the Stripe Climate page for a list of projects and researchers that the proceeds support.
How Stripe Can Help Grow Your Business
In addition to providing excellent payment processing, Square has tools to help you with your financial needs and your customers' and employees' needs. The availability of some are limited to specific countries, while others are best for large corporations—or the ambitious entrepreneur with excellent programming skills.
Stripe isn't just for established businesses, as its Atlas program is designed specifically for startups. It provides the legal resources to set up your company in the State of Delaware (a common state for incorporation), create legal documents, file paperwork, and apply for your tax number. It then helps you create ownership, so you can issue stock appropriately.
You get discounts from its partners, including $5,000 in credits from Amazon Web Services, and discounts from legal and tax services. Its Atlas community lets you meet other entrepreneurs and get mentoring. Naturally, you'll have access to Stripe's other business tools. Atlas costs $500 for setup fees, and there are also other ongoing costs. Stripe offers a free one-month course on the basics of starting your own business.
The Stripe Corporate Card is for US Stripe customers only and requires no personal guarantees. It has no annual, late, and foreign transaction fees. Credit is determined by your payment processing and bank history and grows as your business does. It lets you manage spending in real time, and its rewards program gives you 1.5% cash back on every purchase automatically credited back to your bill. It also offers benefits in discounts and credits to 20 companies from Amazon Ads to software like Slack, Gusto, and Rippling.
Stripe Capital is not a traditional loan. Instead of paying interest and having a set monthly payment for a given number of years, you can instead borrow off your future sales, paying a flat fee for the loan and paying it off with a given percentage of your sales each month. It's kind of like getting an advance on wages.
Eligibility is based solely on your history with Stripe. Funds generally arrive in your Stripe account the day after approval. Depending on how much you borrow, you will be charged a flat fee, and Stripe will take an agreed-upon percentage from your daily sales to repay the loan.
If your business needs pay cards for employees or contractors and company credit cards you can control, then Stripe Issuing may have the tools you need. You can create your own line of virtual and physical cards with the parameters you specify. Use them as company cards for employees so you can limit where they spend company funds. You can change spending protocols in real time or require authorization for expenditure. You can also create your own pay cards for paying contractors and gig workers (needs Stripe Treasury as well). You can brand the cards with your own logo so they look as company-specific as they are.
If you need a scalable financial product for your website, Stripe Treasury lets you enable customers to make accounts, store funds, transfer money, hold payments, pay bills, and more. Stripe has partnered with global banks like Citi and Barclays to enable ACH and wire transfers, interest-earning accounts, and faster access to payments funds. Let customers (or employees) create bank accounts with you, pay with pay cards (using Stripe Issuing), create an internal operations account, and more.
Bottom Line
Stripe has long been a popular and highly regarded payment processor for online businesses. In recent years, it's acquired other companies to expand its offerings to online businesses. It's not just for websites and online stores, but for any small business doing online payment processing, even with invoices. In addition, it offers banking services, credit cards, and business financing. Sign up today.
You May Also Like …