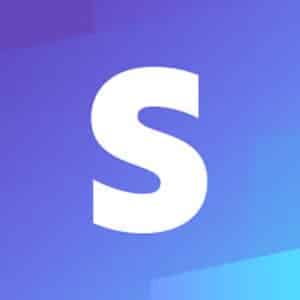 Stripe is an online payment processing solution that comes with a sophisticated software for creating custom checkouts, and it works best for online businesses with access to developer resources. Its features include open-source online checkout tools, programmable in-person payments, fast payouts, global support, dispute management, smart invoicing and subscription management, and multi-party payments. Stripe's fee per successful card charge is 2.9% + 30 cents.
What We Recommend Stripe For
After spending years reviewing merchant services, we can say Stripe stands out as the best payment solutions provider for growing, tech-savvy online businesses, especially startups. Its developer-friendly platform is particularly popular among software-as-a-service (SaaS) businesses, direct-to-consumer ecommerce businesses, B2B platforms, and large online marketplaces.
In particular, Stripe is best for:
Creating a fully customizable and secure checkout: Stripe comes with a "develope   r-centric" platform, which aims to provide the most flexible and scalable solution for designing checkout carts. It also includes the assurance of strict PCI compliance in its free account. It's our top pick for customizable payment gateways and online checkouts.
Fast-growing ecommerce businesses or service providers: Stripe's highly customizable nature will easily keep up with fast-growing ecommerce businesses and service providers that process recurring online payments. Software developers can scale their business' checkout process using reliable APIs and integrations, as it develops from startup to enterprise.
B2B businesses: Stripe is our most recommended B2B payment solution for online businesses. It can process international transactions for over 135 currencies and accept extremely small, as well as large, payments. Aside from recurring billing and invoicing, Stripe can process domestic ACH transactions.
When Stripe Would Not Be a Good Fit
Businesses processing primarily in-person transactions: Stripe is ideal for ecommerce businesses, as its main features involve developing highly customizable checkout pages. Those needing to accept mobile or in-store payments would benefit from using Square over Stripe. Many of our other top-recommended merchant services, including Payment Depot and Fattmerchant, also offer solid support for in-person transactions.
Businesses lacking access to technical expertise: Stripe is a "developer-first" platform, so a certain level of technical expertise is expected among its users in order to maximize its features. So, while subscribing to Stripe is free, the complexity of its setup process affected Stripe's ranking within our best free merchant account evaluation.
Ecommerce businesses that require only a basic setup: Some small and startup online businesses do not require a highly customized checkout process. If all you need is credible online payment processing, a more recognized brand like PayPal is a better fit than Stripe.
Stripe Overview
PROS

CONS

Free merchant account
Limited option for in-person processing
Highly customizable, secure platform
Complex installation process
Low-cost ACH processing
Lacks reporting solution
Powerful, well-documented APIs
Expensive chargeback fee
Unless you run a business that falls under Stripe's Restricted Business list, sign up and approval will take only a few minutes. If you have no access to technical experts but still prefer to use Stripe as your payment processor, you can always sign up with one of Stripe's many marketplace and platform partners.
Stripe Pricing
Stripe supports a wide range of integrated payment methods including card transactions, digital wallet, bank transfers, and international payments. Fees start at 2.9% + 30 cents per successful transaction—and there are no monthly or additional gateway fees.
| Payment Types | Transaction Fee |
| --- | --- |
| Online | 2.9% + 30¢ |
| In-person thru Terminal | Starts at 2.7% + 5¢ |
| Digital Wallet | 2.9% + 30¢ |
| ACH Credit | $1/payment |
| Wire Transfer | $8/payment |
| Check Payment | $5/payment or $15/bounced check |
| ACH Direct Debit | 0.8% capped at $5 or $4/failed payment |
| International Payment | Starts at 80¢ |
Cards payments and digital wallets: For online, in-person, and digital wallet payments, Stripe charges an additional 1% for international cards and another 1% if the transaction requires currency conversion.
Bank debit and transfers: Stripe automatically reconciles all ACH credit, wire, and check payments and charges $7 for every successful payment.
ACH direct debits: Disputed ACH direct debit payments are charged a fee of $15.
Though limited, in-person payments are also available through Stripe Terminal, which works with pre-certified third-party hardware and a software development kit (SDK) for either a native mobile app or a web platform.
Features

Native Mobile App

Desktop or Mobile Web

Stripe SDK

iOS and Android

JavaScript

Card Reader

BBPOS Chipper™ 2X BT - $59
Verifone® P400 (iOS only) - $299

Verifone® P400 - $299
Stripe Alternatives and Fees Comparison
| | Square | PayPal | Fattmerchant | Payment Depot |
| --- | --- | --- | --- | --- |
| Best for | Low-volume merchants with less than $10,000 /month transactions | Payment processing for occasional sales | Established businesses processing invoices or recurring payments | High-volume merchants with large transaction amounts |
| Monthly fee | Starts at $0 | Starts at $0 | Starts at $99 | Starts at $49 |
| Card-present transaction fee | 2.6% + 10 cents | 2.7% + fixed fee | Interchange + 8 cents | Interchange + 5–15 cents |
| Keyed transaction fee | 3.5% + 15 cents | 3.5% + fixed fee | Interchange + 15 cents | Interchange + 5–15 cents |
| Ecommerce transaction fee | 2.9% + 30 cents | Starts at 3.4% + fixed fee | Interchange +15 cents | Interchange + 5–15 cents |
| | | | | |
Looking for the lowest rates? The payment processing rates you will pay can vary based on your business's size, type, and average order value. To find the most affordable option and compare multiple processing rates, read our guide on the cheapest credit card processing.
Stripe Features
Stripe offers solutions to optimize the online payment processing experience, more so if you know how to code. Let's take a look at some of Stripe's features below:
Unified dashboard: This is where you can manage roles and permissions, make notes on your collaborations, and take action via the dashboard app on your iOS and Android devices.
Developer integrations: Experienced coders can utilize comprehensive testing tools, over 450 platforms and extensions, and a dedicated developer dashboard.
Global payments: Stripe can cater to 195 countries and 135+ currencies, subsidiary support, and local payment methods (such as ACH Credit or Direct Debit, wire, checks, Alipay, iDEAL, EPS, and SEPA Direct Debit). Note that you cannot accept PayPal payments with Stripe.
Recurring subscriptions and invoicing: This is free for up to $1 million worth of recurring charges and includes auto-reconciliation and smart recovery tools.
Custom checkout: You can design your checkout flow on both desktop and mobile with the help of Stripe's custom UI toolkit.
Radar: This is Stripe's machine-learning fraud prevention tool that uses billions of data points.
Stripe Terminal: Stripe's in-person payments solution for mobile and web platforms. It includes an SDK and pre-certified third-party hardware but will require a separate POS software subscription.
Dispute handling: Evidence submission is automated, and you can measure and monitor all disputes. Stripe also integrates directly with card networks.
Data security: Stripe keeps all payment information encrypted and secure during collection with a PCI Service Provider Level 1 certification, which is the highest level awarded to a payments software provider.
Stripe Ease of Use
Plug-and-play integrations: Adding Stripe as a payment processor is easy if you already have your online store. It offers a wide range of plug-and-play integrations for all of its third-party platform partners, so it will only take minutes to set up Stripe as your checkout option.
Ready-to-go checkout templates: Users with basic software development skills can start their customization with Stripe's checkout forms and templates, which include extensive tutorials and a knowledge base for easy setup.
Third-party platform sign-up option: Users can sign up quickly without having to write any code by registering through Stripe's third-party partner platform.
Stripe has over 450 integrations for accounting software, CRM, POS, and more. Its most popular ecommerce platform integrations include WooCommerce, Shopify, Wix, Squarespace, Zoho Books, BigCommerce, and 3dcart.
Stripe Customer Support
Stripe offers 24/7 email, phone, and chat support for its users. You also get access to its comprehensive knowledge base, detailed API documentation, and FAQs. Premium support is also available as an add-on purchase.
What Users Think of Stripe
Stripe gets mixed feedback from its users. Most of its positive reviews are for Stripe's seamless integration with popular online platforms. In particular, users found Stripe's customization and subscription features extremely useful for creating invoices and recurring payments.
Negative feedback from users are focused on charges they get from disputes, as well as the lengthy payment holding time they experienced. There are also some complaints on the learning curve to set up and use the platform. If your business lacks access to a certain degree of software development skills, Stripe is just not going to be a fit for you.
| Users Like | Users Don't Like |
| --- | --- |
| Customizable invoicing | Learning curve to using the platform |
| Subscription feature | Poor customer service |
| Compatibility with most ecommerce platforms and marketplaces | Extended holding time of payments before being credited to the bank |
Bottom Line
Stripe is a pay-as-you-go payment platform for ecommerce businesses and service providers. It provides notable features—such as exceptional data security, global payment capabilities, unified dashboard tools, and machine learning fraud prevention. It is also developer-friendly, which means it offers integration and customization options that require a certain degree of understanding software development. To help with this, Stripe offers an array of free and open-source tools to help users customize their online checkout. Visit Stripe to create a free account.