Stripe vs Square vs PayPal 2023: Which Is Best for You?
This article is part of a larger series on Payments.
If you're comparing Stripe vs PayPal vs Square, you're likely looking for the best online payment processor for your business. These three providers accept various payment types, come with checkout customization tools, and have digital wallets and other one-click payment options to improve the customer experience. Plus, all three offer baseline solutions with no contracts or monthly fees.
However, there are a few key differences that make Stripe, Square, and PayPal best for specific use cases:
Stripe: Best for online-only businesses, including tech-savvy startups, B2B businesses, and international companies
Square: Best simple, low-maintenance online payment solution for individuals and small businesses
PayPal: Best customer-friendly checkout option to add to an existing website
In our review of the best online payment and credit card processors, Stripe came out as the best overall with a score of 4.39 out of 5. Square and PayPal also made the list, with scores of 4.07 and 3.84, respectively. Although all three providers have in-person payment processing capabilities discussed in this review, the scores do not consider this payment type.
Looking for the cheapest rates? Consider Helcim
Helcim, which scored a 4.04 in our online payment processor review, offers lower rates than Stripe, Square, and PayPal. Visit Helcim to learn more, or see how it compares below.
Stripe vs Square vs PayPal Quick Look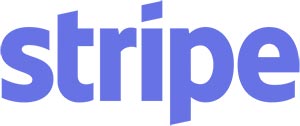 Pros
Highly customizable, extremely flexible, secure payment platform
Hundreds of integrations and powerful, well-documented APIs
Low-cost ACH processing
International payment processing for 135 currencies
Cons
Service fee for invoicing and recurring billing payments
Requires some technical expertise
First payout takes 7-14 days
What We Like
Stripe is an industry-leading online payment solution because of its powerful, secure, and developer-friendly technology. It can be added to any website, app, or checkout through user-friendly APIs or one of Stripe's over 700 partner integrations.
Advanced fraud protection, invoicing and billing software, international payment solutions, and B2B compatibility also push Stripe ahead of Square and PayPal, earning a score of 4.39 out of 5 in our evaluation. It also took the top spot on our best international merchant accounts list.

Pros
Straightforward pricing
Seamless omnichannel selling
Reliable and easy to use
No chargeback fee
Cons
Not suited for large businesses
Not for high-risk businesses
Reports of frozen funds
What We Like
If you're looking for an easy way to accept payments online, either as a solopreneur or new business, then Square is the better option. It is much easier to set up than Stripe, which requires a developer on staff to get the most out of the platform. Square is low-maintenance and works great for businesses processing under $10,000 per month, but once you get past that point, you may want a more robust solution.
Square's credit card processing feature is also ideal for storefronts or in-person vendors wanting to add an online or mobile payment option. It is our overall most-recommended merchant service and leading mobile credit card processor for small businesses.

Pros
Seamless online checkout integration
Known and trusted platform by consumers
Instant deposits into your PayPal account
Expands payment options with PayPal payment methods and cryptocurrency
Cons
Unpredictable freezing of funds
Expensive for international payments
Monthly fee for virtual terminal and recurring billing
Complex schedule of fees
What We Like
PayPal is the most popular online payment processor, capturing over 41.87% of the market share. It's one of the first to offer a one-click checkout process that's a favorite for shoppers with PayPal accounts, leading to decreased cart abandonment and improving overall sales.
PayPal came in slightly behind Stripe and Square in our evaluation. While its rates are competitive, PayPal's Pro, Advanced, and virtual terminal accounts require a monthly fee, and it does not offer custom rates or volume discounts (except for nonprofits). This makes PayPal's pricing generally more expensive if your business relies heavily on invoiced and recurring transactions.
Stripe is highly customizable, so it is harder to navigate, install, and maintain than a plug-and-play solution like Square or PayPal. However, its zero monthly fees, number of payment types accepted, and extreme flexibility earned it the highest overall score of 4.39 out of 5 and the top spot in our evaluation.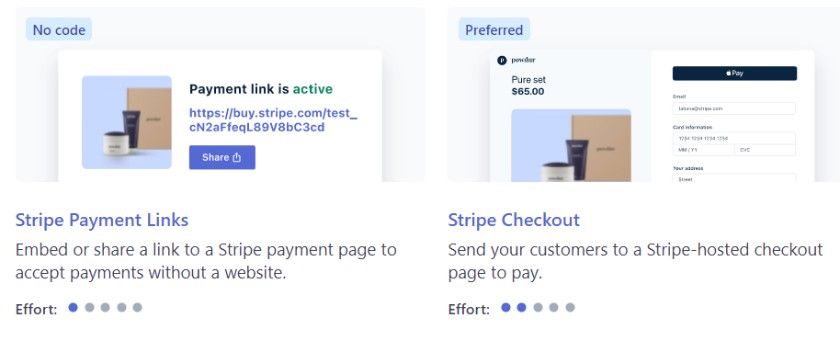 ---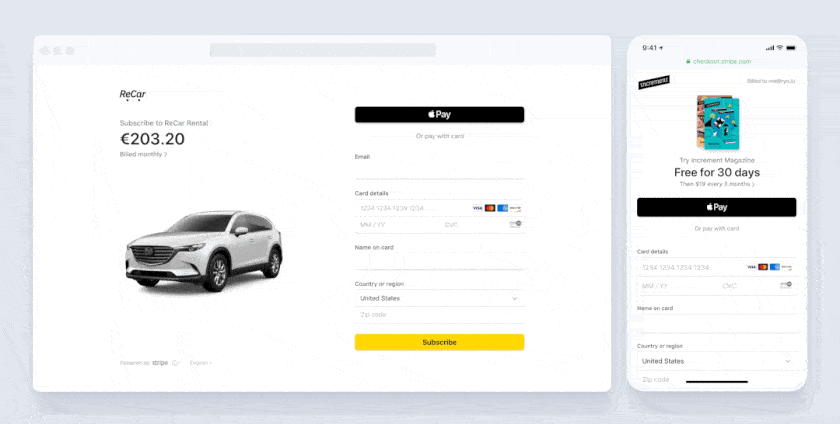 ---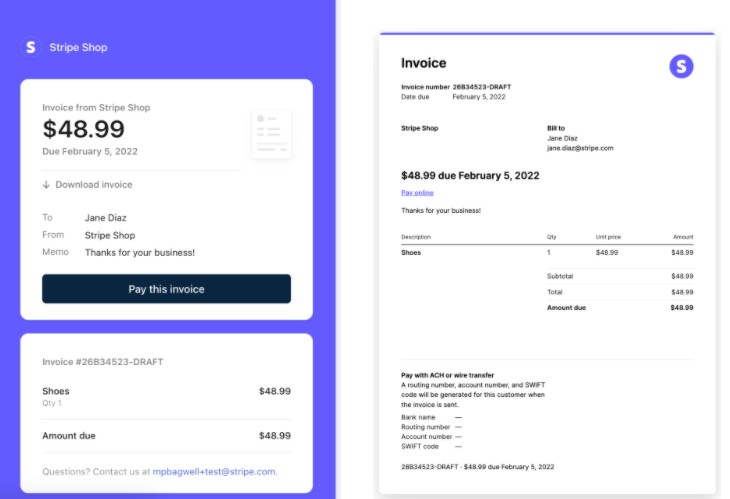 ---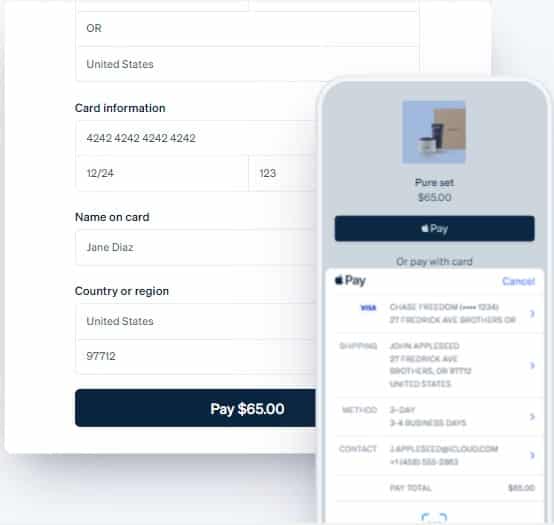 ---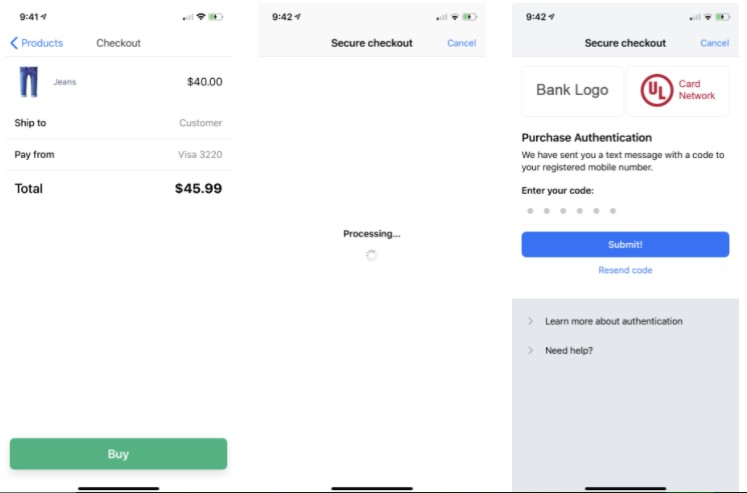 ---
Although it has powerful application programming interfaces (APIs) for maximum customizability, the Stripe Dashboard also allows users to instantly start accepting payments using payment links from a Stripe-hosted checkout page or by manually entering the card details (virtual terminal). This makes Stripe a good choice for small businesses that just need an easy way to accept basic payments online but also want the flexibility of ramping up their online business and using third-party tools and websites in the future.
It is good to note that Stripe also offers an in-person payment processing solution via Stripe Terminal. However, it requires integration using Stripe's software development kits (SDKs).
If you are looking for an all-in-one solution for setting up a website or payment link to accept payments, Square is a better choice. If you need to add payments to your existing site but want a code-free simpler solution with a virtual terminal and mobile POS options, PayPal would be the best alternative.
However, if you need a powerful processor or are looking into a platform that uses Stripe as its payment processor, you won't be disappointed—Stripe is the industry standard.
---
When it comes to online payments, Square is not the clear winner—though it did earn a respectable 4.07 out of 5 in our evaluation. Square's developer toolkit is not as robust or user-friendly as Stripe's. And although Square has a one-touch Square Pay solution, it's not as ubiquitous or user-friendly as PayPal's. It offers easy-to-use payment options through different channels.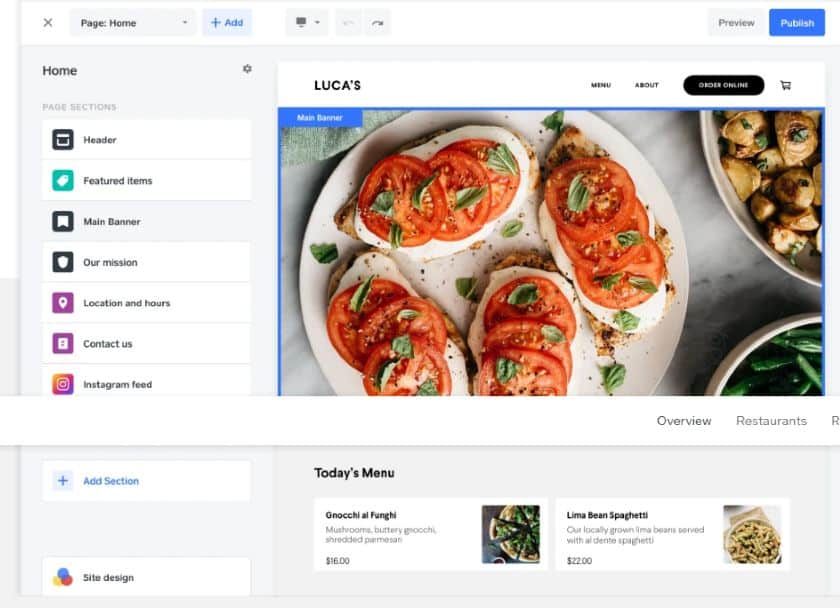 ---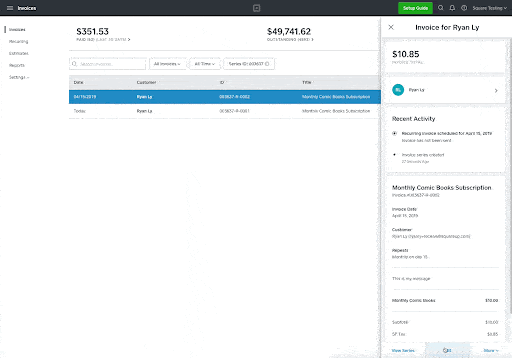 ---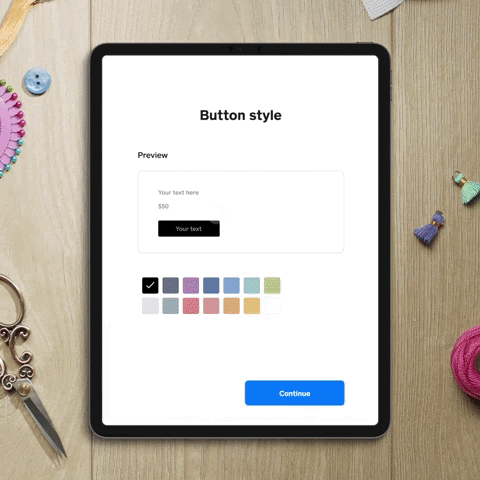 ---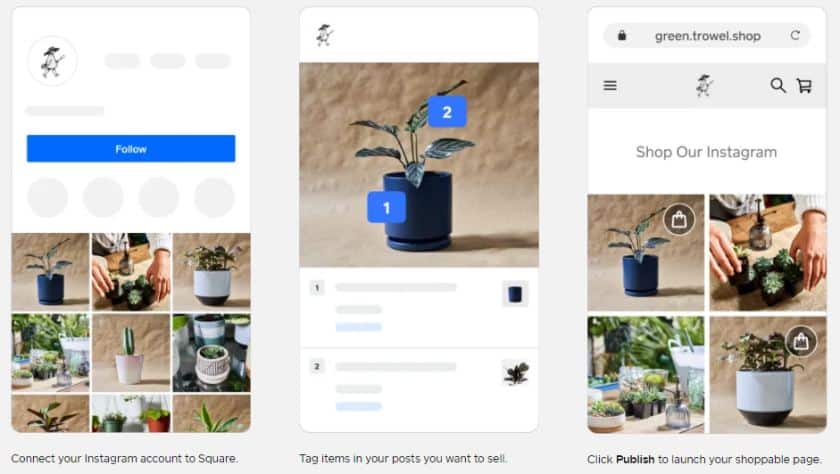 ---
Where Square does stand out is its ease of use and a wide variety of plug-and-play payment options. Square offers a website builder with an online store, invoicing tools, virtual terminal, payment links that lead to a hosted checkout page, buy buttons you can add to any website (similar to PayPal), and QR code payments. It also integrates with Google, Facebook, and Instagram, allowing you to sell on those platforms.
If you want a complete and easy all-in-one setup right from the start, Square is a favorite among small business owners.
---
Overall, PayPal's pricing structure is more complex and less competitive than Square's and Stripe's. You can likely lower your transaction and/or monthly fees by using another processor for most of your transactions. So, PayPal is best as an addition to your online payment setup.
As a popular business and peer-to-peer payment solution, adding a PayPal checkout to your online store, website, invoice, or donation collection lets customers complete transactions with their PayPal accounts, meaning they don't have to type in any payment information. While there are now more one-click checkout options, including Apple Pay and Google Pay (which PayPal, Stripe, and Square all offer), PayPal is still the popular choice for shoppers because of its purchase protection and security features.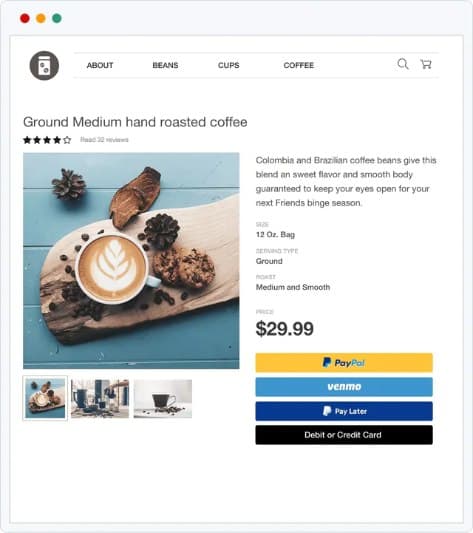 ---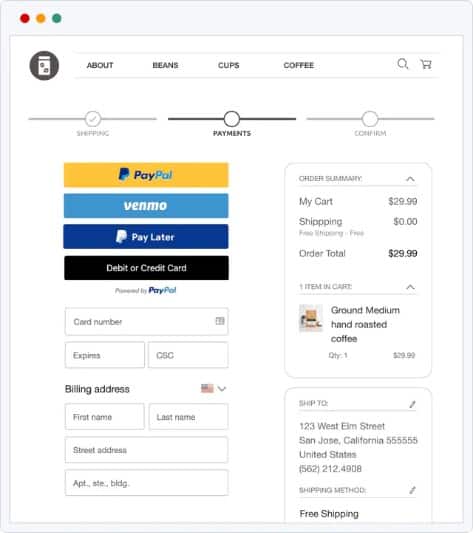 ---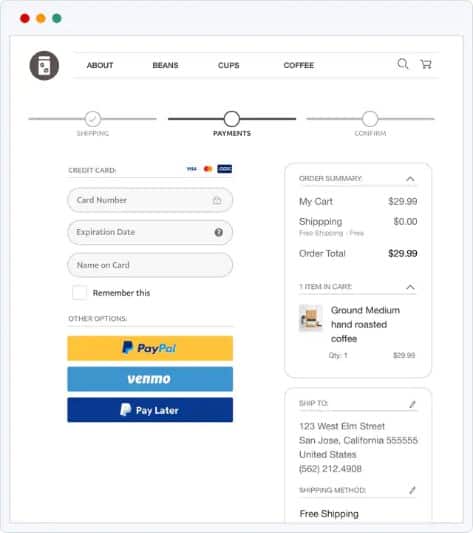 ---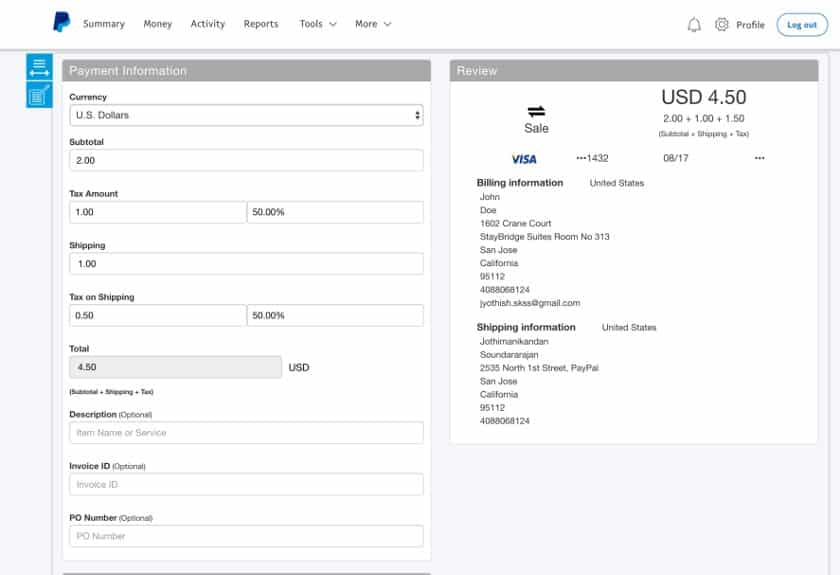 ---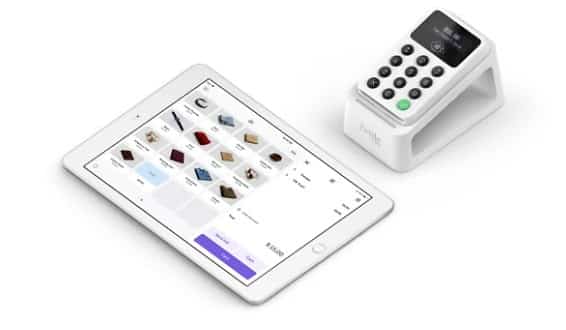 ---
When it comes to compatible payment types, PayPal beats Square because of its international payment options. PayPal's cryptocurrency management features also give it an edge (neither Square nor Stripe offers this). However, PayPal does not have special solutions or pricing for B2B payments and requires a monthly fee for ACH and eCheck payments, which Stripe offers with a free account.
The best thing about PayPal is it does not require anything aside from a PayPal Business account (which is free) to add it to your existing website. Most platforms already have PayPal integrated, and you only need to input your PayPal Business account details to add it as a payment option. So even if you already use Stripe or Square, you can still have PayPal as an additional payment solution to capture customers that prefer to pay using it.
---
Stripe vs Square vs PayPal Pricing
Pricing score

3.38 out of 5

3.88 out of 5

3.38 out of 5

4.5 out of 5 

Monthly processing fee

$0

$0

$0–$30

$0 

Online processing fee

2.9% + 30 cents

2.9% + 30 cents

1.99% + 49 cents to 3.49% + 49 cents per transaction

Interchange plus 0.15% + 15 cents to 0.5% + 25 cents 

Invoicing fee

3.3%–3.4% + 30 cents

$0/mo.

2.9%–3.3% + 30 cents

$0–$20/mo.

3.49% + 49 cents

$0/mo.

Interchange plus 0.15% + 15 cents to 0.5% + 25 cents 

Recurring billing/ subscription fee

3.4%–3.7% + 30 cents

$0/mo.

2.9% + 30 cents

$0/mo.

3.49% + 49 cents

$10–$30/mo.

$0/mo.

Card-on-file processing fee

3.4%–3.7% + 30 cents

3.5% + 15 cents, or

2.9% + 30 cents (for ecommerce)

3.49% + 49 cents

Interchange plus 0.15% + 15 cents to 0.5% + 25 cents 

ACH/e-check processing

$1/payment

(ACH debit)

0.8% capped at $5

(ACH credit)

1%, min. $1

(ACH)

3.49% + 49 cents capped at $300

(eCheck)

0.5% + 25 cents ($6 cap)

Virtual terminal fee

3.4% + 30 cents

3.5% + 15 cents (keyed-in)

$0/mo.

3.09% + 49 cents

$30/mo.

$0/mo. 

In-person and POS fee

2.7% + 5 cents, or 2.9% + 30 cents (for touchless)

Third party for POS

2.6% + 10 cents

$0–$60/mo.

2.29% + 9 cents

$0/mo.

Interchange plus 0.15% + 6 cents to 0.4% + 8 cents 

POS software 

Third-party 

$0–$60/mo

$0/mo. 

$0/mo. 

Chargeback fee

$15

Waived up to $250/mo.

$15–$20

$0 or $15 
When it comes to Stripe vs PayPal vs Square fees, Square scored the highest with 3.88 out of 5 while both Stripe and PayPal received 3.38 out of 5. Although all these payment processors have processing fees within the same range, Square's advantage is its waived chargeback fee of up to $250. On the other hand, Stripe's chargeback fee is $15, and PayPal charges $15 and $20, depending on the checkout option.
If affordability is your only consideration, Square wins slightly over Stripe and PayPal.
Square vs Stripe vs PayPal Payment Types
Payment types score

4.63 out of 5

3.75 out of 5

3.88 out of 5

Invoicing

3.3%–3.4% + 30 cents

$0/mo.

2.9%–3.3% + 30 cents

$0–$20/mo.

3.49% + 49 cents

$0/mo.

Recurring payments

$0–$10

✓

$10–$30 per month

International payments processing

1% fee, 1% spread for currency conversion

135 currencies

2.9% + 30 cents

8 currencies

1.5% fee, 4% spread for currency conversion

24 currencies

Virtual terminal

✓

✓

$30 per month

ACH/e-check

✓

ACH only

Echeck only

Micropayments

5% + 5 cents

(Contact Stripe)

N/A

4.99% + 9 cents

Hosted checkout

✓

✓

$0–$25

Cryptocurrency

Exchange only

✕

✓

QR code

Buy now pay later

Tap to Pay on Mobile

✓

✓

✓
Stripe, Square, and PayPal are all payment service providers (PSP) which means what you get is an aggregated merchant account instead of a dedicated account that comes when you sign up with traditional merchant account providers. PSPs generally charge lower fees and come with payment and security features. Learn more about merchant accounts.
When it comes to the available payment types offered, Stripe is the clear winner. It offers all the payment types we considered, even if it has add-on rates for some services, such as for invoicing and recurring payments.
Square would have done better in this category if it offered wider international payment processing—it only accepts international card processing in eight countries. Both Stripe and PayPal are more internationally-recognized payment processors, but PayPal's international fees are more costly with its 4% currency conversion spread. For other international payment processing options, read our guide to leading international merchant accounts.
PayPal lost points in this category mainly for the additional monthly fees it charges for certain services, such as for recurring payments and virtual terminals. If you would like both these options, you will pay as much as $40 to $60 per month—for small businesses, this can be hefty.
Stripe vs Square vs PayPal Features
Features score

4.63 out of 5

4 out of 5

3.63 out of 5

Customer service

24/7 email, phone, and chat support
Comprehensive knowledge base
Detailed API documentation and FAQs

Monday–Friday phone support
24/7 automated chat support
Seller community
Resource library

Phone support hours: 5 a.m.–8 p.m. M–F, 6 a.m.–6 p.m. Sat. and Sun. (Pacific time)
24/7 chat support
In-app troubleshooting, FAQs, resource library

Deposit time

2 business days
First deposit takes up to 14 days
Instant payout for 1%, minimum 50 cents

Free 1–2 day funding
Instant funding for 1.75%

3 business days
Immediately to PayPal account
Instant to bank/card for 1.5% fee

Fraud prevention

Stripe Radar: machine learning and advanced real-time fraud protection

Square Risk Manager: machine learning, customizable

PayPal Fraud Protection: machine learning, custom filters

Mobile app

✓

✓

✓

Buy Now, Pay Later

Affirm, Afterpay, Klarna

Afterpay

PayPal Pay Later (Pay in 4, Pay Monthly)

Partner integrations

700+

300+

60+
Stripe again has the edge when it comes to features. Its 24/7 customer service, more robust fraud prevention, and flexible developer tools earned it a higher score of 4.63 out of 5. Stripe also offers a slightly lower fee for instant payouts and wider integrations.
For businesses that are not after the flexibility and customizability that Stripe offers, Square and PayPal have numerous app integrations to increase functionality. Keep in mind that many of these third-party integrations require separate signups and fees.
Although all three providers are secure platforms that use machine learning for fraud protection, Stripe's Radar uses billions of signals and data points from the Stripe network, which supports better machine learning outcomes.
Get a Personalized Recommendation
Need help choosing between Stripe, Square, and PayPal? Our quiz takes less than a minute, and you'll get a recommendation without being redirected to another page.
Methodology—How We Evaluated Stripe vs Square vs PayPal
To evaluate Stripe versus PayPal versus Square, we looked at overall fees, payout times, and reliability. We also considered ease of use, variety of features offered, number and types of platform integrations, and each payment processor's customer service reputation.
Click through the tabs below for our overall online payment processor evaluation criteria:
25%
Sales & Account Features
20% of Overall Score
We considered contracts; monthly, chargeback, and cancellation fees; transaction pricing; and availability of volume discounts. While all three offer pay-as-you-go billing, Square scored highest here with a lack of chargeback fees. PayPal requires a monthly fee for Pro accounts, which caused it to fall behind.
25% of Overall Score
Overall, all three scored fairly evenly for deposit speed and mobile app. Square has better customer management tools, while Stripe offers the best fraud prevention and developer tools.
25% of Overall Score
Here we looked at overall pricing transparency and value; ease of use, including account stability and the user interface; popularity, including reputation and user reviews; and integrations, including ecommerce platforms, website builders, and CRM software. All three received closely similar scores, with Square losing minor points for integration, Stripe for ease of use, and PayPal for pricing.
*Percentages of overall score
Bottom Line
In comparing Square vs PayPal vs Stripe, it's important to consider which features are most important for your business. Square and Stripe offer the best value with free business management tools and custom volume discounts. PayPal has an edge with its user-friendly reputation with customers and speedy checkout. All three are compatible with the most popular small business software. And all three are plagued with account stability issues because they are aggregators and not traditional merchant accounts.
PayPal is the best option if you want a simple way to accept money securely online by the world's most recognized brand in this category. If you need an easy way to accept online payments or a solution that handles online and in-person payments, Square is your best choice.
Finally, if you want a customizable online payment solution that can scale with your business, Stripe is the best option for you.