Zoho Mail's free business email accounts are perfect for startups and small businesses on a budget. You can create up to five email accounts on a domain you own to use forever or until you're ready to scale up to one of Zoho's paid plans. Setting up a Zoho free business email account is easy: sign up, verify your domain, update mail records, and decide on your email username.
1. Sign Up for a Free Zoho Mail Account
A free Zoho business email account comes with 5GB storage, the ability to send and receive attachments up to 25MB, and two-factor authentication for additional security. Once you've signed up for the free Zoho Mail plan, you can create up to five free business email addresses on a domain you own.
To sign up:
Go to the Zoho Mail landing page and enter your name, email address or mobile number, password, state (or region), and check the box to accept the terms.
Click the "Sign up for free" button.
Verify your email address with a one-time password (OTP).
Select the Free Plan by clicking the "Try Now" button on the following page (see the image above—it's below the paid plan options).
Enter your domain name in the widget (or get a domain—see instructions below).
Click "Add."
Zoho will then prompt you for a domain. To complete this step, you will have the option to buy a domain via Zoho, purchase a domain separately from a domain registrar, or add a domain that you already own. If you do need to buy a domain, here are domain registrars we recommend:
| | | |
| --- | --- | --- |
| From $1 / month | From $2.95 / month | $9.99 / year |
| Cheapest domain bundles for email and web hosting | Domain free in WordPress hosting plan | Easy long-term domain registration |
| | | |
2. Verify Your Domain
The next step is verifying your domain to prove that you own the domain and it is still valid. There are three ways to verify your domain:
One-click verification
TXT method
Canonical Name or CNAME method
One-click verification is only available for domains registered with IONOS or GoDaddy. For the other two methods, you will need access to modify your domain's DNS page. If you do not have permission assigned to you to do so, you will need someone with access to help you.
Zoho Mail developed a one-click verification method for IONOS and GoDaddy domains. Here's how to do it:
Log into your domain provider's page.
Authenticate Zoho Mail to access your DNS page.
Automatically verify your domain.
---
The TXT method is essentially adding a unique TXT value from Zoho Mail's Admin Console to your domain provider's DNS Manager. You can do this by following these general steps:
Go to the Domains page on the left pane of the Zoho Mail Admin Console.
Click on the "Verify Domain" button for the domain you want to verify.
Select the "Add a TXT record in the DNS option" and copy the text hash.
In your domain provider account, access your domain and go to its DNS page.
Add a new TXT record, generally under the Records section.
In the Value or Destination field, enter the text hash.
Save your changes and wait for them to propagate across the internet.
Return to Zoho Mail and click the "Verify Domain" button again.
---
Similar to the TXT method, do the CNAME method by copying the CNAME value from your Zoho Mail Admin Console to your domain's DNS page. The specific instructions vary depending on your domain registrar.
Here are guides to help you verify your domain using the CNAME method among popular web hosting providers:
---
3. Change Mail Record With Your Domain Provider
With a verified domain, what's left to do is update mail records. This will allow you to receive emails in your free Zoho Mail account.
A one-click configuration is available to IONOS and GoDaddy domains. Changing your mail record with this method can immediately be done after verifying your domain from the previous step. For manual mail record configuration, the instructions will depend on your domain registrar.
Here are general instructions you can follow for most domain providers:
Go to your domain host and click on the DNS manager or control panel.
Find the MX records (can also be under Email Servers or Email Settings on other providers).
Delete the domain entries listed on your records.
Click on "Add record." For some domain registrars, you have to specify the record as "MX Exchanger."
Make two separate records with the following values:
| Host/Domain | Value/Address/Destination | Priority | Time to Live (TTL) |
| --- | --- | --- | --- |
| @ | mx.zohomail.com | 10 | 1 hour |
| @ | mx.zohomail.com | 20 | 1 hour |
Note: Only some domain providers will allow you to change the TTL. If you can, change it to the shortest possible time allowed by the registrar.

---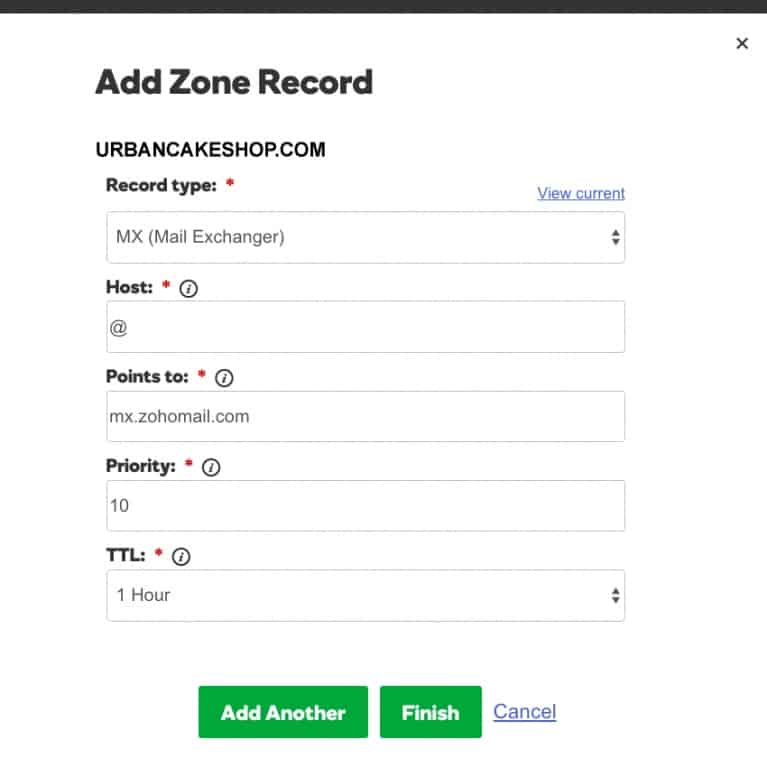 ---
Be patient. It will take a while for the changes to be implemented. Once finished, you can create up to five free business email addresses in Zoho.
4. Choose a Username & Create Your Free Email Address
Since your domain has been verified, you'll be given a "Create Account" option in Zoho Mail to add an email address in Zoho Mail Manager. Start by entering the username and the first half of your business address, and click on the "Create Account" button.
If you want to create accounts for teammates and business communications, click "Add Users" and create a new email address. These default addresses can be changed later on or removed when needed.
5. Access Zoho Business Email via Web Browser or App
With your account set up and email address created, you can now use Zoho free for business email. Free Zoho Mail accounts can be accessed via Zoho Mail's web browser or mobile apps for iOS and Android. If you do want to add your email to another business app, like Gmail, Outlook, Apple Mail, and so on, you will need a paid plan.
Who Zoho Free Business Email Is Right For
Free business email with Zoho lacks some perks that come with paid options, and therefore makes it a better business email solution for specific use cases. Here are the instances where using Zoho's free business email accounts is a good idea:
Startups on a tight budget that own a domain and want to build brand awareness using email
Small operations needing only five email addresses
Temporary use cases, such as dedicated emails for interns, a short-term project, or an advertising campaign
Business email users who don't send or receive large attachments (25MB limit)
Small businesses that don't need productivity software or video communication tools (e.g., team chat, webinars, or video calling)
Zoho software users who want to integrate business email with other freemium apps (e.g., sales tools like Zoho CRM or Bookings, customer support, human resources, finance apps, and so on)
Zoho Free Business Email Pros & Cons
PROS

CONS

Up to 5 free business email addresses
Requires separate domain purchase
Email organization tools and features
Limited spam filtering
Two-factor authentication for increased security
Not a lot of storage
Integrates with Zoho's 100+ other apps easily
Small file attachment size limits
Zoho Free Email Account Features
Those wanting to use Zoho free for business email get quite a bit, especially considering there is no cost. We've highlighted the main features below:
Multiple accounts: Create up to five email addresses on Zoho completely free.
Reasonable amount of storage: Free Zoho email accounts come with 5GB of storage per user.
Mobile and web access: Receive and send emails from any web browser or Zoho Mail's mobile app. Upgrade to a paid plan to add your Zoho Mail to other top business email apps, like Apple Mail, Gmail, or Outlook.
Custom email domain: Using a domain branded to your company for business email offers the most credibility for your brand.
Privacy and security: Your data is protected 24/7 with stringent data center security as well as encryption and intrusion detection and prevention.
24/7 support: Zoho responds to email inquiries in two to three hours, on average. You can also reach out to Zoho for phone support.
Hassle-free Zoho business email migration: Users can port emails from other accounts to Zoho's free version.
Custom email signatures: Create a professional email signature that automatically appends to each message you send in Zoho Mail.
Best Alternatives to Zoho Free Email Accounts
Getting free business email on your domain from Zoho can be a great way to start building your brand's credibility. However, the storage included in the free plan is limited, as are security features. Plus, it lacks collaboration and communication apps today's small businesses need.
With that in mind, here are our three top email service alternatives to using a Zoho free email account for your business:
| Provider | | | |
| --- | --- | --- | --- |
| Solution Type | Unlimited email hosting and storage plus a free domain and SSL in web hosting plans | Full suite of business email, productivity, collaboration, and communication apps | Free domain and SSL in super-cheap email hosting plans |
| Starting Cost | $5.45 per month | $6 per user, per month | $1 per user, per month |
| Learn More | | | |
If cost is a driving factor in your decision, learn more about the best cheap email hosting providers to find the best one for business email needs.
Frequently Asked Questions (FAQs)
Can I get a free domain on Zoho?
You can use Zoho Mail for a free business email with up to five accounts, but it doesn't include a free domain. There are some ways to get a free domain to use with Zoho and other business email apps. Read our article on the four legitimate ways to get a free domain name to connect to Zoho, Gmail, Outlook, and so on.
Does Zoho Mail allow multiple emails?
Yes. In the free Zoho Mail plan, you can create up to five email addresses. Also, Zoho Mail enables each user to have a maximum of 30 email aliases. Email aliases are "alias" email addresses that automatically forward incoming emails to the user's existing (non-alias) email account.
Does Zoho integrate with Google?
Yes. Despite being a competitor to Gmail, paid Zoho Mail accounts can be integrated with Gmail and Google Workspace. This makes it easy to access all of your Google productivity and collaboration apps while also integrating other products in Zoho, such as its free customer relationship management (CRM) or accounting software, for example.
Are there other ways to get a free business email address besides Zoho?
Yes—you can get a free business email address in several ways besides free Zoho Mail. Usually, this comes in the form of other services your business needs. For example, Bluehost web hosting plans come with free business email addresses and a free domain. Likewise, you can buy a domain through IONOS and get a free email account to use for business.
Bottom Line
Creating a Zoho free email account can be easy by following these steps and learning more about your domain provider. After signing up, you can immediately start verifying your domain to configure your mail records and create your email address.
For IONOS and GoDaddy domains, enjoy one-click verification and configuration. For other domains, feel free to follow our general instructions or look up specific guides for your domain provider. After setting it up, enjoy your free email account and explore Zoho's deep functionality.