How to Use Zoho Free Email: The Beginner's Guide
Zoho Mail is a business email provider offering 5GB storage, labels and folders, an out-of-office auto-responder, and flexible search options. In order to use Zoho Mail, you'll have to sign up for a Zoho email account, verify your domain, update mail records, and choose an email username. Follow our easy step-by-step guide below and start using Zoho free business email.
It is worth noting that while Zoho offers a free email address, there may still be a cost involved. This is because emails need a domain to work. Zoho Mail allows you to purchase a domain during the setup process, or you can use one purchased through a third-party hosting service. To learn more about these options and why this step is required, check out our more comprehensive guide on business email.
1. Sign Up for Your Zoho Email Account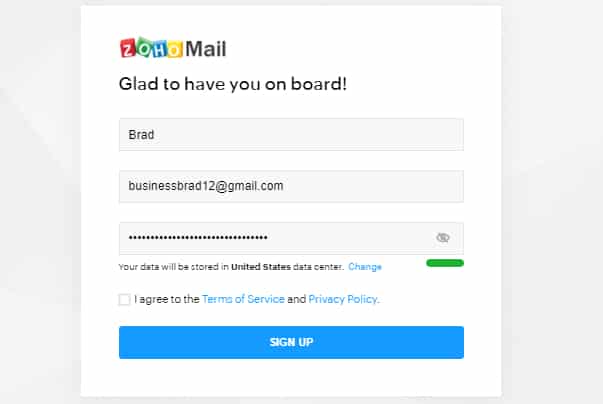 Once you click sign up, you'll need to type in your name and an existing email address or phone number to receive the one-time password (OTP) and agree to the Terms of Service and Privacy Policy. After this, Zoho will prompt you for a domain. This is the text that follows the @ sign in an email address. To complete this step, you will have the option to buy a domain via Zoho, purchase a domain from a domain registrar, or add an existing domain.
Adding an existing domain is typically the best option. If you have already created a professional business website for your company through a reputable hosting service, then you have a domain. However, if you do not already have a website provider, you can learn more about the top options in our guide on the best web hosting companies.
2. Verify Your Domain
The next step is verifying your domain and for this example, we'll be using GoDaddy. The first thing you'll want to do is check the CNAME and Destination values.

Once you're set, go to GoDaddy and click on "Manage" located next to the "Domains."

After this, click on the domain and select "DNS Zone File," which is located on the top, and click on "Add Record."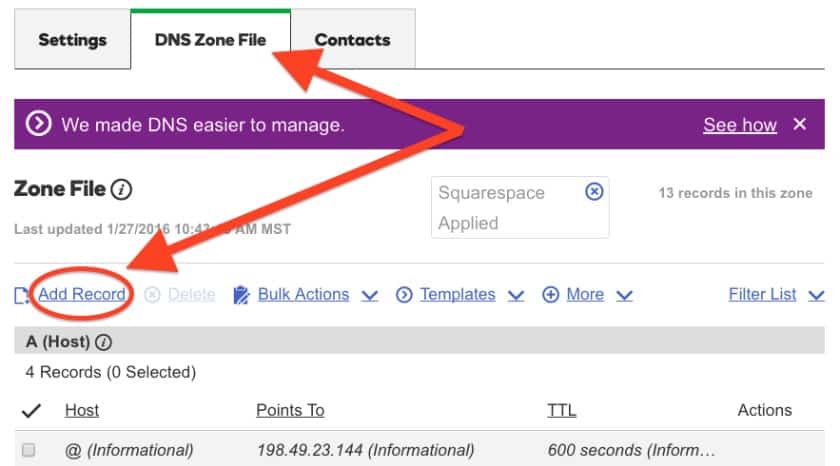 Next, click on CNAME (alias). Then, enter the CNAME and Destination Values from Zoho on the pop-up window. The CNAME record will be entered under "Host" and the Destination Value under "Points to."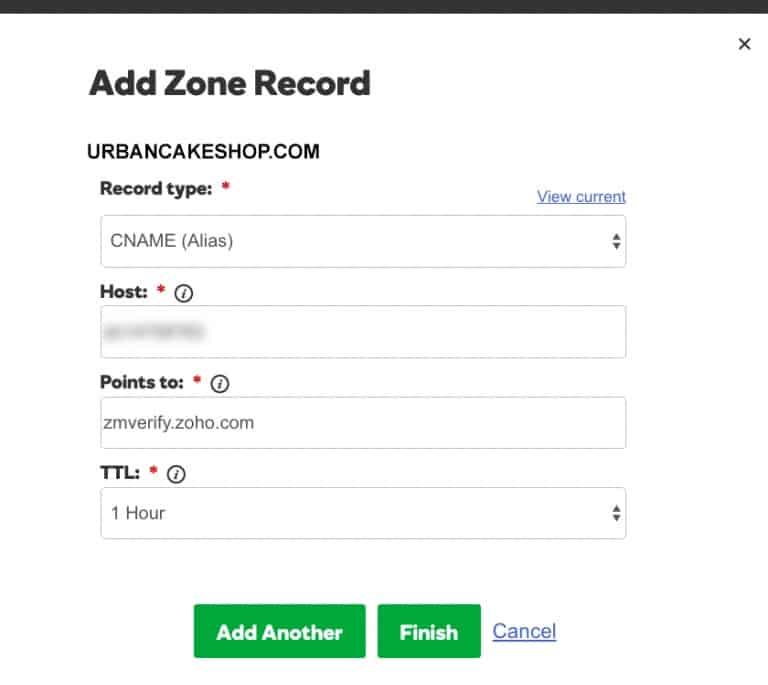 Make sure to "Save" the changes when you're done. Once finished, go back to Zoho and "Verify by CNAME" located at the bottom of the screen. Once verified, it's time to update your existing mail records.
3. Change Mail Record With Domain Provider
With a verified domain, what's left to do is update mail records. Let's say you've chosen GoDaddy as your domain hosting provider. Go to the domain host and click on the "DNS Zone File" tab. Go down to MX (mail exchanger) records and delete any name listed.

Once deleted, add two new records by clicking on the "Add record" and choosing "MX (Mail Exchanger." Change the following information listed below:
Host: @
Points to: mx.zohomail.com
TTL: 1 hour
Once you have finished inputting the information above, click on "Finish."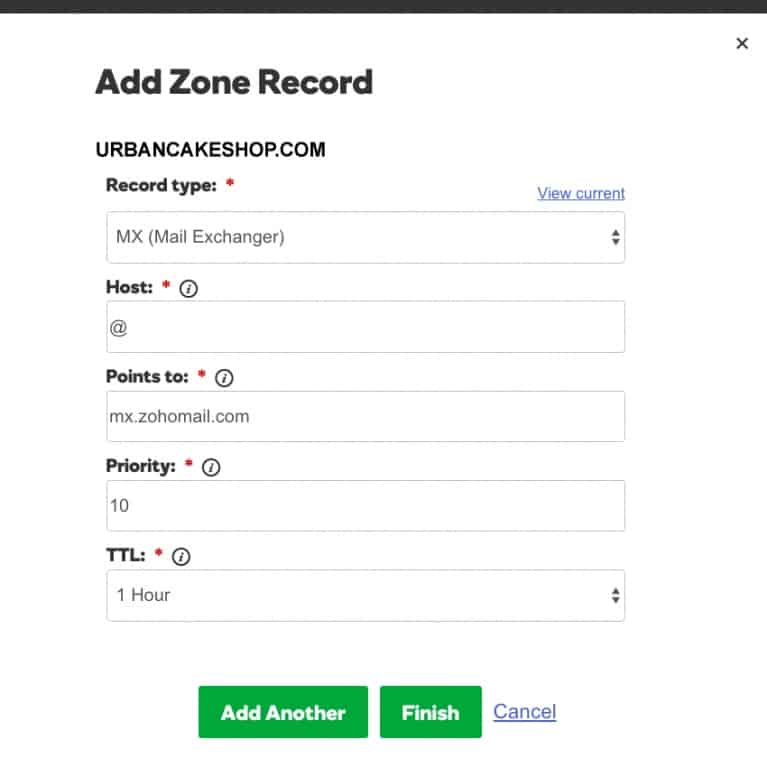 It will take around 30 minutes for the changes to be implemented. Once finished, go to Zoho and create your new business email address.
4. Choose Business Email Username
Since your domain has been verified, you'll be given a "Create Account" option in Zoho Mail in order to add an email address in Zoho Mail Manager. Start by putting in the username, the first half of your business address, and click on the "Create Account" button.
Should you want to create accounts for employees or teammates, click on "Add Users" and make a new email address. These default addresses can be changed later on or removed when needed.
Zoho Mail Pros & Cons
PROS

CONS

Up to 5 free business email addresses with 5GB of storage
Lacks self-learning folders
Labels and helpful search help organization
Has a limited spam filter
End-to-end encryption
Zoho Mail doesn't come with productivity tools, which Google Workspace offers
Guarantees security and data protection
Integrated with Google Workspace for easy access to other Google tools
Here's how to set up Zoho Mail and a breakdown of its features.
Zoho Free Email Features
The free Zoho Mail is equipped with a lot of useful features that enhance usability and protection. We've highlighted the main features below:
Custom Domains
Zoho email is a great solution for those needing a business email without wanting to spend a lot of money just to change their domain. It allows users to get a Zoho business email starting at just $1 per month.
---
Privacy Guarantee
Much of the problem that small business owners have when it comes to certain email solutions is their privacy. The free Zoho Mail guarantees its users that their data remains safe and fully encrypted. Zoho also doesn't sell data to advertisers and has advanced security measures like 2FA, TLS, EAR, and S/MIME.
---
24/7 Support
Zoho prides itself as being easy to approach, guaranteeing a response from the company in two to three hours for emails. You can also reach out to Zoho through its phone support.
---
Hassle-free Migration
It's easy to learn how to set up Zoho Mail without having to create a new one. Users can actually port over their existing email address to Zoho in order to take advantage of their domain to create a truly professional business email.
---
Frequently Asked Questions (FAQs)
Is Zoho Mail private?
Yes. Unlike other email providers, customer data is "heavily guarded" through end-to-end encryption, securing users' emails both in the rest and the transit state. The encryptions are done through S/MIME or signing of MIME data, eliminating unauthorized access along the way. In very rare cases, employees will require a significant level of access to data in order to fix issues on the customer's side. The customer, however, will still have to consent to the access.
Does Zoho Mail allow multiple emails?
Yes. Zoho Mail allows each user a maximum of 30 email aliases. Email aliases are additional email addresses of an existing email account. Having multiple emails allows users to organize sending and receiving emails with aliases based on their specific use.
Does Zoho integrate with Google?
Yes. Despite being a competitor to Gmail, Zoho still integrates with Google Workspace, making it easier for native Google users to access their files and enjoy the ease of use Google provides.
What are the recommended Zoho Mail alternatives?
Although the Zoho Mail works very well as a safe and secure business email provider, there are other more cost-efficient options that you might want to consider. Aside from Gmail, you can try Bluehost, which offers a free business email along with its hosting plan. 1&1 IONOS is another option that provides a free domain and email starting at just 50 cents per month.
Bottom Line
Using Zoho Mail is easy, from setting it up to employing it for use. Once you start using Zoho Mail, you'll get to enjoy its greatest feats, including end-to-end encryption. It also allows businesses to organize emails like files that can be grouped into folders and subfolders. To start using this tool, follow the four easy steps summarized in this article.
You Might Also Like…
Learn more about domain names and why they are so important to your business.
Use your email to the fullest with the best email apps that allow you to transform your email into a multi-functional business tool.