RingCentral and Grasshopper are two of the biggest names in the small business VoIP world, with RingCentral being the longstanding giants and Grasshopper the trendy newcomers. Both offer a top-notch product, praised for their intuitive online software, but they differ in one key way: RingCentral gives you phone service while Grasshopper just forwards calls to another line.
Below we'll explain the pros and cons of each, then give you a detailed comparison of their price, features, ease of use and customer support.
Not satisfied with the quality of your current VoIP provider? We recommend you check out Vonage, a top provider for business VoIP. Click here for a free quote.
RingCentral vs Grasshopper Comparison Table
Price (for 5 users per month*)

$298

$61 (2,000 minutes)

Features

Auto Attendant
Call Queuing
Online Fax
Music on Hold
Conference Calls

Auto Attendant
Call Queueing
Online Fax (receive only)
Music on Hold
Conference Calls

Integrations

Salesforce
Outlook
Gmail
Zendesk
Desk.com

None

Ease of Use

Easy

Easy

Customer Support

Good

Very Good
*Price data for most popular version on a month-to-month contract, including taxes & fees
When to use RingCentral:
If you want a traditional business phone system with handsets, then RingCentral is the way to go. You can get actual phone service for your office with unlimited minutes for each user. RingCentral works with many internet enabled phones, including Cisco, Yealink or Polycom. The downside is the cost, which comes out to around $60 to $70 per user. If you want a traditional office setup, you can find equivalent packages from Nextiva or Phone.com for $30 to $50 per user.
When to use Grasshopper:
If you want a quick solution to make your business sound more professional, then Grasshopper is the way to go. In minutes, you can set up an auto attendant that transfers calls to you and your co-workers. You also get key business VoIP features like voicemail-to-email, call transfers and music on hold.
The only thing missing is phone service. Grasshopper forwards calls to your cell phone, landline or Skype – they do not actually provide phone service. This makes them more of an auto attendant service than a VoIP provider. If this is something you're interested in, then check out our buyer's guide where we compare Grasshopper to other top auto attendants like Phone.com
RingCentral vs Grasshopper: Price
Grasshopper comes out a heck of a lot cheaper. This is because they don't charge on a per-user basis, nor do they give you unlimited minutes per month. At $61/month after taxes and fees, you get 2,000 minutes, which comes out to 7 hours per user if you're sharing between 5 employees. Service for 5 employees through RingCentral, however, would cost you around $298/month.
Because calls are being forwarded to your cell phone or landline when you use Grasshopper, you also have to factor in the cost of phone service. If your employees pay $50/month for their cell phone bill, the overall cost would be $311 for 5 users – slightly higher than RingCentral.
RingCentral vs Grasshopper: Features

Both RingCentral and Grasshopper offer the main business VoIP features, including:
Auto Attendant that greets callers and directs them to the right department/employee
Dial By Name Directory for callers to search for an extension
Call Queuing and other dial patterns
Find Me/Follow Me, i.e. if you want your phone to ring your office phone first, then cell phone, then home phone, etc.
Voicemail-to-email, voicemail messages automatically forwarded to your email inbox
Mobile App that lets you make outgoing calls using your business number
Music On Hold
Both also have conference calling and internet fax, although these work much better with RingCentral. You can have up to 1,000 participants on a single call, with users dialing a conference bridge number to join. Conferencing doesn't cost anything extra. With Grasshopper you have to manually dial each user. You also have to pay for each user separately, so a 20 minute call with 10 participants would equal 200 minutes.
As for internet fax, RingCentral lets you send and receive faxes, whereas with Grasshopper you can just receive faxes to your email inbox. RingCentral also supports call recording and a range of 3rd party integrations, including Salesforce, Zendesk, Desk.com, Outlook and Gmail. With these integrations, you can use a widget to make phone calls straight from the other program or from your email inbox. Grasshopper does not support any integrations.
RingCentral vs Grasshopper: Ease of Use
Both services have great web-based software that is easy on the user end. Grasshopper guides you through the setup process with a simple step by step method (pictured below). Setting up the auto attendant was intuitive, and I especially liked being able to record the greeting straight from the browser using my built-in mic.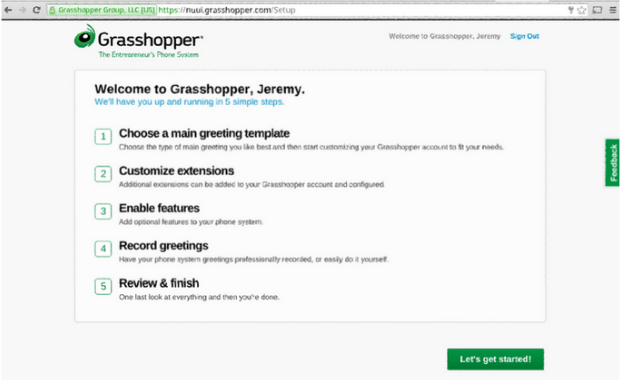 RingCentral also has a great user interface (pictured below). The graphical menu makes it easy to navigate. It also makes tasks like setting up the auto attendant or checking voicemail more intuitive. Another thing that's great about RingCentral is when you're first starting, you can watch how-to videos directly on the main interface.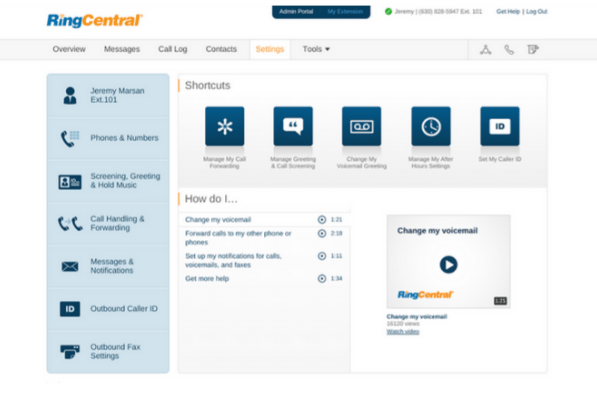 RingCentral vs Grasshopper: Customer Support
Both offer 24/7 phone support to their customers. With Grasshopper this is US-based. With RingCentral, US-based support is only available to clients with over 20 users, so you get more preferential treatment as a larger client.
RingCentral does have one advantage in that they provide a dedicated "implementations advisor" to help with setup. This is available to clients with 3 or more users. Grasshopper does not provide a dedicated account rep, but they also don't have a particularly complicated setup given you aren't dealing with any hardware.
The Bottom Line
Given they are different types of products, RingCentral and Grasshopper are a bit tough to compare. Although you may have heard of Grasshopper as a VoIP provider, they're actually more like an auto-attendant service: a web-based platform that lets you setup a virtual receptionist to greet callers and route their call. RingCentral is an actual VoIP provider that gives you phone service, but their rates are considerably higher than Grasshopper and other actual VoIP competitors.
For more information on small business VoIP services, check out our buyer's guide.