Internal recruiting is hiring and promoting candidates that already work for you. External recruiting is looking for new hires outside your organization. Therefore, internal vs. external recruiting isn't really an either/or situation as most successful companies typically do both. It is in a business's best interest to look at all recruitment options.
Whichever recruiting method you choose, you'll want to post your available jobs publicly so that you get a strong pool of candidates to choose from. Indeed can help make recruiting easier by targeting specific keywords in your job postings, which gets them in front of high-quality candidates that you otherwise might not find. Create an account and you'll receive $50 in free advertising credit.
When to Use Internal vs. External Recruitment Sources
When a company is a startup, hiring from the outside is the only option if you want more than family members and college buddies working for you. However, after your company gets to about 20 employees or so, it's best to start considering internal candidates for promotion. In fact, you can do both. Give internal candidates a chance to apply and interview for open positions and, if none are strong enough, then open it up to external job seekers.
Some HR advocates suggest giving existing staff a two- to three-week lead time to apply and interview for open jobs in the company before you post that same job to external candidates. Often, promoting talent from within requires you to invest in people development, such as training and education, which can mean online courses or even the chance for an employee to earn a college degree. Below are other some considerations for when it's best to consider internal vs. external hires.
Internal vs. External Hires — When Each is Best
| | Internal | External |
| --- | --- | --- |
| Grow Staff | | ✔ |
| Better Culture Fit | ✔ | |
| Higher Initial Performance | ✔ | |
| Lower Cost to Hire | ✔ | |
| Lower Salary Cost | ✔ | |
| Reduced Time to Hire | ✔ | |
| Improve Diversity | | ✔ |
| Lower Turnover | ✔ | |
| Increase Technical Expertise | | ✔ |
| Industry or Competitor Skills | | ✔ |
| New College Grads | | ✔ |
| New Ideas/Innovation | | ✔ |
There are ways to overcome some of the drawbacks of either internal or external hires. For example, to overcome a drawback of not having enough college graduates among your current staff, you could create a tuition reimbursement program; whereas to overcome the culture fit and performance issues you may encounter with external hires, consider creating a robust onboarding, mentoring and training program for them.
Internal Recruiting
Internal recruiting is when you search for existing employees to hire or promote from within your organization. Depending on the data source, companies report that between 15% to 28% of hires are internal. We believe that number would be higher if more than only 2.3% of employees applied for internal jobs. Unlike new hire data reported to the state, internal hiring data like promotions is not; it's self-reported and calculation methods vary.
We believe the benchmark to target for internal hires is close to 30% with about 70% of new hires coming from the outside because that's what "best in class" companies do as shown in the chart below. In fact, many international companies target an even higher internal recruitment goal — as much as 55% or more. Below is a chart showing the share of positions filled internally at the "Best Companies to Work For."
Benefits of an Internal Hire
The primary benefit of hiring internally is that it costs less to promote someone from within than to source an external candidate. In addition, that person already knows the company. Other employees will see the promotion as an example of career growth. In fact, Jobvite states than internal hires are up to 18 times more effective as a candidate source than external hires. Here are some other benefits of hiring internally:
Lower costs – Internal candidates cost 50% less to hire
Faster ramp-up – Internal candidates have a shorter learning curve — they already know the team and culture
Reduced time to fill – You're often able to fill an open job faster by promoting from within
Lower risk – You'll have a lower risk of making a bad hire as your candidate is a known entity — in terms of personality, work style and on-the-job performance
Improved employee engagement – You'll improve morale by giving existing employees a chance to move up
Build talent – Promoting internal candidates supports your succession planning
Drawbacks of an Internal Hire
Depending on the size of your company, there may be drawbacks to hiring internally. The most noteworthy one is the small number of candidates available that may have the right skills. For example, if your company has only 10 staff members, it's possible that no one currently working there is able to step into a specialized position. In addition, hiring from within may cause employees who were passed over for promotion to feel resentful.
Promoted employees may also need significant training to help them be successful in their new role, managers may not want to give up their staff or leaders may not see a team member's potential outside of their current role. However, the biggest downside of hiring internally is the lack of cultural diversity and new ideas that occur when you bring in experienced candidates from the outside.
How to Create an Internal Hiring Process
Creating an internal hiring process requires that you set up ground rules. For example, some firms require an existing employee to be in their current job for 12 to 18 months before being allowed to apply for a new position in the company. Almost half of employers require the internal candidate to notify their manager that they've applied for an internal role.
As CareerXRoads illustrates in the chart below, up to 25% of companies don't allow managers or human resources to recruit internal talent other than to post a job and hope an employee will apply. You'll need to determine your internal posting guidelines before creating an internal hiring process.
It's best to inform your current employees of the internal job application process. That can be done by documenting your policy using language like the sample text shown below and by adding it to your employee handbook.
Sample Internal Application Policy to Add to Employee Handbook
ABC Company strives to promote from within. Therefore, we urge employees who have been in their current job for at least 18 months to consider applying for open positions posted on our company career page. We expect that you will notify your current manager of your job application to another position at the time that you are called for an interview. (If you are not called for an interview, there is no reason to alert your manager.) Internal candidates will be given priority on most job openings, unless the skills are such that no internal candidates are likely to be eligible, per management's discretion.
5 Steps to Sourcing Job Candidates Internally
After solidifying your policy and communicating it to staff, internal recruiting and hiring can be done in five simple steps, which are not much different than your standard recruiting and hiring process.
Identify the open position using a job description.
Post the job internally using your website's careers page or a job board like Indeed (see example below).
Consider making the job eligible to "internal candidates only" for the first few weeks.
If permitted, approach or email qualified internal candidates asking them to complete a job application.
Complete the screening, interviewing and hiring process like any other job opening.
External Recruiting
External recruiting is the process of looking outside your organization to fill a job opening and is typically done by posting the open position on a job board or website. External recruiting is what most managers and HR staff think of when looking for a candidate to fill an open position.
Other sources of external hires are staffing agencies, campus recruiting events, job fairs, walk-ins, job ads, social media and company websites. Increasingly, employers are also making job applications available via mobile applications to appeal to thehigh percentage of external job seekers who use mobile devices to find jobs, as shown below:
78% of millennials use mobile apps to find jobs
73% of generation Xers use mobile apps to find jobs
57% of baby boomers use mobile apps to find jobs
If there are so many benefits to hiring internally, then you may logically conclude that hiring externally isn't a great idea. But the truth is that you need to do both. As your company grows, you'll need skills that existing employees may not have, or you may simply need more employees — period.
Benefits of an External Hire
Hiring externally gives you the chance to bring in skills, knowledge, experience and expertise in areas that can shore up your current employee base. Some of the benefits of hiring external candidates are:
Broader talent pool – there are millions of people available for work and the skill set you need is most likely out there
More diversity – you can round out your team with diverse personalities and work styles with people of different age groups and backgrounds to individuals with creative personalities and innovative ideas
Industry expertise – often external candidates can bring you industry expertise or experience from a competitor that you may need in order to improve your business processes, products or innovation pipeline
More people for growth – when you grow from 50 to 100 employees, you just need more people, and those are going to come from outside the organization as external hires
Drawbacks of an External Hire
The biggest drawback of hiring talent from outside the organization is that it costs more; you often have to pay to advertise a job in order to find the right candidate. That takes more time. In some cases, external candidates aren't as successful at adapting to your culture as an internal candidate might be. Drawbacks include:
Increased hiring cost – The average cost to hire is between $4,000 – $15,000 per job candidate. External candidates cost nearly twice what internal candidates cost to hire.
Longer time frame – The average time it takes to get through the interview process is about 22 days. It takes between 39 to 43 days to hire an external candidate.
Longer learning curve – External candidates need more time to get up to speed, as they not only need to learn the job but also get to know the people and how to work within the organization's culture.
See productivity comparisons above showing the difference in internal hire performance as compared to external hires over the first 12 months in a new job. Note that external candidates start out with lower productivity and take more than a year to catch up.
Higher turnover rate – some data show that external hires, especially at the management level and up, tend to have higher rates of turnover
Higher risk – every time you bring someone new into your organization, you may be introducing costly risk in terms of a potential bad hire
So, when you're hiring externally, you'll need to ensure you've got a solid recruiting process and a robust onboarding process to overcome some of these drawbacks.
Software Tools to Assist in Recruiting
Regardless of whether you hire internal vs. external candidates as part of your recruitment strategy, you'll need tools to share those job openings — such as on your existing business website or on a free job board. To keep track of internal and external candidates, it's best to use some form of an applicant tracking system (ATS) to manage the recruiting process.
In fact, job boards like Indeed often interface with existing ATS tools to manage the recruiting process.
Website Job Posting
Both internal and external hires can be sourced using a job board or a "careers page" on your business website. If your job posting is formatted correctly by including job title, description and each job on its own page, Indeed and other employment search engines will likely find and "pick up" your job posting by default.
Job Boards
There are many free and paid job boards with most offering a combination of both. For example, Indeed allows you to sponsor jobs so that your job postings get moved to the top of job seekers' search results. This makes them visible to more applicants, which means you'll find top-notch talent more quickly. New Indeed accounts get a free $50 advertising credit, so you can try it out risk-free.
To promote your open jobs to internal employees, you can send them an email or post a link to the job ad on your intranet or employee website portal. Sharing jobs with internal candidates is as easy as sending them an email with a link like the one shown below.
Applicant Tracking Systems (ATS)
Many larger companies invest in an applicant tracking system. An ATS helps them keep track of candidates in the pipeline. Some job boards offer those features for free or at a low cost when you post or advertise jobs on those sites. For instance, Indeed has an employer dashboard, shown below, that lets you view summary information by job or candidate. You can see which candidates have been interviewed and when.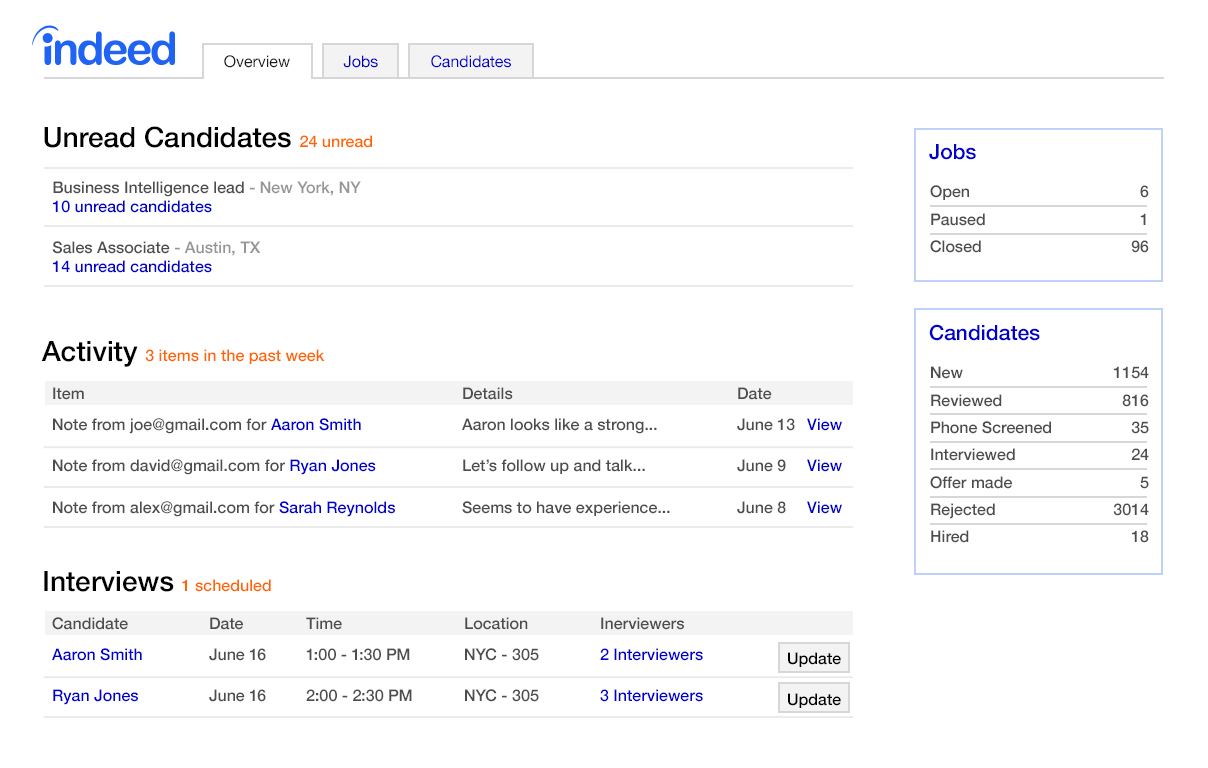 Job boards can often interface with your ATS or HR/payroll system. Once you hire an external applicant, their data can move smoothly to your existing software to allow them to be onboarded, complete new hire paperwork and get paid.
Interviewing Tools to Assist in Internal & External Recruiting
The following are recruiting tools available in most applicant tracking systems and job boards that make it easy for you to schedule interviews, ask questions and score internal and external applicants as part of a typical recruiting process.
Automated Email Messages
While you'll have fewer internal applicants, the number of external applicants can be overwhelming. It's helpful to have standardized email templates at every stage of the recruitment process. For example in Indeed, you can create a template to confirm that you've received a candidate's resume and another to contact them for an interview.
Screening Questions
For some positions, you'll want to be able to screen candidates, whether internal or external, to ensure they have the temperament and job skills needed. Many ATS systems and job boards offer these features, which allow you to ask open-ended questions that evaluate a candidate's fitness for the job.
Some, such as Indeed, also provide screening tests that you can send to candidates to evaluate their job skills, as shown below. This is an easy and nondiscriminatory way to verify that your internal applicants have the skills needed to do the job they're applying for.
Scorecards
To ensure candidates are not subject to discrimination and are instead rated fairly based on how well their education, skills and work experience match the job, behavioral interview tools and scorecards can be used to compare interviewer's feedback for a candidate. You may even want to compare candidates side by side so that you can choose the best candidate overall.
Avoid the Cost of a Bad External Hire
A study of recruiters found that 63% are concerned about not being able to find enough suitable candidates. It costs more to hire someone externally vs. internally, and the turnover rate is also higher for candidates sourced outside the organization. So, it's no surprise that there's pressure to find job candidates, whether from inside the organization or outside.
However, 62% of businesses have admitted to making a bad hire. Accordingly, 41% of employers put that cost at about $25,000 per hire and 25% of employers put the cost of a bad hire at $50,000 or more. Therefore, when you choose to hire externally, make sure you do a solid job of sourcing the right candidate, as well as onboarding them to maximize their on-the-job success.
The Bottom Line on External vs. Internal Recruiting
There's no best answer for the right mix of internal vs. external hires that you should target for your business. However, promoting from within benefits your company, your employment brand and your employee morale — not to mention the fact that it's cheaper than hiring external candidates.
When you're ready to start publicizing your job postings, keep in mind that you can post for free on Indeed to extend your reach or store internal postings in one convenient location. Sign up below to claim a $50 credit for advertised postings.