How to Post a Job on Google: 2 Simple Methods (+ Tips for Success)
This article is part of a larger series on Hiring.
Google is the go-to resource for almost any query, including open job posts. As such, it can be a powerful tool for finding qualified new hires (although you cannot post a job ad directly to the search engine). Through its job ad aggregator, Google for Jobs, it will pick up your listing either from a third-party site—generally a job board—or your own website. The latter is more technical and frequently used for larger companies, while the former is more appropriate for small businesses.
Using a Third-party Job Board
Third-party job boards are the most straightforward option for small businesses wanting to know how to post a job on Google. You probably already know some of the best job boards—and if you use one that's integrated with Google, you're all done. At that point, if a job seeker searches for a job that matches yours, your listing may appear in the top Google search results. This is the easiest and fastest way to get your job posting in front of more candidates.
Here's a list of some of the major boards that are already integrated with Google (note that popular job board Indeed is not one of them):
Monster
Glassdoor
Snagajob
Here's what it might look like when a candidate searches for a payroll specialist job in Baltimore.
Google search results show jobs related to the search query and indicate where the job ad is posted. In the above image, the top result is from an employer's website, and the second is from ZipRecruiter.
Using Your Website
Learning how to post a job on Google via your own website is less common for small businesses, but you're welcome to give it a shot. Just make sure you're familiar with HTML editing or have someone on your team who can handle these technical steps.
Step 1. Get Your Website Ready
You'll need to make sure your website is capable of posting your open positions by having a career page or other dedicated page on your company website just for open job posts. If you use a developer or third party to handle your website, contact them to set this up for you.
We'll provide a few example steps below. Note that these are specific to WordPress.
On your Dashboard, navigate to "Pages" shown here at the bottom.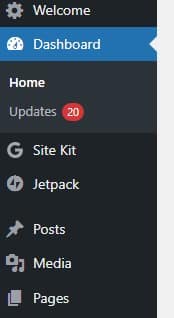 At the top of the next page, you'll see a button called "Add New." Click this button to begin the process of adding a new page to your website.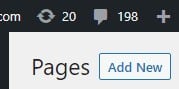 Here is where you will add the title of your page and text about your company. Make sure to highlight your company benefits and why candidates might want to work for you. Also showcase your company culture and benefits. Below that, you can provide details about your option positions.

Here's how that might look for a digital media company:

For each of the positions, create links to the full job description. You can either create a new page for each job or you can link to a PDF of the job description. More on this in Step 2.
Before you publish this page, make sure you create a permalink (that's what comes after the "/" in your company website). This makes it easier for candidates to find employment opportunities with your company.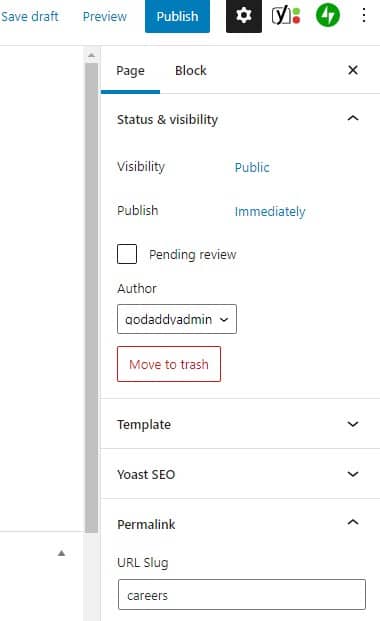 So, in the example above, if your company website is acme.com, then your careers page would be found at acme.com/careers.
Step 2. List Your Job Openings
Once your website has a dedicated job openings page, add your new positions. Remember to keep your job posting clear and direct while including important details about your company and benefits. As noted above, you can either add a new page for each job position (which could be time-consuming if you have lots of open roles), or you can link to a PDF of your job.
Step 3. Add Structured Data
Adding structured data—a standardized format for page information and content classification—is where things get a bit more technical. To ensure accuracy, we recommend having your web developer or in-house tech expert handle this step. If you're going to do this yourself, Google shows you how to add structured data. This is an in-depth and complex process if you're new to this level of technical work, so be prepared to carve out some time in your day to complete this step.
Step 4. Stay Updated
Use your Google Search Console to stay updated on your job posting by seeing how much traffic that page is getting. Reviewing these stats is a great way to see if your job ad is getting traction. This is important data because you need to know if your job ad is getting in front of potential candidates. If it's not, you'll need to adjust your strategy and post to a popular job board for more visibility.
Tips for a Successful Google for Jobs Listing
Today's job market is tough, and you need every edge you can get to find employees you'll love. That includes using the right keywords to ensure Google shows it at the top of the search results, among other things.
1. Include SEO Best Practices
Make sure your job ad includes your job title and relevant keywords to the role. However, don't overdo it—ensure it still reads naturally, as this is important to the search engine's algorithm. Doing this will help boost your chances of including your job post in the engine's top search results.
2. Use a Clear & Common Job Title
Many companies like to create unique job titles. While that can be fun and showcase company personality, it's not great for getting your job ad on Google's top results. Instead, consider using a basic or recognizable job title for your online job posting, even if you use a different one internally.
3. Include Bulleted Lists
Search engines like Google prefer easy-to-read bulleted lists and tend to rank pages with these higher than those that don't use them. Narrow down some key traits you need applicants to have and place them in a bulleted list. Also, include a half dozen key duties for the role in another bulleted list to improve search results even more.
Google for Jobs: FAQ
Unlike job boards or recruiting software, Google for Jobs is not a place you can post your job. Instead, it uses artificial intelligence, machine learning, and technical integrations to show relevant job postings based on a Google search. It's a great way to add visibility to your job ads, whether you post them on your website or a traditional job board.
---
Yes, but remember, you're not posting a job on Google directly. If you don't use a job board that's already integrated with Google for Jobs, then you'll need to follow the technical steps above and manually integrate it with your company website.
---
Yes. There's no charge to use Google for Jobs when posting your job ad on your website or using a regular job board. However, some job boards do charge fees for posting on their platform, so consider the pros and cons of either method before settling on one.
---
It depends. If you're using a job board integrated with Google, your job will show up quickly. But if you're posting your jobs on your company website, it could take a few days for your job to appear in search results.
---
You can—and probably should, since it's one of the most popular job boards for applicants. However, Indeed is not integrated with Google for Jobs, so your Indeed job posting won't show up in any Google search results.
---
Bottom Line
When you are hiring employees, you want to make sure your open positions get in front of as many eyes as possible. You can do this by posting a job on Google—everyone uses Google, including job applicants. Using either third-party job boards or your own website to get your listing on Google for Jobs will help ensure you make a great hire.