Airtable CRM: How to Use Airtable as a CRM in 5 Steps
This article is part of a larger series on CRM.
Airtable is a popular data organizing and team collaboration tool that helps businesses organize information, manage operations, and keep track of projects. While Airtable is not a CRM, it does have similar data organization capabilities, giving it the ability to be used as a CRM. By gathering sales information, determining your sales process, and formatting your database properly, Airtable can be a cost-effective alternative to CRM software.
Here is how you can use Airtable as a customer relationship manager (CRM) in five easy steps:
1. Review Airtable's Premade Templates
Before starting, it's important to note that Airtable offers premade templates for a multitude of purposes. The Airtable sales CRM template has data fields for sales stages, opportunity names, and accounts, as well as page tabs to move from opportunities, interactions, accounts, and contact information. The premade templates are best for businesses with simple or generic sales processes as they speed up many of the following steps.
However, you don't have to use a premade template to still use Airtable as a CRM. In fact, if you have specific requirements for how you want your CRM set up due to particular information about a lead or customer you want to be stored, or you have a unique sales process that needs to be used when monitoring opportunities, we recommend creating your Airtable CRM process from scratch instead, which we will cover beginning at step three.
2. Gather Sales Information
Before attempting to use Airtable software, have lists ready with contact information for current opportunities and accounts, including leads, prospects, and customers. For this step, consider the types of sales-related data that you want to store in Airtable. Below are some common data field categories to use:
Contact name
Contact position
Contact phone number
Contact email
Lead source
Account name
Account industry
Opportunity name
Deal value
Deal probability
Date of last interaction
Once you know what customer and prospect data you want to collect, gather your email lists, business cards, social media, websites, and other sources it so they are ready for migration into Airtable. Although you don't have to compile this data into a spreadsheet, it will be significantly easier to import your data to Airtable in step three as opposed to manually entering each record.
3. Define Your Sales Process
Within any CRM software platform, the features for managing sales opportunities include monitoring where leads, prospects, and deals are in the sales process. The same goes for using Airtable as a CRM, so before setting it up, first determine what the sales process looks like for your business.
Your sales pipeline stages may vary depending on how your leads are acquired, your industry, your company culture, and what your organization's operational flow looks like from warm lead to closed deal. Below are some examples of stages in a sales process to consider:
New lead
Introduction
Lead nurturing
Interest meeting
Sales presentation
Proposal
Negotiation
Closed-won
Closed-lost
As previously mentioned, you can use a premade Airtable CRM template that already has predetermined sales stages—however, the template's sales stages are somewhat generic. If your business has a unique sales process that requires distinctive stages, we recommend either customizing the premade templates or starting from scratch.
4. Set Up the CRM Workspace
Once you've established your process and gathered your data, it's time to enter them into the system and set Airtable up as a CRM. Regardless of whether you are doing mass data importing or manual entry to get CRM information in Airtable, you first need to create a "workspace."
An Airtable workspace is a collection of databases that stores your information so you can view it in a central place. On the homepage, click the "create a workspace" option to begin. Then you have the option to name the workspace and select how you want to create databases, which in Airtable are called "bases."
Bases contain all the information needed for a project, workflow, business process, or in this case, CRM software. A base can be accessed by clicking an icon on the workspace—it's where you input and view information. If you choose "Start with templates," the base will already contain the data field categories. Otherwise, you need to either create a base from scratch or import a table as a CSV, Microsoft Excel, or Google Sheet file.

---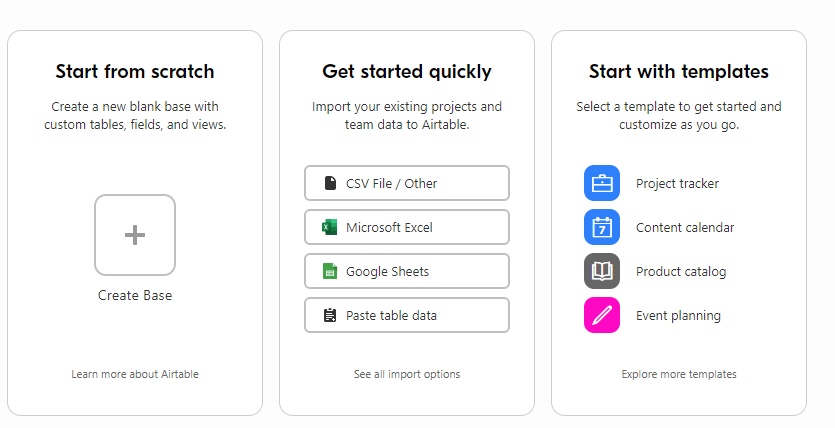 ---
Manually Creating a Base
If you choose "Start from scratch," you'll be prompted to name your base, after which you are taken to a blank, spreadsheet-style page where you create your data table(s). The data field type is where you add the data field categories you determined were necessary for sales information in step one.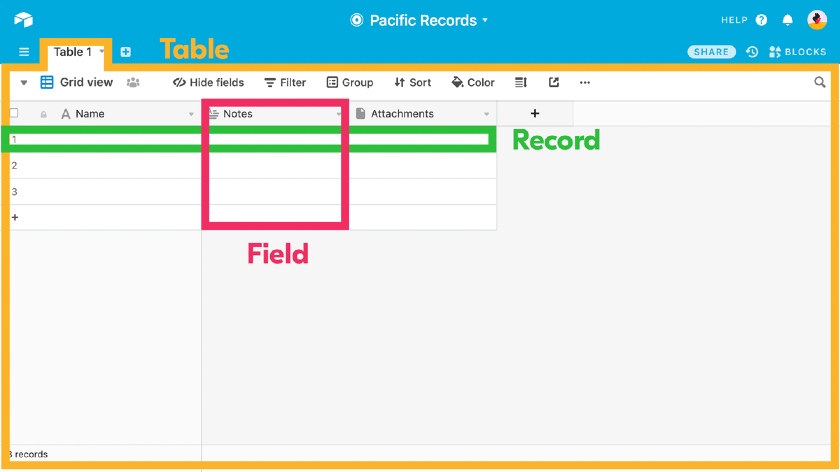 ---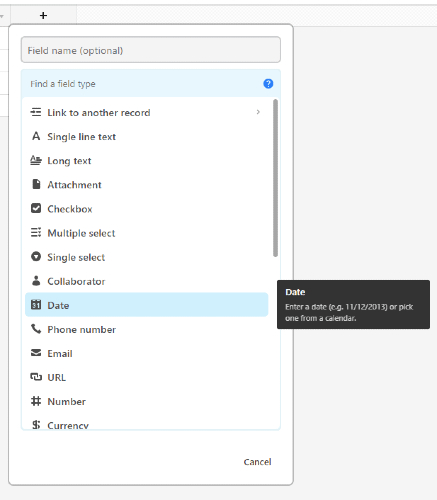 ---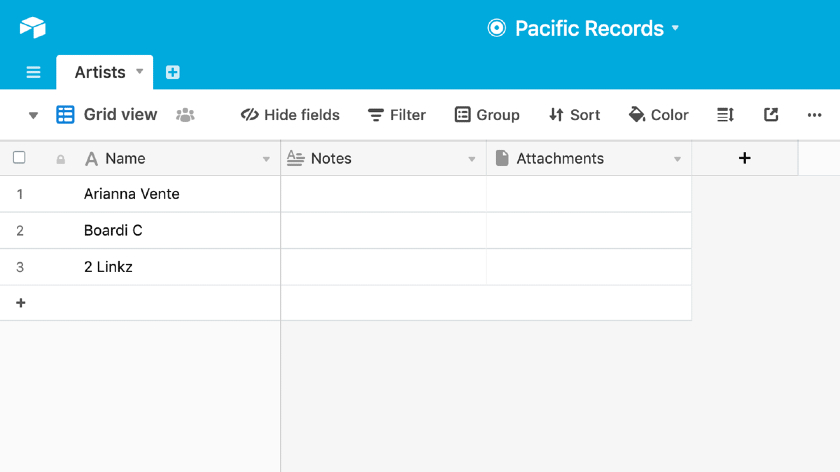 ---
Once your data field categories are set, you can begin manually adding lead, opportunity, account, deal, and customer records in corresponding data fields. As you add records, select the sales stage they are in depending on how your sales process was determined in step two. When creating the field types, you can also elect to do a drop-down option with your premade opportunity stages, which we recommend.
Once your data fields and records are added to the base, you can move through various views of that data. When using Airtable as a CRM, we recommend the Kanban, gallery, or table views, because they make it easier to view sales statuses of an opportunity compared to other views like a Gantt chart or calendar views, which are better for monitoring tasks.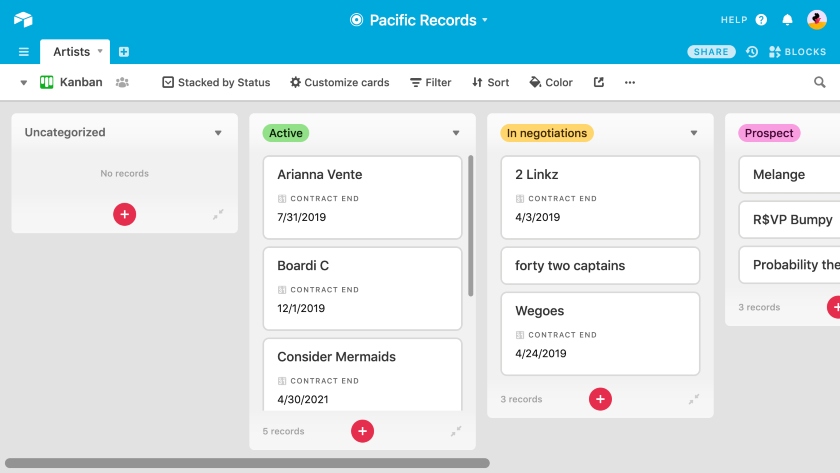 ---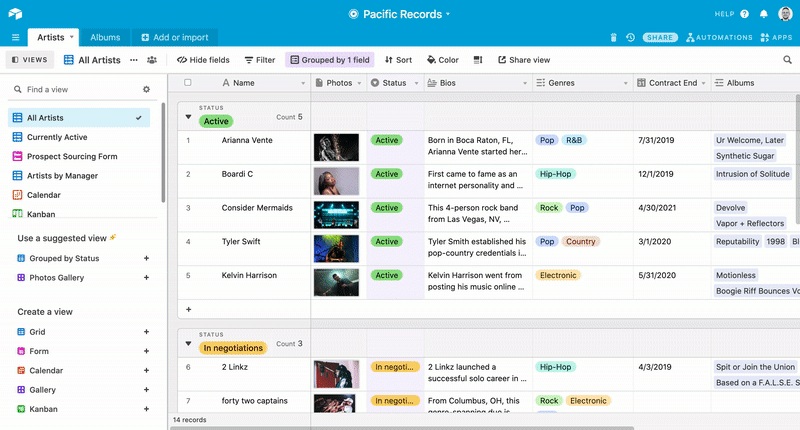 ---
---
Importing Sales Data
If you want to import your sales data into Airtable in bulk, you need to have all of the information ready in a spreadsheet document. Keep in mind, when translating spreadsheets into Airtable terminology, the spreadsheet is the base, the rows are the records, and the columns are the fields.
From the "Add a base" part of the workspace, select "Import data." Once selected, you'll be prompted to select the data source from either Excel, Google Sheets, CSV, as well as a few other data source options such as Microsoft Access, Trello, and Apple Numbers.
Once you select the file from the data source, Airtable automatically imports it in the same record and field order as it is on your spreadsheet. This means it's critical that you have your sales information organized properly and in the order you desire. Once imported, you are free to change the different views of the base and now have a data-ready Airtable CRM system.
Importing and utilizing CRM data is an excellent way for businesses to report key performance metrics and give an overview of their sales operation. For more information on CRM reports, check out our article on the seven CRM reports small businesses should use.
5. Use Your Airtable CRM
Now that your CRM is set up, begin tracking sales activities such as introductions, follow-ups with prospects, and lead nurturing activities. You can also update your Airtable base with notes and stage changes as a way to track engagements and prospect interactions.
As you complete sales tasks, you can even take quantitative information like potential deal size or total closed business revenue and report it in its own separate data cell as a sum of a field. This serves as another way to track sales performance of your team.
To see other ways CRM data can help you grow your business, check out our CRM analytics guide for small businesses.
How to Extend Airtable's CRM Capabilities
As you get comfortable with using Airtable as a CRM, you may be convinced to extend Airtable's capabilities even further. This can be done by automating some sales processes through integrations with third-party applications. Below are a few examples of Airtable integrations and how they extend its CRM capabilities:
A Mailchimp integration can automatically add a new subscriber to an email as a record in Airtable.
The Stripe integration can automatically add an invoice to a record in Airtable.
A Facebook integration can automatically add a new lead as a record in Airtable.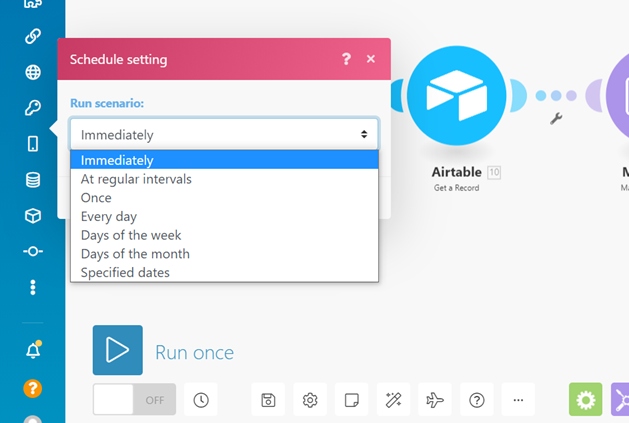 ---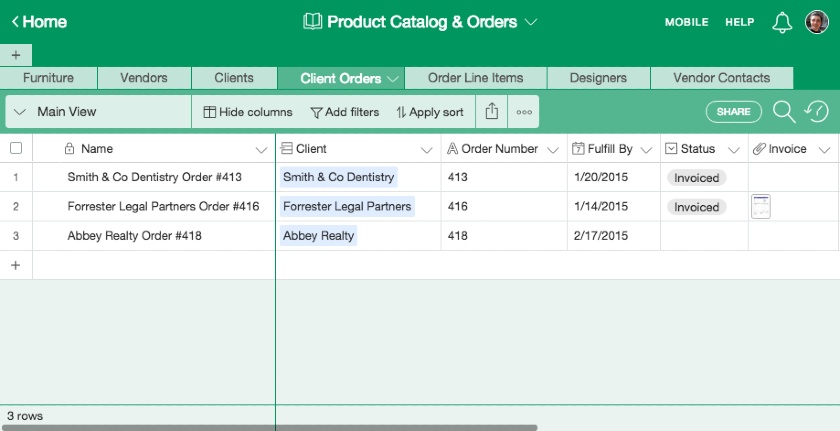 ---

---
For information on other integrations that can help your business automate sales tasks, check out our picks for the top automation software for 2021.
Pros & Cons of Using Airtable as a CRM
Since Airtable is more of a database tool and not technically a full-service CRM, it's important to consider the implications of using the platform for a sales operation. Before making any decisions, consider the pros and cons.
PROS

CONS

Free plan available for individuals and small teams
Lacks any built-in or integrative telephonic features
Easy to use due to its spreadsheet-style for data entry
Lacks artificial intelligence (AI) features for advanced analytics and sales tips
Integrates with popular third-party applications commonly used in sales
Mobile application reported to be glitchy
Alternatives to Using Airtable as a CRM
If some of the cons listed above are deal-breakers for using Airtable as a CRM for your business, here are some viable CRM alternatives to consider.
| | | | |
| --- | --- | --- | --- |
| | | | |
| Best For | Small businesses looking for a free option with built-in telephone features | Teams looking for low-cost AI capabilities for sales insights | Small businesses looking for a robust and high-quality mobile application |
| Starting Price (per User, per Month)* | Free to $15 per user, per month | $12.50 per user, per month | $25 per user, per month |
| FSB Review | | | |
*Pricing above based on annual billing
Frequently Asked Questions (FAQs)
How many CRM records can be stored in an Airtable base on the free plan?
The free Airtable plan allows up to 1,200 records per base and includes an unlimited number of bases. It also includes rich field types such as drop-downs, attachments, and check boxes.
Does the free Airtable plan include automations?
Yes, with the free plan users can run up to 100 workflow automations per month. The free version also allows automation integrations with third-party applications.
Are there any system customization limitations within Airtable?
Yes. Airtable allows for expanded color options, but custom brand forms and formatting of bases and tables are not available on the free or Plus plan. The Pro plan allows for robust customization at a cost of $20 per user, per month.
Bottom Line
Using Airtable as a CRM is a viable alternative to more expensive CRM software due to its cost benefits and ease of use. Like other CRMs, it also integrates with popular third-party tools like Calendly, QuickBooks, Slack, Facebook, and Zoom. Most of the product's shortcomings as a CRM stem from a lack of advanced features like artificial intelligence or a built-in phone system, which some small businesses find they do not need.